Skinny Lemon Chicken Pasta is delicious enough for company and yet easy enough for a weeknight lighter meal. Tender chicken, artichoke hearts and peas are covered in a lemony garlic sauce. Serve with your favorite pasta, it is a favorite healthy decadent feast!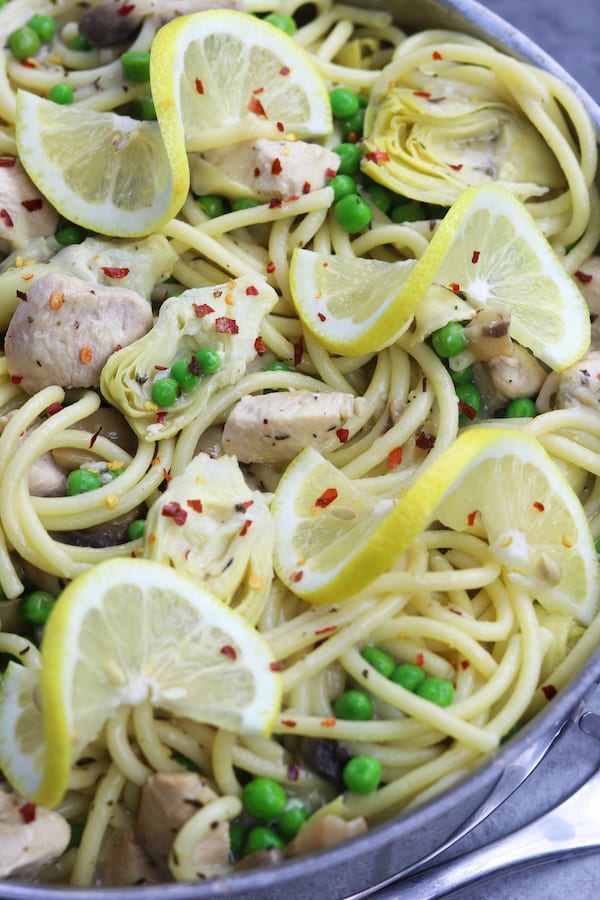 This post may contain affiliate links which I earn a small portion in sales if a purchase is made. Rest assured though, it is never at any additional cost to you.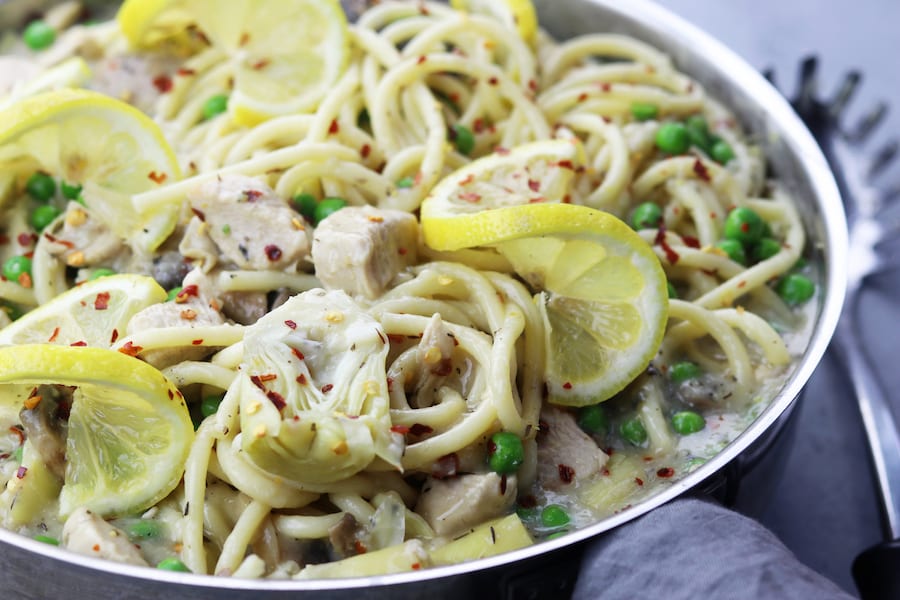 While creating this Skinny Lemon Chicken Pasta recipe, what I finished with was a wee bit different than what I started out creating. Along the way, it molded into a skinnier version than I had originally planned. There was a fear in the back of my head that because it was on the lighter side it may not be as well received. So the first time making it with my husband I sat on pins and needles while he took his first couple bites. "So, how is it?" I asked cautiously. "It's fantastic! I love all the hints of different flavors." As you can imagined I exhaled, relieved and confident that I had my next recipe for the blog. I was ready to dig into my wonderful smelling meal and have a relaxing and romantic dinner with my husband. As I proceeded to enjoy my well earned pasta what I didn't count on was my ever so fun noodle choice was going to pick a fight with me. If you have never had bucatini noodles they can be incredibly fun, most of the time. They are similar to a spaghetti noodle but thicker and have a hole running down the center of the noodle, which is perfect for holding extra sauce. What I didn't count on was them turning into little whips. The first noodle flung the lemony garlic sauce right at my eyes. "Oh no honey, that's not food in my eyes. Those are tears of joy because I am so happy you are home from work." The second noodle flung the sauce right for my nostril. "Great", I thought, "how do I explain that one?" The third noodle went right for my shirt and by that time I gave up on the lady like act. Thankfully my husband was too busy enjoying this Skinny Lemon Chicken Pasta that he didn't even notice I was decorating myself with pasta sauce. I told him later that this is definitely not a first date meal, unless of course you need a good ice breaker.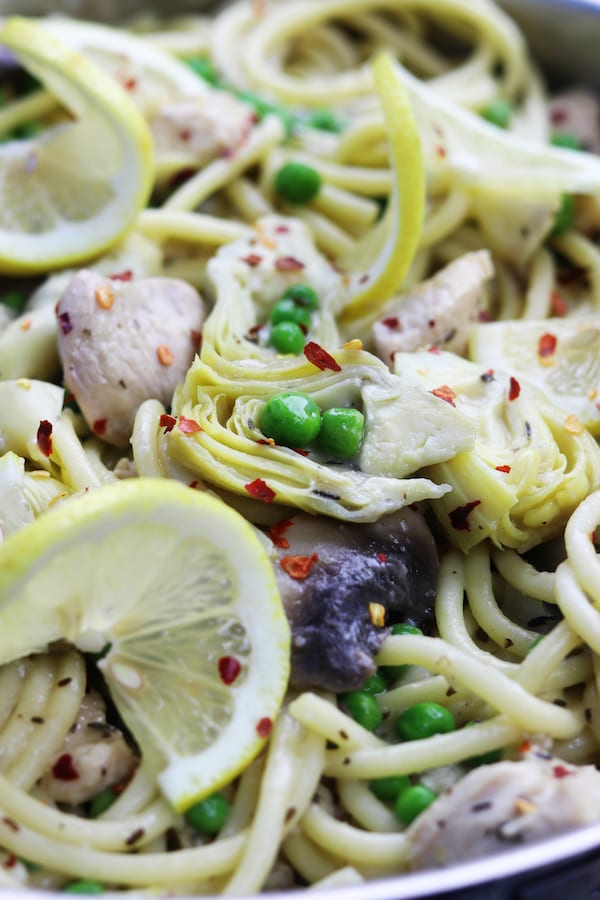 Tips about Skinny Lemon Chicken Pasta: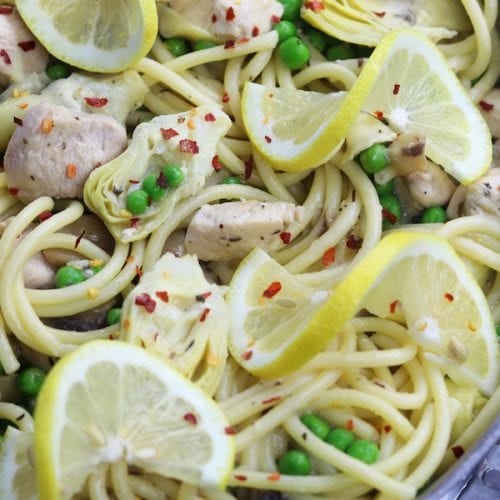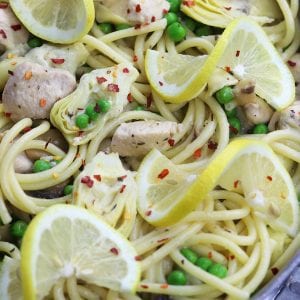 Ingredients
1

lb

pasta of choice

3

chicken breasts

2 1/2 lbs *cubed 1/2 inch pieces

1/4

olive oil

1

lb

button mushrooms *sliced

4

garlic cloves *2 tbsp minced or crushed

2

tsp

thyme

2

tsp

basil

1/2

tsp

onion powder

1 1/2

tsp

salt

1/8

tsp

black pepper

1/2

cup

all-purpose flour

1

cup

white wine

2

cups

chicken broth

Juice & zest of 2 lg lemons

1

lb

frozen peas

2 16

oz

cans artichoke hearts *drained & cut in half

Garnish with red pepper flakes
Instructions
Cook pasta according to directions on package in a large salted pot of water.

Meanwhile heat a large skillet over med/high heat. Add oil and cubed chicken. Sauté until almost cooked through, about 5-6 mins. Add sliced mushrooms and continue sautéing until mushrooms loose their moisture, about 6-7 mins. Add herbs, onion powder, salt, pepper and garlic. Continue cooking for another 1-2 mins. Sprinkle in flour and stir well allowing flour to absorb moisture. Add wine and chicken broth, continue continue cooking for another 4-5 mins stirring consistently. Add lemon zest and juice. Stirring consistently bring sauce to a simmer until thick, about 4 mins. Stir in frozen peas and artichoke hearts. Continue cooking for another 1-2 mins. Add cooked pasta and sprinkle with red pepper flakes.
Notes
*Please use as many organic ingredients as possible.* For Gluten-free option see tips above.
Nutrition
Calories:
498
kcal
|
Carbohydrates:
63
g
|
Protein:
33
g
|
Fat:
9
g
|
Saturated Fat:
1
g
|
Cholesterol:
56
mg
|
Sodium:
632
mg
|
Potassium:
855
mg
|
Fiber:
7
g
|
Sugar:
7
g
|
Vitamin A:
1133
IU
|
Vitamin C:
43
mg
|
Calcium:
55
mg
|
Iron:
3
mg
Check out the other incredibly flavorful skinny recipes: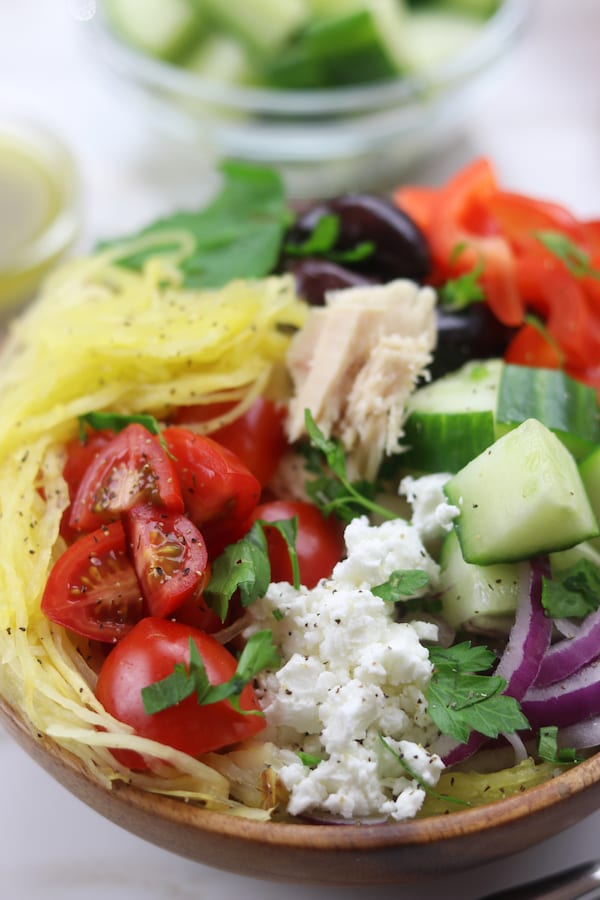 Spaghetti Squash Greek Bowls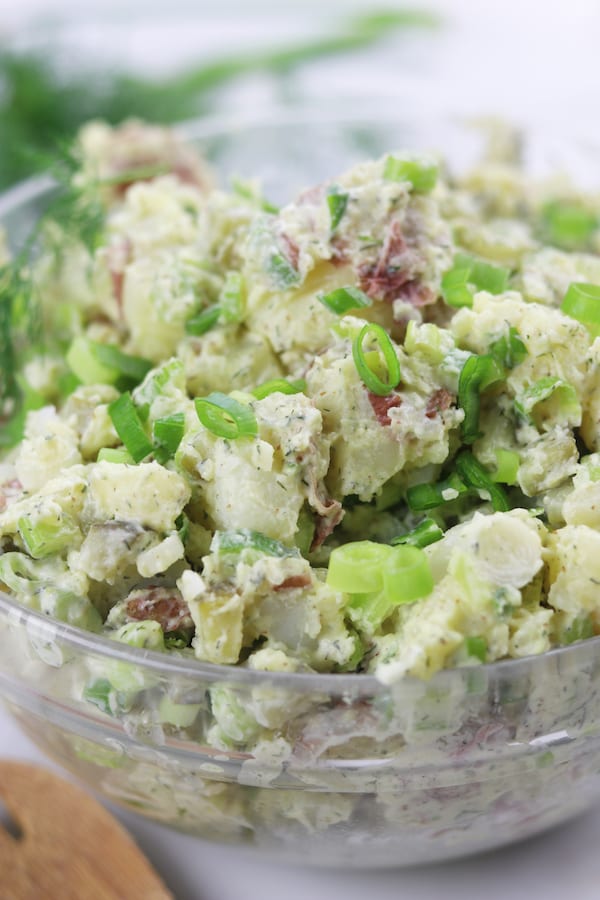 Skinny Red Potato Salad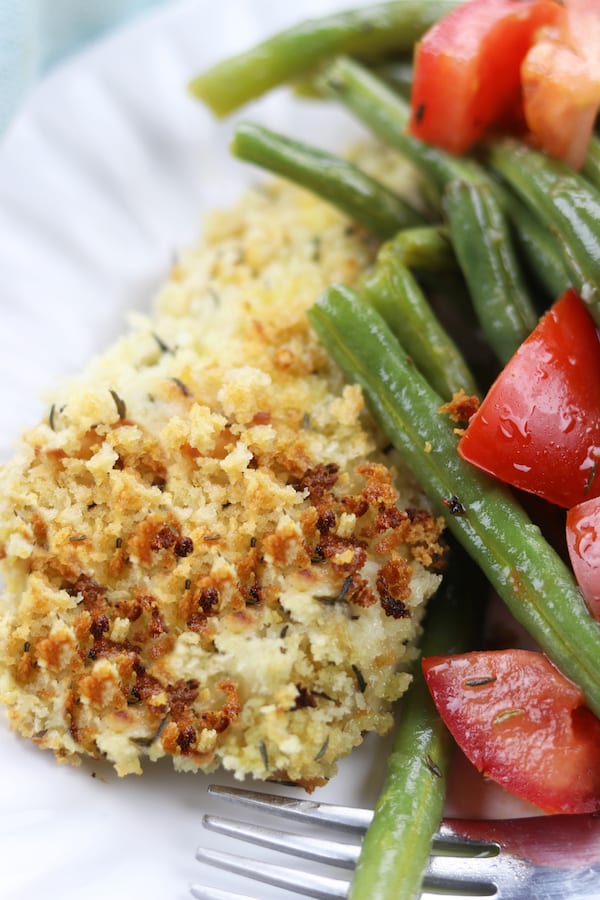 One-Pan Panko Chicken and Green Bean Salad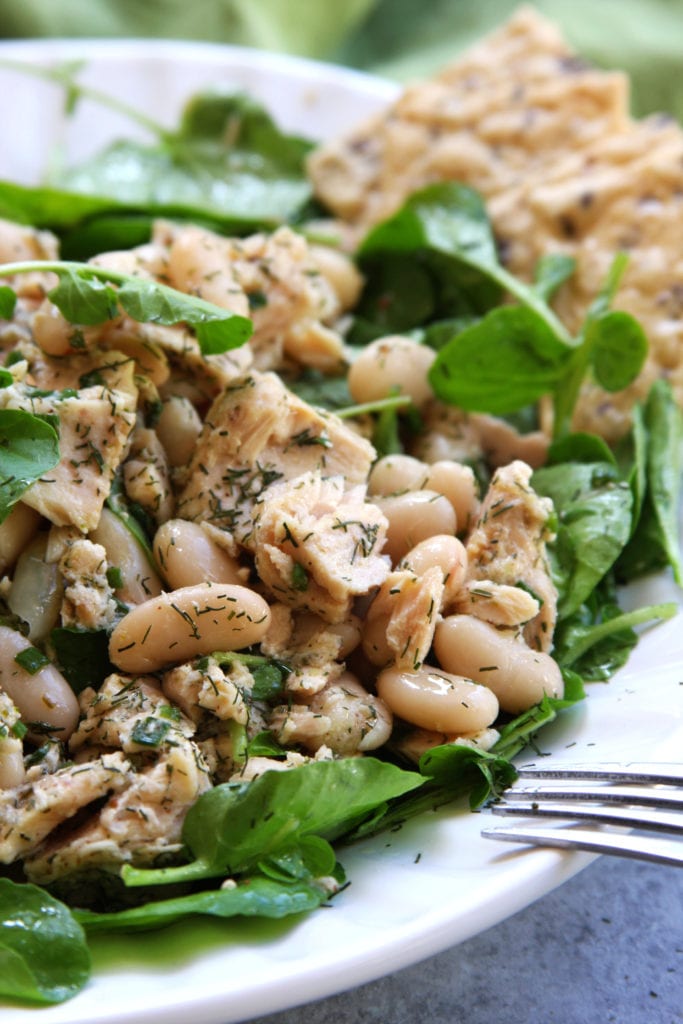 Mediterranean Tuna Salad