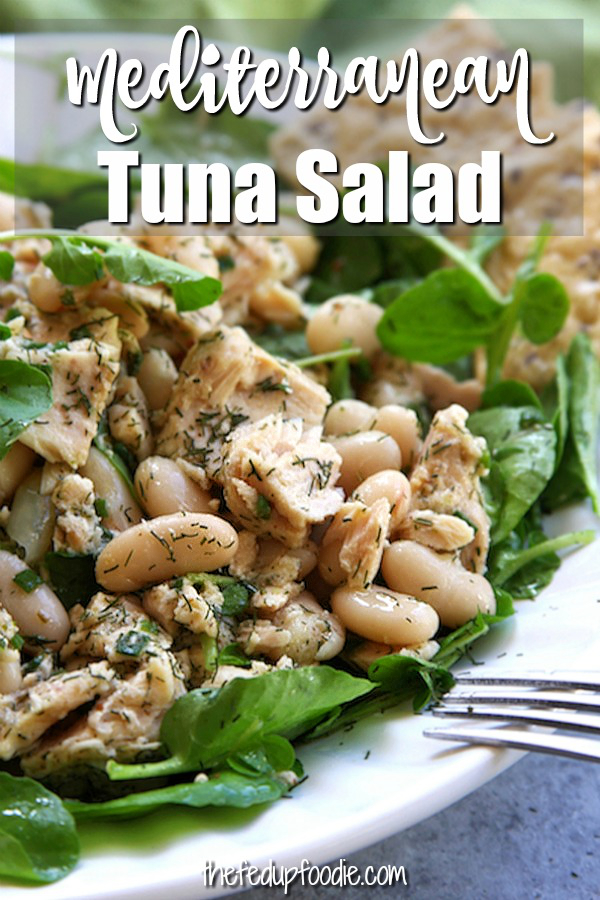 Mediterranean Tuna Salad is a fast and healthy recipe perfect for lunch or dinners with no cooking. This recipe is light, satisfying and packed with flavor. It's the perfect meal to keep you in your skinny jeans.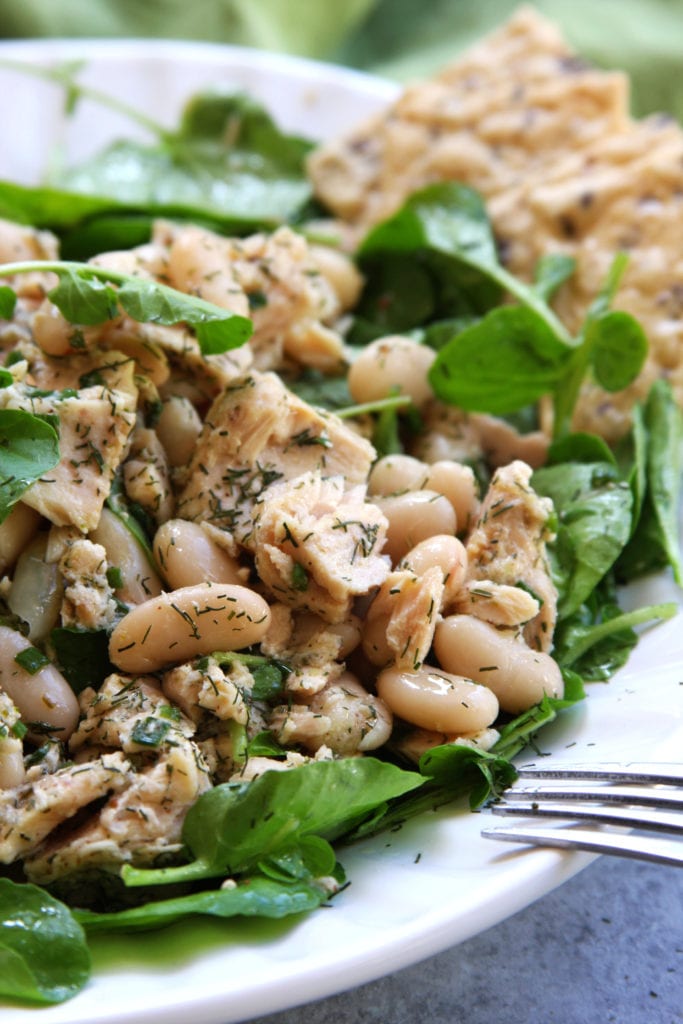 This post may contain affiliate links which I earn a small portion in sales if a purchase is made. Rest assured though, it is never at any additional cost to you.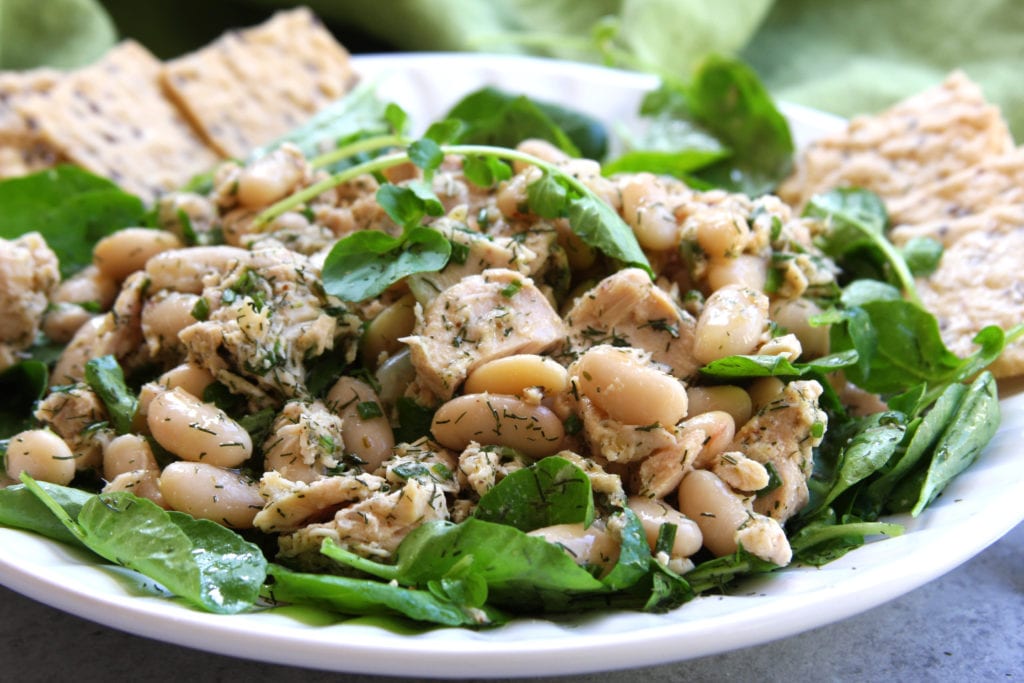 When I told my husband I was going to create this Mediterranean Tuna Salad using cannellini beans, olive oil and lemon juice he wrinkled up his nose in displeasure.
He often jokes that because he is from the midwest he tends to like simplicity and is hesitant when something sounds like it might have too much flavor.
This always makes me giggle because what he loves most from my cooking, are the meals packed with flavor.
Needless to say, what started out as hesitancy ended up with him telling me "this is really good". Neaner, neaner, neaner…told you so!!!!
In all seriousness, what I love about this meal in addition to its wonderful fresh flavor due to the dill, chives and citrus, is it is so fast to make and there is no cooking.
Additionally it is extremely healthy with the heart healthy olive oil (1), vitamin packed watercress (2) and protein/fiber rich cannellini beans (3).
Mediterranean Tuna Salad will help keep you in your skinny jeans while packing in a high level of nutrition and will fight off hunger.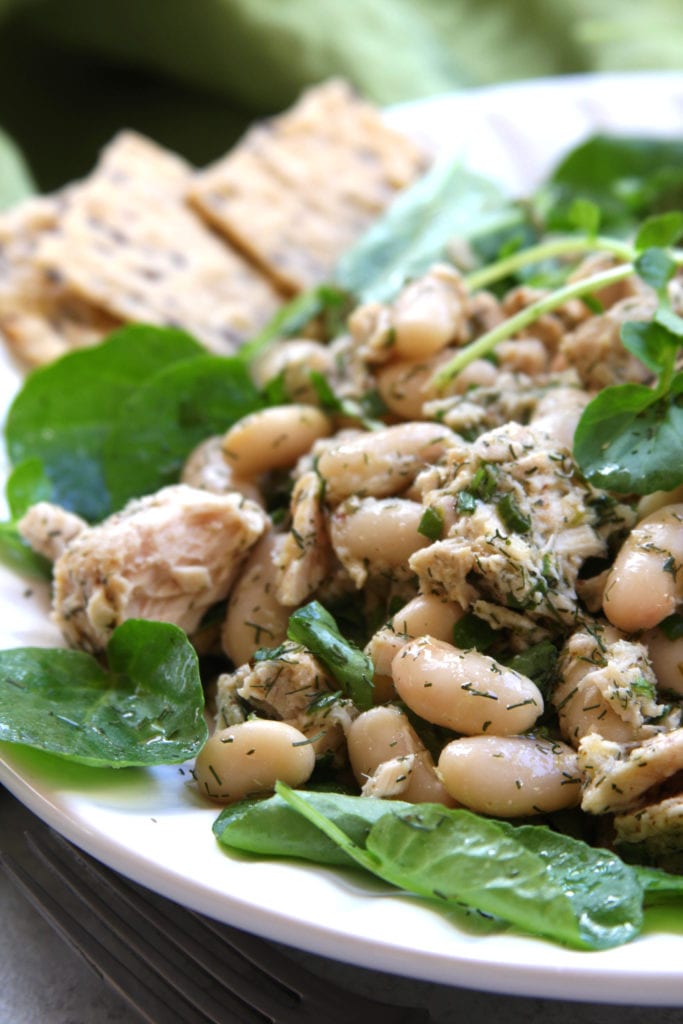 Tips about Mediterranean Tuna Salad:
You may be asking yourself what on earth does watercress taste like? It has a mild peppery taste similar to arugula. Pro Tip: The secret with watercress is to buy the younger, fresher picked leaves as the larger/older leaves tend to have more of a bitter taste to them. Ideally, if you can purchase these health packed leaves in the living state, nutrition levels will remain intact and their taste will be out of this world.
My favorite part of this salad is the dill. I love how refreshing this herb is and is perfect for dressings, salads, dips and sauces. Simply Organic is one my all time favorite brands because the dill is always fresh and amazing tasting. (affiliate)
Stuffing a tomato or avocado with this recipe is perfect for those trying to keep their carbohydrate levels down or needing gluten free. This tuna salad also tastes wonderful on bread or with crackers and/or organic tortilla chips.
If you need a break from cooking and still want to eat healthy this is the meal for you. It literally takes 10 minutes to throw it together. Completely low stress with zero guilt. For another wonderfully healthy no cook meal check out Summer Smoked Salmon Sandwiches.
How to Serve: 10 Mediterranean-Inspired Ideas
This Mediterranean Tuna Salad recipe is endlessly versatile, lending itself to creative presentations. Take your tuna salad service up a notch with these Mediterranean-inspired plating and serving ideas.
Turn into Lettuce Wraps- Wrap tuna salad in lettuce or cabbage leaves for a fresh, low-carb handheld option.
Stuff in Tomatoes- Scoop tuna salad into ripe tomato halves or hollowed-out smaller tomatoes for a fresh, vibrant presentation.

Pair with Grilled Flatbread- Serve tuna salad atop slices of warm grilled flatbread.
Serve in Pita Pockets- Load pita bread with tuna salad for a traditional Greek sandwich. Add chopped veggies like cucumber, tomato, and onion.
Fill Avocado Halves- Stuff tuna salad mix into halved avocados for a creamy, nutrition-packed base.
Scoop into Bell Peppers- Use colorful bell peppers as vessels for scoops of tuna salad.
Mix with Orzo- Toss tuna salad with cooked orzo pasta for a Greek pasta salad.
Top Baked Potatoes- Pile tuna salad onto baked russet or sweet potatoes for a protein-packed meal.
Stuff Portobello Caps- Fill grilled portobello mushroom caps with scoops of tuna salad for a meatless, gluten-free option.
Zucchini Boats– Scoop out zucchini halves and fill with salad.
Variations
Here are some tasty add-in ideas to take this Mediterranean Tuna Salad to the next level:
Diced cucumber

Chopped Kalamata olives

Diced red onion

Crumbled feta cheese

Chopped roasted red peppers

Sliced grape tomatoes

Shredded carrots

Sliced radishes

Toasted pine nuts for crunch

Lemon zest

Crumbled bacon or pancetta

Roasted artichoke hearts

Capers

Hot sauce

Red pepper flakes

Dried cranberries or raisins
Frequently Asked Questions
What type of tuna should I use?
Any high-quality canned tuna will work well in this recipe. Albacore is the classic choice, but you can experiment with flavors and budgets. Just be sure to drain the tuna well before use.
Albacore Tuna- This is a classic choice for tuna salad. Albacore is a lighter tuna with a mild flavor. Opt for tuna packed in water rather than oil.
Skipjack Tuna- Also called "light tuna", this is one of the most affordable options. It has a stronger flavor than albacore. The chunk light variety works well.
Yellowfin Tuna- Yellowfin has a slight red hue and richer taste. It holds up nicely in salads. Use high quality canned yellowfin.
What if I don't have chives on hand?
If you don't have chives, there are a few good alternatives you can substitute in this tuna salad recipe:
Scallions- Sliced scallions (green onions) provide a similar mild onion and garlic flavor. Use the sliced greens.
Shallot- For a more delicate onion flavor, use 2-3 tablespoons of finely minced shallot.
Onion- Regular yellow, white or red onion finely diced adds allium flavor. Use about 2 tablespoons.
Leeks- Sliced leek greens impart a subtle onion taste.
Asparagus- Thinly sliced raw asparagus adds a bit of delicate onion flavor.
Fennel- Shaved fennel bulb has a faint licorice scent similar to chives.
Celery- Finely chopped celery provides a crisp, fresh texture.
Omitting the chives altogether is also an option if you don't have a substitute handy. The salad will still be tasty without them!
Do I need to use fresh watercress or can I use another green?
You can substitute other greens for the watercress in this recipe. Here are some options:
Arugula- The peppery flavor would pair nicely with the tuna.

Spinach- Baby spinach or mature spinach leaves would work well.
Mixed greens- Use a spring mix or make your own blend with lettuces like romaine, red leaf, etc.
Kale- Remove the stems from kale leaves and chop the leaves into bite-sized pieces to sub for watercress.
Endive- The crunchy texture and slight bitterness complements the salad.

Radicchio- Adds color and a pleasant bitterness.
Romaine- Chopped romaine has a nice crisp bite.
Cabbage- Green or red cabbage shredded finely makes a good substitute.
How long will the salad last in the fridge?
This Mediterranean Tuna Salad should last 3-5 days refrigerated in an airtight container.
Can I prepare the dressing ahead of time?
Yes, you can prepare the dressing for this tuna salad recipe in advance. Make the dressing up to 5 days ahead. Store in an airtight container in the refrigerator.
Can I use other herbs?
Here are some suggestions on which herbs to use in addition to or instead of dill in the tuna salad recipe:
Use in addition to dill:
Chives- The mild onion flavor complements dill nicely.
Parsley- The fresh green flavor works well with dill.
Mint- Adds a refreshing note and pairs well with dill.
Basil- The sweetness balances out the dill.
Use instead of dill:
Tarragon- Has a distinct anise-like flavor that can stand in for dill.
Thyme- Earthy thyme can substitute for dill's herbal quality.

Oregano- The subtle spice flavors the salad similarly to dill.
Cilantro- Offers a bright, citrusy flavor in place of dill.
Rosemary- Strong pine flavor substitutes nicely for dill.
I'd recommend using 1-2 teaspoons of any herb swapping in for the dill called for in the recipe. Taste and adjust the amount as needed. The herbs with the most complementary flavors can be added along with the dill for extra herbal complexity. Have fun finding your favorite herb combinations!
Can I use different types of beans?
Yes, you can absolutely use different types of beans in this tuna salad recipe instead of cannellini beans. Here are some ideas:
Garbanzo Beans- These have a nutty, buttery flavor that would pair well with the tuna.

Kidney Beans- They have a slightly sweet bean flavor and hold their shape well in salads.
Black Beans- Earthy, hearty black beans would provide great color contrast and texture.

Pinto Beans- Their creamy, mellow flavor that would complement the other ingredients.
Navy Beans- Small white navy beans have a smooth, velvety texture good for salad.
Lima Beans- Buttery, starchy lima beans are a classic pairing with tuna.
The important thing is to rinse and drain any canned beans well to remove excess sodium. Adjust seasoning of the salad as needed with salt, pepper, lemon juice, etc. depending on the beans used. Have fun experimenting with different bean varieties!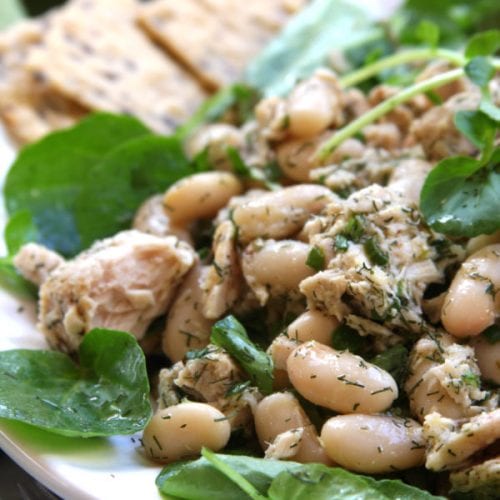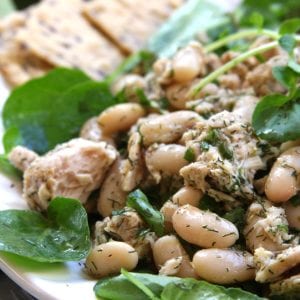 Mediterranean Tuna Salad
A healthy and fast meal packed with flavor.
Print
Pin
Rate
Ingredients
1/4

cup

extra virgin olive oil

2

tbsp

red wine vinegar

2

tbsp

lemon juice

1

tsp

stone ground brown mustard

1

tsp

dried dill

1/4

cup

finely diced chives

3

cups

loosely packed watercress

*roughly chopped

15

oz

can cannellini beans

*rinsed & drained

10

oz

wild caught albacore tuna

salt to taste
Instructions
In a medium sized mixing bowl measure olive oil. Whisk in vinegar, lemon juice and mustard until emulsified. Stir in dill and chives. Add watercress, beans and tuna, toss gently. Salt to taste.

Serve on favorite bread, in a tomato or avocado or with your favorite crackers.
Notes
*Please use as many organic ingredients as possible.*
Nutrition
Calories:
295
kcal
|
Carbohydrates:
17
g
|
Protein:
23
g
|
Fat:
16
g
|
Saturated Fat:
2
g
|
Cholesterol:
30
mg
|
Sodium:
522
mg
|
Potassium:
252
mg
|
Fiber:
5
g
|
Sugar:
1
g
|
Vitamin A:
951
IU
|
Vitamin C:
15
mg
|
Calcium:
109
mg
|
Iron:
3
mg
Follow along on Facebook and Pinterest for more savory inspirations.
If you love quick, healthy and flavor packed meals than check out these recipes: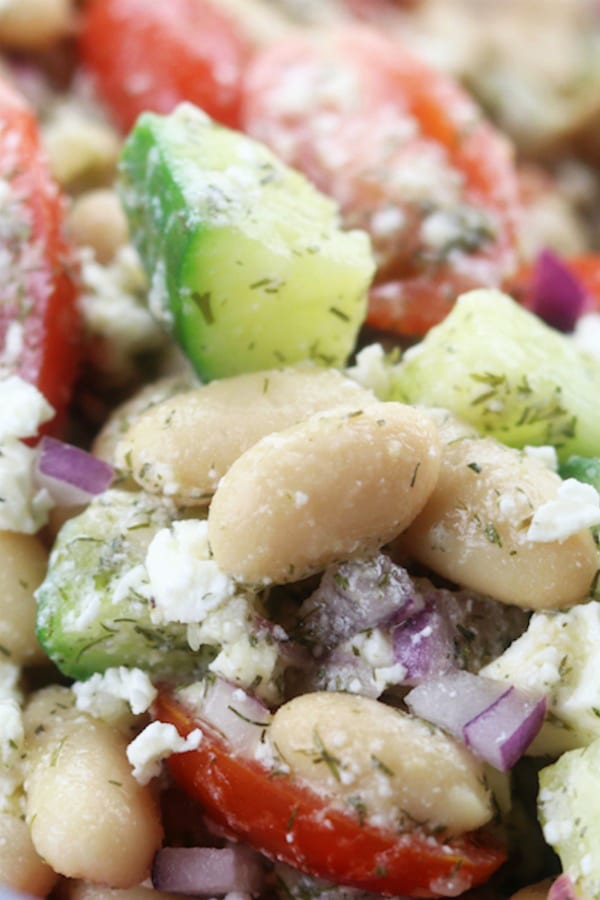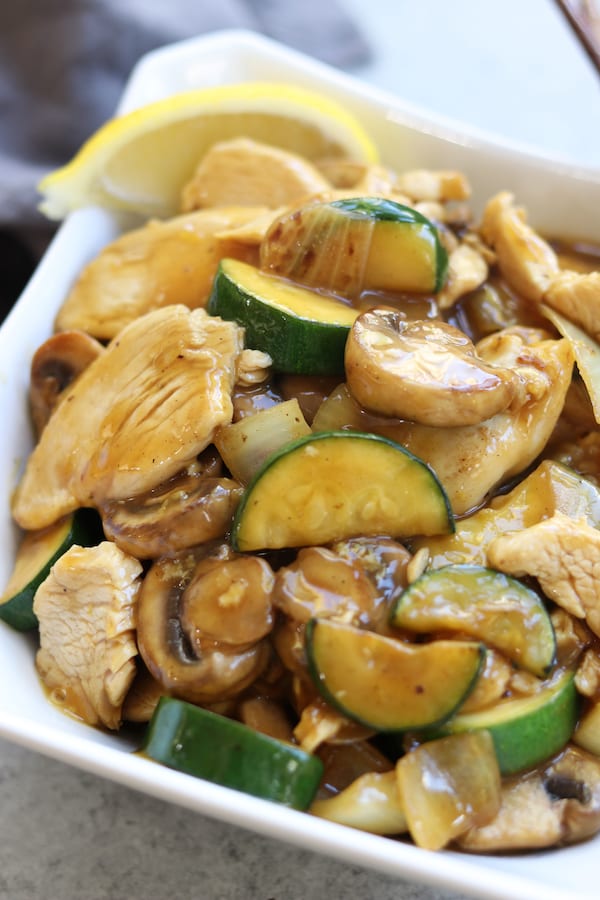 Lemon Chicken Stir Fry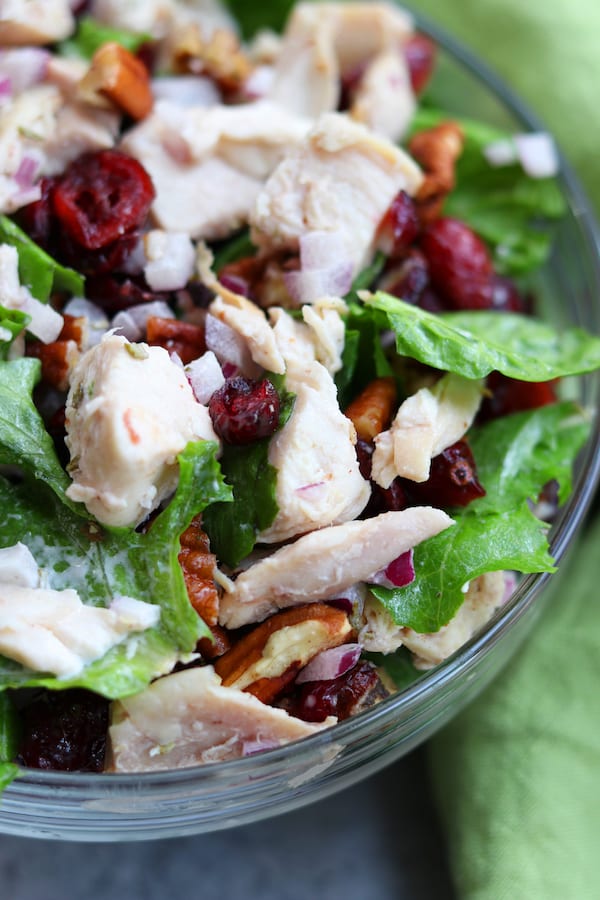 Pecan Cranberry Chicken Salad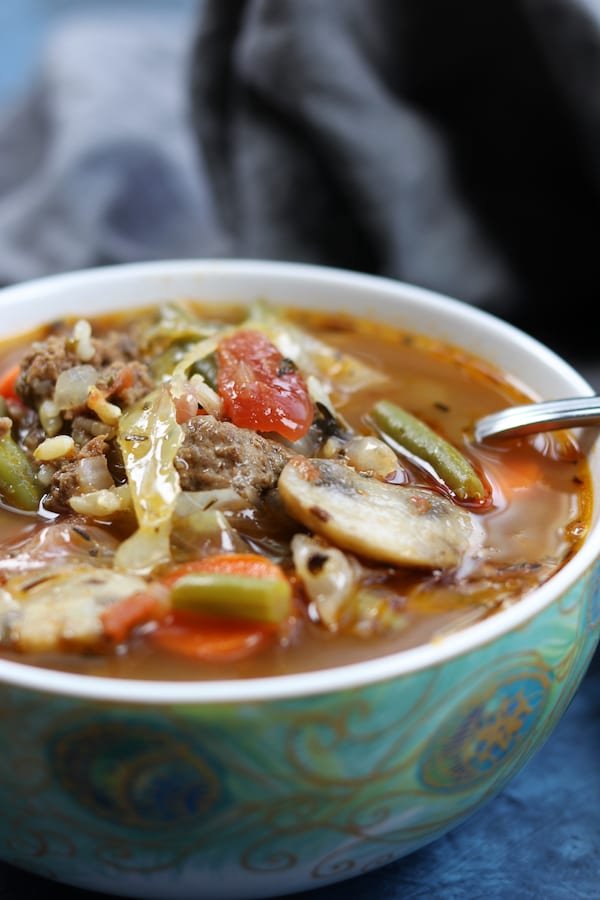 Hamburger Vegetable Soup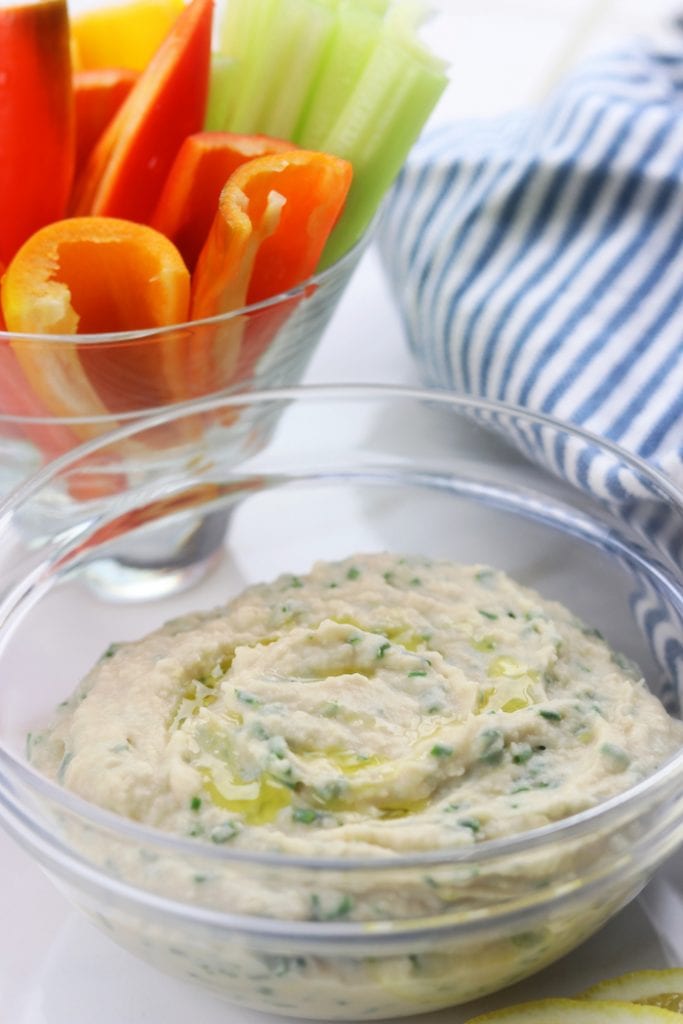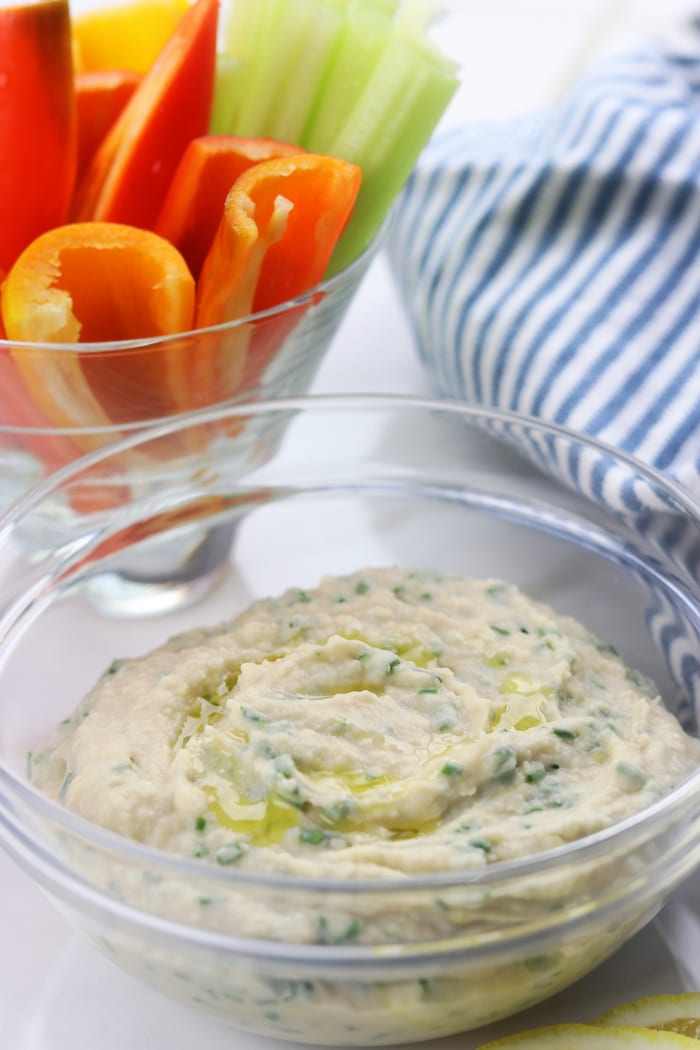 Simple White Bean Dip