This Classic Spaghetti Sauce is the ultimate Italian comfort food. It is rustic, flavorful and versatile enough to use for lasagna, ravioli, eggplant parmesan, etc. My family has been making this gorgeous sauce for decades now.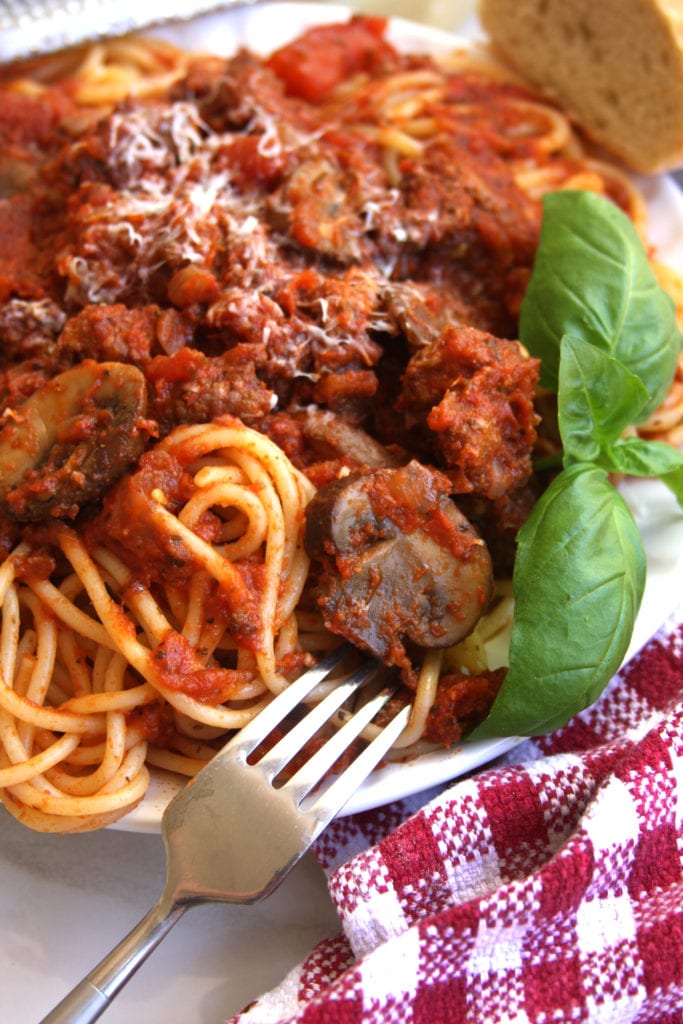 This post may contain affiliate links which I earn a small portion in sales if a purchase is made. Rest assured though, it is never at any additional cost to you.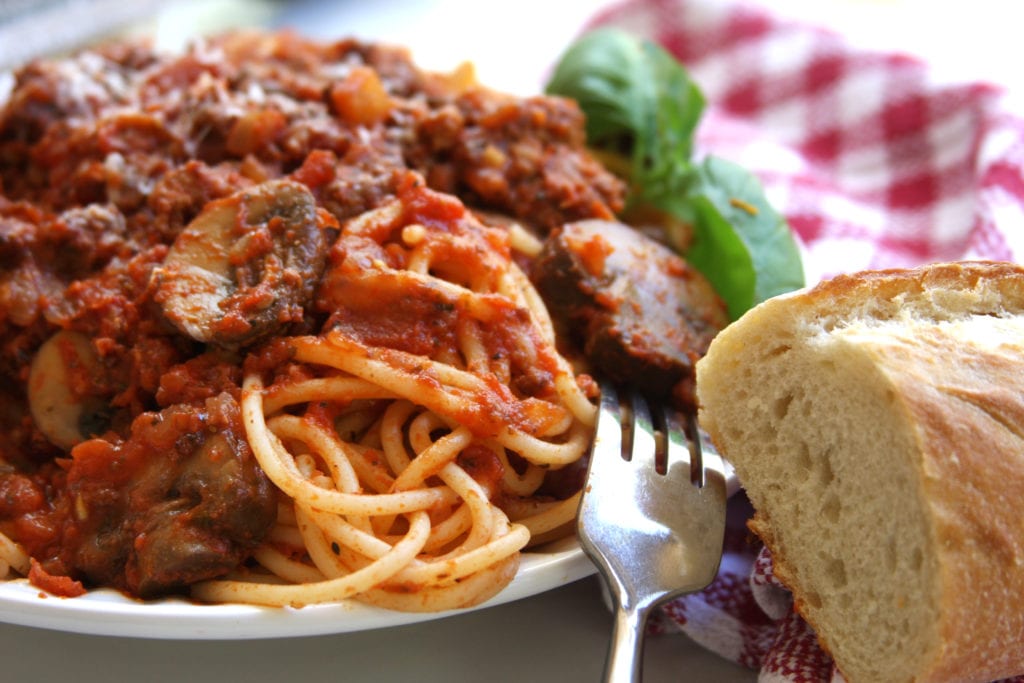 I don't actually remember what the first meal I learned to cook was, but I am pretty sure it was this Classic Spaghetti Sauce. I remember being a preteen in the kitchen, cooking this with my mom. I can still feel the oregano grinding between the palm of my hands, watching it fall into the pan as the warm spicy aroma wafts up to my nose. Our home would be filled with the smell of garlic, oregano and fennel, often drifting out and taunting the neighborhood. Sitting down to a portion of these lacy noodles smothered in the rustic tomatoes, chunky mushrooms and savory Homemade Italian Sausage brings me back to when my mom was still alive and my family was young. This sauce is very much ingrained into my family history and was the foundation to my love of herbs and spices. If you are one of many people who believe that spaghetti is just something to heat up when there isn't anything else to eat, you have been deprived my friend. Once you try this Classic Spaghetti Sauce, I can bet it will become a recipe staple for your family also.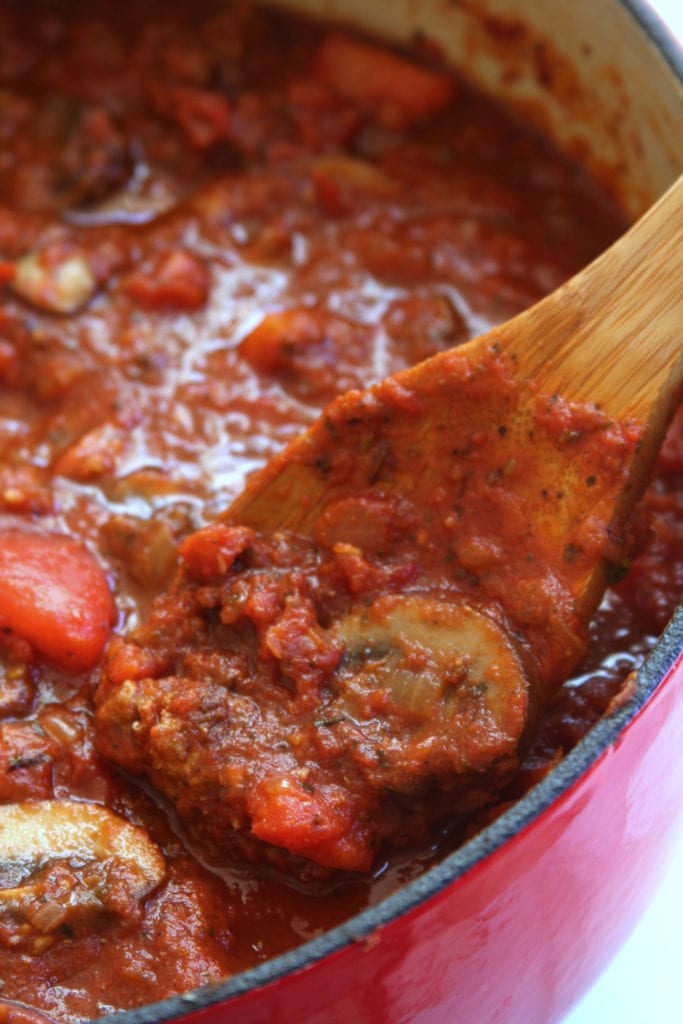 Tips for Classic Spaghetti Sauce:
A great sauce starts with great tasting meat. My family has been making this Homemade Italian Sausage recipe for ages now. Making your own sausage allows you control of tailoring the spices to your preference. If you decide not to make your own, then I definitely recommend using really good Italian sausage.
Here is a secret, I cheat a bit. Years ago we would use canned tomato sauce when making this Classic Spaghetti Sauce. Since becoming the hybrid tree hugger that I am (yes, I am poking fun at myself), I try to limit the amount of canned products due to their BPA. Instead of canned tomato sauce I now use either a 25 oz glass jar of tomato sauce or the same size in tomato basil pasta sauce. Either one is fine however, if you do use the plain tomato sauce you will need to increase the basil by about 1 tsp or so depending on your taste preferences.
If you have the luxury of using fresh herbs, absolutely do so. Fresh herbs are not as potent as dried, so you will need to use about 3 times the amount listed in this recipe. Instead of 2 tsp dried ground rosemary, use 2 tbsp (6 tsp) finely chopped rosemary. Instead of 1 tsp crushed oregano, use 1 tbsp (3 tsp) finely chopped oregano and instead of 1/2 tsp dried basil use 1 1/2 tsp thinly sliced basil leaves. One last note about fresh herbs, add them towards the end of cooking, around the same time as the fresh tomatoes. Fresh herbs do not need to cook for very long.
Using fresh cut tomatoes adds a clean bright taste where as canned tomatoes can taste somewhat metallic. Taking the skin off of the tomato is an optional step. The skin doesn't bother us but if you like yours removed, check out this instructional post from The Kitchen.
Red red wine, a little for the sauce and a little for the cook. Red wine brings in a deeper flavor to the sauce and marries all the flavors together.
This Classic Spaghetti Sauce can be made a few days ahead of time and then heated over low flame while cooking the noodles. Serve with salad and you have a fast homemade meal.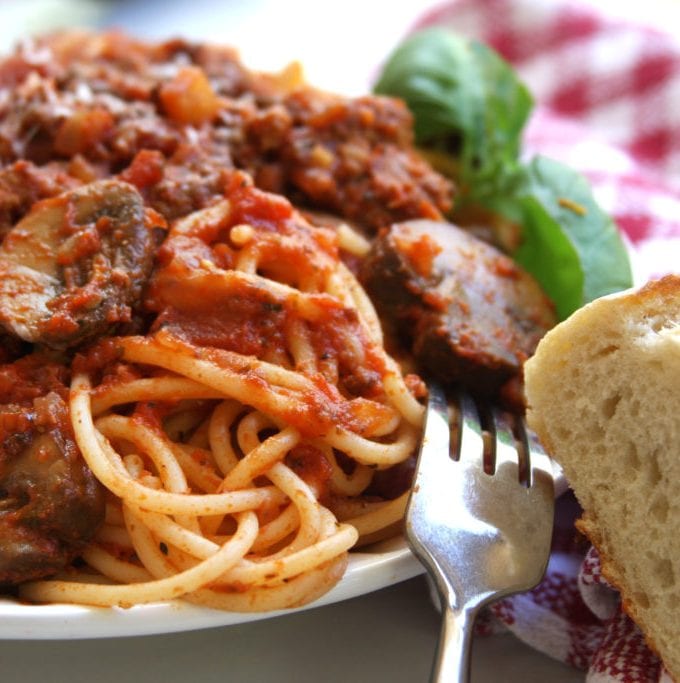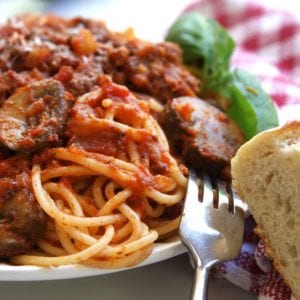 Classic Spaghetti Sauce
A hearty, rustic and flavor packed sauce perfect for spaghetti, ravioli, eggplant parmesan, etc.
Print
Pin
Rate
Ingredients
24-26

oz

jar tomato basil pasta sauce or plain tomato sauce

1

tbsp

olive oil

3/4

lb

Italian sausage *casing removed

1/2

lg brown onion *chopped coarsely

10

oz

sliced mushrooms *sliced chunky

4

cloves

garlic *minced

2

tsp

dried ground rosemary

1

tsp

dried oregano *crushed between palm of hands

1/2

tsp

dried basil

1/8

cup

red wine

4-5

med tomatoes *roughly chopped

1

lb

spaghetti noodles
Instructions
Heat a dutch oven over med-high heat. Add olive oil and Italian sausage. Cook for approximately 10-12 mins, crumbling as it cooks. Drain sausage onto paper towels, leaving a small amount of sausage drippings in pan. Set sausage aside.

Place pan back on med-high heat and sauté onion in sausage drippings for 5-7 mins, stirring occasionally. Add mushrooms and cook for approximately 7 mins.

Turn heat down to med- low. Add garlic. Cook for 1 min stirring frequently. Add Spices. Cook for another 30 secs stirring frequently.

Add tomato sauce, red wine and sausage. Simmer covered for approximately 15-20 mins, stirring periodically. Add tomatoes, stir and simmer covered for another 15 mins on low.

Cook noodles to according to package.
Notes
*Please use as many organic ingredients as possible.*
Nutrition
Calories:
421
kcal
|
Carbohydrates:
52
g
|
Protein:
16
g
|
Fat:
16
g
|
Saturated Fat:
5
g
|
Cholesterol:
32
mg
|
Sodium:
766
mg
|
Potassium:
795
mg
|
Fiber:
4
g
|
Sugar:
8
g
|
Vitamin A:
881
IU
|
Vitamin C:
17
mg
|
Calcium:
45
mg
|
Iron:
3
mg