Homemade Italian Sausage is extremely easy to make and allows you to adjust spices to to the level that is perfect for your taste preferences. No yucky fillers or additives because it is all in your control. This recipe makes wonderfully mild sausage crumbles perfect for spaghetti sauce or sausage patties.
This Homemade Italian Sausage recipe is the secret to making incredibly easy and delicious Sausage Pesto Pasta. Serve with a side salad that is dressed with Simple Herbed Vinaigrette and Homemade Sourdough Bread for a tasty complete meal. Of course an Italian feast would not be complete without Italian Lemon Pound Cake for dessert.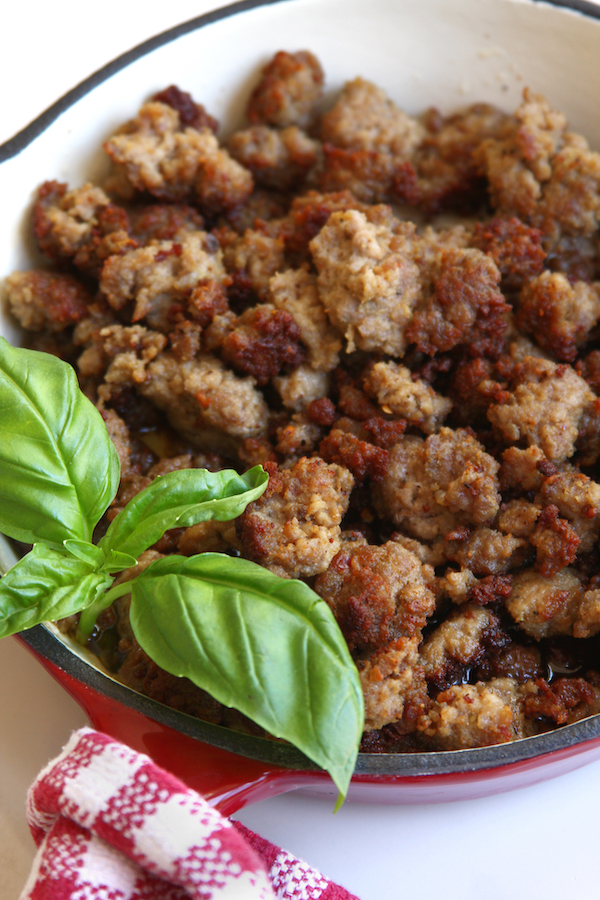 This post may contain affiliate links which I earn a small portion in sales if a purchase is made. Rest assured though, it is never at any additional cost to you.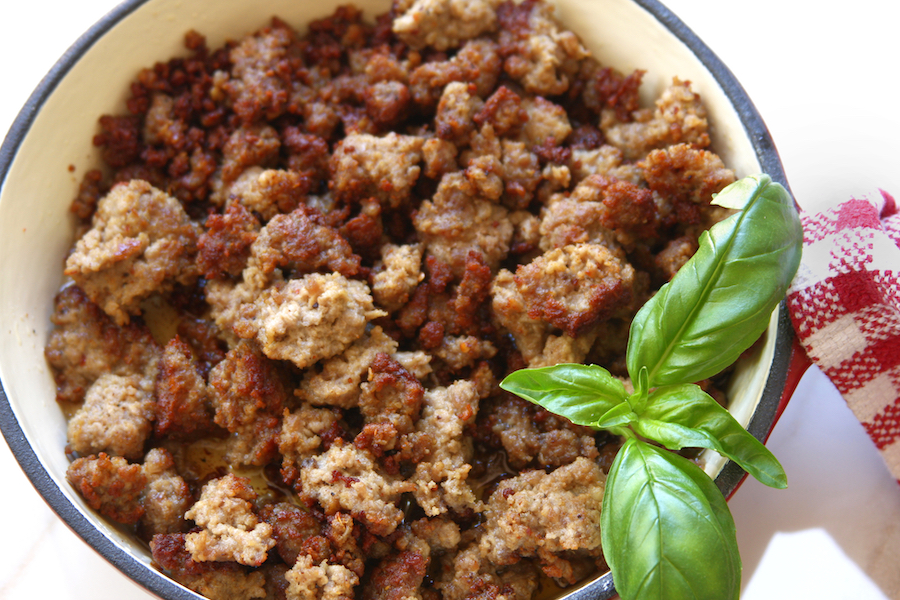 Why Make Homemade Italian Sausage?
One of my biggest challenges with grocery shopping in recent years has been trying to find really good tasting Italian sausage. What I have come across in stores is either too spicy or absolutely lacking flavor. Additionally, the texture of many store bought Italian Sausages feels like cheap meat.
After multiple attempts, it finally dawned on me. Why on earth am I wasting time and money? Why not just make my own?
I grew up in a home where we made homemade Italian sausage all the time. Somewhere in adulthood I just simply fell out of the habit. Well that finally changed. Once I realized the poor quality of the meats available and just how 'not so great tasting' the Italian sausages on the market are, I got back to my roots. The best part of Homemade Italian Sausage, it is really easy to make.
Ingredients Needed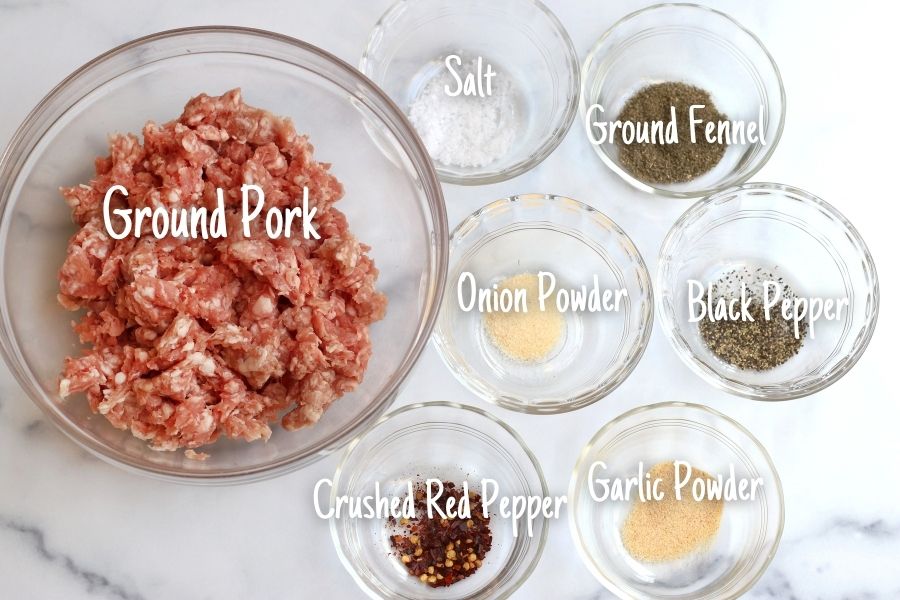 Ground Pork– If grinding your own meat, use pork shoulder with the fat. The easiest way to grind it is with the KitchenAid Grinder Attachment.
Salt– Maldon's Sea Salt Flakes is known for its unique shaped flakes and pleasant clean flavor.
Ground Fennel– Adds the distinct, aromatic flavor that is characteristic of Italian sausage. If using fennel seeds, grind in a small coffee grinder.
Onion Powder– Provides a savory and slightly sweet taste to the sausage. Also, onion powder helps to enhance the overall flavor profile.
Garlic Powder– Imparts a rich and pungent garlic flavor to the sausage.
Black Pepper– Adds a subtle spiciness and depth of flavor.
Crushed Red Pepper– Brings a touch of spiciness to the sausage.
Additional Spice Options
I love this Italian Sausage recipe because it is so fast and simple to make with minimal spices. Additionally, it works beautifully for lasagna, pizza, spaghetti, pasta, etc, because many of these recipes already have complex Italian flavors. However, you may want your Italian Sausage to have a bit more punch of flavor. Here are some ingredient options that will help with that.
Fresh garlic, 1 tablespoon or about 4 cloves crushed to replace the garlic powder.
2 teaspoons each of any of the following; dried marjoram, oregano or ground rosemary.
1 teaspoon anise seed ground with a small coffee grinder or mortar and pestle.
How To Make Homemade Italian Sausage
Grind Pork and place in a medium sized mixing bowl.
Prepare spices and add to ground pork.
Mix well using a clean or a gloved hand.
Store in the refrigerator until ready to use for up to 2 days, or freeze in a freezer container for up to 2 months.
Sweet Italian Sausage vs Hot Italian Sausage
This recipe, as written, is a mild Italian Sausage. However, to change the recipe to a sweet or hot version simply follow these steps.
Sweet Italian Sausage
Add in 1 tablespoon of dried basil, also known sweet basil. Additionally, 1-2 tablespoons of white granulated sugar may be added. However, I personally do not feel the sugar is necessary.
Hot Italian Sausage
Increase the red chili pepper flakes to 1 teaspoon and add 1 teaspoon ground cayenne pepper.
Various Meat Options
Traditionally here in the United States ground pork is used for Italian Sausage. However, many types of ground meat can replace the pork. For example, if you are trying to lower cholesterol, ground turkey or chicken works wonderfully with these spices. In a pinch when pork is not available, ground beef or lamb will work well. Just note though, lower fat meat will require more oil to brown than ground pork does.
How To Cook Italian Sausage Crumbles
Heat a frying pan over medium/high heat.
Add 1 tablespoon of oil (2-3 tablespoons if using ground turkey or chicken) to the frying pan.
Add sausage to pan and break apart using a spatula.
Cook until browned stirring occasionally, about 8-9 minutes.
FAQ's
Can I freeze Homemade Italian Sausage?
Absolutely! Once the sausage is mixed, transfer to a freezer bag and label with the date. Remove all the air from the bag before sealing and keep frozen for up to 2 months.
Will Italian Sausage cook in sauce?
Yes, however it really is best to first brown the sausage and then cook in the sauce. The browning of the sausage adds a wonderful depth of flavor and the texture of the sausage becomes much more appealing.
Is this sausage gluten-free?
This recipe creates a gluten-free Italian Sausage.
How long will this Italian Sausage last in the refrigerator?
Once mixed, place in an air tight container and refrigerate for up to 2 days.
More Delicious Italian Recipes
If you enjoyed this Homemade Italian Sausage recipe please let me know by leaving a comment and review below. Doing so helps to encourage others to make the recipe also. Thank you!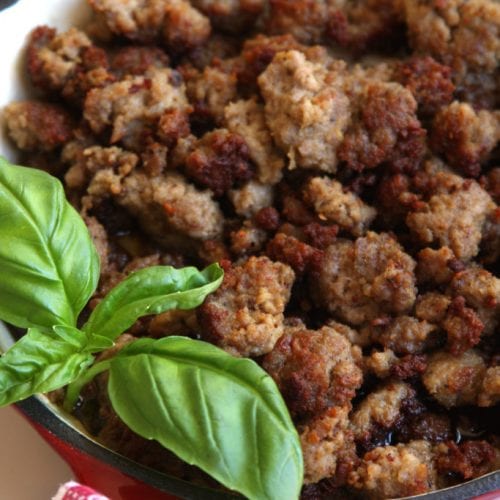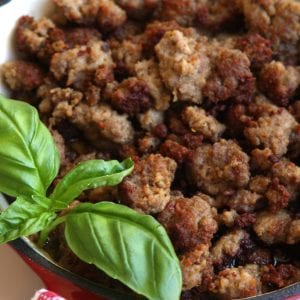 Homemade Italian Sausage
Homamde Italian Sausage recipe creates a quick and easy mild sausage perfect for spaghetti sauce, pasta, pizza, casseroles, soups or sausage patties.
Print
Pin
Rate
Ingredients
1

pound

ground pork

1 1/2

teaspoons

ground fennel seed

1/8

teaspoon

red chili pepper flakes

1/2

teaspoon

garlic powder

1/2

teaspoon

onion powder

1/8

teaspoon

ground black pepper

1/2

teaspoon

salt
Instructions
Measure spices onto a small plate or bowl.

Place ground pork in a medium size mixing bowl and add spices. Mix until spices are thoroughly incorporated.

Freeze or refrigerate until ready to use. Will keep uncooked in refrigerator for 2 days.
Notes
*Please use as many organic ingredients as possible.*
Recipe Notes
This recipe skips the casing and saves an immense amount of time. The casing is meant to keep the meat moist. If you use the sausage right away or store in an air tight container, you really can get away with out doing this extra step.
Nutrition
Calories:
1139
kcal
|
Carbohydrates:
4
g
|
Protein:
77
g
|
Fat:
88
g
|
Saturated Fat:
28
g
|
Cholesterol:
320
mg
|
Sodium:
1467
mg
|
Potassium:
1082
mg
|
Fiber:
2
g
|
Sugar:
1
g
|
Vitamin A:
5
IU
|
Vitamin C:
1
mg
|
Calcium:
111
mg
|
Iron:
5
mg