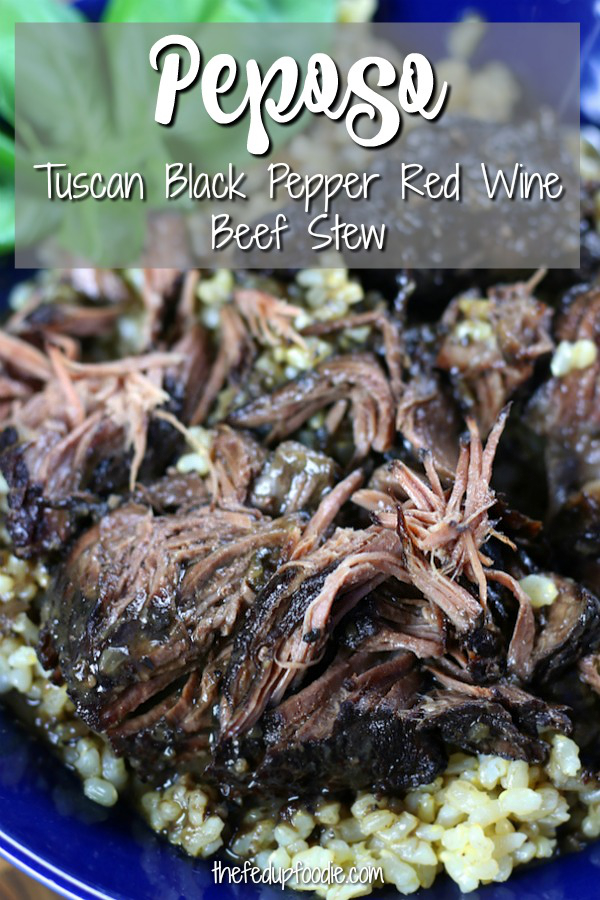 This Peposo recipe, aka "Tuscan Black Pepper Red Wine Stew", creates incredibly flavor and mouthwatering beef. Not only does the meat shred with the touch of a fork, but also melts in your mouth with a rich and savory red wine broth.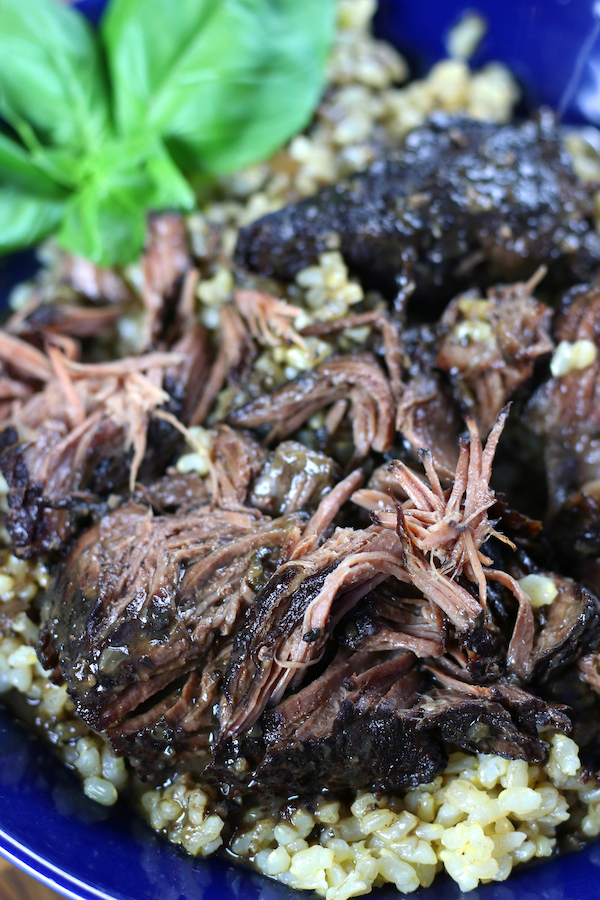 This post may contain affiliate links which I earn a small portion in sales if a purchase is made. Rest assured though, it is never at any additional cost to you.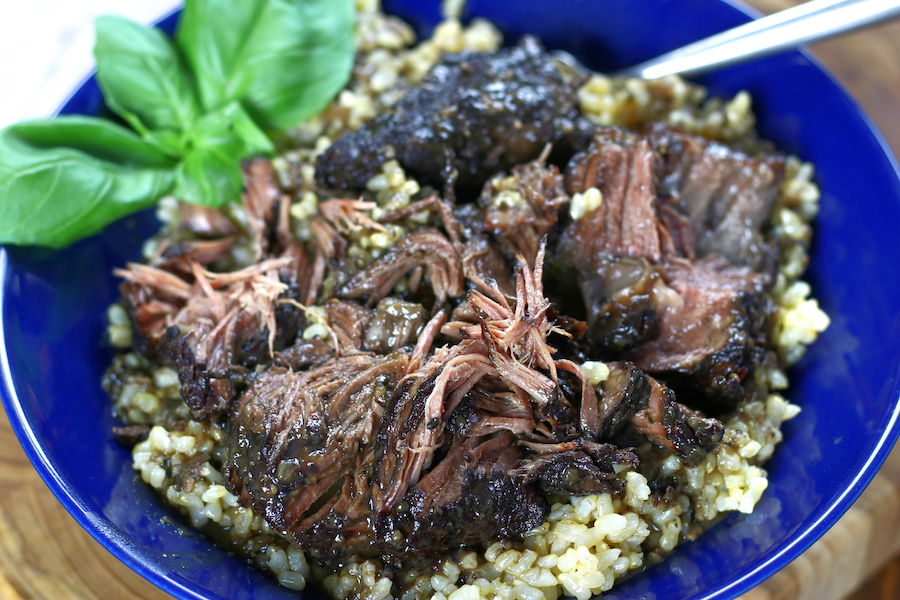 Here in the states we have a love affair with Italian cuisine and it has been that way for quite a long time.
Sadly however, a majority of Americans view Italian food as being anything off of the Olive Garden menu.
Don't get me wrong, I do enjoy a trip to Olive Garden every so often (that's the American in me) but the Italian in me enjoys more of the classical Italian meals like Ribolita (Italian Bread and Vegetable Soup), Steak Pizzaiola and my version of Peposo.
Although this meal is a slow cooking stew, it is very easy to make and highly romantic.
The melt in your mouth beef with the savory broth is perfect as a family dinner or romantic evening in.
Traditionally, it is served over Creamy Polenta. However, for this dish I was focused on increasing the nutritional density and so I served it over Short Grain Brown Rice. Either way, it tastes amazing!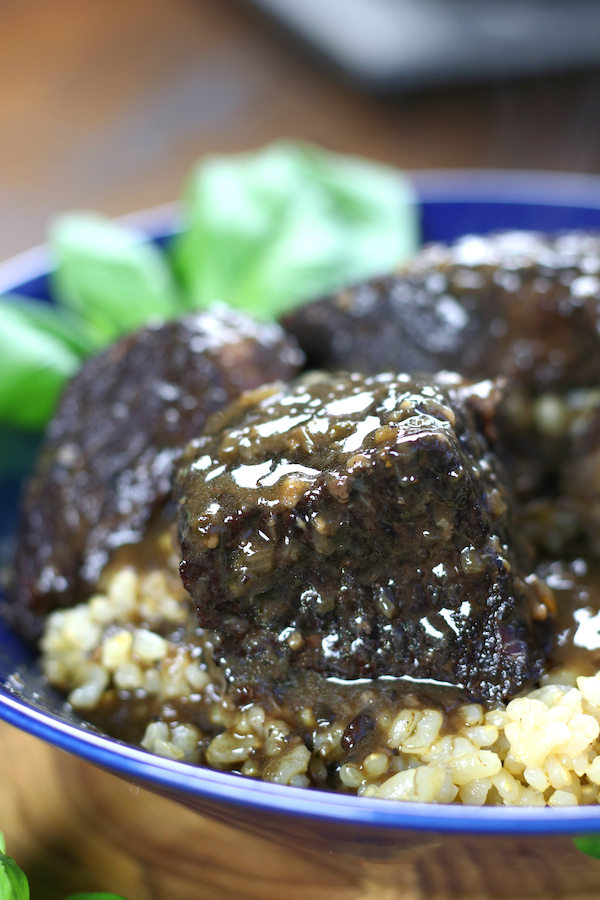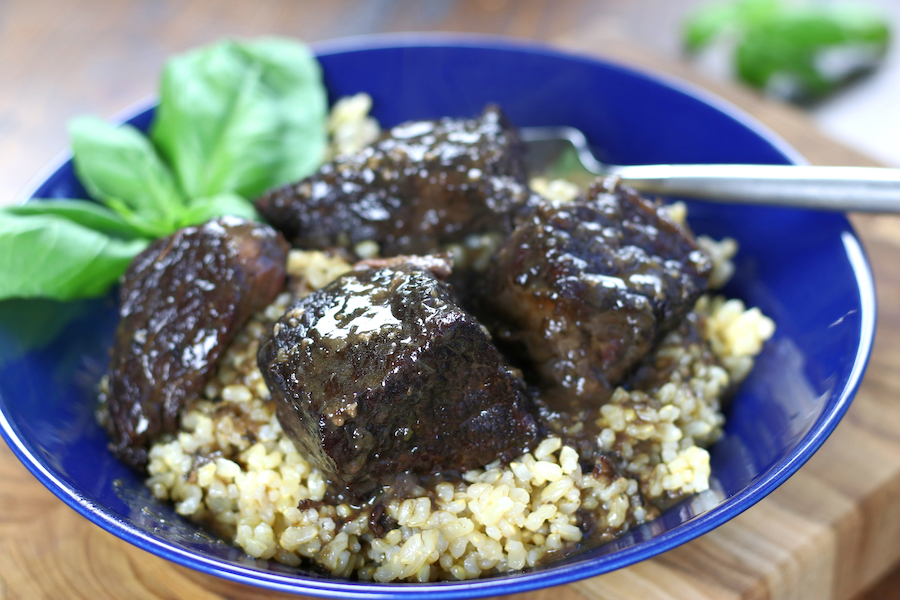 What Is Peposo
Peposo, in a nut shell, is basically a Tuscan Black Pepper and Chianti Beef stew. The story of how this stew came to be says it was invented by terra cotta tile workers that used tougher, more inferior cuts of beef, that were slow cooked in terra cotta pots with chianti, black pepper and salt. This created a stew that transformed the tough cuts of meat into a mouthwatering meal.
Today, Peposo as a few additional ingredients and the cut of meat used depends on your personal taste preference and time available to make this amazing dish.
Italian Stew Ingredients
The beauty of this Tuscan Stew is that it has very few ingredients and yet turns into the most flavorful and mouthwatering dinner. The different versions of Peposo have a few varying ingredients that often come down to taste preferences. Here are the basic ingredients I used for this recipe:
boneless chuck roast (3 lbs cut into large chunks)
Olive oil (1/4 cup for searing)
salt (heavily salt the beef chunks)
shallots (about 4-5 finely diced, about 1 1/2 cups)
8 large cloves of garlic
1 tbsp dried basil
750 ml bottle of red wine
1/4 cup all purpose flour
32 oz beef broth
tomato paste (1-2 tbsp)
white pepper ( 1 tsp)
black pepper (1/2 tbsp)
Additional ingredient options include 1-2 bay leaves, 1 tbsp oregano, 2-3 fresh rosemary sprigs and diced fresh tomatoes.
Cuts of Beef To Use
Traditionally with stews, tougher cuts of meat with fat marbling are preferable. This is because the longer cooking times of stew breaks down the collagen rich connective tissues of tougher cuts. This in combination with the fat marbling yields incredibly flavorful and tender beef. More expensive cuts of beef that are tender may be used for this Peposo Recipe. It is, however, imperative that cooking times are kept at a minimal for cuts such as ribeye because the more tender cuts will become tough the longer they simmer.
Here are some options of cuts of beef to use for this Peposo Stew and the approximate simmering times on the stovetop for each cut. (Simmering times does not include the time it take to sear the beef chunks.)
Beef Short Ribs– 3 1/2 hours
Ribeye Steaks– 10-15 mins
Chuck Roast– 4 1/2 hours
Rump Roast– 3 hours
Salting Beef Before Searing
The first step to making an incredibly flavorful Peposo starts with cutting, salting and then searing the beef. I personally prefer to use Boneless Chuck Roast and that is the cut of meat that is pictured.
To start, cut the roast into large chunks. Heat a dutch oven over medium high heat. While waiting for the pan to come to heat, generously salt all sides of the beef chunks. Many chefs will state that it is imperative to use Kosher Salt. However, I have successfully seared beef for many years using either a good quality Sea Salt to Pink Himalayan Salt and love the results.
Once the pan just barely starts to smoke, add the olive oil and one layer of beef chunks. The beef should be left alone at this stage for a few minutes. This will allow a beautiful caramelized crust to form on the beef that adds a depth of flavor that is amazing. After a few minutes, test to see if the beef chunks move from the surface of the pan with ease. If they do and a crust is formed, continue searing the other sides.
Pro Tip: Not overcrowding the pan while searing will help in keeping the temperature of the pan regulated, thereby helping in creating the beautiful browned crust. Searing the beef for this recipe will more than likely be done in 2- 3 batches.
Braised Beef
The act of braising beef for this Peposo first involves searing the salted beef in batches at a higher temperature, until browned and caramelized. Doing this will add an incredibly rich flavor to the final product and it is highly recommended that this step not be skipped (see above).
Once the beef has browned, remove from the pan and add the finely diced shallots. Sauté in the frond (the browned and caramelized drippings on the bottom of the pan from searing the beef) until tender, about 5-7 mins. Add in the crushed garlic and sauté until fragrant, about 1 minute. Deglaze the pan with part of the red wine and then thicken with flour.
The second part of braising the beef is then adding in the additional ingredients along with the caramelized beef back into the pan. Bring to a low boil over med/high heat and then lower to lowest heat setting, cover and simmer.
Pro Tip: Once the flour is added to the pan, whisk and cook until a creamier paste is formed and lumps of flour have been worked out. At this point, slowly whisk in beef broth and then remaining ingredients.
Black Pepper
In addition to the red wine, black pepper is the star of this dish and the type and amount used comes down to your taste preferences. This is the type of black pepper I used for this dish. However, whole black peppercorns that are crushed in a mortar and pestle may be used also.
This recipe uses 1/2 tbsp of black pepper purposefully as to not create a dish that is too spicy for delicate tastebuds, but still has wonderful flavor. If looking for a higher heat level, increase to 1-2 tbsp black pepper.
Ground White Pepper
Although not necessary, the addition of 1 tsp of ground white pepper adds another layer of flavor that is not achieved with the black pepper alone. This does come with a warning, ground white pepper is expensive. This is the most affordable way that I have seen to buy Ground White Pepper.
Red Wine
Chianti is the red wine that is traditionally used for this Italian Stew. However, I personally have found that Pinot Noir, Burgundy, Cabernet Sauvignon and Zinfandel all work well also. As long as the red wine is dry and medium to full bodied, it will work well in this recipe.
What To Cook Peposo In
The best way to cook Peposo from start to finish is in a dutch oven. Dutch ovens have the ability to stay hot for long periods of time, making it perfect for cooking stews. Also, meats sear beautifully in this type of cookware. You can easily go from searing to braising very quickly. Either a Cast Iron Dutch Oven or an Enameled Dutch Oven works perfectly with this recipe.
Peposo Without Tomatoes
For anyone who is allergic to tomatoes, simply eliminate the tomato paste. The final product will still turn out amazing without it.
What To Serve with Tuscan Beef Stew
This recipe is is so delicious that it could easily be eaten on its own. However, most people will enjoy this served over any of the following:
More Family Favorite Italian Recipes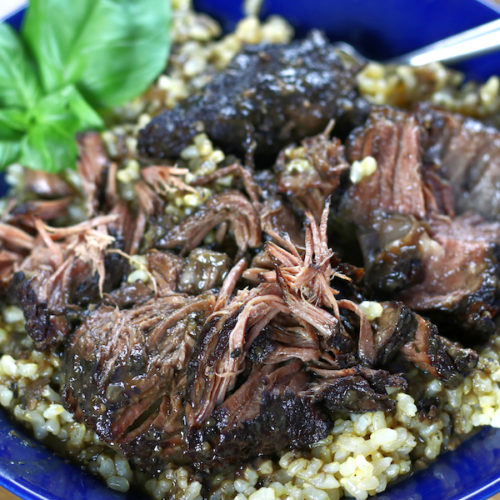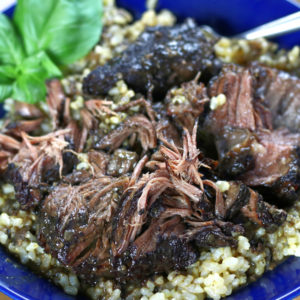 Peposo
This Peposo recipe, aka "Tuscan Black Pepper Red Wine Stew", creates incredibly flavorful and melt in your mouth beef with a rich and savory red wine broth. Incredibly romantic and delicious! This makes a great family or date night dinner.
Print
Pin
Rate
Ingredients
3

lbs

boneless chuck roast

*cut into lg chunks

1/4

cup

olive oil

salt

*for generously salting beef chunks (see above in post for types)

5

shallots

*finely diced, about 1 1/2 cups

8

cloves

garlic

*crushed or minced

750

ml

bottle chianti

1/4

cup

all purpose flour

1

tbsp

tomato paste

32

oz

beef broth

1

tbsp

dried basil

1/2

tbsp

black pepper

1

tsp

ground white pepper
Instructions
Cut the chuck roast into large chunks. Generously salt all sides of beef chunks.

Heat a dutch oven pan on the stovetop on med/high heat. Just as the pan begins to slighlty smoke, add olive oil.

Immediately add 1 layer beef chunks. Sear until browned, repeating on all sides and with remaining beef.

Remove browned beef from pan. Add diced shallots and sauté until tender, about 5-7 mins. Add garlic and continue sauteing for an addittional min.

Over the same med/high heat add in approximatley 1 cup of wine to shallots. Whisk in flour and cook until a paste is formed and flour lumps have been worked out.

Slowly whisk in beef broth.

Stir in tomato paste, black pepper, white pepper, basil and remaining bottle of wine.

Bring to a simmer over med/high heat and then lower the heat to lowest setting. Cover and cook for approximately 4 1/2 hours, stirring every so often.
Notes
*Please use as many organic ingredients as possible. 
Recipe Notes
Cutting the beef into large chunks creates incredibly tender beef that shreds with the touch of a fork as seen in the picture above. 
Serve over hot rice, creamy polenta or hot buttered noodles. Both the rice and polenta take can take up to an hour to make so plan accordingly. 
Cooking times are tailored for Chuck Roast. See above in post for additional cuts and cooking times. 
Nutrition
Calories:
488
kcal
|
Carbohydrates:
10
g
|
Protein:
35
g
|
Fat:
27
g
|
Saturated Fat:
10
g
|
Cholesterol:
117
mg
|
Sodium:
582
mg
|
Potassium:
848
mg
|
Fiber:
1
g
|
Sugar:
2
g
|
Vitamin A:
53
IU
|
Vitamin C:
3
mg
|
Calcium:
67
mg
|
Iron:
5
mg