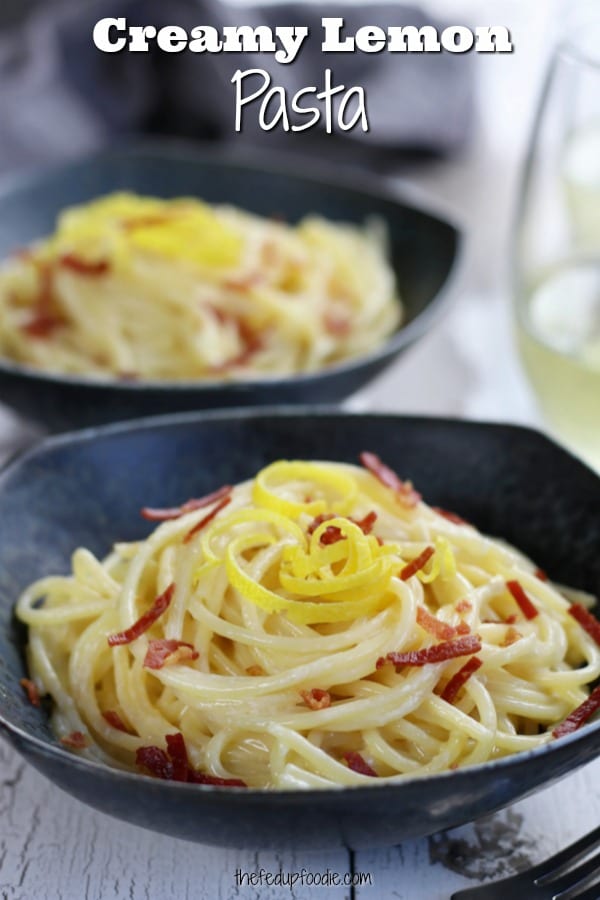 With just a few ingredients, this Lemon Garlic Pasta creates a creamy comfort dish with a bright citrus punch. This recipe is easy enough for a weeknight but elegant enough for a dinner party. Truly a classic!

This post may contain affiliate links which I earn a small portion in sales if a purchase is made. Rest assured though, it is never at any additional cost to you.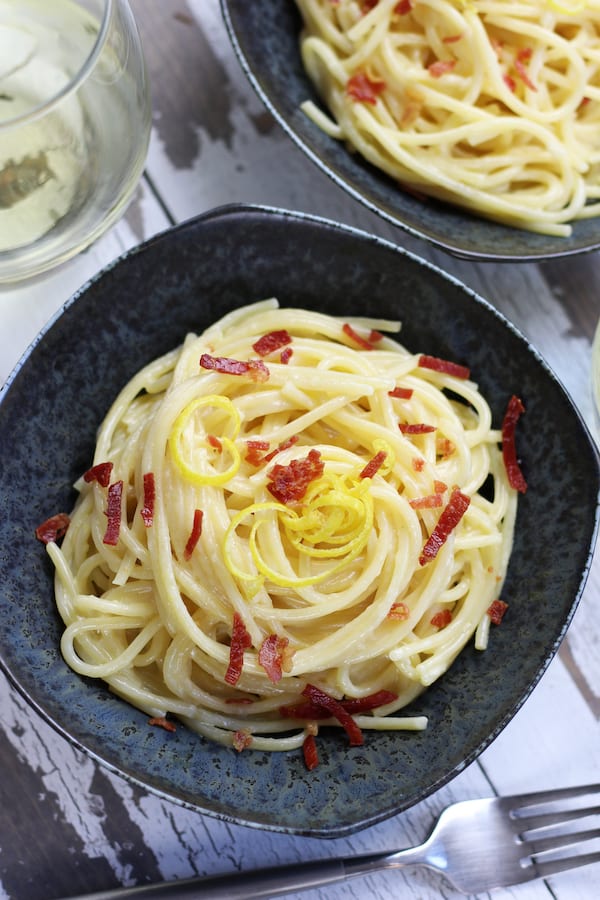 My lemon obsession has hit again with this Lemon Garlic Pasta!
You guys already know that I crazy about lemon with recipes like my Lemon Artichoke Dip, Lemon Rosemary Crockpot Potato Soup and Lemon Chicken Stir Fry.
But pasta, pasta is the food of my people. Then add in lemon, garlic and parmesan and I am 1,000% hooked.
Apparently while I was making the lemon cream sauce I was oohing and ahhing so much while taste testing (you didn't think I could skip the taste testing) that my husband couldn't help but tease me about my exuberance.
Let me tell you, there is a reason for the excitement. I swear this Lemon Garlic Pasta is one of the best pastas I have ever had.
The only thing that would have made it better is if I had made the pasta from scratch.
If you are a lemon and garlic lover and need an easy comfort food, this is your dish.
The best part though, this lemon pasta is elegant enough for a dinner party too. Just make sure to have the white wine chilled, a beautiful garden salad using a dressing like Simple Herbed Lemon Vinaigrette and some crusty bread.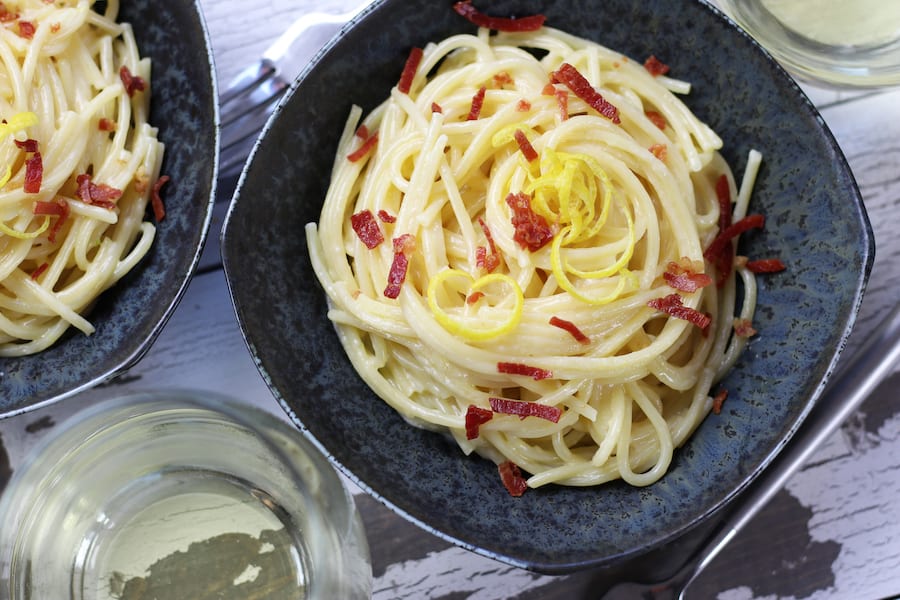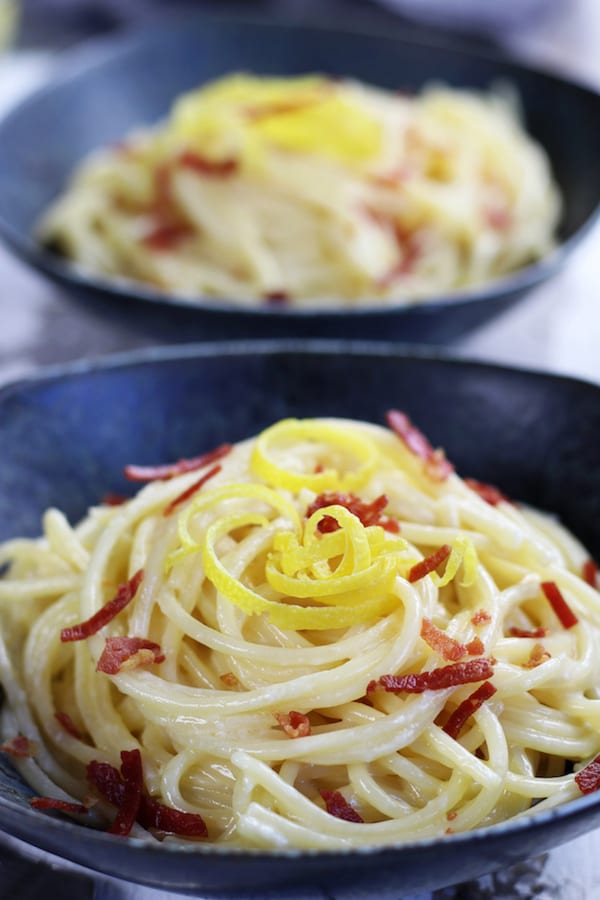 How to Make Lemon Cream Sauce for Pasta
A really good lemon cream sauce is beyond heavenly. The really good news, it is easier to make than it seems. There are just a few tricks.
Flavor-This cream sauce can be made without the garlic but the marriage of lemon, garlic, cream and parmesan really is divine. Start with thinly sliced garlic and lemon zest in your cold cream.
Butter– Pre cut butter into tablespoons and keep chilled until adding into the cream.
Emulsifying– A smooth cream sauce starts with the emulsification of the butter and the cream. To do this place the cream, garlic and lemon zest in a heavy bottomed pan over medium heat. Once the cream starts to simmer around the edges, whisk in 1 tablespoon of butter at a time into the cream sauce until it is fully melted. Continue the process with the rest of the butter. Once all the butter is incorporated with this lemon garlic cream sauce, turn the heat down to low while cooking the pasta.
These are the basic steps for smooth and incredibly tasty lemon cream sauce. For this Lemon Garlic Pasta there are just a few more steps. Once the pasta is cooked to al dente raise heat of cream sauce back up to medium, remove pasta from water in batches, tossing the noodles into cream sauce with each addition. (This tool will help remove the pasta.) Once noodles are incorporated add pasta water and toss. Then, working in thirds, add in finely grated parmesan making sure to toss well with each addition.
Pro Tip- The approach with this sauce is a French cooking technique that falls somewhere between a beurre monté and a monter au beurre.
Commonly Asked Questions About Preparing and Serving this Lemon Garlic Pasta
Does salting the pasta water make a difference?
Rather than bore you to tears sharing all the science behind why salting the pasta water works so well, I will share with you my 30 something year experience of cooking pasta. Yes, it makes a difference.
Salting pasta water after it boils and before adding the pasta adds a depth of flavor to the pasta while it cooks. Without salted water, pasta often tastes bland and quite frankly, boring.
What does al dente pasta mean?
With pasta, cooking it until al dente basically, in a nut shell, means almost done. The pasta is tender but has a slight firmness to it still. Many chefs will debate about how to tell if pasta is al dente. I personally taste test. Others will throw the noodle up against a wall and if it sticks to the wall it is considered to be al dente. Another way that chefs approach cooked to al dente is by observing that there is a small white section remaining in the center of the noodle.
For this creamy lemon pasta dish al dente is needed as it will continue to cook in the lemon cream sauce for an additional few minutes.
Can I add chicken and asparagus to this Lemon Garlic Pasta?
Yes, absolutely. My suggestion would be to use 1 large boneless skinless chicken breast and 1 bunch asparagus, both cut into bite size pieces. Before making the cream sauce, sauté chicken in about 2 tbsp of oil until cooked. Toss in asparagus and continue sautéing until asparagus turn bright green. Remove from pan and set aside while making the Lemon Garlic Pasta. Toss in at the very end.
Can I add shrimp to this pasta dish?
The same manner you would cook the chicken and add it to this lemon pasta, is the approach for adding shrimp to this dish. The main difference is that shrimp cooks much quicker than chicken.
Do you have a lightened version of this Lemon Garlic Pasta?
My Skinny Lemon Chicken Pasta is ver similar but with much less fat.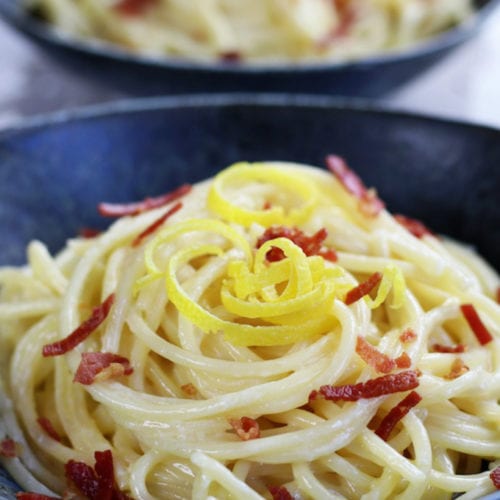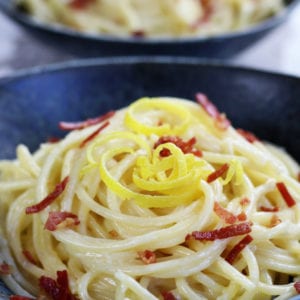 Lemon Garlic Pasta
Creamy and so incredibly delicious! Learn how to make lemon cream sauce for this absolutely divine pasta dish. Lemon Garlic Pasta is an easy and elegant meal. This meal serves 4-6 people.
Print
Pin
Rate
Ingredients
16

oz

spaghetti noodles

1/3

cup

sea salt

*for boiling pasta water

1

cup

heavy whipping cream

2

lemons

*zest of 2 lemons, juice of 1 lemon

6

cloves

garlic

*thinly sliced

1/2

cup

unsalted butter

*cut into tbsp sizes and kept chilled until needed

1/2

cup

reserved pasta water

1 1/4

cups

parmesan cheese, finely grated

*preferably Parmigiano-Reggiano

6

oz

prosciutto

1

tbsp

olive oil
Instructions
Bring a large pot of water to boil (about 5-6 qts of water). Once boiling stir in 1/3 cup of sea salt.

Cut prosciutto into small strips. Place a large frying pan over medium heat. Add oil and prosciutto strips. Sauté stirring often until prosciutto is golden brown and crisped, about 10 mins. Remove from pan and set aside.

Meanwhile zest 2 lemons, juice 1 lemon, slice garlic, grate parmesan and cut butter.

Add lemon zest, garlic and cream to a heavy bottomed pot. Place pot over medium heat.

Once cream begins to simmer whisk in 1 tbsp of butter at a time until fully melted and emulsified. Repeat with remaining butter.

Once all the butter is fully incorporated lower to a low heat while pasta finishes cooking. Add pasta to boiling water and cook to al dente.

Once pasta is cooked, raise heat on lemon cream back up to medium. Working in batches quickly transfer noodles to cream pot, tossing well with each addition.




Toss in pasta water. At this point the sauce will be thin.

Working in thirds, toss in parmesan cheese. Add in 3 tbsp- 1/4 cup of lemon juice and give the pasta one last good tossing.

Garnish with crisped prosciutto.
Notes
Please use as many organic ingredients as possible. 
Inspired by Bon Appetit 
Nutrition
Calories:
790
kcal
|
Carbohydrates:
63
g
|
Protein:
22
g
|
Fat:
50
g
|
Saturated Fat:
27
g
|
Cholesterol:
128
mg
|
Sodium:
6831
mg
|
Potassium:
290
mg
|
Fiber:
4
g
|
Sugar:
2
g
|
Vitamin A:
1229
IU
|
Vitamin C:
20
mg
|
Calcium:
309
mg
|
Iron:
2
mg