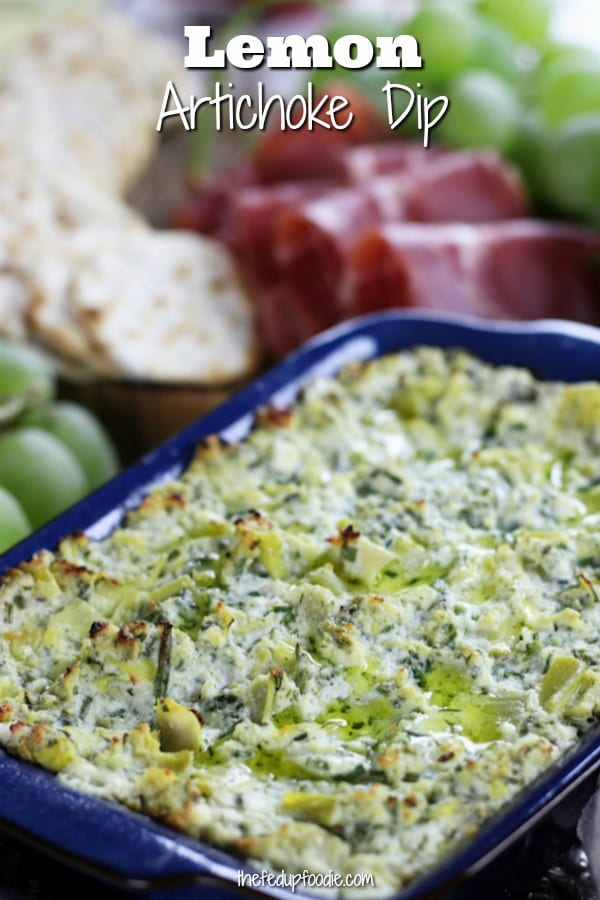 Cheesy, savory and full of the bright citrusy flavor of lemon, this Lemon Artichoke Dip is by far one of my favorite appetizers. This recipe is versatile enough to work either as a holiday appetizer or for a summer get together.

This post may contain affiliate links which I earn a small portion in sales if a purchase is made. Rest assured though, it is never at any additional cost to you.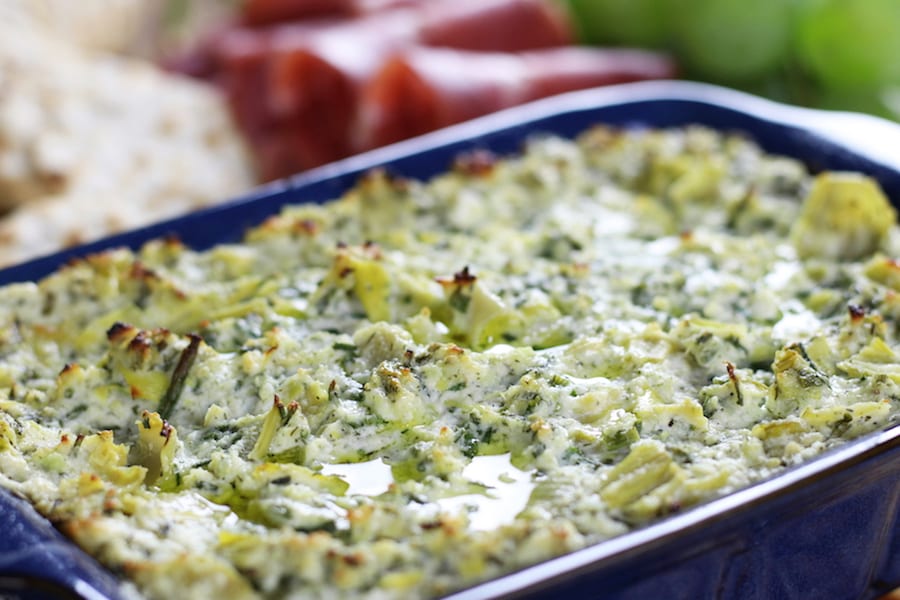 Do you have a guilty food pleasure?
I definitely do!!!
As much as I love to cook and share my creations with family and friends, sometimes one of the best dinners ever, is a plate of appetizers and a glass of wine.
As I write this post I am actually nibbling on this Lemon Artichoke Dip, crackers, grapes, prosciutto and a hard boiled egg for dinner. Crazy sounding, I know, but oh so good!
I don't know why eating appetizers for dinner is so much fun. Maybe it's because I love eating finger foods like Smokey Lemon Garlic Wings and Best Ever Dry Rub Chicken Wings and not caring that I look like a 1 year old eating their first birthday cake.
Or maybe it because appetizers like Chinese Chicken Spring Rolls, Simple White Bean Dip and Tzatziki Sauce are just so perfect as a light dinner.
Whatever the reason, I highly recommend engaging in this soul satisfying act at least once in awhile.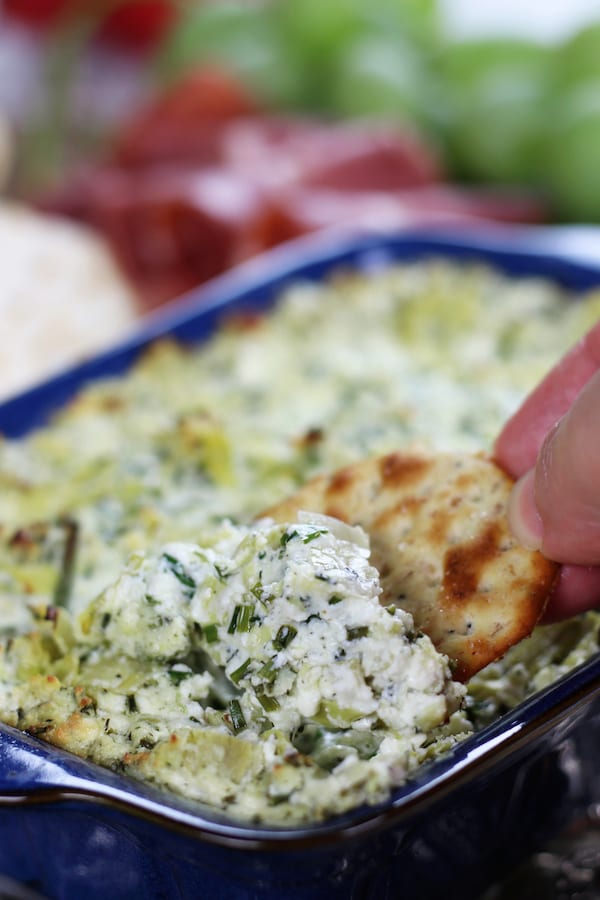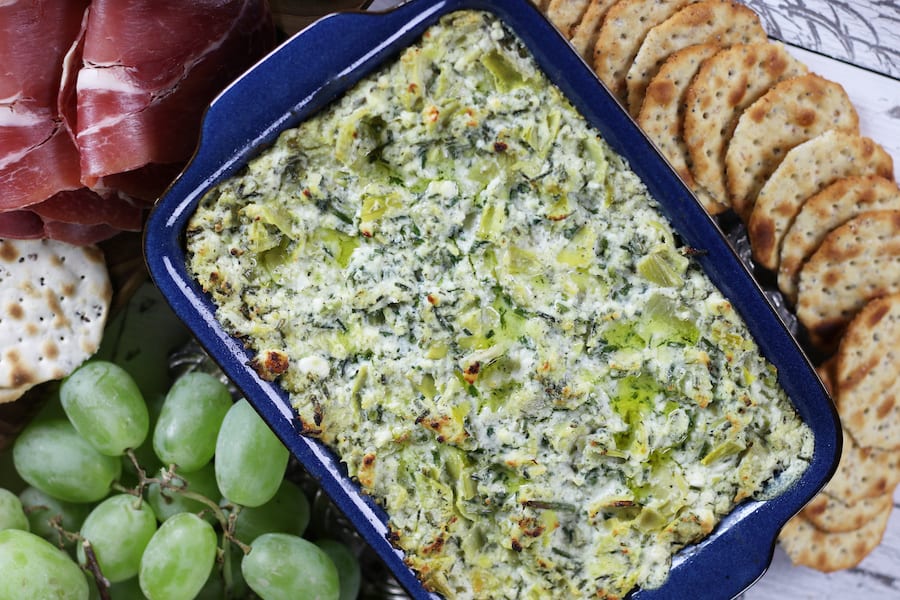 Commonly asked questions about this Baked Lemon Artichoke Dip
Is this a good appetizer for Thanksgiving?
Yes, for anyone who loves lemon and artichokes, this is a perfect appetizer. If your family is anything like mine, we usually have so much food on the day of Thanksgiving that the appetizers seem to work better over the holiday weekend.
What type of parties would this Artichoke Dip work best at?
Anytime you have lemon and artichoke lovers, this dip works. I personally love having a spread of things to nibble on while setting up the Christmas tree. This recipe also works great for Christmas and New Years parties and really is one of the best artichoke dips because it is just as awesome during the hot summer months.
What type of artichokes are best for this Artichoke Dip?
I use canned artichoke hearts, drained and roughly chopped. Just make sure they are packed in water and not marinated.
Pro Tip: Once chopped, drain excess water from artichokes by squeezing a handful of pieces at a time. This will help the dip from becoming to loose.
I love lemon but am worried this appetizer might be too zingy for my guests. Are there any suggestions to help with this?
This Lemon Artichoke Dip has the perfect amount of zing for me and my family but I completely understand the concern. My suggestion would be to keep the lemon zest and juice the same but lower the amount of feta by 4 oz and increase the ricotta by a half cup. Feta has a natural zing to it where ricotta is a softer and creamier cheese.
Can this Lemon Artichoke Dip be eaten cold?
Absolutely!! I like baking this artichoke dip and then broiling for 3-5 minutes to lightly brown the top layer. The beauty is that this dip doesn't have to be baked because it tastes great before baking also. In addiction, we nibble on it cold with crackers the next day.
Is there an easy way to prepare fresh garlic?
This is such a great question because many people are frustrated dealing with fresh garlic and yet there is nothing like it. The easiest way I have found to prepare fresh garlic is using this tool.
More Popular Holiday Appetizers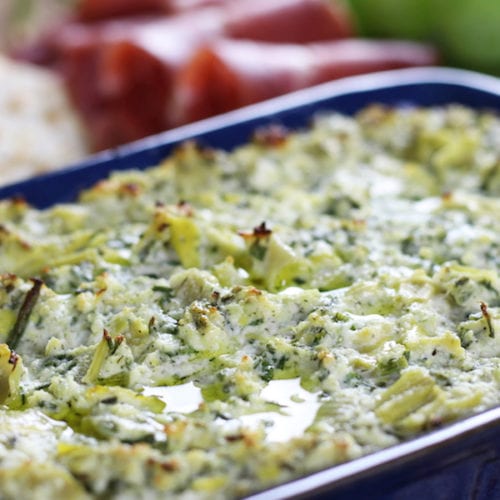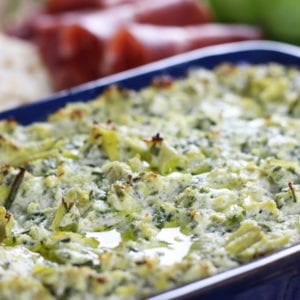 Lemon Artichoke Dip
Creamy, savory and absolutely delicious!! This dip is perfect for lemon and artichoke lovers. Comes together in just minutes and tastes great hot or cold. Perfect for Holiday and summer parties alike.
Print
Pin
Rate
Ingredients
7

oz

feta

1

cup

whole milk ricotta

1

tsp

lemon zest

*about 1 lemon

4-5

cloves

garlic

*crushed or minced, about 2 tbsp

2

tbsp

lemon juice

1

13.5 oz can

artichoke hearts

*roughly chopped and squeezed of excess liquid

1

tsp

dill

1

bunch

fresh chives

*diced, about 1 cup

drizzle of extra virgin olive oil

*optional
Instructions
Preheat oven to 350℉.

Prepare artichoke hearts, chives and garlic.

In a medium sized mixing bowl blend feta, ricotta, lemon zest, lemon juice and garlic together using a hand held mixer until light and fluffy.

Stir in artichoke hearts, chives and dill. Spread evenly in a small 9 inch casserole dish.

Bake at 350℉ for 20 mins and then broil for 3-5 mins to lightly brown tops.

Enjoy with crackers, pita chips or cut veggies for a low carb alternative.
Notes
Please use as many organic ingredients as possible.
Nutrition
Calories:
122
kcal
|
Carbohydrates:
3
g
|
Protein:
7
g
|
Fat:
9
g
|
Saturated Fat:
6
g
|
Cholesterol:
38
mg
|
Sodium:
303
mg
|
Potassium:
54
mg
|
Fiber:
1
g
|
Sugar:
1
g
|
Vitamin A:
263
IU
|
Vitamin C:
3
mg
|
Calcium:
189
mg
|
Iron:
1
mg