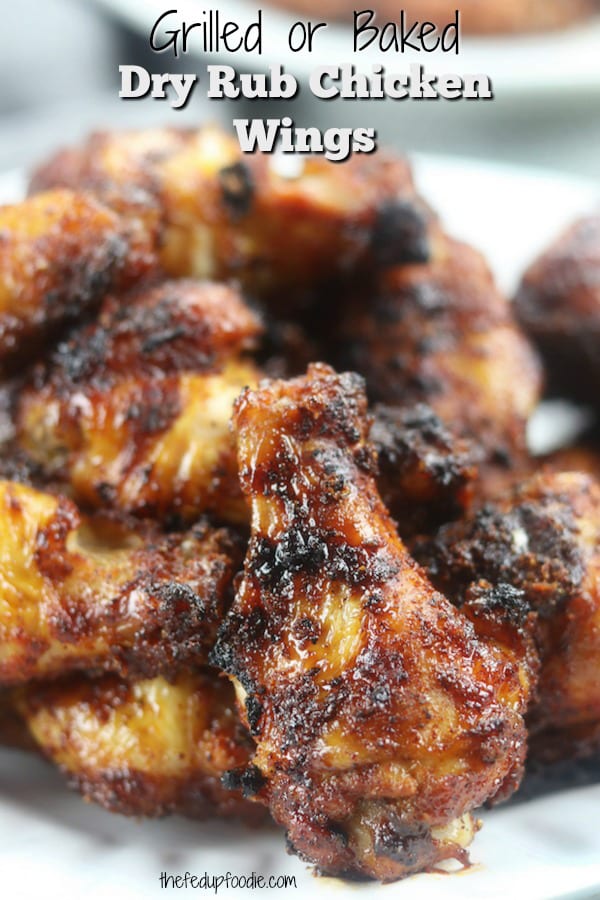 So delicious for your game day menu, these Best Ever Dry Rub Chicken Wings are incredibly flavorful and absolutely addictive.

The Fed Up Foodie is a participant in the Amazon Services LLC Associates Program, an affiliate advertising program designed to provide a means for sites to earn advertising fees by advertising and linking to Amazon.com at no additional cost to you. This post may contain affiliate links.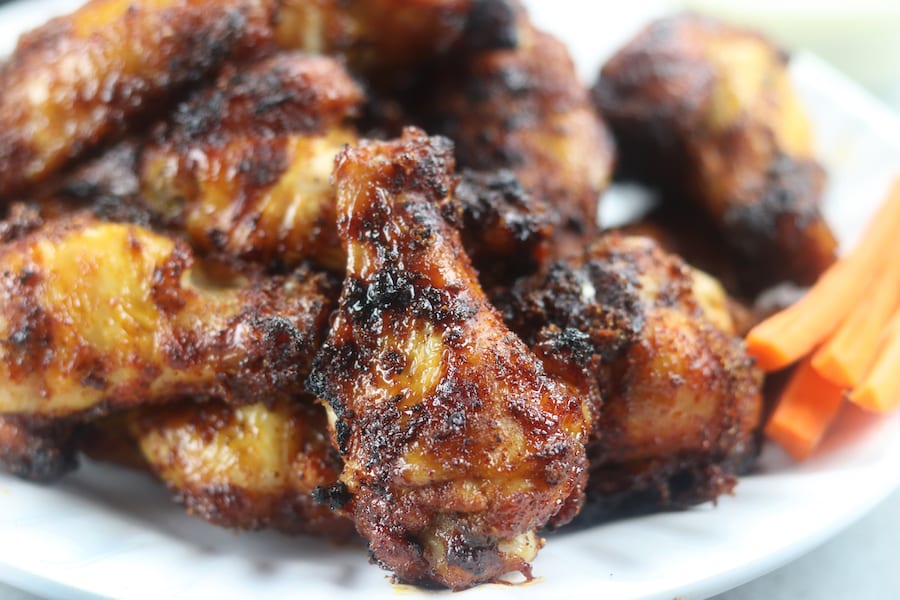 From May until February, when it is time to put together our NFL menu together for the Super Bowl, I can guarantee that at least once a week my family (myself included) has extremely messy faces.
Why you ask?
Because we are addicted to recipes like these crispy grilled chicken wings.
This addiction all started with my brother's creation of the Best Dry Rubbed Ribs of Your Life.
My family couldn't get enough of these ribs!
And then we moved onto making meals like my Husband Approved Dry Rubbed Chicken with my Skinny Red Potato Salad recipe.
The addiction didn't stop there!
We then progressed to creating the BEYOND CRAZY GOOD Dry Rubbed Grilled Chicken Sandwich.
I kid you not, my family has a ginormous love of the dry rub that is the base of all these recipes.
We literally eat it 8 months out of the year.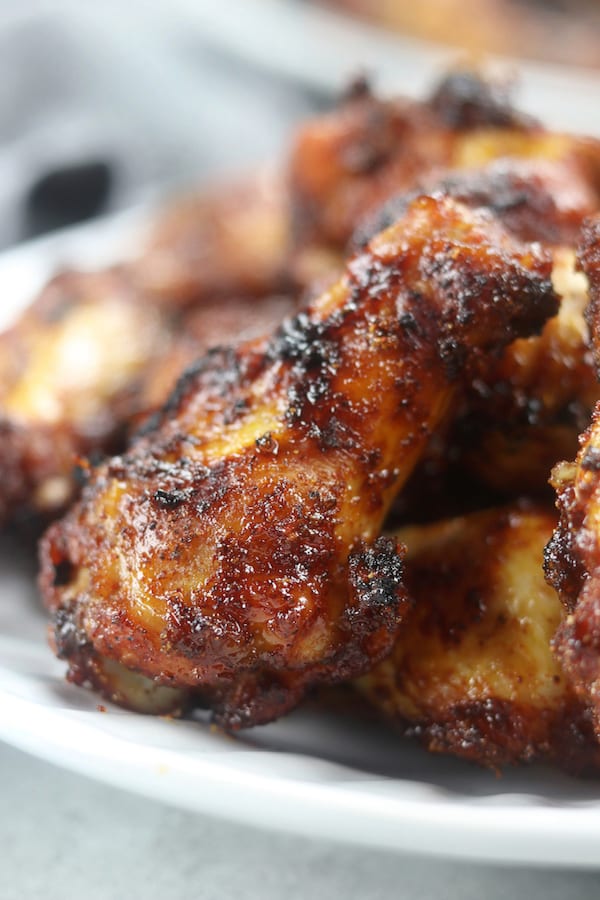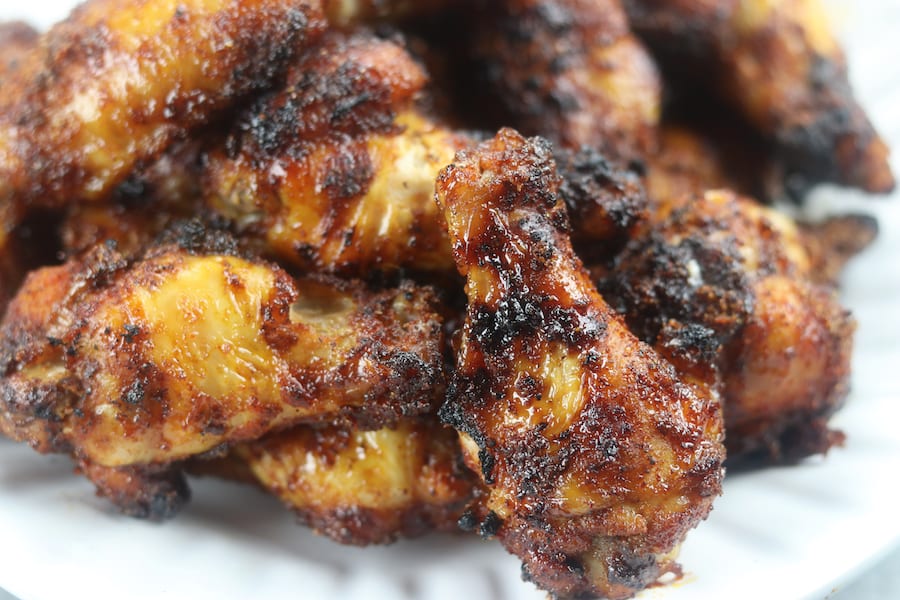 Commonly Asked Questions About These Dry Rub Chicken Wings:
What are dry rubbed wings?
Basically, the act of making dry rubbed wings is taking a brown sugar and spice mixture and applying it to chicken wings and then cooking without the use of oil or any additional moisture. The sugar helps to create gorgeous caramelized crusts and the spice adds a ton of flavor.
How long do I bake these chicken wings?
Cooking times in the oven will take approximately 30-40 minutes. This one item will allow for better air flow around the wings helping the wings to cook up with a beautiful caramelization.
Is it better to grill or bake this chicken wings recipe?
Honestly, either cooking method is perfectly fine. Grilling does tend to cause a bit more charring, but let me tell you, my husband adores that the most about these grilled wings. For him, he will choose grilling almost every time (and I then load him up with all kinds of veggies and antioxidants to help counteract the effects of eating charred foods).
I am a little fearful of using my grill. Are there any tips for this grilled chicken wings recipe?
Grilling can definitely be intimidating at times especially when the flames start dancing. Having a BBQ set with long handles tongues can make turning meat and veggies so much easier. Once I purchased my set of BBQ tools my confidence grew immensely.
Here are a few other grilling tips to keep in mind:
Preheat your grill for about 10-15 minutes before grilling! That is the best piece of advice I can give. This one step will help your wings to cook evenly and allows for natural caramelization. The caramelization is where so much of the flavor is and it also prevents the wings from sticking to the grates.
The inside of gas grills can become very hot. Because of this it is wise to keep an eye on the temperature. If while grilling the temperature rises above 450℉ simply open the lid for a minute or two to let the temperature drop back down to approximately 400℉.
If your gas grill has a top rack it is wise to move the wings to this rack for the last 10 minutes of cooking to help prevent charring. Another option would be to have one side of the grill on medium heat and the other side on low. Utilize the low heat side for the last 10 minutes.
Don't forget, you are absolultey going to need one of these.
Where do I find the dry rub for these wings? Can I use it on other cuts of meat?
My family adores this Husband Approved Dry Rub. Can you tell by the name who the biggest fan in my house is? We have used it not only on these wings but also ribs, chicken, steaks and even to flavor mayo. It is amazing!
Does the dry rub create a spicy wing?
I am so glad you asked this question and the answer is both yes and no. For most taste buds this dry rub recipe for chicken has the perfect balance of sweet to spice. However, if you have delicate taste buds lower the chipotle powder 1/2 tsp (rather than 1 1/2 tsp) and increase the smoked paprika by 1 tsp.
More Fun Game Day Recipes:
Blue Cheese Dip– Fifteen Spatulas
Simple Healthy Guacamole– The Fed Up Foodie
Roasted Red Pepper and Walnut Dip– Dinner at the Zoo
Smokey Lemon Garlic Wings– The Fed Up Foodie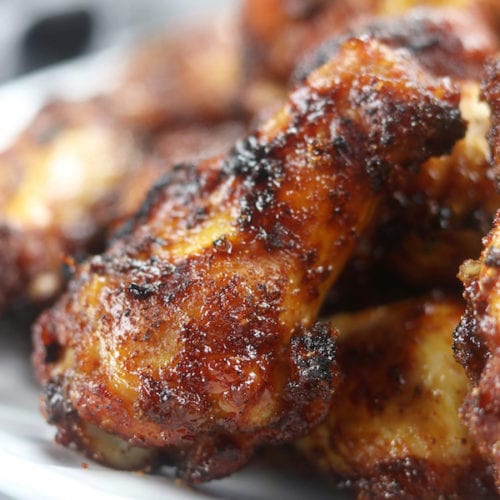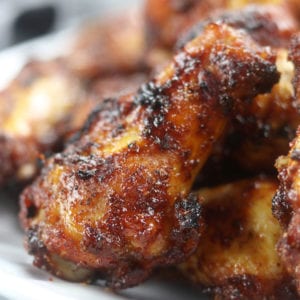 Best Ever Dry Rub Chicken Wings
Succulent and Crazy flavorful, these Best Ever Dry Rub Chicken Wings are perfect addition to your game day menu. Either grilled or baked, you'll love them either way.
Print
Pin
Rate
Ingredients
2 1/2

lbs

chicken wings

*fully defrosted
Instructions
Prepare Dry Rub recipe and set aside.

Line a large glass plate with 2 layers of paper towels

.

Place wings on plate. With another set of paper towels pat dry the top of wings, removing excess moisture. Turn and repeat. Wings can be refrigerated in between paper towels for about 1 hour to help absorb excess moisture.

Dip wings into dry rub, turning multiple times to ensure even coating. Place dipped wings onto a large platter.
Grilling Instructions (gas grill)
Preheat grill to medium heat, about 400℉ (takes about 10-15 mins). Once heated, place wings on grill plate closest to the heat. After about 10-12 mins turn wings and continue grilling for another 10 mins.

Once 20 mins has elapsed, move

wings to the coolest (top rack) area of grill and continue grilling for another 10 mins or until internal temperature reaches 165℉ making sure to not let the thermometer touch the bone.

Pro Tip: Cook the wings with the lid closed but keep a close eye on not letting the temperature rise above 450℉. If temperature does climb above, open lid for a few minutes. The sugar in the dry rub will cause charring so moving the wings will help keep this to a minimal.
Baking Instructions
Preheat oven to 400℉. Using sided cookie sheet with baking rack, place dry rubbed wings onto rack.

Bake for approximately 30-40 mins or until internal temperature reads 165℉, making sure to turn wings halfway through baking.

Serve wings with favorite dipping sauce or enjoy by themselves.
Notes
*Please use as many organic ingredients as possible.*
2 1/2 lb of wings serves 6 adults with 5-6 wings per person. 
Nutrition
Calories:
227
kcal
|
Protein:
19
g
|
Fat:
16
g
|
Saturated Fat:
5
g
|
Cholesterol:
79
mg
|
Sodium:
75
mg
|
Potassium:
159
mg
|
Vitamin A:
150
IU
|
Vitamin C:
1
mg
|
Calcium:
12
mg
|
Iron:
1
mg
Follow along on Facebook and Pinterest for more savory inspirations.
If you love this recipe then you will adore these: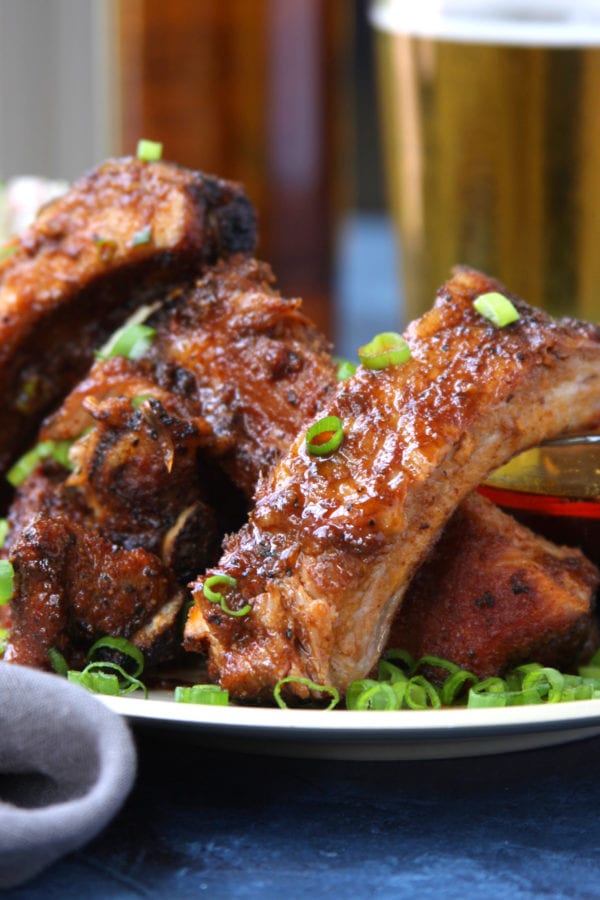 Best Dry Rubbed Ribs of Your Life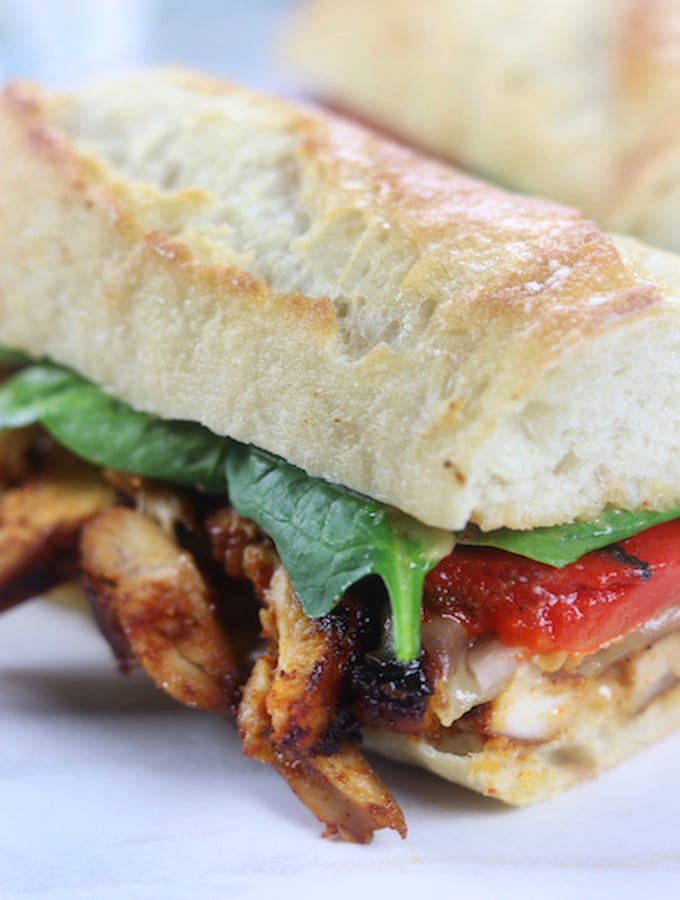 Dry Rubbed Grilled Chicken Sandwich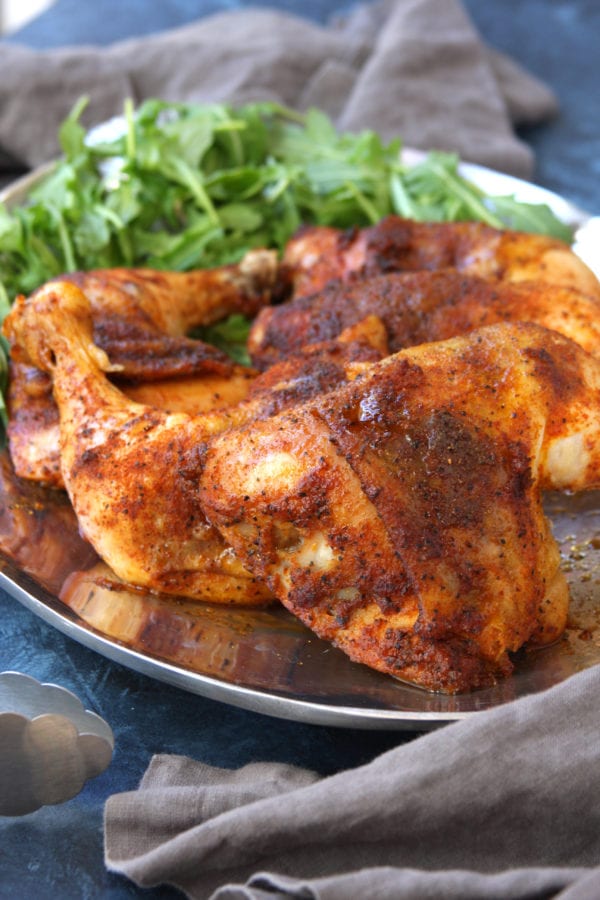 Husband Approved Dry Rubbed Chicken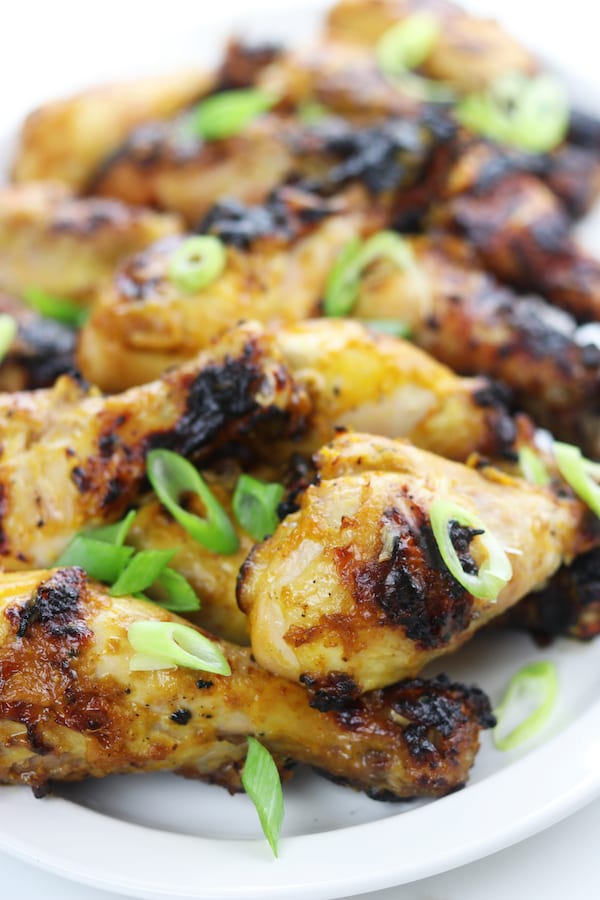 Mango Curry Grilled Chicken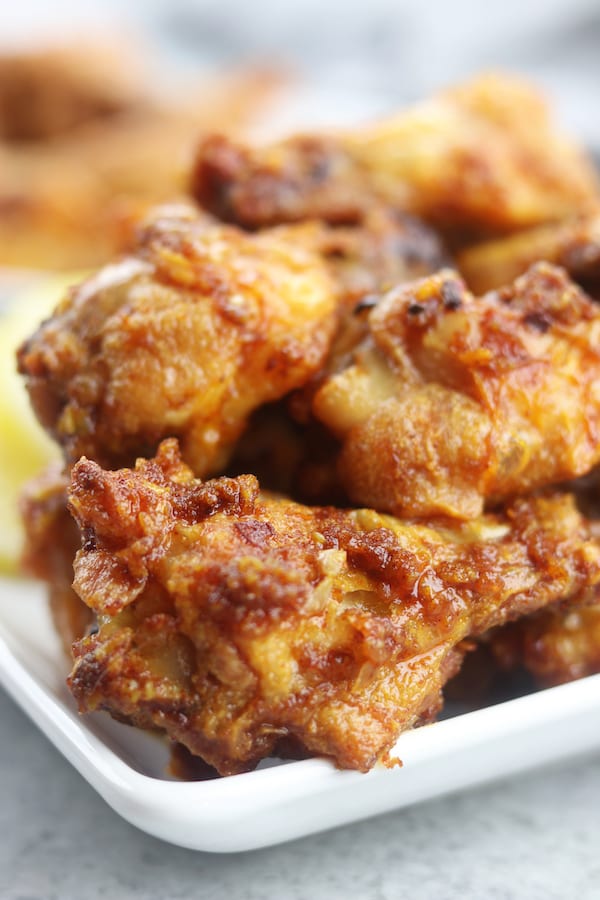 Smokey Lemon Garlic Wings