Best Dry Rubbed Ribs of Your Life recipe creates meat so tender it falls off the bone. These ribs are juicy, packed with flavor and do not require a grill. You will fall in love with these ribs from the first bite.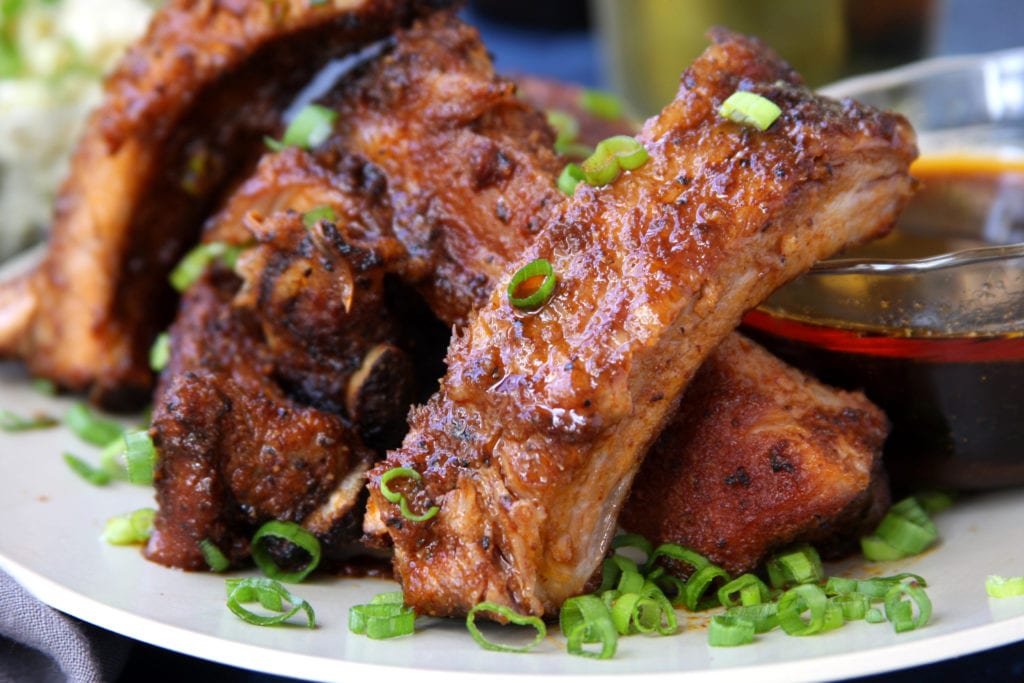 This post may contain affiliate links which I earn a small portion in sales if a purchase is made. Rest assured though, it is never at any additional cost to you.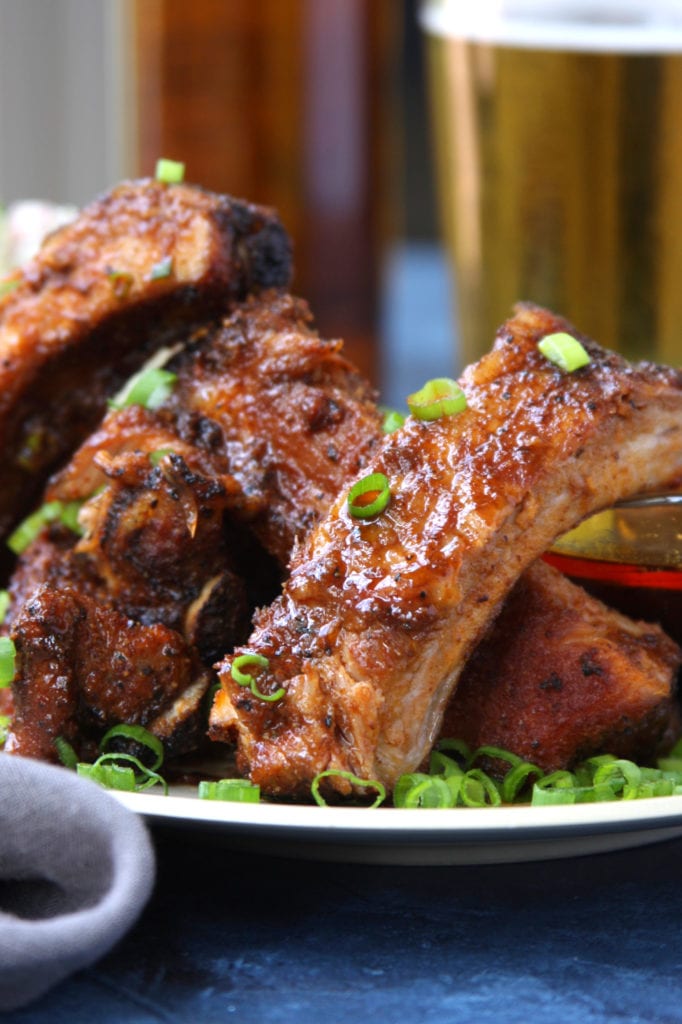 Oh my, these ribs… I don't know if I can even do these beauties justice trying to explain them. They are that YUMMY!!!! My brother Tommy created the recipe for these Best Dry Rubbed Ribs of Your Life and the Husband Approved Dry Rub that made these ribs have such a wonderful flavor. Tommy created the recipes but I created the names after seeing my husband go crazy over these guys. Actually my husband, my father and myself all went bonkers eating these like voracious animals while my bother sat there with a huge grin on his face. We all loved them so much that we immediately had to make another batch a few days later. What makes these the Best Dry Rubbed Ribs of Your Life? They are juicy and if cooked to the perfect point, the meat literally falls off the bone. They have a wonderful flavor due to the dry rub and liquid smoke. Can you believe that they are actually incredibly easy to make and require no grill. With this recipe, BBQ season can happen all year long.
To cover with foil or not to cover:
We have done both methods with this Best Dry Rubbed Ribs of Your Life recipe. If you choose to cover the ribs with aluminum foil for the entire duration of cooking you will notice that the ribs turn out with a more steamed texture. I highly recommend placing the ribs on a this while cooking if choosing this method. (affiliate) This will keep the ribs above the liquid and the texture of the meat will turn out much better. Another option is to drain the liquid halfway through cooking.
If you choose to leave the ribs uncovered for the entire duration of cooking you will still end up with meat that falls off the bone but in addition you will have that gorgeous caramelized skin. This method will take a little longer to cook, up to 8 hours and possibly a little longer depending on how many ribs you choose to cook.
Tips about Best Dry Rubbed Ribs of Your Life:
Low and slow is the secret to met so tender it falls off the bone. Cook these gorgeous ribs at 200℉ for 6-8 hours or until tender and falling off the bone.
"It's summer and I don't want to turn my oven on." I know, I know and I totally understand. Here is the thing though, 200℉ is not really hot enough to emit very much heat. Yes, your kitchen may heat up a little bit but it really is very minimal. If you absolutely do not want to use the oven, grilling can be an alternative. Just remember to cook in a similar fashion: baking pan, low heat equally 200℉ and for the 6-8 hours.
One of the key ingredients that makes this recipe so incredible is a small amount of liquid smoke. If you are anything like me your mind may have wondered to the question of "how carcinogenic is liquid smoke"? Nutrition Diva does a great job of addressing this question. Yes liquid smoke can have carcinogenic elements to it, however loading up on veggies with their antioxidants can help balance out any harmful effects from the small amount of liquid smoke used. Got to love those veggies.
An optional step that helps with the tenderness of these ribs is to remove the membrane that lines the back of ribs as seen in the video.
Husband Approved Dry Rub recipe is another element that adds a huge amount of flavor. Within the recipe post for the dry rub you will find instructions on how to adjust the heat.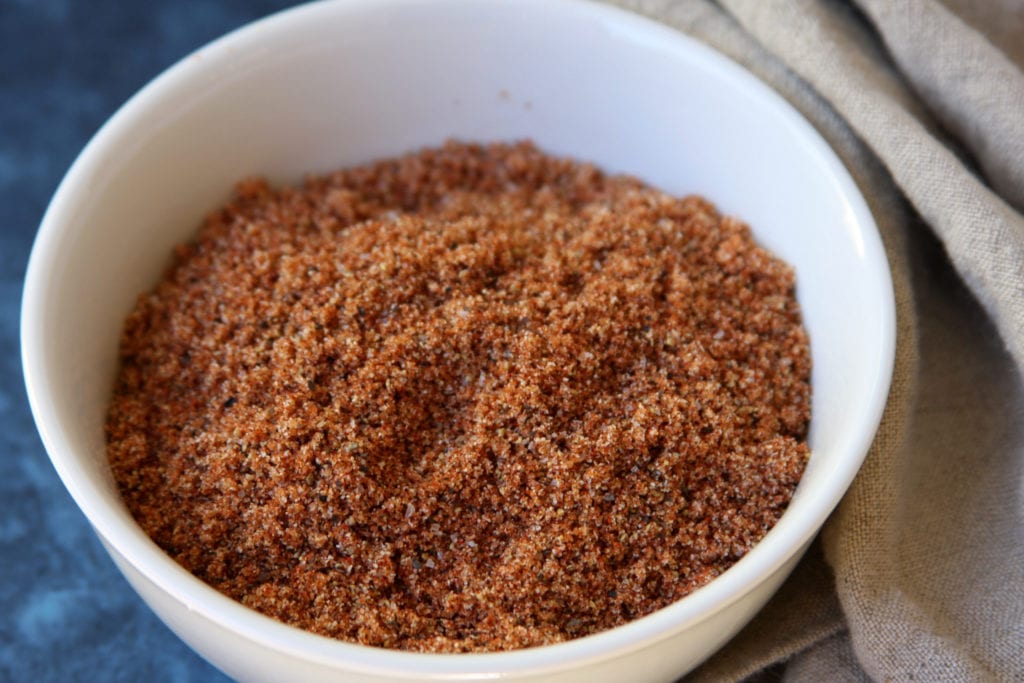 One last final tip, cook the ribs with the curved side facing down.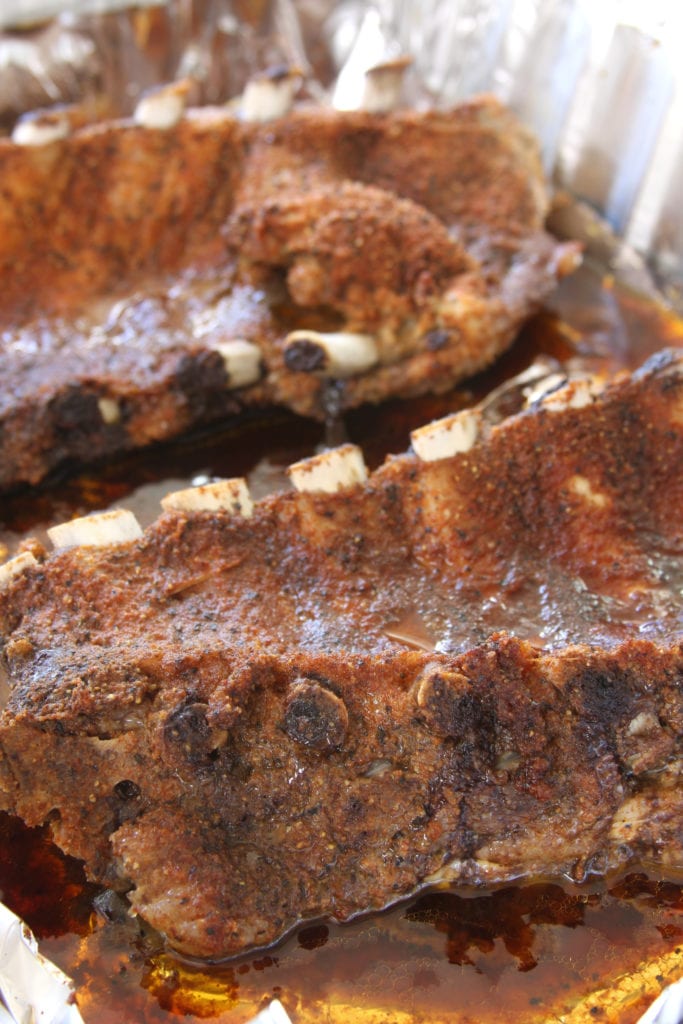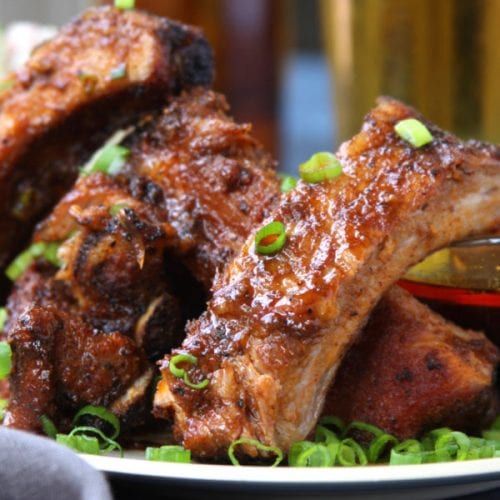 Best Dry Rubbed Ribs of Your Life
Juicy, incredibly tender meat that falls off the bone and is packed with flavor.
Print
Pin
Rate
Ingredients
1

full rack of baby back ribs

Husband Approved Dry Rub recipe *see link above

4

drops liquid smoke *one drop in each corner
Instructions
Line a large baking pan with aluminum foil-set aside. Preheat oven to 200℉.

Rinse rib rack in cold water. Remove membrane layer that lines back of ribs (Optional step)

Cover all sides of ribs with dry rub.

Place rib rack in foil lined baking pan with curved side down with baking rack underneath if choosing to cover ribs with aluminum foil. See above

Place 1 drop of liquid smoke in each of the four corners of the pan.

Cook at 200℉ for 6-8 hours. Smaller racks will be done after 6 hours. Larger racks of ribs, racks that are still slightly frozen will require or if cooking uncovered will require up to 8 hours and possibly a little longer.
Notes
*Please use as many organic ingredients as possible and pork raised without antibiotics. I believe pasture raised pork will always be the safest and healthiest.*
Nutrition
Calories:
468
kcal
|
Protein:
27
g
|
Fat:
36
g
|
Saturated Fat:
14
g
|
Cholesterol:
97
mg
This recipe is part of Meal Plan Monday.
For other fun summer recipes check these out: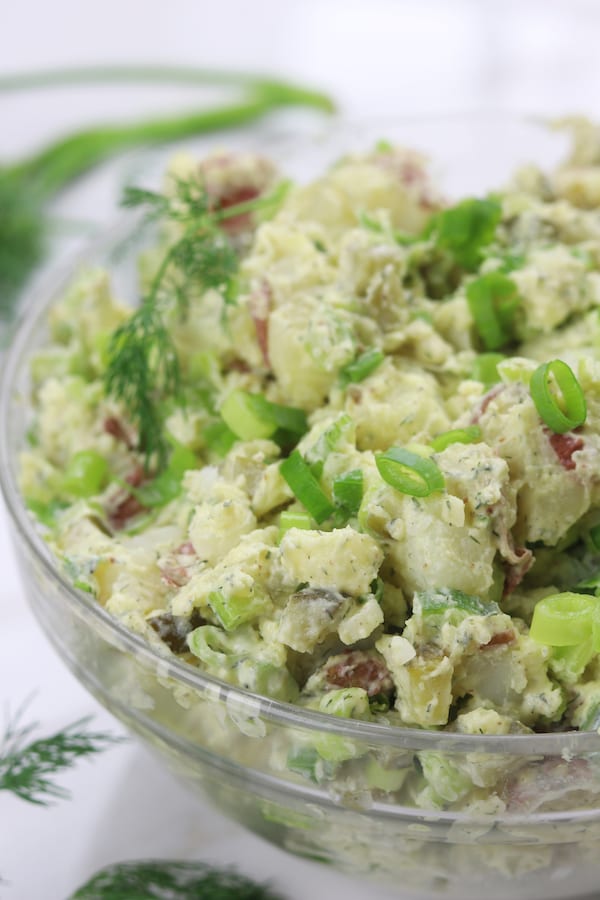 Skinny Red Potato Salad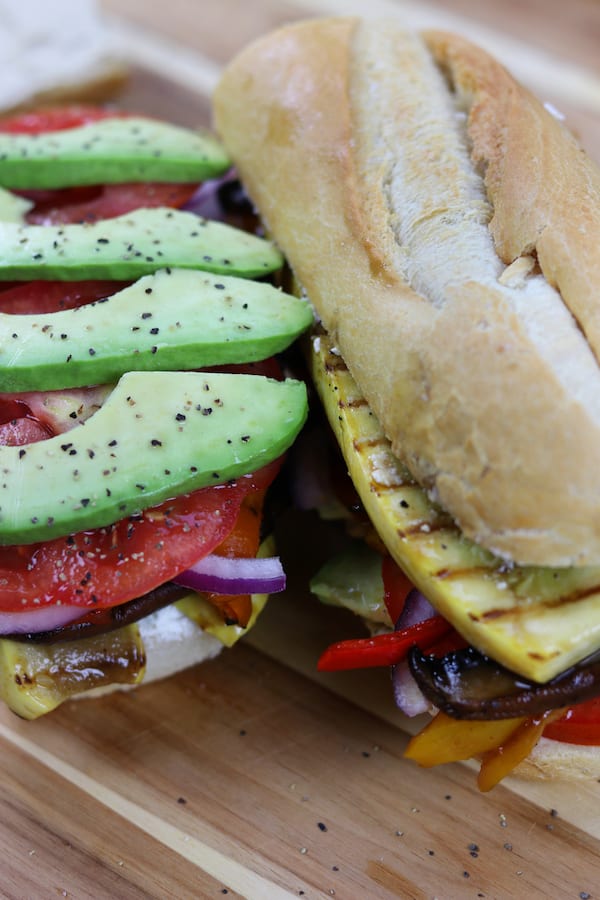 Grilled Veggie Sandwich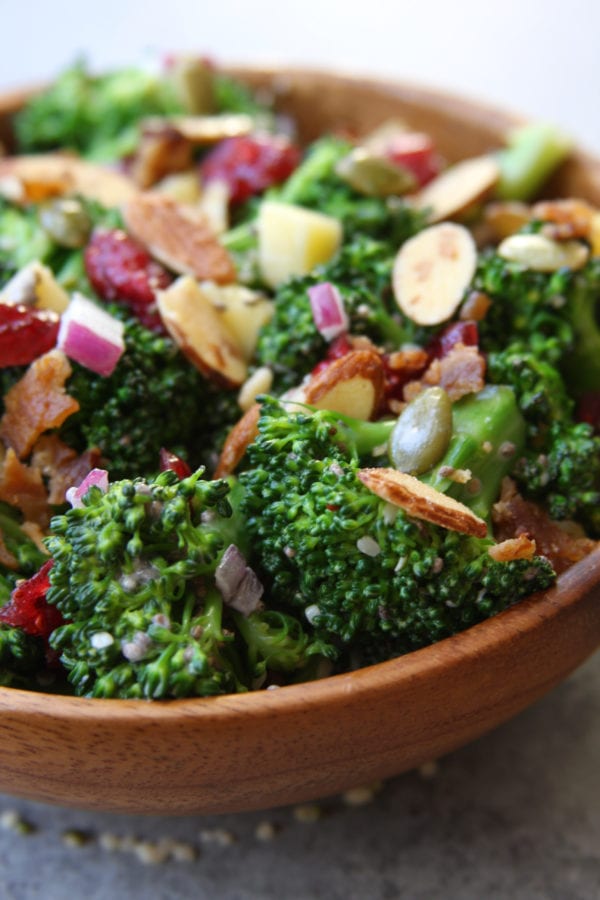 Super Healthy Broccoli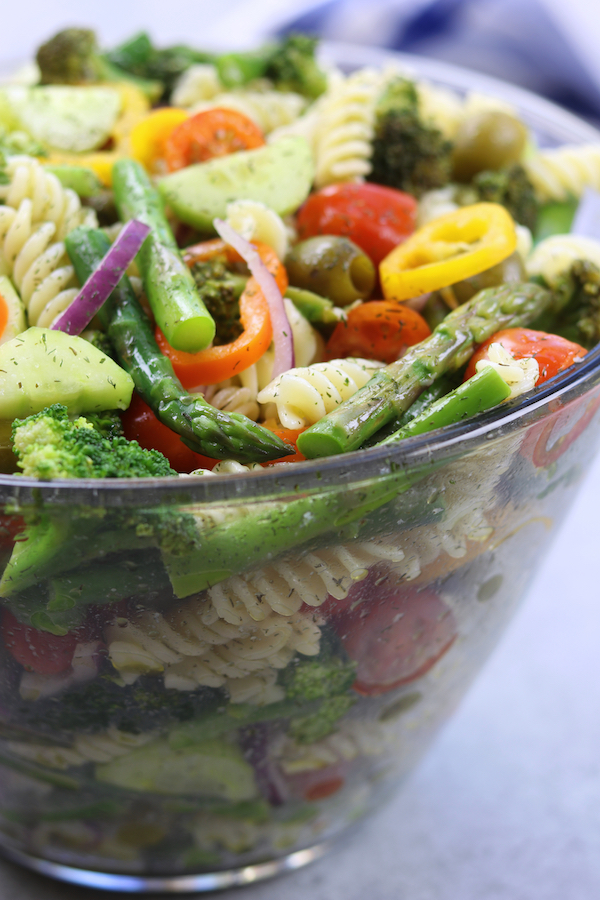 Springtime Pasta Salad