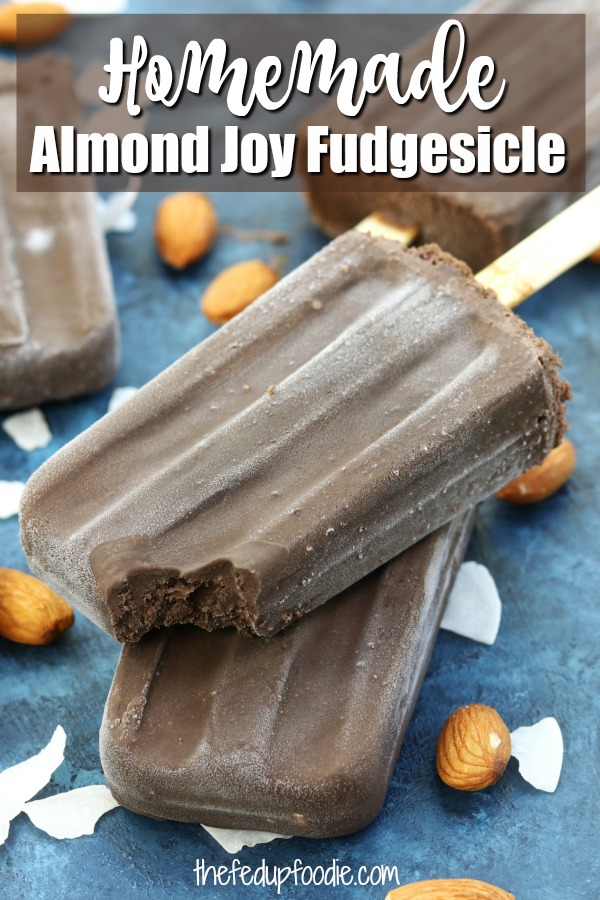 Creamy and sweetened with a kiss of honey, these Almond Joy Fudgesicles are a wonderful no-guilt popsicle that the whole family will love.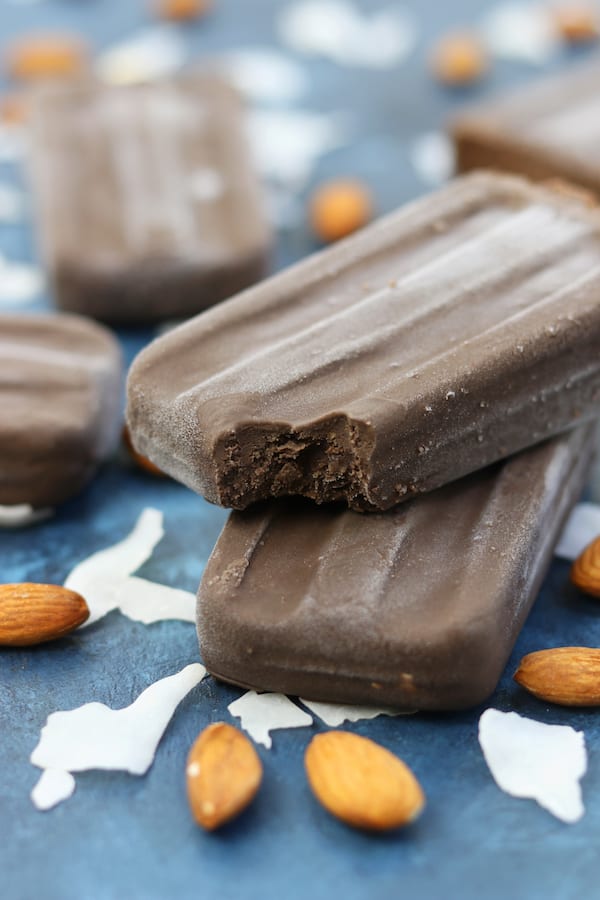 This post may contain affiliate links which I earn a small portion in sales if a purchase is made. Rest assured though, it is never at any additional cost to you.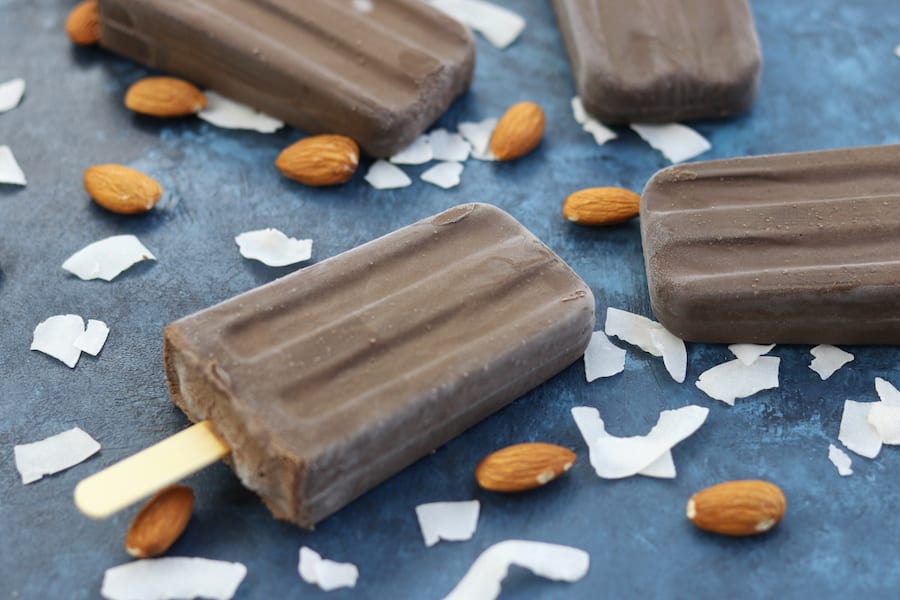 From July- September the weather here in Southern California can at times be completely unbearable. Thank God not the entire 3 months is usually that way, but we do have those special weeks of temperatures over 100℉ even along the coast. Those are the weeks, like most of the country, where we do everything in our power to stay cool like eating loads of yummy frozen treats just like these Almond Joy Fudgesicles. You would think the most logical step would be, take advantage of the gorgeous Pacific ocean. Usually I would agree, however for some crazy reason everybody wants to travel to California in those months. Our beaches are packed with wall to wall people during the summer months and for somebody who can only handle crowds in small doses, summer beach going is not an option for me. Wanna know a secret???? If you truly want a fabulous Southern California summer experience come visit in late September- November. The weather generally is still gorgeous during the day and a little chilly at night. We get our beaches back because all the tourists have gone home, making for a much more enjoyable day being able to find a parking spot and all. The most wonderful part of this time of year is the way the sun is angled. Pending it isn't raining and we don't have wild fires, everything looks golden because of the angle of the sun.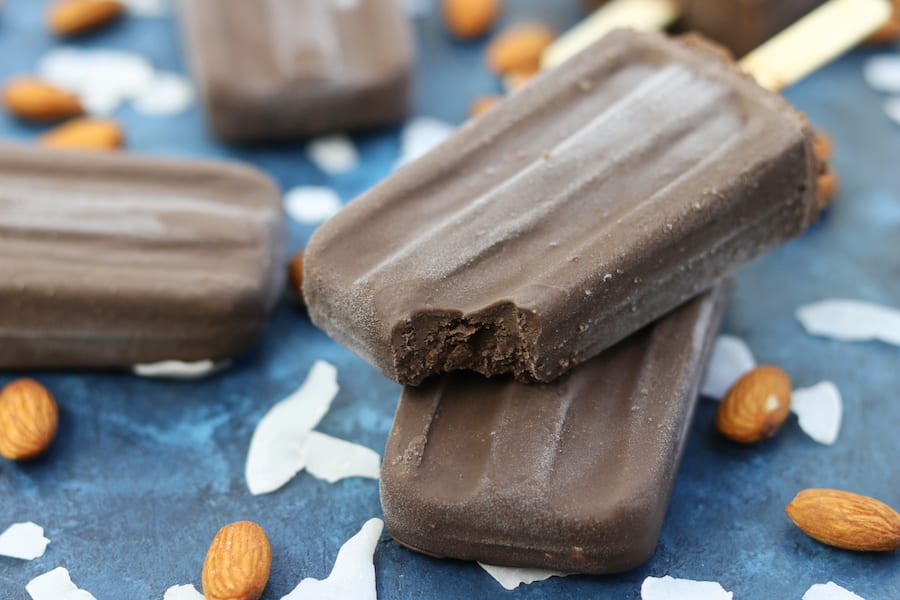 Tips about Almond Joy Fudgesicles:
The darker the coco powder you use the fudgier your Almond Joy Fudgesicles will be.
If you have never used coconut milk from a can before do not be worried about the separation. This is completely normal for coconut products.
Don't skip the step of warming the coconut milk with the coco powder and honey. Not only does it allow the coconut solids to melt but also everything is fully incorporated.
If you are wanting to make popsicles that look store bought, these are the molds I used. *Pro Tip: Run popsicle mold under hot water for 2-3 seconds per side for easy release. (affiliate)
For an affordable and popular popsicle mold check these out. (affiliate)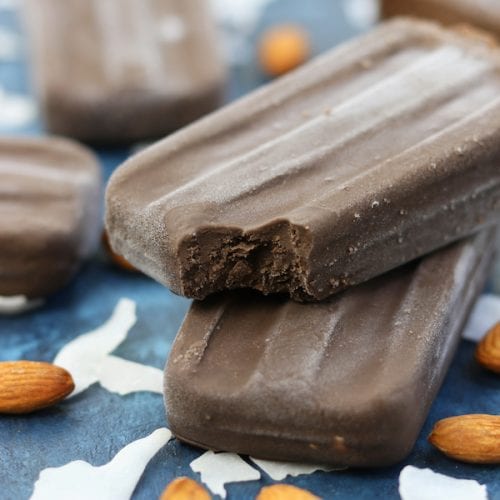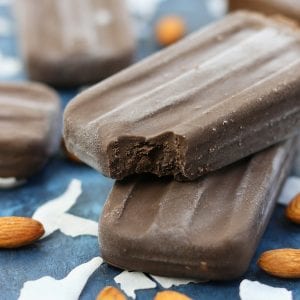 Ingredients
1 13-14

oz

can coconut milk

1/4

cup

almond butter

1/4

cup

coco powder

2-3

tbsp

honey

1/4

tsp

coconut extract
Instructions
In a medium sized sauce pan heat milk, coco powder and honey over medium-low heat until coconut solids are melted and ingredients are fully incorporated. Transfer liquid to a blender. Add remaining ingredients and blend until everything is mix well, scraping down sides of blender at least once. Transfer liquid to popsicle molds and freeze for 6-8 hours.
Notes
*Please use as many organic ingredients as possible.*
Nutrition
Calories:
246
kcal
|
Carbohydrates:
13
g
|
Protein:
4
g
|
Fat:
22
g
|
Saturated Fat:
15
g
|
Sodium:
12
mg
|
Potassium:
306
mg
|
Fiber:
4
g
|
Sugar:
9
g
|
Vitamin C:
2
mg
|
Calcium:
51
mg
|
Iron:
2
mg
This recipe is part of Meal Plan Monday.