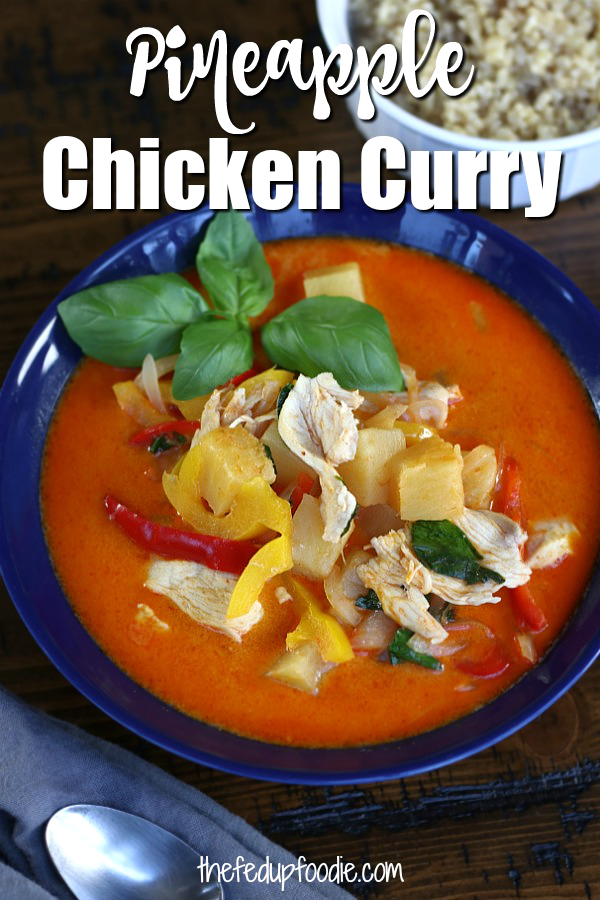 Sweet, creamy and savory, this Thai Pineapple Chicken Curry is a quick and healthy dinner recipe. The secret to its incredible flavor is the coconut milk, red curry paste and fish sauce. A mouthwatering 30 minute dinner!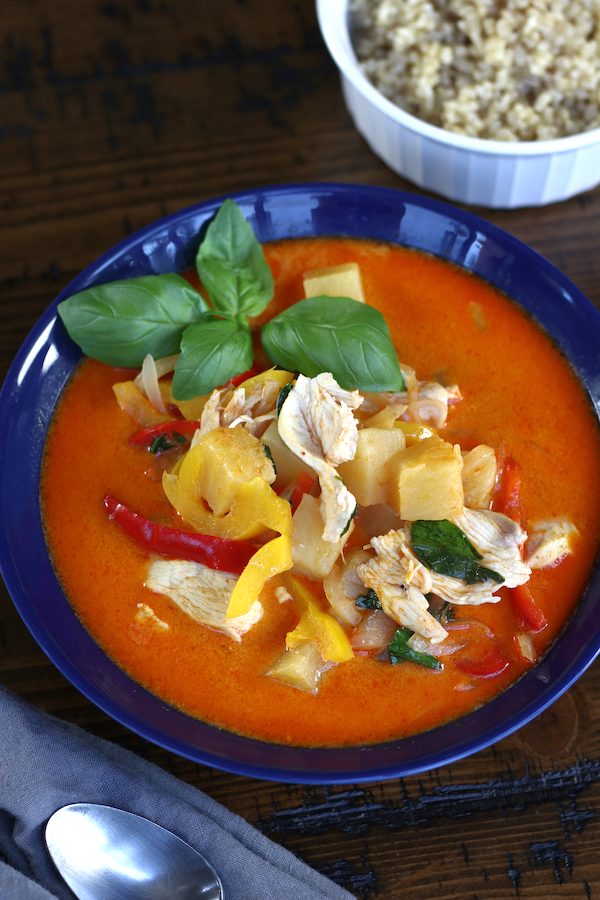 This post may contain affiliate links which I earn a small portion in sales if a purchase is made. Rest assured though, it is never at any additional cost to you.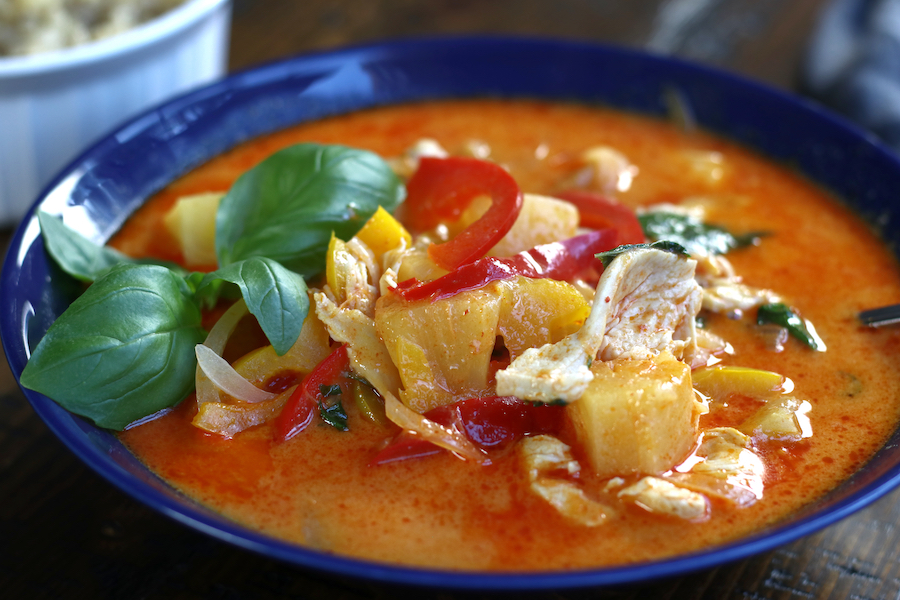 Before the world turned upside down with the Pandemic that we are all facing, my husband and I had one of those good old fashioned date nights.
I call it old fashioned because it felt like it took place ages ago and it feels like ages before we will be able to go again.
For our date that night we went to our favorite Thai restaurant.
Whenever we go out to eat I tend to stick with meals that are my favorite because I hate being disappointed.
Because of this I ordered my normal. My husband however, order his new favorite meal, Pineapple Curry.
The poor guy didn't even get two bites in before I was practically devouring his dinner.
Why? Because Pineapple Curry is beyond amazing and I was seriously bummed I didn't order it.
I immediately came home and experimented until I had the recipe tasting like that little piece of heaven we had on our last date night.
So I hope this recipe brings you as much pleasure as it has us and it brightens your day.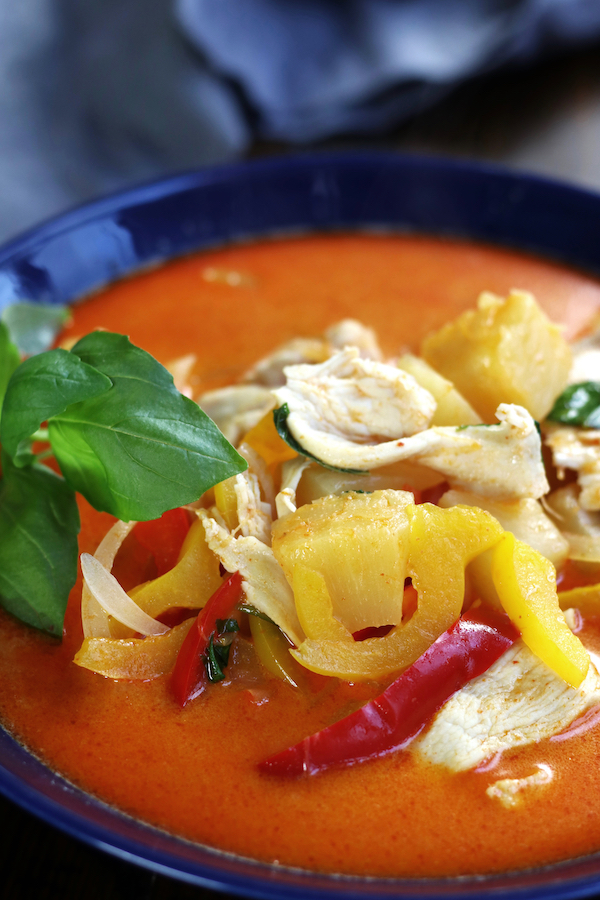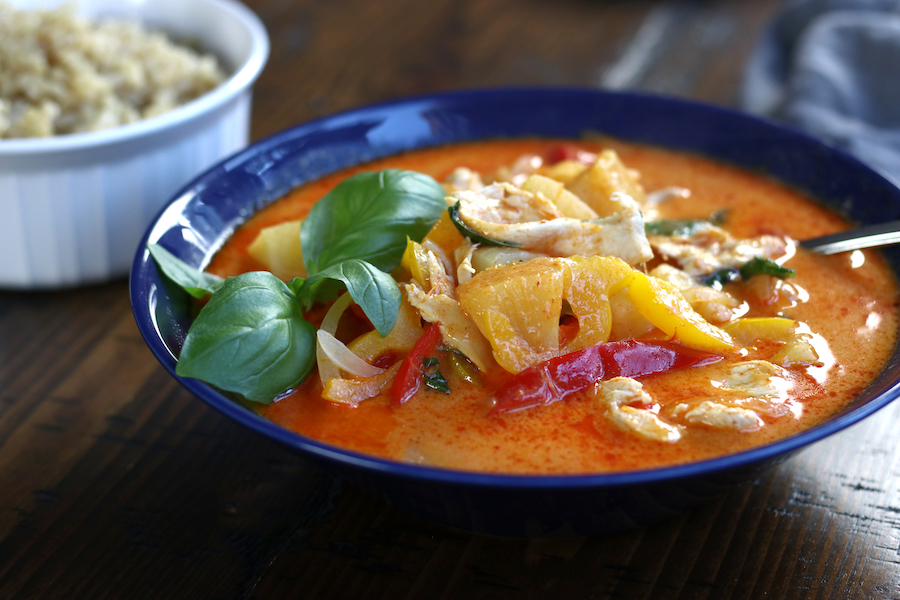 What is Pineapple Curry?
Pineapple Curry is a simple Thai dinner that is served over white or short grain brown rice. It is made with coconut milk (or coconut cream), red curry paste, fish sauce, pineapple chunks, sliced onion and sliced bell peppers. This meal is technically not a soup, however it is broth based. Have no fears though, the rice absorbs all the creamy and flavorful broth.
How To Make Pineapple Chicken Curry
This Pineapple Chicken Curry is an extremely simple dish to make with just a few basic steps.
Prepare all veggies by and thinly slice chicken breasts.
Heat a large fry pan over high heat with oil. Add curry paste and cook stirring frequently until curry paste becomes highly fragrant, about 4 minutes.
Add in coconut milk (or cream), pineapple juice, fish sauce and chicken. Cook on high heat for about 4 minutes, stirring occasionally.
Add veggies and Pineapple. Continue cooking for another 3-4 minutes.
Turn off heat and add Thai basil (or torn basil and mint leaves as a substitute). Stir well and let sit for 1-2 minutes.
Serve over cooked rice.
Main Ingredients For Pineapple Chicken Curry
Red Curry Paste
Red Curry Paste is a blend of spices, garlic, ginger, lemongrass, kaffir lime leaves and red chili peppers. It is what gives this Pineapple Chicken Curry its deep flavor. Either bottled paste or a homemade version may be used for this recipe.
How much Red Curry Paste to use?
If making this recipe for the first time, it is best to just stick with 1/4 cup of red curry paste. However, you may find that on repeat preparations using up to 1/2 cup meets your flavor preferences.
Coconut Milk vs Coconut Cream
For anyone who is new to cooking Thai, deciding whether to use coconut milk or coconut cream can be a confusing decision. Here is the simplified answer, either one is absolutely fine to cook with. Coconut milk will have a thiner consistency, more like traditional milk and be lighter in calories.
However, the difference with a can of coconut cream is it will be thick, often firm when opened. As it heats it will melt and will create a very creamy textured product. Needless to say, coconut cream will be higher in calories.
Pro Tip: Avoid cream of coconut for this recipe as it is sweetened and meant for desserts.
Thai Basil Replacement
If fresh Thai basil is available use 10-12 leaves in this recipe. Since Thai basil is a form of basil that is sweet and has a anise like fragrance, I have found using a combination of about 10 regular Italian basil leaves and 5 fresh mint leaves to work quite well.
Pineapple Juice for Sweetness
Many Pineapple Curry recipes call for addition of sugar or honey to help balance the acidity of the dish. However, I have found that the addition of 1/2 cup of pineapple juice works just as well as adding sugar.
More 30 Minute Meals
Green Curry Coconut Chicken Soup
Easy Weeknight Spinach Pesto Gnocchi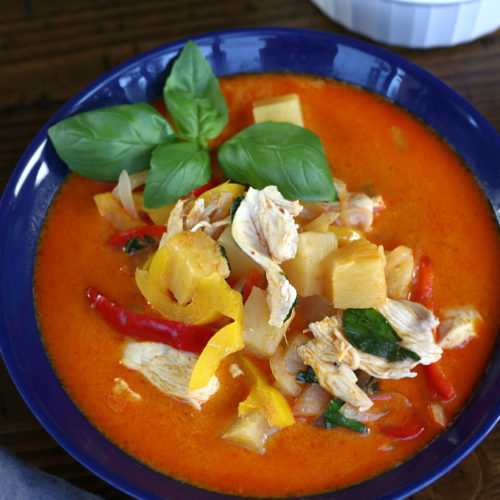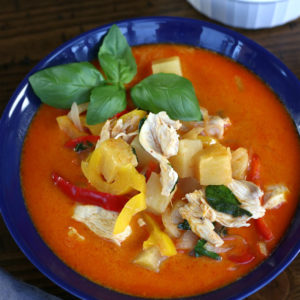 Ingredients
2

tbsp

high heat oil

*such as avocado oil

1/4

cup

red curry paste

2 cans

13.5 oz

coconut milk

*or coconut cream for extra creamy

20

oz

can pineapple chunks in juice

*reserve 1/2 cup of juice from can

3

tbsp

fish sauce

2

boneless skinless chicken breasts

*sliced thinly

1

med

red bell pepper

*sliced into strips

1

med

yellow bell pepper

*sliced into strips

1/2

med

brown onion

*sliced into strips

10

basil leaves

*torn

5

mint leaves

*torn

precooked short grain brown rice

*double batch recommended
Instructions
Cut and prepare bell peppers and onion. Thinely slice chicken breasts. Drain pineapple chunks reserving 1/2 cup of juice.

Heat a large frying pan over high heat with oil. Stir in curry paste and cook stirring frequently until fragrant, about 4 mins.

Stir in cocomut milk, pineapple juice, fish sauce and chicken. Bring to a simmer and cook for 4 mins.

Add cut veggies and pineapple. Cook an addittional 3-4 mins.

Turn off heat. Stir in basil and mint leaves and let sit for 1-2 mins.

Serve over precooked rice.
Notes
*Please use as many organic ingredients as possible.
Recipe Notes
This recipe is cooked on high heat. Since some stovetop ranges run very hot, be careful not to burn. In addition, cooking times may take longer for ranges that do not run as hot. 
If Thai basil is available, use approximately 10 leaves in place of the regular basil and mint. 
If making brown rice from scratch, total cooking time will be a little over an hour.
The total calories are with lite coconut milk and does not include rice. 
Nutrition
Calories:
330
kcal
|
Carbohydrates:
22
g
|
Protein:
20
g
|
Fat:
17
g
|
Saturated Fat:
8
g
|
Cholesterol:
49
mg
|
Sodium:
781
mg
|
Potassium:
387
mg
|
Fiber:
2
g
|
Sugar:
16
g
|
Vitamin A:
2331
IU
|
Vitamin C:
72
mg
|
Calcium:
39
mg
|
Iron:
2
mg