A quick and healthy meal perfect for busy days! Easy Weeknight Spinach Pesto recipe comes together in just under 30 minutes. An absolutely comforting dish with fluffy gnocchi, herby pesto and sprinkled with parmesan.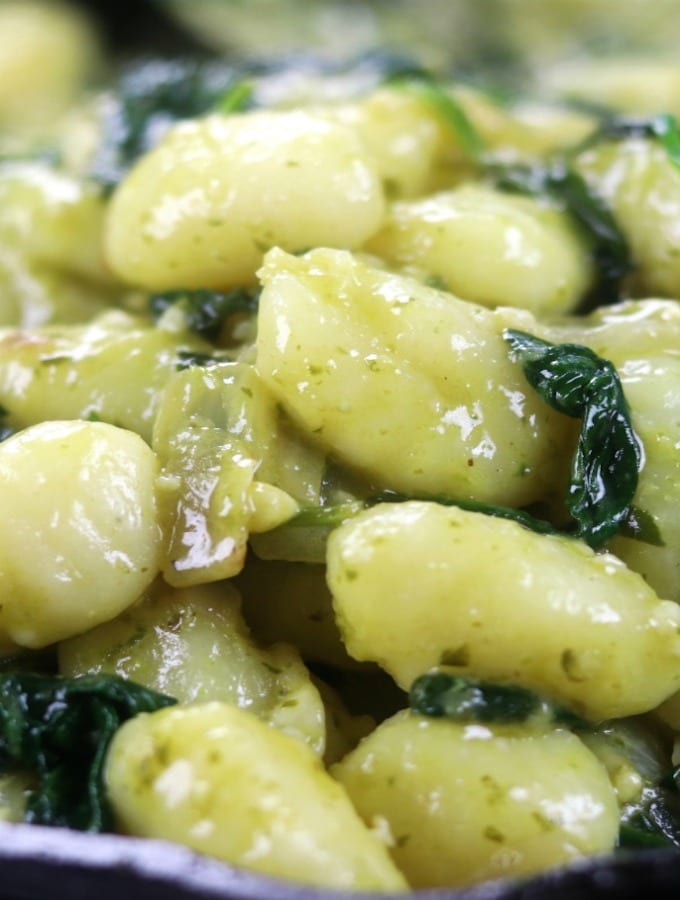 The Fed Up Foodie is a participant in the Amazon Services LLC Associates Program, an affiliate advertising program designed to provide a means for sites to earn advertising fees by advertising and linking to Amazon.com at no additional cost to you. This post may contain affiliate links.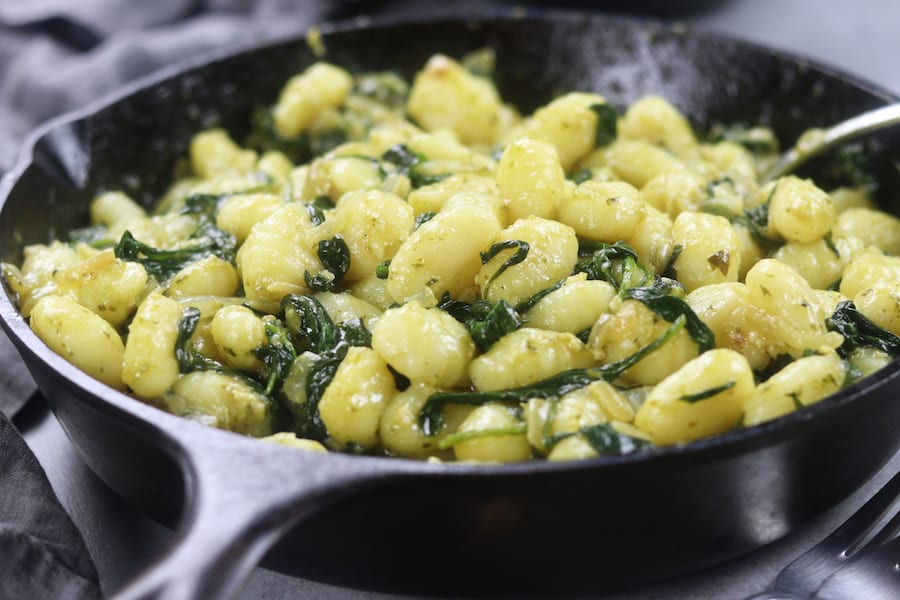 Want to know a secret about me?
One of my favorite things in life to do is evoke emotion.
Saying this fact out loud or seeing it in writing looks and sounds so odd, so I don't say it too often for fear of being misunderstood.
Yes, I can play devils advocate when needed. When I have, it has never been with the intent to cause pain but rather to draw attention to something I feel needs attention.
This kind of emotion stirring, I am good at, but it is not the love that I am speaking of.
My passion falls more in line with things like creating tender moments that brings tears to people's eyes or making someone burst out laughing.
I also adore movies that elicit lots of tear jerking moments like one of may favorites, P.S. I Love You. (Ladies, if you haven't seen it and need a good cry, this is your movie. It's just so darn good!!)
In case you can't tell, I also LOVE food.
It is no surprise then that I am constantly on a quest to merge my two passions together, evoking emotion with food and really good meals.
Honestly, is there anything better at the end of a hard day than coming home to a comforting dinner that is both quick and healthy?
This Easy Weeknight Spinach Pesto Gnocchi recipe falls within all these categories in addition to being one of my favorite simple dinner ideas.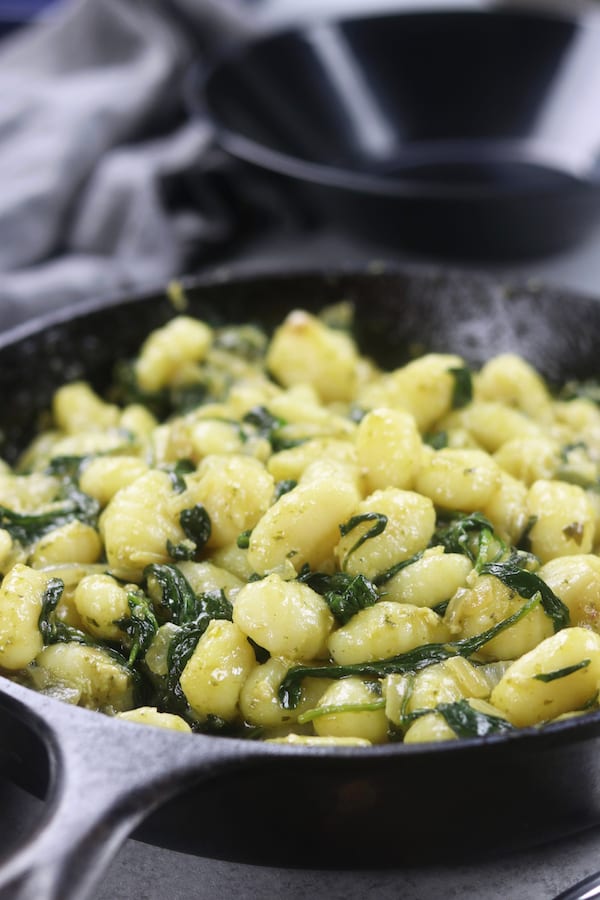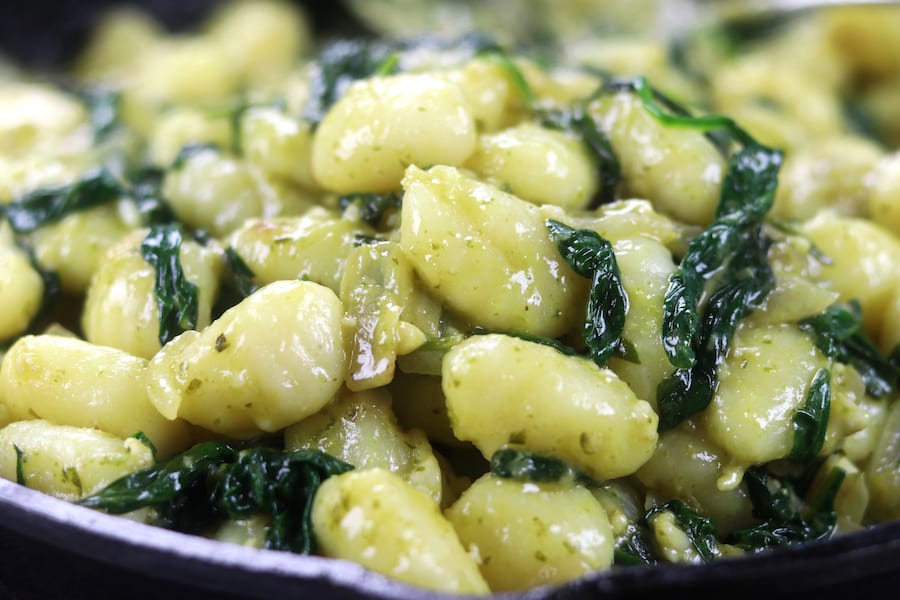 Commonly Asked Questions
How do I cook with pesto without ruining the dish?
This is such a great question! #1 rule for cooking with pesto is Don't Cook It. With most pasta dishes, the pasta is cooked, drained and then the pesto is added off heat.
For this pesto gnocchi dish once the onion, garlic and spinach are cooked, turn off heat and add pesto.
Pro Tip: When cooking this recipe, start with boiling the water on high heat first. This should allow the water to be at a full boil by the time the pesto is added to the spinach and onions. The gnocchi will only take a few minutes to cook and the residual heat from the gnocchi will help in melting the parmesan.
I don't like store bought pesto. Do you have a good recipe for it?
I totally understand! My familie's all time favorite pesto is my Toasted Walnut Pesto. Toasting the walnuts adds such a wonderful deep nutty taste. Just make sure to use a high quality product like this.
Why do I need to heavily salt the pasta water? Doesn't that make for too much sodium?
Authentic Italian chefs are intensely passionate about heavily salting the water. For many this seems a little shocking. The challenge is, without the water being heavily salted the pasta tastes flat. The good news is that most of the sodium remains in the water while beautifully flavoring the gnocchi.
Pro Tip: Bring the water to a rolling boil before adding the salt. Also, break apart the gnocchi before adding to the boiling water. This makes adding the gnocchi just a little easier in preventing the splashing of hot water.
I want to cook at home more. Do you have more simple dinner ideas?
I love how you think! Here are some of my favorite quick, easy and healthy dinners perfect for weeknights:
One Pan Panko Chicken and Green Bean Salad
Instant Pot Greek Chicken Wraps
More Fun Pesto Recipes:
Steak Fajita Skewers with Cilantro Pesto– The View From Great Island
Creamy Pesto Vegetable Pasta– The Fed Up Foodie
Parsley Infused Pesto Socca Pizza– Reluctant Entertainer
Roman Pesto Pasta– The Fed Up Foodie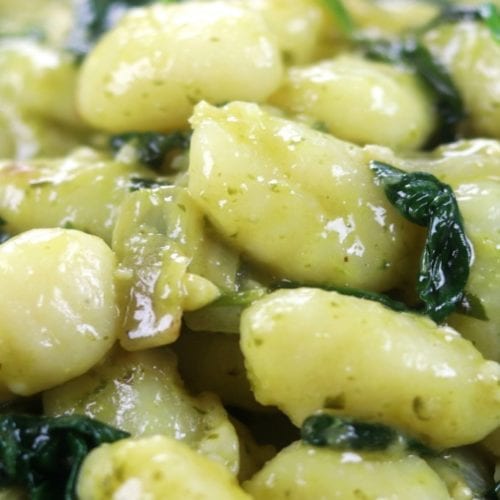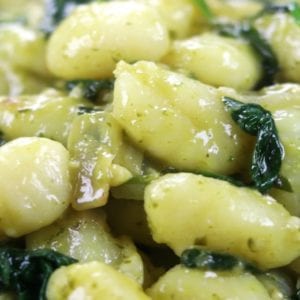 Easy Weeknight Spinach Pesto Gnocchi
Easy and delicious! This is how to serve gnocchi when you need a quick and healthy weeknight meal.
Print
Pin
Rate
Ingredients
17.5 oz

pacakage

gnocchi

1/4

cup

sea salt

*heavily salted water for boiling gnocchi

1

tbsp

olive oil

1/2

large

brown onion

*about 1 cup roughly chopped

3-4

garlic cloves

*crushed or minced

6

oz

baby spinach leaves

1/4

cup

Toasted Walnut Pesto

*or your favorite pesto

1/4

parmesan cheese

*optional
Instructions
Following instructions on gnocchi package, bring water to boil. Once boiling add salt and gnocchi until gnocchi floats, about 2-3 mins.

Meanwhile heat a medium sized skillet pan on medium/high heat. Add oil and sauté onions until translucent and slightly caramelized, about 10-12 mins.

Add garlic to onions and sauté for 1 min.

Working in batches, add spinach, stirring frequently until wilted.

Once spinach is cooked, turn off heat and immediately add pesto. Stir well.

Once gnocchi is cooked, drain and add to pesto mixture. Stir well and garnish with parmesan cheese. Cover with a lid for 3-4 mins to help cheese melt and then serve immediately.
Notes
*Please use as many organic ingredients as possible.*
Nutrition
Calories:
302
kcal
|
Carbohydrates:
44
g
|
Protein:
6
g
|
Fat:
10
g
|
Saturated Fat:
2
g
|
Cholesterol:
1
mg
|
Sodium:
218
mg
|
Potassium:
274
mg
|
Fiber:
2
g
|
Sugar:
1
g
|
Vitamin A:
4300
IU
|
Vitamin C:
14
mg
|
Calcium:
80
mg
|
Iron:
1
mg
Follow along on Facebook and Pinterest for more savory inspirations.
If you enjoy Italian food then you will love these: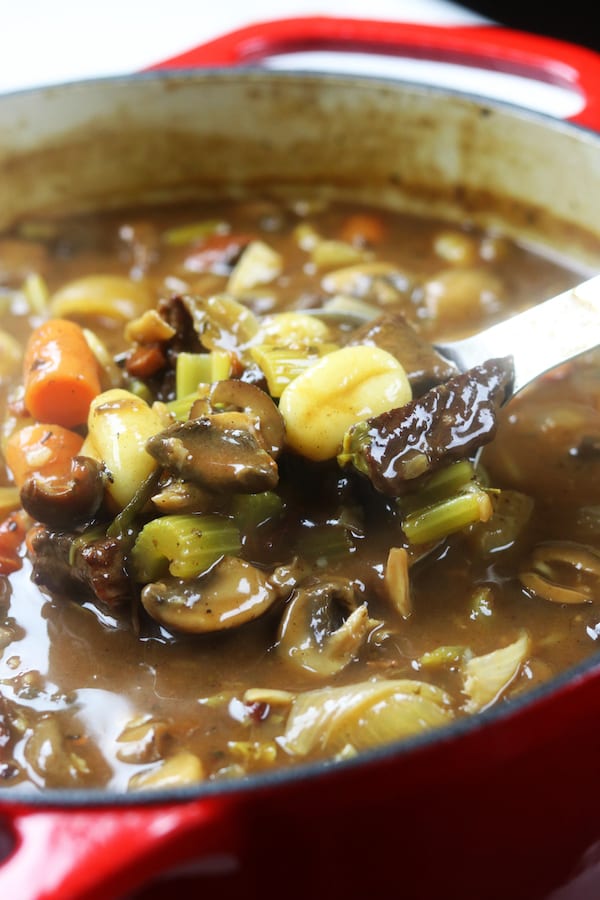 Italian Beef Stew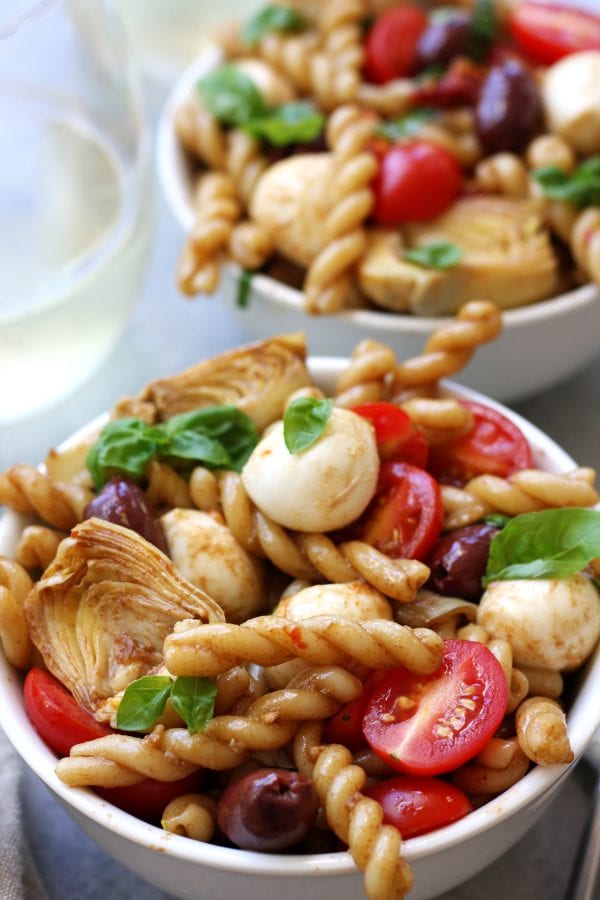 Mediterranean Delight Pasta Salad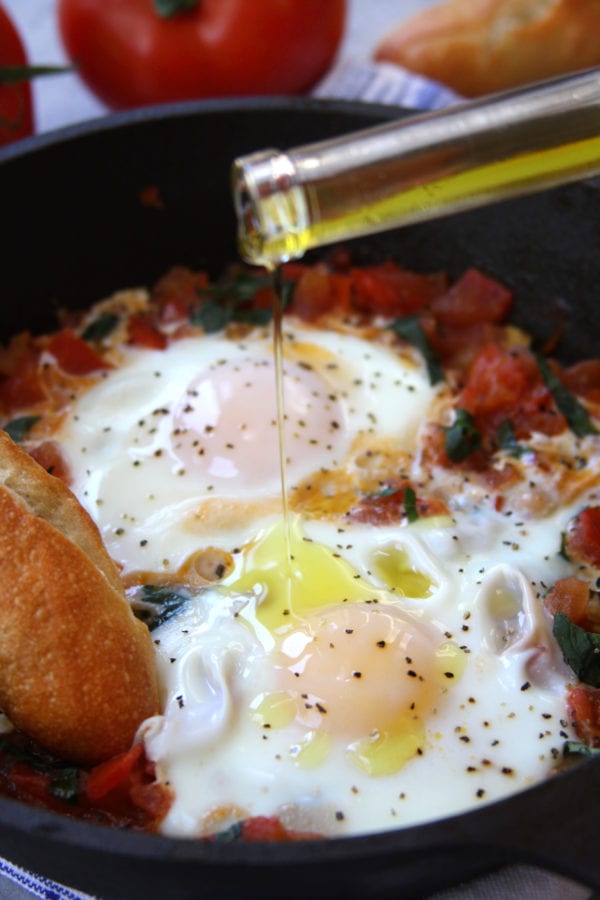 Italian Tomato and Eggs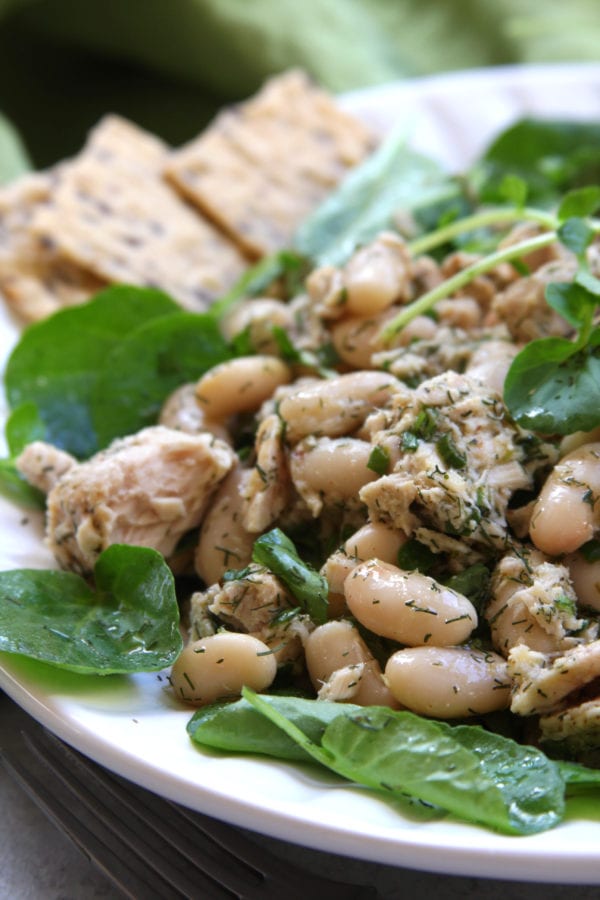 Mediterranean Tuna Salad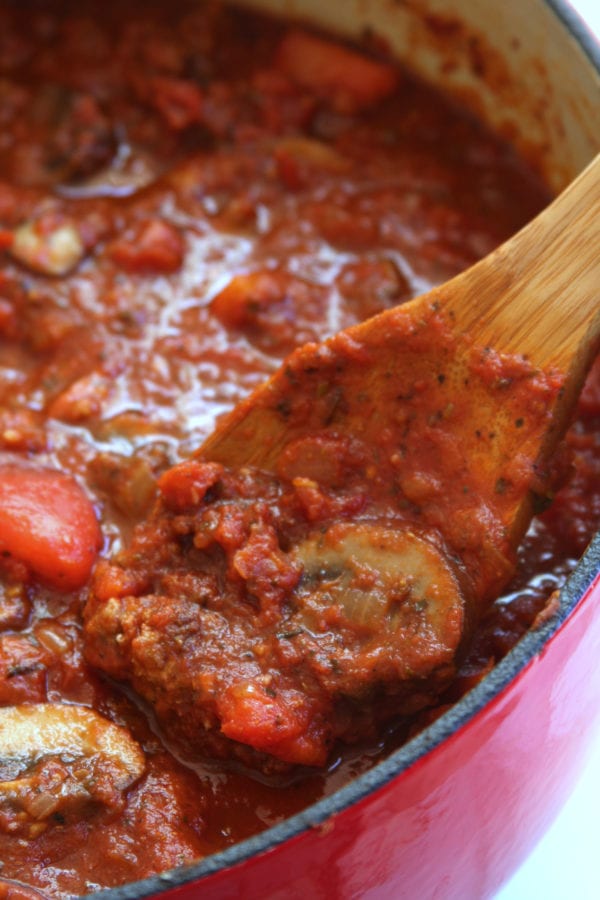 Classic Spaghetti Sauce