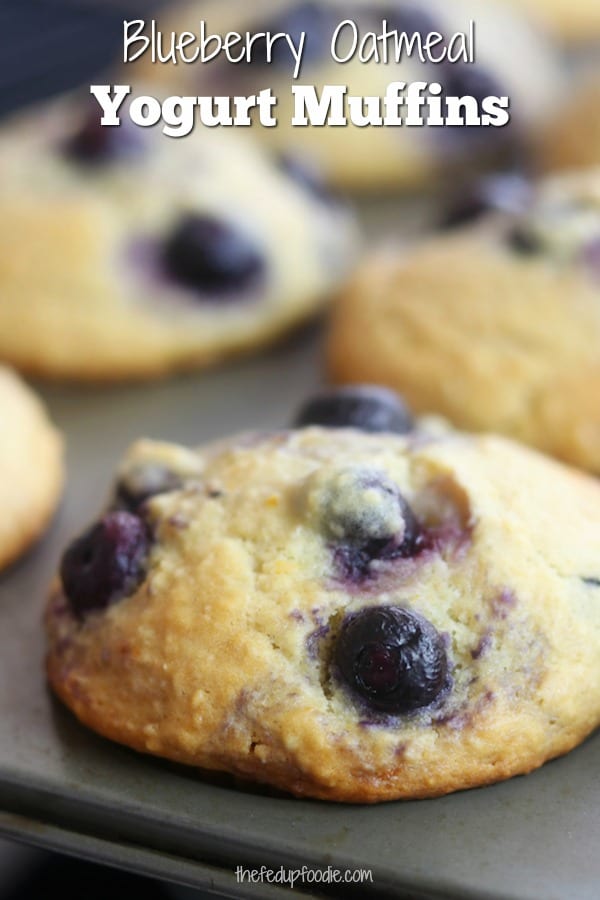 Light and fluffy, Blueberry Oatmeal Yogurt Muffins recipe is an easy, make ahead breakfast, perfect for toddlers, kids and adults alike. With just a hint of orange these are so delicious! I have to hide these from my family if I want them for the next morning.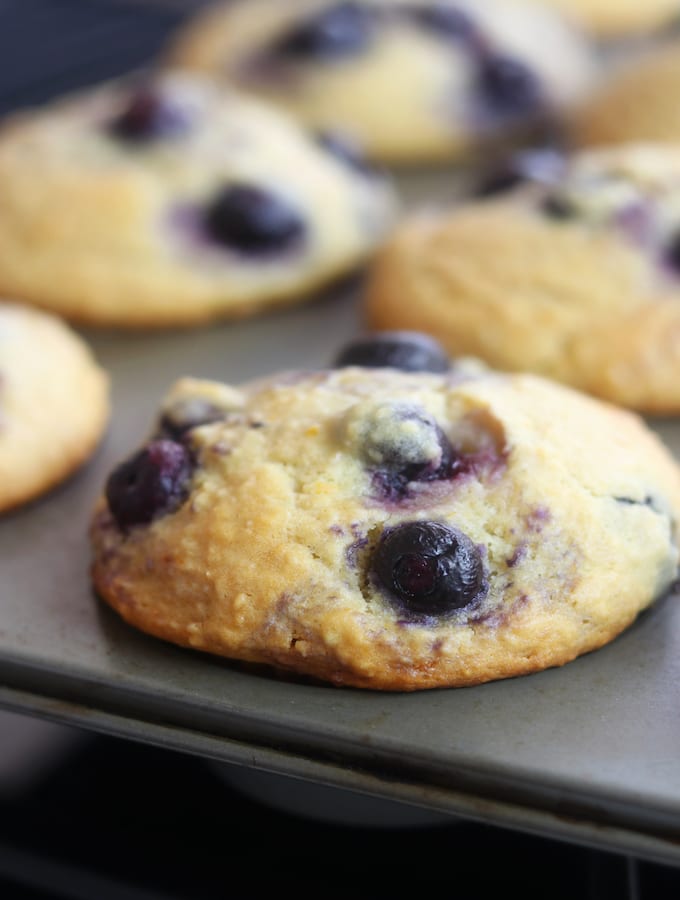 This post is part of a sponsored relationship with Clover Sonoma, however all opinions are my own. You can rest assured that I only endorse products I whole heartedly love and use.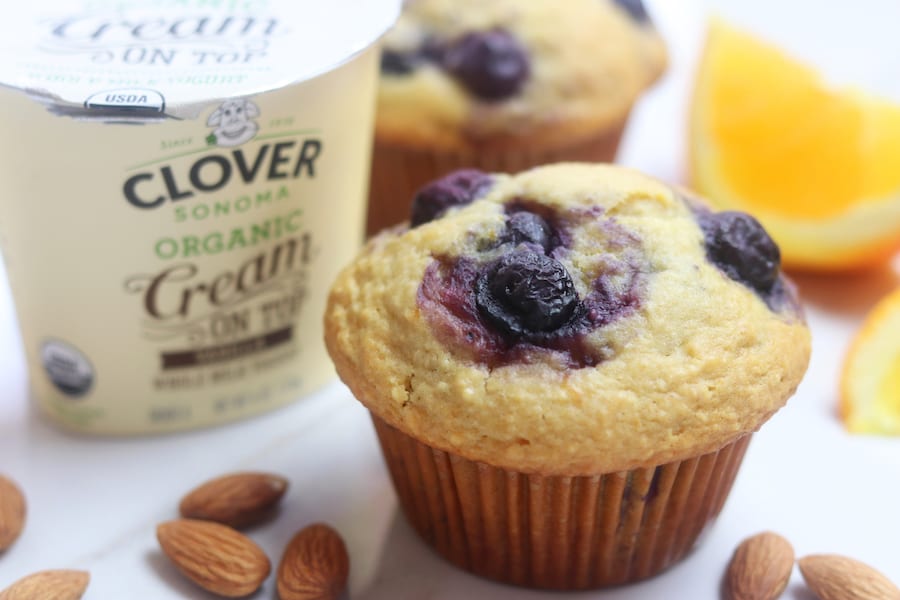 Haven't we all been there?
Trying to get our little ones (and the big ones too sometimes) to eat something a little more wholesome than let's say, chips for breakfast.
"But, is it spicy?" little one asks.
"No sweetie, this bowl of oatmeal is not spicy. I promise!"
"But I can't like oatmeal!" she tells me as she pokes the bowl like it is an alien.
'Deep breathes' I tell myself for the 1,528th time this month. 'This stage too shall pass'
After much convincing on my part she takes one bite and asks, "Can I be done now?"
"NO!! Please eat your food."
"K", she eats one bite. "Now say thank you." (I think she is getting this manners thing backwards.)
"Haha…very funny. Now finishing eating!"
"Two more bites and I can be done?"
"E…A…T… YOUR FOOD!" in the best 'I mean business' voice that still says I love you to pieces.
"Okkkkaaaayyyyy…."
A few moments pass and, "lalalala…baaaabbbyyy shark do do do do….????????"
Needless to say, these Blueberry Oatmeal Yogurt Muffins were born out of a necessity to save my sanity.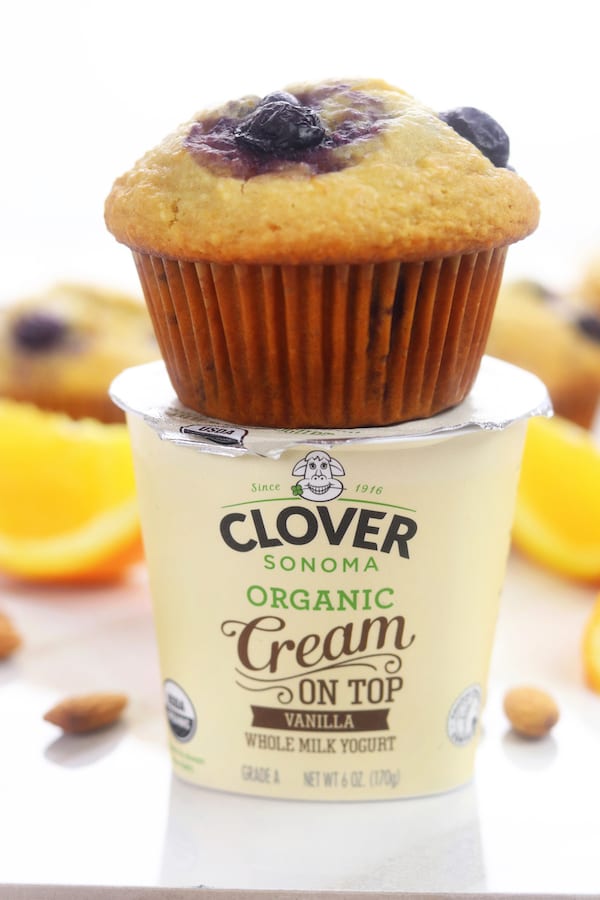 Why I love and trust Clover Yogurt
There was a time in the not so distant past that I was scared to death where my health was headed. At that time I had recently walked through the long and heartbreaking journey of my mother's battle with kidney cancer to her much too early passing. To say the least, I had been put though the emotional ringer. Now my body was showing signs of something being seriously wrong. In my head, all I could think of was I had cancer too.
It is funny how when you witness first hand something so traumatic, how sensitive and aware you become to any changes that your body goes through. Thankfully, I didn't have cancer. To spare you the 'too much information' moment I will just share that I had all signs pointing in the direction of having PCOS (this is a Google moment if you are not sure what I am talking about). The number one lesson I learned through my health journey was, diet played a huge role in my recovery. Of the different faucets of a diet approach that worked for me, the most powerful was eating organic.
Prior to this experience I had always been someone who loved eating nutritionally. It wasn't until then though, that I personally saw the huge benefits to limiting my chemical exposure. I was able to not only control symptoms but also reverse them. That was when I came face to face with companies like Clover Sonoma who was the first to say no Monsanto and the use of rSBT hormone.
Personally, the ethical practices of companies is very important to me. Knowing that Clover Sonoma is over a 100 year old company, has high quality standards in their organic products and is passionate about the humane treatment of their cows makes them a shining star in my book.
But here is the the cherry on top if the sundae, their yogurt is AMAZING!!!!!! Seriously, you should drive to your market right now and buy some Cream On Top Whole Milk Yogurt. You will instantly fall in love!
Commonly Asked Questions About Clover Yogurt
Why Buy Organic Yogurt?
Honestly, buying organic is a very personal decision with still much heated debate, even today. For me and my family it is hugely about limiting chemical exposure.
I don't know who to credit this too, as this is not my original thought, but we are what we eat, eats. As crazy as that sounds, it is my personal opinion that if the cows who produce our milk are eating inferior, chemically laden foods, it will overlap into the quality of the milk they produce.
Given my history and the huge success I have seen from eating organic (see above story), this really is a no-brainer for me.
Why use Cream Top yogurt?
Oh my word, Clover Sonoma's Cream On Top Yogurt is just so amazingly creamy and delicious. For me eating a container is seriously like having a heavenly moment where all the stress just melts off my shoulders because I am lost in how delicious it is.
Also, one container of the Vanilla Cream On Top Yogurt works so well in these Blueberry Oatmeal Yogurt Muffins helping to create a very tender and moist final product.
Why are some organic yogurts runny and Clover Sonoma's is not?
Such a great point! Clover Sonoma definitely creates a thick and luxurious yogurt. Here is the really cool part, they do this by straining their yogurt in small batches, never using stabilizers or thickeners. Another reason why I love Clover yogurt.
Does Clover Yogurt have active live cultures?
I love this question so much because it is so important to have the friendly bacteria that keeps our digestion in tip top shape.
So to answer the question, yes. You will find on all their packages a list of the live active cultures like L.bulgaricus, S. thermophilus, bifidobacterium, L. acidophilus and L. casei.
Is Clover Yogurt toddler and kid friendly?
Absolutely! Not only does Clover yogurt taste great, they also have as their mascot Clo the Cow. Clo is adorable and a wonderful way to get toddlers excited about eating yogurt.
Commonly Asked Questions About Blueberry Yogurt Muffins
Can I make these blueberry muffins with frozen blueberries?
Absolutely! That is actually what I used. If you have fresh blueberries they will work just as beautifully as frozen blueberries do.
Do these Homemade Muffins freeze well?
Yes, these homemade blueberry muffins freeze well. Just make sure they are completely cooled to room temperature before trying to freeze. Also, use an airtight container or bag and make sure not to place anything heavier ontop of them since they are a fluffier muffin.
I need ideas for my meal prep menu. Will this blueberry muffin recipe work well for it?
I have enjoyed eating these for breakfast after having them made up ahead of time and stored in the freezer. Just pull them out of the freezer about 30 minutes before eating.
Pro Tip: You may want to make a double batch if your family is around, because chances a good portion will disappear fresh from the oven.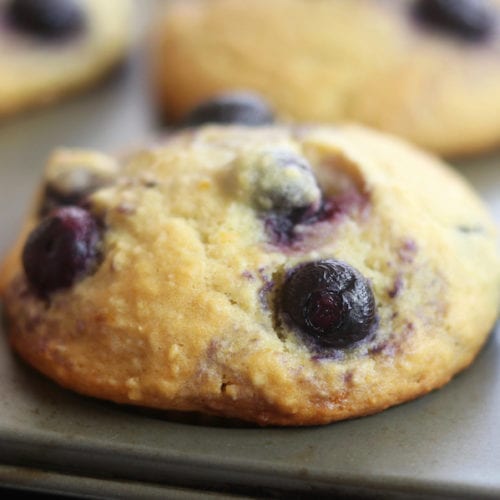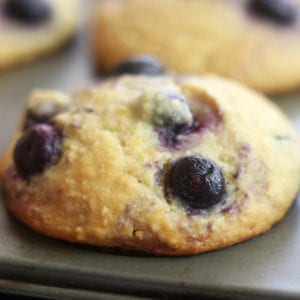 Blueberry Oatmeal Yogurt Muffins
Soft, Fluffy and sweetened with honey, these homemade Blueberry Oatmeal Yogurt Muffins are to die for. Both little ones and adults love these muffins. You'll love the hint of orange and the yogurt makes them irresistibly moist and fluffy.
Print
Pin
Rate
Ingredients
Dry Ingredients
1

cup

rolled oats

*ground into flour

2

cups

all-purpose flour

1 1/2

tsp

baking powder

1/2

tsp

baking soda

1/4

tsp

sea salt
Wet Ingredients
1/2

cup

oil

3

large

eggs

2

tbsp

orange juice

1

tsp

orange zest

*about 1 med orange zested

1/2

cup

honey

1/2

tsp

vanilla extract
Miscellaneous
1 1/2

cups

blueberries

+2 tbsp for topping

12

muffins liners

*if making regular sized muffins
Instructions
Dry Ingredients
Place rolled oats into a food processor or blender and process until flour like consistency is reached, about 1-2 mins. Place into a medium sized mixing bowl.

Sift all dry ingredients into oat flour and stir well.
Wet Ingredients
In a separate medium sized bowl add all wet ingredients and stir well.

Carefully fold in dry ingredients to wet and stir until just incorporated. Fold in blueberries (reserving 2 tbsp for topping muffins).

Add muffin liners to muffin pan. Using 1/2 cup measuring cup divided batter evenly among cups, filling to the top.

Bake for 28-33 mins or until toothpick inserted in center comes out clean.

Let cool for 5 mins before removing from pan. Cool to room temperature before storing.
Notes
*Please use as many organic ingredients as possible.* 
If making mini muffins, spray a mini muffin pan with nonstick spray. Fill each muffin cup with approximately 1 heaping tablespoon, filling to the top. Bake in a 350℉ oven for 16-18 mins or until a tooth pick inserted into center comes out clean. Yields 28-32 mini muffins. There are approximately 96 calories in 1 mini muffin. 
Nutrition
Calories:
269
kcal
|
Carbohydrates:
36
g
|
Protein:
6
g
|
Fat:
12
g
|
Saturated Fat:
2
g
|
Cholesterol:
55
mg
|
Sodium:
190
mg
|
Potassium:
116
mg
|
Fiber:
2
g
|
Sugar:
15
g
|
Vitamin A:
106
IU
|
Vitamin C:
4
mg
|
Calcium:
67
mg
|
Iron:
2
mg
SaveSave