Quick, easy and so delicious, this Candied Walnuts recipe is honey glazed and perfect in salads, eaten with cheese or as a simple snack. One of our favorite healthy treats during the holidays.

This post may contain affiliate links which I earn a small portion in sales if a purchase is made. Rest assured though, it is never at any additional cost to you.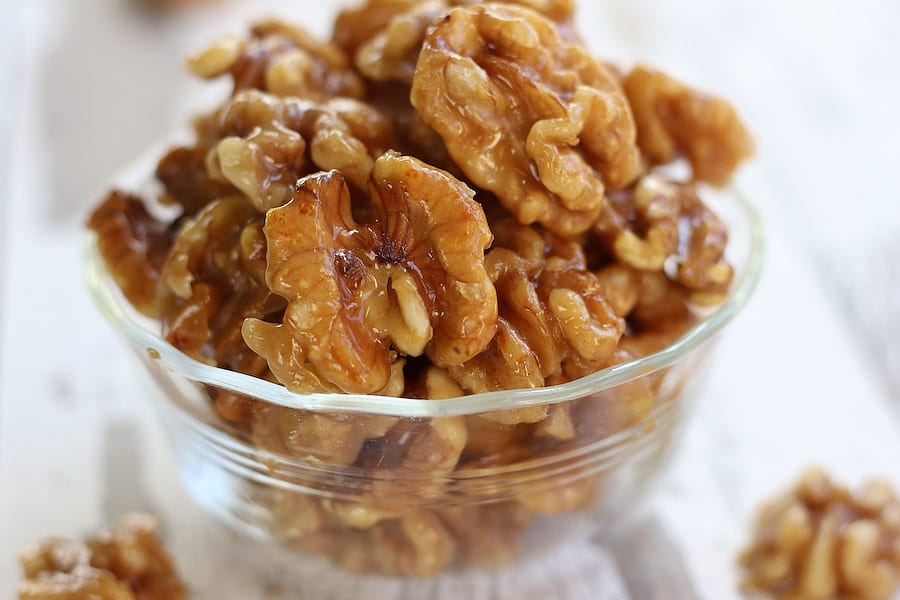 Somewhere around my early to mid teen years, the United States became obsessed with not eating fat.
When I say obsessed, I am being very literal.
If you were around in the 80's then it is very high chance you remember the products that everyone was consuming.
Products like fat free salad dressings, fat free cookies and fat free margarines.
I cringe thinking about how that aided in us in not eating enough omega-3 fatty acids.
Health and what eating healthy looks like can be highly controversial topics among many.
Interestingly, omega 3 fatty acid is not among the controversial health topics. We know we need to be eating more of it.
Well my friends, the good news is I share with you a snack that is not only INSANELY tasty, incredibly easy to make and helps you and your family in obtaining optimal levels of omega 3.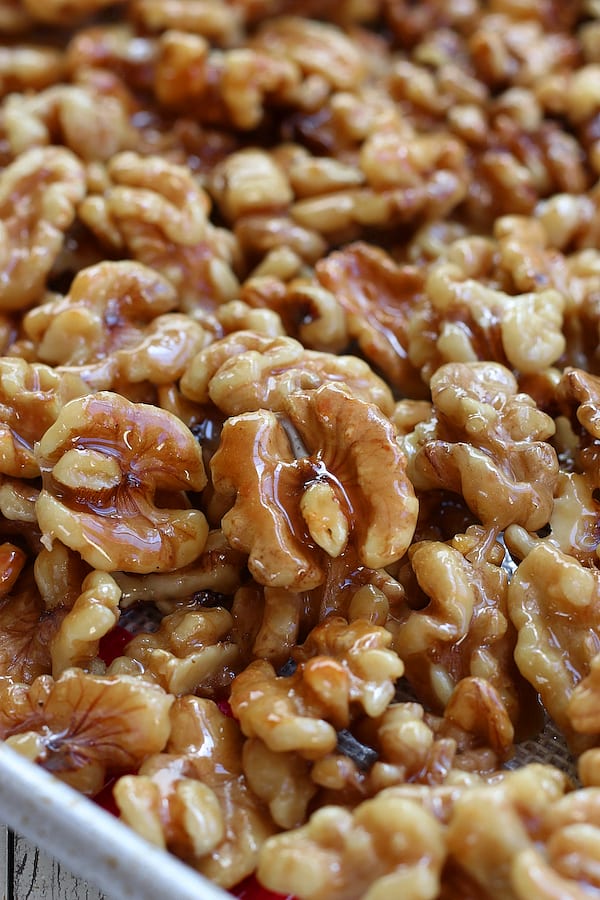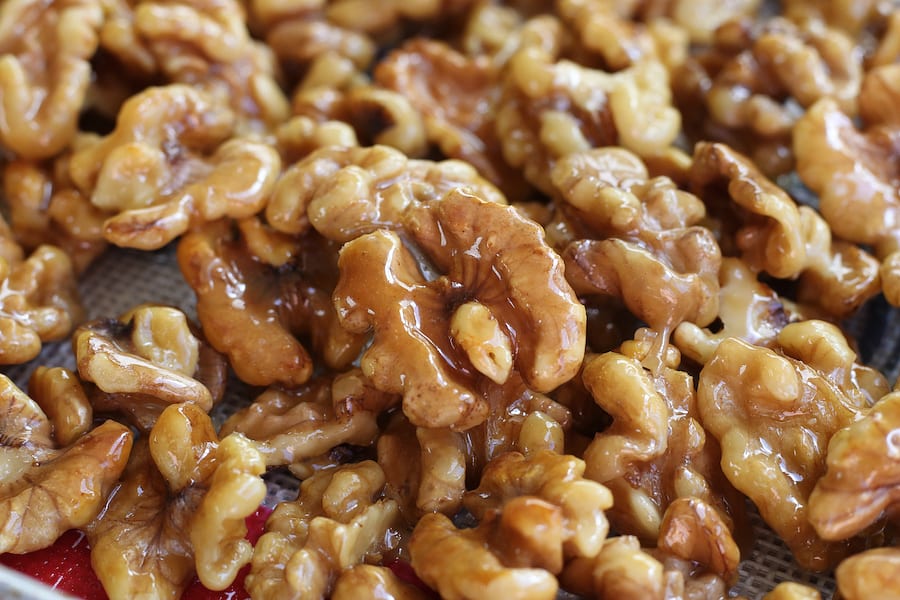 Candied Nuts
Candied Nuts can be a satisfying snack when you have sweet tooth. They pack well, perfect for lunch boxes or packed work lunches. Also, they are a wonderful addition to salads and pair well with cheese and fruit as an appetizer.
Walnut Nutrition
Getting enough omega 3 fatty acids can be a challenge in the American diet. However, eating about 7 walnuts provides 2542 mg of much needed omega 3. Also impressive is the amount of copper, manganese and vitamin E, not to mention all the other vitamins, minerals, antioxidants and plant compounds.
How To Make Candied Nuts
Preheat a large frying pan over medium/high heat.
Add butter, nuts, salt and honey.
Stir consistently until nuts are toasted and honey has caramelized, about 3 minutes.
Place hot nuts onto parchment paper or lightly sprayed silicone baking mat. Let cool.
Soaking Walnuts
The question of whether to soak walnuts before eating is a question that has a very personal answer. For many, walnuts can be hard to digest. Soaking helps rid the nuts of tannins, the astringent compound that also makes walnuts slightly bitter. To soak the walnuts before making this recipe follow these steps.
Place nuts into a large glass container and fill with water at least 2-3 inches above nuts.
Soak in the refrigerator overnight.
Drain and dry using a dehydrator. Pro Tip: Walnuts must be throughly dried in a dehydrator if soaked or this recipe will not turn out well. Dehydrating in the oven does not work well with this recipe.
How long do walnuts last?
It is advised by experts that walnuts will keep best if kept in an airtight container in the freezer for 1 year, refrigerated for 6 months or keep in the pantry for short term, approximately 1 month. I however, have bought large bags from Costco that were stored in the pantry for 6 months without an issue.
Once the Candied Walnuts are made, store in the refrigerator for up to 10 days.
Additional Flavor Options for Honey Walnuts
Adding in 1/4-1/2 tsp of any combination of the spices below can add an interesting savory spiciness to these Honey Glazed Walnuts.
cayenne pepper
nutmeg
black pepper
chili powder
cumin
More Delicious Walnut Recipes
Kale and Brussel Sprouts Salad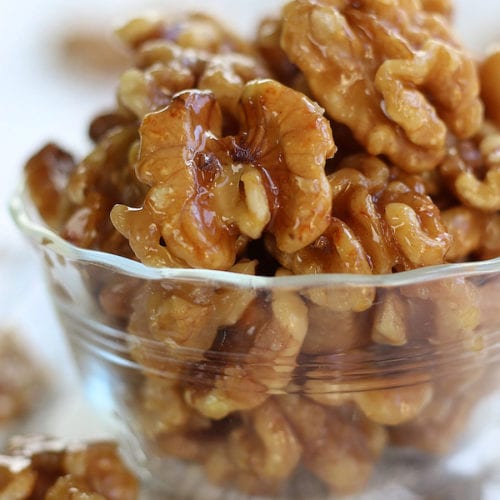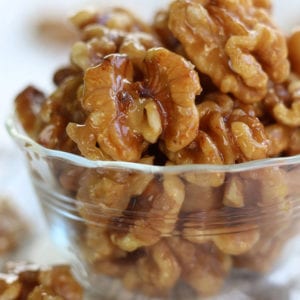 Candied Walnuts
Super easy to make and incredibly delicious, these Candied Walnuts are glazed with honey and have a touch of butteriness.
Print
Pin
Rate
Ingredients
2

tbsp

unsalted butter

2

cups

walnut halves

1/3

cup

raw honey

1/8

tsp

sea salt

*if using salted butter eliminate salt
Instructions
Prepare a sheet of parchement paper or lightly spray a silcone baking mat. Set aside.

Preheat a large frying pan over med/high heat. Add butter, walnuts, salt and honey. Stirring consistently, cook until nuts have toasted and honey has caramelized, about 3 minutes.

Transfer hot nuts onto parchment or baking mat. Spread evenly to let cool. When nuts have cooled to room temperature and are slightly tacky seperate nuts to avoid sticking together. Store in an airtight container once nuts have fully cooled and are no longer tacky.
Nutrition
Calories:
346
kcal
|
Carbohydrates:
21
g
|
Protein:
6
g
|
Fat:
29
g
|
Saturated Fat:
5
g
|
Cholesterol:
10
mg
|
Sodium:
51
mg
|
Potassium:
182
mg
|
Fiber:
3
g
|
Sugar:
16
g
|
Vitamin A:
118
IU
|
Vitamin C:
1
mg
|
Calcium:
38
mg
|
Iron:
1
mg