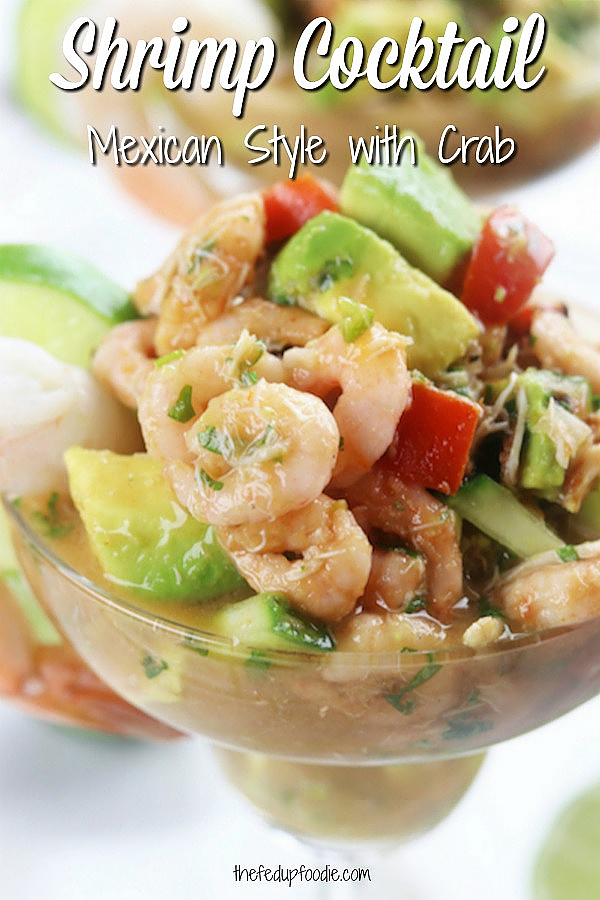 There is nothing better than this Mexican Shrimp & Crab Cocktail on a hot summer day. It is flavorful, refreshing and a favorite as a lighter meal or as a crowd pleasing appetizer.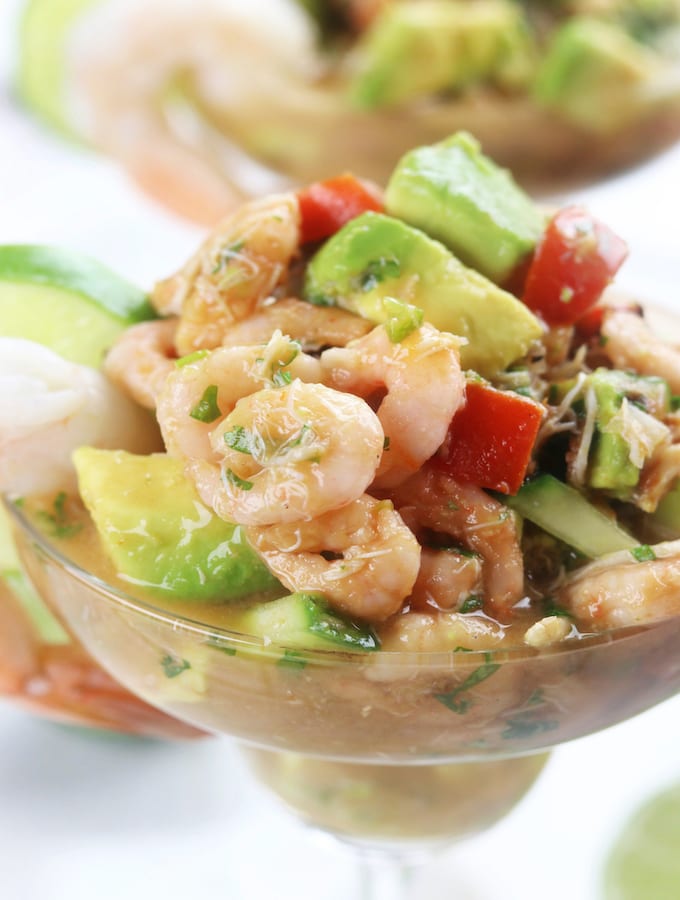 This post may contain affiliate links which I earn a small portion in sales if a purchase is made. Rest assured though, it is never at any additional cost to you.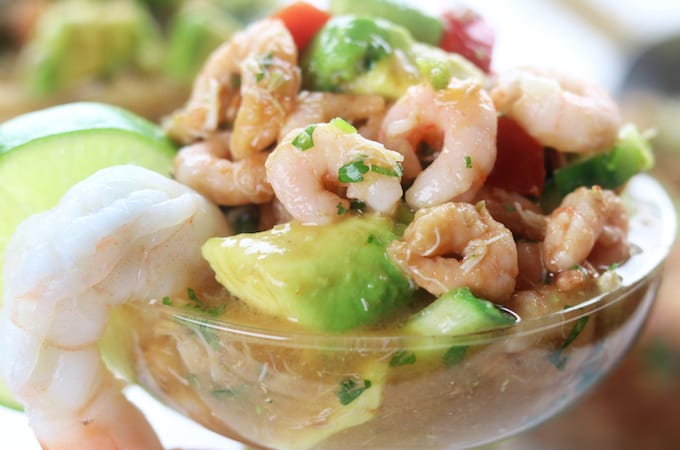 Sometimes life is like an uphill battle (or a delicious bowl of chilled shrimp cocktail).
When my husband and I were first newly married we lived in a townhouse at the bottom of a very LARGE hill. I often would walk this hill as it was a great way to get exercise but honestly, it felt more like a mountain. To walk it was a torturous, sweat producing experience . To make matters worse, we recently had wild fires that ripped through that area displacing wild life. One such critter, a mountain lion, had been spotted at our neighboring university. So not only did the trek up that mountain feel like a death march but every hair would stand on end expecting that I would face my death with a hungry lion that could only see his scrumptious dinner when he looked at my frightened sweaty face.
By now you are probably asking yourself why on earth I would subject myself to this type of hellacious experience over and over again? The reason is very simple. Once I got to the top and caught my breath, the experience turned glorious. Our beautiful San Diego ocean breezes would immediately sweep over me and oh the views… they would take my breath away. It was especially gorgeous at dusk with colorful sunsets over the Pacific ocean and little twinkly lights beneath me on the way down. It was enchanting to say the least and even more so once all the endorphins kicked in.
Like a good wife, I decided one day that my husband must experience this also. Let me first start by saying, he is not an exercise kind of guy. He is a hard working, build the house and knock down the shed kind of guy. That is how he prefers to get his exercise. BUT, he also likes to make me happy so needless to say I talked him into the death march.
1/4 of the way up I was starting to wonder if I had made a mistake asking him to come along. 1/2 way up the mountain I was flat out scared. I couldn't tell if he was mad at me (or possibly hating me at that moment) or if I was going to need to seek medical attention (with this being a death march even for the experienced hiker). The more attention I paid him the more irritated he became. Talk about complicating an already emotion provoking walk. Once we got to the top he stopped, put his hands on his hips and stayed silent for about 1 minute. That 1 minute felt like the longest of my life. And then the doors of hell flew open and out of my husband's mouth. I couldn't believe that my sweet, service oriented, generous, big huggable teddy bear of a husband even knew those words. To this day it still cracks me up thinking of the colorful things he said and the amount of emotion that poured out of him.
The funniest thing happened though at about 1/3 of the way down he started to become highly motivated. He talked of all the things he was going to accomplish and 2/3 of the way down he was in such an amazing good mood. We ended the walk and came home to refreshing chilled Mexican Shrimp Cocktail with icy cold beers. Regardless of the concern and fear that walk created that day, I wouldn't trade that experience for a million dollars.
Now, every time life starts to feel like that torturous, sweet producing walk up the mountain I remind myself to hold on. It won't be long before the endorphins kick in, the views become better and we can end the day with a laugh and good food. Thank God there is always good food.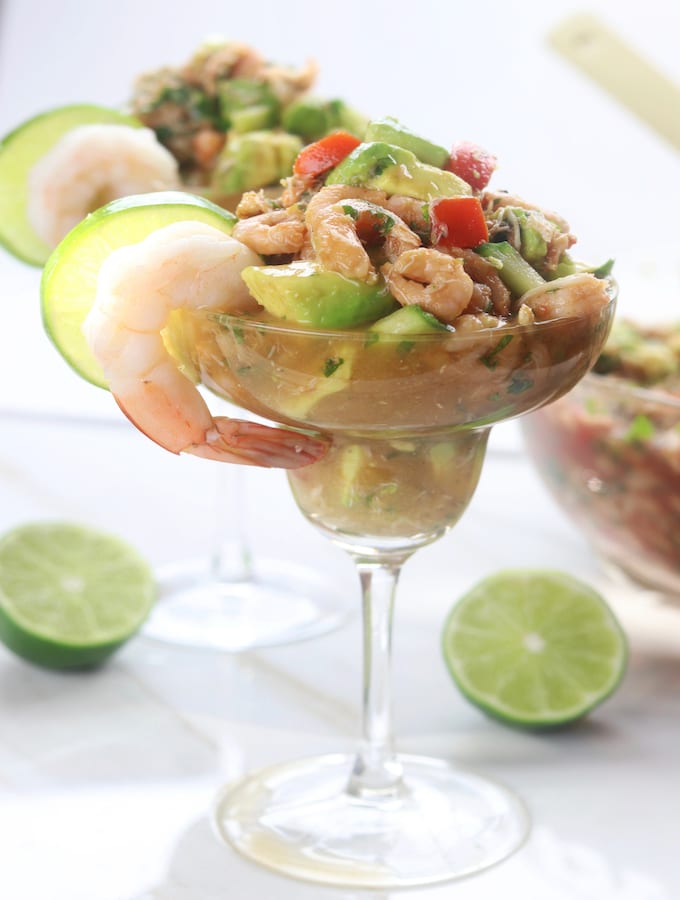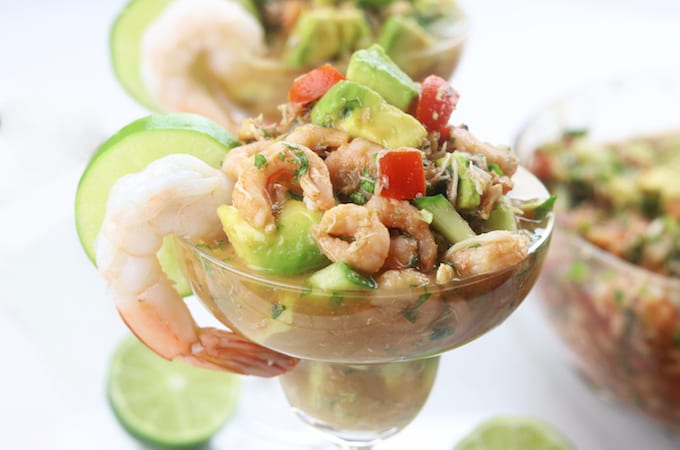 How to Make Mexican Shrimp Cocktail Sauce
The secrets to making a really good Mexican Shrimp Cocktail Sauce is two fold.
Know your taste preferences.
A good shrimp cocktail sauce is a combination of sweet, savory, tangy and spicy (if you like spice).
In this Mexican Shrimp & Crab Cocktail recipe I changed it up from the traditional Mexican shrimp cocktail sauce by adding tomato paste to help cut down the sweetness. If you enjoy a sweeter cocktail sauce then exchange the 1/4 tomato paste for 1/2 cup more of ketchup or (1 1/4 cups total).
If you are not a cilantro lover add just a few tablespoons of fresh cut cilantro instead. If you love cilantro, like my family does, then you can probably get away with adding up to 1 /2 bunches chopped.
Rather than using clam juice a good friend of mine will use the water that the shrimp was cooked in but will first chill it before making the sauce.
Some variances of Mexican Shrimp Cocktail Sauce recipes will add in 1 tablespoon of Worcestershire sauce and/or a 2 inch piece of freshly grated horseradish (about 1/2 cup grated). For another recipe using fresh horseradish chef out my Wasabi Ginger Asian Lettuce Wraps.
The most important element to keep in mind is to adjust the flavors according to the taste preferences of your family and friends. This Mexican Shrimp & Crab Cocktail reflects our preference of a less sweet and more tangy sauce.
Adjusting Heat and Spice Levels
The amount of hot sauce used in the cocktail sauce will solely depend on taste preferences. If you like spicier foods use up to 1- 2 tbsp hot sauce. If you enjoy your food on the milder side stick with just 2 teaspoons.
I used 2 roasted jalapeños and discarded the seeds for this recipe. My family loves the taste of roasted jalapeño as it provides a mild smokey flavor. Just know this step is optional and you will definitely want to add the seeds if you and your family prefer the higher spice level. For more details on roasting jalapeños check out my Creamy Roasted Jalapeño Pasta recipe.
Tips to making the Best Shrimp Cocktail Recipe
The most important tip to making the best possible shrimp cocktail is to make it a few hours before serving so that it is chilled for your guests. There really is nothing better on a hot summer day then chilled shrimp cocktail with an icy beer.
I used bay shrimp in this recipe because honestly they are the easiest and most affordable versions to find in my area that are better options over the farmed raised versions in most grocery stores. Larger shrimp would be very impressive in this recipe but just keep in mind these guidelines.
Crab claw meat vs. lump crab meat– Generally these will be your two options at most grocery stores and both will taste identical to each other. The claw meat will be more affordable and look very similar to how it looks in these pictures. The lump crab meat will stay in larger chunks but will be more costly.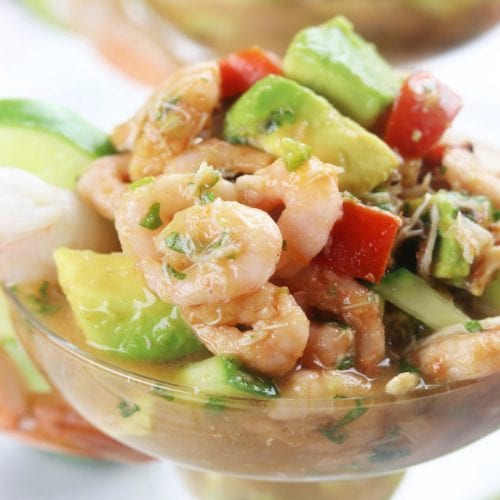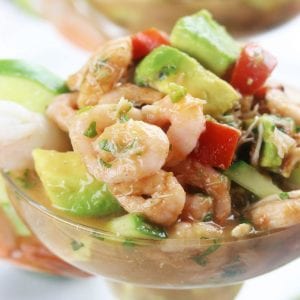 Mexican Shrimp & Crab Cocktail
There is nothing better than this Mexican Shrimp & Crab Cocktail on a hot summer day. It is flavorful, refreshing and a favorite as a lighter meal or as a crowd pleasing appetizer.
Print
Pin
Rate
Ingredients
1

lb

bay shrimp

*precooked & defrosted

1

lb

crab claw meat or crab lump meat

*see tips above

1 1/2

cups

finely chopped cilantro

*about 1 large bunch

1

lg

English cucumber

*diced about 3 cups

1/2

lg

white onion

*finely diced about 1 1/2 cups

3

Roma tomatoes

*diced about 1 1/2 cups

2

med

jalapeños

*roasted, deseeded & finely diced

3-4

lg

cloves garlic

*minced or crushed

2

lg

Hass avocados

*cut into larger chunks

salt & pepper to taste
For the Cocktail Sauce
1/4

cup

tomato paste

1 1/2

cups

lime juice

*about 5-8 limes depending on how juicy

3/4

cup

organic ketchup

1

cup

clam juice

2

tsp

hot sauce
Instructions
In a large glass mixing bowl mix together the first 8 ingredients and set aside in the refrigerator.

In a separate medium sized mixing bowl whisk together the tomato paste and lime juice. Stir in ketchup. Carefully whisk in clam juice and hot sauce. Pour over shrimp and crab mixture and carefully stir.

Peel and cut avocados, add to shrimp & crab bowl. Salt & pepper to taste and gently stir. Refrigerate until chilled, about 2 hours.
Notes
*Please use as many organic ingredients as possible.*
Nutrition
Calories:
167
kcal
|
Carbohydrates:
16
g
|
Protein:
23
g
|
Fat:
1
g
|
Saturated Fat:
1
g
|
Cholesterol:
167
mg
|
Sodium:
1319
mg
|
Potassium:
449
mg
|
Fiber:
1
g
|
Sugar:
8
g
|
Vitamin A:
514
IU
|
Vitamin C:
28
mg
|
Calcium:
126
mg
|
Iron:
2
mg
Follow along on Facebook and Pinterest for more savory inspirations.
If you love shrimp recipes you will love these: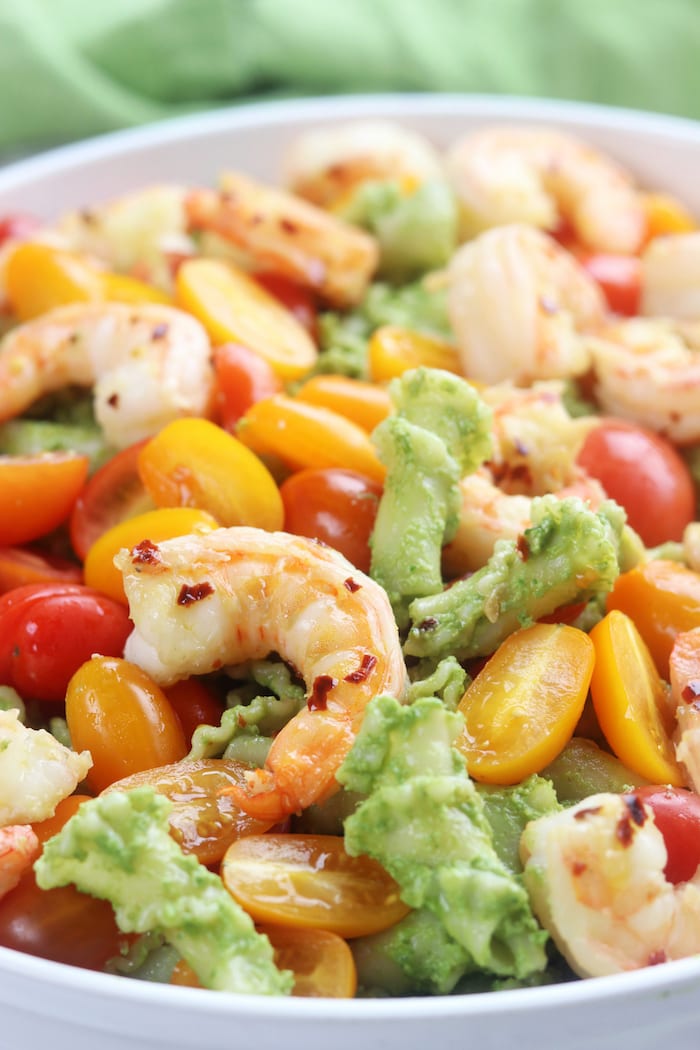 Avocado Pesto Pasta with Garlic Shrimp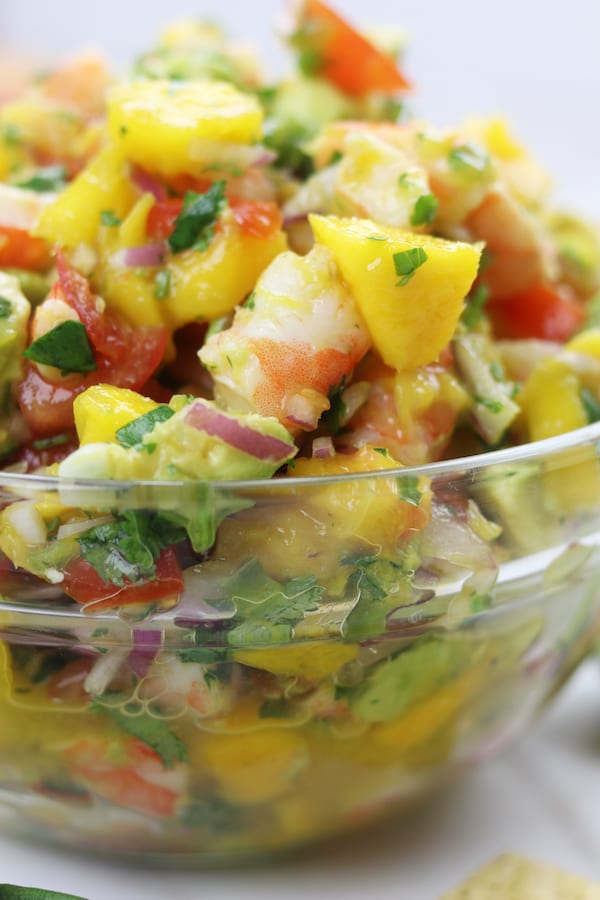 Mango Shrimp Salsa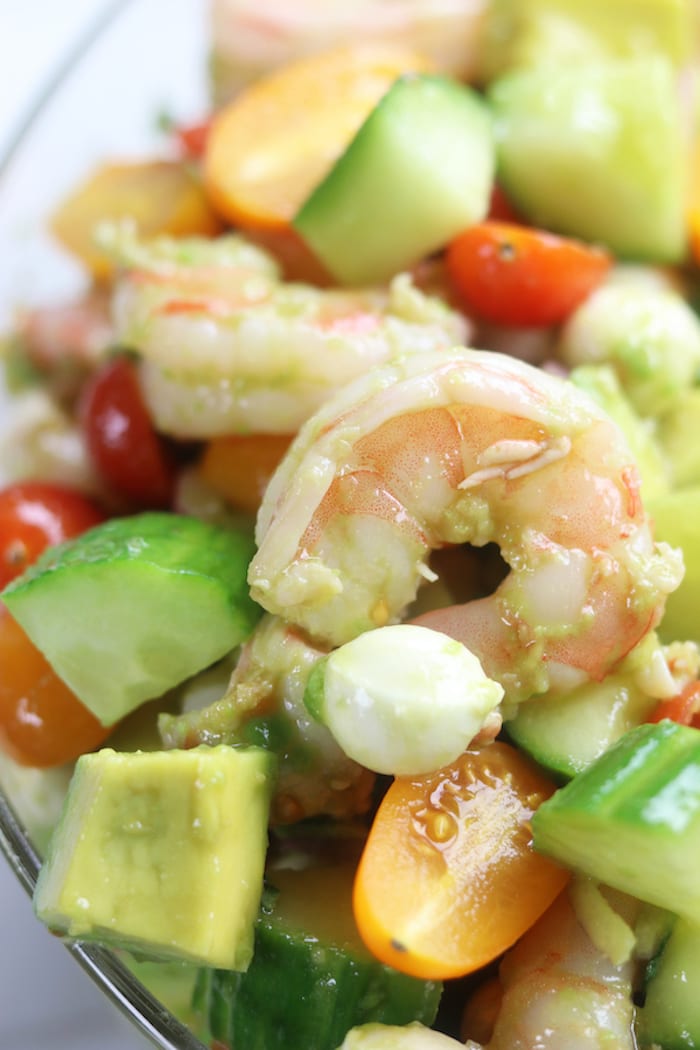 Shrimp Avocado Salad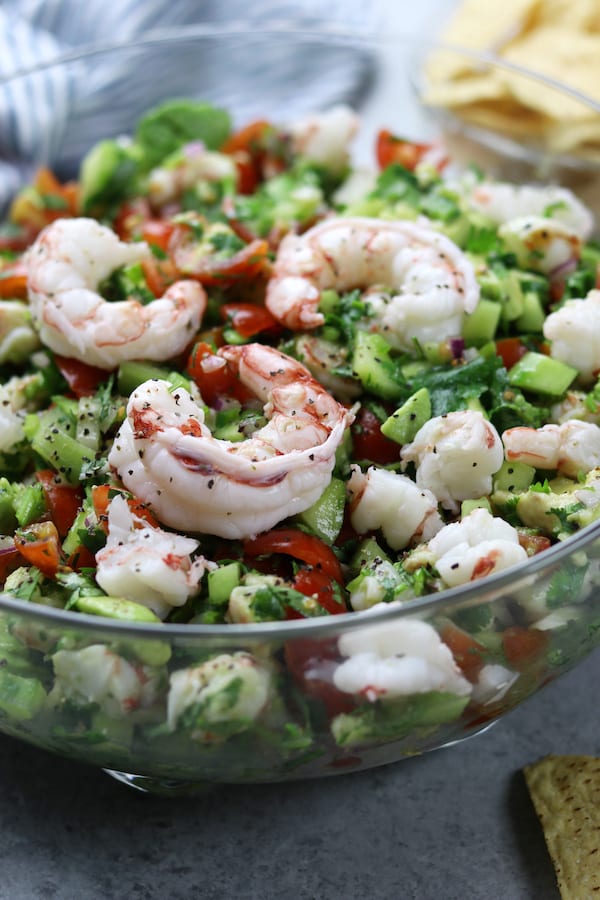 California Shrimp Ceviche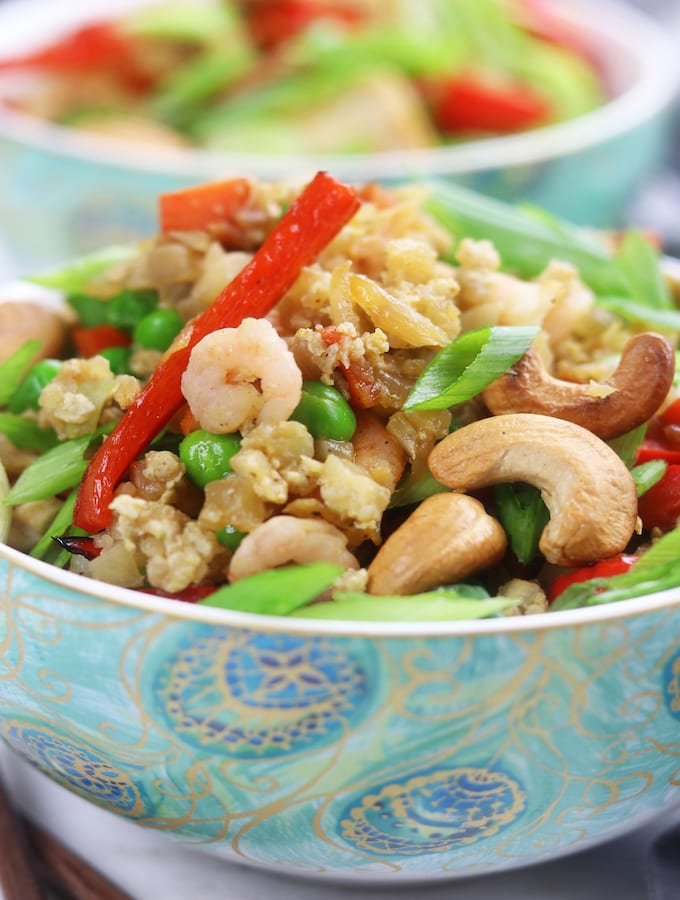 Cauliflower Chicken and Shrimp Fried Rice