Pici All'Aglione (Tuscan Pasta with Tomato-Garlic Sauce) has thick and hearty homemade noodles with a rich and savory tomato sauce. This really is the perfect recipe to get the whole family involved for Sunday dinner.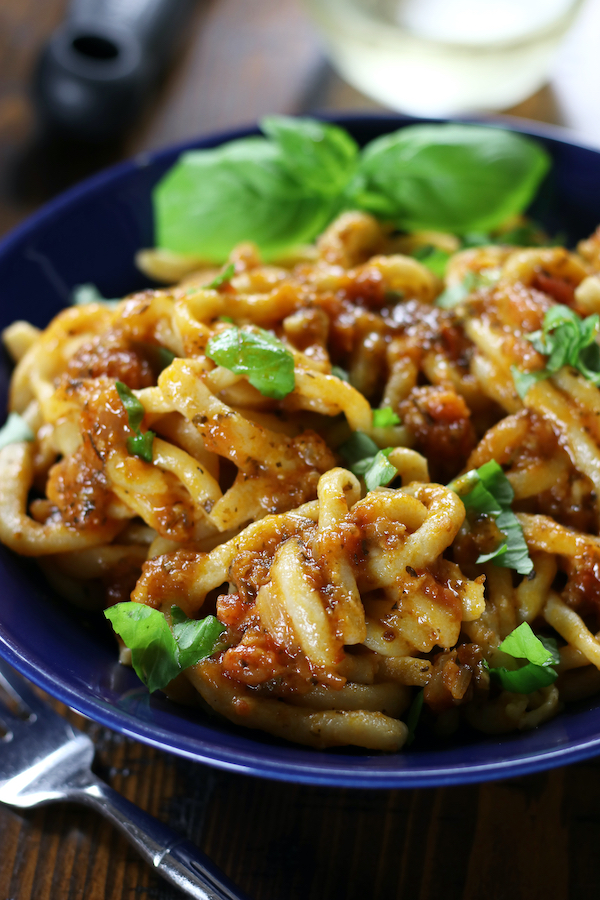 This post may contain affiliate links which I earn a small portion in sales if a purchase is made. Rest assured though, it is never at any additional cost to you.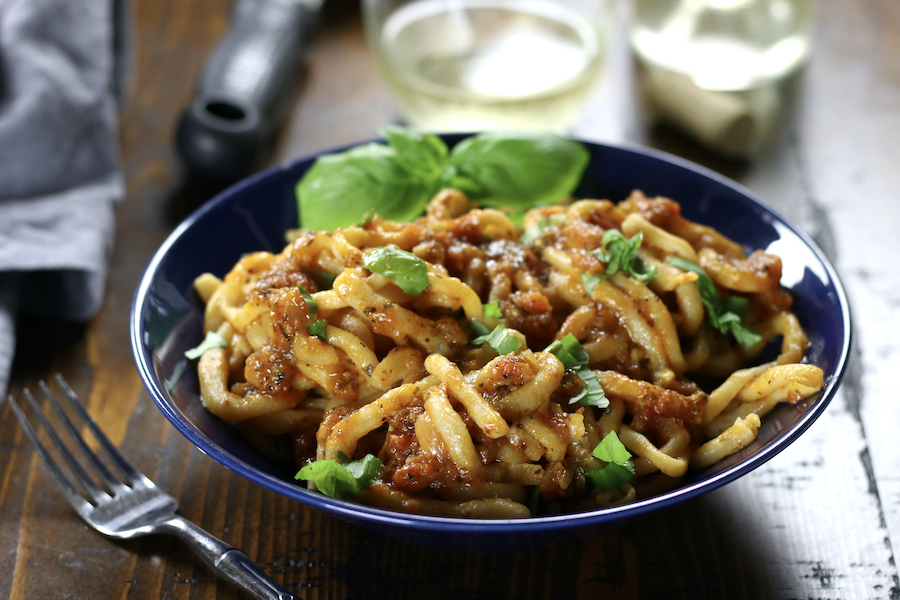 Have you ever read a book and were so sad it was over?
So sad to see it come to an end that you really slow down reading the last chapter, savoring every word.
Today I just finished reading Jen Hatmaker's book Fierce, Free and Full of Fire and I did exactly that.
I love her style, I love her grace and I love the complete truth she boldly shares.
This doesn't happen very often in life that you find something you love so much that you just want to slow time down to fully enjoy.
Honestly, I have had this happen a few times during this crazy year of 2020 (which says a lot considering all that everyone has been through).
In addition to Jen's book, making homemade Tuscan Pici Pasta and eating this Pici All'Aglione along with Pici Cacio e Peppe made me just want to savor every second.
This meal is savory, satisfying and makes me feel like I am eating a leisurely dinner at a sidewalk cafe in Florence.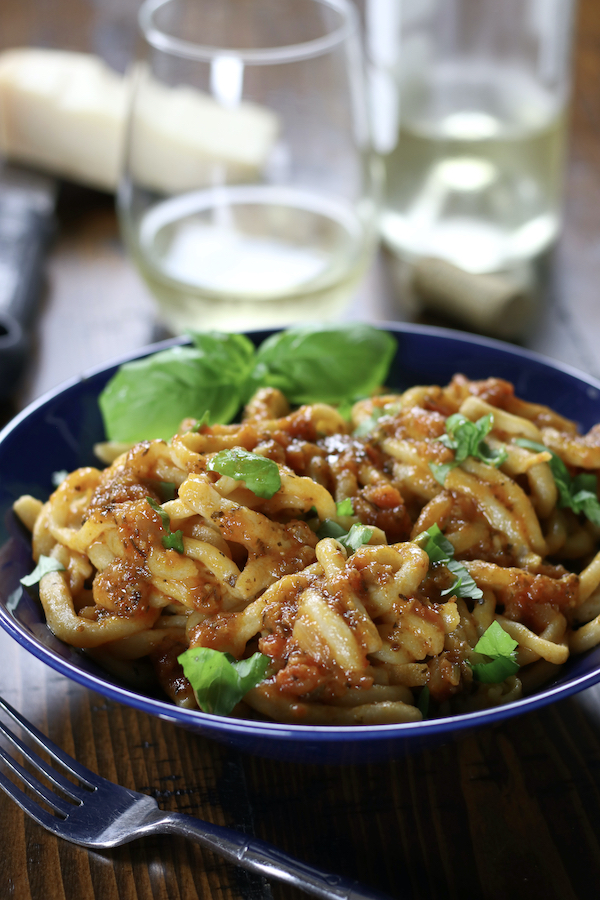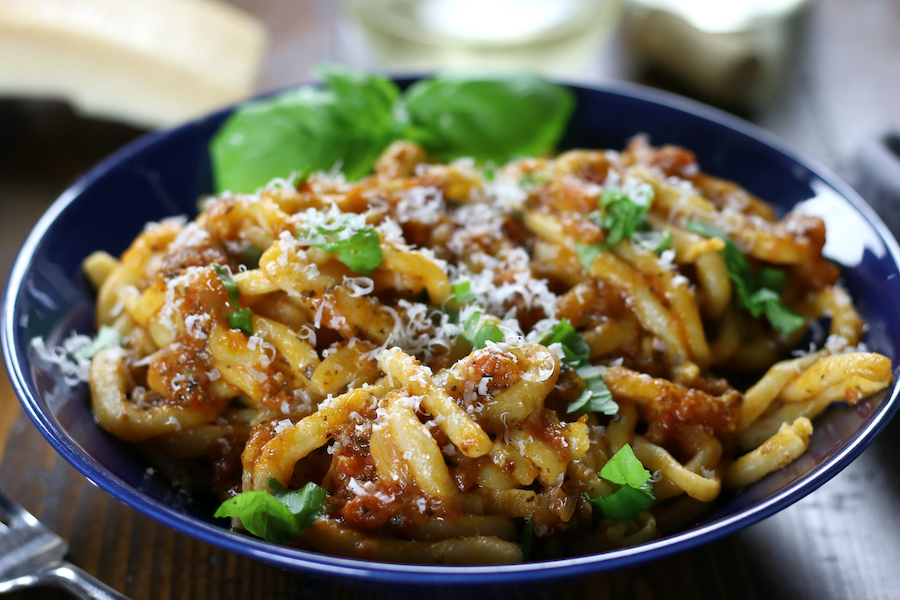 What is Pici?
Pici is a hand rolled pasta that is extremely popular in the Tuscan region of Italy. Just think of it as extra thick spaghetti (but 1,000% tastier). Italians love Pici Pasta so much that they even have a festival to celebrate it.
As far as our house goes, we adore it. My husband hates regular spaghetti noodles but loves the heartiness of Pici. When I eat it, I feel like I am sitting in at a sidewalk cafe eating a leisurely dinner and just enjoying life.
Sugo All'Aglione
Sugo All'Aglione simply means Tomato-Garlic Sauce. Add in the Pici Pasta and you have Pici All'Aglione. Since Aglione Garlic, the true star of this dish, is unavailable in the states I used my Napolitana Sauce for this recipe. This is my favorite version of Pici All'Aglione.
Aglione Garlic
The term Aglione literally means "big garlic" and it is a variety of garlic that has a milder flavor, is orderless and is easy to digest. It is supposed to be the main ingredient in Pici All'Aglione. However, it hasn't been mass produced in four decades, making it extremely difficult to purchase here in the states. The solution, use regular fresh garlic or this brand that I found that meets quite a bit of the same standards as Aglione.
Best Tips for Making Pici All'Aglione
The preparation of both the pasta and the sauce are simple. However, they both do take some time to make. Allow yourself at least 2 hours of preparation/cooking/simmering time.
It is best to start the Napolitana Sauce first. Get it to the point of simmering and then start the Pici.
Make hand rolling the Pici Pasta a family event. With 2 or more people making it, the pasta will come together very quickly.
Garnish with freshly grated Parmigiano Reggiano using this handy tool or with hand torn basil leaves.
More Authentic Italian Dinners
Ribollita-Italian Bread and Vegetable Soup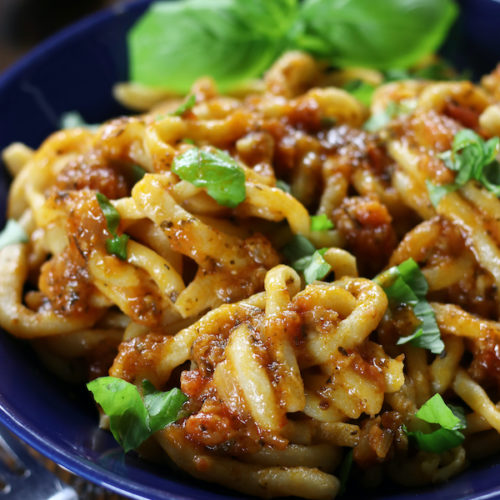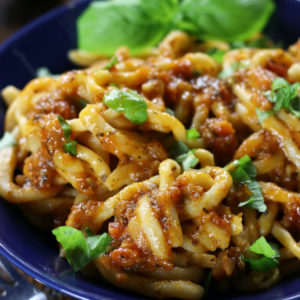 Pici All'Aglione (Tuscan Pasta with Tomato-Garlic Sauce)
Print
Pin
Rate
Instructions
Prepare sauce up until the point of slow simmering. Once simmering, begin Pici Pasta following directions on recipe card. Both the sauce and Pici pasta should be done within a few mins of each other. Once Pici is al dente, drain and add to sauce.

Garnish individual portions with freshly grated Parmesan and/or torn basil leaves.
Notes
*Please use as many organic ingredients as possible. 
Nutrition
Calories:
577
kcal
|
Carbohydrates:
76
g
|
Protein:
17
g
|
Fat:
29
g
|
Saturated Fat:
4
g
|
Cholesterol:
5
mg
|
Sodium:
271
mg
|
Potassium:
260
mg
|
Fiber:
4
g
|
Sugar:
2
g
|
Vitamin A:
28
IU
|
Vitamin C:
1
mg
|
Calcium:
63
mg
|
Iron:
5
mg