Easy Shrimp Salad with fresh dill, lemon, red onion and mayonnaise served on a bed of crisp lettuce. Fast and refreshing, this recipe is one of our favorite ways to eat dinner on hot summer days. So delicious that your taste buds will thank you.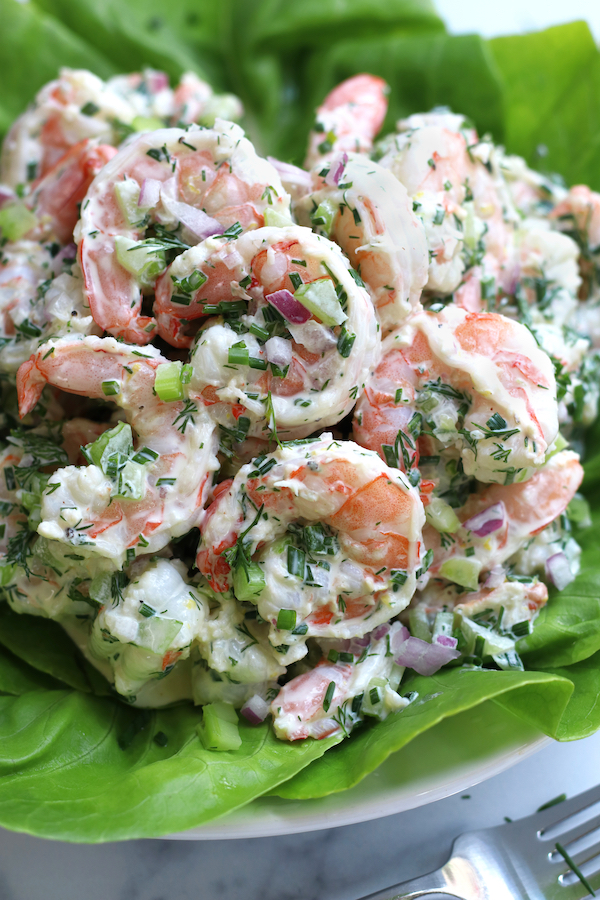 This post may contain affiliate links which I earn a small portion in sales if a purchase is made. Rest assured though, it is never at any additional cost to you.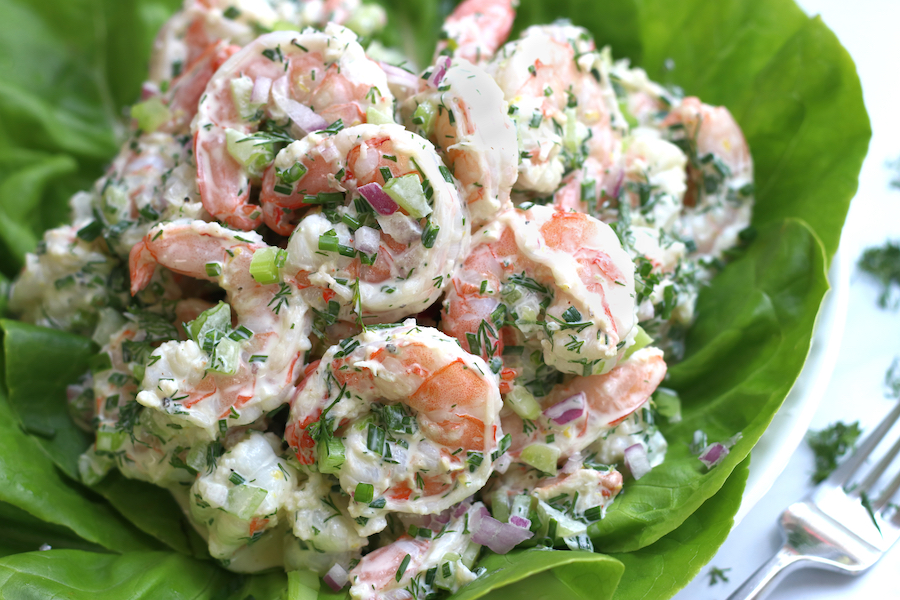 Easy Shrimp Salad Recipe
During the hot summer months light, easy and refreshing meals like Smoked Salmon Sandwiches, Cilantro Lime Cabbage Salad and this Shrimp Salad are absolutely necessary. There really isn't anything better than this salad with a cold glass of Pinot Grigio (or sauvignon blanc) and a crusty Sourdough Baguette when temperatures soar. Unless we are also munching on Burrata Caprese or Lemon Dill Humus.
Needless to say, this is the perfect meal for your summertime menu rotation. However, it also works beautifully whenever entertaining from spring through early fall.
Shrimp 101
Best Shrimp For Shrimp Salad
When choosing shrimp there are multiple factors that can make buying these crustaceans rather challenging. It almost feels like you need a degree in marine biology to make the purchase. However, these are the most important elements to look for when purchasing shrimp.
Sustainability– This means that the there has been minimal impact on the marine environment in the raising or catching of shrimp. Additionally, there is no forced labor and no use of antibiotics. Because of this, the most sustainable shrimp available is American Wild Caught or Sustainably Farmed Raised in the United States.
Types of Shrimp– There are hundreds of different types of shrimp from Tiger Shrimp to Rock Shrimp. There are definitely times when choosing a specific variety of shrimp will impact the quality of the dish you are serving. For Shrimp Salad the size and sustainability of the shrimp are much more important.
Size of Shrimp– This recipe calls for 2 pounds of shrimp. However, since shrimp sizes can range from tiny to colossal it is wise to pay attention to the count per pound. As an example, the shrimp seen in the photo below say 21-25 (sometimes packages may say 21/25). This simply means that there are 21-25 shrimp per pound. If serving just a few adults the 21/25 (jumbo), 26/30 (extra large) or 31/40 (large) works perfectly and feels like a special treat. When serving many adults the 51/60 (small), 61/70 (tiny) and 71/90 (salad size) is a much better fit.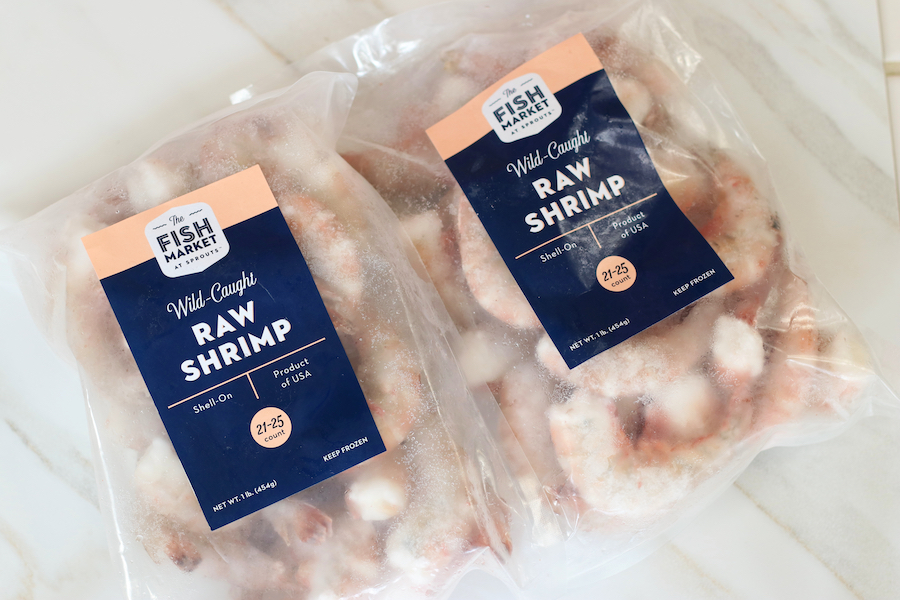 How To Thaw Frozen Shrimp
There are three main options to defrosting shrimp.
Overnight Method– Place the bag of frozen shrimp into the refrigerator and let defrost overnight. With this method it is best to have a large plate or bowl under then bag to prevent condensation from seeping onto to your refrigerator shelves.
45 Minute Method– Keeping the shrimp inside the bag, place shrimp into a large bowl and cover with cold water. Place a plate on top of the bag to ensure that the shrimp stay submerged in the water.
15 Minute Method– Transfer frozen shrimp from the bag into a large bowl and cover with cold water.
Peeling and Deveining
The easiest way to remove the peel is by using your thumbs to crack open the shell on the underside, where the legs are, of the shrimp by pulling in opposite directions. Simply peel the shell form the shrimp. Once peeled, use a small pairing knife to cut a shallow strip along the back side of the shrimp and remove the vein (aka the digestive track). Run the shrimp under a small stream of cold water to help remove any debris left from the shell and/or vein.
Pro Tip: Using a small paring knife with a curved tip is the easiest way to make a shallow incision in removing the vein. (see link above for my recommendation)
Cooking Shrimp
Bring a pot of water to boil (approximately 5 quarts) over high heat.
Add salt and squeeze the juice of 1 lemon into boiling water along with the whole lemon.
Add peeled, raw shrimp to the water. Stir and cook uncovered until shrimp just begin to turn pink, about 2-3 minutes.
Remove from boiling water using a skimmer and place shrimp into an ice bath.
Let shrimp sit in the ice bath approximately 5 minutes and then strain with a colander.
Place colander with shrimp into a larger bowl to catch any excess water. Place in refrigerator until shrimp are needed.
Pro Tip: Placing a colander containing the shrimp into a stainless steel bowl is the easiest way to remove excess moisture. However, excess moisture can also be removed by patting the shrimp dry with a paper towel.
Shrimp Salad Ingredients
2 lbs shrimp
Mayonaise
2 lemons (both juice and lemon zest)
Dijon Mustard
Fresh Dill (or 3-4 tsp dried dill)
Chopped chives (or green onions)
Minced celery
Minced Red Onion
Salt (My favorite all time salt!!!)
Black Pepper
How To Make
Creamy Shrimp Salad is very easy to make with cooked shrimp. Here are the additional steps:
Add shrimp to a large bowl.
Either in a separate small bowl, or in the shrimp bowl, add mayo, mustard, lemon zest, lemon juice, dill, chives, celery, red onion, garlic powder, salt and pepper.
Gently mix well with shrimp.
Serve with one of the options directly below as a light dinner or lunch. Store leftovers in an airtight container.
Serving Options
Serve as a cold salad as seen in the photos.
Place shrimp into butter leaf lettuce or romaine lettuce as lettuce wraps.
Make a double batch of the creamy dressing and boil 12 oz of macaroni noodles for a fun macaroni salad.
Toast up a slice of sourdough bread and serve as an open face shrimp salad sandwich.
Use small shrimp for this recipe and add to the inside of a creamy avocado.
Replace the shrimp with lobster and add to toasted hot dog buns as delicious lobster rolls.
Serve along side lots of veggies as a healthy and easy lunch.
Flavor and Ingredient Options
Served on a bed of lettuce, this simple salad really is a classic recipe. However, there are different ways to enjoy this meal that still bring out the best flavors of summer. Here are a few ideas for inspiration.
For more of a Mexican flavor replace the lemon juice with fresh lime juice, the celery with chopped red pepper or orange bell pepper and the dill with cilantro. Additionally, add some sweet corn, black beans, hot sauce and/or cayenne pepper.
To achieve a more zesty and tangy shrimp salad add 1 tbsp minced capers along with 1 tsp Worcestershire sauce.
Italian flavors can be achieved by replacing the garlic powder with 3-4 small cloves of fresh garlic (crushed or minced). Also, replace the dill with fresh 1/4 cup of chopped fresh herbs such as rosemary, oregano, Italian parsley and/or basil.
For a fun and comforting twist on this cold shrimp salad add 2 tsp Old Bay Seasoning, 1 pint cherry tomatoes and 3-4 oz of blue cheese crumbles. No need to replace any ingredients with the option as it creates a great combination of flavors.
Tips For Making the Best Shrimp Salad
Large shrimp work well as a Classic Shrimp Salad or as an open faced sandwich.
Salad shrimp (or tiny shrimp) work best when stuffing an avocado or when needing to feed more than a few people.
Another option for removing excess moisture from the shrimp is to use a salad spinner.
FAQs
Can fresh shrimp be used for this recipe?
Absolutely! However, it is best to use the shrimp the same day as purchase since most grocery stores usually just defrost frozen shrimp and sell it as fresh.
How long does shrimp salad last in the refrigerator?
Since it is highly perishable, it should be used by the second day.
Can you freeze shrimp salad?
No, unfortunately freezing this salad would create a runny and rather inedible salad when defrosted.
Is butter lettuce and Boston lettuce the same thing?
Boston and Bibb lettuce are a butter leaf lettuce variety and this shrimp salad tastes amazing on any of the varieties.
Is there another cooking method for the shrimp?
Yes. Rather than using quarts of water, bake the peeled shrimp on a cookie sheet at 400℉ with a bit of olive oil and salt for approximately 6-8 minutes.
Does fresh lemon juice need to be used?
Yes. To achieve the best quality and most flavorful salad fresh lemons are needed for both the juice and the zest.
Can it be made the day ahead of serving?
Yes, however this salad does taste best when freshly made.
Does a separate bowl need to be used for the creamy dressing?
It is not a bad idea if you are concerned about the dressing not becoming fully mixed. However, it is not necessary.
What is a healthy mayonnaise or mayonnaise alternative?
I personally adore Chosen Foods Avocado Mayonnaise. However, Greek yogurt (either full fat, low fat or nonfat) may be used in place of the mayonnaise in equal amounts. Additionally, Greek yogurt will add a more zesty flavor compared to traditional mayonnaise.
More Delicious Salad Recipes
Blueberry Basil Chopped Veggie Salad
Chicken Caesar salad with Homemade Croutons
Additional Summertime Shrimp Recipes
If you enjoyed this Shrimp Salad please let me know by leaving a comment and review below. Doing so helps to encourage others to make the recipe also. Thank you!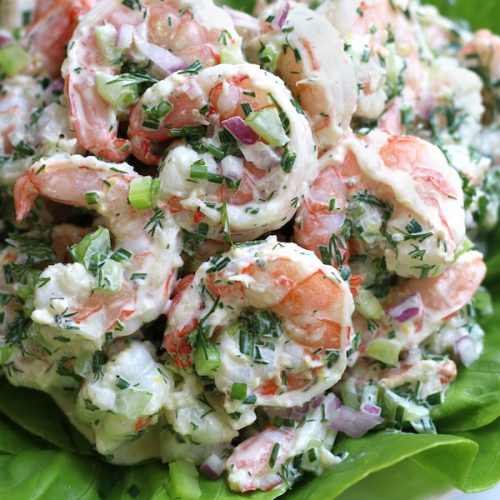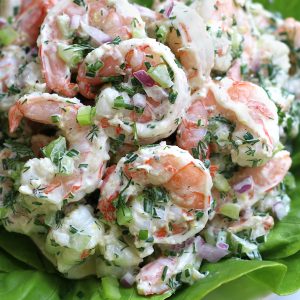 Shrimp Salad
Shrimp Salad is an easy recipe that makes a great lunch or light dinner during the summer months. This recipe is absolutely so gourmet tasting that sharing this meal makes for good times when it is unbearably hot. Serve on a bed of crisp lettuce along side some chilled white wine for a gourgeous salad masterpiece.
Print
Pin
Rate
Ingredients
For the Shrimp
2

pounds

shrimp

*peeled and deveined

1

large

lemon

(total of 2 lemons for the whole recipe)
For the Dressing
3/4

cup

mayonaise

1

large

lemon zested

2

tablespoons

lemon juice

1

teaspoon

Dijon mustard

1/2

teaspoon

garlic powder

1/2

teaspoon

salt

1/4

teaspoon

black pepper

*optional

1/4

cup

minced fresh dill

*about 1/2 bunch

1/2

cup

chopped chives

*about 1 bunch

1

cup

minced celery

*about 2 stalks

1/4

cup

finely chopped red onion

*about 1/4 of an onion
For the Salad
2

heads

butter leaf lettuce

*washed, separate leaves
Instructions
Cooking Shrimp
Bring 5 quarts of water to a boil over high heat. Squeeze the juice of 1 lemon into water. Add squeezed lemon and 1 tablespoon salt to water.

Add shrimp to water, stir and cook uncovered until shrimp just begin to turn pink, about 2-3 minutes.

Drain the shrimp and add to an ice bath. Let sit for 5 minutes and then drain again. Keep in refrigerator while preparing herbs and veggies.
Salad
Into a large bowl place shrimp, mayonaise, lemon zest, lemon juice, mustard, garlic powder, salt, pepper, dill, chives and celery. Toss gently until dressing is well mixed and incorporated with shrimp.

Place lettuce leaves on individual plates and top with shrimp salad. Garnish with more dill or chives if desired.
Notes
*Please use as many organic ingredients as possible.
Notes
Large shrimp (21-25 count) were used for this recipe.
This recipe serves 4-6 adults depending on portion sizes.
Nutritional information is an estimate and not guaranteed to be accurate. 
See above in recipe post for recipe variations. 
Nutrition
Calories:
362
kcal
|
Carbohydrates:
5
g
|
Protein:
32
g
|
Fat:
23
g
|
Saturated Fat:
4
g
|
Trans Fat:
1
g
|
Cholesterol:
393
mg
|
Sodium:
1574
mg
|
Potassium:
361
mg
|
Fiber:
2
g
|
Sugar:
2
g
|
Vitamin A:
2195
IU
|
Vitamin C:
25
mg
|
Calcium:
262
mg
|
Iron:
4
mg