Bright and fresh, this Italian Lemon Pound Cake recipe is a soft and fluffy Italian classic. Made with oil rather than butter, fresh lemons and eggs. This dessert tastes amazing and is very easy to make.
When you are looking for a simple dessert with great lemon flavor, look no further than this Italian Lemon Pound Cake. Serve with Sgroppino or fresh berries for a heavenly Italian treat.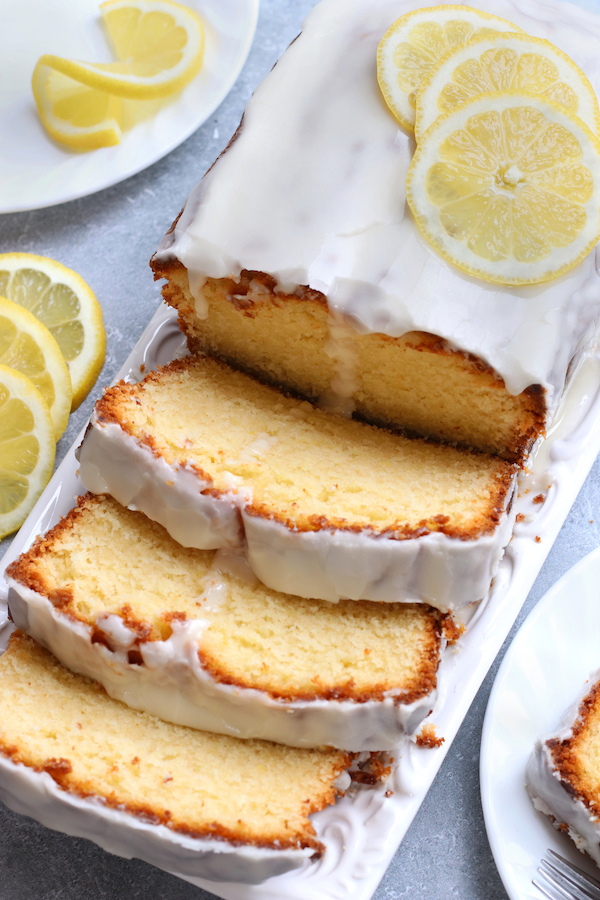 This post may contain affiliate links which I earn a small portion in sales if a purchase is made. Rest assured though, it is never at any additional cost to you.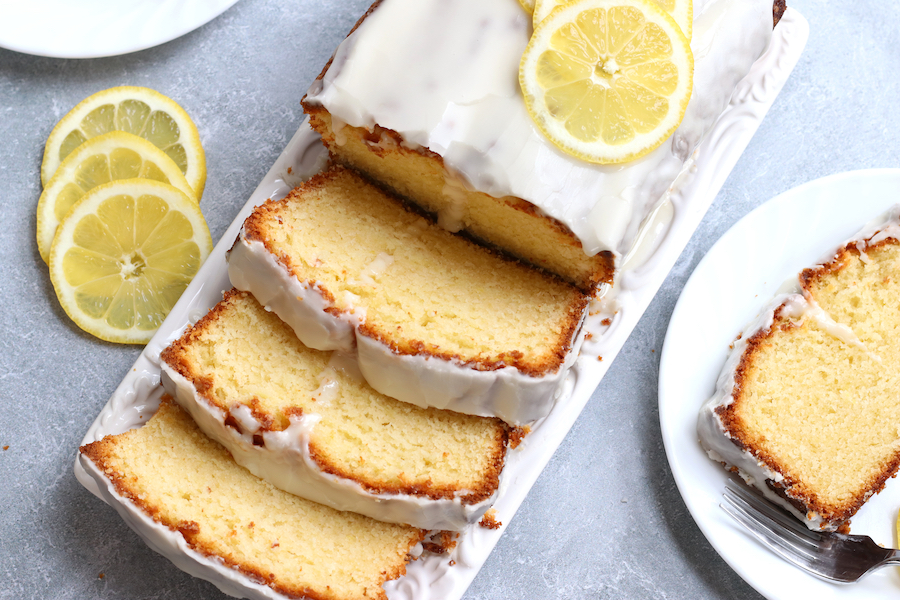 Italian Lemon Pound Cake (Better Than Starbucks Lemon Loaf)
My husband and I are absolutely in love with this heavenly dessert. We need no reason at all to make it because it is so fluffy, bright tasting and rich without being overly heavy. In fact, my husband loves it so much that he has claimed it as his official birthday cake. However, it really works well for a multitude of other occasions. Here are a few ideas of when to serve this lemon Loaf:
This luscious lemon dessert works beautifully on a buffet table for baby and/or bridal showers. Serve along side Springtime Pasta Salad, Tarragon Chicken Salad and Hibiscus Pink Lemonade to watch your guests grin from ear to ear.
Speaking of buffets, this dessert works extremely well for graduation parties also.
Summer BBQ's with ribs, wings and potato salad wouldn't be complete without a dessert like this.
This Lemon Pound Cake makes a delicious addittion to weekend family get togethers.
A romantic dinner of Rib Eye Steaks or Pici Cacao e Pepe would be amazing with this as dessert served on a rectangular cake platter.
Also, this Lemon Loaf Cake along with Lemon Shortbread Cookies are must makes during the Holidays when you have anyone who loves lemon.
Last but not least, this dessert is such a lovely gift for the lemon lovers in your life. Once the lemon glaze dries, it wraps up perfectly for gifting.
Ingredients Needed
For the Cake
6 oz yogurt either vanilla or lemon flavor (cow's milk yogurt with regular sugar)
Oil (This is what I use for baking and high heat cooking.)
Granulated Sugar
Large Eggs
Lemon Zest
All Purpose Flour
Salt
Baking Powder
For the Glaze
Powdered Sugar
Lemon Extract
Lemon Juice (from fresh lemons)
Oil vs Butter
Butter is glorious in so many different baked good recipes such as Walnut Balls, Swedish Apple Cake and Lemon Scones. However, when wanting to create a moist and tender cake, oil yields a far superior texture over butter. Additionally, a good quality oil such as avocado or safflower doesn't add saturated fat the way that butter does. This makes oil a wonderful alternative when either wanting to make an impressive cake or when craving an everyday type of treat.
Pro Tip: Want to know the chemistry as to why oil is far superior in cakes over butter than check out this article.
Tools Needed For Making This Recipe
One of the best things about this Lemon Pound Cake, in addition to this dessert tasting amazing, is that you don't have to cream butter. In other words, this recipe can be made without any fancy equipment. You need a few mixing bowls, a 9 inch loaf pan, lemon zester, parchment paper, measuring cups and measuring spoons. (Check out my Amazon Storefront for all my favorite kitchen gadgets.) However, using an electric mixer, or handheld mixer makes the job even easier.
Step by Step Instructions
Preheat oven to 350℉.
Line a 9 inch loaf pan with parchment paper.
In a large bowl mix together wet ingredients.
In a separate mixing bowl whisk together dry ingredients.
Add dry ingredients to the wet and mix together until just incorporated.
Pour batter into prepared loaf pan and bake for 50-60 minutes or until cake tester comes out clean.
Remove from oven and let cool in the pan for 20 minutes. Remove from pan and finish cooling cake to room temperature on a wire rack.
Once cake is cooled, mix together half of the glaze mixture and pour over the top of the cake.
Let glaze dry for 30 minutes and then repeat the process for the second half of glaze.
Serve on a cake plate and store leftovers in an airtight container.
How To Know When Your Cake Is Done
The easiest way to know if the cake is baked through and not gooey in the center is to use a cake tester. Basically this is just a long skinny metal probe that you insert into the center of the cake. If it comes out with cake batter clinging to the probe, the cake needs more time. If it come out clean, the cake it done. For this lemon cake it is best to keep a close eye on it at around the 50 minute marker of baking and then add 5-10 minutes more time if needed and then test again.
Perfect Lemon Glaze
To make perfect lemon glaze start by only making and applying half of the glaze to begin with. Let the first half of the glaze dry and then make the second half. This will keep most of the glaze on top of the loaf and prevent it from becoming a sloppy sugary mess.
Additionally, when making the glaze it is best to add the extract and only 1-2 teaspoons of lemon juice to the powdered sugar to begin with. Add in just 1 teaspoon more of juice and stir. Repeat this until you have a smooth but thick glaze. Slowly adding is the juice will prevent the glaze from becoming to thin which also can create a sloppy sugary mess.
Additional Topping Options
If there is not enough time to let the cake cool to apply the glaze, then sprinkle powdered sugar on the top of the warm cake.
Let the cake cool completely and then slice and serve with cut fresh strawberries and whipped cream.
Vanilla extract can replace the lemon extract in the glaze with the addition of a vanilla bean. This creates a perfect balance of lemon to vanilla flavor for those who are not head over heals in love with lemon.
Leave off the glaze and top individual slices with a few tablespoons of Blueberry Compote and a scoop of vanilla ice cream.
If you have a lemon tree with plenty of fresh lemons, slice the lemons thinly and add them as a garnish to the top of the cake as seen in the photos.
Does this Italian Lemon Pound Cake freeze well?
Yes, this Italian Lemon Pound Cake freezes exceptionally well. We have frozen it both unglazed and with the glaze. The biggest challenge, the glazed version doesn't look as pretty once defrosted. However, both ways taste absolutely amazing still.
Pro Tip: If glazing before freezing, make sure the glaze is completely dry before placing in the freezer. This pound cake can be frozen for up to one month in either an airtight freezer container or a freezer bag.
More Easy Lemon Dessert Recipes
Lemon is not only my all time favorite flavor, it also works so exceptionally well in dessert recipes. Add in the simplicity factor and it is a win win for everyone. Some great examples of this for summer weather is Lemon Sorbet and Lemon Blueberry Bundt Cake. During the holidays and/or cooler weather Lemon Shortbread Cookies and Lemon Scones are always a hit. Similarly, Mom's Lemon Butter Bundt Cake always get rave reviews anytime of year.
Savory Recipes For Lemon Lovers
Creamy Lemon Dill Salmon Pasta
Lemon Rosemary Chicken and Potato Bake
If you enjoyed this Italian Lemon Pound Cake please let me know by leaving a comment and review below. Doing so helps to encourage others to make the recipe also. Thank you!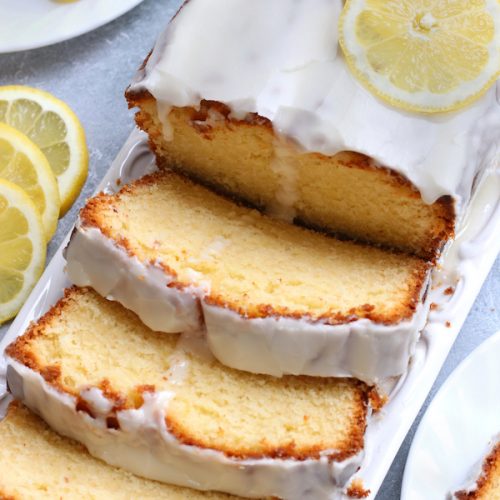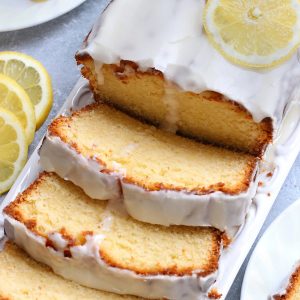 Italian Lemon Pound Cake
A simple cake with big impact. Made with oil, eggs and fresh lemons that creates a bright and fluffy dessert wonderful anytime of the year.
Print
Pin
Rate
Ingredients
Lemon Pound Cake
6

ounces

yogurt

*either vanilla or lemon, see NOTE #1 below

3/4

cup

oil

*see NOTE #2 below

1 1/2

cups

granulated sugar

3

large

eggs

1

tablespoon

lemon zest

*from about 2 medium sized lemons, see NOTE #3 below

2

teaspoons

lemon extract

2

cups

all purpose flour

2

teaspoons

baking powder

1/2

tsp

salt
Lemon Glaze
1

cup

Powdered Sugar

2

teaspoons

lemon extract

6-8

teaspoons

lemon juice
Instructions
Lemon Pound Cake
Line a 9 inch loaf pan with parchment paper and lightly spray with cooking spray. (see NOTE #4 and #5 below)

In a large mixing bowl whisk together yogurt, oil, sugar, eggs, zest and extract.

In a seperate medium sized mixing bowl whisk together flour, salt and baking powder.

Add dry ingredients to wet and mix together until just incorporated.

Pour batter into prepared loaf pan and bake for 50-60 minutes or until cake tester comes out clean (see NOTE #6 below). Cool in the pan for 20 minutes and then remove and let cool completely before applying glaze.
Lemon Glaze
Once cake is completley cooled, mix together half of icing ingredients (1/2 cup powdered sugar, 1 tsp extract and 3-4 teaspoons of lemon juice) until smooth (see NOTE #7 below). Pour over top of cake and evenly spread. Let dry for 30 mins and then repeat the process with the second half of glaze ingredients. This trick keeps most of the glaze on the top of the cake.
Notes
*Please use as many organic ingredients as possible. 
Recipes Notes
NOTE #1- Use cows milk yogurt with regular sugar. 
NOTE #2- For this recipe I used avocado oil. However, safflower or macadamia nut oil are both healthy neutral oils that work well. 
NOTE #3- With older lemons it may take up to 4 to retrieve 1 tablespoon of zest.
NOTE #4- The easiest way to line a loaf pan is with one longer strip of parchment lining the length and a thicker square lining the width. 
NOTE #5- We love this healthy cooking spray. However, the most affordable I have found it has been at Costco. 
NOTE #6- Depending on how hot your oven runs, this lemon loaf may take up to 1 hour and 10 mins to fully bake. Keep a watchful eye on it at around the 50 minute marker. 
NOTE #7- When making the glaze add the lemon extract and 2 teaspoons of lemon juice to the powdered sugar first and then stir. Add more lemon juice 1 teaspoon at a time until you have reached a thick and not overly runny consistency. 
Nutrition
Calories:
435
kcal
|
Carbohydrates:
62
g
|
Protein:
5
g
|
Fat:
19
g
|
Saturated Fat:
2
g
|
Trans Fat:
1
g
|
Cholesterol:
58
mg
|
Sodium:
115
mg
|
Potassium:
79
mg
|
Fiber:
1
g
|
Sugar:
43
g
|
Vitamin A:
98
IU
|
Vitamin C:
2
mg
|
Calcium:
81
mg
|
Iron:
2
mg