Quick and healthy, Lemon White Bean Salad is perfect as a refreshing lunch, side dish or party salad. Takes just minutes to assemble making eating well on busy days so much easier.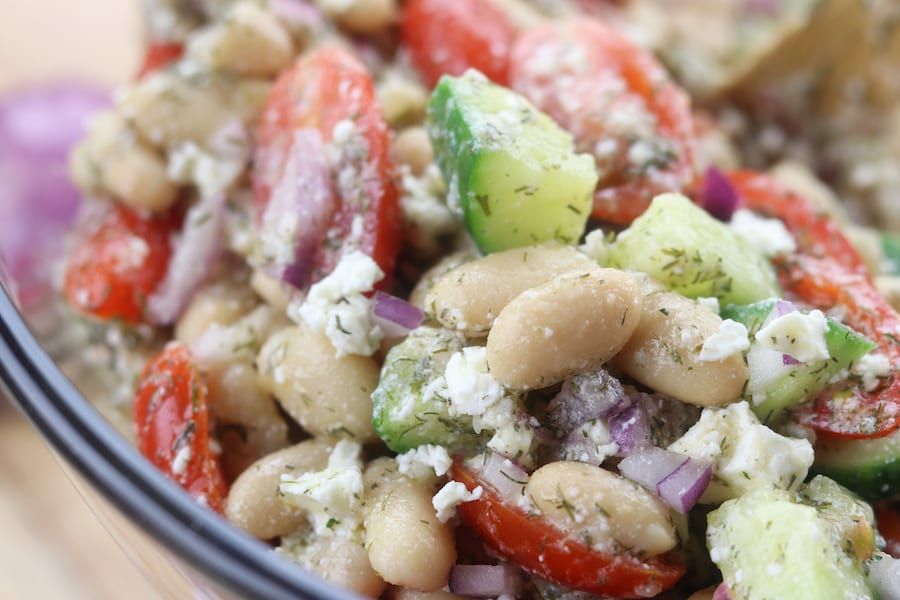 This post may contain affiliate links which I earn a small portion in sales if a purchase is made. Rest assured though, it is never at any additional cost to you.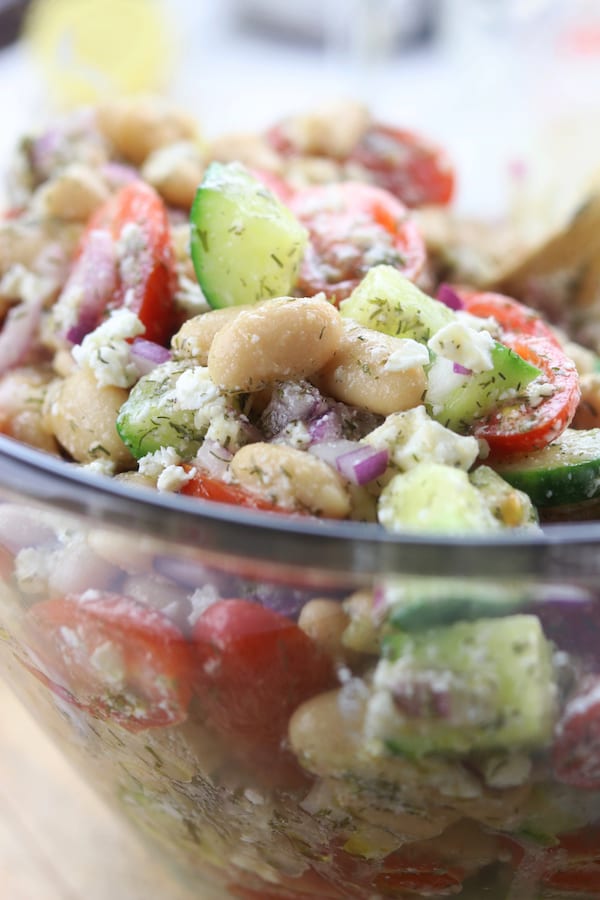 Have you ever seen the movie Hope Floats with Sandra Bullock?
It is such a sweet and endearing movie. A perfect chick flick!
At the very end of the movie the main character Birdie Calvert shares these very wise words, "That's what momma always says. She says that beginnings are scary, endings are usually sad, but it's the middle that counts the most. Try to remember that when you find yourself at a new beginning. Just give hope a chance to float up."
I LOVE THIS!!!
But I have to say, as much as beginnings can be scary there is something of a magical quality to them.
As I am writing this we are coming up on the end of 2017 and I am both sad and thankful to see the year come to an end.
This year has been heart wrenchingly sad, insanely challenging, beyond scary and incredibly miraculous all wrapped up in 365 days.
I am thankful for every tear as much as every joy that this year has brought to me…
As much as 2017 has molded and shaped my heart in a way that I am still sorting through, I really am excited to see what 2018 holds.
It is a new beginning filled with hope and promise.
I also am excited to share a whole line of quick and healthy recipes starting with this incredibly delicious Lemon White Bean Salad.
I hope this salad brings a simplicity and joy to many of your lunches throughout the next year!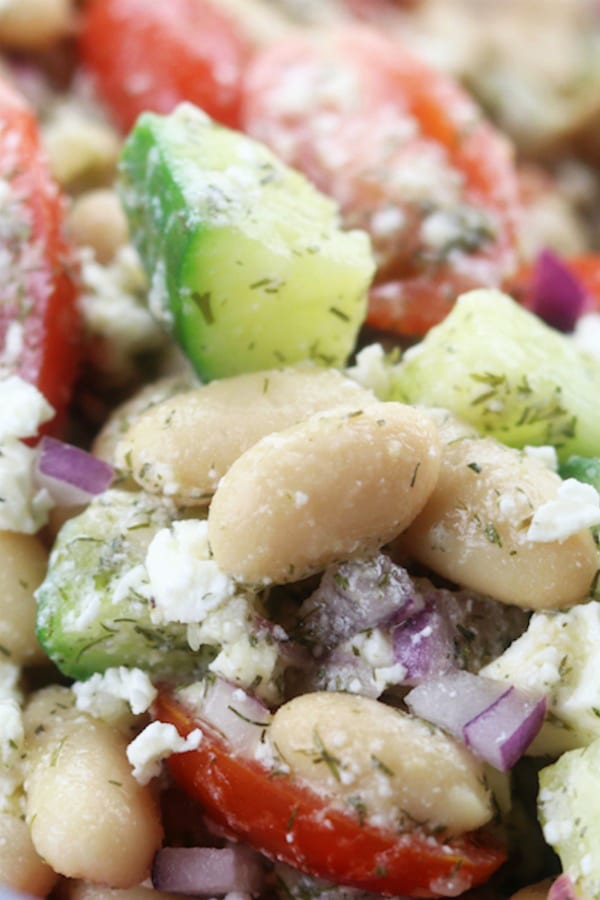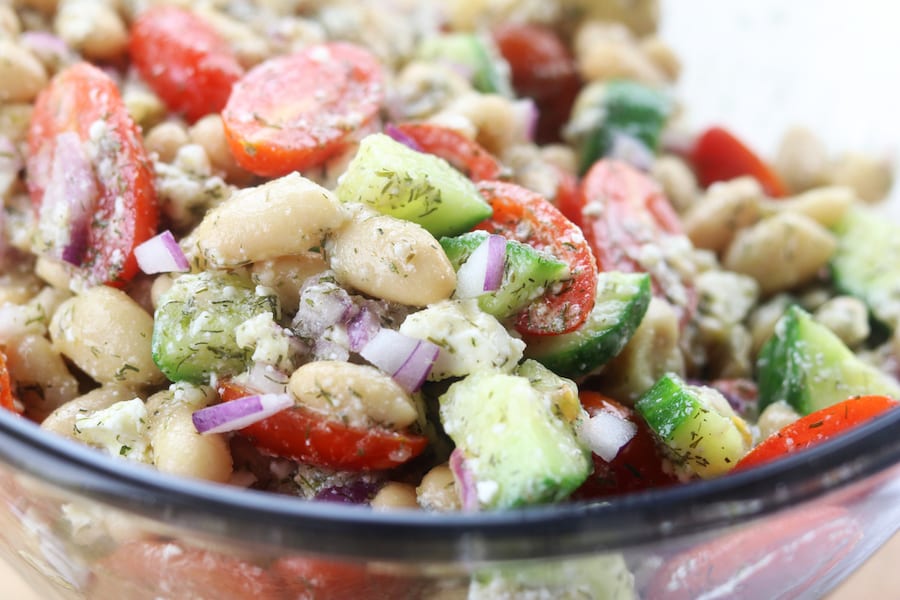 Variations of Lemon White Bean Salad
Mediterranean Twist- Add chopped Kalamata olives and a sprinkle of oregano. It's like a mini Greek salad with beans!
Protein Boost- Toss in grilled chicken or shrimp to make it a heartier meal. The lemony dressing complements the protein beautifully.
Avocado Bliss- For a creamy texture, add diced avocado just before serving. It adds a rich and buttery element to the salad.
Make it Crunchy- Stir in 1/4 toasted pine nuts.
Helpful Tips
Of all the herbs I love dill the most, but I definitely tend to lean towards the dried herbs because their shelf life is so much better and Simply Organic Dill is by far one of my favorite brands. I have always been so happy with the freshness and I absolutely trust Simply Organic to deliver a quality product. (affiliate)
I recommended using an English cucumber for this Lemon White Bean Salad over a regular cucumber. English cucumbers tends to have smaller seeds, are usually less bitter and have less water in them thereby helping to keep this salad from becoming to watery.
Eden Organic Cannellini Beans are excellent for this salad. I have always been so happy with their canned beans from taste to quality. (affiliate)
I am in love with these glass containers because they can go in the oven, microwave, freezer and dishwasher. I also love the idea of using less and less plastic. (affiliate)
Freshness is Key- Use the freshest ingredients possible for the best flavor. Farmers' market or garden-fresh vegetables will take this salad to the next level.
Let it Marinate- For enhanced flavors, let the salad marinate in the refrigerator for at least an hour before serving. This allows the ingredients to mingle and soak up the lemony goodness.
Adjust to Taste- Feel free to adjust the quantities of lemon juice, garlic, and dill according to your taste preferences. Start with the suggested amounts and add more if needed.
Make it Vegan- Leave out the feta or substitute sliced almonds or olives.
Storing and Freezing
Refrigerating- Store leftovers in an airtight container in the refrigerator. If the salad seems a bit dry after refrigeration, freshen it up with a drizzle of olive oil and a squeeze of lemon juice.
Freezing-  While you can freeze this salad, keep in mind that the texture of the vegetables may change slightly upon thawing. It's best enjoyed fresh, but if you do freeze it, let it thaw in the refrigerator and give it a good stir before serving.
Frequently Asked Questions
 

Can I use other types of beans?

Yes, you can use chickpeas or kidney beans instead of the cannellini beans if you prefer. Just make sure to rinse them before adding.
Can I use dried beans instead of canned ones?
 Absolutely! Soak and cook dried cannellini beans according to package instructions before using them in this recipe. It might take a bit more time, but the texture will be just as fantastic.
Can I substitute the feta with another cheese?
Of course! Goat cheese or even fresh mozzarella would be good alternatives to feta, bringing their own unique flavors to the dish.
How long will the salad last?
This salad keeps well in the refrigerator for up to 2-3 days. Just make sure to give it a good stir before serving leftovers.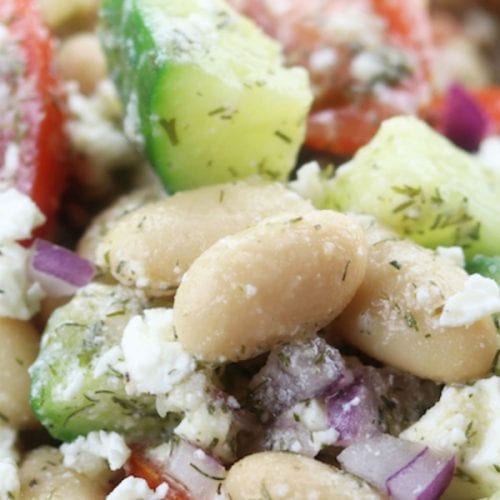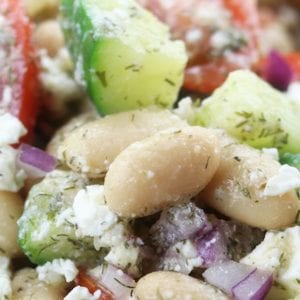 Lemon White Bean Salad
Quick and healthy, Lemon White Bean Salad is perfect as a refreshing lunch, side dish or party salad. Takes just minutes to assemble making eating well on busy days so much easier.
Print
Pin
Rate
Ingredients
2

tbsp

extra virgin olive oil

2

tbsp

lemon juice

*about 1/2 lemon juiced

2

medium

garlic cloves

*crushed or minced

2

tsp

dill

salt

*to taste

15 oz

can

cannellini beans

*rinsed and drained

1/4

cup

diced red onion

1

cup

cherry tomatoes

*cut in half

1/2

large

English cucumber

*cut into large chunks

2

oz

feta

*crumbled
Instructions
In a medium sized bowl whisk together first 5 ingredients.

Toss in remaining ingredients. Mix well and refrigerate. Enjoy cold.
Notes
*Please use as many organic ingredients as possible.*
Nutrition
Calories:
387
kcal
|
Carbohydrates:
47
g
|
Protein:
20
g
|
Fat:
20
g
|
Saturated Fat:
6
g
|
Cholesterol:
25
mg
|
Sodium:
769
mg
|
Potassium:
302
mg
|
Fiber:
10
g
|
Sugar:
6
g
|
Vitamin A:
563
IU
|
Vitamin C:
27
mg
|
Calcium:
192
mg
|
Iron:
5
mg
Follow along on Facebook and Pinterest for more savory inspirations.
For other quick and healthy meals check out these recipes: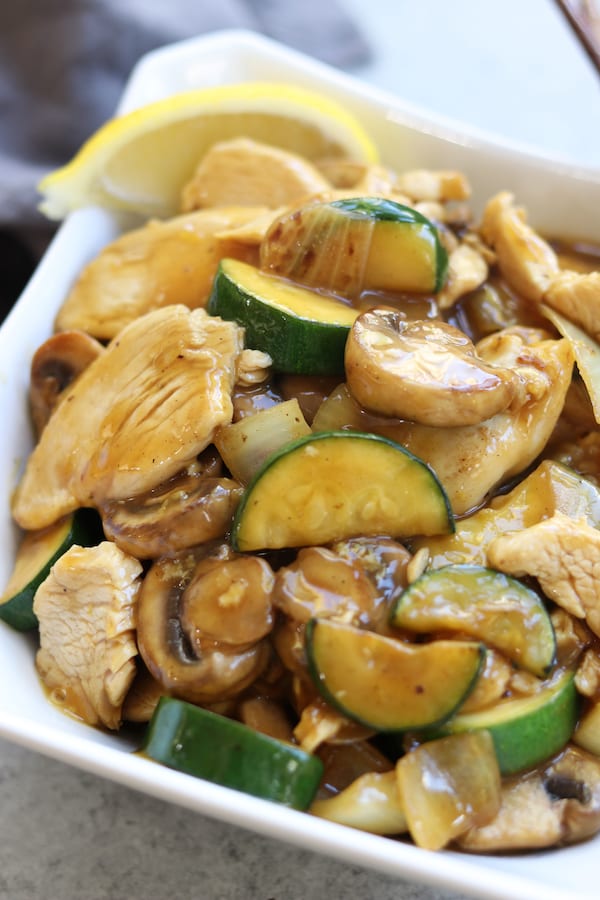 Lemon Chicken Stir Fry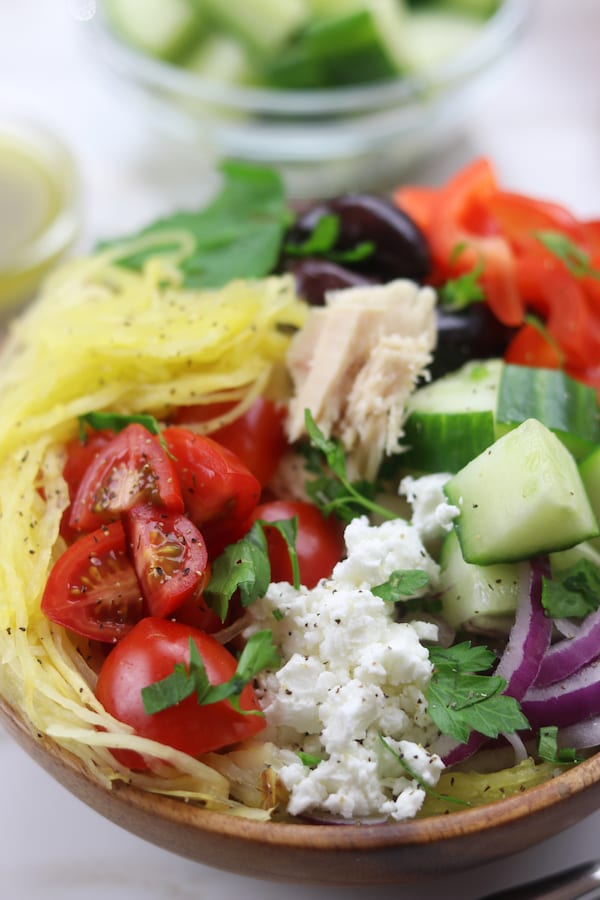 Spaghetti Squash Greek Bowls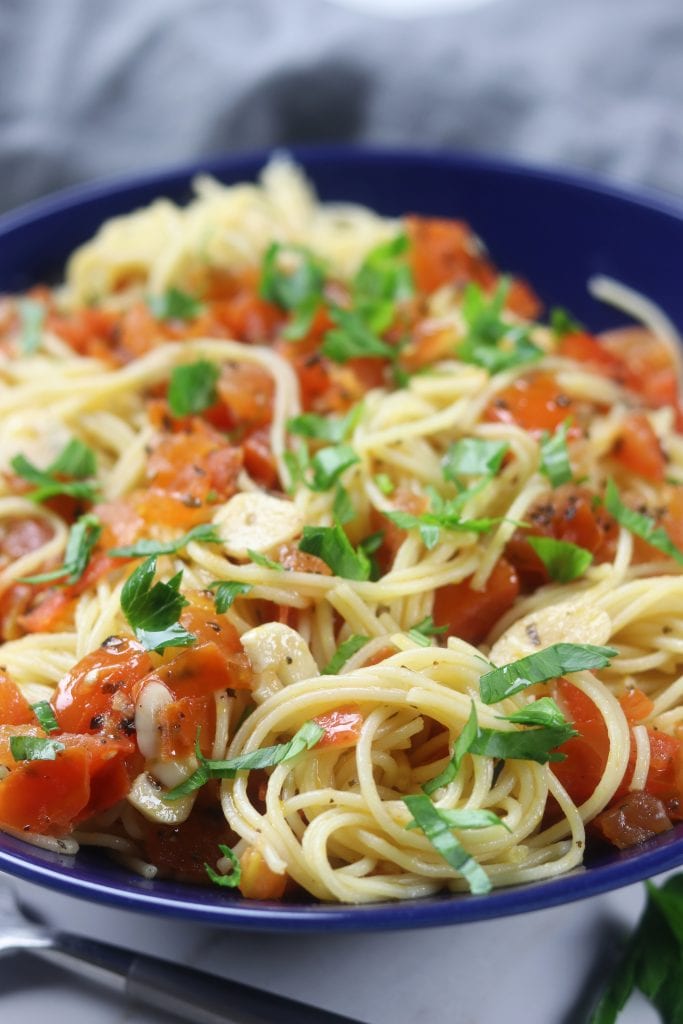 Simple Angel Hair Pasta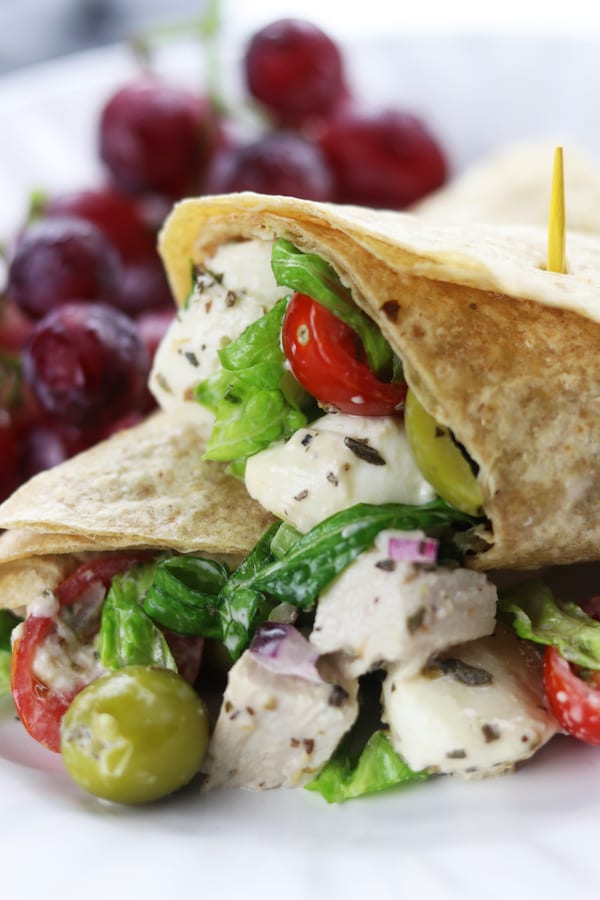 Creamy Italian Chicken Salad Wrap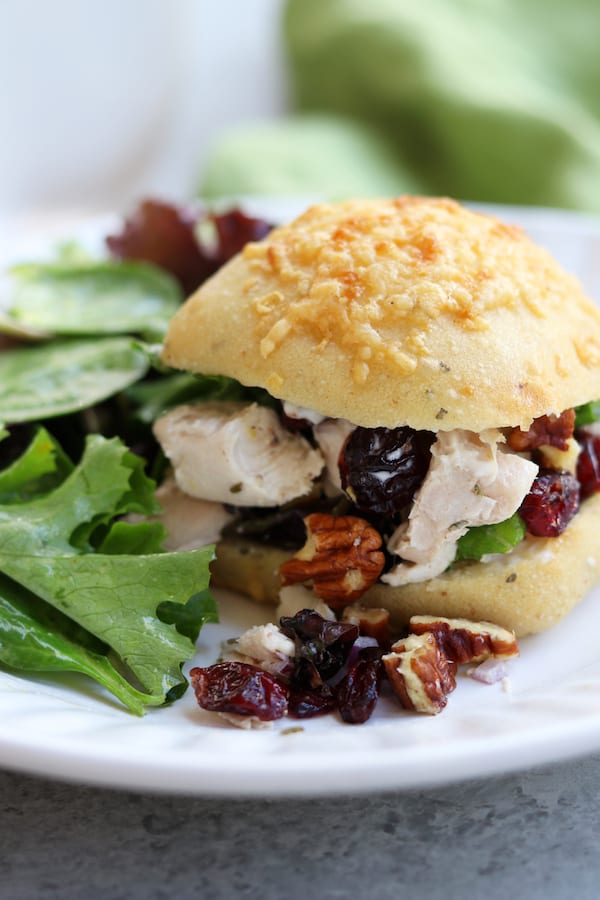 Pecan Cranberry Chicken Salad