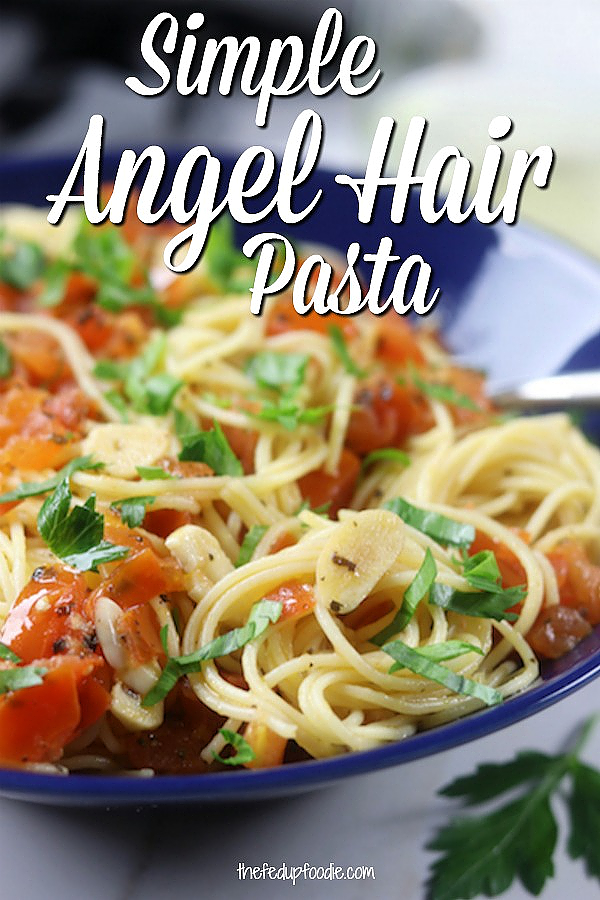 Simple Angel Hair Pasta recipe has only 5 ingredients but feels like an Italian feast. Add your favorite protein or leave as is for a favorite vegetarian meal. Perfect for a quick and easy dinner.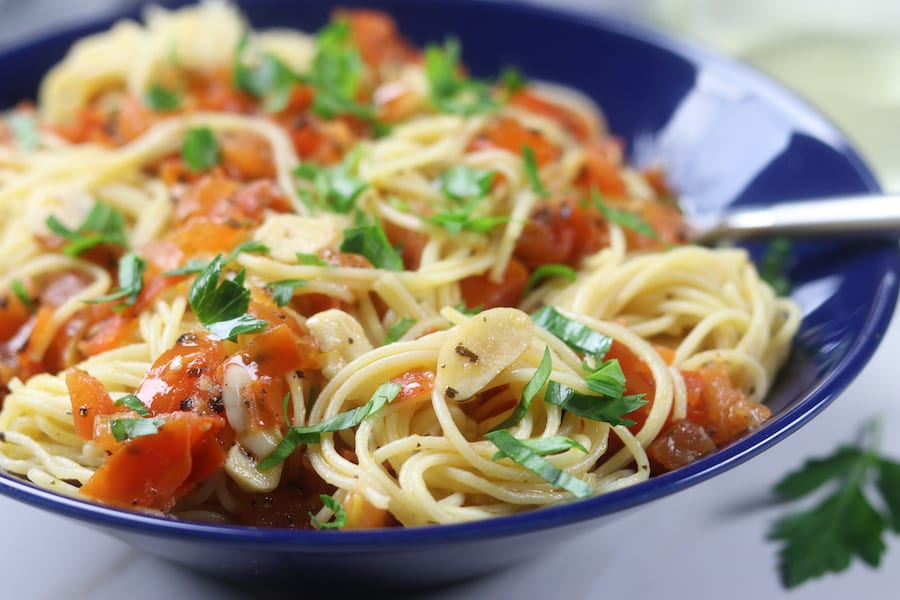 This post may contain affiliate links which I earn a small portion in sales if a purchase is made. Rest assured though, it is never at any additional cost to you.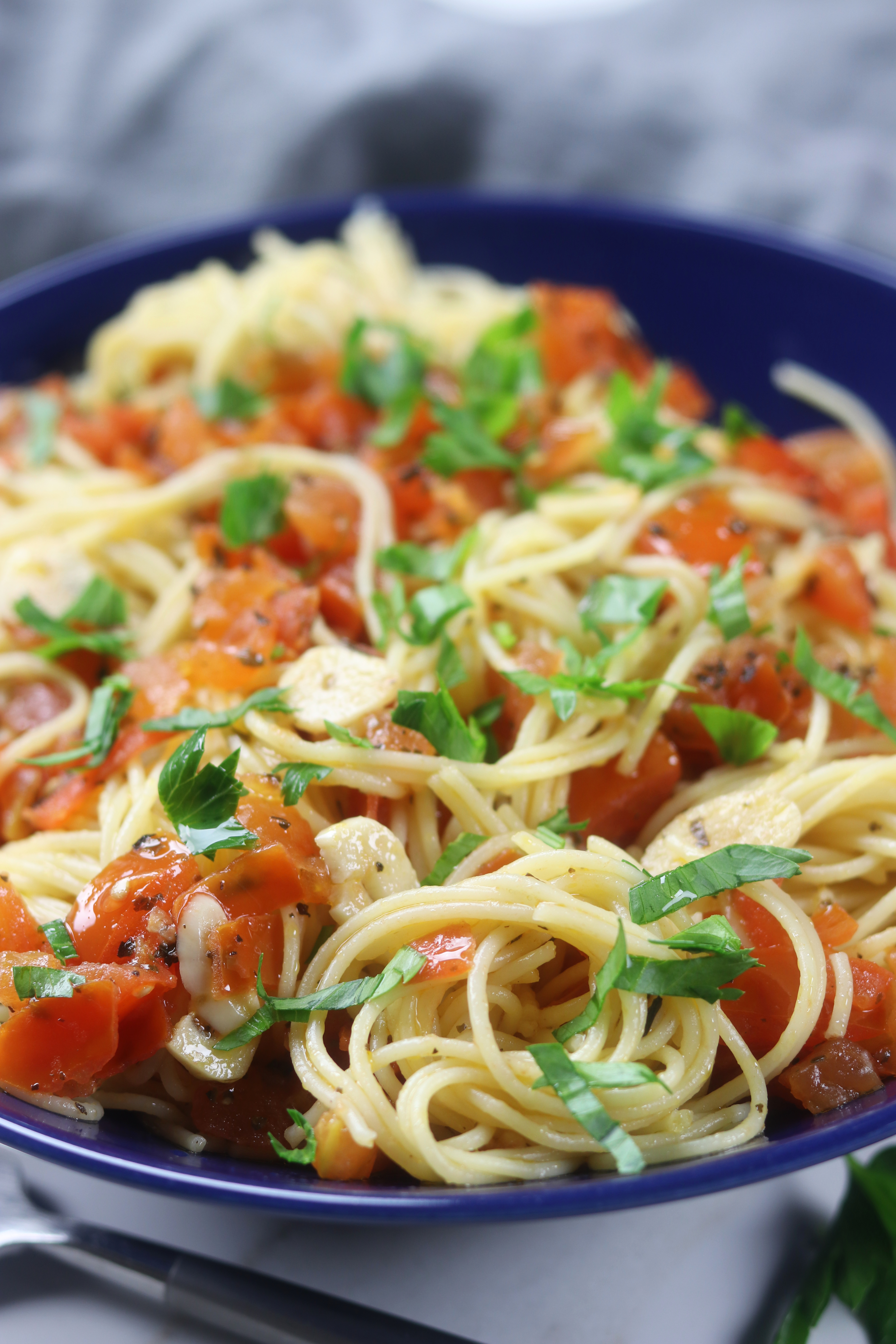 This week is my sweet baby niece's 5th birthday and I can't believe how fast these last 5 years have flown.
It was just yesterday that she was running around with her little diaper booty sucking on her binky while pretending to be Tinker Bell.
It kind of breaks my heart that the days of big toothless grins and playing hours of "stinky feet" laughing until our bellies hurt, are over.
I definitely miss the baby stage but watching her grow into the sweet young lady makes me so happy.
Of all her childhood passions I can tell a love for cooking is starting to develop.
Often when I am cooking she will open each jar of spices and loves to smell the different aromas of each.
She adores garlic!! I mean really adores it (that's a genetic thing right there) and loves to ask what each of the ingredients are.
Just in the last couple of weeks I can tell that her picky taste buds are starting to fade away.
She is open to eating things she would have never touched 6 months ago.
Even though we have had our picky eating moments over the last 5 years though I NEVER had an issue with her eating noodles and garlic.
Not surprising that this Simple Angel Hair Pasta recipe has saved many a night.
I could always get her to eat this meal with a homemade salad.
I loved it because not only was I sneaking those veggies in but this recipe is just so incredibly easy and tasty.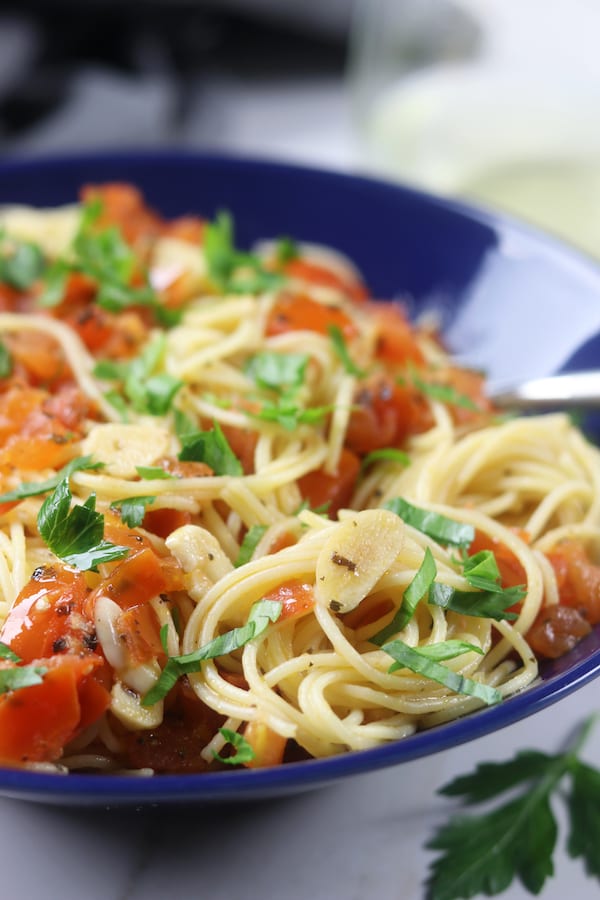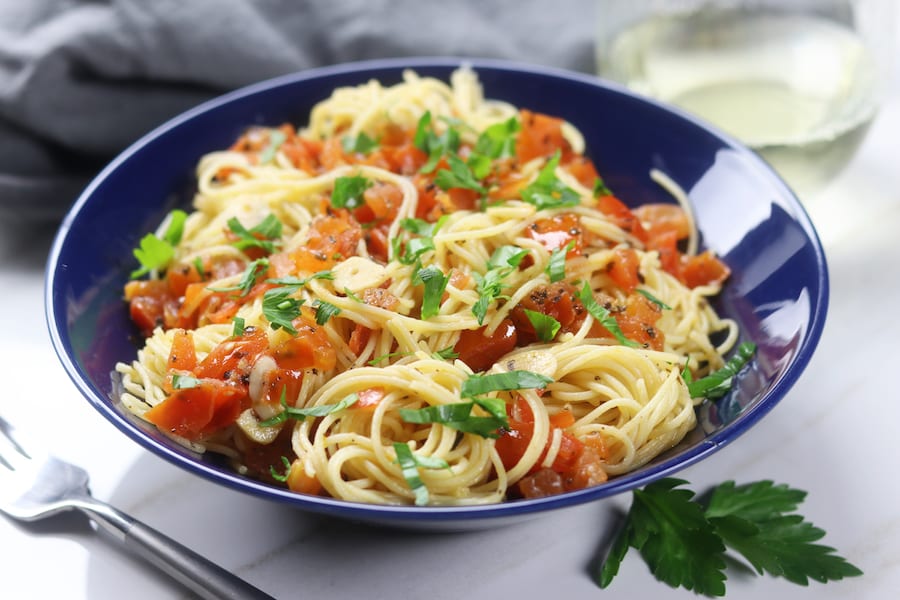 Tips about Simple Angel Hair Pasta:
This Simple Angel Hair Pasta recipe is so incredibly easy and fast. Put your water on to boil and then cut your tomatoes and garlic. By the time the tomatoes are just about simmered down the water should be at a full boil and the angel hair pasta will only take about 3 minutes to cook.
Once the water is boiling, that is when you add the salt. The water should be heavily salted, about a 1/2 cup. This will help to flavor the pasta. Without it, the pasta just tastes flat.
Once the pasta is cooked reserve about a 1/2 cup of the pasta water to add to the Simple Angel Hair Pasta at the very end. The addition of this beautifully starchy and salty water helps the sauce and pasta to marry. Also, since you will be using all fresh ingredients the addition of the water adds a very minimal amount of sodium.
I highly recommend vine ripened tomatoes. They just taste so much better. I used a 2 lb container of Roma tomatoes on the vine from Costco that cost about $4.
The beauty of this Simple Angel Hair Pasta recipe is that it tastes phenomenal on it's own but is also great with chicken, shrimp and believe it or not, leftover Thanksgiving turkey.
Here is my favorite dried basil. (affiliate)
Love this organic angel hair pasta made with Jerusalem artichoke inulin and here is why. Just know that you will need two packages for this Simple Angel Hair recipe. (affiliate)
There is something so special about serving your Italian feast in a beautiful pasta bowl like this one or this one. (affiliate)
If you are looking for the perfect gift for the health conscious cook who is in need of pots and pans this is a great set. (affiliate)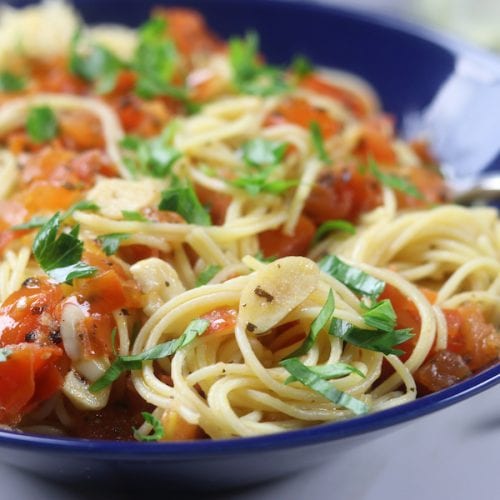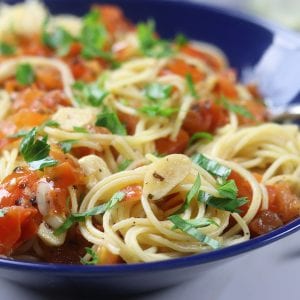 Simple Angel Hair Pasta
Delicious and easy, perfect for a quick meal.
Print
Pin
Rate
Ingredients
1

lb

angel hair pasta

2/3

cup

extra virgin olive oil

6-7

lg

garlic cloves

*thinly sliced

4

tsp

basil

2

lbs

tomatoes

*diced

1/3- 1/2

cup

pasta water

chopped parsley to garnish

*optional
Instructions
Put a large pot of water (approximately 5- 5 1/2 quarts of water) onto boil over high heat.

Meanwhile prepare tomatoes and garlic.

In a large frying pan heat olive oil over medium heat. Add garlic to oil. Cook until garlic becomes aromatic and just starts to brown on edges about 3 mins, stirring often. Stir in basil and cook for an additional minute. Stir in diced tomatoes and bring to a simmer over same heat. Cook until tomatoes dices are soft and just start to fall apart, about 8-10 mins. 

Once water is boiling heavily salt the water. Add pasta and cook according to directions on package. Reserve 1/3- 1/2 cup pasta water. Add pasta and reserved pasta water to frying pan. Toss well. 

Garnish with fresh chopped parsley.
Notes
*Please use as many organic ingredients as possible.
Nutrition
Calories:
497
kcal
|
Carbohydrates:
63
g
|
Protein:
11
g
|
Fat:
25
g
|
Saturated Fat:
4
g
|
Sodium:
15
mg
|
Potassium:
527
mg
|
Fiber:
4
g
|
Sugar:
6
g
|
Vitamin A:
1330
IU
|
Vitamin C:
21
mg
|
Calcium:
35
mg
|
Iron:
2
mg
Follow along on Facebook and Pinterest for more savory inspirations.
If you love Italian food then check out these recipes: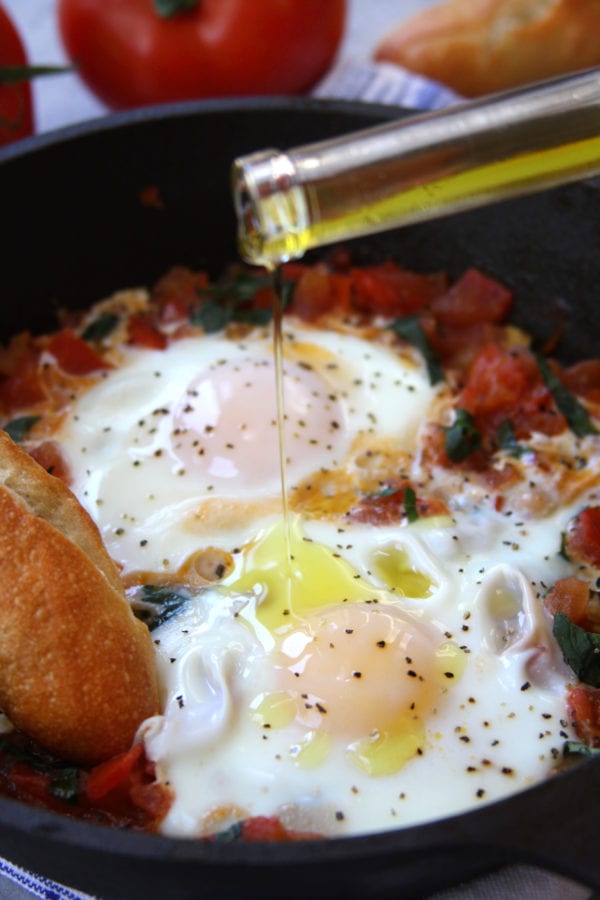 Italian Tomato and Eggs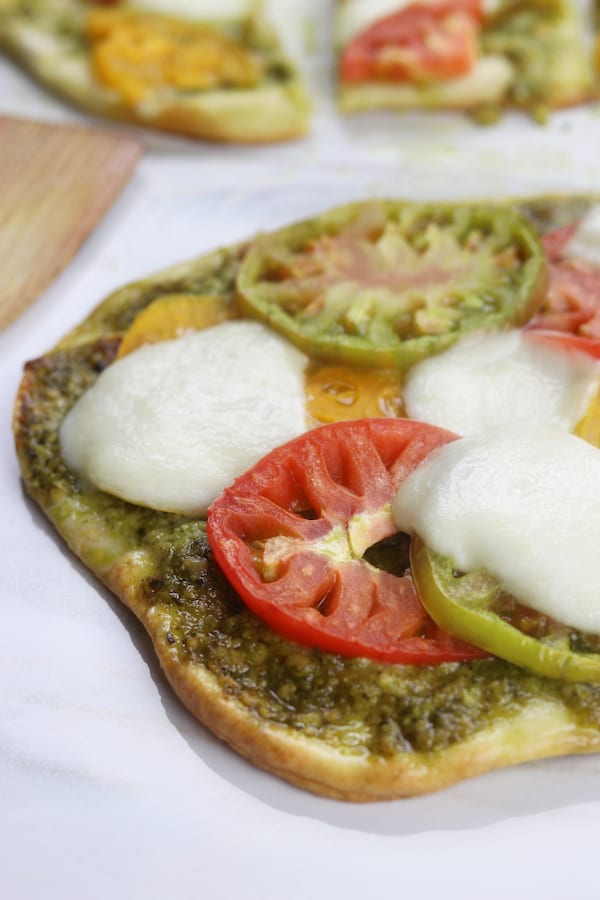 Heirloom Tomato Pesto Naan Pizza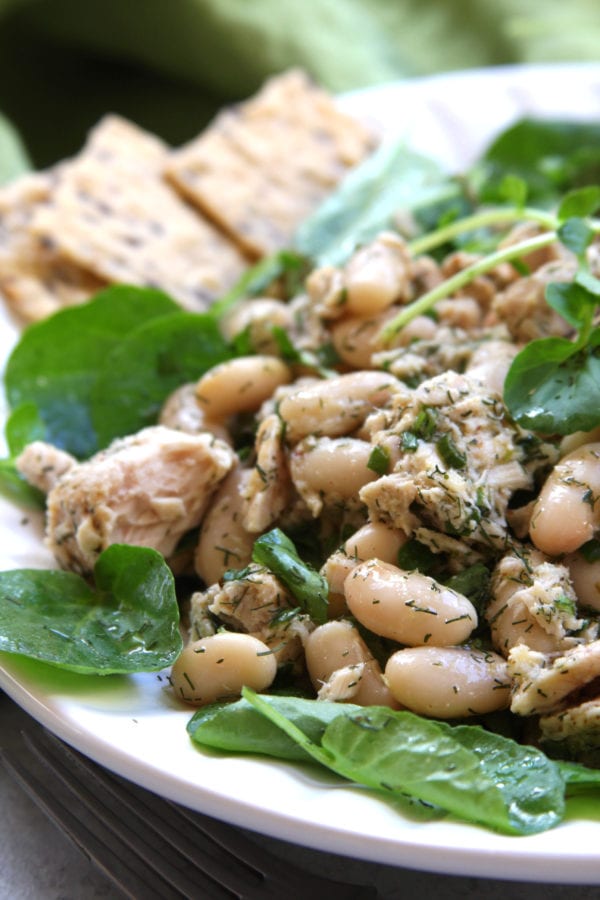 Mediterranean Tuna Salad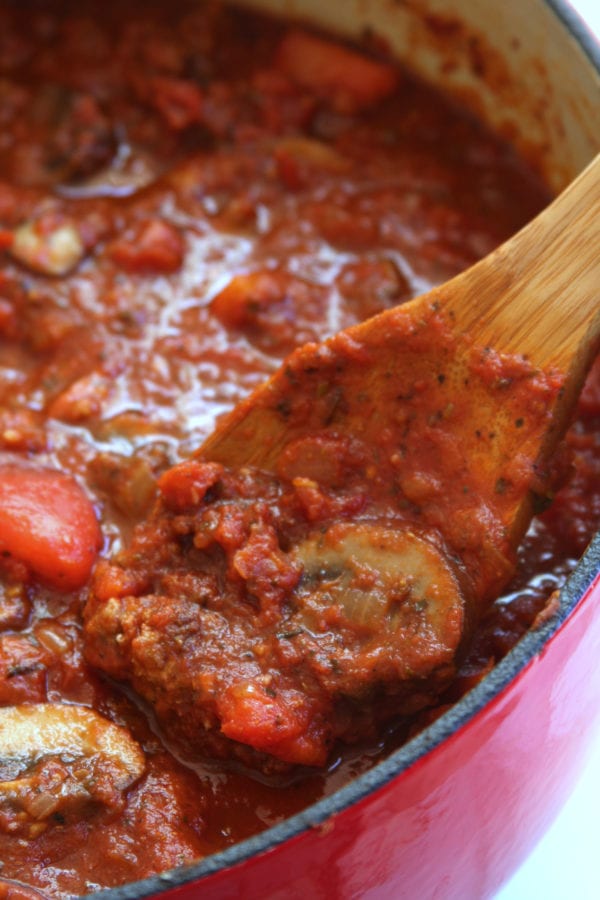 Classic Spaghetti Sauce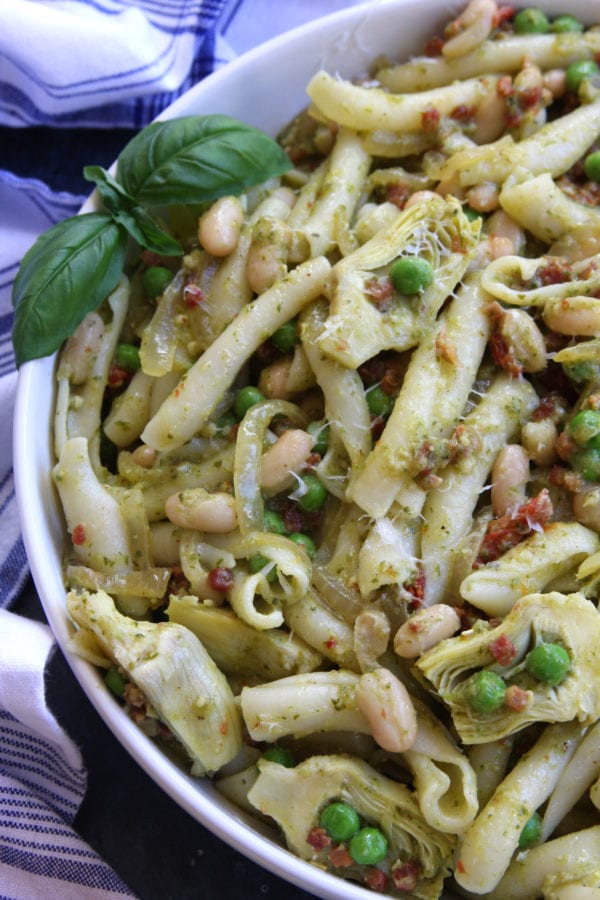 Tuscan Pasta Salad