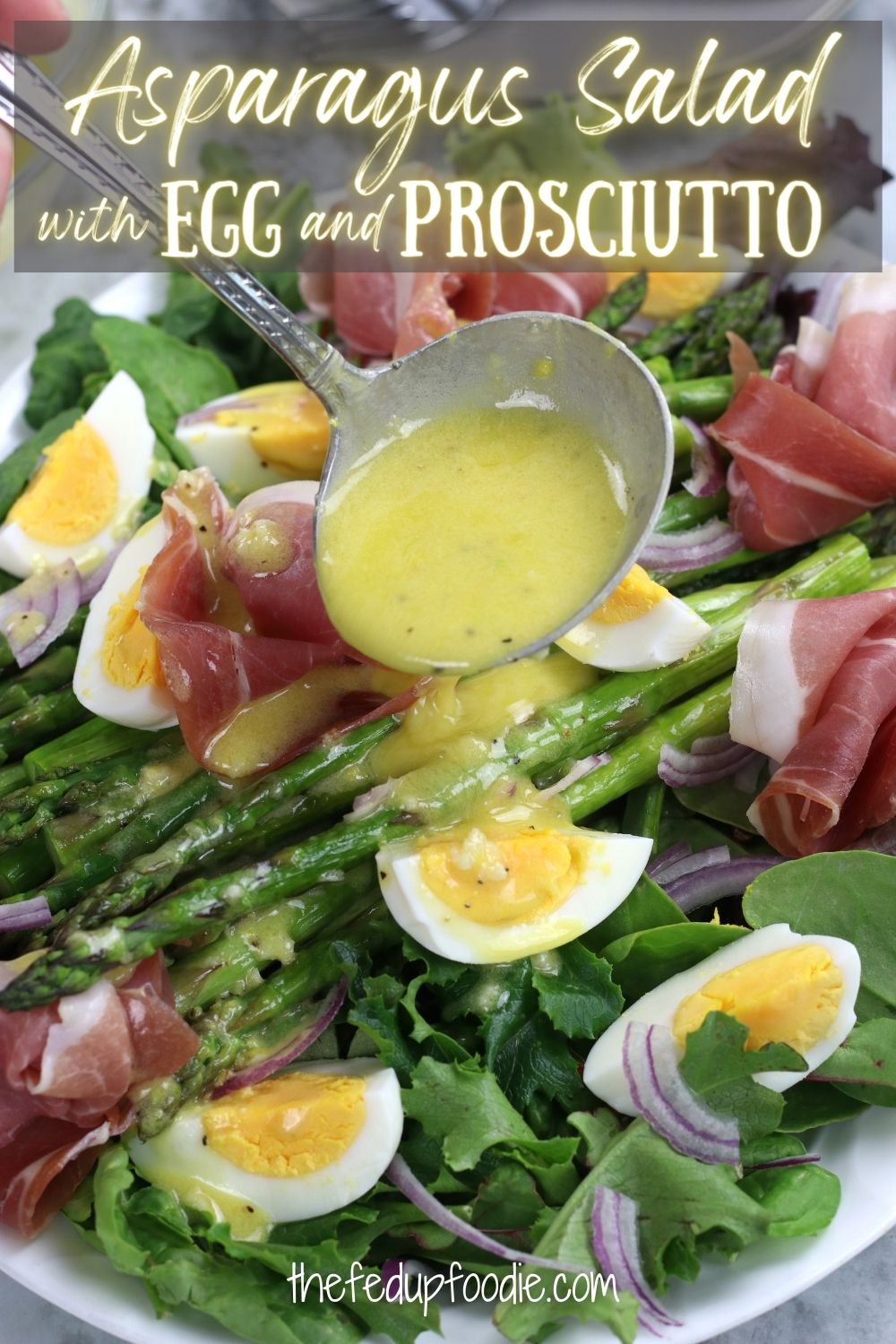 Asparagus Salad with Egg and Prosciutto is special enough for spring and summer holidays and parties or as a simple meal for warmer weather. With make-ahead ingredients, this salad has a quick 5 minute assembly.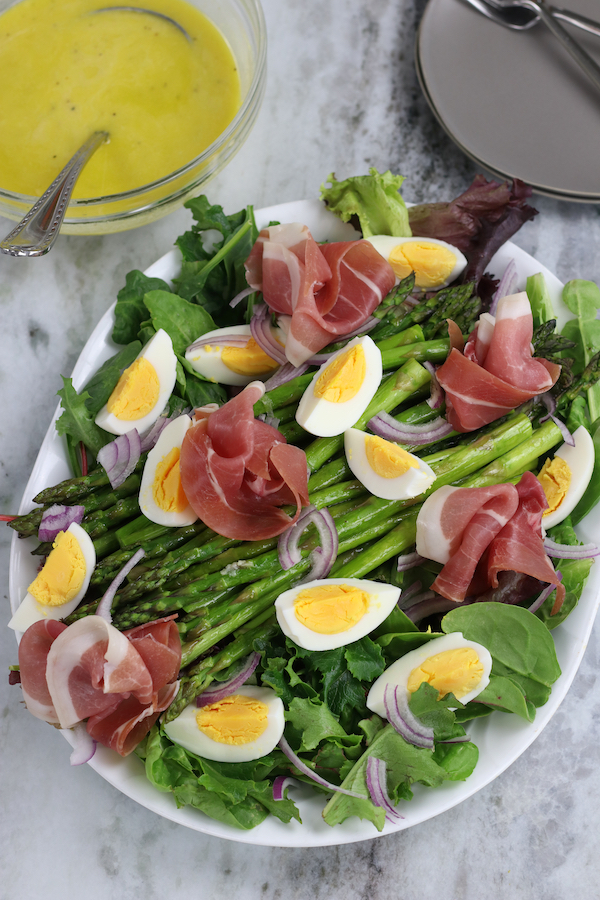 This post may contain affiliate links which I earn a small portion in sales if a purchase is made. Rest assured though, it is never at any additional cost to you.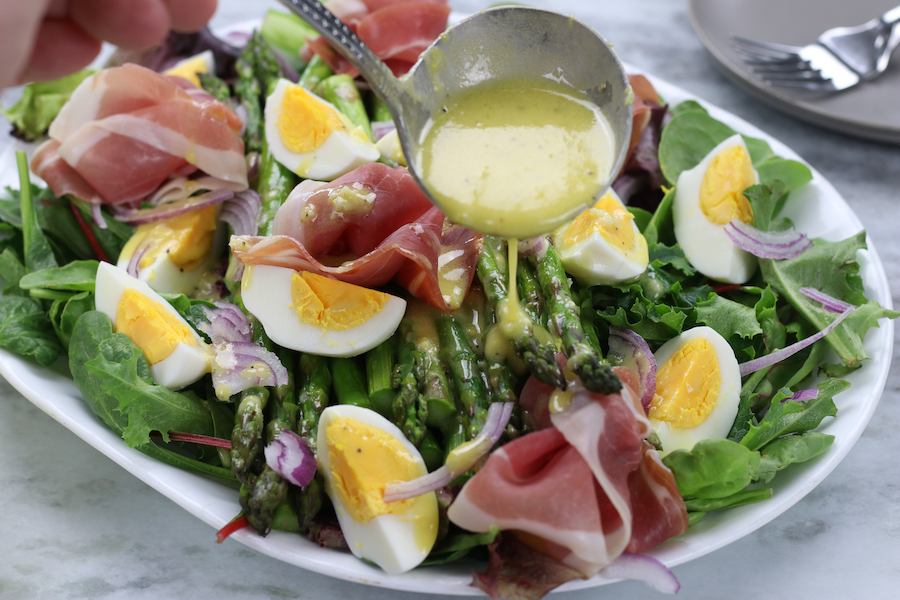 Best Time of Year for Asparagus Salad with Egg and Prosciutto
Without a shadow of doubt, this salad is perfect for both spring and summer.
Asparagus is available year round in many grocery stores. However, its season runs from February to June. This makes the spring season an excellent time to enjoy this veggie. Additionally, because this salad is beautiful enough for special occasions, it makes a gorgeous side dish for Easter dinner.
In addittion to the spring season, this salad is perfect for summer nights when it is too hot to cook. All of the ingredients can be prepared ahead of time, making for a quick 5 minute assembly. Talk about a blessed relief when it is about 752 degrees outside.
Roasted Asparagus for This Salad
Roasted Asparagus is my absolute favorite way to enjoy this healthy vegetable. This is because this method creates tender and yet slightly crisp asparagus spears that are loaded with flavor. Also, it is an incredibly easy way to cook asparagus and it tastes wonderful either hot or cold.
Other Methods of Cooking Asparagus
Blanching is a method of boiling the asparagus and then submerging into an ice bath. This approach can create tender asparagus also. However, the asparagus will not be as flavorful as using this Roasted Asparagus recipe.
Steaming is an approach that uses steam to cook the asparagus. Similar to blanching, this method can create perfectly cooked asparagus that also does not have as much flavor as roasting.
As the name implies, grilled asparagus uses a charcoal or a gas grill to cook the asparagus in a hot and fast manner. This alone can create a delicious charred flavor, adding a unique spin to the Asparagus Salad.
Easy Peel Hard Boiled Eggs for Asparagus Salad
Contrary to popular opinion, steaming eggs is the best way to make easy peel hard boiled eggs. In fact, it is how many restaurants and private chefs make their hard boiled eggs because it is fast and efficient.
Salad Dressing Options
Lemon Dijon Dressing is so delicious on this salad. It is bright, tangy and very easy to make. Also, dijon mustard pairs incredibly well with both eggs and asparagus. However, if you are not a fan of mustard, here are a few more dressings that are just as delicious for this salad.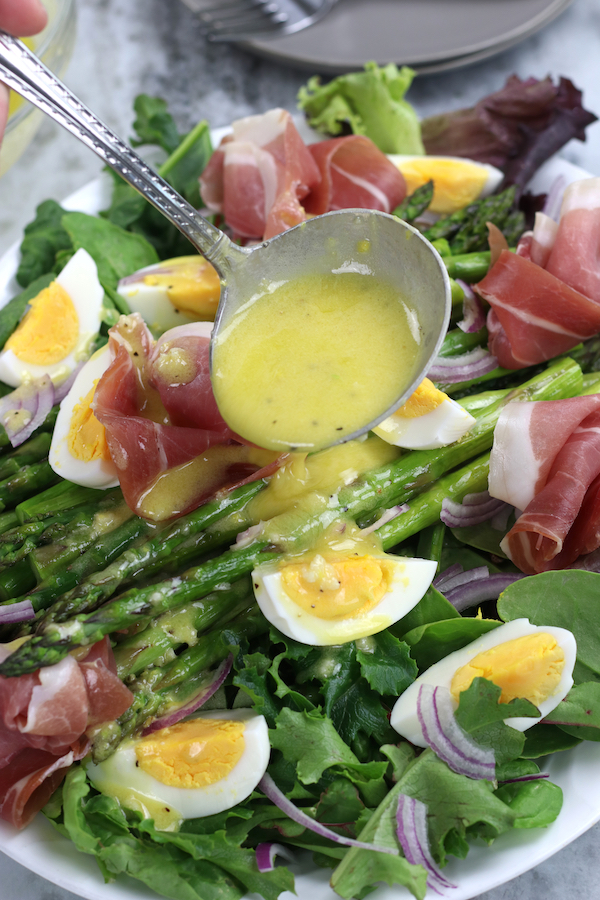 Variations
This salad is very simple and yet flavorful with an easy assembly. However, there are all kinds of fun variations that can be made or added. Here are just a few ideas.
Replace the prosciutto with crispy bacon pieces, smoked salmon or All Purpose Chicken Breasts.
Add in a sprinkling of feta, blue cheese or parmesan. Also cubed havarti, cheddar or mozzarella would be delicious also.
Toasted pumpkin seeds, sliced or slivered almonds or Candied Walnuts would be divine on this salad.
Last but not least, cubed avocado is amazing as a single addittion.
Frequently Asked Questions
Can raw asparagus be used for this salad?
Raw asparagus can absolutely be used in salads. However, it best when shaved (or cut into very small portions). Because of this, I do not recommend using raw asparagus for this salad.
What wine pairs well with asparagus salad?
Many people feel that wine and asparagus are not a match. However, if you love wine lean towards the light and crisp white wines such as Sauvignon Blanc or Pinot Grigio.
Does prosciutto need to be cooked?
Prosciutto is a traditional Italian deli style meat that is cured in salt. Because of that, it does not need to be cooked and be be enjoyed straight from the package.
Is this salad low-carb?
Per serving, this salad has 10 carbohydrates. Yes, this falls within the perimeters of a low-carb meal.
How long does this salad last?
Once dressed, this salad should be eaten immediately. Leftovers can be refrigerated overnight in an airtight container. However, the leftover egg and spring mix will not hold up well with the dressing.
More Delicious Salads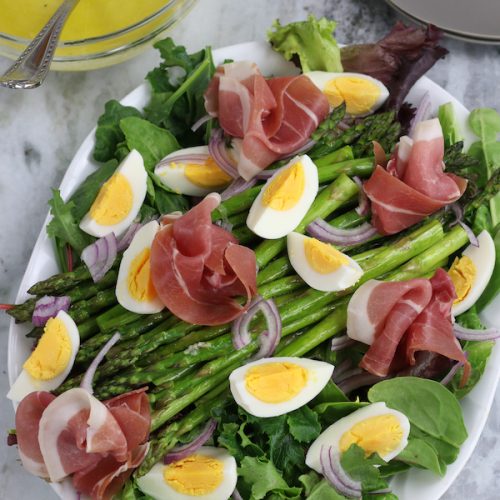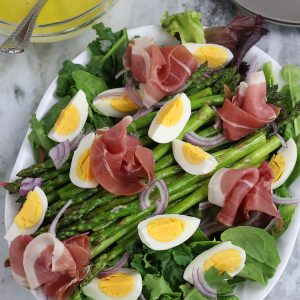 Asparagus Salad with Egg and Prosciutto
Asparagus Salad with Egg and Prosciutto is special enough for spring and summer holidays and parties or as a simple meal for warmer weather. With make-ahead ingredients, this salad has a quick 5 minute assembly.
Print
Pin
Rate
Notes
Recipe Notes Note #1– For this salad I did not add the parmesan (Parmigiano Reggiano) to the roasted asparagus. By not adding it the calories, fat and sodium for the salad will be lower. However, freshly grated parmesan is absolutely delicious on this salad. Note #2– Since prosciutto is a salty and very flavorful deli meat, only a small amount is needed per person (approximately .2 ounces per person). Note #3– For a very quick and simple meal prepare the eggs, asparagus and dressing in advance and refrigerate. Once these recipes are done, the assembly of the salad will take approximately 5 minutes. Here is the total time needed for each recipe. Keep in mind that all 3 recipes can be prepared at the same time. Easy Peel Hard Boiled Eggs– 20 minutes of prep time (includes peeling of the eggs), 13 minutes cook time and 15 minutes for the ice bath. Roasted Asparagus– Has a 5 minutes prep time and cooks for 12 minutes. Lemon Dijon Dressing– Approximately 5 minutes prep time and can be made while the eggs and asparagus cook. Note #4– For easier serving cut asparagus spears into bite sized pieces. This will not look as pretty, but will be easier to serve.
Nutrition
Calories:
383
kcal
|
Carbohydrates:
10
g
|
Protein:
14
g
|
Fat:
23
g
|
Saturated Fat:
6
g
|
Polyunsaturated Fat:
3
g
|
Monounsaturated Fat:
21
g
|
Trans Fat:
0.01
g
|
Cholesterol:
196
mg
|
Sodium:
434
mg
|
Potassium:
471
mg
|
Fiber:
4
g
|
Sugar:
4
g
|
Vitamin A:
1734
IU
|
Vitamin C:
22
mg
|
Calcium:
177
mg
|
Iron:
5
mg