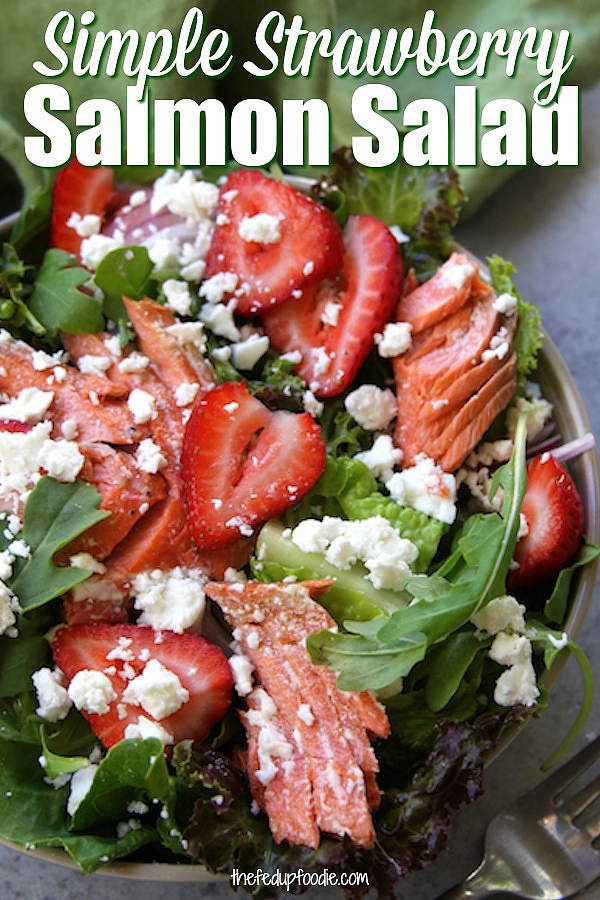 Simple Strawberry Salmon Salad feels indulgent and yet is so very healthy and easy to make. Comes together in under 30 minutes making it a favorite for busy weeknights or packed work lunches. Also, this salad is a delicious and healthful option to reset after over indulging.
This post may contain affiliate links which I earn a small portion in sales if a purchase is made. Rest assured though, it is never at any additional cost to you.
Salmon Salad: An Easy Weeknight Dinner
The Simple Strawberry Salmon Salad is a must-have recipe for home cooks, as it ticks all the boxes – very easy to make, healthy, and incredibly refreshing. The harmonious blend of succulent salmon, sweet strawberries, and tangy vinaigrette provides a delightful burst of flavors and textures that will satisfy even the most discerning palate. Whether for a quick weekday meal or a fuss-free entertaining option, this versatile recipe is a go-to choice that guarantees both convenience and deliciousness.
Mastering Strawberries in Salads: Tips for Beginners
Selection– Choose ripe, firm strawberries with vibrant color and a fresh aroma for the best taste and texture in your salads.
Preparation– Wash strawberries thoroughly and remove the green tops before slicing or halving them.
Pairing– Strawberries pair well with various salad greens like spinach, arugula, or mixed greens. They also complement ingredients like goat cheese, nuts, and balsamic vinaigrette.
Timing– Add strawberries to your salad just before serving to maintain their freshness and prevent them from becoming too soft.
Balance– Balance the sweetness of strawberries with other savory or tangy elements in the salad for a well-rounded flavor profile.
Texture– Strawberries add a juicy and refreshing element to salads, providing a delightful burst of flavor and texture.
Variations– Feel free to experiment with different salad combinations, incorporating grilled chicken, avocado, or even herbs like basil or mint to create exciting flavor variations with strawberries.
Tips about Simple Strawberry Salmon Salad
If you aren't too worried about increasing fat content add toasted walnuts or almonds and avocados. They will make this delicious salad even more flavorfully decadent.
Wild Alaskan or Sockeye salmon is the best option due to its exceptional taste, rich flavor, and superior nutritional benefits, making it a top choice for discerning seafood enthusiasts seeking the finest quality and sustainable option.
Choose glass containers for packing salads as they help preserve freshness and prevent sogginess effectively. Besides being practical and easy to clean, using glass containers is a healthier option compared to plastic containers. Glass is non-porous and free from harmful chemicals like BPA, ensuring that no toxins leach into your food, thereby maintaining the integrity and safety of your fresh, nutritious salad.
Adding Roasted Asparagus is a flavorful and luxurious addition to this salad.
Variations of the Simple Strawberry Salmon Salad
There are many possibilities to vary this salmon salad recipe:
Use Different Greens- Get playful with your favorite greens such as spinach, butter lettuce arugula, baby kale, spring mix or red leaf lettuce.
Swap The Protein- This salt is delicious with All Purpose Chicken Breasts, perfectly cooked Rib Eyes , Grilled Shrimp or canned tuna in place of the salmon.
Change Up The Fruits- Substitute strawberries with blueberries, blackberries or raspberries, or try sliced mangos, peaches, or apples.
Vary The Onions- Try green onions (aka scallions), shallots, white onions or sweet onions such as Vidalia, Walla Walla or Maui onions.
Add Other Veggies- Tomatoes, cucumbers, bell peppers, or radishes would work well in this salad.

Add Whole Grains- Mix in some cooked quinoa, farro, or brown rice.
Use Canned Salmon- Use canned salmon or tuna for an easy pantry meal.
Frequently Asked Questions
How do I know when the salmon is fully cooked and flakes easily?
Here are a few ways to check if salmon is fully cooked and ready to flake easily:
Color and Texture– The flesh of properly cooked salmon should have an opaque pinkish color throughout, with flakes that easily separate when gently pressed with a fork. The texture should be moist and tender.
Internal Temperature– Use a cooking thermometer to check the internal temperature of the thickest part of the salmon. The FDA recommends cooking salmon to an internal temperature of 145°F (63°C). At this temperature, the salmon is safe to eat and should be cooked to a medium doneness. If you prefer a more well-done salmon, you can cook it slightly longer, but be cautious not to overcook it, as it may become dry.
Juices– Another way to tell if salmon is done is by checking for the presence of white protein juices on the surface. As the salmon cooks, these juices will start to appear. When the salmon is fully cooked, the juices should be mostly clear, indicating that it is ready to be served.
Flakiness– When gently prodded with a fork, the salmon should flake easily and have a soft, moist texture. If it still appears raw and doesn't flake, it needs more cooking time.
Remember that residual heat will continue to cook the salmon after it's removed from the heat source, so consider removing it from the heat just before it reaches the desired level of doneness. Resting the salmon for a couple of minutes will allow the juices to redistribute, ensuring a moist and flavorful result.
Can I use dried spices on the salmon before cooking?
Yes, you can absolutely use dried spices or herb blends on the salmon as this will make the salmon even more flavorful. Here are some tasty spice combinations to try and aim for 1-2 teaspoons total for the 10 ounces of salmon.
Lemon Pepper– A combination of lemon zest, black pepper, and finely minced parsley.
Dill and Parsley- Dried dill weed, finely minced Italian parsley and garlic powder makes for a savory and fresh addition.
Herbes de Provence– Rosemary, thyme, oregano and basil makes for a flavorful combination of herbs that adds a French touch.
Italian Seasoning– Oregano, basil, garlic powder and parsley not only adds a delicious Italian twist, it also pairs well with other ingredients such as tomatoes, olives and mozzarella.
Greek– Oregano, mint, lemon zest and black pepper adds a unique flavor profile that is both savory and refreshing.
Can I use a different cheese than feta if I don't like or have it?
Yes, but stick to fresh, mild, tangy cheeses that won't dominate the lovely summery flavors of the salmon and strawberries. Here are a few suggestions:
Goat Cheese– Creamy and tart, this cheese will lend a nice contrast of flavors and textures to the salad.
Ricotta Salata– Light and mildly tangy, this unique cheese will not overpower the berries. Note: Look for this cheese at Italian markets, gourmet grocery stores or purchase here.
Parmigiano Reggiano- This classic Italian parmesan is salty and nutty with complex flavors. Note: Costco has the best value on this authentic Italian cheese.
Fresh Mozzarella– A mild and milky cheese that allows the strawberry flavor to shine.
Halloumi– Often this cheese is grilled or pan-fried, however, its salty and firm texture holds up well in salads and is a pleasant contrast to the juicy berries.
Burrata– Creamy like mozzarella with an oozy center that matches the strawberry texture.
How long will the leftover salad keep in the fridge?
For food safety and quality, here are some guidelines on storing leftovers of this salmon salad:
Keep the undressed salad greens and other chopped veggies in an airtight container in the fridge for up to 5 days.

Store the cooked salmon separately. Refrigerate for up to 3 days. Salmon is prone to getting fishy smells so don't keep too long.

The dressing can be made ahead and stored in a jar or bottle in the fridge for 5-7 days. Shake before using.

Don't dress the salad until ready to eat. The acids in the vinaigrette will cause the greens to break down faster.

Once dressed, consume the salad within 1-2 days for peak freshness. Toss to redistribute dressing before serving.

If adding fresh berries or avocados, slice and add those only when ready to eat so they don't get mushy.
More Easy Weeknight Dinners
Italian Chicken Zucchini Boats
.