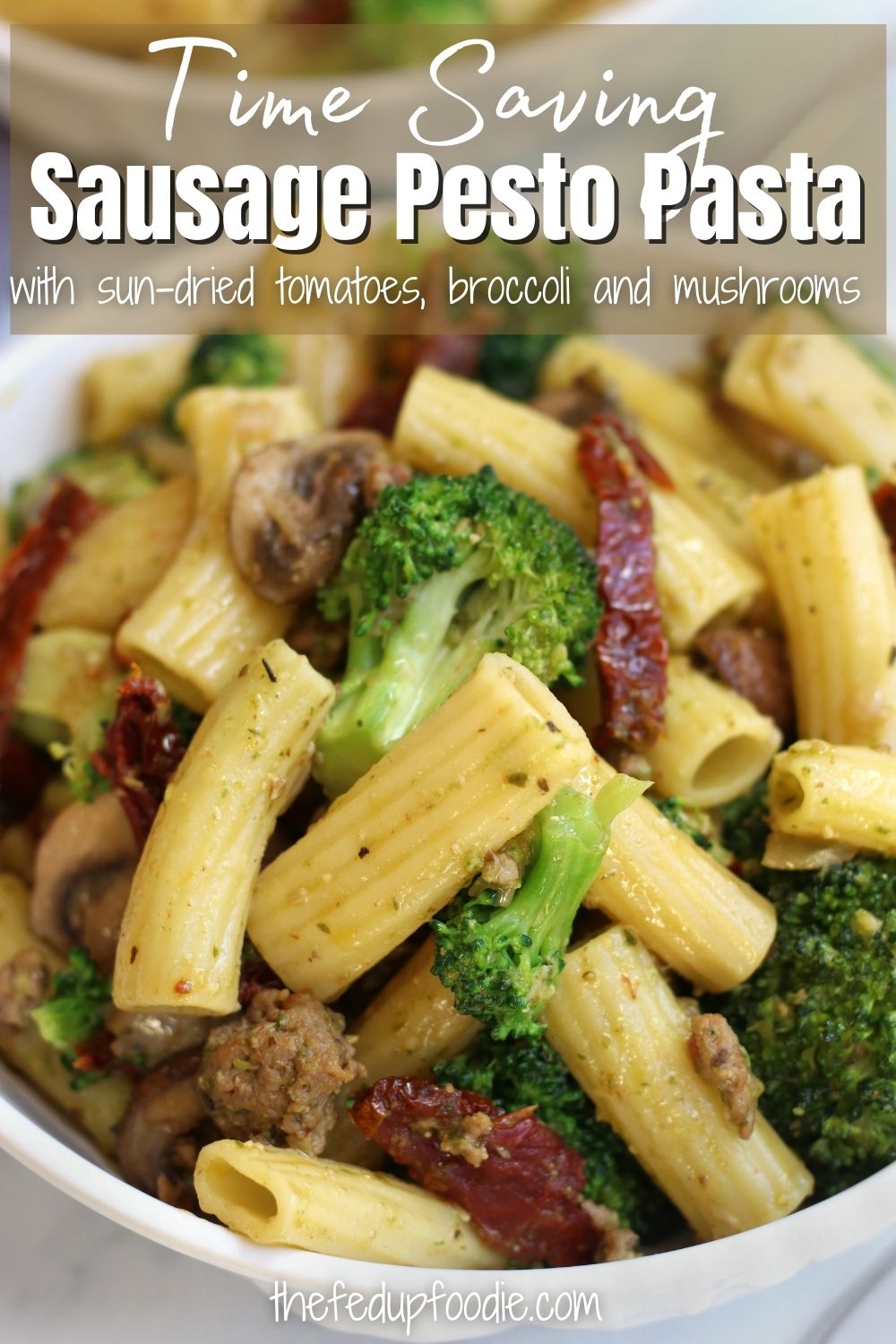 Sausage Pesto Pasta is a dish the whole family will love. Made with Toasted Walnut Pesto, Homemade Italian Sausage, al dente pasta, broccoli and sun-dried tomatoes. An easy under 30 minute meal perfect for busy weeknights.
A great Italian feast starts with an amazing tasting appetizer such as Burrata Caprese or Bruschetta with Balsamic Reduction. For a complete meal serve along side Homemade Garlic Bread ( or Baguettes) and a side salad with a Simple Herbed Vinaigrette. Lastly, an Italian Lemon Pound Cake or Frozen Lemon Prosecco Cocktail is heavenly way to finish the evening.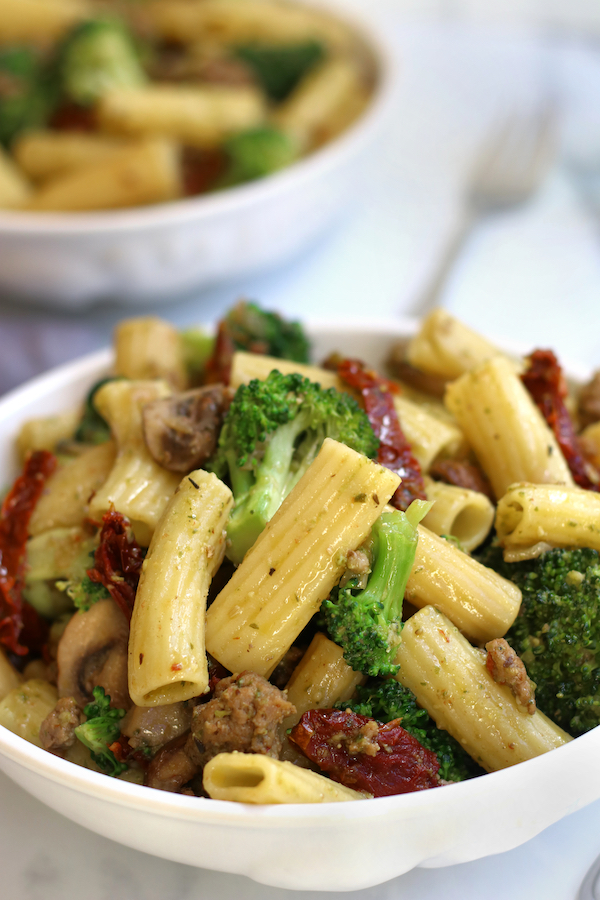 This post may contain affiliate links which I earn a small portion in sales if a purchase is made. Rest assured though, it is never at any additional cost to you.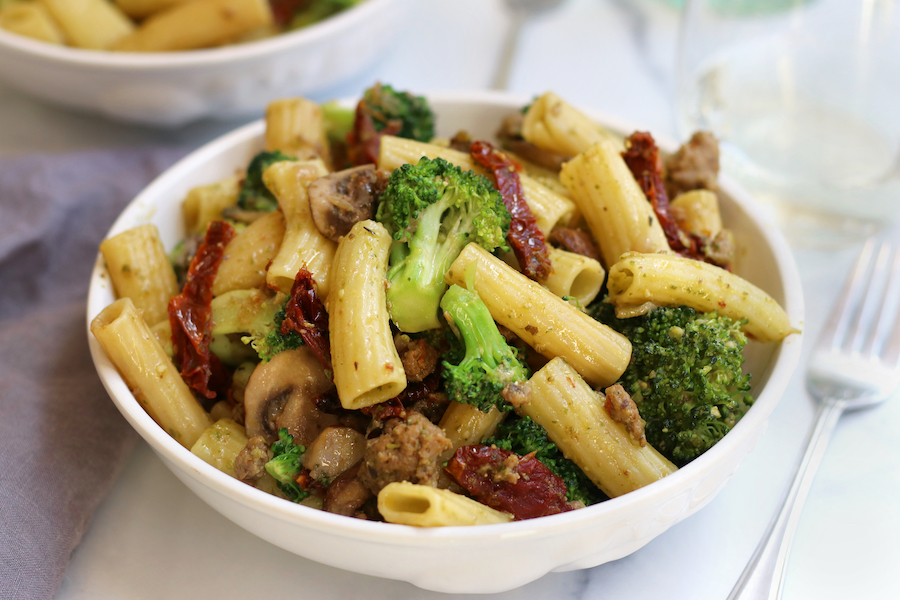 Ingredients Needed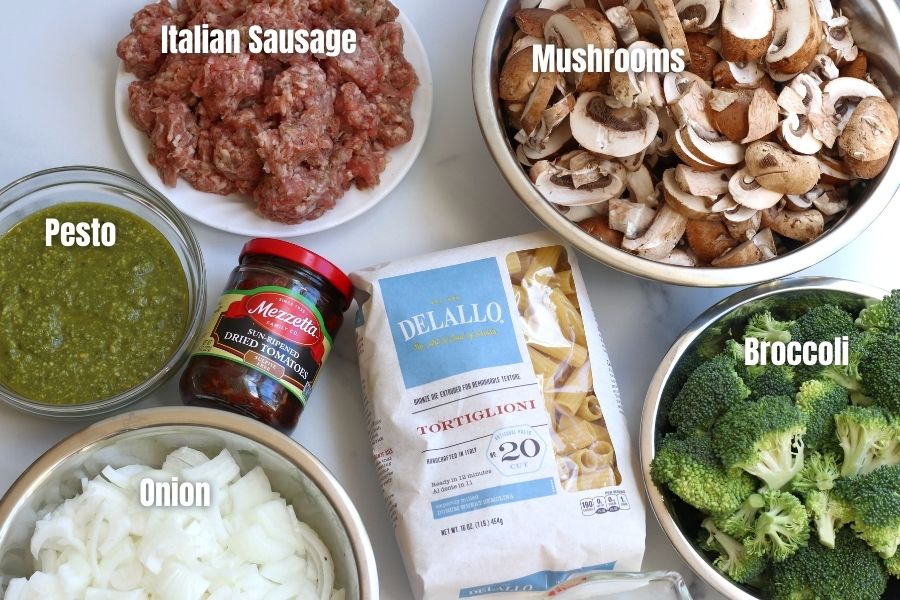 Italian Sausage– Either homemade or store bought.
Pesto– I personally love using my Toasted Walnut Pesto for this recipe. However, store bought pesto or all kinds of different flavored pestos may be used.
Pasta– Choose your favorite shape. Everything from fettuccine to bow tie noodles works well for this recipe.
Olive Oil– High quality olive oil should have an expiration date on the package that is not years away. This is because real olive oil has a short life span.
Brown Onion– Also called a yellow onion.
Broccoli Florets
Sun-Dried Tomatoes– Either in oil (drained) or dried and packed in a bag.
Mushrooms– Portobello, Cremini or white button mushrooms all work well in this recipe.
Dry White Wine– A specialty wine is not needed for this recipe. I used Sauvignon Blanc, a wine I enjoy drinking. However, chicken broth may be substituted for a non alcoholic alternative.
Salt and Pepper
Parmesan Cheese– I highly recommend purchasing a block of Parmigiano-Reggiano and freshly grating it as a garnish using this easy to use tool.
Easy Steps For Sausage Pesto Pasta
Boil Pasta following directions on on package. Drain pasta over broccoli florets.
Cook sausage pieces in a large frying pan and a small amount of olive oil over medium/high heat until browned. Remove from pan.
In the same frying pan over the same heat add an additional small amount of olive oil and sauté onions until semi-soft and translucent.
Turn heat down to medium heat and add mushrooms to onions. Cook stirring occasionally until mushrooms have lost most of their water, about 6-7 minutes.
Add tomatoes, wine and cooked Italian sausage. Simmer for another 3-4 minutes.
Turn off heat and add cooked pasta with broccoli and pesto to frying pan. Toss gently.
Garnish individual portions with freshly grated Parmigiano-Reggiano.
Time Saving Tips
The beauty of this pasta dish is that it really is a quick, easy and delicious dinner. However, sometimes when life is going a thousand miles a minute time saving tricks make make a huge difference with getting dinner on the table easily. Here are some the best time saving tips for this Sausage Pesto Pasta.
Cut and chop hearty veggies as soon as you get home from the grocery store. For this recipe veggies like broccoli can be cut into florets and onions diced and then stored in an airtight container. This can shaved a good 5-10 minutes off of the preparation time.
Buy pre-cut mushrooms. Granted, the whole mushrooms will be more affordable but if you are short on time, having them pre-cut can be a huge time saver. Pro Tip: If you pre-cut mushrooms yourself, use within 3 days. Store bought pre-cut mushrooms will last up to 7 days. Additionally, dried mushrooms can be used, which eliminates any hassle with waste.
Instead of blanching the broccoli which dirties more dishes and takes extra time, place the broccoli florets in the bottom of a colander and pour the cooked pasta over the top of the broccoli. This is a super fast trick to achieve the blanched broccoli effect. (My everyday stainless steel colander and the colander I use when making bigger quantities.)
If making pesto from scratch prepare it the day before.
Al Dente Pasta
Because the pasta and broccoli are tossed with the veggies and not cooked in the sauce, the pasta should be cooked to al dente. Or in other words, just slightly undercooked.
The best way to describe what al dente looks and feels like is that the noodles should be cooked but still chewy and hold their shape. In my many years of cooking pasta the best way I have found to check whether pasta is cooked to al dente is by tasting it. Keep a close eye on the timing while cooking the pasta and when the water starts to thicken, pull one noodle out and taste to see how it is.
Additional Veggie Options
Instead of the broccoli and mushroom combination other veggies may be substituted. Asparagus that is cut into bite sized pieces (about 4-6 cups) and then sautéed in 1 tablespoon of olive oil would make a delicious substitution for the broccoli.
Another option would be a combination of summer squash, eggplant and bell peppers. Cut them into bite sized pieces (equaling about 6-7 cups) and roast on a sided cookie sheet at 400℉ with 2 tablespoons of olive oil for 10-15 minutes. Once cooked, toss at the end with the pasta.
Different Sausage Options
Italian sausage, which is seasoned with fennel, works incredibly well in this pasta dish. However, if you are not a lover of licorice (which fennel is very similar to) then here are a few other sausage options.
Homemade Breakfast Sausage– Although this is generally eaten at breakfast, the spices in this sausage gives it a fun twist.
Homemade Chorizo– Another fun twist from traditional Italian Sausage.
Flavored Chicken Sausage
Andouille Sausage
How To Make Even Healthier Pesto Pasta
Since my Hoshimotos diagnosis I am constantly in search of ways to make our dinners even healthier with a good boost of fiber, antioxidants or simply just more veggies. Here are my tops tips to pump up the nutrition.
When using store bought pesto, pour off some of the excess oil. I promise you will not miss it.
Instead of a basil pesto, give a Kale Pesto a try.
Add a can of rinsed cannellini beans in the final 3 minutes of simmering. This will pump up the soluble fiber.
Use your favorite type of healthy pasta.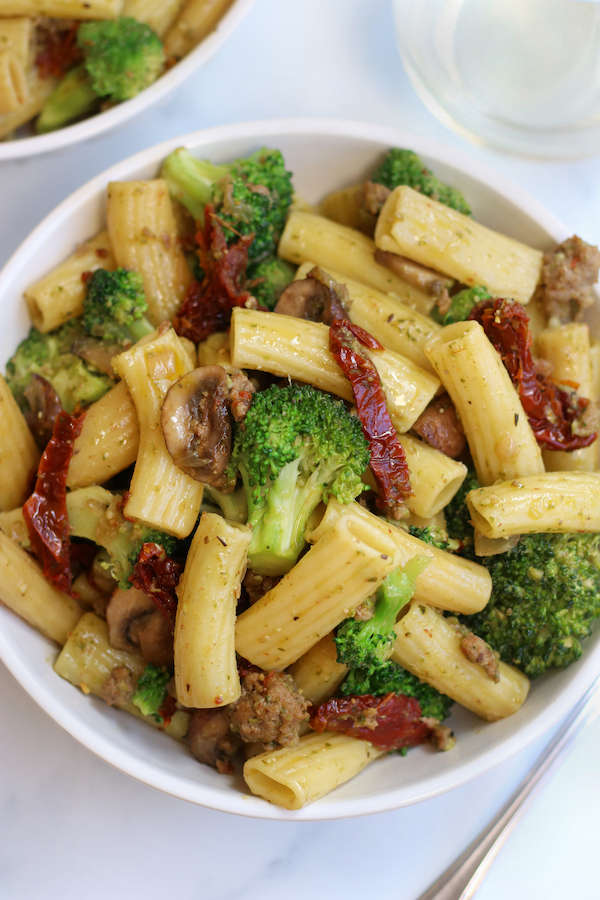 If you enjoyed this Sausage Pesto Pasta please let me know by leaving a comment and review below. Doing so helps to encourage others to make the recipe also. Thank you!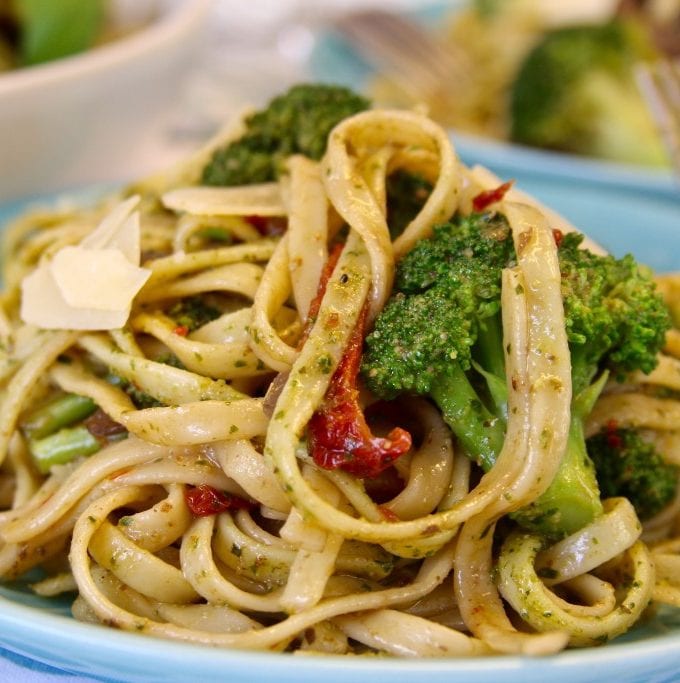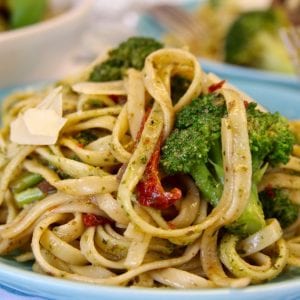 Sausage Pesto Pasta
Sausage Pesto Pasta is a quick meal the whole family will love. Use your favorite pasta and pesto to create a meal that feels very gourmet.
Print
Pin
Rate
Ingredients
1

pound

Italian sausage

1

pound

favorite pasta

2

tablespoon

extra virgin olive oil

1

medium

brown onion

*diced

6

cups

broccoli florets

3/4

cup

sun-dried tomatoes

*drained if in oil

20

ounces

sliced mushrooms

*Cremini, white button or portobello

1/4

cup

dry white wine

1

cup

Toasted Walnut Pesto

salt & pepper

*to taste

parmigiano reggiano

*optional, as a garnish
Instructions
Boil pasta in salted water to al dente following directions on package.

Clean and cut broccoli into florets. Place in colander. When pasta is done cooking, drain over broccoli. Broccoli will cook slightly by doing this.

Meanwhile heat a large frying pan over medium/high heat. Add 1 tablespoon of oil and cook sausage until browned. Remove from pan and set aside.

To the same pan with the same medium/high heat add the other tablespoon of oil. Add onions and sauté onions until semi-soft and translucent, about 3- 4 mins.

Lower to medium heat and add mushrooms. Cook covered stirring occasionally until mushrooms have lost most of their water, about 6-7 minutes. 

To the mushroom and onion mixture add tomatoes, wine and cooked Italian sausage. Simmer for another 3-4 minutes. 

Turn off heat and add cooked pasta with broccoli and pesto to frying pan. Toss gently.

Garnish individual portions with freshly grated Parmigiano-Reggiano.
Notes
*Please use as many organic ingredients as possible.
Recipe Notes
If using store bought Italian sausage remove from casing before cooking.
1-2 teaspoons of red chili pepper flakes may be added in step 4 for a slight spicy flavor. 
The final step of tossing the pasta with the pesto needs to be done in a very large fry pan or a large pasta bowl. Sometimes I will use the same pan that I cooked the pasta in to toss everything together. 
Nutrition
Calories:
620
kcal
|
Carbohydrates:
38
g
|
Protein:
22
g
|
Fat:
35
g
|
Saturated Fat:
9
g
|
Polyunsaturated Fat:
3
g
|
Monounsaturated Fat:
11
g
|
Cholesterol:
46
mg
|
Sodium:
1575
mg
|
Potassium:
1105
mg
|
Fiber:
7
g
|
Sugar:
11
g
|
Vitamin A:
1577
IU
|
Vitamin C:
70
mg
|
Calcium:
131
mg
|
Iron:
4
mg