Marinated Grilled Shrimp Kabobs recipe with garlic, lemon and herbs creates the most amazing grilled shrimp. Included are easy steps with your choice of a grilling method to create a family favorite dish.

This post may contain affiliate links which I earn a small portion in sales if a purchase is made. Rest assured though, it is never at any additional cost to you.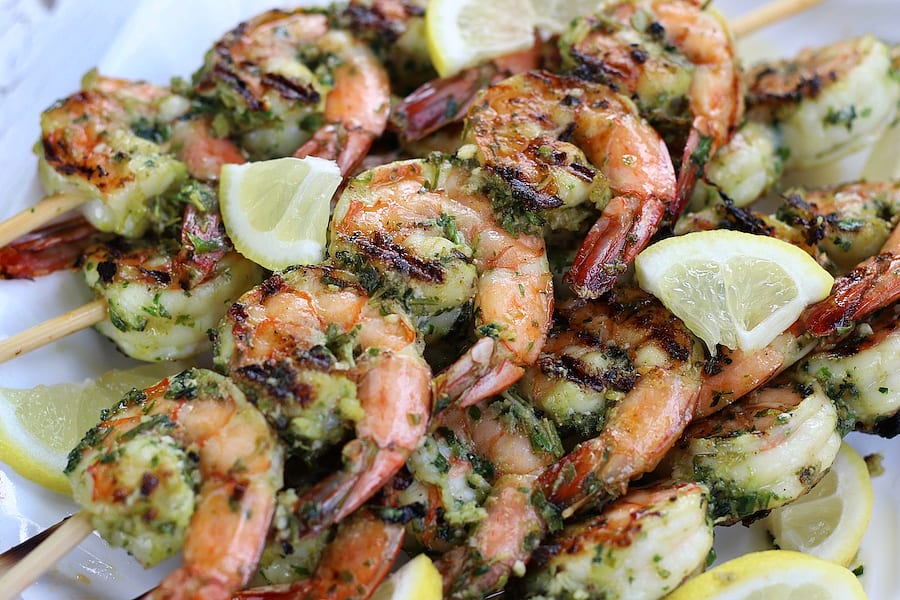 Is there anything more special than family coming together?
I truly think that is one of the reasons I love cooking so much, it connects people (plus it's so fun to eat amazing food).
Seriously though, family gathering together at the dinner table laughing and sharing while feasting on great food is just one of the most special and simple pleasures in life.
But what do you do when you're on a health journey and all the ooey gooey dishes that usually grace the family dinner table are sure to take you off course for weeks?
The answer, make meals like this Marinated Grilled Shrimp Kabobs that are full of herby deliciousness and will help keep you on track.
That is why as much as I love to eat the decadent meals and desserts during family time, I would be lost without the healthier versions that still feel luxurious.
Some our favorite healthy decadent meals are Chinese Chicken Spring Rolls, Springtime Pasta Salad and Beef and Brussels Sprouts Stew.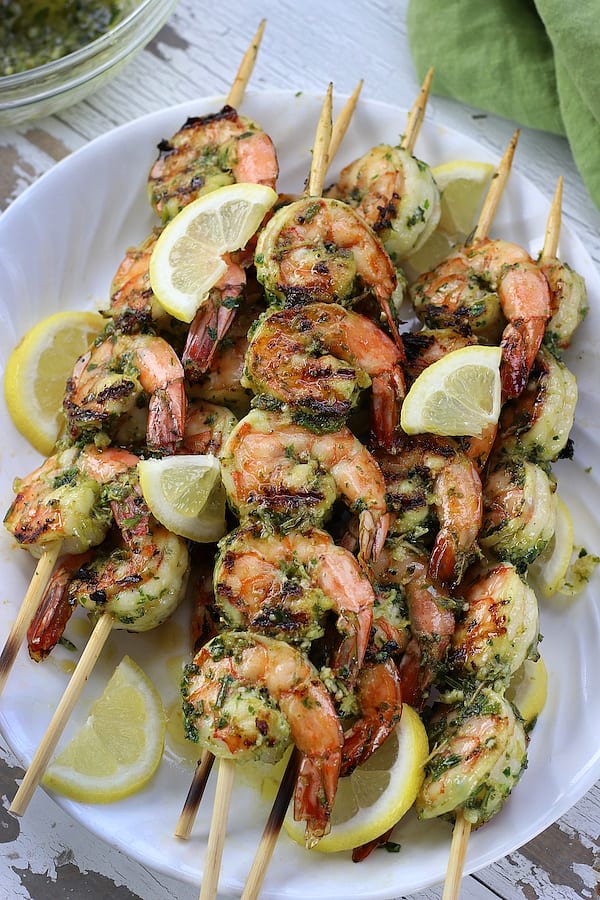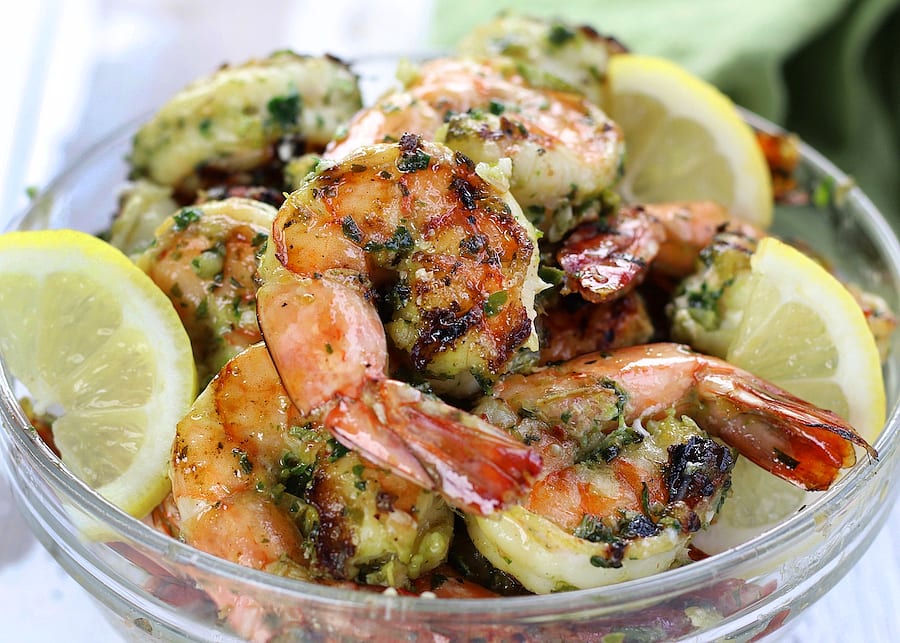 How to Make the Best Marinated Grilled Shrimp Kabobs
Use larger shrimp, preferably extra large 26/30, jumbo 21/25 and extra jumbo 16/20.
Marinate cleaned and deveined shrimp for 3 hours in the homemade olive oil, lemon, garlic and herb marinade (see Grilled Shrimp Marinade directly below).
Thread 4-7 shrimp onto soaked wooden skewers.
Heat grill to medium/high heat.
Grill 2-4 mins per side, depending on size of shrimp. Shrimp are done when the outsides turn pink and the inner meat is pale white (opaque).
Remove from grill and brush with reserved  marinade (see recipe card).
Grilled Shrimp Marinade
Outside of choosing good quality shrimp, this marinade is what makes these shrimp so divine. As a note, to make the most amazing marinade that is beautifully infused with the oils from the herbs and lemon zest use a mortar and pestle as seen in the video. Follow these steps for an amazing marinade.
Zest 2 lemons using this tool and add to mortar along with sea salt. Using the pestle, grind until incorporated and salt starts to breakdown zest, about 1 minute.
Roughly chop herbs and add to mortar. Continue grinding until herbs are crushed and a very chunky paste is achieved.
Add in crushed garlic and drizzle in 1 tbsp of olive oil to herb mixture. Continue crushing with pestle for an additional minute. Pro Tip: Smaller amounts of oil at the first addition to mortar helps to incorporate the herbs with the oil better. 
Add in 1/4 cup plus 1 tbsp of olive oil and stir well.
Pro Tip: If a mortar and pestle is not accessible, a food processor may be used. However the same depth of flavor may not be achieved but the marinade will still taste great.
More Flavor Combinations for the Grilled Shrimp Marinade
If you're not a huge fan of Italian Marinated Shrimp here are some other flavor possibilities.
Lime zest, cilantro, cumin, chili powder, garlic, olive oil and onion.
Fennel seeds, orange zest, orange juice, garlic, olive oil and cayenne peeper.
Cilantro, mint, Italian parsley, garlic, lemon zest and olive oil.
Lemon zest, dill, tarragon, chives, olive oil and garlic.
Shrimp Seasoning
This Grilled Shrimp Marinade on it's own tastes amazing. However, if you like a little spice with in your meal or a very mellow warmth, add in any of these spices to the reserved marinade. The quantities will depend on your personal taste preferences.
Cayenne Pepper
Chile Powder
Red Chili Pepper Flakes
Best Ways to Grill Shrimp
Gas Grill
If grilling outside, this is my favorite approach. Preheat grill to medium/high heat for approximately 10 minutes. Once heated clean grates using a BBQ Grill Brush and then carefully brush with oil. Proceed with grilling.
Pro Tip: To brush grates with oil, dip a few paper towels into the oil and using long handled tongs brush the oil soaked towels on the BBQ grates.
Charcoal Grill
Charcoal grills are a favorite among many avid grillers. There is, however, reason for concern with the potential carcinogenic compounds that can form in the meat while cooking with charcoal. The solution, these Natural Hardwood Briquettes.
Charcoal grills, much like gas grills, need to be preheated. Follow similar steps as with gas grill, however the charcoal grill is ready once the briquettes are ashy.
Indoor Grill
Indoor Grills can be a quick and convenient way to grill shrimp, especially in inclement weather. Since it is extremely challenging to find an electric indoor grill that doesn't have a nonstick coating, I am not a fan of the electric versions. I do however, love this cast iron indoor grill.
To grill on an indoor grill preheat over medium/high heat for approximately 2-4 minutes. You will know it has reached ideal heat when you can only hold your hand 5 inches above the surface comfortably for 1-2 seconds. Brush the grill with oil and proceed with grilling (if using non-stick do not brush with oil).
Shrimp Nutrition
Providing antioxidants, omega-3 fatty acids, vitamins and minerals, shrimp is a fun low calorie seafood option. However, there is much to be concerned about with the quality and safety of many famed raised shrimp. Want a deeper dive into evidence based knowledge of shrimp nutrition and guidelines? Then check out this article.
What to Serve with Grilled Shrimp Kabobs
More Delicious Seafood Recipes
Pan-Seared Halibut with Cherry Tomatoes & Basil
Panko Crusted Salmon with Dill and Lemon
Avocado Pesto Pasta with Garlic Shrimp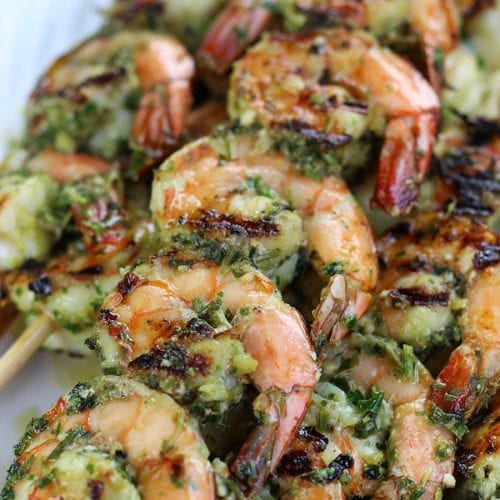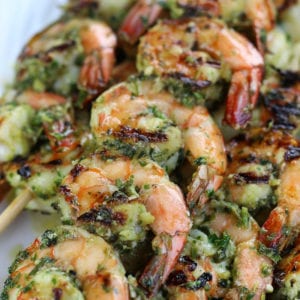 Marinated Grilled Shrimp Kabobs
Marinated Grilled Shrimp Kabobs is bursting with the flavors of lemon, garlic and herbs. Marinated and then grilled to perfection, these Grilled Shrimp are always a hit.
Print
Pin
Rate
Ingredients
Shrimp Marinade
1

heaping tbsp

lemon zest

*about 2 lemons

1 1/2

tsp

salt

12-14

med sized

basil leaves

2

springs

fresh rosemary

*needles removed and stems discarded

1

small handful

fresh oregano

*about 1/2 bunch of fresh living package

1/4

bunch

Italian parsley

*also known as flat leaf parsely

2

tbsp

crushed garlic

*about 5-6 lg garlic cloves

6

tbsp

olive oil
Shrimp
2

lbs

extra large, jumbo or extra jumbo raw shrimp

*26/30, 21/25 or 16/20 size
For Reserved Marinade
2

tbsp

lemon juice

1

tbsp

olive oil

*this is in addittion to 6 tbsp

salt & pepper

* to taste
Instructions
If using frozen shrimp, defrost in a colander placed over a large bowl over night.

Peel off outer shell and using a small pairing knife carefully devein.

Give each shrimp a final rinsing and place back into a clean colander/bowl to drain of excess water. Refrigerate until needed.

Place zest in the bottom of mortar along with salt. Grind with pestle until salt begins to breakdown zest, about 1 min.

Roughly chop herbs and add to mortar along. Continue grinding with pestle until a very chunky paste is formed, about 2 mins.

Add garlic and drizzle in 1 tbsp of olive oil to mortar. Continue crushing with pestle, about 30 seconds.

Add in 1/4 cup plus 1 tbsp more olive oil and stir well.

Reserve 1/3 of marinade in refrigerator for later.

Place shrimp into a glass bowl and add 2/3 of marinade to shrimp. Stir well. Cover and marinate for 3 hours in refrigerator.

Meanwhile soak wooden skewers in water while shrimp are marinating.

In the last few minutes of marination time, remove reserved marinade from refrigerator and add to a medium sized mixing bowl.

Whisk in lemon juice, oil, salt and pepper. Set aside.

Thread shrimp onto skewers, disposing of marinade from shrimp. Store in the refrigerator until ready to grill.

Preheat grill over medium high heat. *see Best Ways to Grill Shrimp section above for various grilling methods.Brush grill with oil and grill shrimp skewers for 3-4 mins per side. Shrimp are done when outside turns pink and inner meat is opaque.

Place grilled shrimp on a platter and brush reserved marinade over skewers.
Notes
*Please use as many organic ingredients as possible. 
Cooking Tips
Total amount of fresh herbs should equal about 1 cup after roughly chopping. 
Defrosting shrimp can also be done by soaking in cold water in the refrigerator for 3 hours. Run under cold water to remove any remaining ice. 
See Shrimp Seasoning section above for additional spices to add to reserve marinade. 
Inspired by Food Wishes.
Nutrition
Calories:
303
kcal
|
Carbohydrates:
2
g
|
Protein:
31
g
|
Fat:
18
g
|
Saturated Fat:
3
g
|
Cholesterol:
381
mg
|
Sodium:
1759
mg
|
Potassium:
151
mg
|
Fiber:
1
g
|
Sugar:
1
g
|
Vitamin A:
315
IU
|
Vitamin C:
13
mg
|
Calcium:
234
mg
|
Iron:
4
mg