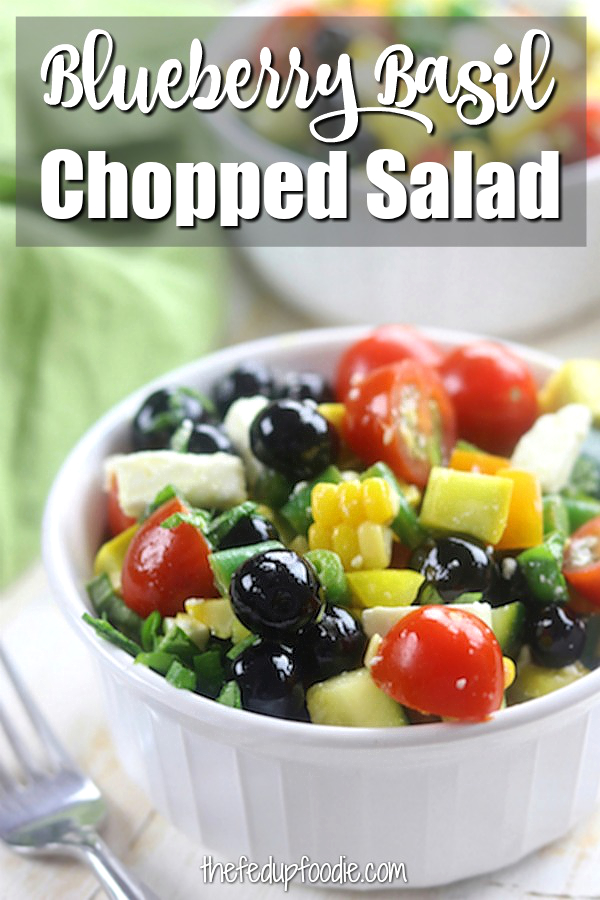 Blueberry Basil Chopped Veggie Salad recipe is a fresh and crisp summer side. Savory and slightly sweet, this salad is packed full of fresh veggies, blueberries and basil. Makes a perfect campion to grilled meats.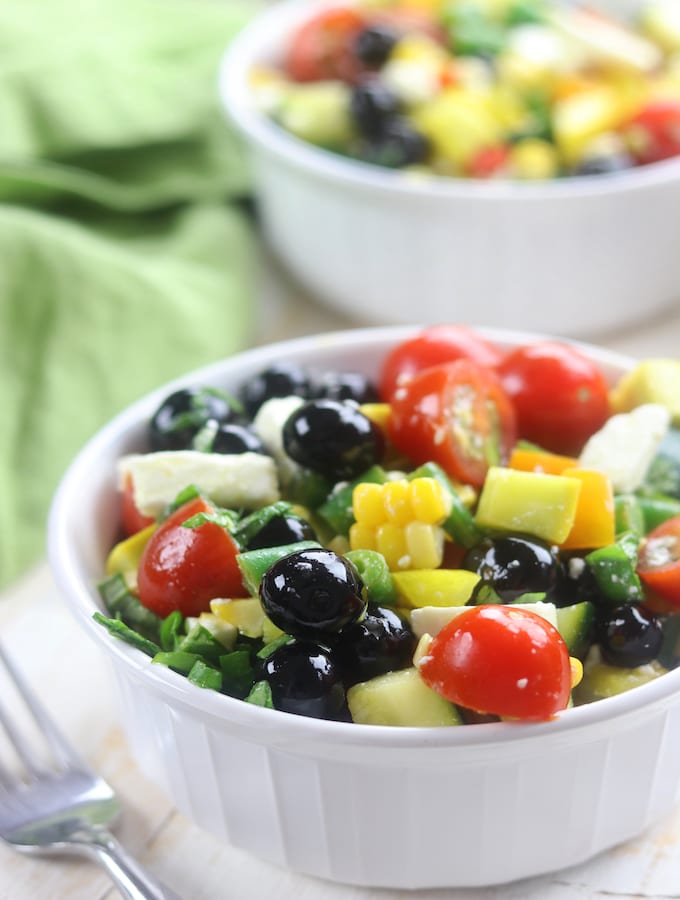 This post may contain affiliate links which I earn a small portion in sales if a purchase is made. Rest assured though, it is never at any additional cost to you.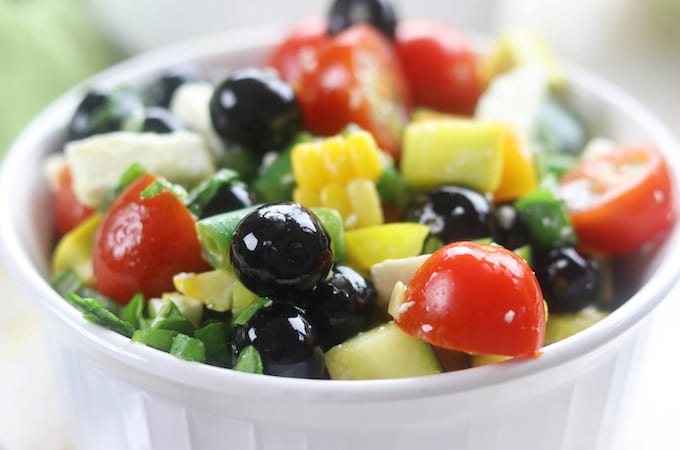 Do you ever have incredibly strange things happen and wonder if they just happen to you?
Sometimes I have the darndest things happen that make me wonder if I am on some brand new revival of Candid Camera.
For instance, the last month or so I will be in the house doing whatever it is that I am doing and all of a sudden I will hear a loud THUD!!! What follows is me jumping sky high with a fright.
The first couple of times it happened, I thought someone was playing a trick on me.
I wasn't amused!
At about the third time, I finally realized it was a bird flying into our very tall windows.
You would think the awareness would make me more immune to becoming startled. You know the kind of startled that makes your heart jump into your throat and then fall to your feet?
Oh no!!! It just got worse.
For about 3 days in a row I would be sitting in my office, diligently working away and…BAMMM!!!! I jump, completely frustrated, look up at my window and see nothing but feathers directly above my computer screen.
"What the *#@&*!!!!"
I gain my composure, go back to work and an hour later…. BAAAAMMMM!!!! Proceeded by another poof of feathers.
What made me the most frustrated, I was the only one this was happening too.
At one point my husband was starting to think I was loosing my marbles.
But, finally it happened!!
Paul was in the restroom, home from work on a short break. I was working away at the computer and…
BBBBBAAAAAMMMM!!!!
Followed by feathers flying, me cussing up a storm and the BEST text message I have gotten in awhile.
"Was that Daffy bird flying into the window?"
"YES!!! He finally heard it!"
Of course I had to double check with him that it was the crazy, self destructive bird he heard and not my fit throwing.
He heard it all.
So yes, I am the kind of oddball that has birds tormenting her and who creates crazy sounding salads like this Blueberry Basil Chopped Veggie Salad.
Let me reassure you though, unlike my bird debacle, this summer salad is absolutely pleasant from the first bite.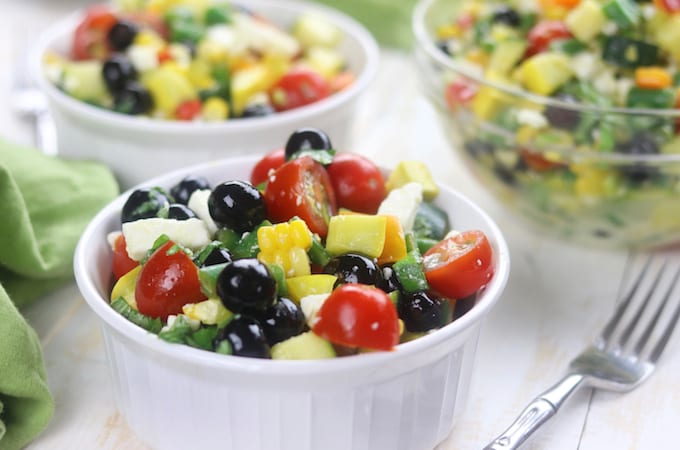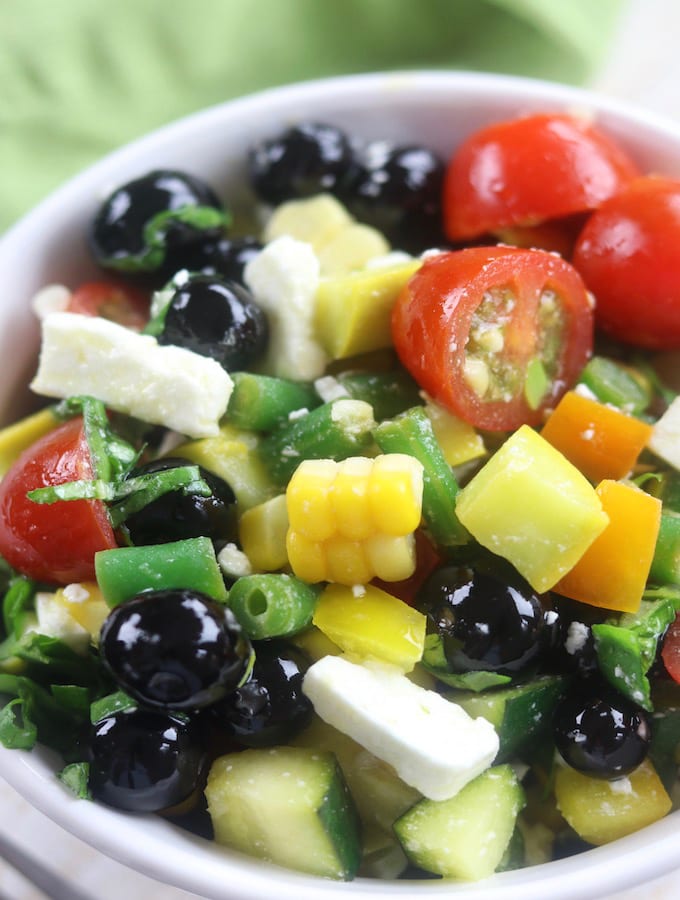 Variations of Blueberry Basil Chopped Veggie Salad
Protein Boost- Add grilled chicken, shrimp, or chickpeas to make it a heartier meal.

Nutty Crunch- Toss in a handful of toasted pine nuts or slivered almonds for added texture and flavor.
Cheese Swap- Experiment with different cheeses like goat cheese or mozzarella for a unique twist.
Berry Trade- Substitute blackberries or raspberries for the blueberries.
Helpful Hints and Tips
To save time, you can prepare the vinaigrette a day ahead and refrigerate. This allows the flavors to meld for an even tastier dressing.

When cutting the corn off the cob, place a small bowl upside down inside a larger bowl to catch the corn kernels. This helps prevent kernels from scattering.
Adjust the tenderness of the vegetables by varying the boiling times. If you prefer a crunchier texture, reduce the boiling time slightly.
Blanch veggies in batches for even cooking. Shock in ice bath to stop cooking process.
Pat blueberries dry before adding or they can make the salad too juicy.
Toss all in a large bowl to ensure even coating of vinaigrette.
Commonly Asked Questions
Can I make the vinaigrette in advance?

The vinaigrette can be prepared ahead of time and stored in the refrigerator. Just add the basil leaves right before tossing the salad to preserve their freshness.
Can I leave out any of the veggies?
Feel free to adjust the veggies to your liking, though I'd recommend keeping at least 3-4 varieties for contrast in flavors and textures.
How long will this Blueberry Corn Salad last in the refrigerator?
Such a great question! Because blueberries are more on the delicate side I would say no longer than 2 days refrigerated. You can safely make this salad up (kept refrigerated) the night before a potluck or cookout and it will still taste amazing.
I don't have fresh basil. Can I use dried basil instead?
Yes, absolutely! I personally would recommend about 1 tablespoon of dried basil but if you and your family love basil then 1 1/2 -2 tablespoons would work well.
What can I replace the lemon juice with if my guests are allergic?
Any white vinegar of your choosing although this one is a favorite. (affiliate)
Are there other veggie options for this Summer Salad Recipe?
Absolutely! With any summer salad recipe the key is to tailor it with your personal preferences. Lightly blanched broccoli, grilled or blanched asparagus, cubes of cucumber and/or thinly sliced red onion would all work well. Just remember to increase the vinaigrette accordingly if adding more veggies.
What kind of feta cheese works best?
Any good quality feta will work well. Avoid pre-crumbled feta as it often has anti-caking agents that change the texture.
Serving Suggestions
Grilled Protein- Serve alongside grilled chicken, salmon, or shrimp for a complete and satisfying meal.
Crusty Bread- Enjoy with a side of crusty bread or garlic bread to soak up the delicious vinaigrette.
Quinoa or Couscous- For a wholesome option, serve the salad over cooked quinoa or couscous. The vinaigrette adds a burst of flavor to the grains.
Additional tips about this Easy Summer Salad.
Making chopped salads like this Blueberry Basil Chopped Veggie Salad is great for people who don't like lettuce or eating too many raw veggies are hard on their digestion.
Feta does tend to be salty so be cautious when salting this salad especially if sodium levels are a concern.
This tool will make balancing the veggies so much easier. (affiliate)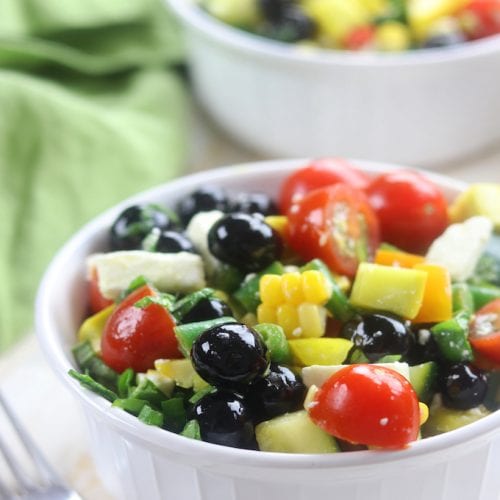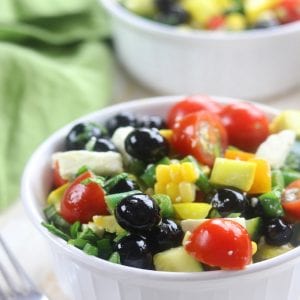 Blueberry Basil Chopped Veggie Salad
Blueberry Basil Chopped Veggie Salad recipe is a fresh and crisp summer side. Savory and slightly sweet, this salad is packed full of fresh veggies, blueberries and basil. Makes a perfect campion to grilled meats.
Print
Pin
Rate
Ingredients
12

oz

fresh blueberries

2-3

bell peppers (combination of red, orange or yellow)

1 1/2 cups chopped

1/2

lb

fresh green beans

cut into 1/2- 3/4 inch pieces, 1 1/2 cups chopped

1

large

yellow squash

cut into 1/2 pieces, about 1 1/4 cups chopped

1

large

zucchini

cut into 1/2 pieces, about 1 1/4 cups chopped

2

ears

organic corn on the cob

about 1 1/2 cups cut off the cob

10-12

oz

grape tomatoes

7-8

feta

cut into small cubes
For the Vinaigrette
1/2

cup

extra virgin olive oil

1/3

cup

lemon juice

about 2 lemons

3

large cloves

garlic

crushed about 1 heaping tbsp

1/2

tsp

sea salt

12-16

large

basil leaves

about 1/2 cup julienned
Instructions
Whisk together ingredients for vinaigrette with the exception of basil leaves (do not cut and add until the very end). Set aside.

Prepare and cut green beans keeping them in a separate bowl. Do the same with the squashes. Shuck and wash corn but leave on the cob.

Bring a large pot of water to a rolling boil. When water is almost at the boiling point prepare a bowl with ice water to immediately stop the cooking process on the bean, squashes and corn once they are cooked.

Once water is boiling add cut green beans and boil for 1 1/2 mins and then add cut squash pieces to same pot. Continue to cook for another 2-3 mins or until desired tenderness.

With a slotted spoon carefully and quickly transfer veggies to ice water.

Add corn on the cob to boiling water and cook for 5-6 mins. Remove form boiling water and add to ice bath.

Drain cooked veggies from ice bath.

Using a sharpe knife carefully cut corn off of cobs.

Add corn, green beans and squashes to vinaigrette. Toss well.

Meanwhile, while veggies are boiling, prepare and cut bell peppers. Add to vinaigrette.

Once veggies are prepared and tossed in vinaigrette, add in grape tomatoes, blueberries, feta and basil.

Toss well and refrigerate until served.
Notes
*Please use as many organic ingredients as possible.*
Nutrition
Calories:
207
kcal
|
Carbohydrates:
19
g
|
Protein:
3
g
|
Fat:
15
g
|
Saturated Fat:
2
g
|
Cholesterol:
1
mg
|
Sodium:
168
mg
|
Potassium:
526
mg
|
Fiber:
4
g
|
Sugar:
11
g
|
Vitamin A:
1680
IU
|
Vitamin C:
70
mg
|
Calcium:
38
mg
|
Iron:
1
mg
Follow along on Facebook and Pinterest for more savory inspirations.
Here are more Fun and Delicious recipes perfect for summer: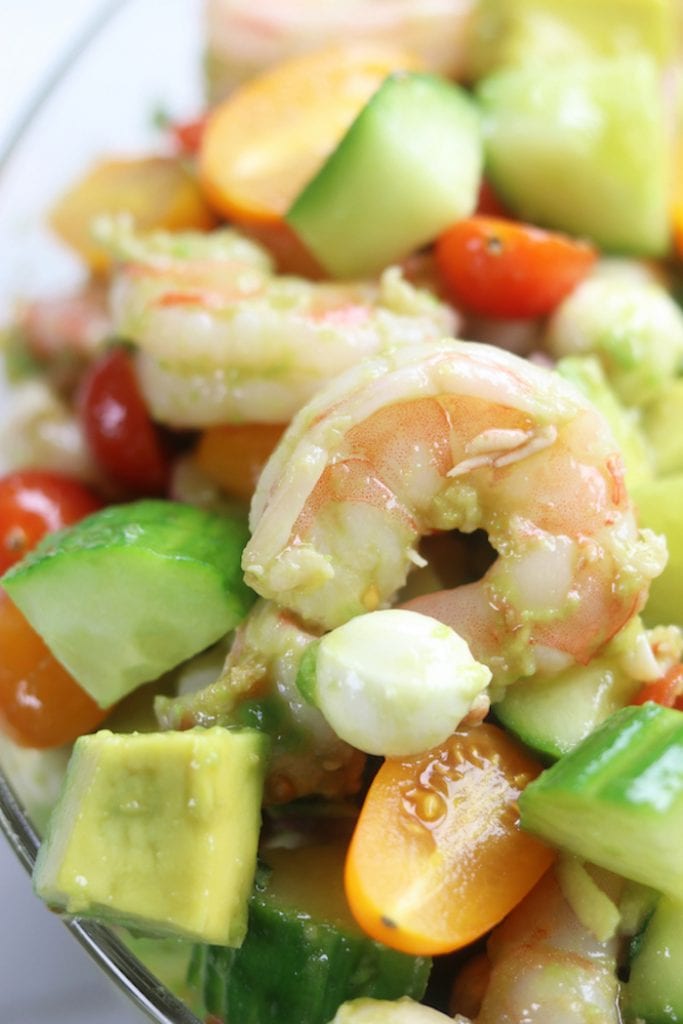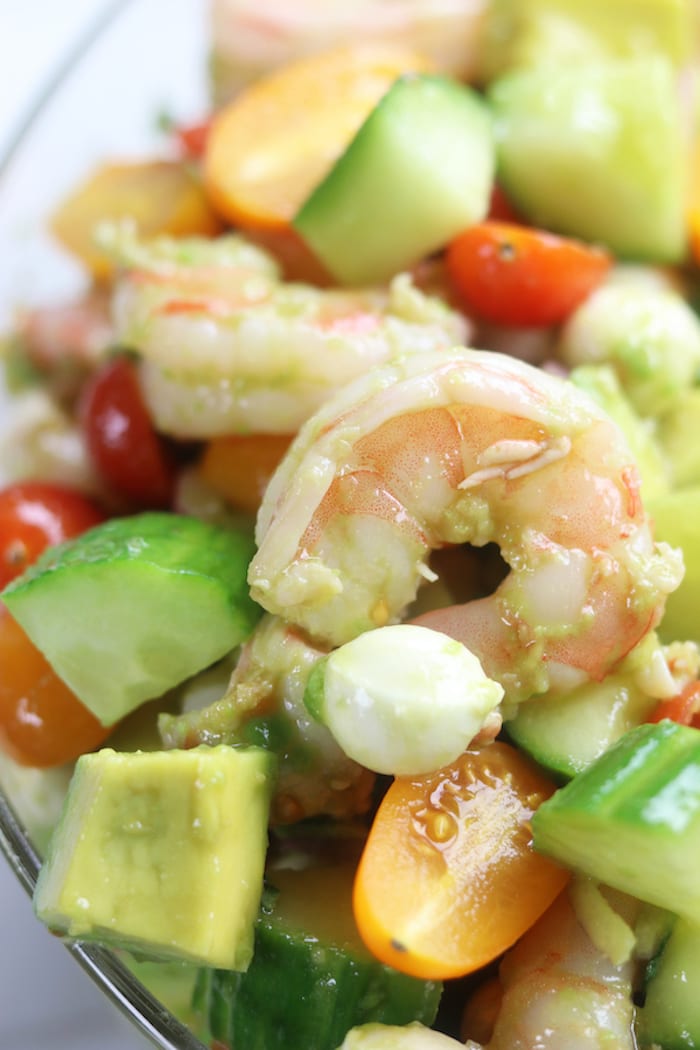 Shrimp Avocado Salad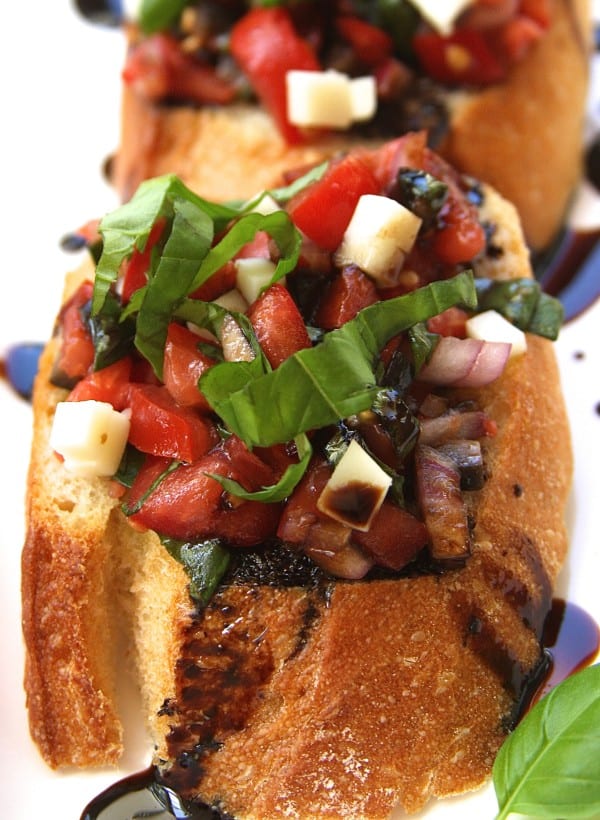 Bruschetta with Balsamic Reduction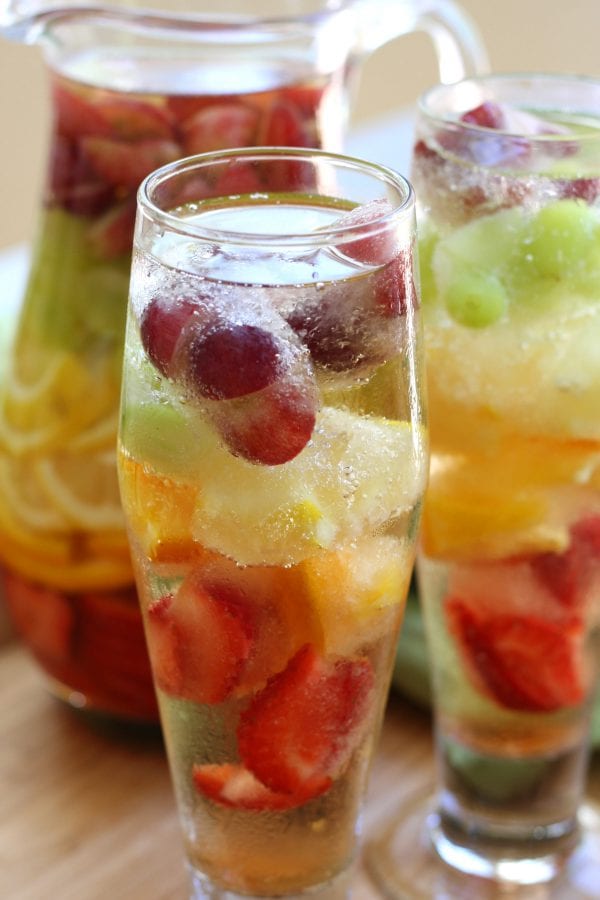 Rainbow Tequila Sangria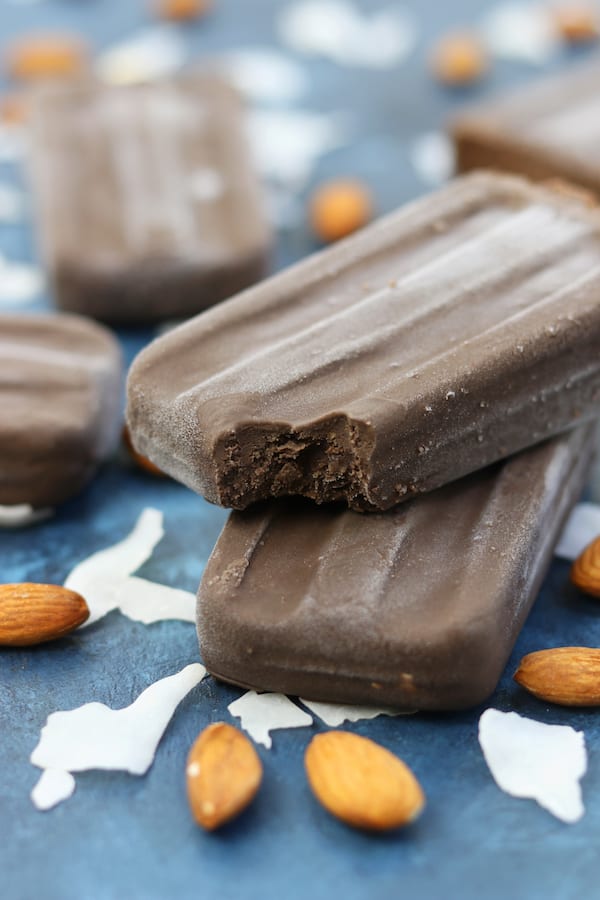 Almond Joy Fudgesicles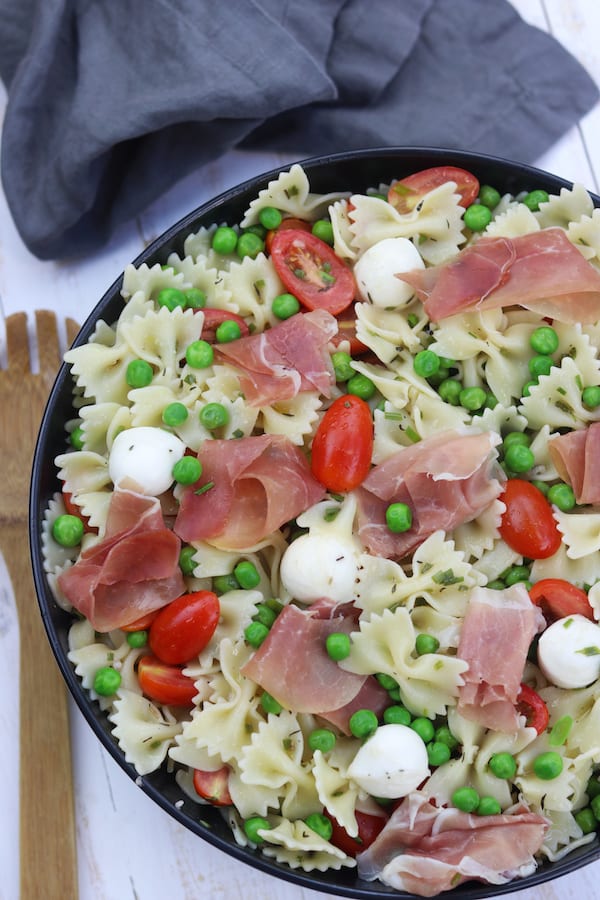 Pea Prosciutto Pasta Salad