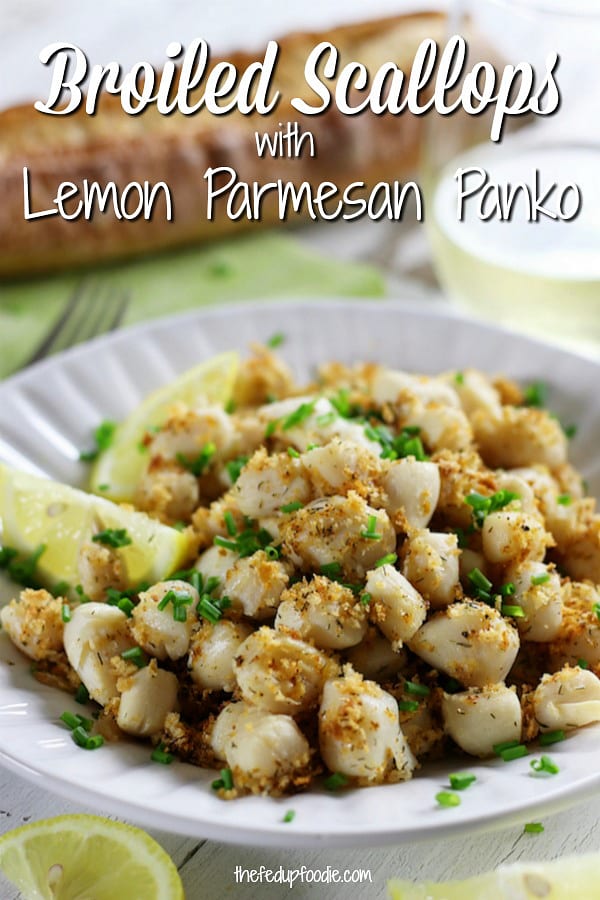 Bright, crisp and savory, these Broiled Scallops with Lemon Parmesan Panko are not only incredibly easy to make, but are to die for delicious.

This post may contain affiliate links which I earn a small portion in sales if a purchase is made. Rest assured though, it is never at any additional cost to you.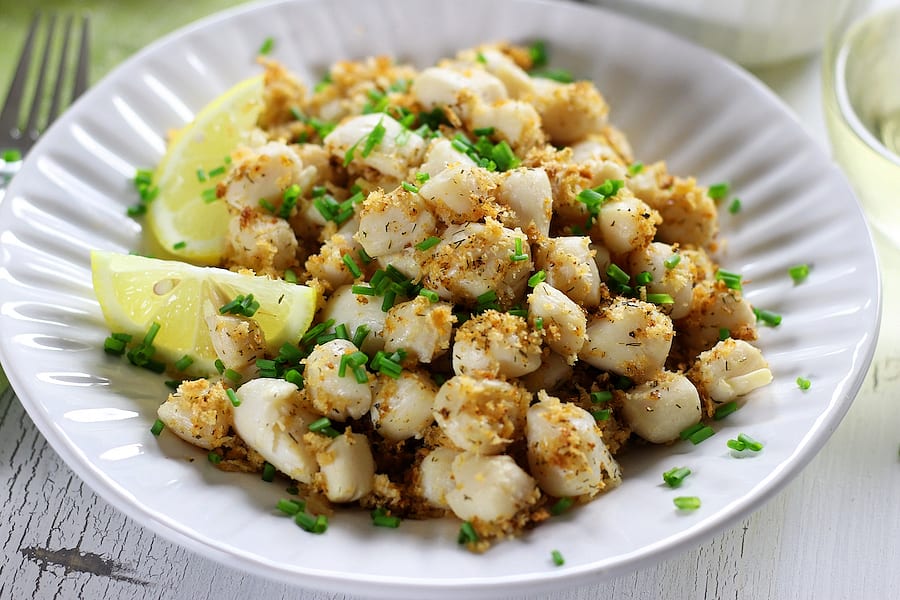 I am on a really big self improvement kick right now for a couple of different reasons.
I have some very large business goals that I am really excited about and I need to be at my best to accomplish them.
Being at my best means learning and incorporating the habits that support these goals in both business and my personal life.
One of the biggest focuses is taking care of myself with food, exercise and rest.
To be honest with you, I have done a horrible job of this the last few years.
Seriously, a HORRIBLE job.
I haven't exercised enough, I have comfort ate way too often and it is rare for me to take a day off.
Definitely, I am a work in progress and by no means approaching the self improvement journey exactly how I would like to.
I am, however, rocking the food department these last few weeks.
My menu has been 85% full of nutrient dense meals like Mediterranean Tuna Salad and Kale and Brussel Sprouts Salad. Also I have found making a big batch of Hamburger Veggie Soup without the rice and with very lean ground beef or ground turkey helps me to feel satisfied with an extremely low calorie meal.
In addition what has been a huge support, preparing recipes like this Broiled Scallops with Lemon Parmesan Panko that kind of feels like a decadent splurge but really isn't.
This with a big salad, crusty bread and chilled glass of wine was a huge treat for me. It was so delicious that I can see myself making this for company as an appetizer or just simply for my husband and I to enjoy.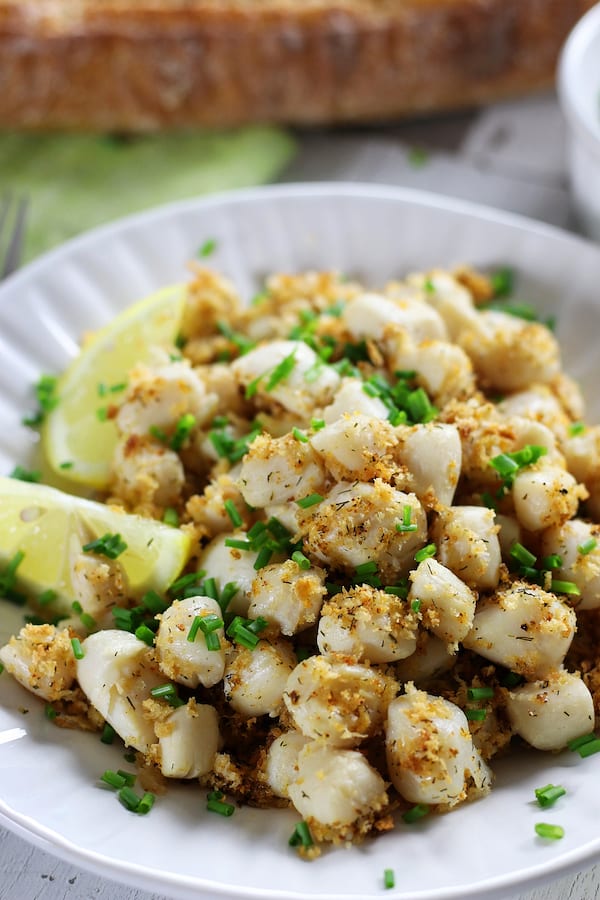 What are scallops?
Scallops are a type of shellfish that range in sizes similar to shrimp. They tend to have a firm texture when cooked while also being chewy and yet soft at the same time. I love how scallops taste like a milder version of crab. They are succulent and are often referred to as the "candy of the sea'.
Bay Scallops vs Sea Scallops
Scallops do range in sizes but there are two distinct categories, bay scallops and sea scallops. The easiest way of remembering the size difference is to think of bodies of water. The sea is big, sea scallops are big version of scallops. Bays are smaller in comparison to the sea, bay scallops therefore are the smaller version of scallops.
This recipe was made with bay scallops rather than sea scallops. Bay scallops work beautifully being cooked in the broiler. On the other hand, sea scallops taste so much better when seared, creating that beautiful gold crust.
How To Broil Scallops
Broiling bay scallops really is very simple by following these steps:
Defrost scallops.
Rinse, dry scallops and then leave at room temperature for 10 minutes.
Make Panko topping.
Place scallops onto sided cookie sheet. Sprinkle with garlic powder, lemon juice and butter. Toss well.
Broil for a total time of 6-8 minutes.
Sprinkle Panko topping on top for the last 2-3 minutes of broiling.
Serve immediately with fresh cut chives.
How To Finely Grate Parmesan Cheese
Since there is just a small amount of finely grated parmesan for this recipe, it is best to start with a block of Parmigiano Reggiano cheese and grate it using this Amazing Tool (also used for the lemon zest).
What To Serve With Scallops
These broiled scallops work beautifully as an appetizer or as a companion to a meal. Here are some of my favorite things to serve with these scallops.
Best Wine to Serve With Broiled Scallops
These scallops go exceptionally well with a crisp chilled white wine. Here are my recommendations:
Sauvignon Blanc
Pinot Grigio
Chardonnay that is on the buttery side.
Commonly Asked Questions About Lemon Scallops
How do you know when a scallops is done?
Bay scallops cook very quickly so it is important to keep a watchful eye on them. You will know they are done as soon as they become firmer in texture and are fully white.
Why pre-bake the Panko?
Pre-baking the Panko does two different things. It becomes a beautiful golden brown, something that is hard to achieve id not pre-bakes and it lends to the crispness of the final product. I highly recommend to not skip this step.
What is smoked paprika?
Smoked Paprika is a spice made from dried pimento peppers which have been smoked over an oak fire. Because of this, it adds a wonderful depth of flavor.
What is the best way to melt the butter for this recipe?
I microwaved it in a small microwave safe ramekin for 40 second increments on power level 3 until the butter was fully melted.
How many calories are in these broiled scallops?
There approximately 450-470 calories for 1 serving of these broiled scallops.
More Simple and Delicious Seafood Recipes
Simple Strawberry Salmon Salad
Spaghetti Squash Tuna Greek Bowls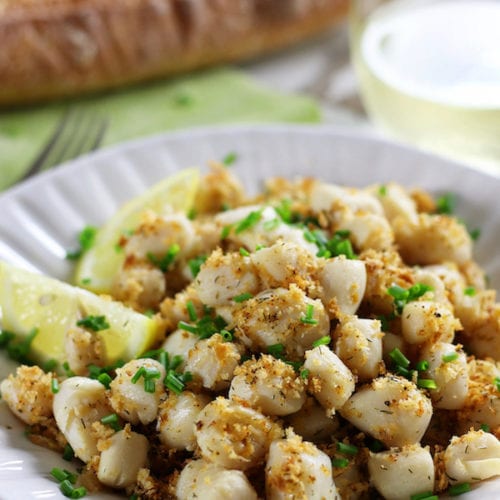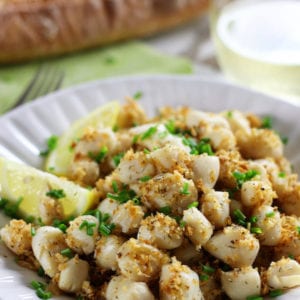 Broiled Scallops with Lemon Parmesan Panko
Succulent Broiled Bay Scallops with crispy Lemon Parmesan Panko. So easy to make and absolutely divine tasting.
Print
Pin
Rate
Ingredients
Panko Topping
1

cup

panko

*or breadcrumbs

1

tsp

lemon zest

*about 1 lemon

1/2

cup

parmesan

*finely grated

1/2

tsp

garlic powder

1/8

tsp

black pepper

1/2

tsp

sea salt

1/2

tsp

smoked paprika

1

tsp

dill

1

tbsp

butter

*melted
Scallops
2

lbs

bay scallops

2

tbsp

lemon juice

*about 1 lemon

3

tbsp

butter

*melted

1

tsp

garlic powder
Instructions
If using frozen bay scallops, lay them single layer on a sided cookie sheet, leaving room around each scallop. Defrost in the refrigerator for 5-8 hours. Once defrosted rinse under cold water for about 1 min. (After 5 hours the scallops may have a small amount of ice surrounding them but will be removed once rinsed.)

Once rinsed, lay scallops on a double layer of paper towels. Dry with a second set of paper towels and let sit at room temperature for 10 mins.

Meanwhile preheat oven to 400℉. Place Panko on a separate cookie sheet place and toast until golden brown, about 4 mins. Let cool to room temperature. (Increase to broil once Panko is removed.)

Once Panko is cooled mix together all ingredients for topping and set aside.

Pat scallops dry one more time and place on a clean sided cookie sheet. Sprinkle with lemon juice, butter and garlic powder. Toss well and spread scallops evenly so that there is room around them.

Broil for 6-8 mins. Remove pan from oven at around the 4 min marker. Bring scallops together in the center of the pan (still single layer) and sprinkle Panko topping over them. Continue broiling for an additional 2-3 mins.

Serve immediately garnished with fresh cut chives.
Notes
*Please use as many organic ingredients as possible. 
Nutrition
Calories:
373
kcal
|
Carbohydrates:
20
g
|
Protein:
34
g
|
Fat:
17
g
|
Saturated Fat:
10
g
|
Cholesterol:
93
mg
|
Sodium:
1592
mg
|
Potassium:
515
mg
|
Fiber:
1
g
|
Sugar:
1
g
|
Vitamin A:
576
IU
|
Vitamin C:
4
mg
|
Calcium:
192
mg
|
Iron:
2
mg