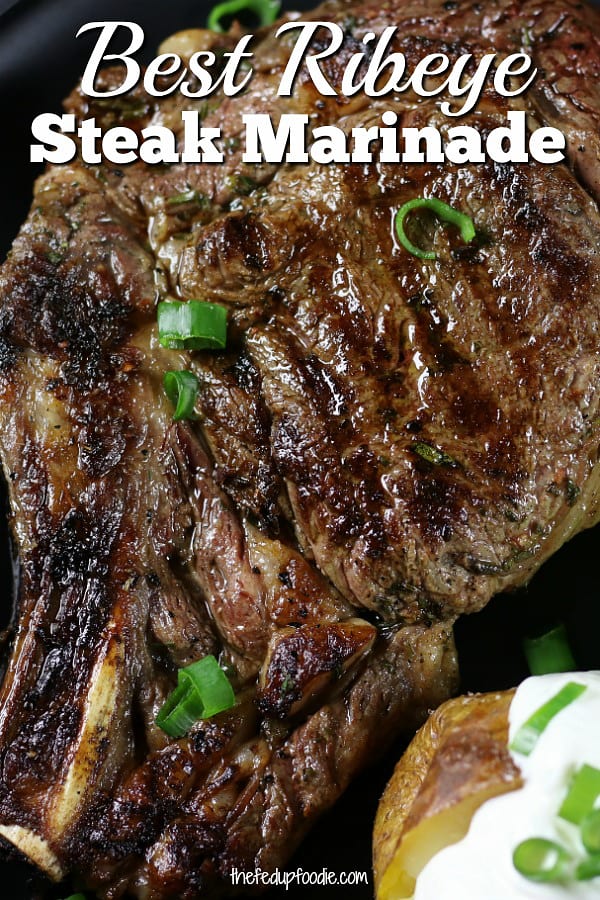 This recipe creates the Best Ribeye Steak Marinade that is bursting with fresh rosemary and garlic. Super flavorful and delicious rib eye steaks.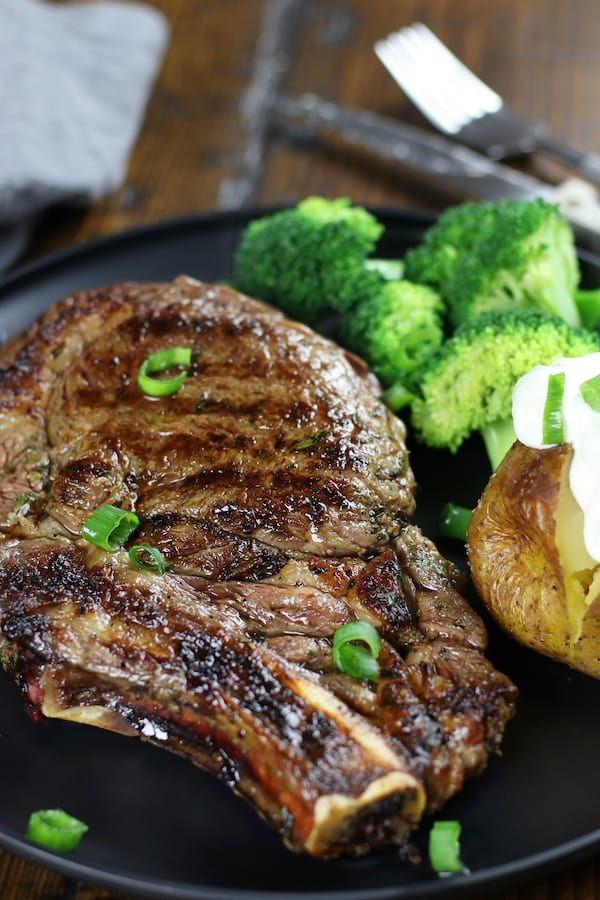 This post may contain affiliate links which I earn a small portion in sales if a purchase is made. Rest assured though, it is never at any additional cost to you.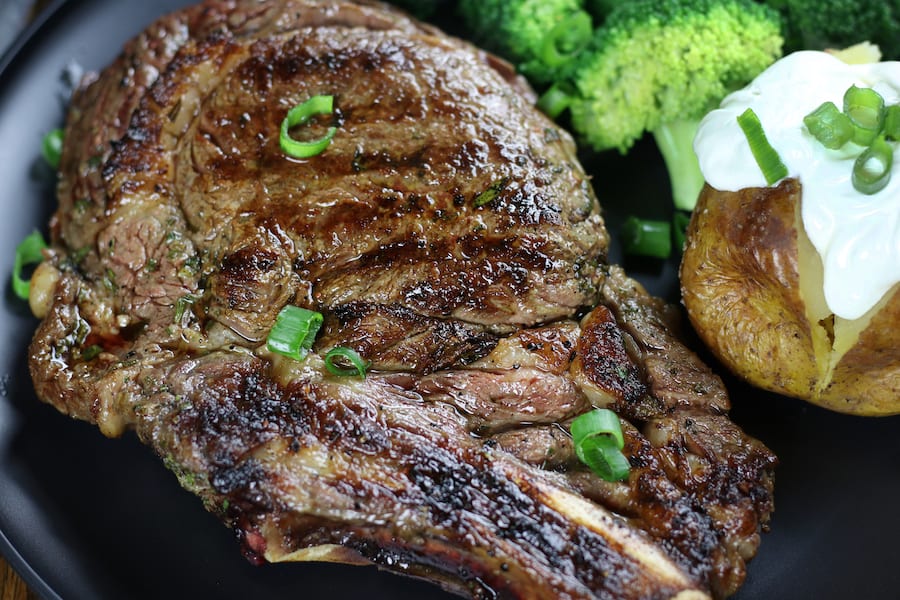 Valentines Day is right around the corner and I am so excited.
Not because we are going on a fancy trip or exchanging extravagant gifts.
It's because I LOVE this holiday for what it represents, love.
It's also an opportunity to remember how important it is to do special things for our significant other, like grilling steaks marinated in this Best Ribeye Steak Marinade.
My honey and I also love making Cherry Hand Pies (although I adore cherry and he adores apple), Cherry Pistachio Upside Down Cake and Veggie Cheesesteak Potatoes.
Truly, the important element of this holiday is to spend time and energy doing activities that you both enjoy and that feel special.
For my husband and I cooking delicious food always seems to come into the mix.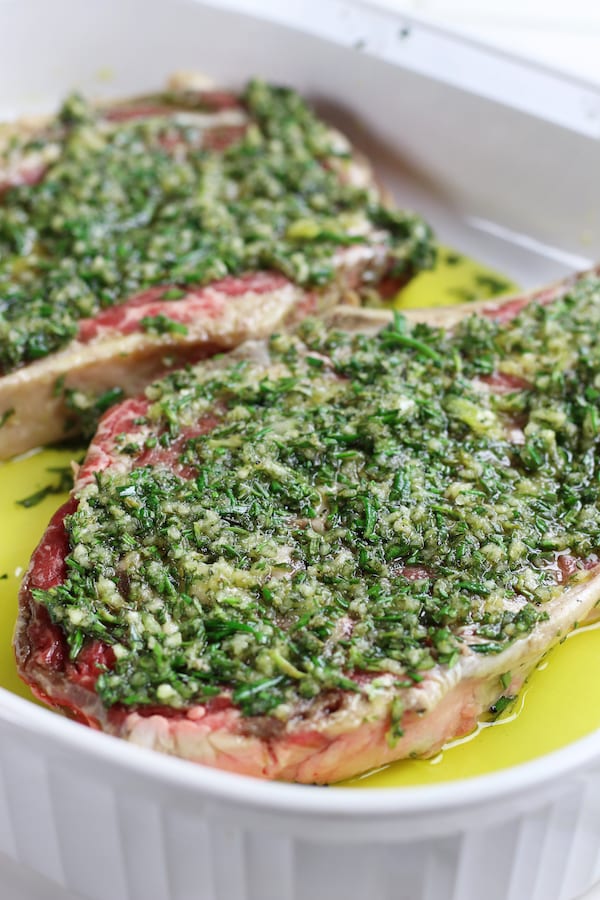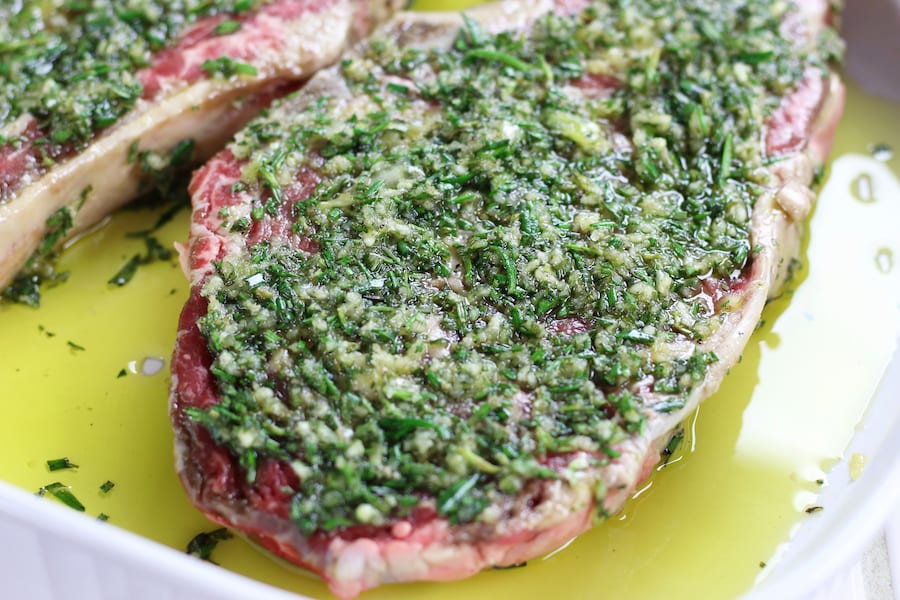 Why Rib Eye Steak Is The Best
Let me just start by saying, I do not think Rib Eye steaks are the end all be all in the world of steaks. Other cuts like Tenderloin (aka fillet mignon) are absolutely amazing. Here are a few reasons why ribeye steaks are one of the best choices for the home cook.
Rib eye steaks are extremely flavor cuts of meat due to their higher fat marbling. They have so much flavor that technically, they do not need a marinade to be wonderful tasting. However, this rosemary and garlic marinade takes them to the next level.
Rib eye's tend to be one of the more cost effective cuts of the higher end steaks.
They tend to be easier to eat than t-bone or porterhouse steaks. I can't tell you how many times I have made beautiful t-bone steaks and my husband has left a large portion of the meat on the bone. Personally, I have no shame and have been known to pick up the bone and eat off of it. My husband, being more sophisticated, refuses to gnaw on the bone and has a harder time cutting the meat off of T shaped bone. To a steak lover like me, that is a travesty.
How Long To Marinate Steak
As mentioned above, rib eye steaks do not need to be marinated to taste delicious. When marinated in this rosemary and garlic recipe they go from delicious to beyond amazing tasting. Here are some guidelines for how long to marinate your rib eyes.
Marinate in the refrigerator for 4-6 hours for a moderate rosemary and garlic flavor, 6-10 hours for a more intense rosemary and garlic flavor and overnight for a very intense rosemary and garlic flavor.
Pro Tip: Pull from the refrigerator 1 hour before cooking in warmer weather temps to allow steak to come to room temperature. In cooler weather, pull from the refrigerator 1 1/2 hours before cooking.
How To Cook Marinated Steak
Whether grilling your steaks outdoors, using an indoor grill or grill pan on the stovetop, the first step to take before cooking is to remove most of the rosemary and garlic. Do this by scraping with a spoon. This will prevent an excess amount of smoke from the rosemary and garlic bits burning on either the fire, heating element or or grill top surface.
Outdoor Grill– Preheat a cleaned grill to medium high heat. Place on the hottest part of the grill and grill for 6-7 minutes per side for medium rare approximately 130- 135℉ internal temperature. For medium a doneness, 140℉ internal temperature, move to the cooler part of the grill for an additional 3-5 minutes.
Indoor Grill– Preheat indoor grill to approximately 320℉. Grill each side for 6-7 minutes for medium rare, 8-9 minutes per side for medium doneness.
Grill Pan– With this cooking method turn on an exhaust fan and open a window before cooking. Preheat pan over medium high heat. Lightly oil pan and then grill 6-7 minutes per side for medium rare and about 8-9 minutes per side for medium. For completely even cooking in the grill pan, place pan in a 350℉ oven for 15 minutes before placing over med/high heat.
Pro Tip: With all cooking methods mentioned above, let steak rest for 8-10 minutes after grilling and before eating. This allows juices to remain within the meat thereby keeping the flavor at its most optimum.
Salting Steak
Let's be completely honest, it is a massive debate among chefs of whether to add salt to the steak marinade. Also highly debated, whether steaks should be salted before cooking and how much salt to use. This article and the experiment conducted within helps to bring clarity and aligns with my approach in this Best Ribeye Steak Marinade. Basically, adding salt to the marinade helps the rosemary and garlic flavors to slowly work their way deep into the muscle fibers of the rib eye. Then, salting generously before cooking helps to create a beautiful searing.
How Many Calories In a Rib Eye Steak
Oh the dread of knowing how many calories are in a rib eye steak. Let me start by saying that my philosophy is eating a rib eye steak should be a treat saved for special occasions. I also strongly believe in buying the best quality of meat that you can afford. (For us that would be 100% grass fed beef from a trust worthy rancher.)
With that said an average 1 pound steak will range from 1300- 1500 calories.
How To Process Rosemary
Fresh Rosemary– Wash fresh rosemary springs and dry with paper towels. To remove rosemary needles from the stem hold one end by pinching between 2 fingers and with the other hand pinch fingers together in a similar, but looser fashion. Run fingers down the length of the stem. Using a chef's knife finely chop rosemary.
Commonly Asked Questions About Cooking Ribeye Steaks
Where can I find the best steak knifes?
I am beyond in love with my Chicago Cutlery Steak Knifes. I have had my set for YEARS and they are still holding up amazingly well. Also, the beauty of a wooden handle is that it starts to become very rustic looking after many uses, which I love.
Should I marinate steak? I heard that rib eye's do not need to be marinated?
I am so glad you asked! Please see the above "Why Rib Eye Steak Is The Best" and "How Long To Marinate Steak" sections above for a complete breakdown.
Where do I find the garlic press seen in the video for this recipe?
This is the garlic press seen in the video. We currently own 2 of them because we use fresh garlic so often. The only draw back to this model is that you have to pick the crushed garlic out from the inside of the press. This model eliminates that challenge, however it hasn't held up as long for us.
More Delicious Recipes For a Romantic Evening
Gnocchi Asparagus and Mushroom Skillet
Creamy Dreamy Scallop Potatoes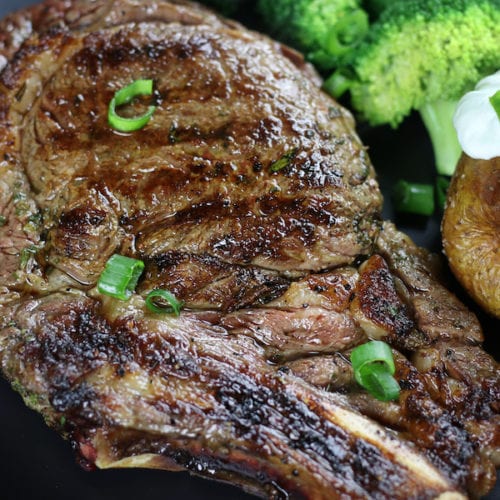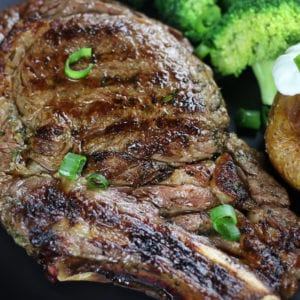 Ingredients
Marinade
6-8

sprigs

fresh rosemary

14

cloves

garlic

*crushed or minced

1

tsp

salt

1/4

tsp

pepper

6

tbsp

extra virgin olive oil
Steaks
2-

1 lb

ribeye steaks

additional salt for each steak
Instructions
To Prepare Marinade
Wash and dry rosemary springs. Remove rosemary needles from the woody stem (see above "How To Process Rosemary" section). Finely chop rosemary and add to a small mixing bowl. Add garlic, pepper and sea salt. Stir in olive oil to create a loose paste.

Lay steaks in a large baking or roasting pan. Spoon marinade over the of steaks making sure to cover entire surface. Place in refrigerator uncovered to marinate. Halfway through marination scrape off marinade, flip steaks and replace marinade on other side of steak. Place back in refrigerator.

See marinating time options above.

Remove from refrigerator approximately 1 hour before grilling to allow to come to room temperature.
Grill Pan Instructions
Preheat pan over medium high heat and lightly oil pan. Generously salt the top of the rib eyes. Place salted side on grill and generously salt the other side. Grill each steak 6-7 minutes per side for medium rare and about 8-9 minutes per side for medium.

Let steaks rest for 10 mins.

Cast Iron Grill pan may be placed in a 350℉ preheated oven for 15 minutes before placing over med/high heat. This will allow for completely even cooking, however, this step is optional.
Notes
*Please use as many organic ingredients as possible.  ** To adjust for more steaks use this amount per 1 lb steak and multiple times the amount of steaks: 3-4 rosemary sprigs, 6-7 garlic cloves, 1/2 tsp salt, 1/8 tsp pepper and 3 tbsp extra virgin olive oil. 
Nutrition
Calories:
625
kcal
|
Carbohydrates:
4
g
|
Protein:
35
g
|
Fat:
53
g
|
Saturated Fat:
17
g
|
Cholesterol:
117
mg
|
Sodium:
662
mg
|
Potassium:
42
mg
|
Fiber:
1
g
|
Sugar:
1
g
|
Vitamin C:
3
mg
|
Calcium:
19
mg
|
Iron:
1
mg