Avocado Hummus is an easy and healthy snack or party appetizer. Super tasty and simple to make, it works great with pita chips, veggies or in a sandwich or wrap.

This post may contain affiliate links which I earn a small portion in sales if a purchase is made. Rest assured though, it is never at any additional cost to you.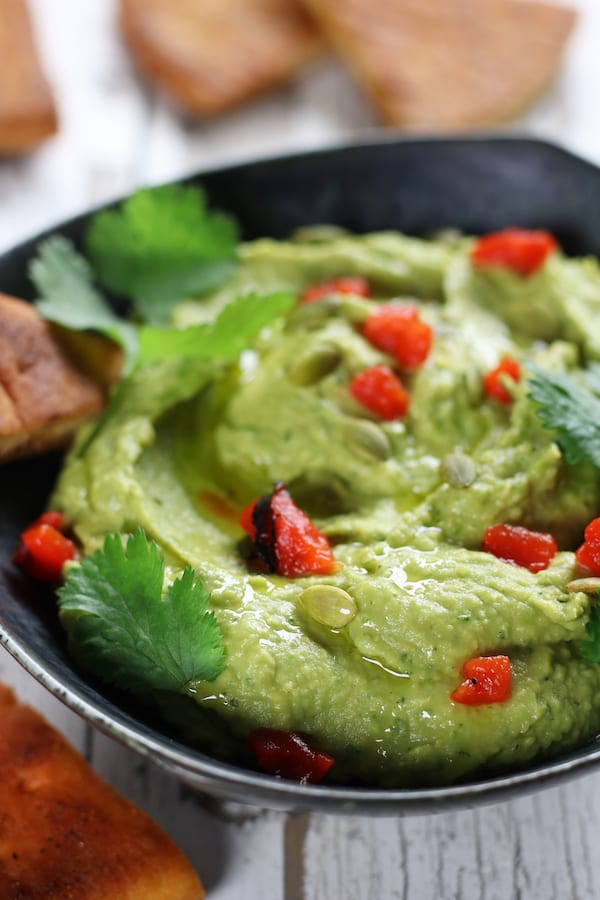 Tips For How To Make Smooth Avocado Hummus
Making hummus at home really is quite simple. Basically, add all the ingredients into a food processor or powerful blender and blend away. There are however a few tricks of the trade to achieving a beautifully smooth Avocado Hummus.
Perfectly ripe avocados really are the first step for a smooth textured hummus. If the avocados are underripe, you will end up with hard chunky pieces in your hummus. Overripe avocados tend to have an earthy, almost dirt like taste and have a stringy texture. To avoid these issues my Avocado Chicken Salad recipe breaks down the steps to choosing perfectly ripe avocados.
Undercooked beans are another issue in not achieving a smooth texture when making humus at home. Please see Cooking Chickpeas section below.
Many chefs suggest removing the skins of the cooked chickpeas to help with the texture of homemade hummus. I personally feel this is a tedious job that doesn't really make a huge difference. However, if willing to take the time to remove the skins this video will help.
Don't be afraid to use the full amount of lime juice. This helps with flavor and brings enough liquid into the hummus so that all the ingredients will blend properly.
The last tip, blend for 3-5 minutes or until desired smoothness.
What To Do With Avocado Hummus
Here are several different ways to enjoy this hummus recipe.
Use as a dip with cut veggies such as cucumber coins, celery or carrot stick and broccoli florets.
As a snack with Baked Pita Chips.
Replace the mayonnaise with this Hummus in tuna salad sandwiches.
Spread on toast with sliced tomato and/or scrambled eggs.
Works great in place of mayonnaise for flavorful deviled eggs.
Layer it on this Black Bean Veggie Burgers.
Main Ingredients In Hummus
A basic Hummus generally consists of cooked chickpeas, tahini (sesame paste), citrus juice, garlic, salt, pepper and maybe some herbs. Flavored hummus will start to branch off into additional ingredients such as avocados, roasted red peppers, beets, different types of beans and even cheeses.
Cooking Chickpeas For Hummus
Using canned chickpeas (garbanzo beans) when making hummus can be a great time saver. However, cooking them from scratch is highly cost efficient and fits perfectly into menu planning for the budget savvy. Cooking 2 cups dried chickpeas will yield approximately 5-6 cups cooked, enough for three batches of this Avocado Hummus. Use 1/3 for this recipe and divide the remaining portion into to servings and freeze for a later date.
Pro Tip #1: For each of these cooking methods rinse beans and pick out any rocks. Rocks posing as beans is generally not an issue these days but can still happen.
Pro Tip #2: Cooking a 1 pound package of chickpeas will yield approximately 7 cups cooked, making it more challenging to divide into 3 even portions for hummus.
Stovetop Cooking Instructions
Quick Soak Method: Place 3 cups rinsed beans in a large pot. Cover with plenty of water as garbanzo beans will triple in size. Place on high heat and bring to a boil for 5 minutes. Take pot off heat and let sit for 1 hour. Drain and rinse beans. Place beans back into pot and add about 8 cups of water. Bring to a boil and then lower heat to a simmer. Cook for 1 1/2- 2 hours, stirring occasionally.
Long Soak Method: Place 3 cups rinsed beans into large container and cover with several inches of water. Garbanzo beans will triple in size so plenty of water is needed. Soak for 8 hours or overnight. Rinse beans and place into a large pot. Cover with about 8 cups of water and bring to a boil. Once boiling lower heat to a simmer and cook for 1 1/2- 2 hours, stirring occasionally.
Slow Cooker Cooking Instructions
Place 3 cups rinsed chickpeas in slow cooker and cover with 6 cups of water. Cook on high heat for about 4 hours or low heat for 8 hours, give or take about 1 hour for each approach.
Instant Pot Cooking Instructions
Place 3 cups rinsed beans in Instant Pot inner lining with about 6 cups of water (1 inch above beans). Place lid on, close valve to sealed and cook on high pressure for 40 mins. Once cooking time has elapsed do a natural release for 20 minutes. It will take approximately 10 minutes to come to pressure so total time involved is 1 hour and 10 minutes.
Pro Tip #3: If soaking beans overnight for Instant Pot, cooking time will lower by about half.
Best Food Processor For Hummus
Bottomline, a powerful and durable food processor that has a large enough bowl to hold all the ingredients if a double batch is made. This is my favorite food processor. We have had it for about a decade and I use if for making Simple Coleslaw, grating the cheese for Freezer Burritos and making cauliflower rice for my Cauliflower Chicken and Shrimp Fried Rice.
Commonly Asked Questions About Avocado Hummus
Are chickpeas the same thing as garbanzo beans?
Yes, they are definitely the same bean.
How long does homemade Avocado Hummus last?
Approximately 3-4 days if stored correctly. I have eaten it on day 5 and 6, however the taste usual starts to become impaired.
What is the best way to store Avocado Hummus?
Homemade hummus can be stored in a glass bowl covered with plastic wrap but for optimal storage, containers like this work best in the refrigerator.
How do I make an organic hummus recipe?
To make a completely organic hummus simply replace the ingredients with trusted organic brands. There are many organic store brands available these days at extremely affordable prices.
Pro Tip: If going organic is to help lower the intake of chemicals and pesticides, nonorganic Hass avocados are perfectly fine for this recipe. Just make sure to rinse the outside of the avocados well before cutting into them.
Amount of protein in one serving of Avocado Hummus?
There are approximately 8 servings in this Avocado Hummus and 5 grams of protein per serving.
Is Avocado Hummus good for a Mediterranean Diet?
Absolutely! Since the Mediterranean Diet emphasizes eating primarily fruits, veggies, wholes grains, legumes, nuts and healthy fats, this recipe fits perfectly into this approach.
More Delicious Dip Recipes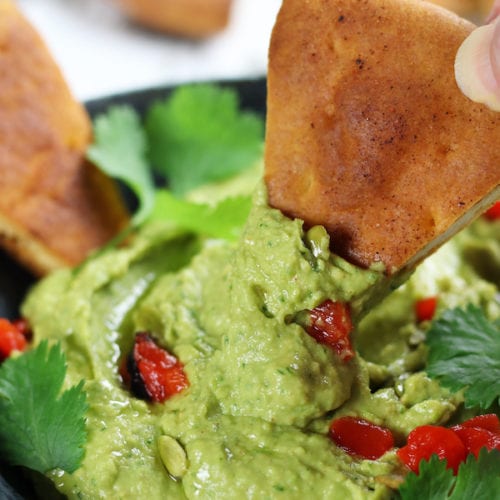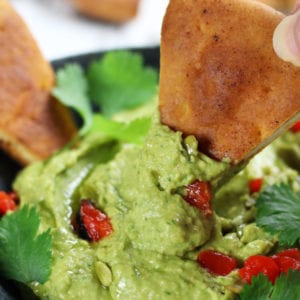 Avocado Hummus
Creamy and full of flavor, this Avocado Hummus is so simple to make and mouthwateringly addictive. Great as a dip, mayonnaise alternative or for Greek nachos.
Print
Pin
Rate
Ingredients
Hummus
1 (15oz)

can

chickpeas (garbanzo beans)

*drained and rinsed, 2 cups

2 ripe

medium

avocados

1/4

cup

extra virgin olive oil

2

tbsp

tahini

1/4

cup

lime juice

5 large

cloves

garlic

1

tsp

sea salt

1/2

tsp

cumin

1

tsp

chili powder

1/2

bunch

cilantro
Garnish
2

roasted red bell peppers

1/2

cup

pepitas

fresh cilantro

drizzle of extra virgin olive oil
Instructions
Place all ingredients for hummus in a food processor and blend for 3-5 minutes or until smooth.

Garnish with your favorite toppings.
Notes
*Please use as many organic ingredients as possible. **See cooking instructions above for cooking dried chickpeas. 
Nutrition
Calories:
166
kcal
|
Carbohydrates:
11
g
|
Protein:
5
g
|
Fat:
11
g
|
Saturated Fat:
1
g
|
Sodium:
428
mg
|
Potassium:
174
mg
|
Fiber:
2
g
|
Vitamin A:
180
IU
|
Vitamin C:
6.8
mg
|
Calcium:
18
mg
|
Iron:
1
mg