Simple Healthy Guacamole is an incredibly fresh and flavorful Mexican dip. Authentically made with chunky avocados and tomatoes. Perfectly spiced with cilantro, jalapeño and garlic. This recipe will spoil you for all other guacamoles.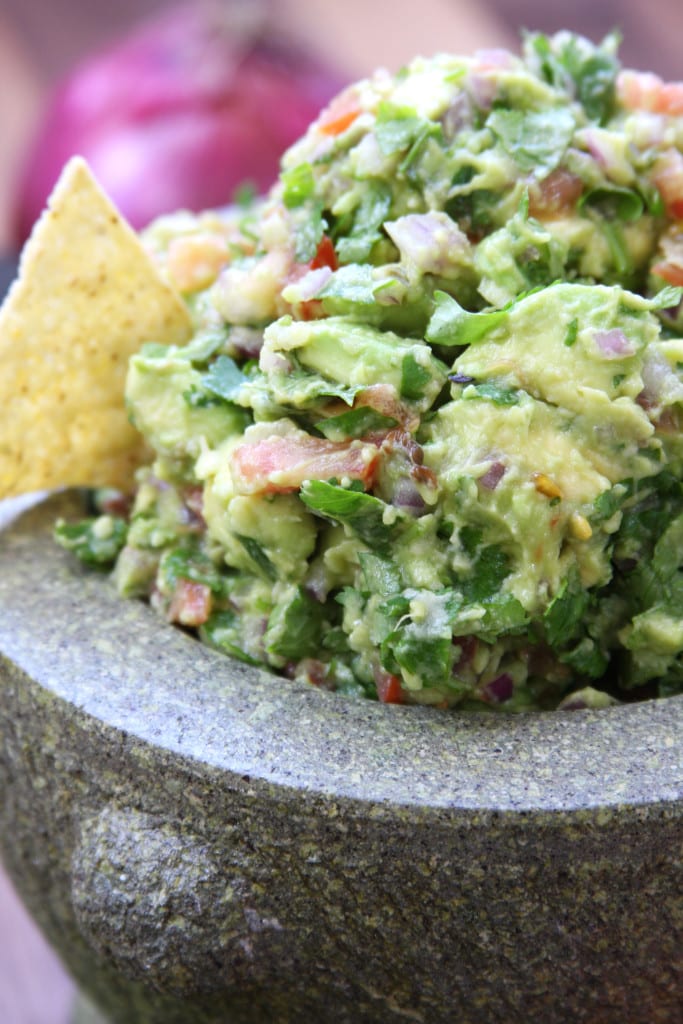 This post may contain affiliate links which I earn a small portion in sales if a purchase is made. Rest assured though, it is never at any additional cost to you.
There are certain fruits and veggies that we always have on hand at our house and avocados are definitely one of them.
We eat them in salads and sandwiches, on top of eggs and sometimes just by themselves.
We absolutely love avocados not only for the creamy, nutty taste but also the health benefits.
The only dilemma, when you buy a bag of avocados and they all ripen at the same time.
This was the challenge I faced when I recently bought a bag from Costco and I had several very large and very ripe avocados.
Much to my husband's delight, it was time to make this Simple Healthy Guacamole.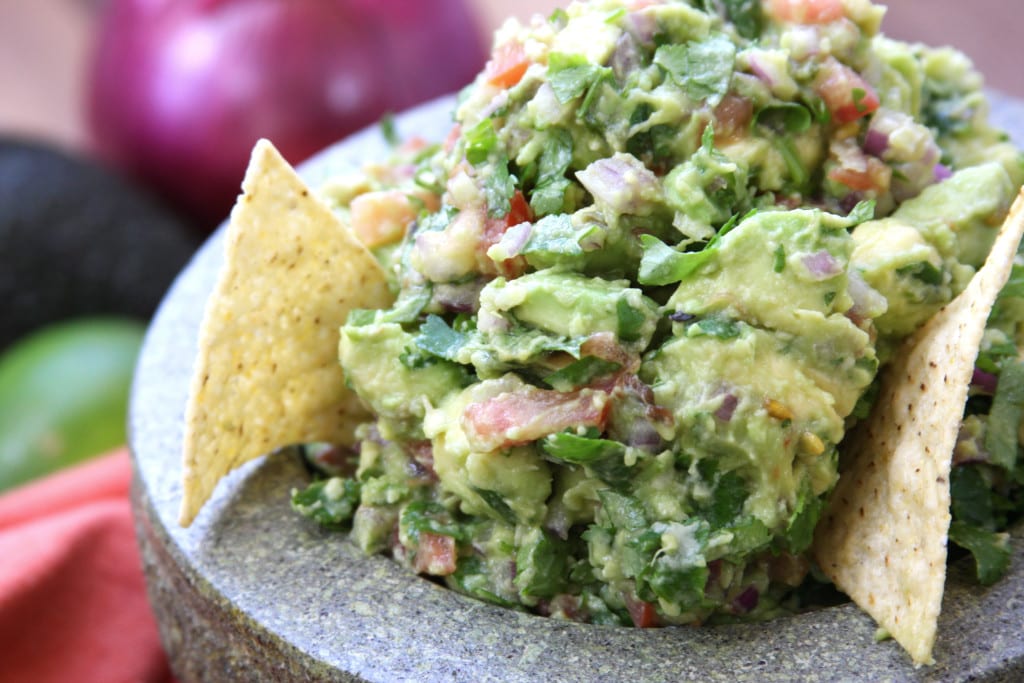 Paul absolutely loves this Simple Healthy Guacamole and I love his little-boy like reaction when I tell him I am going to make it.
One of the many blessings of marriage is when something so simple makes your loved one's face light up.
In addition to having a very happy husband, I love the incredibly fresh ingredients.
It is what sets this recipe apart from the rest.
Cutting the avocados in half, into squares and then scooping with a spoon, is an incredibly easy and fast way to prep the avocados. Do a little dicing, roast a jalapeño and this wonderfully fresh and flavorful Simple Healthy Guacamole comes together. We had ours along side carne asada tacos from my post, How to Make Grass-Fed Carne Asada.
How to tell if an avocado is ripe
The best way to tell if an avocado is ripe is by the bright green color of the flesh when removing the stem. If it is a dull green, the avocado is over ripe. If the stem is difficult to remove it is under ripe. Also, if the avocado gives slightly when gently squeezed it is ripe it is definitely ripe and needs to be used as soon as possible.
How to keep Guacamole from turning brown
Generally guacamole is best eaten immediately but sometimes needs to be made ahead of time and then stored. There are a few methods that can help prevent it from turning brown but this is the best method I have found. Make the guacamole according to the recipe, place in a glass or plastic bowl and smooth out evenly. Place a small layer of lime juice (water may also be substituted in a pinch) over the top but do not mix it in. Cover and refrigerate. When ready to serve drain off excess liquid and stir.
I prefer this method over placing plastic wrap directly onto the guacamole but essentially both do the same thing, keep the air out thereby preventing the avocado from oxidizing.
How long will homemade Guacamole last
Homemade guacamole will last no longer than two days. We generally make larger batches and admittedly it doesn't last very long in our house but there have been a few times it made it past the 3 day marker. By day 3 and 4 what you will find is the veggies have lost quite a bit of their moisture, it will have turned a darker shade of brown and smell almost as if it is starting to ferment. By then it is time to toss it out.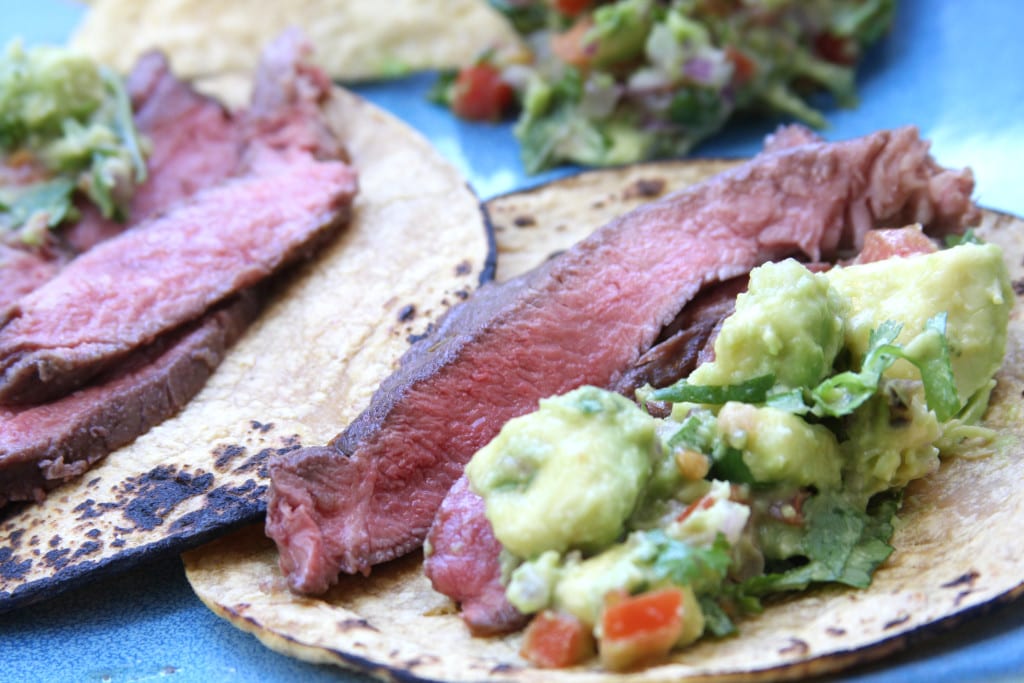 ***Pro Tips- If the avocados are extra large you will only need 4-5. We love garlic so I always use 3 large cloves but you will need to adjust according to taste preferences. I also use about 1- 1/2 tsp sea salt or pink himalayan salt and about 1/4 tsp black pepper. For kid-friendly version remove jalapeño seeds.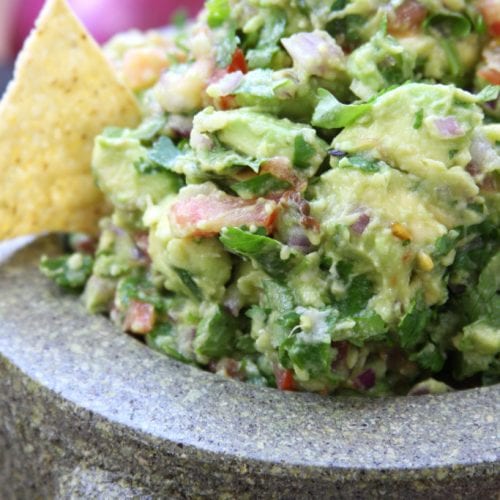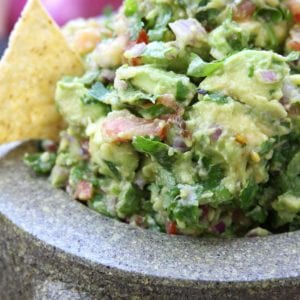 Simple Healthy Guacamole
Fresh, flavorful and chunky authentically made guacamole.
Print
Pin
Rate
Ingredients
8

med

ripe avocados

*see pro tip above

1-2

limes

*juiced

1

jalapeno

*roasted and diced

1/2

med

red onion

*diced

2-3

med

garlic cloves

*minced or crushed

2

roma tomatoes

*diced

1

bunch

cilantro

*chopped, about 3/4 cup

salt and pepper to taste
Instructions
Cut Avocados in half and remove seed. With a small knife, cut squares in flesh of avocado, making sure to not cut through skins. With a soup spoon, remove squares into a mixing bowl by scraping with edge of spoon between skin and avocado flesh.

Squeeze lime juice over avocado squares.

Roasting jalapeno is an optional step but adds a wonderful smoky taste and mellows the heat a bit. To roast, place jalapeño over open flame using tongs and turning once skin begins to darken and pop, roasting all sides. Dice and add to avocado.

Cut and dice remaining ingredients, add to avocado. Stir to incorporate veggies well.

Serve with chips or along side any Mexican meal.
Notes
*Please use as many organic ingredients as possible.*
Nutrition
Calories:
188
kcal
|
Carbohydrates:
11
g
|
Protein:
2
g
|
Fat:
17
g
|
Saturated Fat:
2
g
|
Sodium:
9
mg
|
Potassium:
586
mg
|
Fiber:
8
g
|
Sugar:
1
g
|
Vitamin A:
123
IU
|
Vitamin C:
4
mg
|
Calcium:
2
mg
|
Iron:
1
mg
For other popular Mexican feasts check out: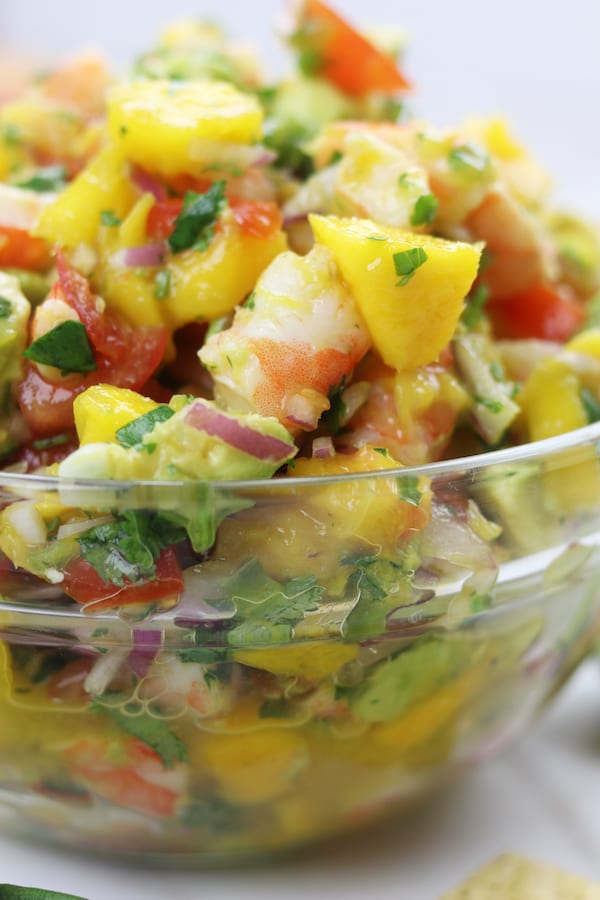 Mango Shrimp Salsa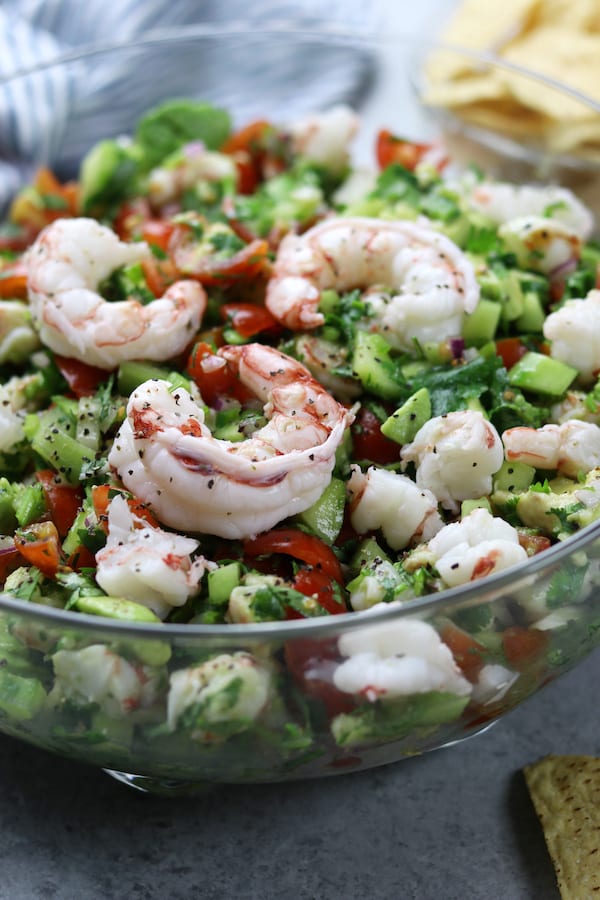 California Shrimp Ceviche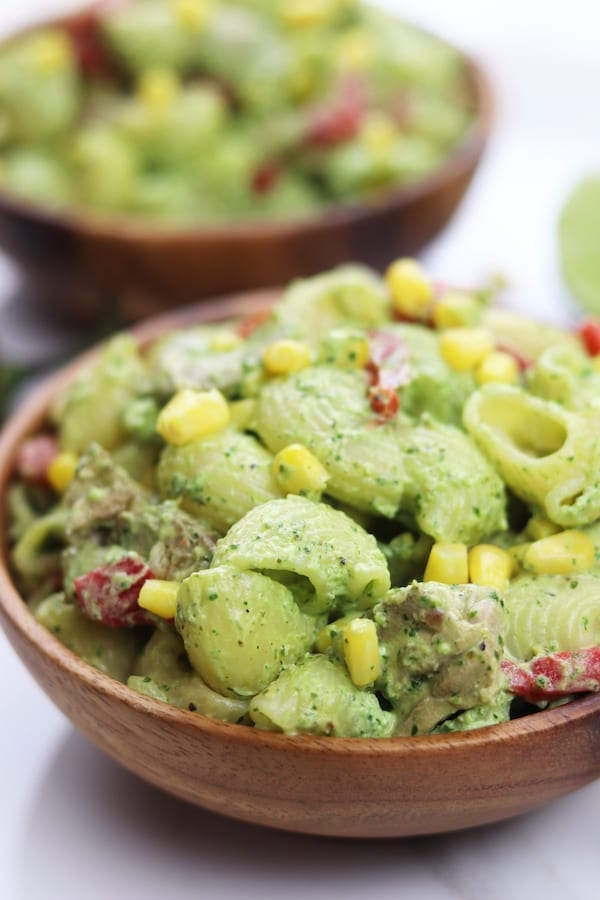 Creamy Roasted Jalapeño Pasta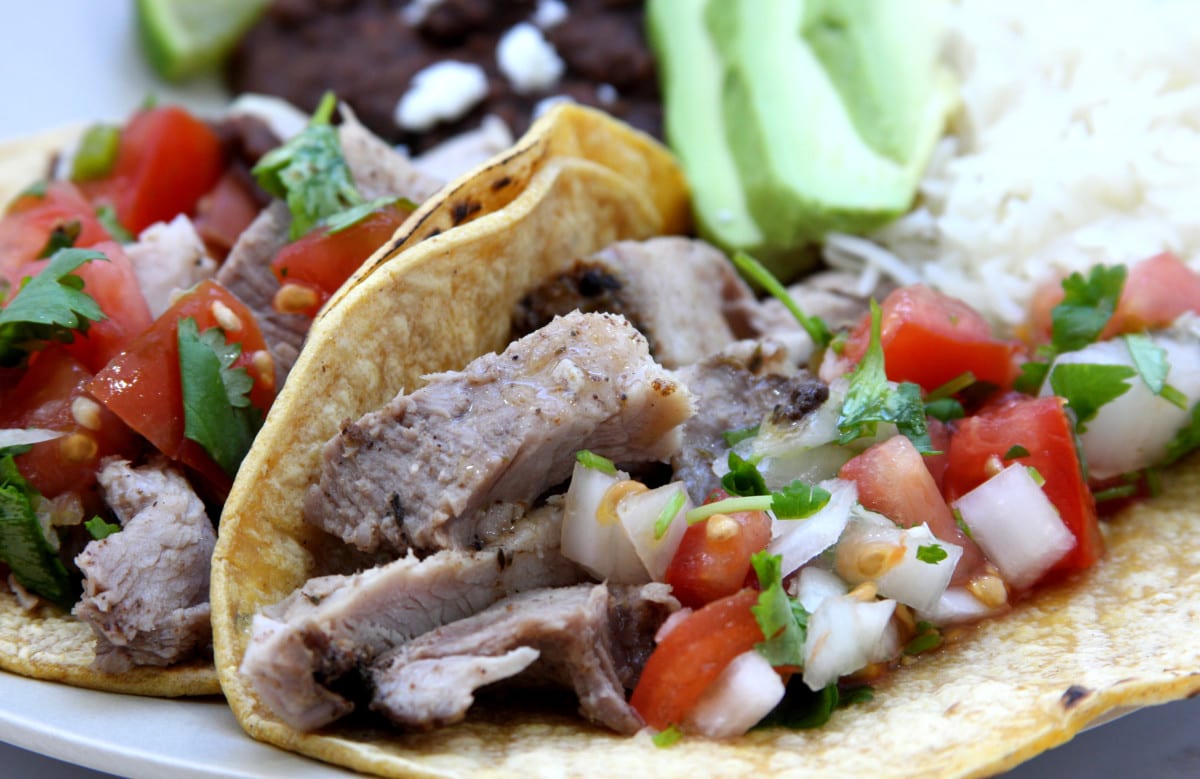 Garlic Studded Slow Cooker Carnitas Tacos