Chicken Peanut Udon Noodle Salad recipe has the smooth flavors of sesame oil and peanut butter spiced up with sriracha and lime. One of the prettiest ways to eat your veggies with the bonus of it being a comfort food. You may just want to make a double batch,  you will love it that much.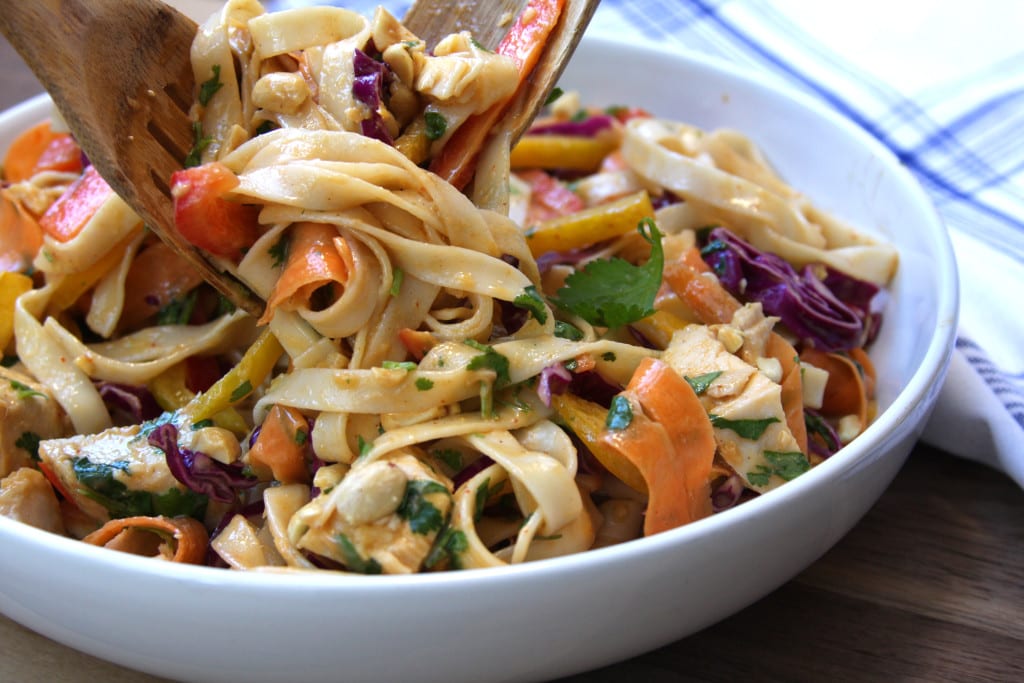 This Chicken Peanut Udon Noodle Salad recipe is a variation on a Asian pasta salad that my mom and I used to make together. I remember the first time making it with her as a young teen and being blown away that the lime juice and peanut butter could taste so good together. That must have been my introduction into the world of combining flavors. Flavors that you would never think should go together but are amazingly wonderful once they marry. The most satisfying part of this recipe, it has a perfect balance in textures between crunchy and smooth. You will fall in love with the comforting udon noodles vs the crunch of veggies and peanuts.
I love to find ways to sneak more veggies into our diets without feeling like we are turning into rabbits. Not only does this recipe provide that extra boost of veggies but the colors are so bright and cheerful. For this Chicken Peanut Udon Noodle Salad I made carrot ribbons using a vegetable peeler and a few whole carrots. You can absolutely use shredded carrots and have it turn out just as healthy and pretty.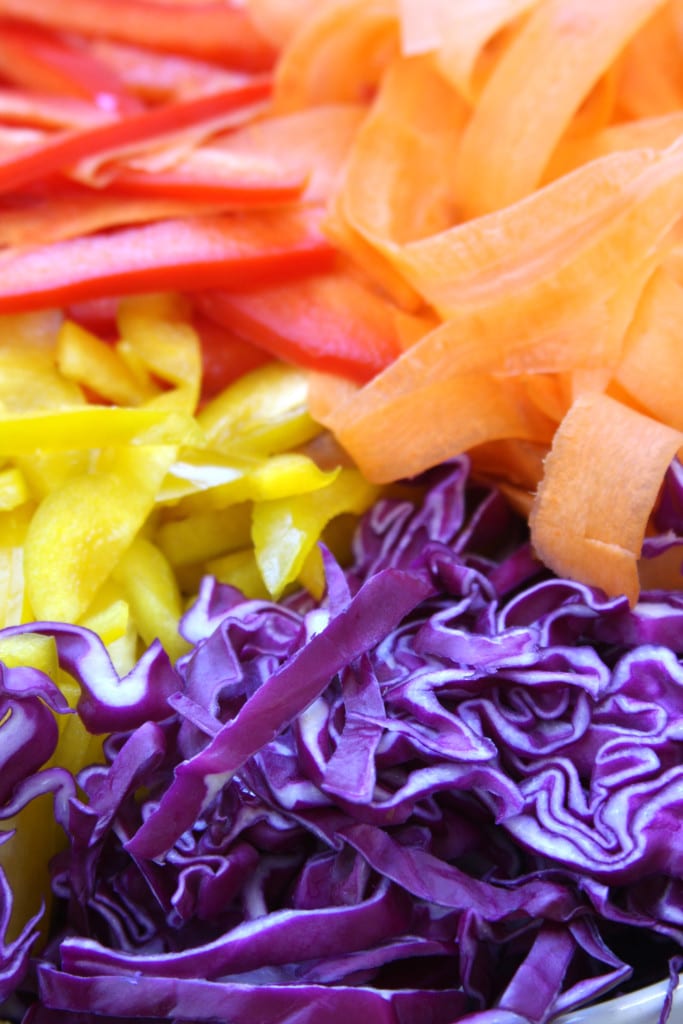 I do believe that for many who are trying to eat clean, there is a certain amount of guilt that comes from eating udon noodles, despite how many veggies we pile on. That is why I was so excited to find this Organic Wide Udon by KOYO at my local health food store. The list of ingredients is "Organic heirloom wheat flour, sea salt". When I saw these noodles , I heard angels sing. What a treat to be able to eat udon and not feel immense guilt.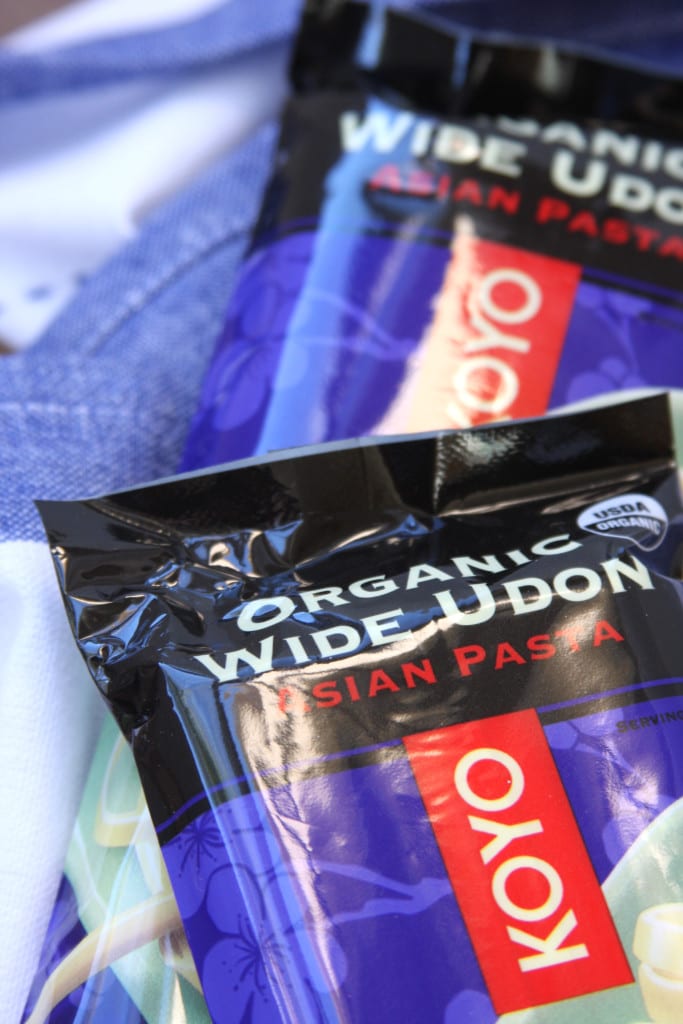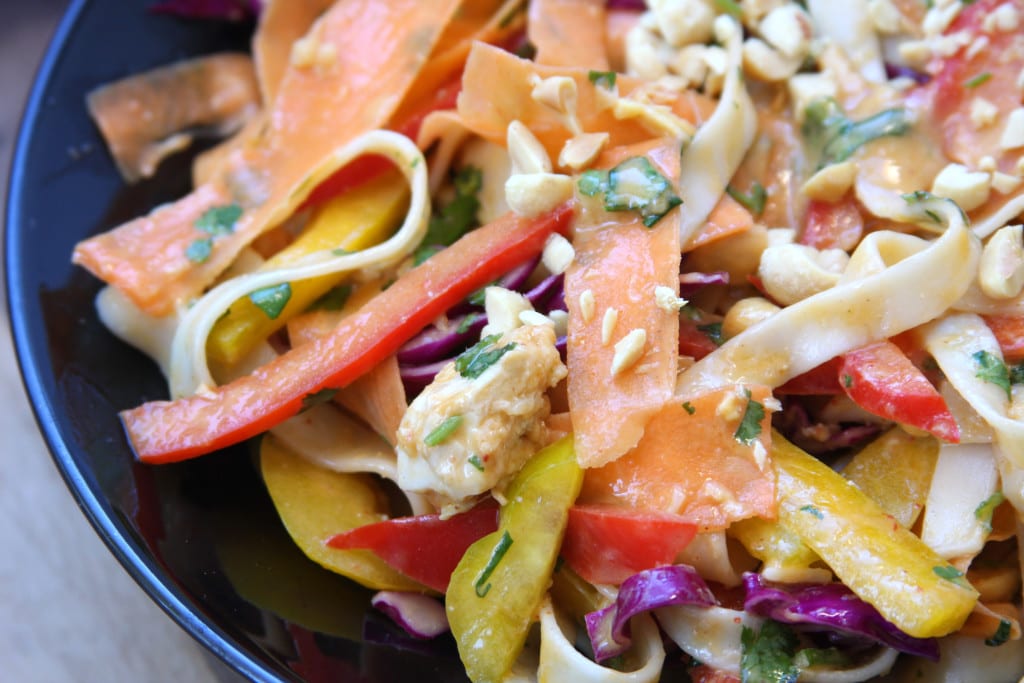 Just looking at these pictures makes me want to grab a fork and dig in. Unfortunately I ate the last of this oh so yummy Chicken Peanut Udon Noodle Salad last night, but I have an excuse to make it again soon. This recipe is perfect for packing your lunch during the week. There is no heat up involved, just open and eat. What a wonderful, no-stress way to enjoy your lunch hour. Let me caution you, getting any work done may be impossible with all the day dreaming that will be happening over what's for lunch.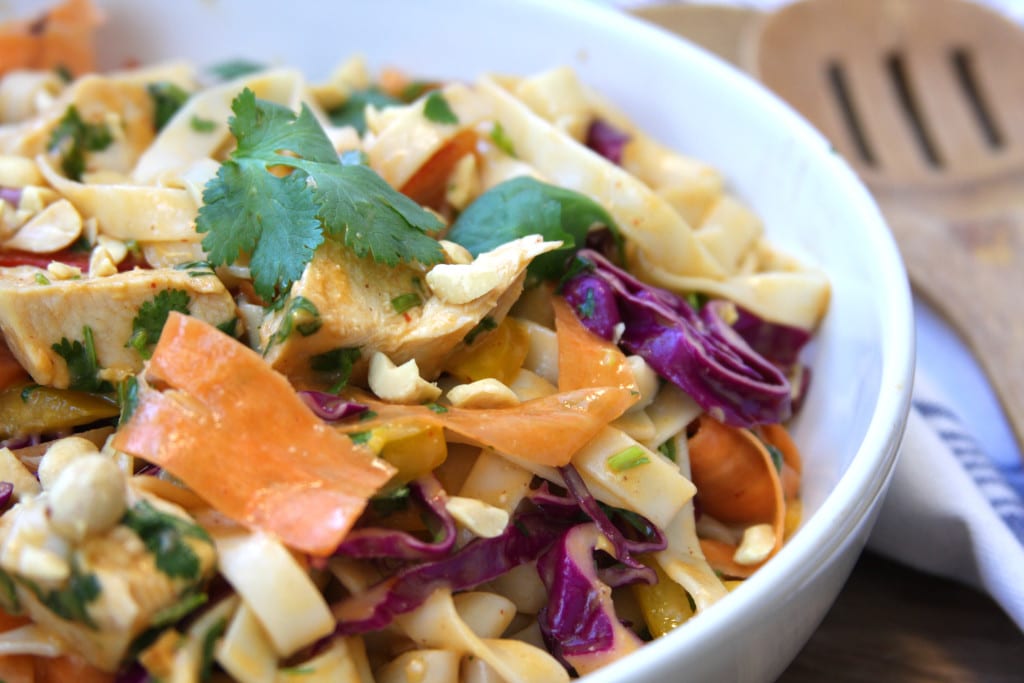 Top Reasons to Make Chicken Peanut Udon Noodle Salad This Week:
Sneak those extra veggies into your family.
Perfect no-stress cold lunch.
It is just so darn yummy!!!!!!
For other easy comfort foods check out:
Garlic Sweet Potato Fries with Herbed Ranch Dip
Lazy Day Chinese Chicken Salad
Chicken Peanut Udon Noodle Salad
A flavorful cold Asian pasta salad, full of veggies and perfect for quick easy lunches. Warning: you may want to make a double batch. It is that good!
Ingredients
1 lb chicken breast
salt and pepper to taste
8 oz package udon noodles
1 cup shredded red cabbage
1 lg yellow bell pepper *cut into strips
1 lg red bell pepper *cut into strip
1 cup carrots *either shredded or ribboned
¼ cup + 1 tbsp extra virgin olive oil
2 tbsp sesame oil
2 tbsp crunchy peanut butter
2 tbsp srirachi
1 tbsp soy sauce
1 tbsp fish sauce *soy sauce can be substituted
1 lime juiced *about 2 tbsp
2 tbsp rice wine vinegar
1 inch piece of ginger *peeled and grated
2 lg cloves garlic *minced or crushed
1 bunch cilantro *chopped
¼ cup chopped roasted peanuts
Instructions
Preheat oven to 350℉. Place chicken in baking dish. Drizzle with 1 tbsp of olive oil, reserving remaining oil for dressing. Salt and pepper to taste. Bake for 30-40 minutes or until reaching internal temp of 165℉. Let cool enough to handle and then cut into cubes.
While chicken is baking prepare veggies, set aside.
In a large mixing bowl measure oils and stir in peanut butter. Whisk in srirachi, soy sauce, fish sauce, lime juice and vinegar. Stir in garlic, ginger and cilantro.
Prepare noodles according to package.
Toss noodles with chicken, veggies and dressing. Garnish with chopped peanuts.
Notes
*Please use as many organic ingredients as possible.*