Comforting and satisfying, this Hearty Homemade Chili recipe is bound to become a family favorite. It is savory enough for the adults, mild enough for the kiddos and will keep you warm on this chilly nights.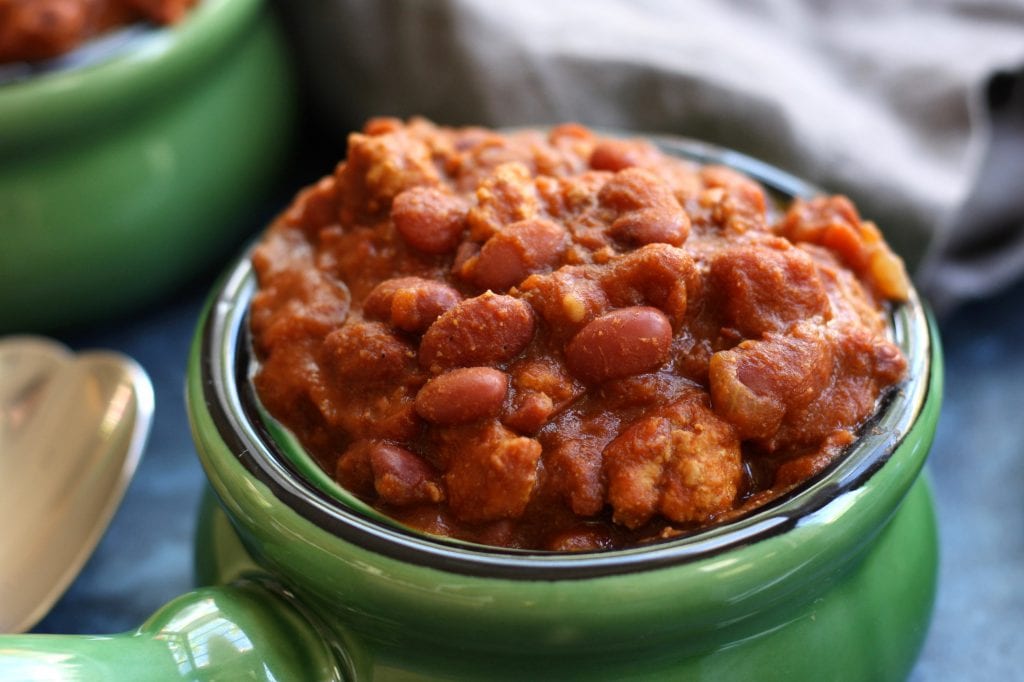 This post may contain affiliate links which I earn a small portion in sales if a purchase is made. Rest assured though, it is never at any additional cost to you.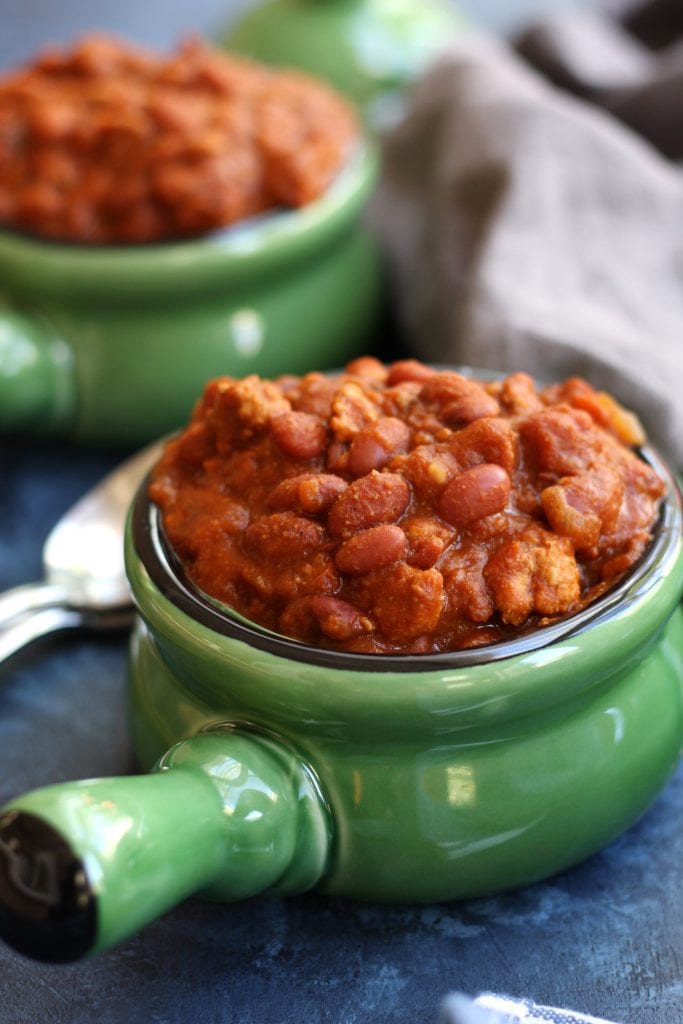 As I was making this Hearty Homemade Chili It dawned on me just how few people cook beans from scratch anymore. A small part of me understands because there is this perception that cooking beans is difficult. Somewhere along the line we excepted the premise that food preparation has to be fast in order to be easy. Here is the interesting thing, making a pot of beans from scratch is in no way fast but it is literally one of the easiest meals I have ever made and that includes this Hearty Homemade Chili. The beans usually take 2 hours to simmer and take minimal supervision. While my beans are cooking I am usually paying bills, cleaning house or watching a movie. How's that for simple? Some of the biggest reasons why I love making beans from scratch is that it eliminates the worry about BPA, aluminum and preservatives. We make this Hearty Homemade Chili about 5 times a year and we always have extra in the freezer because it goes great on nachos, my family's Tortilla and Beans and just wonderful as a big bowl by itself.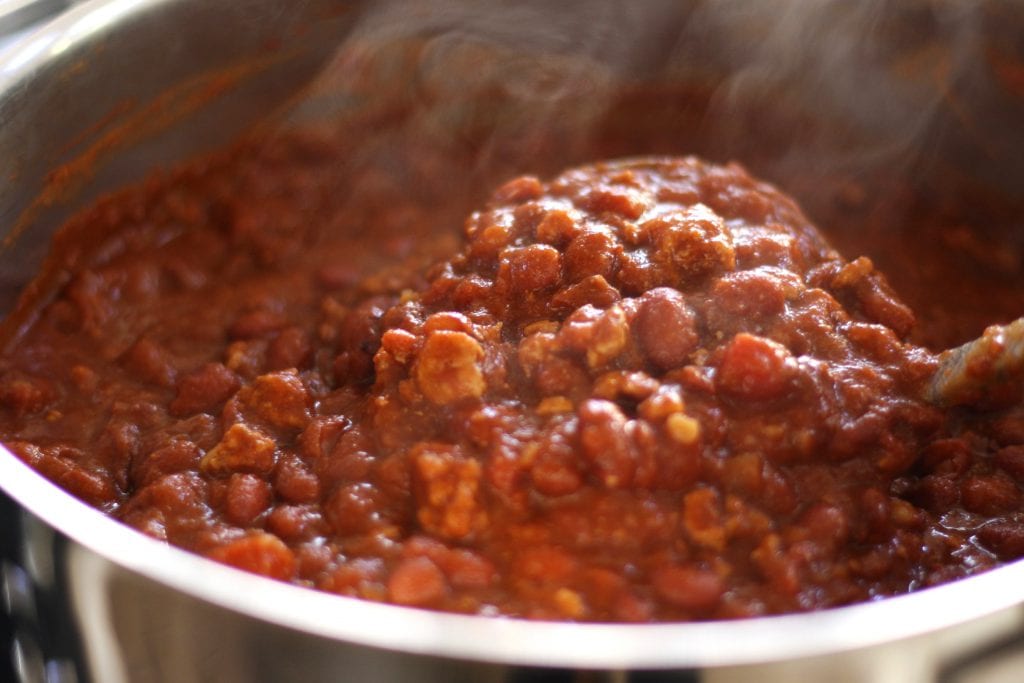 Tips for Hearty Homemade Chili:
Yes there is a time investment on this Hearty Homemade Chili but trust me, it is extremely easy to make.
The secret to cooking beans is to bring them to a boil in plenty of water. Once they boil lower the temp to a low simmer, cover with a lid and stir 1 or 2 times an hour.
Generally beans will take 1 to 2 hours to cook. Some beans, like garbanzo, could take up to 3 to 4 hours. Just make sure to check your beans at least once an hour. They will be done when they are tender enough to eat. When they are close to being done, check a little more often.
I am not a big fan of presoaking my beans. I grew up in house where we presoaked and I carried that over into cooking beans in my early adulthood. Within the last 10 years I stopped presoaking and honestly I never saw a difference and the beans still cooked beautifully.
Another trick is don't salt the beans while cooking as it will slow down the cooking process. I will usually wait and add the salt at the very end of cooking the chili or I let people salt their own servings.
Don't be intimidated by the amount of spices. Beans are so bland they really do need a significant amount of seasoning. Also, by using the Mexican spices rather than a store bought spice packet you are eliminating all kinds of chemicals and MSG.
You can use either ground beef or ground turkey for this recipe. Both taste great.
Here are the steps to making this Hearty Homemade Chili: 1) Cook & drain beans. 2) Sauté onions, meat, garlic and spices. Add to beans. 3) Add tomato sauce, diced tomatoes and remaining spices. Simmer for about 45 mins.
Doubling this recipe will make enough chili to fill about 4 quart size freezer bags. Each quart size bag will serve about 2-3 people.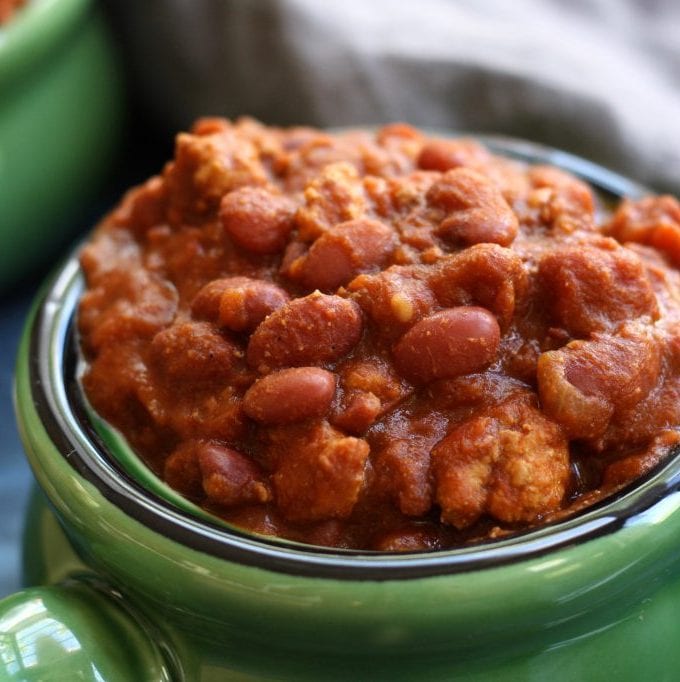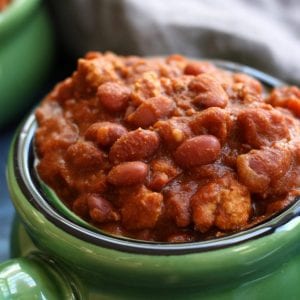 Hearty Homemade Chili
A hearty and satisfying chili that has multiple uses.
Print
Pin
Rate
Ingredients
1

lb

small red chili beans

2

quarts

water

2

tbsp

olive oil

1

med

brown onion

*diced, about 1 heaping cup

1

lb

ground turkey or beef

3

lg

garlic cloves

*minced or crushed

2

tbsp

cumin

2

tbsp

coriander

2

tbsp

chili powder

1

tsp

garlic powder

18- 20

oz

diced tomatoes

12

oz

tomato sauce

salt & pepper to taste
Instructions
Rinse beans and place in stockpot with approximately 2 quarts of water. Bring to a boil and then lower heat to a very slow simmer. Cover and cook until beans are tender enough to eat- about 1-2 hours. Once cooked drain beans of extra liquid. Set aside

In a large frying pan over med/high heat sauté onions in oil until sweating. Add meat. Using a stiff spatula stir and break apart into smaller pieces. Add garlic and continue stirring occasionally. Once meat is almost done add half of the spices and cook for another 2 mins stirring constantly.

Add meat mixture, tomato sauce, diced tomatoes and remaining spices to beans. Bring to a simmer over med heat. Continue simmering for approximately 45 mins stirring consistently until thick in consistency. Within the last few of cooking add salt and stir well.
Notes
*Please use as many organic ingredients as possible.* For extra freezer friendly meals double this recipe.
Nutrition
Calories:
293
kcal
|
Carbohydrates:
32
g
|
Protein:
28
g
|
Fat:
8
g
|
Saturated Fat:
1
g
|
Cholesterol:
42
mg
|
Sodium:
420
mg
|
Potassium:
1200
mg
|
Fiber:
10
g
|
Sugar:
8
g
|
Vitamin A:
1326
IU
|
Vitamin C:
27
mg
|
Calcium:
135
mg
|
Iron:
7
mg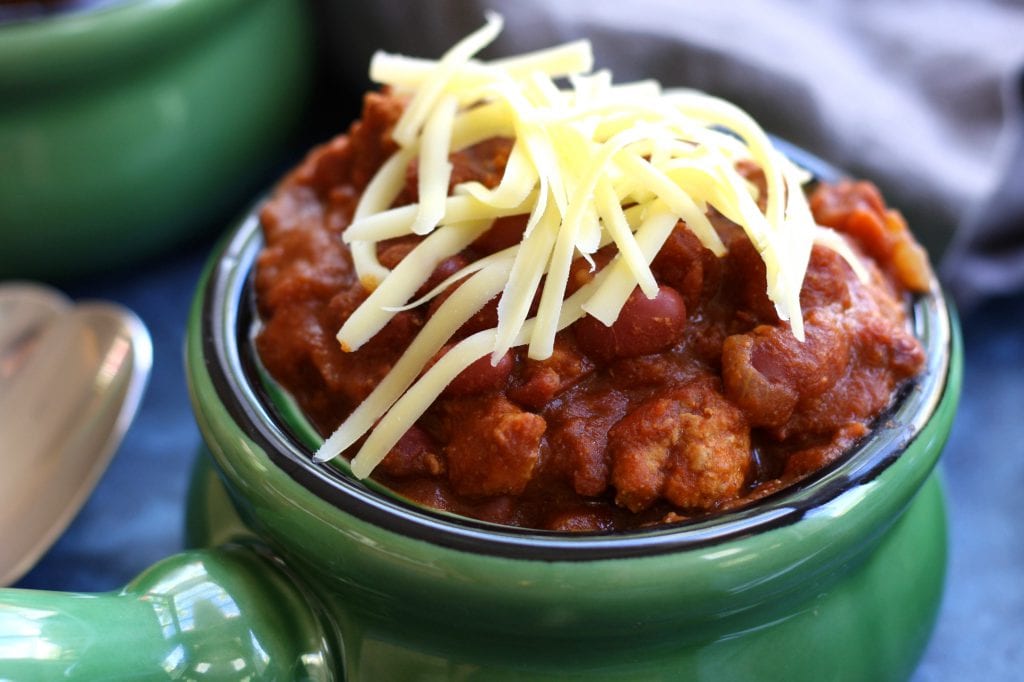 This recipe is part of Meal Plan Monday.