Napolitana Sauce (Neapolitan Sauce) recipe is an authentically made sauce from Naples,Italy. Because of the slow cooking, this sauce creates a deep rich tomato flavor with sweet undertones that is delicious on pasta, pizza, meatballs, etc.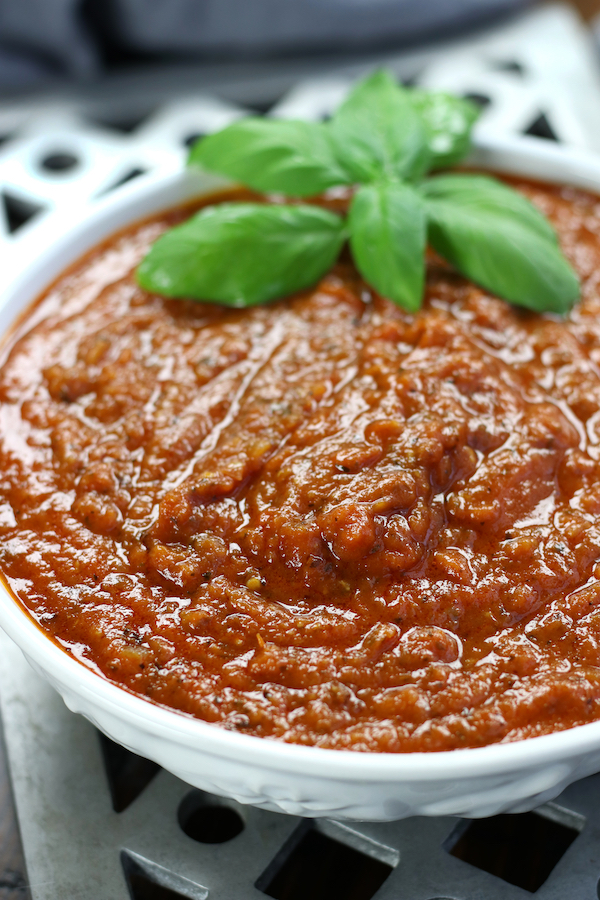 This post may contain affiliate links which I earn a small portion in sales if a purchase is made. Rest assured though, it is never at any additional cost to you.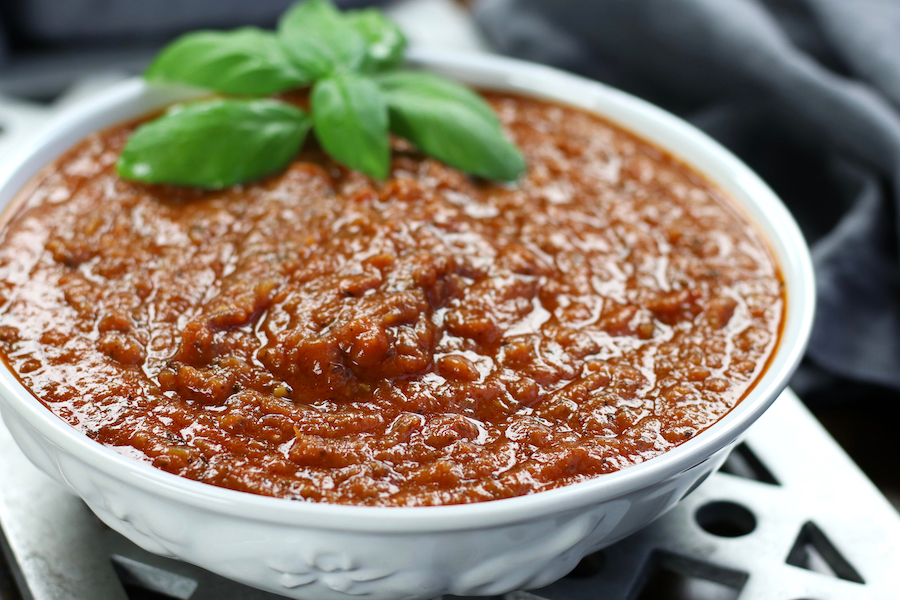 There is something so wonderful about a flavorful and rich Italian Marinara Sauce. The kind that you find at 5 star Italian restaurants.
However, trying to duplicate this style of sauce at home can be extremely challenging.
I have found that many Marinara recipes call for a quick 20 minute simmering time. However, this often results in a bitter end product.
Also, authentic Italian recipes keep it simple. There is usually not an overabundance of ingredients.
I have found that a slow simmering time in addition to simple ingredients really is the secret to the amazing tasting Homemade Marinara.
That is what this Napolitana Sauce is. Tried, true and absolutely delicious!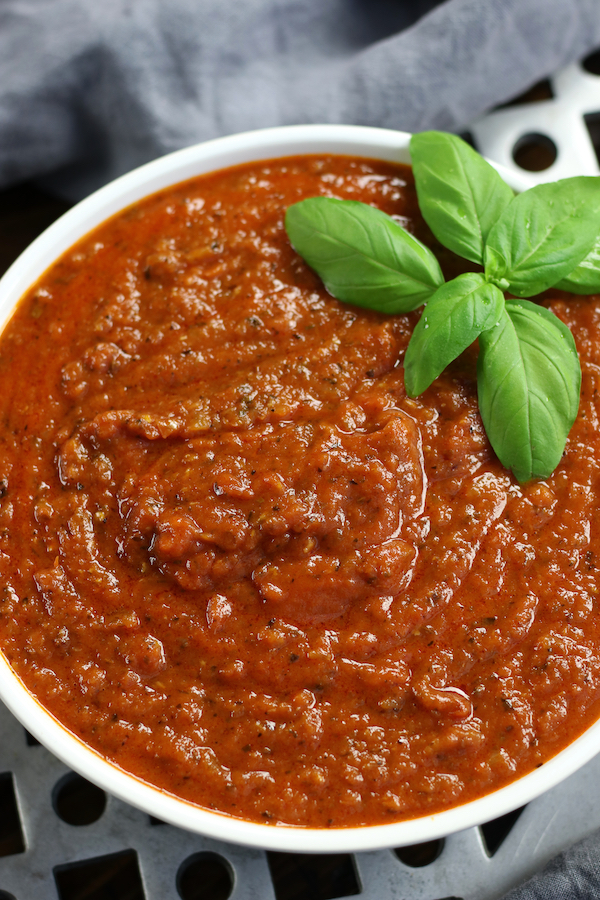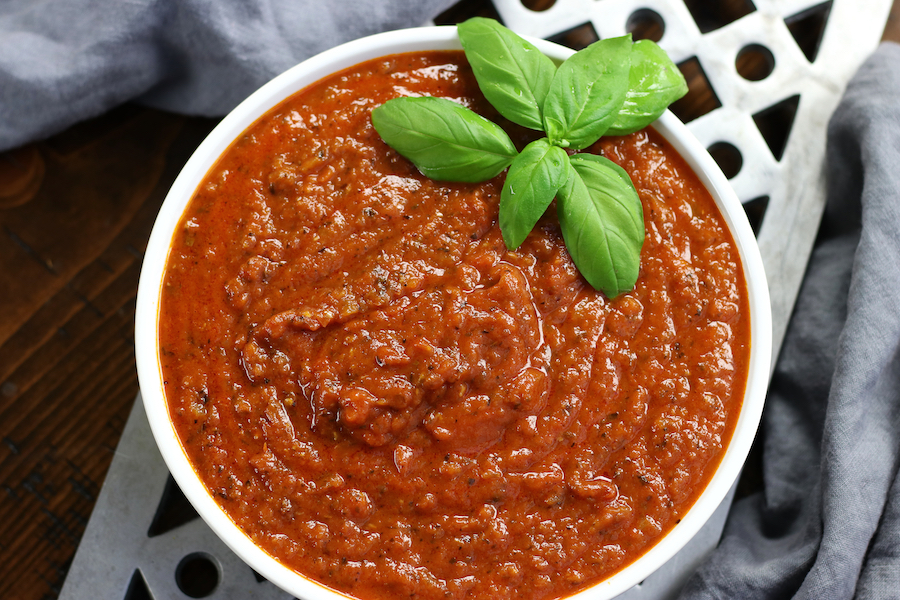 What is Napolitana Sauce?
Napolitana Sauce is an authentic tomato based sauce from the southern area of Italy, specifically Naples. In Naples itself it is referred to as la salsa. However, it has many other names and variations is spelling such as Napolentana Sauce, Napoli Sauce or the American version, Neapolitan Sauce.
In a nutshell, authentic Napolitana Sauce is a slow cooked tomato based sauce that produces a deep and rich flavor with sweet undertones. It is basically a Marinara sauce that works great as a pizza sauce, pasta sauce and with all kinds of traditional Italian dishes. After much research, this is my version of Napolitana Sauce.
Napolitana Sauce Ingredients
This simple and classic sauce only requires a few simple ingredients. Here are the main ingredients that I recommend:
San Marzano Tomatoes (28 oz can)
Brown Onion (1 medium size)
Fresh Garlic (4 cloves)
Oregano (2 tbsp dried or about 1/3 cup fresh chopped)
Basil (1 tbsp dried or about 3 tbsp julienned fresh)
Pepper (about 1/8 tsp)
Salt (1- 1 1/2 tsp)
How To Make Neapolitan Sauce (aka Napolitana Sauce)
This classic Italian sauce really is very simple to make despite the time involved. The slow cooking time is well worth the deep and delicious flavors that are produced. Here are the steps broken down (see picture below).
In a large frying pan sauté diced onion and olive oil over med/high heat.
Cook until lightly golden brown, about 6-7 minutes.
Add garlic and continue sautéing an additional minute.
Add canned whole San Marzano tomatoes with the juice.
Break apart tomatoes and stir consistently over med/high heat until reduced, about 15-20 minutes.
Picture #6 is what the sauce will look like after the 15-20 minutes.
Add dried herbs.
Sauté with herbs for 1-2 mins, long enough for oils to be released from herbs.
Stir in water.
Bring to a boil over med/high heat.
Lower heat to lowest setting and simmer for approximately 1 hour making sure to stir occasionally.
What the final sauce looks like at the end of simmering. Note: Using an immersion blender on the sauce at the very end of cooking will help to create a smooth texture and incorporate all the flavors. However, this step is optional. (This is my all time favorite Immersion Blender. Here is also a budget friendly version with high ratings.)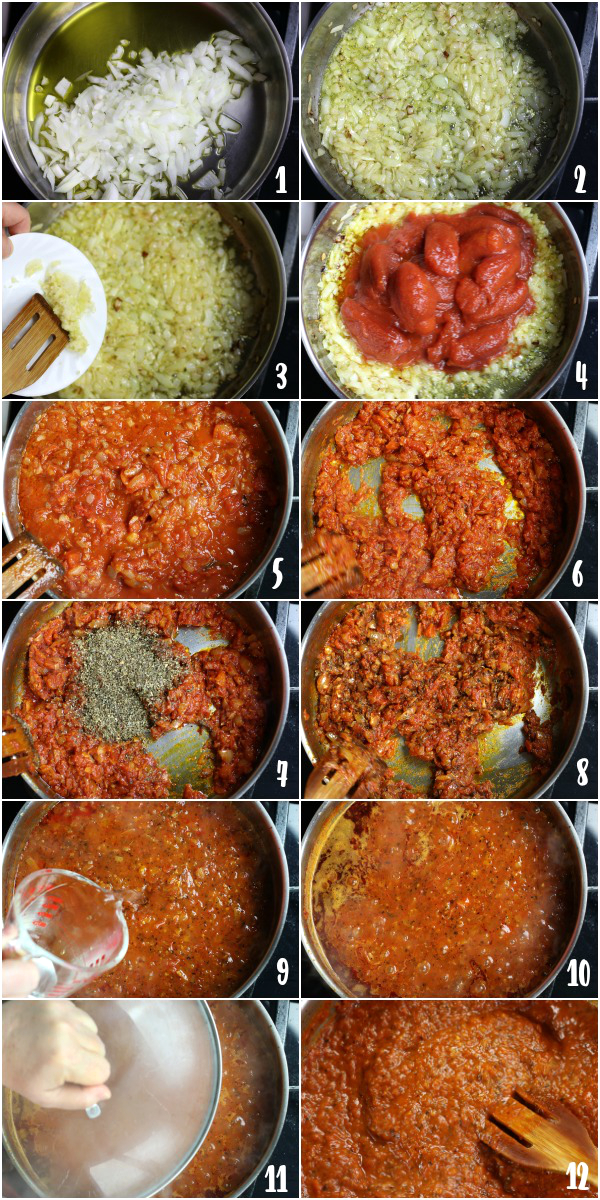 Best Cookware for Tomato Based Sauces
When cooking tomato based sauces it is best to use either a large stainless pan or an enameled Dutch oven. Both of these types of pans are nonreactive and work well with the acidity of the tomatoes.
Ingredient Variations with Napoli Sauce
As with many authentic recipes, variations exist often based on personal and/or family preferences. Some of the more common ingredient variations are bay leaf, thyme, parsley, peppercorns, cloves, olives, mushrooms, carrots, celery, dry white wine and sugar.
Similarly, this Napoli Sauce is a variation based on simple Italian flavors that work well with many recipes. However, please feel free to adjust the amount of oregano and basil and/or substitute way any of the above ingredients.
(Want to learn how to become a Flavor Master using herbs and spices? This free tutorial will get you well on your way.)
What To Use Napolitana Sauce On
This classic sauce works perfectly on pizza and pasta. It also tastes amazing as a dipping sauce with bread sticks. Most importantly, use this sauce on any recipe calling for Marinara Sauce.
Homemade Pizza Sauce
The process of slow simmering in addition to processing the sauce with an immersion blender helps to create a deep rich flavor that is perfect for pizza and breadsticks. However, 30 minutes of additional simmering (uncovered) may be need for the consistency needed for pizza. Also, make sure to stir occasionally. Doing these two steps will help to eliminate any excess moisture.
More Authentic Italian Recipes
Peposo (Tuscan Black Pepper Red Wine Stew)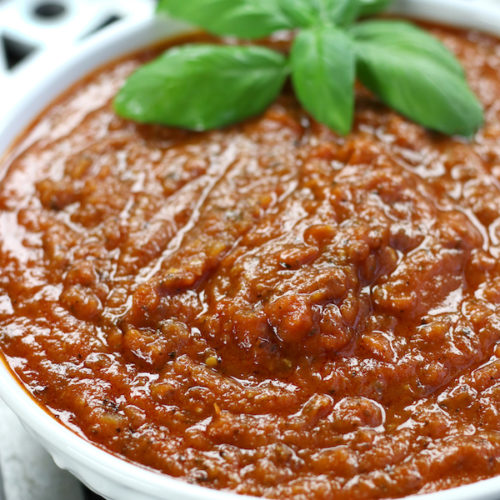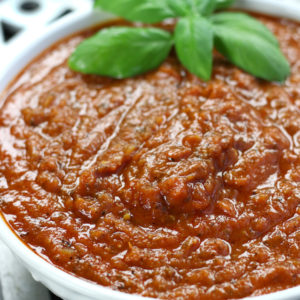 Napolitana Sauce (Neapolitan Sauce)
Napolitana Sauce (aka Neapolitan Sauce) is an authentically made Italian sauce from Naples, Italy. This sauce has a deep, rich flavor with sweet undertones and works beautifully on pasta, pizza, meatballs, bread sticks, etc. Use it however you would use classic Marinara Sauce.
Print
Pin
Rate
Ingredients
1/2

cup

extra virgin olive oil

1

med

brown onion

*diced

4

lg

garlic cloves

*crushed

1

28 oz

whole San Marzano tomatoes

*with juice

2

tbsp

dried oregano

1

tbsp

dried basil

1- 1 1/2

tsp

salt

1/8

tsp

black pepper

3

cups

water
Instructions
Heat a large stainless steel pan or enamled dutch oven (with matching lid) over med/high heat. Add oil and onion. Sauté until lightly golden brown and soft, about 6-7 minutes.

Add garlic and continue sautéing and additional minute.

Add canned tomatoes along with juice to the onion pan. Break apart tomatoes using spatula until a chunky sauce is formed. Cook on med/high heat stirring consistantly until sauce reduces dramtically in size, about 15- 20 minutes.

Note: It is important not to walk away from the pan at this stage as the sauce can burn if not consistently stirred.

Once the sauce has reduced in size stir is salt, pepper and herbs and continue cooking for an additional minute. Stir in water and bring to a boil. Reduce heat to low, cover and simmer for approximately 1 hour, stirring occasionally. Once simmering is completed, process sauce with an immerssion blender.

Note: The 1 hour simmering process will intensify flavors and help to reduce sauce to the perfect consistency for pasta. Processing with an immerssion blender is an optional step, however is highly recommended. If using sauce for homemade pizza, simmer for an addittional 30 minutes uncovered, stirring occasionally if sauce is not thick.
Notes
*Please use as many organic ingredients as possible.
Recipe Notes
If using fresh herbs, do not add until the last 10 minutes of cooking. Also, if using an immersion blender process before adding the fresh herbs. 
Nutrition
Calories:
134
kcal
|
Carbohydrates:
2
g
|
Protein:
1
g
|
Fat:
14
g
|
Saturated Fat:
2
g
|
Cholesterol:
2
mg
|
Sodium:
114
mg
|
Potassium:
65
mg
|
Fiber:
1
g
|
Sugar:
1
g
|
Vitamin A:
21
IU
|
Vitamin C:
1
mg
|
Calcium:
34
mg
|
Iron:
1
mg