Spaghetti alla Puttanesca is an incredibly simple dinner that is perfect for busy weeknights. This authentic Italian recipe has delicious flavors of garlic, capers, anchovies, olives and tomatoes.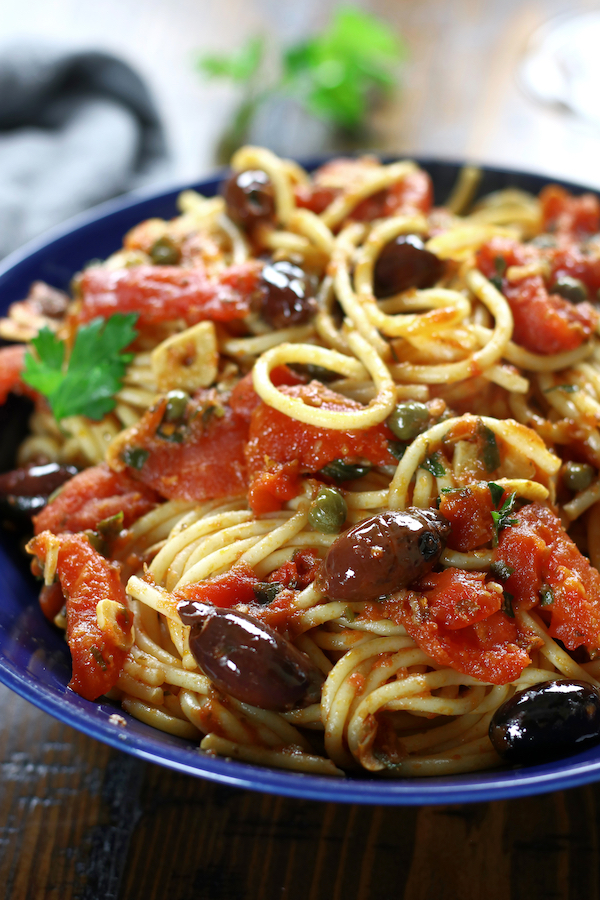 This post may contain affiliate links which I earn a small portion in sales if a purchase is made. Rest assured though, it is never at any additional cost to you.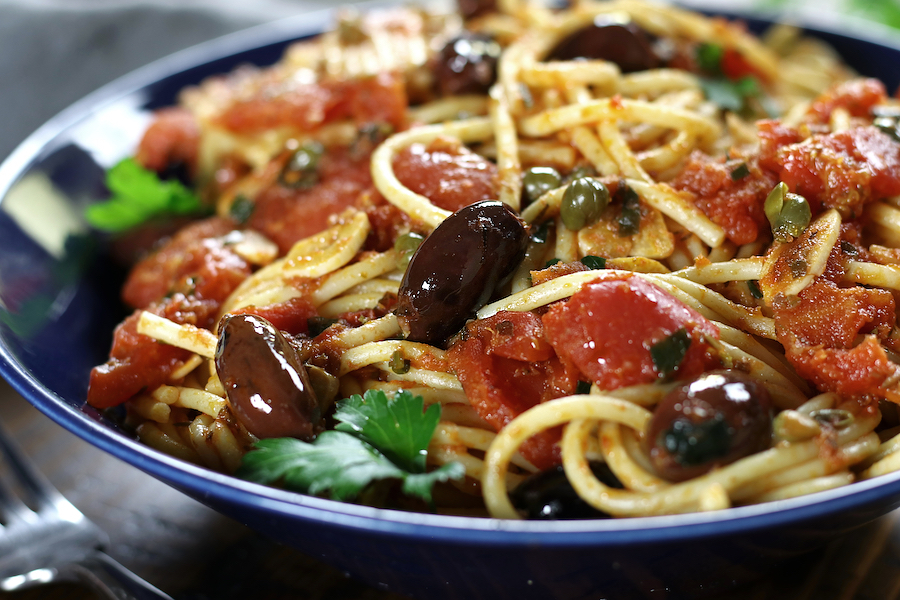 Guys, I'm not sure you know this but I am half Italian.
I know you would never guess with the last name Vander Wey but that is my married name and I very much have those Italian genes running through me.
How do I know this?
Well let's see, when I am really into what I am talking about, my hands starting flaring all over the place. I have a passionate hot temper when pushed too far. I also can only go so long without pasta before I must jump in a big bowl of scrumptious al dente pasta like this Spaghetti alla Puttanesca.
This particular pasta dish really is a favorite of mine because:
It literally can be made in 15-20 minutes.
Many of the ingredients are cupboard items, making this a perfect emergency meal.
It is full of flavor.
So, the next time you are craving comfort food, only have a limited time and you love pasta, I highly recommend that this be your go to meal.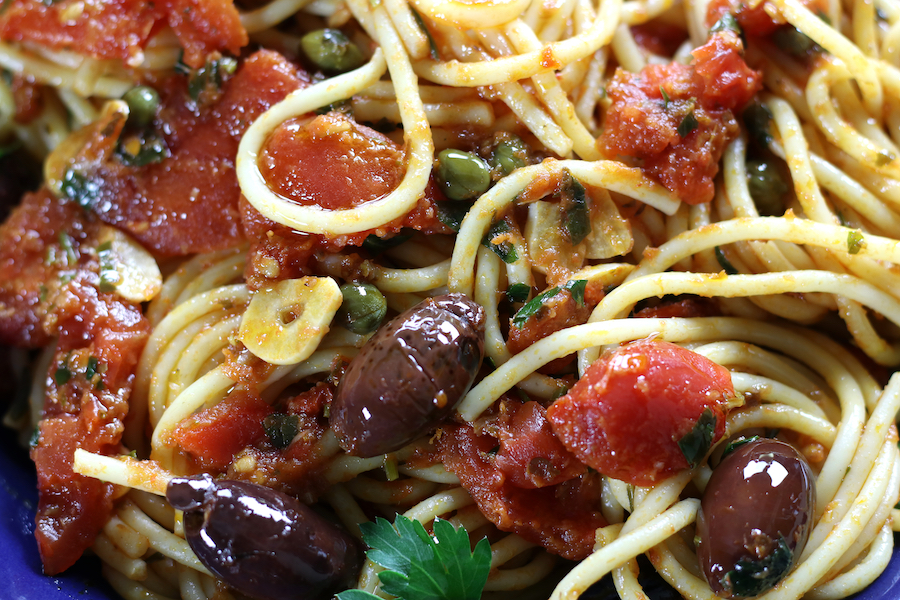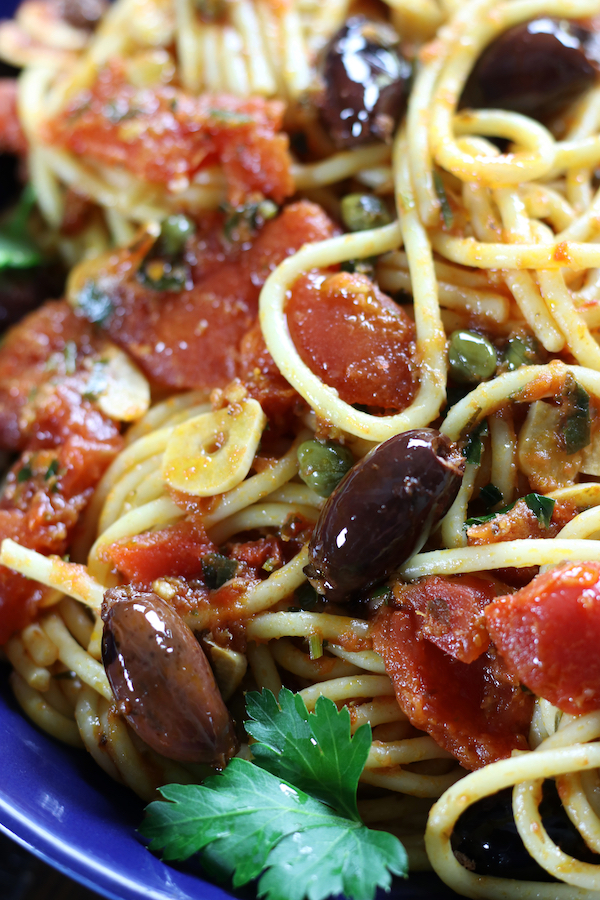 What is Spaghetti alla Puttanesca?
Spaghetti alla Puttanesca translated means "whore's pasta". Just writing that makes me half hide my head in shame and the other half giggle like a Junior Higher. Regardless of its meaning, this is an authentic Italian pasta dinner that is simple to make, absolutely delicious and very satisfying.
Sugo alla Puttanesca (Puttanesca Sauce)
If you are somebody who loves pasta, doesn't like a ton of sauce but wants tons of flavor, then this is the recipe for you. The beauty of Puttanesca Sauce is that it uses mainly simple cupboard items and it comes together very quickly. Here are some best tips to create a sauce that you will love:
Since the sauce come together quickly, measure and prepare all ingredients before starting.
Black olives can be substituted if anyone eating this dish does not enjoy Kalamata olives.
San Marzano tomatoes have a rich an deep flavor. However, if unavailable use another high quality plum tomato.
If a saucier pasta dish is desired, use only 3/4 lb pasta.
Drizzle the finished product with a few tablespoons of extra virgin olive oil, however this is an optional step.
Additional Add Ins
Tuna
The addition of tuna is an extremely simple and delicious way to add in more protein. Rather than drizzling the pasta with olive oil, add 2 cans of tuna in oil within the last minute or so of cooking.
Shrimp
Shrimp can take this already wonderful dinner and make it over the top pleasurable. Use 1 pound peeled and deveined raw shrimp. Heat a large frying pan over medium heat. Add in 2 tbsp oil and shrimp. Cook shrimp until pink and opaque, making sure to turn halfway during cooking. (Total time will depend on size of shrimp. Average time will be 2-3 mins.) Remove from pan and continue on with recipe using the same pan. Add the cooked shrimp back into the sauce in the last minute of cooking.
Onion
Sauté about 1 cup of diced brown onion in oil for about 4 mins before adding garlic and then proceed with the recipe as written. The addition of onion adds in another wonderful layer of flavor.
Parmigiano Reggiano
Parmigiano Reggiano is the cheese that you will find in block form in the speciality deli section of most grocery stores. This is real parmesan cheese and not imitation. Grating this over the top as a finishing touch can make this dish over the top delicious.
For the easiest cleanup this is a great grater. However, this is the one that restaurants use.
Pasta Noodle Options
Here are some pasta noodles options that would be a fun substitute for spaghetti noodles:
Penne
Linguine
Rigatoni
Gnocchi
How To Cook Pasta Like an Italian
Whether you use spaghetti, linguine or bucatini noodles, follow these tips for cooking your pasta the authentic Italian way.
Bring a large pot of water to a rapid boil (about 5-6 quarts of water is needed so pasta has room to move). Do not add the pasta until the water is boiling.
Once the water is boiling, heavily salt it with up to 1/2 cup of salt. (With the high volume of water this amount of salt is needed to flavor the pasta.)
Add the pasta and stir. Only lower the temperature slightly if needed to prevent water from spilling over. The water should still be boiling rapidly.
Stir the pasta occasionally to prevent noodles from sticking together. This tool is perfect for stirring and serving.
Cook the pasta to al dente. The best way to know whether it is al dente is to taste test a noodle. The noodle should be soft enough to eat but still have a meaty texture.
Drain your pasta in a tool like this and do not rinse it.
Add as soon as possible to your hot prepared sauce and serve immediately.
More Popular Pasta Dinners
Additional Italian Recipes
Peposo (Tuscan Black Pepper Red Wine Stew)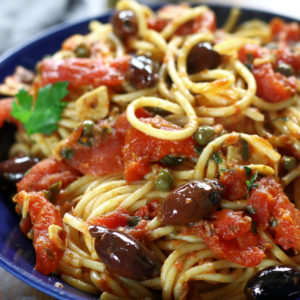 Spaghetti alla Puttanesca
Spaghetti alla Puttanesca is a quick classic Italian dinner with very little prep. Simple cupboard ingredients come together for a satisfying and delicious comfort meal.
Print
Pin
Rate
Ingredients
1/4

cup

extra virgin olive oil

*plus extra for drizzling

6

large

garlic cloves

*thinley sliced

2

oz

can anchovy fillets

*chopped

1/4

cup

capers

1/2

cup

Kalamata olives

*whole and pitted

1/2

cup

dry white wine

1

28 oz

can San Marzano tomatoes

*chopped, added with juice

1

tbsp

dried oregano

1

lb

spaghetti noodles

salt & pepper

*to taste

1/2

cup

fresh chopped Italian parsley
Instructions
Bring a large pot of water (5-6 qts) to boil over high heat. Once boiling, heavily salt the water. Cook pasta according to directions on the package, stirring occasionally to al dente and drain. (See "How To Cook Pasta" section above in post for additional tips.)

Meanwhile, heat a large frying pan over medium heat with oil. Add garlic and cook for 1-2 mins. Add chopped anchovies and cook for an additional min. Add in capers, olives and red pepper flakes. Cook for about 2 mins, stirring occasionally. Stir in wine and cook for about 2-3 mins.

Add in tomatoes and oregano. Simmer for about 10 mins on medium, stirring occassionally. Once 10 mins has elapsed, stir in fresh parsley.

Add hot, drained pasta to sauce and toss well. Salt and pepper to taste and drizzle with a few tablespoons of extre virgin olive oil.
Notes
*Please use as many organic ingredients as possible. 
Recipe Notes
For a thiner sauce, reserve 1/2 cup of pasta water and add once the pasta has been tossed with the sauce. Additional salt is not needed if pasta water is added. 
Garnish with fresh grated Parmigiano Reggiano for an additional layer of flavor. 
Nutrition
Calories:
316
kcal
|
Carbohydrates:
45
g
|
Protein:
10
g
|
Fat:
10
g
|
Saturated Fat:
1
g
|
Cholesterol:
6
mg
|
Sodium:
548
mg
|
Potassium:
193
mg
|
Fiber:
3
g
|
Sugar:
2
g
|
Vitamin A:
51
IU
|
Vitamin C:
1
mg
|
Calcium:
50
mg
|
Iron:
2
mg