With the flavors of garlic, lemon and nutmeg, Simple Creamy Farfalle Pasta with Spinach is a super easy and delicious dinner. This dish works perfect by itself or with your favorite protein.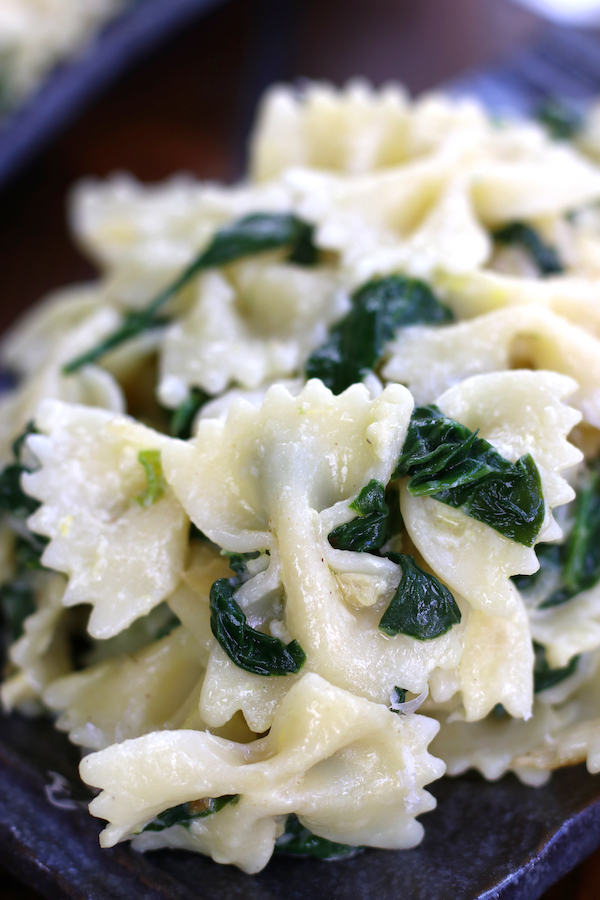 This post may contain affiliate links which I earn a small portion in sales if a purchase is made. Rest assured though, it is never at any additional cost to you.
I recently had someone share with me that the hardest part of eating well for them was they would get incredibly bored of all the foods that they "can eat".
Let me tell you, that truly made me sad.
I totally understand the elements of food sensitivities, or worse food allergies, where certain foods are restricted and how challenging that is.
However, this particular boredom was connected to the foods she felt she should only be eating and the guilt associated with eating the foods she felt were off limits.
It felt very much like a mindset of "Well if I can't do it perfectly, what is the point of doing it at all?"
In my years of supporting clients with their weight loss goals I would see this all the time.
In fact, I still catch myself falling into this mindset on occasion today.
What has helped me most is menu planning where 80% of the week is wholesome, nutritionally dense foods.
This gives me the wiggle room then to allow for more sinfully decadent foods 20% of the time like this Creamy Farfalle Pasta recipe.
It is easy to make, has all real food ingredients and is deliciously satisfying.
I highly recommend sharing this with someone you love and enjoying every bite.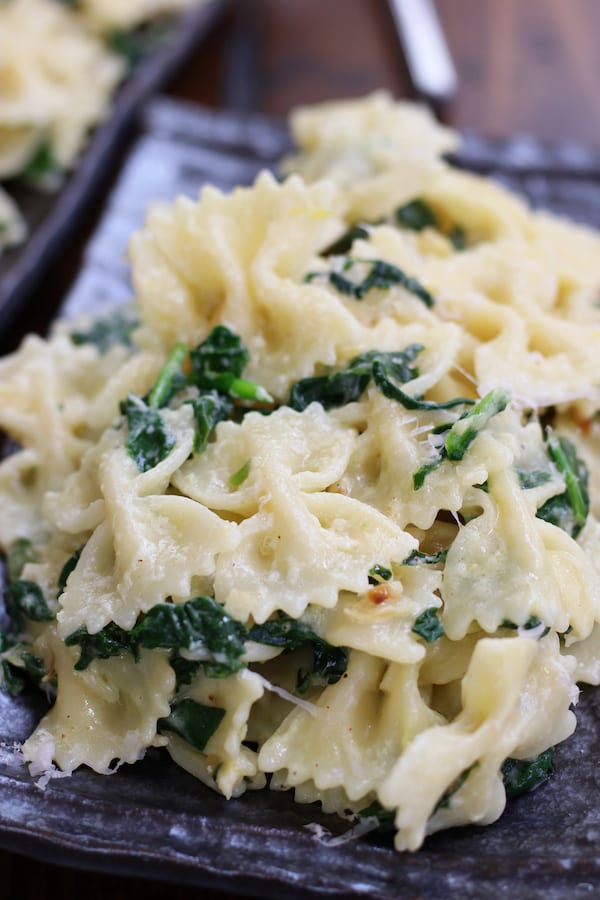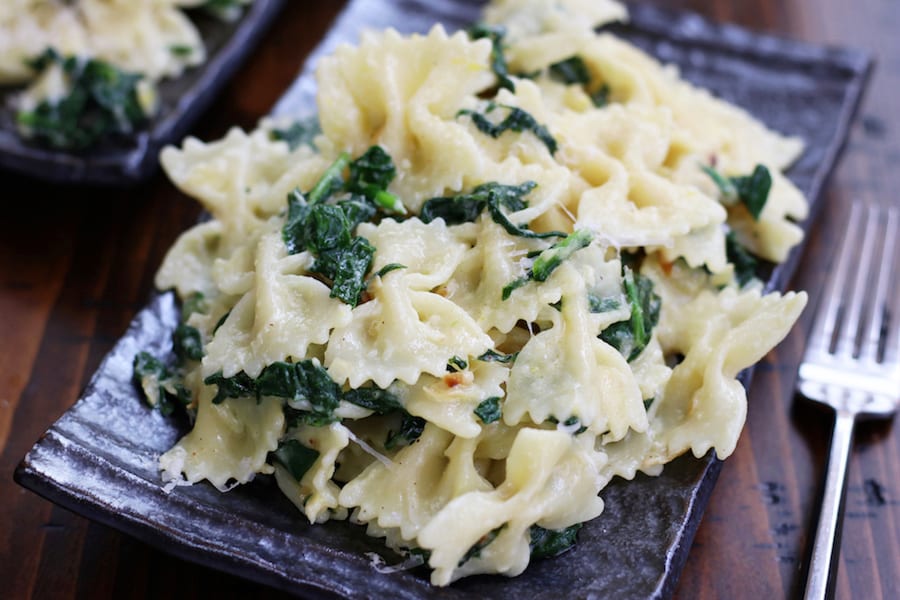 What Is Farfalle Pasta?
Farfalle pasta are pieces of pasta that can range in sizes but are shaped like little bow ties. Some also say they resemble a butterfly shape. For people who love pasta, it's very common that this shape rates on their list of favorite pasta shapes. Most grocery stores carry farfalle and this is my favorite brand.
How To Cook Farfalle Pasta (aka Bow Tie Pasta)
It is always best to follow the instructions on the packaging of pre-made pasta but here are a few tips for authentically cooked pasta that makes my Italian heart so happy every time .
Cook the pasta in plenty of water, about 5-6 quarts, so the noodles have room to move.
Don't use hot water from the tap. It is preferable to use cold water from the tap or room temperature water. My father was a bio-chemist and I can hear him now bemoaning anyone who uses hot tap water and the level of lead they are adding into their food.
Use high heat and lower to med/high if necessary later.
When bringing the water to a boil use a lid to help get it boiling faster. Stop using the lid once the pasta is added.
Once the water starts to boil add in the salt and use plenty of it. The trick is to make the water taste like ocean water. This means you will need to add 1/3 -1/2 cup of sea salt. Without this step pasta can taste flat and most of the sodium will wash down the drain.
Make sure to stir the pasta once added to the boiling water and at least 2-3 times more while cooking. This is my all time favorite spoon for cooking and serving pasta.
Cook the pasta to al dente. This means to the tooth or in other words, almost done. Two ways to know when pasta is done. Taste test it (brilliant, I know…lol). You will also notice that the water becomes thicker from the loss of starch as the pasta cooks. When I see the water becoming thicker is when I know it is time to taste test.
Drain your pasta and do not rinse.
What is Creamy White Sauce (aka Alfredo Sauce)
As far as sinfully decadent sauces go, Creamy White Sauce (also know as Alfredo Sauce), is one of the easiest and most delicious sauces around. The sauce is composed of melted butter that is whisked with heavy cream and simmered with parmesan cheese. Other flavors such as lemon, garlic and nutmeg can be added, as seen with this Bow Tie Pasta recipe.
Can You Substitute Milk for Heavy Cream in Alfredo Sauce?
Yes, milk can be added in place of heavy cream. However a thiner sauce will be created but it still tastes phenomenal.
Personally, I prefer the middle of the road approach of using half and half in place of heavy cream. It still has the creamy decadence element with just a little less fat.
Freshly Grated Parmesan Cheese
Freshly grated parmesan cheese is hand grating the cheese. The reason for this is not only is it more affordable, but also the quality is much easier to control. It is ideal to use the higher quality Parmigiano-Reggiano and grate it using this tool. By doing so you will end up with much finer grated cheese that will melt and incorporate into the sauce with ease.
What To Serve With Simple Creamy Farfalle Pasta
This pasta recipe tastes amazing by itself. However, if you are hosting a dinner party here are some foods that accompany it beautifully.
More Simple and Delicious Pasta Recipes
Gnocchi Asparagus and Mushroom Skillet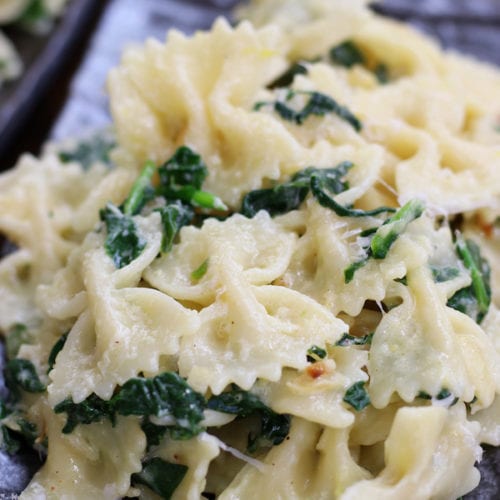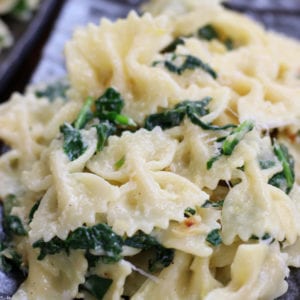 Simple Creamy Farfalle Pasta with Spinach
Creamy and satisfying, this creamy Farfalle Pasta is a quick and delicious comfort food dish great for weeknights.
Print
Pin
Rate
Ingredients
For the Pasta
5-6

quarts

water

1/3

cup

sea salt

16

oz

Farfalle Pasta (Bow Tie Pasta)
For the Spinach
2

tbsp

olive oil

1/2

med

brown onion

*diced, about 1/2 cup

1

large clove

garlic

*crushed or minced

8

oz

fresh spinach

*roughly chopped

1/2

tsp

sea salt
For the Cream Sauce
1/4

cup

butter

1

cup

heavy cream

*or half and half

1

tbsp

lemon juice

2

large cloves

garlic

*minced or crushed

1 1/2

cups

freshly grated parmesan cheese

1

zest

lemon

1/8

tsp

nutmeg
Instructions
Place 5-6 quarts of water over high heat. Once boiling stir in salt and cook bow tie pasta according to directions on the package. See how to cook pasta tips above.

Meanwhile, place a large frying over medium high heat. Add olive oil and onion. Sauté until lightly browned, about 10 mins.

Add in garlic clove and

continue sautéing for another min. Add in spinach and sauté until just becoming wilted, about 5 mins. Sprinkle with salt and transfer to a separate bowl.

Place same frying pan over low heat. Add butter to melt.

Meanwhile measure cream. Add lemon juice and nutmeg to cream.

Once butter is melted whisk in cream (or half and half). Once incorporated and in cheese and bring to a low simmer for about 5 mins, whisking often. Add in garlic and continue simmering for an additional min. Take off heat and stir in lemon zest. Drain spinach mixture of excess water and stir into cream sauce also.

Drain pasta and add to cream sauce. Stir well. Additional parmesan can be added as garnish.
Notes
*Please use as many organic ingredients as possible. 
Nutrition
Calories:
640
kcal
|
Carbohydrates:
61
g
|
Protein:
21
g
|
Fat:
35
g
|
Saturated Fat:
19
g
|
Cholesterol:
92
mg
|
Sodium:
7039
mg
|
Potassium:
446
mg
|
Fiber:
3
g
|
Sugar:
3
g
|
Vitamin A:
4559
IU
|
Vitamin C:
13
mg
|
Calcium:
409
mg
|
Iron:
2
mg