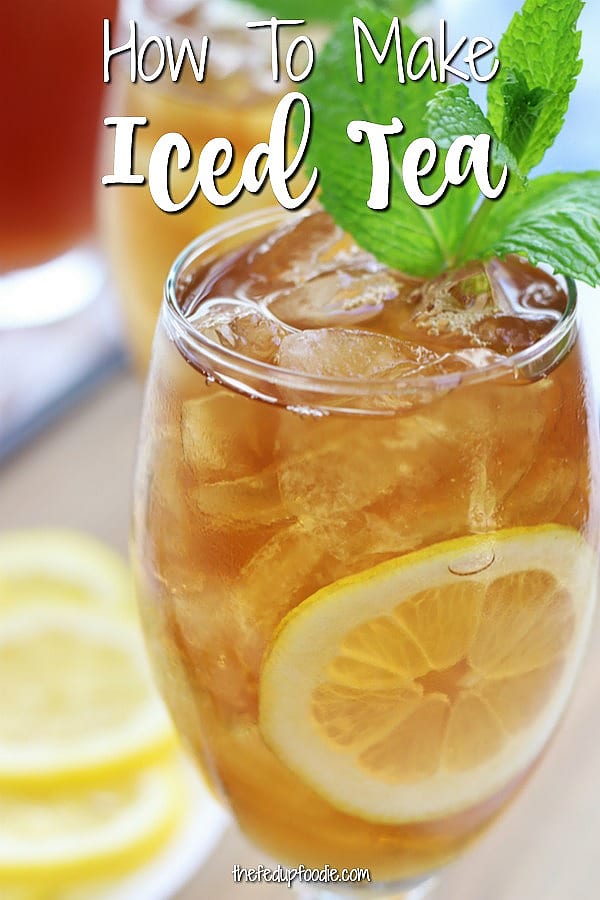 Learning how to make iced tea is extremely easy with this recipe and guide. So delicious and simple, this is a summer staple in our house every year.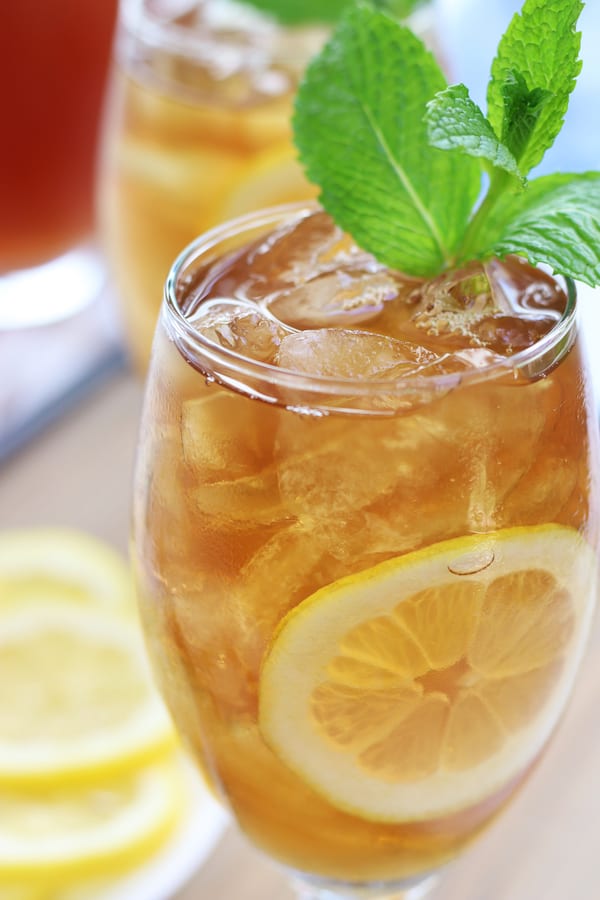 This post may contain affiliate links which I earn a small portion in sales if a purchase is made. Rest assured though, it is never at any additional cost to you.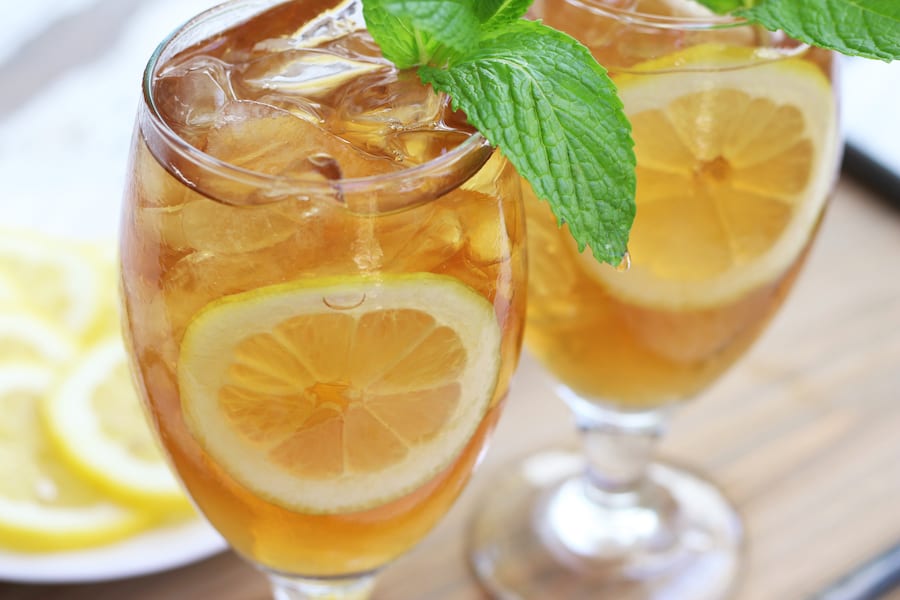 Does anyone else remember always having a cold pitcher of iced tea in the refrigerator all year long while growing up?
My mom loved iced tea.
She always had a tall Texas tumbler glass full of frosty homemade iced tea.
I remember as a child it was so much fun to sneak sips out of her glass.
Why? Because hers always tasted so much better.
My Dad would get so frustrated with me. "Pour your own glass!" I would hear over and over again.
I eventually became really good at sneaking sips without my Dad seeing, but my Mom always knew.
Her love of homemade ice tea, along with her patience with my thievery, has carried on the tradition of us enjoying iced tea from Spring to Fall.
My hope is that these tips and tricks will have you and your family enjoying heavenly refreshment as much as we do.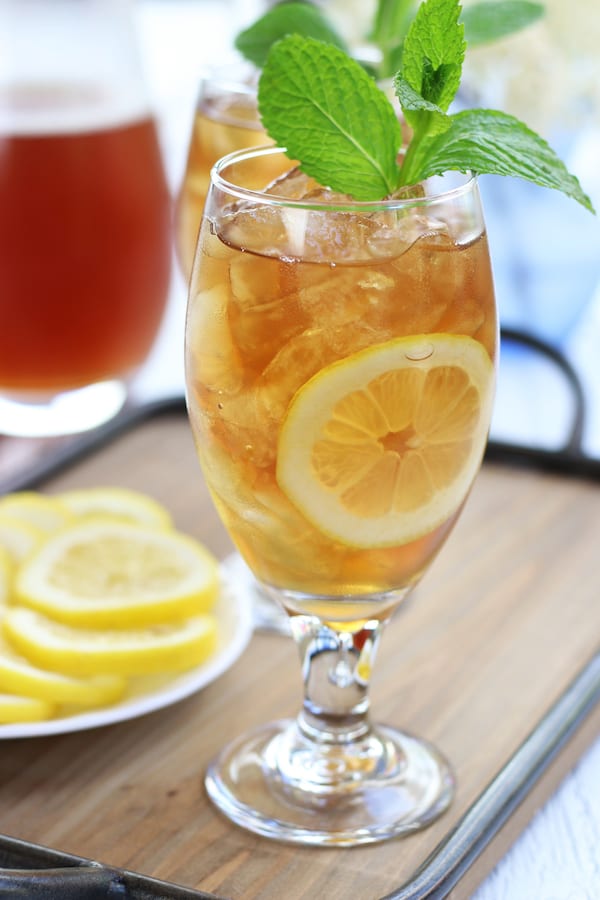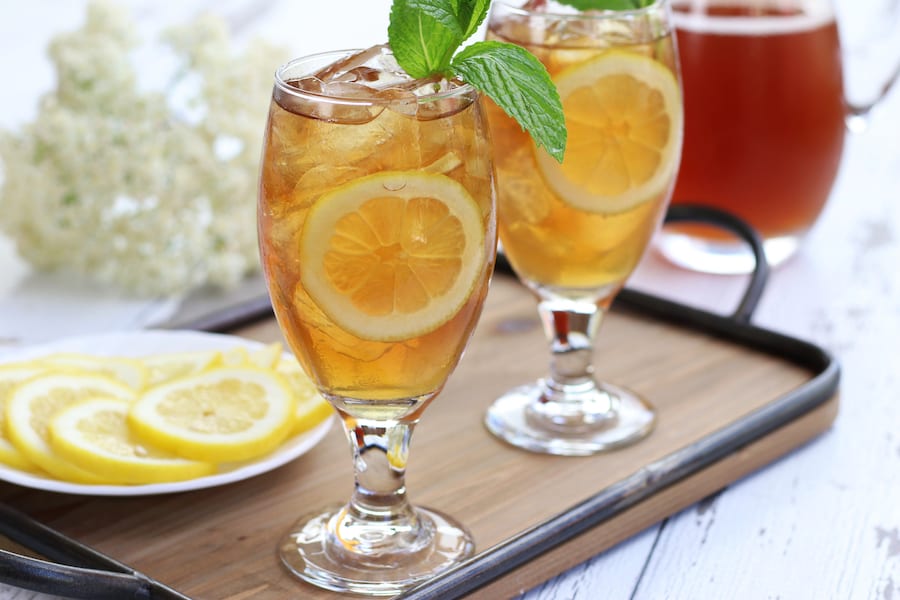 How To Make Iced Tea
Let me first start by saying that this is not sweet tea. With Southern style sweet tea it is usually customary to add 1 cup of sugar per 1 gallon of tea. This tea recipe is unsweetened, unless simple syrup is chosen as an add on for individual servings (see below for instructions). This tea recipe is a simple brew of water and tea leaves. Follow these steps for a pure, delicious and refreshing iced tea.
Fill a 1 gallon- 4 liters pitcher halfway full with good quality water and set aside.
Place about 2-3 cups of water in a medium sized sauce pan over high heat and bring to a boil. Pro Tip: It's important to never use hot tap water due to the higher lead content.
Once the water is boiling, remove from heat and submerge tea bags into hot water (see "Types of Tea" below for amount of tea to use). Steep until a darker color is achieved.
Pour the tea into the pitcher. Add smaller amounts of additional water into the sauce pan and transfer to pitcher until desired fullness is achieved.
Refrigerator until chilled, about 4 hours and serve over ice.
Types of Tea for Iced Tea
Depending on the next grocery store you visit, you could be met with a small selection of tea or an entire isle with every type of tea that has ever been known to man. If you are faced with the second option, it is very easy to become overwhelmed. Honestly, any type of tea can make beautiful iced tea but here are my preferences and the amount tea you will need for each type.
For a classic darker tea, Breakfast Blend works beautifully. To make 1 gallon of tea use 5 tea bags or 5 teaspoons of loose tea.
Green tea can make a light and refreshing iced tea. However, you will need to use 6-7 tea bags or 6-7 teaspoons to achieve a dark enough brew.
An absolute summertime treat for me, Peppermint or Spearmint tea makes the ultimate beverage for cooling down during the hot summer months. Similarly to green tea, use 6-7 tea bags or 6-7 teaspoons.
Iced Tea For a Crowd
Ice tea can be the perfect drink for parties thrown during the Spring and Summer. It's affordable, easy to make and most people enjoy it. I have found that generally a good rule of thumb is to have 1 gallon of tea for ever 6-8 people. When making tea for a crowd a container like this works perfectly.
How To Fix Ice Tea That Is Too Dark
One of the best ways to fix ice tea that is too dark is to simply add more water to it and/or serve it over plenty of ice.
Add Ins For Iced Tea
My husband and I have a steakhouse that we love going to for date night every once in awhile. Not only is the food amazing but they way they serve their Iced Tea makes us feel so special. Here is some inspiration taken directly from our favorite steakhouse.
Make simple syrup and serve chilled in a small serving pitcher. (see below)
If you really want to impress company, this always does the trick.
Lemon slices or chilled squeezed lemon juice.
Ice made from freshly brewed ice tea that are made with these fun shapes.
How To Make Simple Syrup
Simple syrup is made by combining 1 part sugar to 1 part water. Bring mixture to a boil until sugar is dissolved making sure to stir occasionally. Refrigerate until chilled. For those who enjoy sweeter teas 1 -2 tablespoons per 8 oz glass is generally used.
Best Bottled Iced Tea
I recently had the pleasure of trying NADI Organic Rosehip Drink for the first time. I fell head over heals in love with the taste and quality. In addition, this up and coming company has already won a bunch of awards. If you are looking for a low calorie, high in vitamin C and antioxidants drink that has no sugar or preservatives, then look no further.
More Summer Refreshments
Rainbow Tequila Sangria– alcohol
Limeade with Mint– nonalcoholic
Frozen Watermelon Mojitos– alcohol
Fizzy Pineapple Punch– nonalcoholic
Blueberry Rum Spritzer– alcohol
Cherry Winer Slushies– alcohol
Vodka Honey Lemonade– alcohol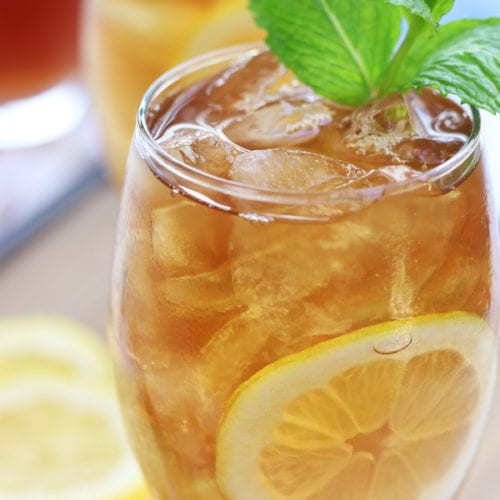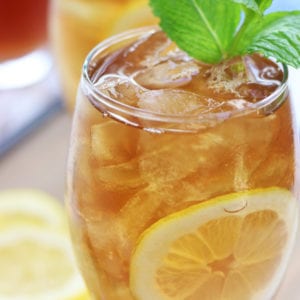 Homemade Iced Tea
Refreshing and an incredibly easy summer drink. It's just not summertime unless this ice tea is chilling in the refrigerator.
Print
Pin
Rate
Ingredients
1

gallon

good quality water

5

tea bags
Instructions
Place 2-3 cups of water in a medium sized sauce pan over high heat and bring to a boil. Once boiling remove from heat and steep tea bags in hot water until a darker color is achieved, about 5 mins.

Meanwhile, fill a gallon sized pitcher half full. Pour the brewed tea into the half full pitcher. Continue filling with water using the sauce pan until pitcher is filled.

Refrigerate until chilled, about 4 hours. Serve over ice.
Notes
*Please use as many organic ingredients as possible.
Nutrition
Sodium:
16
mg
|
Calcium:
9
mg