Light and summery, Heirloom Tomato Pesto Naan Pizza is a quick and easy recipe perfect for curing the take out cravings.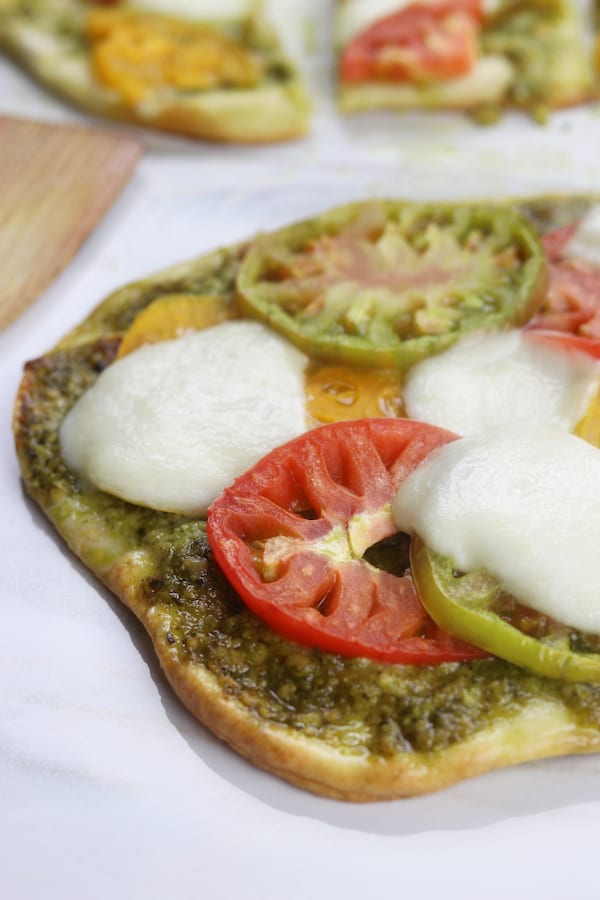 This post may contain affiliate links which I earn a small portion in sales if a purchase is made. Rest assured though, it is never at any additional cost to you.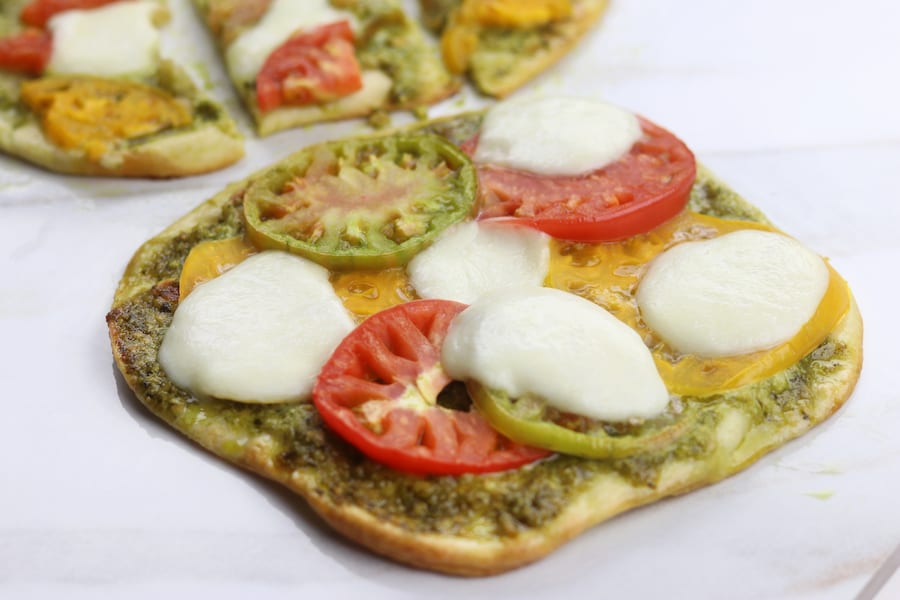 A few weekends ago my husband and I headed to downtown San Diego just to hang out. Of our many stops for the day my favorite was the island of Coronado but even more specifically the Hotel Del Coronado. That hotel and the beach it sits on are absolutely gorgeous and makes me feel like I am on vacation every time I go. One of my favorite spots in that hotel is the garden that sits between the hotel and the beach. I don't know if it is because it is so beautifully kept or if it is because it sits right in front of a beautiful beach or because I can't garden worth beans and I am insanely jealous. It is my dream to have a similar garden some day that sits in front of that huge blue drink of water. Of course, my husband would have to be the care taker, I would kill everything!!! But oh the veggies and herbs we would have. On the top of my list of veggies to grow would be heirloom tomatoes so I could continue to make these Heirloom Tomato Pesto Naan Pizza's as often as I would like.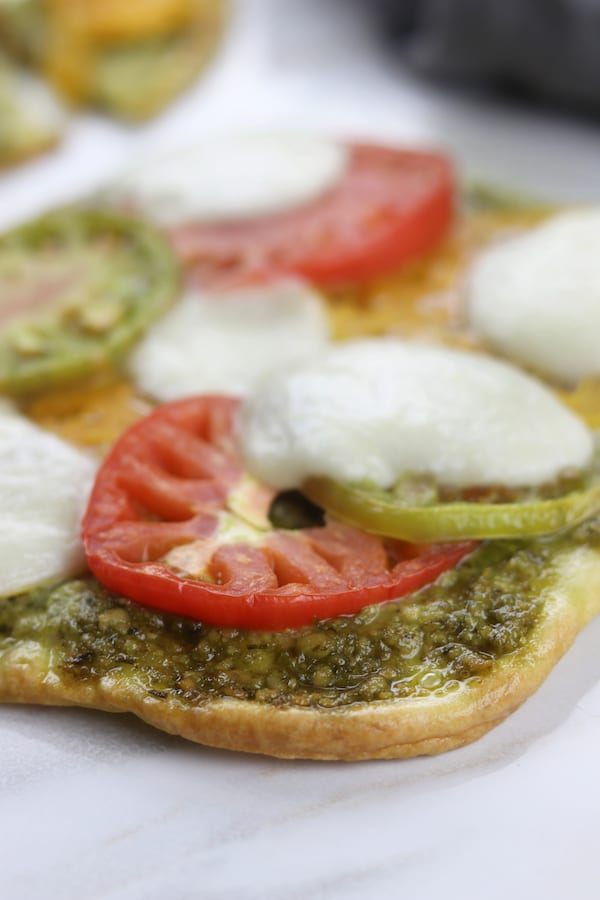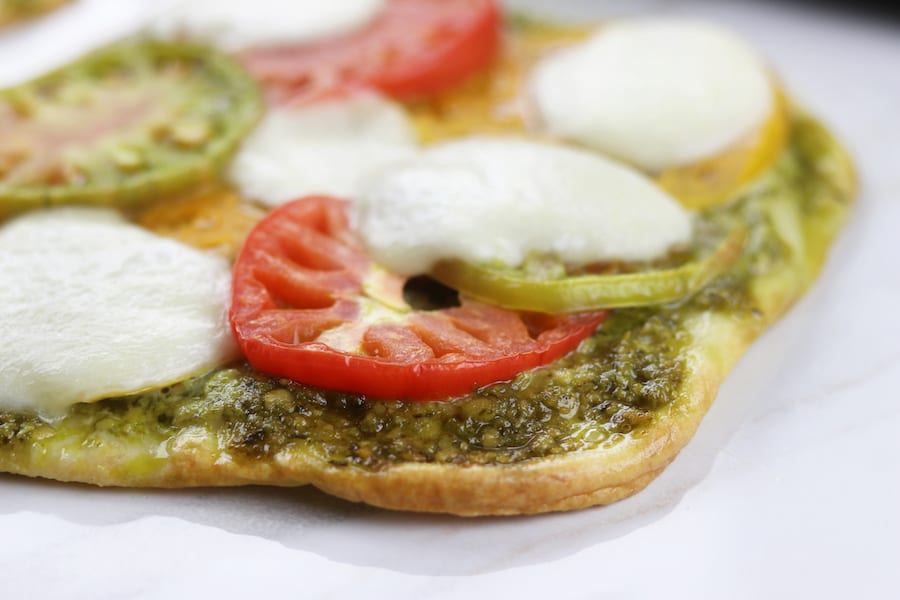 Tips about Heirloom Tomato Pesto Naan Pizza:
I used my Toasted Walnut Pesto for these Heirloom Tomato Pesto Naan Pizza's. The toasted walnut flavor goes really well with the heirloom tomatoes.
It will take 1-3 tbsp of pesto for each pizza depending on each person's taste preferences.
Mozzarella balls are not only fun to snack on but they look work great on top of this pizza.
If you make the pesto ahead of time or buy pre-made pesto, this pizza comes together in just a little over 10 mins. Can't beat that for a quick and easy meal.
My husband purchased the pizza paddle from Amazon. We both really love it because it makes transferring larger pizzas to and from the oven much easier plus it folds for easy storage. (affiliate)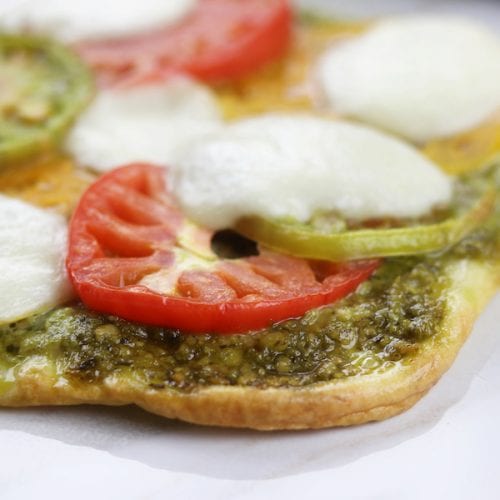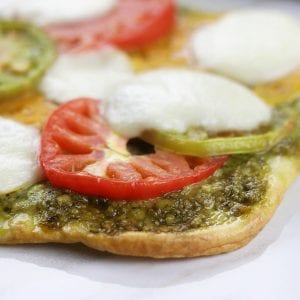 Ingredients
4

Naan breads

3/4

cup

pesto

6-8

oz

soft mozzarella balls

3

medium sized heirloom tomatoes

*sliced
Instructions
Preheat oven to 425℉.

Place Naan on a large cookie sheet. Spread 1-3 tbsp pf pesto on each bread (amount depends on taste preferences). Place 5-6 sliced tomatoes on top of pesto and top with 4-5 mozzarella balls.

Bake for 10 mins.
Notes
*Please use as many organic ingredients as possible.*
Nutrition
Calories:
487
kcal
|
Carbohydrates:
36
g
|
Protein:
18
g
|
Fat:
30
g
|
Saturated Fat:
10
g
|
Cholesterol:
39
mg
|
Sodium:
756
mg
|
Potassium:
251
mg
|
Fiber:
3
g
|
Sugar:
5
g
|
Vitamin A:
1993
IU
|
Vitamin C:
13
mg
|
Calcium:
299
mg
|
Iron:
1
mg
This recipe is part of Meal Plan Monday.
If you like this Heirloom Tomato Pesto Naan Pizza then you will love: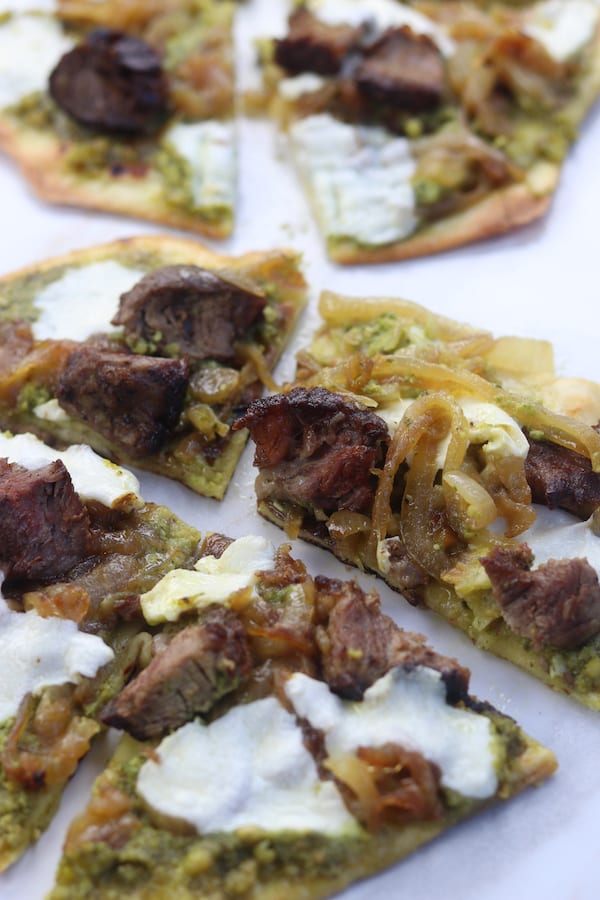 Caramelized Onion Steak Naan Pesto Pizza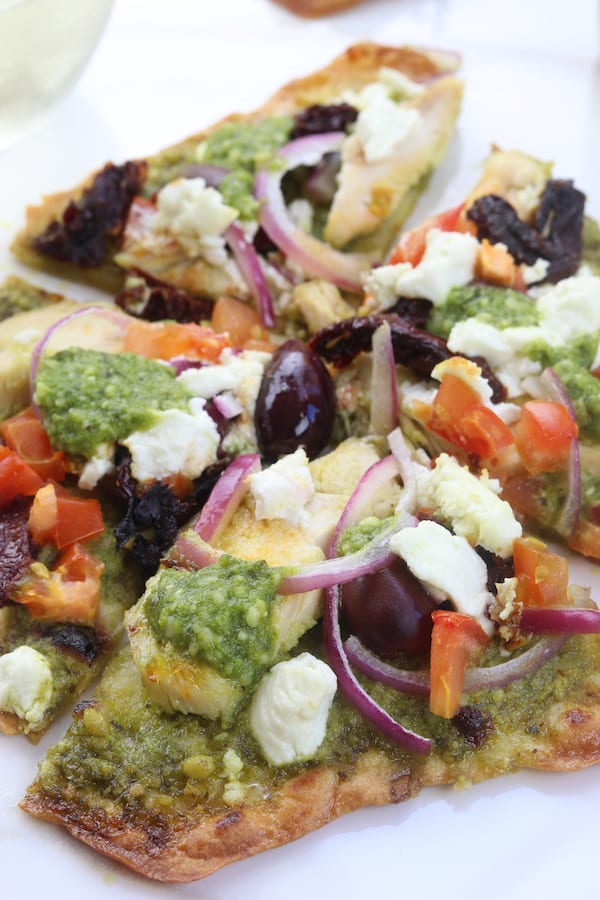 Chicken Pesto Naan Pizza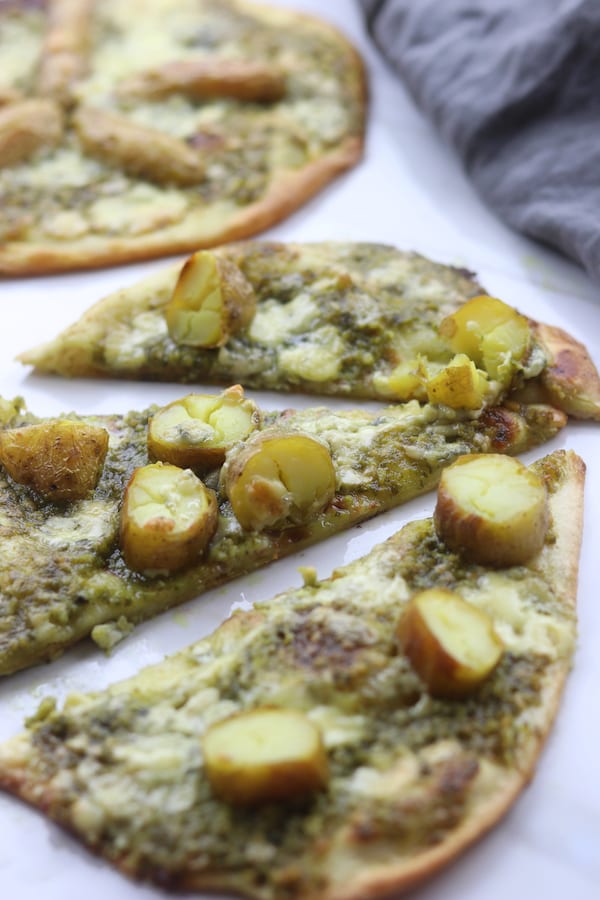 Potato Gorgonzola Pesto Naan Pizza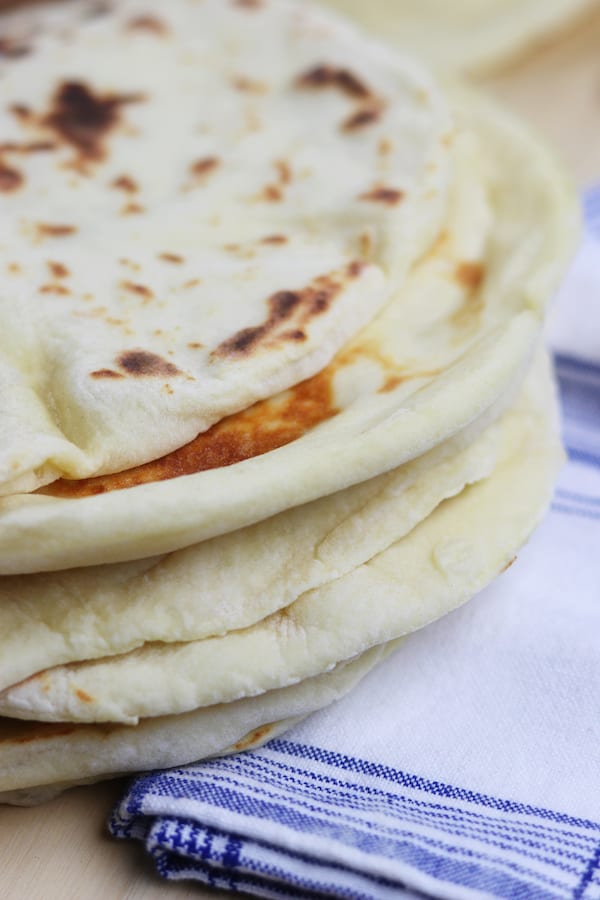 Homemade Naan