Caramelized Onion Steak Naan Pesto Pizza has the perfect marriage of sweet buttery caramelized onions, herby pesto and satisfying steak. Ingredients can be made ahead of time for a delicious dinner that comes together in a little over 10 minutes.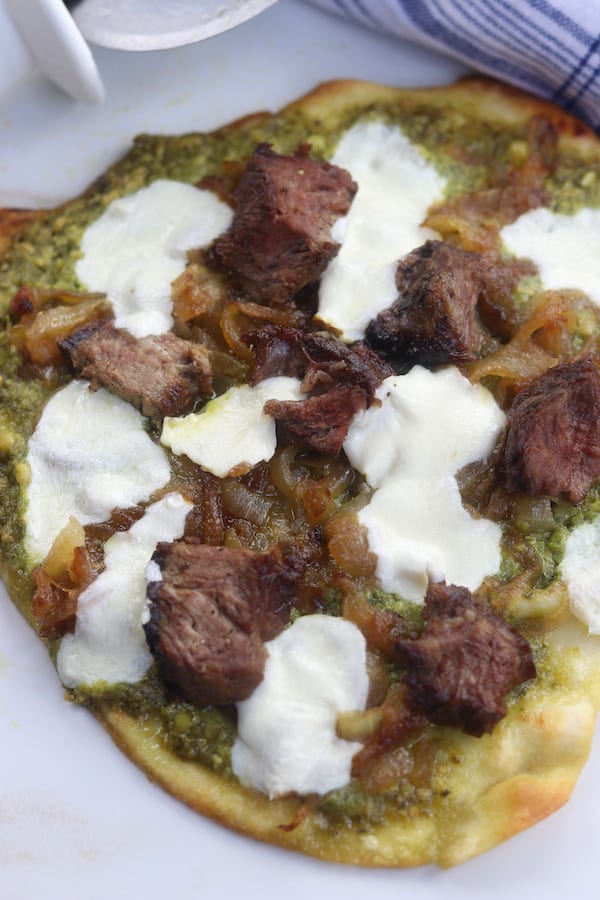 This post may contain affiliate links which I earn a small portion in sales if a purchase is made. Rest assured though, it is never at any additional cost to you.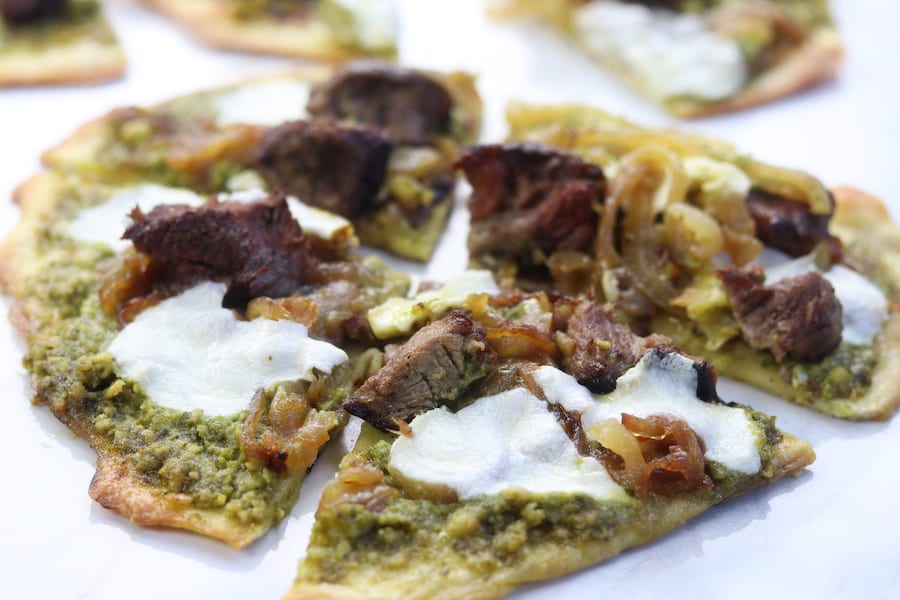 I have been working on this Caramelized Onion Steak Naan Pesto Pizza recipe, plus the 3 other naan pesto pizza recipes, for what feels like an eternity. Because of the length of time involved I told my husband that I really hope everyone enjoys these pizzas and the video goes viral. His response, "that's ok if it doesn't go viral because I have been eating good." Not only have we both enjoyed eating the different versions of pesto pizza but it has been a ton of fun making them with him. He has been my partner in crime perfecting making homemade naan and right by my side with the making of the video. I turn to him for his opinion about 5,000 times a day and he even has been doing heavy duty spring cleaning so I can finish these posts and video up. I thank God for my husband even when he is driving me batty…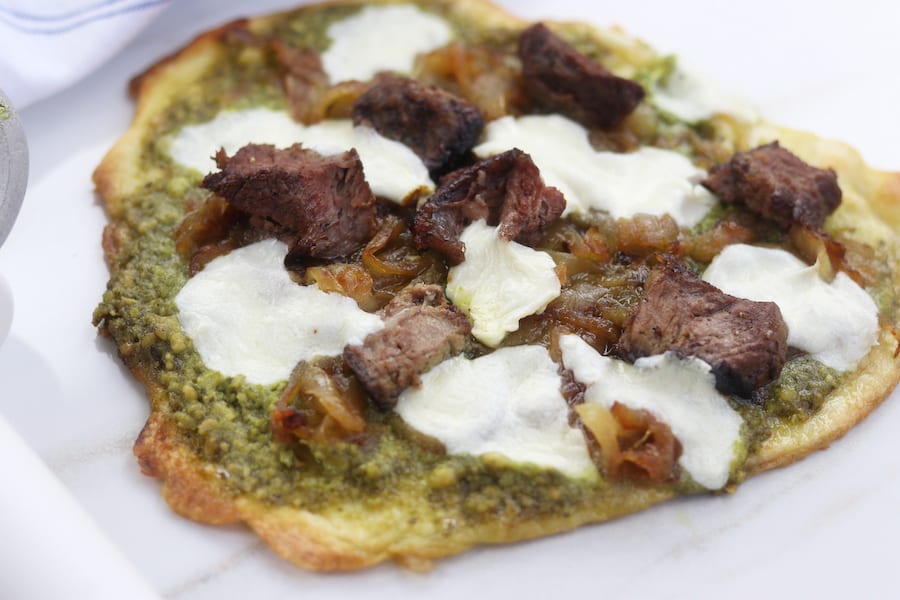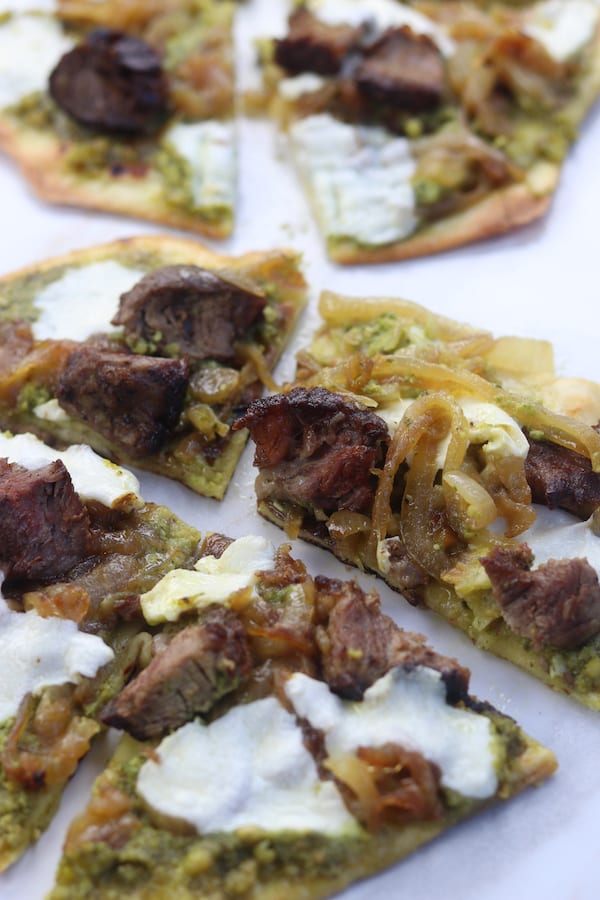 Tips about Caramelized Onion Steak Naan Pesto Pizza:
I used my Toasted Walnut Pesto for this Caramelized Onion Steak Naan Pesto Pizza because I love the nuttiness from the walnuts it provides.
Each pizza will take 1-3 tbsp of pesto depending on personal preferences. Just be careful to not over do it with the pesto to ensure your pizza does not become to oily.
Making the ingredients ahead of time will make for an incredibly quick dinner that comes together in just a little over 10 minutes. Serve with a side salad for a complete meal.
Using a pizza paddle makes moving the pizza to an from the oven so much easier. My husband and I both love this one from Amazon because it is sturdy but also compresses well for easy storage in your cupboard. (affiliate)
Outside of grilling steak I don't know what I would do without my cast iron frying pans. (affiliate)
To caramelize the onions I used Chosen Foods Avocado Oil and grass-fed butter for the steak. (affiliate) I have paired my fats down to avocado oil, olive oil, a few nut oils and butter. Want to know why I steer clear of vegetable oil, then check out this incredibly eye opening video.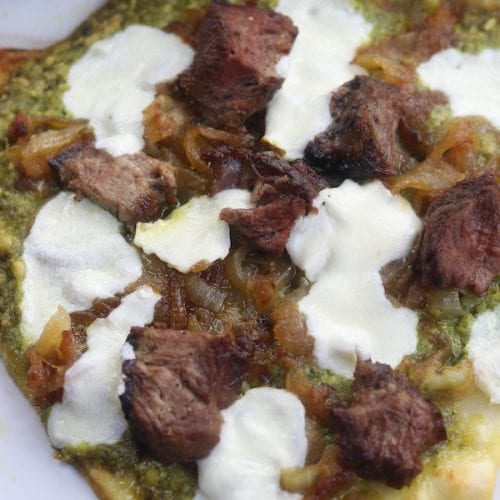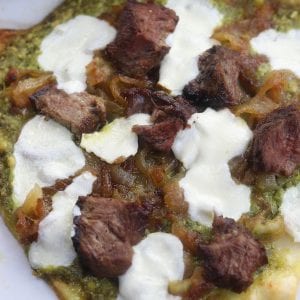 Ingredients
4

Naan breads

3/4

cup

pesto

1/2

lb

top sirloin steak

*1/2- 3/4 lb

1

tbsp

butter

8

oz

soft mozzarella cheese

*cut into pieces

2

lg brown onions

2

tbsp

oil

*I used avocado oil
Instructions
Preheat oven to 425℉.

Heat a cast iron frying pan over med/high heat for about 2-3 mins. While pan is heating salt & pepper steak. Add butter to pan and once melted carefully place steak in pan and do not move for 4-5 mins. Flip steak and continue cooking for another 4-5 mins (for med rare). Once done place on cutting board to rest for 5 mins before cutting.

Meanwhile peel & cut onions into strips. Place a separate large frying pan over med/high heat for about 1-2 mins. Add oil and onion strips. Stir gently so that slices are covered in oil. Continue stirring gently every few mins until caramelized, about 10-12 mins for a lighter caramelization. Turn off heat & set aside.

Place 1-3 tbsp (depending on taste preferences) on each of the naan. Divide caramelized onions among the 4 breads. Cut steak into cubes & place desired amount on each bread. Top with slices of cheese. Place on cookie sheet and bake in a 425℉ oven for 10 mins.
Notes
*Please use as many organic ingredients as possible.*
Nutrition
Calories:
694
kcal
|
Carbohydrates:
38
g
|
Protein:
34
g
|
Fat:
45
g
|
Saturated Fat:
15
g
|
Cholesterol:
92
mg
|
Sodium:
900
mg
|
Potassium:
326
mg
|
Fiber:
3
g
|
Sugar:
5
g
|
Vitamin A:
1409
IU
|
Vitamin C:
4
mg
|
Calcium:
386
mg
|
Iron:
2
mg
This recipe is part of Meal Plan Monday.
If you like this Caramelized Onion Steak Naan Pesto Pizza you will love: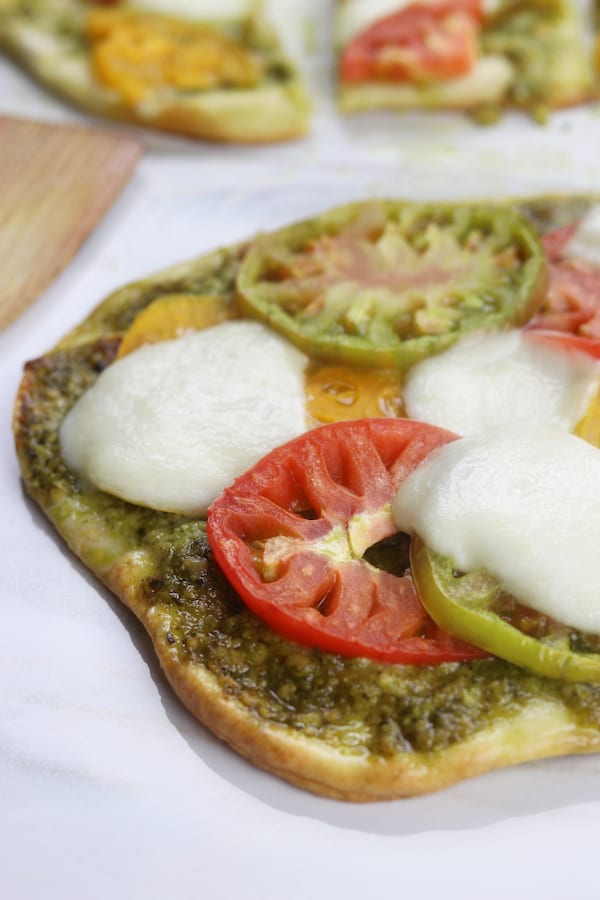 Heirloom Tomato Pesto Naan Pizza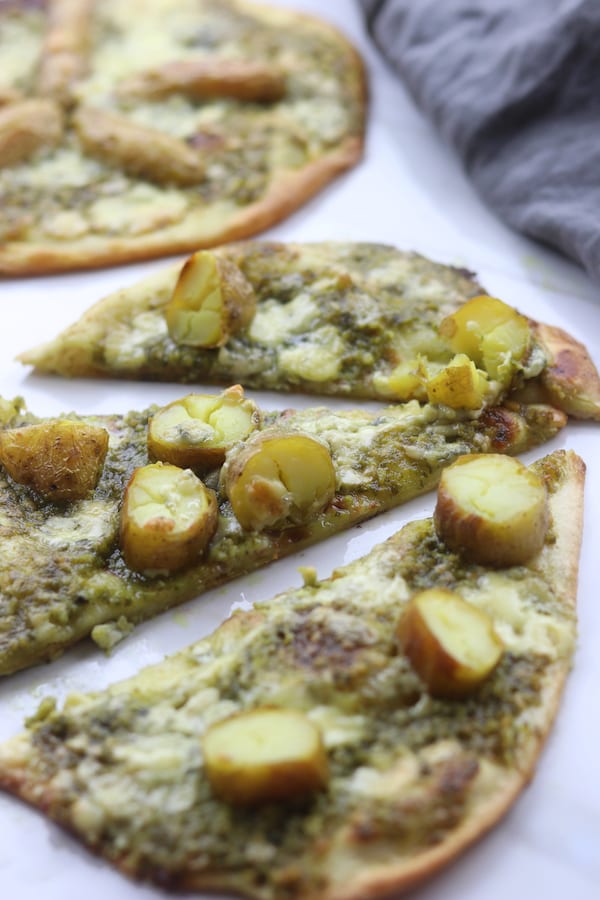 Potato Gorgonzola Pesto Naan Pizza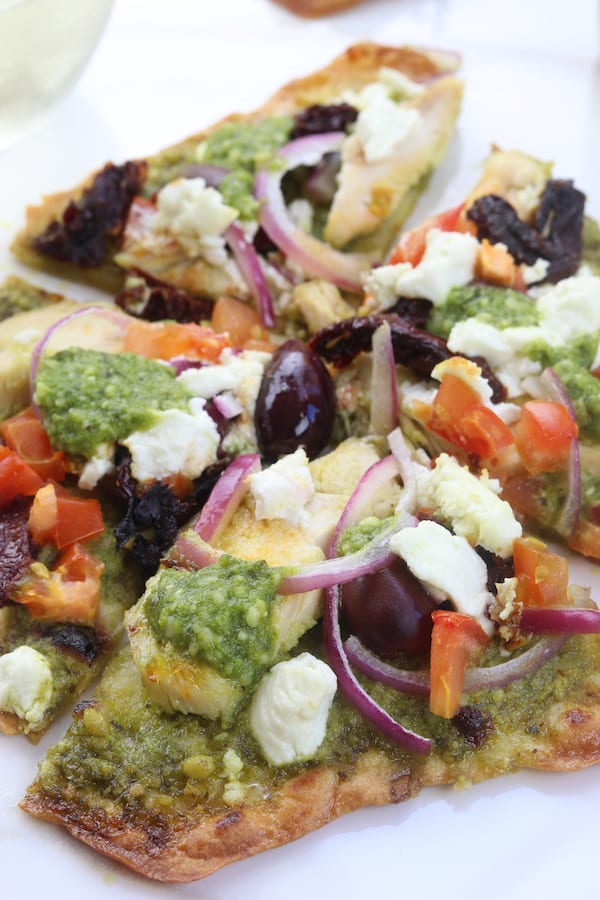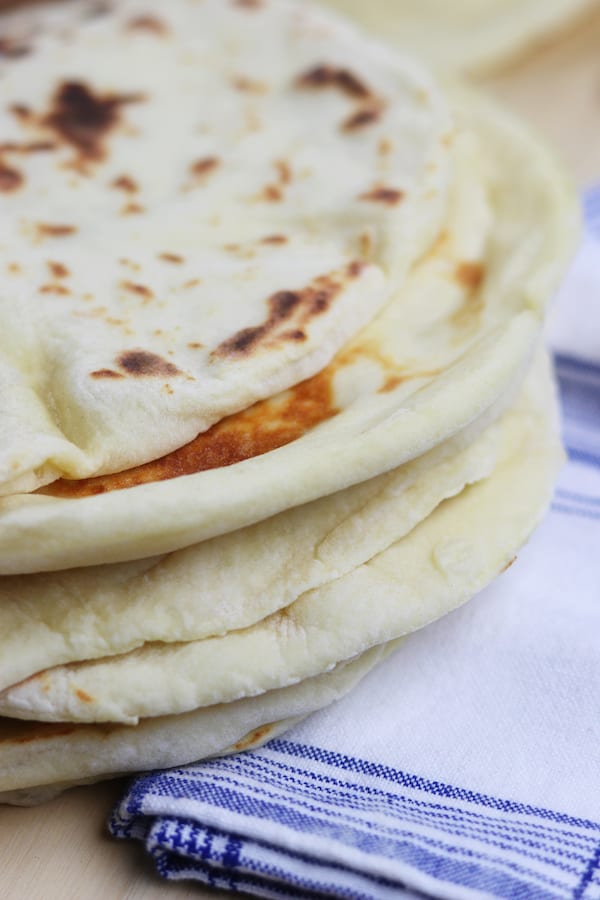 Homemade Naan