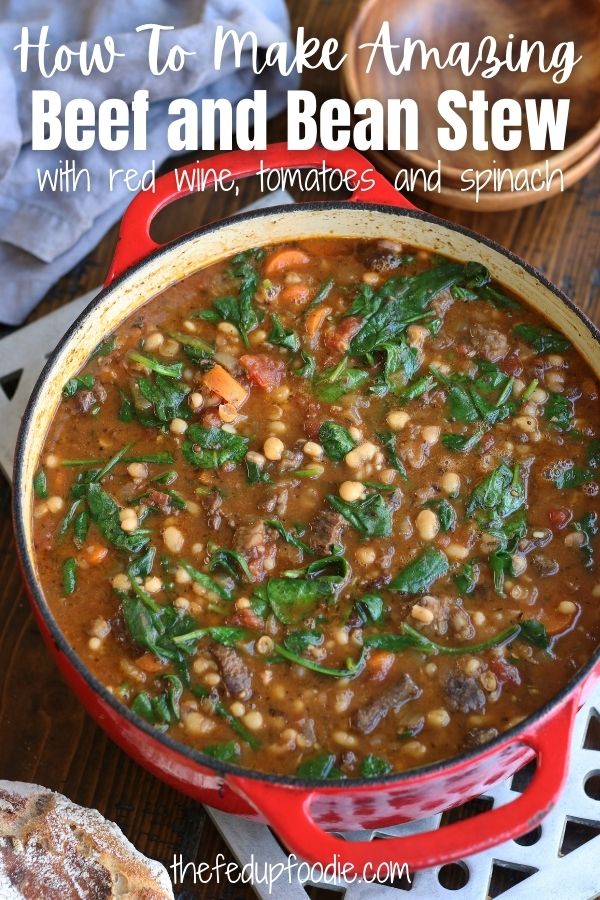 Tender pieces of beef and buttery white beans cook together in a rich red wine sauce to create this ultra delicious Beef and Bean Stew. A healthy and tasty way to stay warm.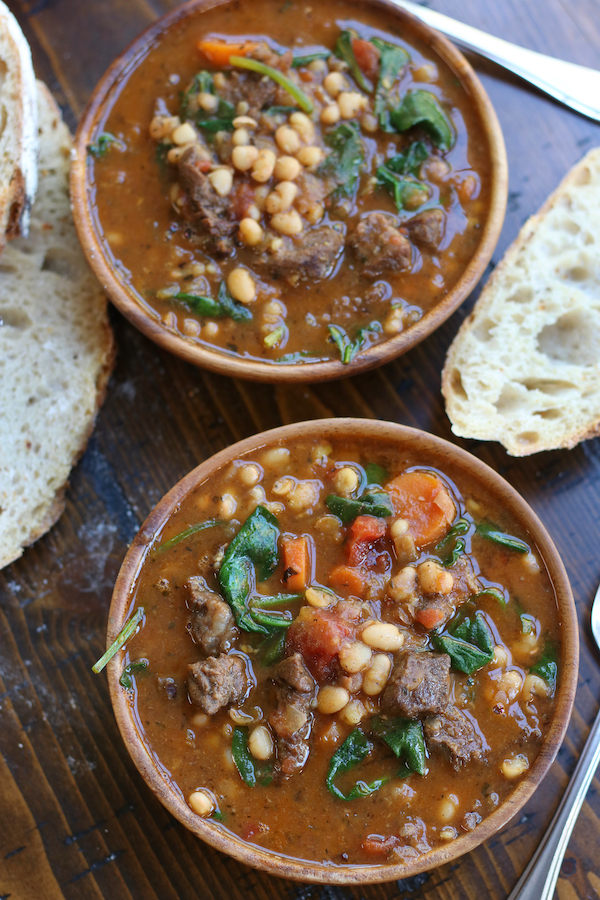 This post contains affiliate links which I earn a small portion in sales if a purchase is made. Rest assured though, it is never at any additional cost to you.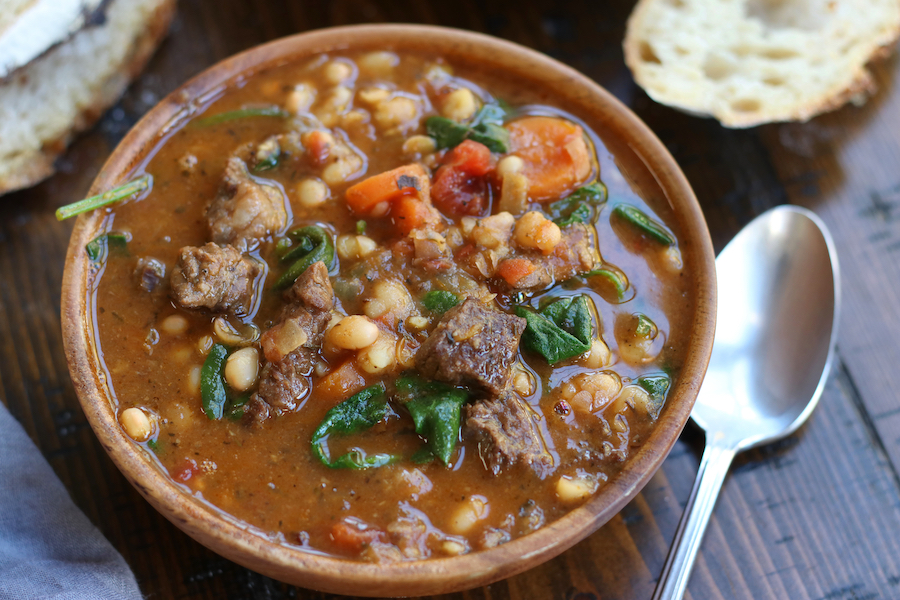 Secrets To Beef and Bean Stew With Incredible Flavor
Beef Stew can be one of the most heartwarming meals loaded with flavor when temperatures dip down low. With these tips, a good stew becomes crazy delicious. Just make sure to read all the tips before starting.
Brown the Meat.
Using a tougher cut of meat that has fat marbling, such as chuck roast, is the first element of imparting a ton of flavor into the stew. Cut the beef into smaller chunks, generously salt and pepper and then working in batches of three (as to not overcrowd the pan), brown the beef. Although this step does take time, it adds in an incredible depth of flavor.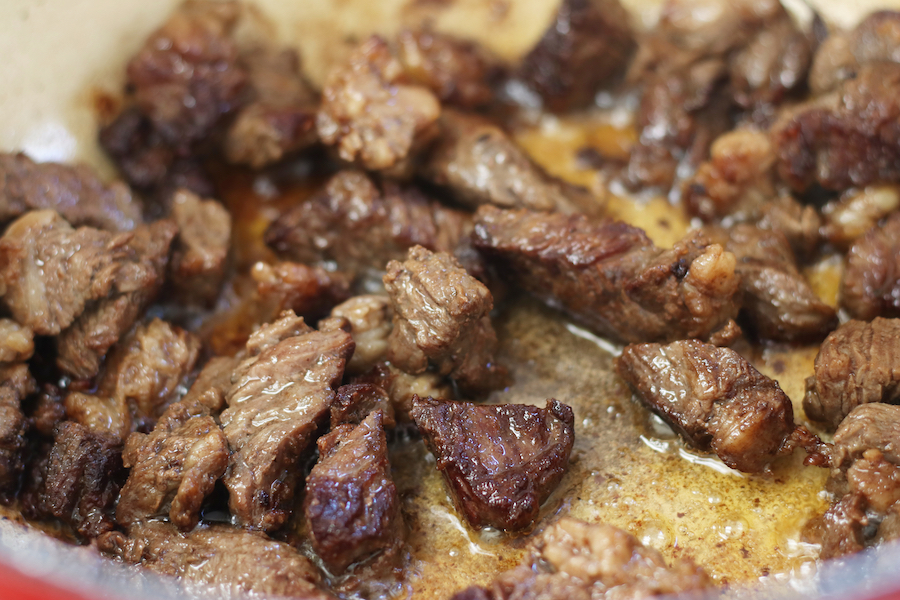 * Need a dependable meat delivery service?

Sauté Onions In Beef Drippings
Once the beef is browned, remove from pan and transfer onto a large plate. Set aside. Add the diced onions to the beef drippings and sauté until onions are sweating, about 3 mins. Cooking the onions in the beef drippings adds a ton of flavor from the fat. Additionally, it also starts to loosen up the browned bits which also packs a punch with flavor.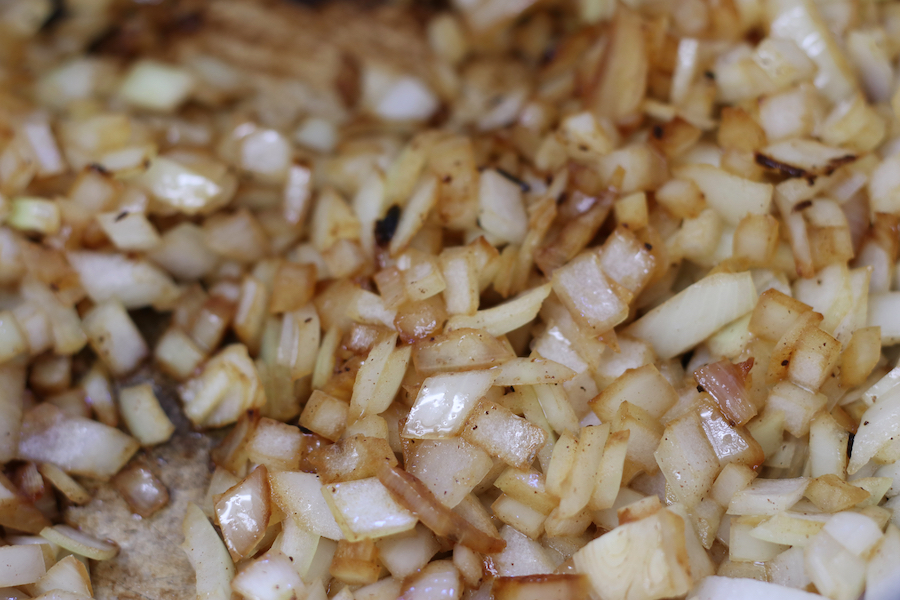 Use Plenty of Fresh Garlic
My friends…garlic is heaven sent. Not only is it a powerhouse in adding flavor to this stew, it also has a ton of health benefits. Because of this and the longer cooking time, don't be afraid to add several cloves. Also, steer clear of jarred garlic. There is absolutely no substitute to the wonderful flavor of fresh garlic. Make sure to check out the video How To Peel Fresh Garlic that shows an easy and quick way to process it without loosing your mind.
Add a Little Red Wine
Red wine adds an acidity that brings out and helps to marry all the flavors of this stew. Adding a 1/2 cup to the sautéed veggies allows enough time for the alcohol to be simmered off and completely removes all the browned bits of flavor from searing the beef. The rule of thumb is to cook with the same quality of wine you would drink.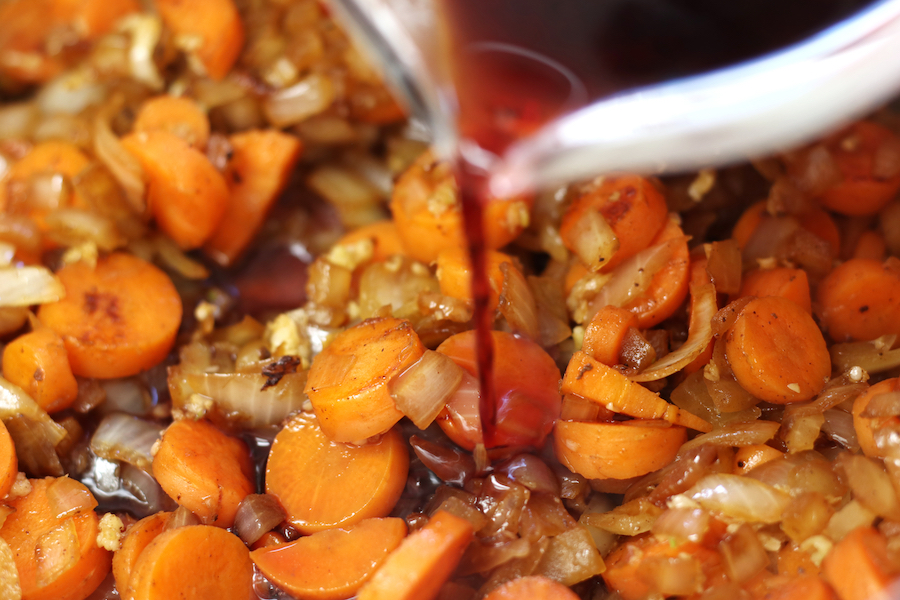 Quality Salt Makes All the Difference
I can not emphasize this enough, using a quality salt can elevate the flavor of recipes immensely and this AMAZING salt is by far the best I have ever used. It is loved by chefs because of how it enhances the flavors of any dish and loved by the health conscious because of the low iodine levels. Also, the salt flakes look like soft fallen snow.
Precook The Beans
Last but not least, for amazing tasting and textured stew, precook the beans. This will ensure the beans are soft and buttery. Ideally, start cooking the beans in the Instant Pot (see below) before starting the stew. Once the meat has simmered for the hour and the beans are soft, add the beans to the stew and continue simmering for an additional 25 minutes.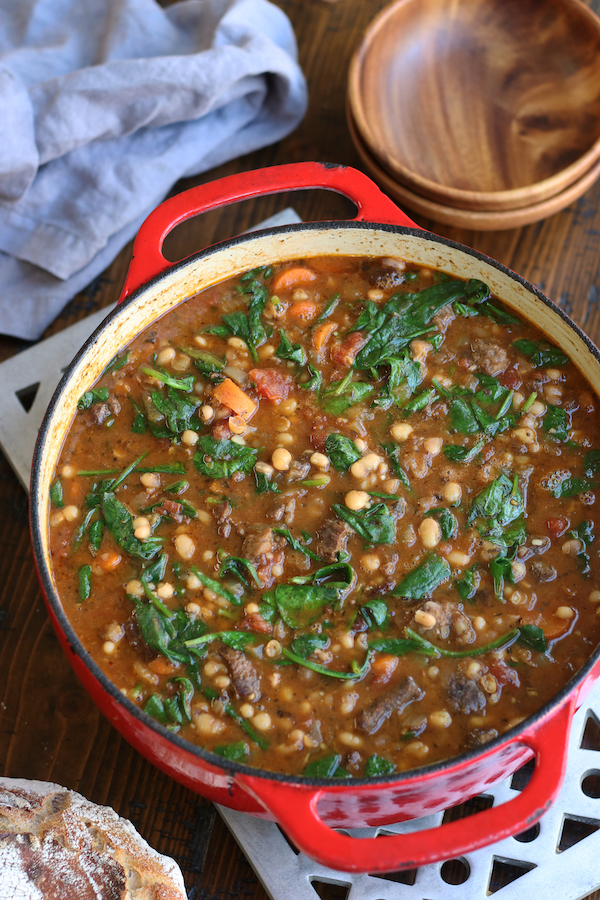 Types of White Beans To Use
For this recipe I used Navy Beans. However, any of the following white beans would work perfect.
How To Pre-Cook Beans
Cooking dried beans really is very easy, it just takes a little time and advance planning. Additionally, they are incredibly cost effective and can turn out with amazing flavor that canned beans just fall short with.
Instant Pot Cooking
Place the 1 lb of dried beans in a colander and rinse well. Transfer to the inner pot of the Instant Pot. Add in 8 cups of water and 2 tsp of salt. Attach the lid to the Instant Pot and close valve to sealed. Cook on high pressure for the following times:
Navy Beans– 30 mins
Great Northern– 35 mins
Baby Lima– 40 mins
Cannellini Beans– 35 mins
Once the cooking time has elapsed, allow the beans to do a natural release for 30 mins before doing a quick release. Discard the water from the cooked beans.
Note: Occasionally the beans may still be too hard after cooking. If this happens simply add an additional 10 mins of cooking on high pressure. Total time needed for cooking the beans with regular Instant Pot cooking time will be 1 1/2 hours. Approximately an additional 30 mins (total 2 hours) will be needed if extra cooking time is added on.
Stovetop Cooking
Rinse beans in a colander and then transfer to large stockpot. Cover the beans with water, about 2-3 inches above the top of beans and sprinkle in 2 tsp of salt. Bring to a boil over med/high heat and then lower heat to a simmer. Cook covered for 1-2 hours or until beans are soft and tender to eat, making sure to stir every so often.
Slow Cooker/Crockpot Cooking
Place 1 lb of beans in colander and rinse well. Transfer to inner lining of a large slow cooker. Add 8 cups of water and stir in salt. Cook on high heat for 8-10 hours or until beans are tender enough to eat.
FAQ
What happens if you don't brown the meat before cooking?
Bottomline, the stew will lack flavor and be rather boring. Browning the meat really is worth the time and effort.
Should the beans be soaked before cooking?
Only if you have digestive sensitivities to un-soaked beans. Most people are completely fine not presoaking the beans.
Can a different type of bean be used other than white beans?
In short, yes. This stew absolutely can be personalized with your favorite beans. However, the white beans mentioned, really are amazing in this recipe.
How many cans of beans would replace the 1 lb of dried beans?
If short on time, use 3 15 1/2 oz cans of any white bean of choice. Make sure to drain beans and rinse well before adding to stew. Follow the directions as written below for the remainder of cooking times.
Is there a quality enameled dutch oven that doesn't cost an arm and a leg?
Yes, I love my Lodge Enameled Dutch Oven. We use it for everything from baking sourdough bread to all kinds of soups and sauces. Also, Amazon has there own version that is even a little bot more affordable than the Lodge version.
More Delicious Soup and Stew Recipes
Beef and Brussels Sprouts Stew
If you enjoyed this Beef and Bean Stew please let me know by leaving a comment and review below. Doing so helps to encourage others to make the recipe also. Thank you!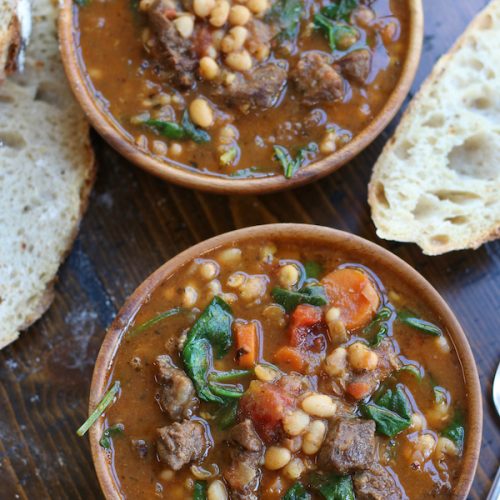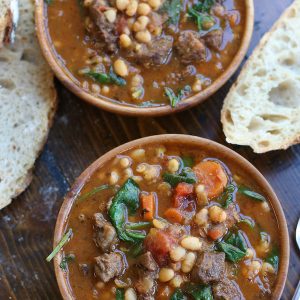 Beef and Bean Stew
This Beef and Bean Stew is how to fall in love with beans. Loaded with flavor, tender beef and buttery beans. One of the yummiest ways to stay warm in the winter.
Print
Pin
Rate
Ingredients
Beans
1

lb

navy beans

*or white bean of choice (see Note 1 below), approximately 2 cups

2

tsp

salt
Stew
3

tbsp

oil

*I used avocado oil

2 1/2- 3

lbs

chuck roast

*cut into 1 inch pieces

1

lg

brown onion

*diced, about 2 cups

4

med

carrots

*cut into rounds

6

lg cloves

garlic

*crushed or diced

1/2

cup

red wine

1/2

tbsp

basil

1

tsp

marjoram

2

bay leaves

28

oz

diced canned tomatoes

*with juice

1

qt

beef broth

8

oz

fresh baby spinach

salt & pepper to taste
Instructions
Beans
Rinse beans well in a colander.

Place into lining of Instant Pot. Add 8 cups of water to beans and stir in salt.

Attach lid and close valve to sealed. Cook on high pressure for 30 mins. (See Note 2 below for cooking times of other white bean choices.)

Once cooked, allow beans to do a natural release for 30 mins and then do a quick release. Drain beans of water. (See Note 3 below.)
Stew
Cut meat and pat dry excess moisture. Generously salt and pepper. (See Note 4 below)

Place a large enameled dutch oven over medium/high heat with oil until oil is bubbly, about 2-3 mins. Working in batches of 3, brown the beef. Setting aside each browned batch into one large bowl.

Once beef is browned, sauté onions in beef drippings, about 3 mins.

Add in carrots and continue sautéing for another 3 mins. Add garlic and saute an additional min.

Add in wine and stir well.

Return beef to dutch oven. Add tomatoes, herbs and beef broth. Stir well.

Bring to a boil over medium/high heat and lower heat to a simmer. Cover, stir occasionally and cook for approximately 1 hour- 1 hour and 20 mins or until beef is tender.

Once stew has simmered and beef is tender, stir in beans and continue simmering for another 25 mins.

Working in batches, stir in spinach and continue simmering for another 5 mins or until spinach is cooked.
Notes
* Please use as many organic ingredients as possible.  Recipe Notes Note 1: Other white bean options would be Great Northern Beans, Baby Lima Beans or Cannellini Beans. Note 2: Instant Pot cooking times for: Great Northern Beans= 30 mins, Baby Lima Beans= 40 mins and Cannellini Beans= 35 mins. (see above in post for stovetop and slow cooker instructions.)  Note 3: Natural release on an Instant Pot simply means letting it sit past the allotted time of cooking. In other words, once the Instant Pot as reached the 30 mins of cook time, just let it sit for an additional 30 mins. Quick release means using a long handled spoon to carefully turn the valve from sealed to venting. This is the point that steam can be released so it is very important to use a long handled spoon to keep your hands away form the hot steam.  Note 4: To generously salt and pepper means to cover the surface of the meat with a fair amount of salt and pepper. It is not a precise amount, but rather a visual appearance of being able to see a light coating of salt and pepper.  Note 5: I highly recommend purchasing no salt added canned products. This is an excellent way to ensure that sodium levels do not become too high. 
Nutrition
Calories:
749
kcal
|
Carbohydrates:
23
g
|
Protein:
69
g
|
Fat:
42
g
|
Saturated Fat:
16
g
|
Trans Fat:
2
g
|
Cholesterol:
217
mg
|
Sodium:
965
mg
|
Potassium:
1804
mg
|
Fiber:
8
g
|
Sugar:
4
g
|
Vitamin A:
7927
IU
|
Vitamin C:
20
mg
|
Calcium:
175
mg
|
Iron:
10
mg