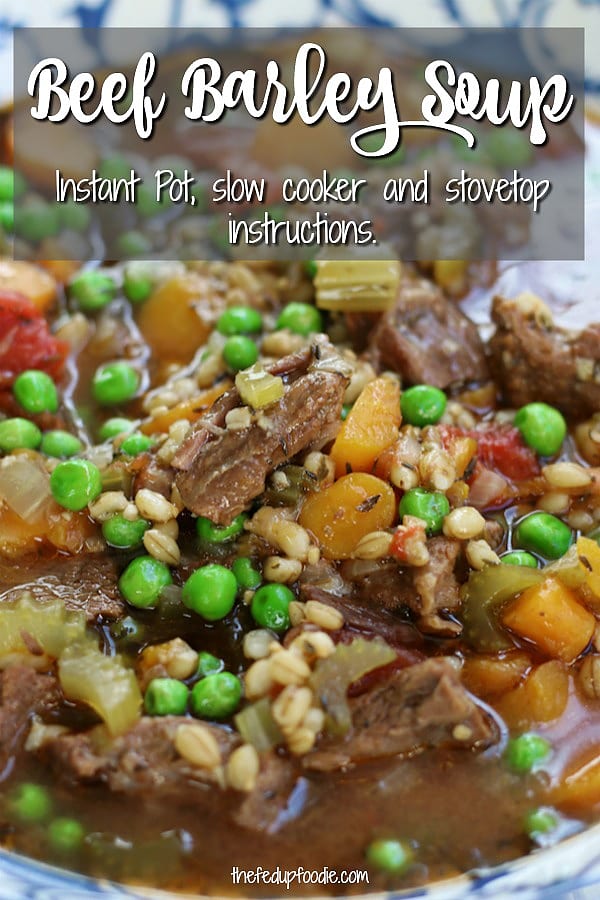 Healthy and satisfying, Beef Barley Soup is a family favorite with instructions for cooking on stovetop, in the slow cooker or Instant Pot. A total comfort classic with tender beef, vegetables and hulled barley.

This post may contain affiliate links which I earn a small portion in sales if a purchase is made. Rest assured though, it is never at any additional cost to you.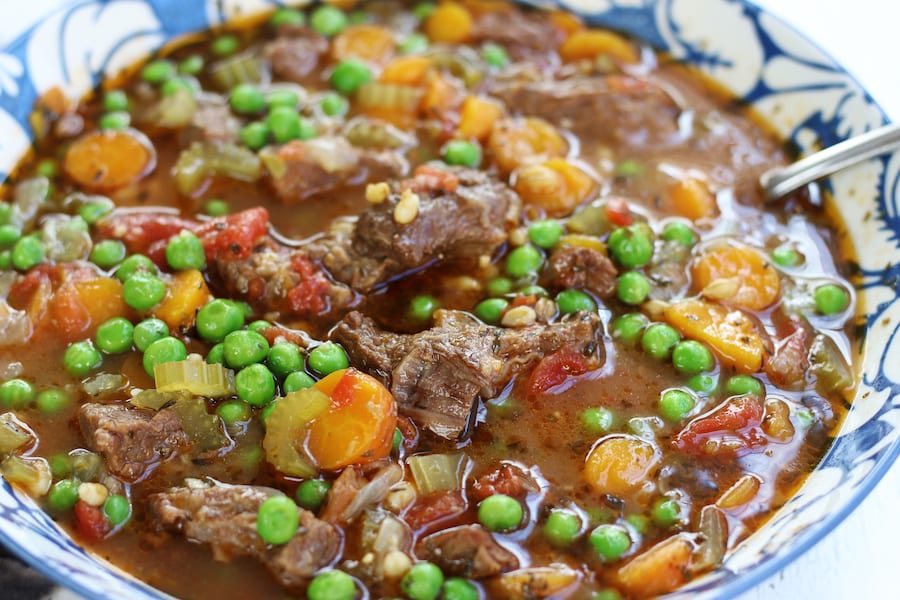 I love to eat! I really do and thank goodness I also really love nutrition.
One of my favorite hobbies in life is to take a meal that would be considered more decadent and figure out a way to make it more nutritionally dense without compromising taste.
When I can create a meal that everyone goes bananas for and is healthier than normal, I am a happy girl.
Some examples of this are my Springtime Pasta Salad, Oat Flour Pancakes, Blueberry Chopped Veggie Salad and Beef and Brussels Sprouts Stew.
All of these I have watched family and friends go back for seconds and sometimes thirds, surprised that they loved the recipes so much.
This Beef Barley Soup has fallen into the same category.
My husband couldn't stop telling me how much he loved the chewiness of the hulled barley and that the flavor was out of this world.
This soup has been perfect for the last chilly days of Spring and I am so excited to make it again next Winter.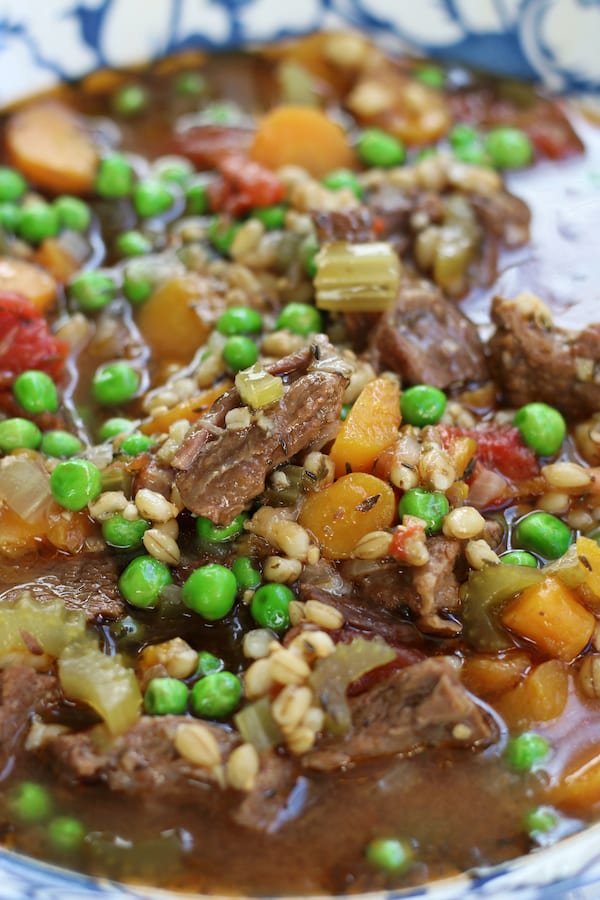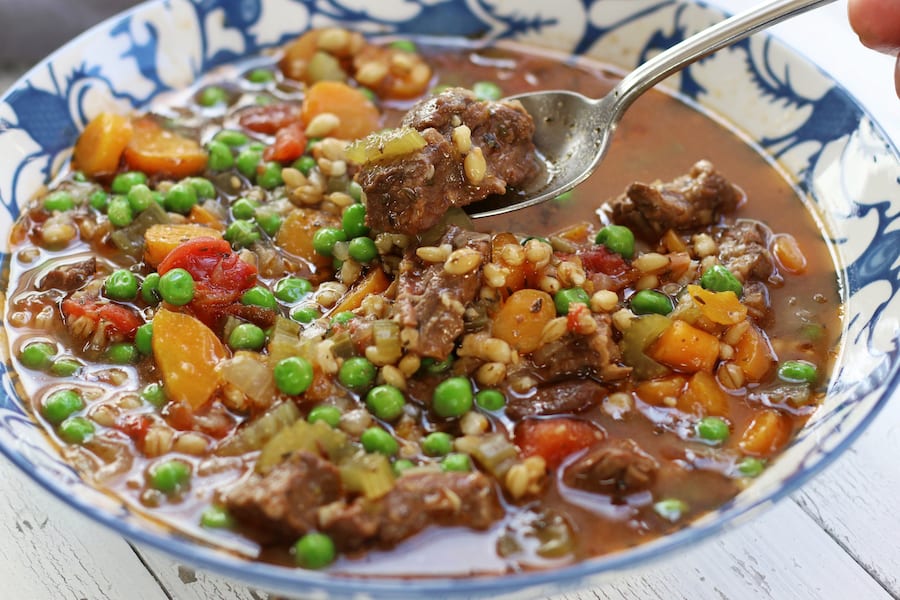 Instant Pot Beef Barley Stew
Using an Instant Pot is truly the fastest way to make this Barley Soup Recipe. Here are the steps to follow.
Precook Hulled Barley– Rinse 1 cup of hulled barley and place in the inner pot of your Instant Pot with 3 cups of water and 1 teaspoon of sea salt. Secure lid and place vent too sealed. Cook on high pressure for 25 minutes and let naturally release for 5 minutes. Cooking the hulled barley can be done in advance if needed and refrigerated.
Prepare Ingredients– Cut the chuck roast into larger bite sized chucks trimming the meat of excess fat. Prepare onions, garlic, carrots and celery. Measure out herbs and Worcestershire sauce.
Sear the Meat– Set Instant Pot to sauté. Once hot, add 1 tbsp of oil, salt chunks of meat and working in two batches sauté meat until brown.
Creation of Soup– Once meat is browned add both batches back into Instant Pot along with onions and continue sautéing until onions begin to sweat. Add in garlic and sauté for 1 minute. Add in all remaining ingredients with exception of the frozen peas. Cook on high pressure for 25 minutes and let naturally release for 15 minutes.
Add Peas– Once soup has cooked and gone through the natural release, turn off Instant Pot and add frozen bag of peas. Let sit for 5 minutes. The peas will naturally cook in the hot liquid and the soup will be the perfect temperature for eating.
Slow Cooker Beef Barley Soup
Similarly to cooking this Barley Soup in the Instant Pot or stovetop, the hulled barley needs to be precooked. If the entire process is done in the slow cooker it will take two full days. It is advisable that the hulled barley be precooked the day before and refrigerated overnight. To do this, rinse 1 cup of barley and add to slow cooker along with 3 cups of water and 1 teaspoon of sea salt. Cook on low for 8 hours, high for 4 or until desired tenderness is reached.
For the soup, cut chuck roast into larger bites sized pieces and season with salt. Preheat a large frying pan over med/high heat. Add oil and sear beef chunks. Once seared add onion and continue sautéing until onions sweat. Add garlic in the last minute of sautéing, Transfer to a slow cooker and add all remain gin ingredients with the exception of frozen peas. Cook on high for 3-4 hours or low for 7-8 hours. Add in frozen peas the last 10 minutes of cooking.
How To Sear Meat For Soup
Searing meat does add a little extra time into the preparation of making a vegetable beef soup but with the extra layer of flavor it adds makes it definitely worth it.
Cut the beef into larger bite sized cubes.
Pat dry the beef cubes with a paper towel to absorb any excess moisture
Sprinkle with salt. (Removing excess moisture along with the salt will help to create a beautiful caramelized layer.)
Preheat either a large stainless steel, cast iron frying pan or enabled covered cast iron dutch oven over medium high heat with a small amount of high heat oil.
When the oil either begins to shimmer or slightly smoke, add the beef cubes in a single layer making sure to not overcrowd the pan.
DO NOT STIR. Just let the beef sear for a few minutes. After a few minutes has elapsed try to move a piece or two with a spatula. If it moves easily it is time to turn the meat over. If it still sticks, let the meat continue to sear for another minute or two. (Since all stovetops range in their intensity of heat that put out, searing times can vary.)
Once most sides of the beef cubes has a caramelized sear, the meat is ready for the next str
Hulled Barley
Chewy with a nutty taste, hulled barley is the less processed version of the pearl barley. It is incredibly nutritious and receives it name because of only having the outermost hull removed. Because of it being a whole grain and less processed than the standard pearl barley, it does take longer to cook. For this Beef Barley Soup it is best to precook the barley and then cook again with the soup.
Beef Barley Soup Calories
One serving of this Beef and Barley Soup will range in calories from 275- 350 per serving. Once way to keep the calories on the lower end is to trim the roast of the excess fat and to eliminate the peas all together.
Commonly Asked Questions About Beef Barley Soup
Where can I find Hulled Barley?
If you live in San Diego county, Jimbos Natural Food Grocer carries hulled barley in bulk for a very affordable price. Also, you can order it in a 2 lb bag here.
How do I make this soup with pearl barley?
To make this soup with pearl barley do not precook the barley. Follow the instructions as directed however, add in 1 additional cup of beef broth as barley can absorb quite a bit of liquid.
Can I put uncooked hulled barley in soup?
No, I highly recommend to precook the hulled barley, but trust me, it will be worth it.
Does this soup freeze well?
Yes, place chilled soup into freezer bags or containers and freeze up to four months. Defrost in refrigerator one day before servings and reheat either on the stovetop or in the microwave.
More Delicious Soups and Stews
Lemon Rosemary Crockpot Potato Soup
More Melt-In-Your Mouth Meat Recipes
Country Style Spare Ribs and Sauerkraut
Best Dry Rubbed Ribs of Your Life
LOVE HEALTHY DECADENT RECIPES? Subscribe to my newsletter and follow along on Facebook, Pinterest and Instagram to never miss a drool worthy creation.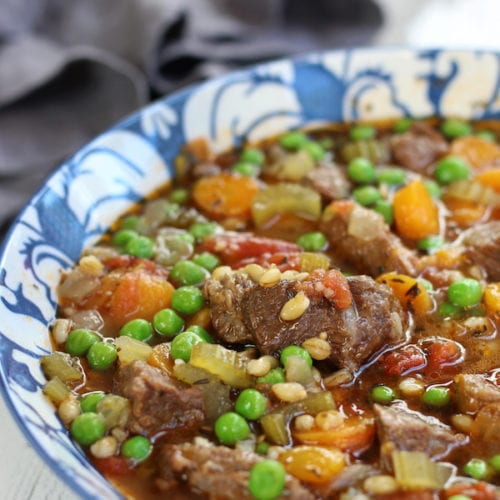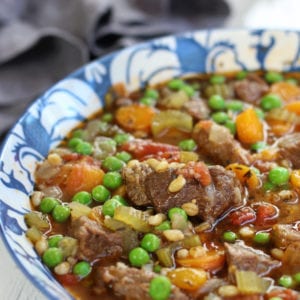 Beef Barley Soup
A classic soup made with extra nutritious hulled barley and tender, melt in your mouth beef. With loads of veggies and flavor, this soup is perfect for chilly nights. Leftovers taste amazing the next day too. Checkout Instant Pot and slow cooker instruct ructions above.
Print
Pin
Rate
Ingredients
For the Barley
1

cup

hulled barley

3

cups

water

1

tsp

sea salt
For the Soup
1 3/4

lb

chuck roast

*grass-fed if available

2

tbsp

oil

1

tsp

sea salt

1

med

brown onion

*diced, about 1 cup

6

cloves

garlic

*crushed or minced, about 1 tbsp

1

bunch

carrots

*diced, or 4 large loose carrots

4

stalks

celery

*diced

1

14.5 oz can

diced tomatoes

1

lg

bay leaf

1

tsp

marjoram leaves

2

tsp

thyme

1

tsp

Worcestershire sauce

4

cups

beef broth

16

oz

frozen peas
Instructions
Precooking Hulled Barley
Using a fine mesh strainer rinse hulled barley and place in a 6 quart pot. Stir in water and salt. Bring to a boil over high heat and then lower to a simmer. Cook covered for approximately 1 hour and 40 mins or until barley is tender enough to eat, making sure to stir occasionally. Drain and set aside.
For the Soup
Cut roast into larger sized bite sized pieces. Pat dry with a paper towel and sprinkle with salt.

Heat a dutch oven over med/high- high heat with oil. Once pan is just beginning to slightly smoke add beef cubes. Sear until golden brown and caramelized (see searing tips above.)

Once meat is seared add in diced onion and cook until onions begin to sweat. Add in all remaining ingredients (in addition to cooked barley) with the exception of frozen peas.

Bring to a boil and then reduce heat to medium low. Simmer for 1 hour and 40 mins to 2 hours or until beef is tender, making sure to stir occasionally.

Stir in frozen peas and cook for 5 additional mins.
Notes
*Please use as many organic ingredients as possible. 
Nutrition
Calories:
301
kcal
|
Carbohydrates:
26
g
|
Protein:
22
g
|
Fat:
13
g
|
Saturated Fat:
4
g
|
Cholesterol:
55
mg
|
Sodium:
938
mg
|
Potassium:
688
mg
|
Fiber:
7
g
|
Sugar:
5
g
|
Vitamin A:
6123
IU
|
Vitamin C:
22
mg
|
Calcium:
62
mg
|
Iron:
3
mg