The potato lovers dream come true! Lemon Rosemary Crockpot Potato Soup is ultra creamy with slow cooked red potatoes and the fresh flavors of lemon and rosemary. Topped with crispy prosciutto and chives, this soup is amazing!

This post may contain affiliate links which I earn a small portion in sales if a purchase is made. Rest assured though, it is never at any additional cost to you.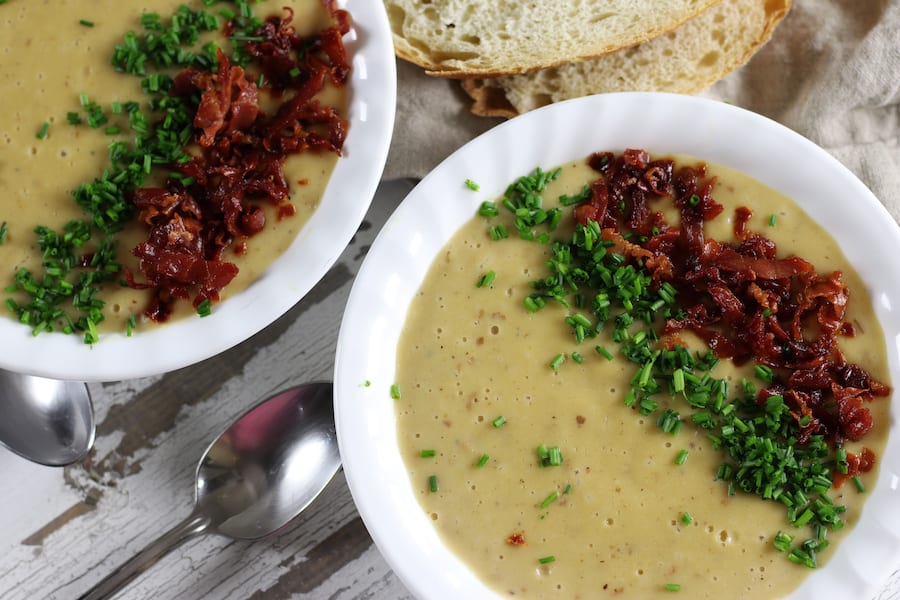 If you are a lemon lover you have come to the right place! Outside of garlic, it is the BEST ever flavor in my book.
There almost isn't a day that goes by that I don't use lemon in one way or another. I know that sounds extreme but I use my Simple Herbed Lemon Vinaigrette almost daily on my salads. Also, meals like Lemon Citrus Stir Fry and Rosemary Lemon Garlic Chicken are much loved in our house. A sure fire way to definitely put a smile on my face and my family's is with my Mom's Lemon Butter Bundt Cake. Lastly, Homemade Limoncello is one of my happiest indulgences.
It really is no wonder that I am creating more meals like this Lemon Rosemary Crockpot Potato Soup with my favorite flavor.
Here is the part that truly surprises me though. I am also turning into a potato lover.
Guys, from early on, my Italian lineage has overshadowed my Irish lineage in a big way. I love pasta and bread but potatoes were never something I was in love with.
But then I started making recipes like Creamy Dreamy Scallop Potatoes, Crispy Rosemary Potatoes and Skinny Red Potato Salad and I started to realize that I actually really enjoy Yukon gold and red skin potatoes.
The kicker is once I made Red Skin Mashed Potatoes and this Slow Cooker Potato Soup I have fallen head over heals in love with the power of the potato.
I am pretty sure that if you love lemon, rosemary and potatoes you will be in heaven with this Potato Soup too!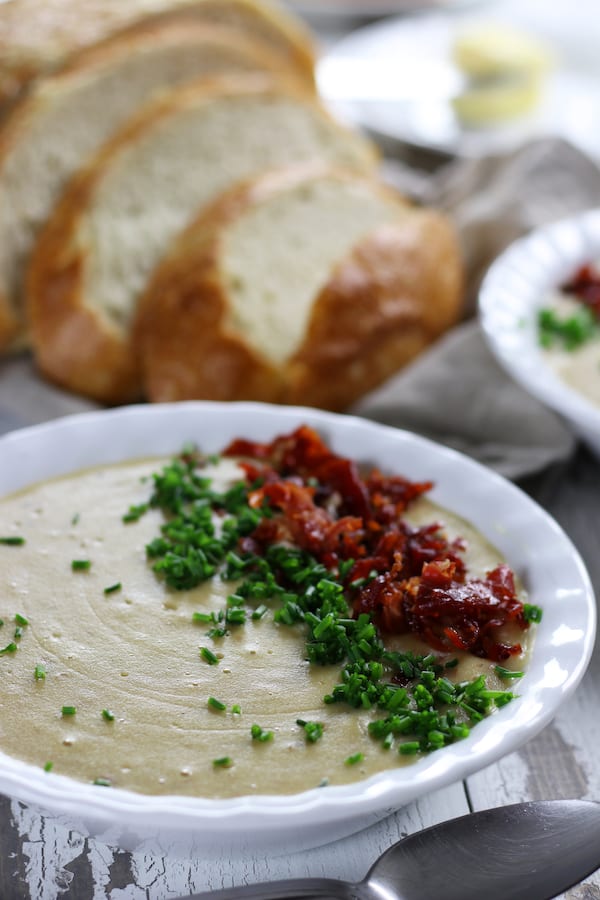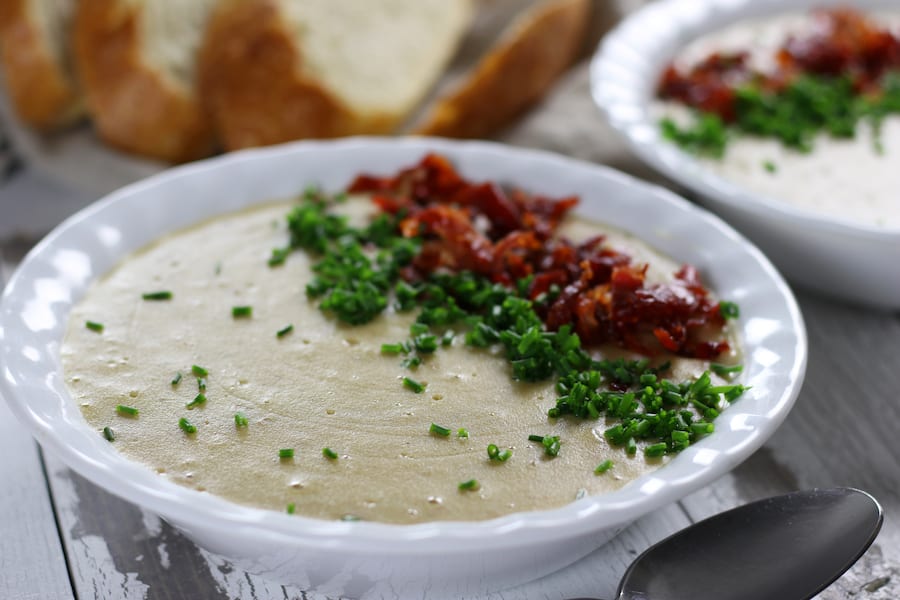 How To Make Creamy Potato Soup In a Crockpot
Easy creamy potato soup that has loads of flavor really just has a few steps.
Step 1:
Cut Potatoes into small chunks, dice onion and crush garlic. This will make preparing the garlic about 1,000 times easier.
Step 2:
Sauté onions in until lightly caramelized and then add garlic until fragrant. Transfer to crockpot. Doing this adds the extra layer of flavor due to the caramelization.
Step 3:
In the same frying pan cook 2-3 of the cut potatoes until they reach a crispy golden brown. Add to crockpot along with uncooked potatoes. Add broth to crockpot and cook on high for 3-4 hours. Frying a few of the cut potatoes adds another additional layer of flavor.
Step 4:
In the last 30 min of the potatoes cooking, zest lemons with a vegetable peeler. Add zest, rosemary sprigs and milk to a sauce pan and warm over medium heat to infuse milk with lemon and rosemary flavors. Do not boil. If the milk looks like it is starting to boil, lower heat.
Pro Tip: When zesting the lemons make sure to just remove the zest, leaving the white pith behind. The pith has a more bitter taste and will cause the soup to have an unpleasant taste.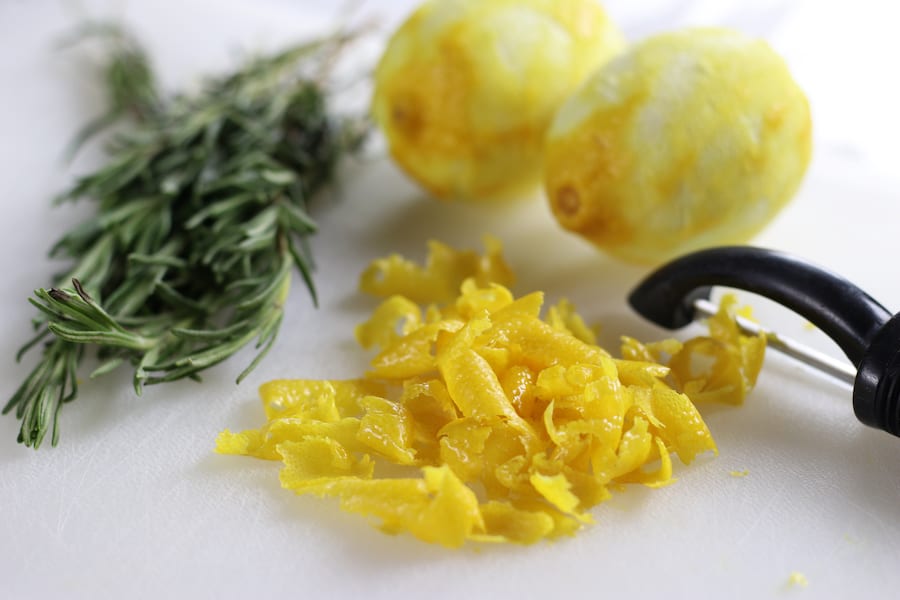 Step 4:
Before adding the milk to the crockpot, process potatoes using either a potato masher, an immersion blender or a regular blender. Stir in sour cream. Strain warmed milk of lemon zest and rosemary, add to crockpot with blended potatoes and blend again or stir milk in until creamy and smooth.
Pro Tip: Using an Immersion Blender for processing this soup makes for an extremely smooth and creamy soup and makes for much easier blending than other methods.
Step 5:
Cut Prosciutto into strips, crisp in a frying pan, dice chives and serve.
What is Prosciutto?
Prosciutto is an Italian cured ham that is sliced very thinly and can be eaten without cooking it first. However, when slicing into strips and cooking over medium heat until crisp, the texture and flavor compliments this creamy potato soup beautifully.
Is this Lemon Rosemary Crockpot Potato Soup Gluten-Free?
Yes, the beauty of this red skin potato soup is it is naturally gluten free. Using red skin potatoes helps to create a wonderfully smooth texture since they tend to be more buttery than russet potatoes. They also act as a natural thickener so no flour is needed.
Can this Crockpot Potato Soup Be Made Vegan?
I can't promise that the soup will turn out as creamy, but to make it into a creamy vegan potato soup substitute the milk for unsweetened almond or cashew milk, the chicken broth for vegetable broth and the sour cream for vegan sour cream. Also, replace the butter with all olive oil and only garnish with chives.
Can this Lemon Rosemary Crockpot Potato Soup be reheated?
I am happy to say, yes it can. Either reheat a larger amount in a saucepan on the stovetop over med low heat for about 10-12 minutes or a smaller portion in a microwave safe container for 3-4 minutes on reheat (power level 8). Just make sure to stir a few times for both methods so the soup doesn't burn.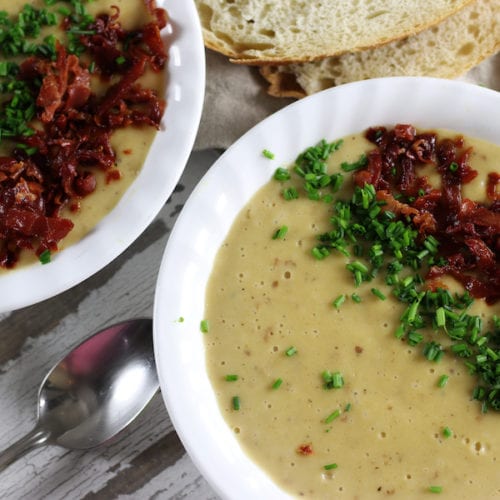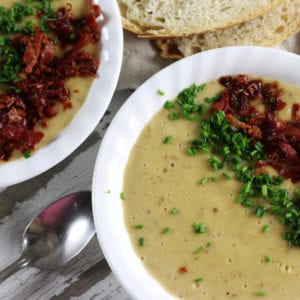 Lemon Rosemary Crockpot Potato Soup
So amazingly delicious!! This slow cooker potato soup is made of red potatoes with a lemon rosemary infused milk base. Crispy prosciutto and chives takes a great soup and makes it even more special. Easy to make and ultra creamy! So perfect as a comfort meal but also special enough for Holiday celebrations.
Print
Pin
Rate
Ingredients
3

tbsp

olive oil

2

tbsp

butter

3

lbs

red potatoes

*diced into small chunks

1

lg

brown onion

*diced, about 2 1/2 cups

7-8

cloves

garlic

*crushed or minced

1

tsp

sea salt

*additional may be needed for taste preferences

1/8

tsp

pepper

*additional may be needed for taste preferences

4

cups

chicken broth

2 1/4

cups

whole milk

5

sprigs

fresh rosemary

2-3

med

lemons, zest

*zested with a vegetable peeler

1

cup

sour cream

6

oz

prosciutto

*sliced thinly and crisped

1

bunch

fresh chives

*diced
Instructions
Cut potatoes into smaller chunks, dice onions and prepare garlic.

Heat a large frying pan over med/high heat. Add 1 tbsp of butter and 1 tbsp of oil. Once butter is melted add onions and sauté until lightly caramelized, about 10 mins. Add garlic within the last minute of sautéing. Transfer to crockpot.

Place frying pan back over med/high heat. Add another tbsp of oil and butter. Place 2-3 cut potatoes single layer in frying and let crisp 10-12 mins, stirring a few times to crisp other sides. Transfer to crockpot. Crisping the potatoes is an optional step but adds an additional layer of flavor.

Cover potatoes and onions with broth. Cook on high on 3-4 hours or low 7-8 hours.

Using a vegetable peeler, zest lemons making sure to remove just the zest but leave the white pith behind.

Within the last half hour of crockpot cooking place milk, rosemary and lemon zest in a medium sized sauce pan over medium heat for approximately 20 mins. This should be enough time for the milk to heat through throughly and to be infused with the lemon and rosemary flavors. Do not boil. If milk looks like it will boil lower heat to low.

Once cooked, process potatoes in broth using and immersion blender or potato masher until smooth. Blend in about 1/2 cup of potato mixture into sour cream and then add to crockpot. Strain milk of rosemary and lemon zest and add to crockpot. Stir well. Let soup sit on high until prosciutto is crisped.

Cut prosciutto into thin strips.

Place a large sized frying pan over medium heat. Add oil and prosciutto. Sauté stirring often until crisp, about 10 mins. Transfer onto paper towel lined plate.

Dice chives. Serve individual bowls of soup and garnish with crisped prosciutto and chives.
Notes
Please use as many organic ingredients as possible. 
Nutrition
Calories:
453
kcal
|
Carbohydrates:
44
g
|
Protein:
17
g
|
Fat:
24
g
|
Saturated Fat:
10
g
|
Cholesterol:
59
mg
|
Sodium:
1294
mg
|
Potassium:
1490
mg
|
Fiber:
4
g
|
Sugar:
9
g
|
Vitamin A:
561
IU
|
Vitamin C:
32
mg
|
Calcium:
184
mg
|
Iron:
2
mg