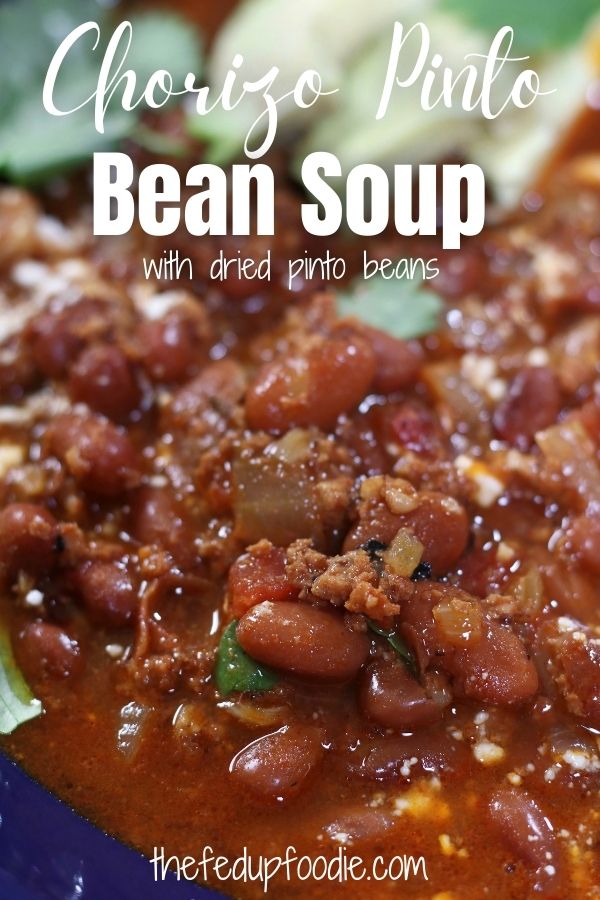 This Chorizo Pinto Bean Soup is a simple healthy dinner perfect for the colder months. With garlic, onion, tomatoes and Mexican Chorizo, this soup is loaded with flavor and comfort.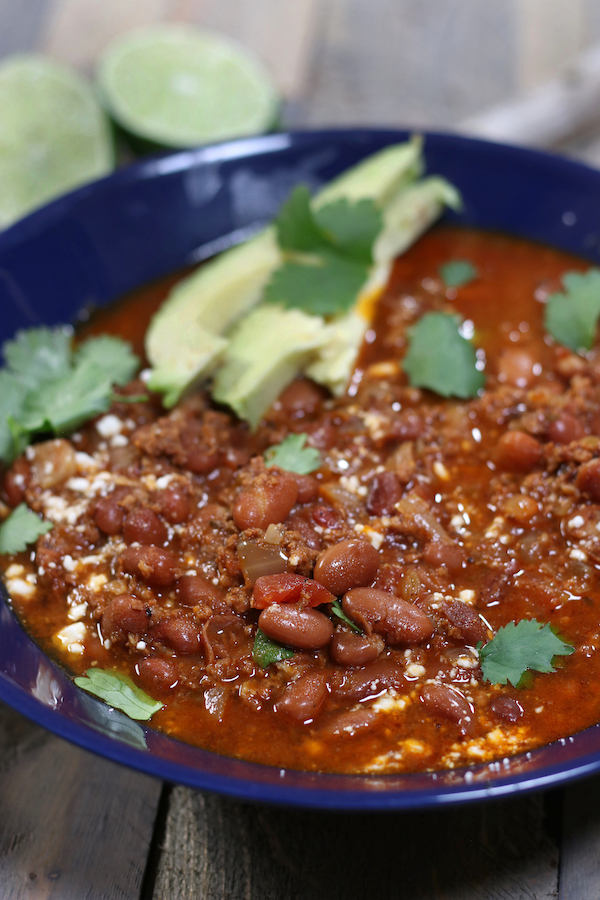 This post contains affiliate links which I earn a small portion in sales if a purchase is made. Rest assured though, it is never at any additional cost to you.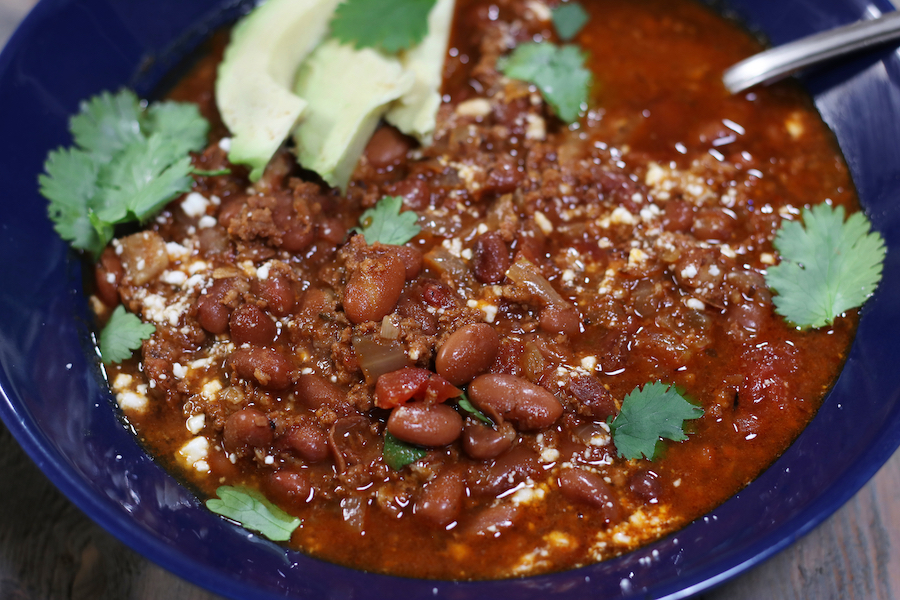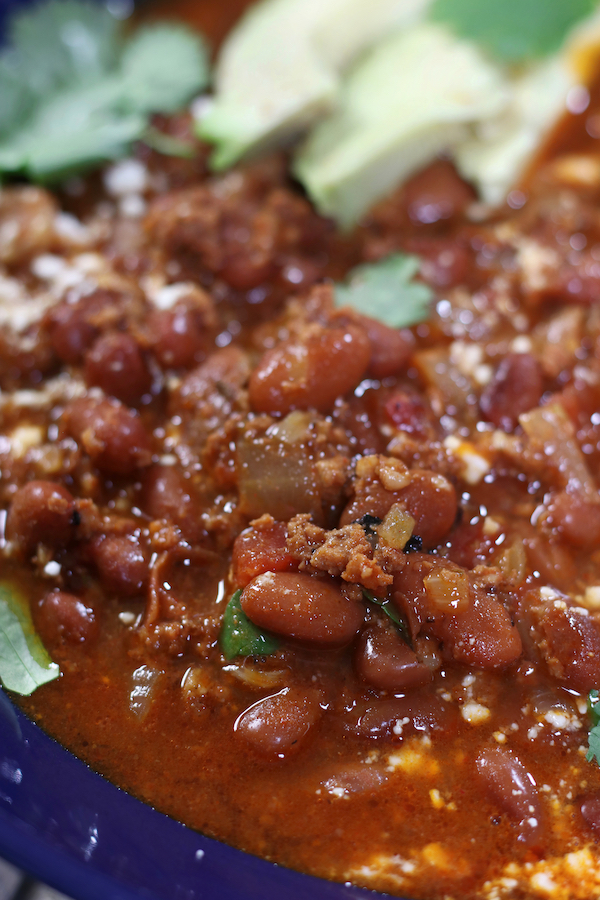 How To Make Beans More Flavorful
Friends…beans are probably one of the most healthful foods that can be eaten. However, unless you're an absolute bean lover, they can be rather boring. Before sharing the health benefits I want to share two tricks to making beans out of this world delicious.
Make sure there is plenty of flavor with garlic, onions, herbs and spices. This Pinto Bean Soup is an excellent example of adding lots of flavor. Need some support getting comfortable with herbs and spices. I have got you covered with this Quick Start Spice Guide.
A high quality sea salt can enhance flavors and make beans taste amazing. I recently fell in love with this salt when it was recommended for its low iodine and high mineral content levels. In addittion to taking food up about 10 levels in tastiness, this salt is so beautiful. It looks like beautiful fallen snow.


Benefits of Eating Beans
Not only can beans become an extra delicious dinner, there is also plenty of motivation because of their health benefits. Beans are a good source of folate, antioxidants and amino acids. Also, the most exciting elements of incorporating beans into your diet is they can help stabilize blood sugar, improve gut health and they have soluble fiber that may help to lower cholesterol levels.
If you are anything like me, once you read all the health benefits you will be adding beans to your salads, sandwiches and appetizers.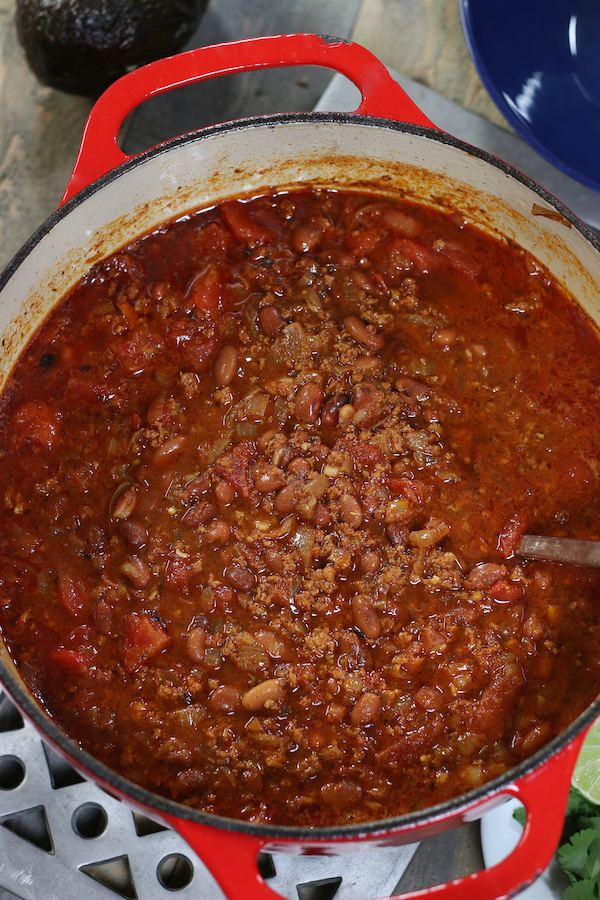 Should Beans Be Soaked Before Cooking
The practice of soaking beans before cooking has been a very popular approach for longer than I can tell. The reason many health conscious people soak them is the belief that soaking before cooking helps to remove some of the sugars that make them harder to digest (in other words, you won't fart as much). However, I gave up soaking beans years ago and my reaction to them is the same whether I soak or not. So the answer in short is no. Beans do not need to be soaked before cooking.
However, there are always exceptions to the rules and everyones digestion is different. If you find that soaking beans is helpful in making them more digestible or you are uncertain as to whether you should or not, here is a helpful guide.
Cooking Pinto Beans
Instant Pot
This is one of my favorite ways to cooking beans. Using the Instant Pot, they always turn out cooked to be beautifully soft and in whole form. My friend Kristen at A Mind"Full" Mom is who turned me onto using the Instant Pot and I use her no-fail instructions each and every time.
Stovetop
To cook the beans on the stovetop first rinse the beans in a colander and then place in a large enameled dutch oven or pot. Fill with water about 2-3 inches above the beans. Add 2 tsp salt and bring to a boil over med/high heat. Once boiling lower the temperature to a simmer and cover with a lid making sure to stir a few times every hour. Pinto Beans will be done within 1-2 hours, or when soft and tender to eat.
Crockpot
Rinse pinto beans in a colander and then place into the inner lining of the crockpot. Add 2 tsp salt and 7- 8 cups of water. Cook on high for 8-10 hours or until beans are soft and tender to eat.
ProTip: It is not necessary to season the dried beans with more than just salt for this recipe as the chorizo and spices added during the soup preparation gives it a ton of flavor.
How To Make Pinto Bean Soup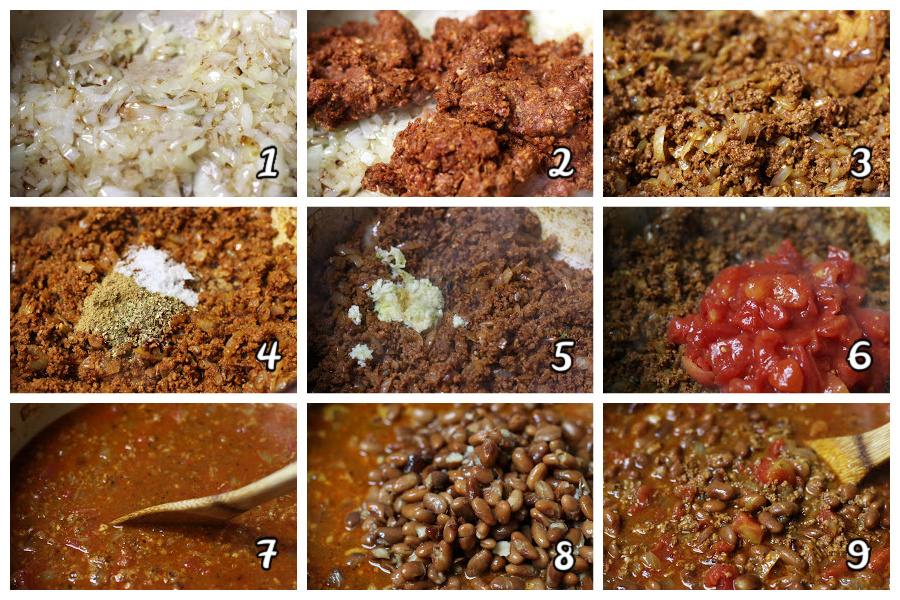 Sauté onions until lightly browned.
Add Chorizo.
Sauté until cooked.
Add oregano and coriander and sauté for a minute.
Now add garlic…
and canned tomatoes with juice.
Add chicken broth…
and cooked pinto beams.
Simmer for 15-20 minutes.
Which Chorizo Is Best
I am not going to beat around the bush on this one. Homemade Mexican Chorizo is far superior to anything I have ever come across in grocery stores. Sadly, store bought chorizo always feels like they are using the left over scraps of the pig. The quality has just never been there with store bought. However, with homemade chorizo you can use quality ground pork. I personally love to use ButcherBox for their heritage ground pork because it makes amazing Mexican Chorizo and Homemade Italian Sausage.
*ButcherBox is a meat delivery service that delivers your choice of grass-fed beef, heritage pork, free-range chicken and wild caught salmon to your doorstep. Shipping is always free and you can cancel at anytime.

What To Serve With Chorizo Pinto Bean Soup
We absolutely adore eating this Pinto Bean Soup with either my Mom's Old Fashioned Cornbread or Best Ever Biscuits recipe. Also, this Chorizo Beans recipe is amazing with a side salad dressed with either Cilantro Lime Salad Dressing, Creamy Lemon Tahini Salad Dressing or my favorite Simple Herbed Lemon Vinaigrette.
More Recipes Using Beans
If you love soups and are trying to incorporate more beans than either Italian White Bean Soup, Black Bean Soup or Ribollita (aka Italian Bread and Vegetable Soup) could be a perfect match for you. For Mexican cuisine, you'll adore either Baja Chicken Bowls, Healthy Baked Tostadas or Hearty Homemade Chili. Additionally, the great news is that beans can be incorporated into appetizers and light lunches with recipes like Simple White Bean Dip, Avocado Hummus and Mediterranean Tuna Salad.
If you enjoyed this Chorizo Pinto Bean Soup please let me know by leaving a comment and review below. Doing so helps to encourage others to make the recipe also. Thank you!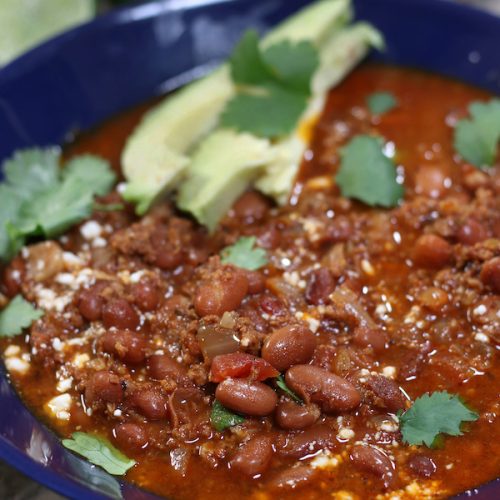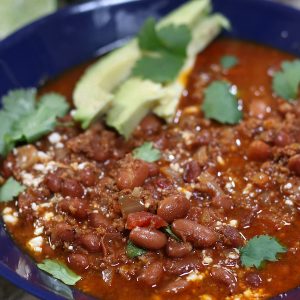 Chorizo Pinto Bean Soup
Chorizo Pinto Bean Soup is a simple healthy dinner perfect for the colder months. With garlic, onion, tomatoes and Mexican Chorizo, this soup is loaded with flavor and comfort. Pre-cook the beans for a super easy weeknight dinner.
Print
Pin
Rate
Ingredients
Beans
2

cups

dry pinto beans

*or 1 lb

2

tsp

sea salt
Soup
3

tbsp

oil

1

lg

brown onion

*diced, aboout 2 cups

1/2

batch

Homemade Chorizo

*or 1 lb Mexican Chorizo

1/2

tbsp

oregano

*either Mexican or regular

1/2

tbsp

coriander

4

lg

garlic cloves

*minced or crushed, about 2 tbsp

14 oz

can

diced canned tomatoes with juice

*or 15 oz can

3

cups

chicken broth

1

lg

lime juiced

*about 2 tbsp

salt and pepper to taste
Garnish
avocado

cilantro

crumbled cotija cheese

fresh sliced jalapeño
Instructions
Cooking Beans in Instant Pot
Rinse beans in a colander and then place into the inner lining of the Instant Pot along with salt and 8 cups water. Place lid onto Intstant Pot and close valve to sealed. Cook on high pressure for 30 mins. Allow beans to natural release for 30 mins before doing a quick release. Strain beans from water.
Pinto Bean Soup
Preheat a dutch oven over med/high heat. Add oil and onions. Sauté until lightly browned, about 15 mins.

Add Chorizo and sauté until cooked, about 10 mins.

Add in oregano and coriander. Continue sautéing for an additional min.

Stir in tomatoes, broth and drained beans. Bring to a simmer over med/high heat and lower temperature to low. Cover and simmer for 15-20 mins, stirring occasionally.

Garnish with avocado, cilantro, cotija cheese or slice jalapeño.
Notes
*Please use as many organic ingredients as possible.
Recipe Notes
Cooking time is for the soup. An additional 90 mins will need to be added for Instant Pot cooking of the dried beans. Additionally, 2 extra hours for stovetop and 8-10 extra hours for crockpot cooking. 
For stovetop and crockpot instructions for cooking dried pinto beans see above within post "Cooking Pinto Beans".
If using canned beans 3 15 1/2 oz cans will be needed. Make sure to drain and rinse the canned beans. 
If using fresh tomatoes, 6 large whole tomatoes that are diced will be needed. An additional 5 mins of simmering time may be needed to fully cook the tomatoes. 
Natural release on an Instant Pot simply means letting it sit past the allotted time of cooking. In other words, once the Instant Pot as reached the 30 mins of cook time, just let it sit for an additional 30 mins. 
Quick release means using a long handled spoon to carefully turn the valve from sealed to venting. This is the point that steam can be released so it is very important to use a long handled spoon to keep your hands away form the hot steam. 
Nutrition
Calories:
236
kcal
|
Carbohydrates:
41
g
|
Protein:
10
g
|
Fat:
7
g
|
Saturated Fat:
1
g
|
Cholesterol:
1
mg
|
Sodium:
1078
mg
|
Potassium:
1609
mg
|
Fiber:
11
g
|
Sugar:
17
g
|
Vitamin A:
842
IU
|
Vitamin C:
74
mg
|
Calcium:
253
mg
|
Iron:
8
mg