Sweet Potato Taco Stacks recipe is an incredibly fun, healthy and gluten-free alternative to traditional tacos. Sweet Potatoes are roasted until caramelized, smashed and then broiled. Top with your favorite Mexican taco fillings for the best Fall feast.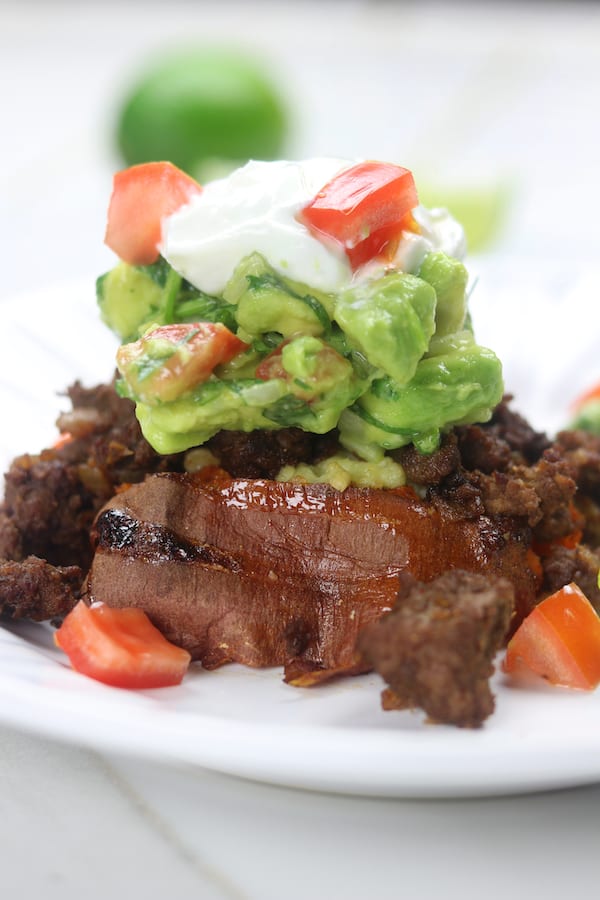 This post may contain affiliate links which I earn a small portion in sales if a purchase is made. Rest assured though, it is never at any additional cost to you.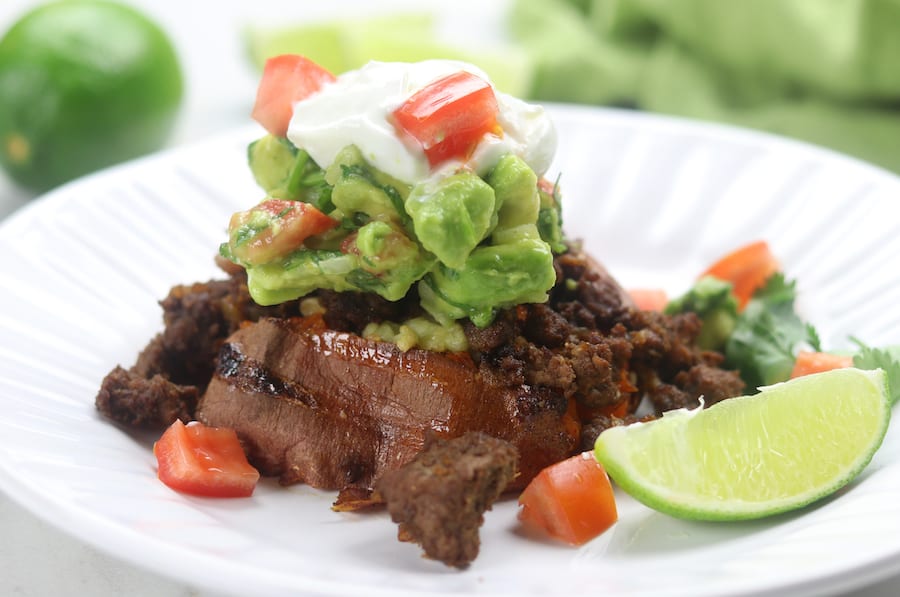 Have you ever played the "I wish I had more versions of myself" game?
My husband and I have been playing this a lot lately.
Version #1 of Heather could be actually accomplishing my goal of creating 3 recipe blog posts a week. (Much admiration to the bloggers doing this while still handling their own social media.)
Version #2 of Heather could be reading and listening to all the podcasts and articles that contain all the nuggets of wisdom I need to keep growing my blog.
Version #3 of Heather could take on the monsters that are Facebook and Pinterest that take up SOOOO much of my time.
Version #4 could rest to get over this funk of a cold that has lingered for umpteen million days.
Then I can't forget the versions of me that clean, grocery shop, pay bills and is an attentive wife, friend, aunt, etc.
Here is the thing, my to do list does not look much different than most people's. It really is no wonder that tiredness is a common complaint among so many.
Some of the things that help me when I get tired and overwhelmed: a good night's sleep, a hard laugh and eating as healthy as I can.
One of the foods that I always feel so much better after eating is sweet potatoes.
You can imagine why these Sweet Potato Taco Stacks have become so popular in our house. They are delicious, fun and just so darn good for you!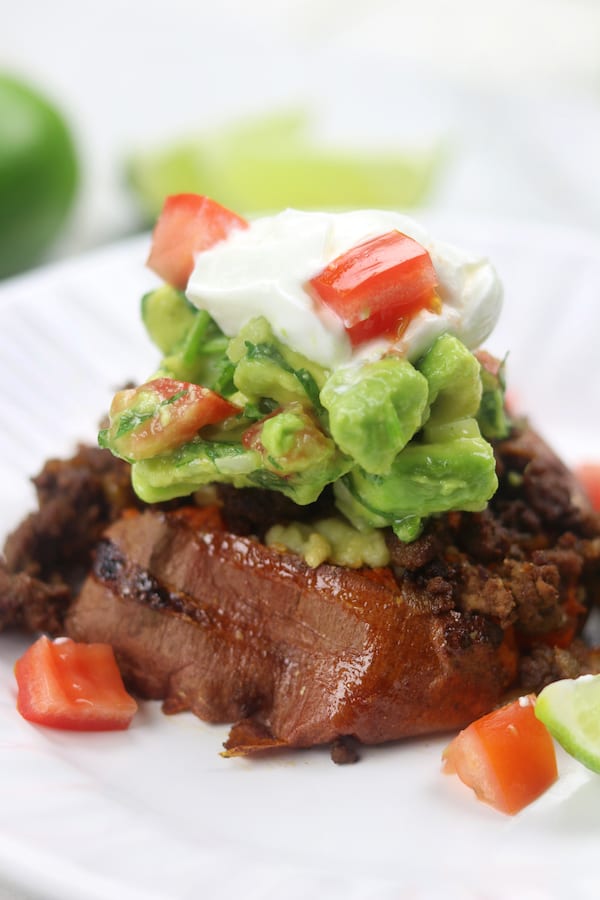 Why eat sweet potatoes?
There is a reason why people notice they feel better after eating sweet potatoes. They are little power houses of nutrition providing about 769% of daily value for beta carotene, 65% daily value of vitamin C and 29% of daily value of B6. That is pretty darn impressive from 1 potato. In addition to the high levels of nutrition, incorporating sweet potatoes consistently into your diet can also help with insulin resistance, maintaining proper blood pressure, help fight inflammation, boost immune system, help with digestion, fertility and vision. Tell me this isn't a motivator to start baking these beauties.
Tips about Sweet Potato Taco Stacks:
The beauty of this Sweet Potato Taco Stacks recipe is that you can bake the sweet potatoes ahead of time and then refrigerate until ready to use. This will make for a quick and easy weeknight dinner.
Before smashing the sweet potatoes I cut the tips off of both ends. This just ensures that people won't be crunching on a tougher part of the potato. It also helps the potato half to stand upright before smashing.
To smash the potato cut it in half, stand upright while holding and gently smash with the bottom of a glass.
Once smashed sprinkle the potato with a little chili powder and salt for extra flavor before broiling. I have found adding oil makes the smashed potato too moist. (affiliate)
I prefer using a stainless steel cookie sheet to bake the sweet potatoes. The potatoes will leak some of their sweet caramelized yumminess so adding aluminum foil to the bottom of the cookie sheet will help with clean up. Or you can do what I did and soak your pan afterwards. (affiliate)
For a vegetarian version of these Sweet Potato Taco Stacks use seasoned black beans instead of hamburger.
Adding the cheese is optional. If you choose to add use your favorite Mexican cheese.
One of my favorite tricks if I am trying to keep fat and calories down a little is to use nonfat Greek yogurt in place of sour cream.
Most Important Tip: You will LOVE my Simple Healthy Guacamole as a topper!!!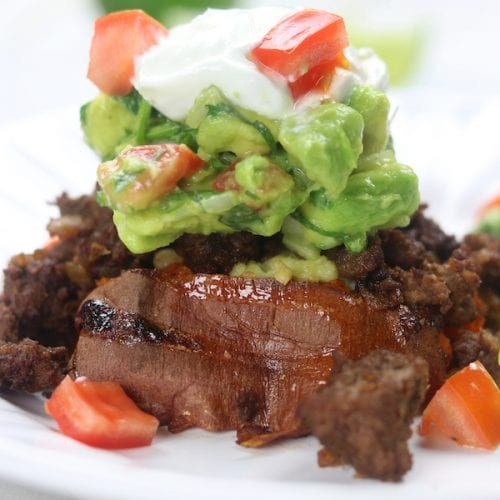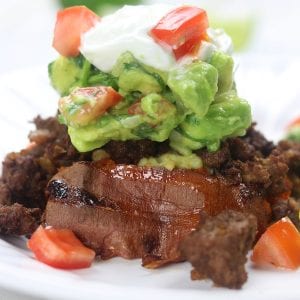 Ingredients
4

med sweet potatoes

chili powder & salt for sprinkling on potatoes

1

lb

hamburger

2

tbsp

oil

1

med brown onion *diced

4-5

garlic cloves *minced or crushed

1

tbsp

cumin

1

tbsp

coriander

1

tbsp

chili powder

1

tsp

salt

1

cup

shredded Mexican cheese

16

oz

sour cream or Greek Yogurt

garnish with tomatoes
Instructions
Preheat oven to 350℉.

Line cookie sheet with aluminum foil (optional step). Wash and pierce potatoes several times with tip of knife. Bake until tender, about 45-60 mins.

Remove potatoes from oven and increase temperature to a broil.

Cut small amount of the ends off potatoes and then cut in half. Stand half upright. While holding the cut portion use the bottom of a glass to gently smash potato. Sprinkle with chili powder and salt, broil for 10 mins.

Meanwhile heat a large frying pan over med/high heat. Add oil and sauté onion until sweating and just starting to become translucent. Add hamburger to onions and stir to break apart meat. Add garlic & spices. Cook until browned, about 5-7 mins.

Remove smashed potatoes from oven and sprinkle with cheese. Broil again until cheese is melted, about 5 mins.

Serve potato with taco meat, guacamole, sour cream (or yogurt) and diced tomatoes.
Notes
*Please use as many organic ingredients as possible.*
Nutrition
Calories:
592
kcal
|
Carbohydrates:
89
g
|
Protein:
22
g
|
Fat:
20
g
|
Saturated Fat:
6
g
|
Cholesterol:
28
mg
|
Sodium:
958
mg
|
Potassium:
762
mg
|
Fiber:
8
g
|
Sugar:
14
g
|
Vitamin A:
19266
IU
|
Vitamin C:
10
mg
|
Calcium:
458
mg
|
Iron:
6
mg
Follow along on Facebook and Pinterest for more savory inspirations.
If you love Mexican food then check out these recipes: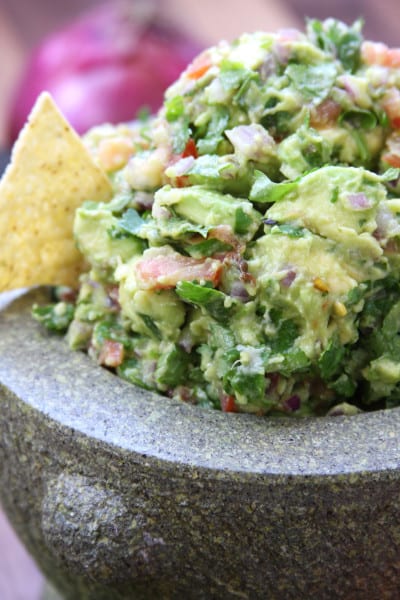 Simple Healthy Guacamole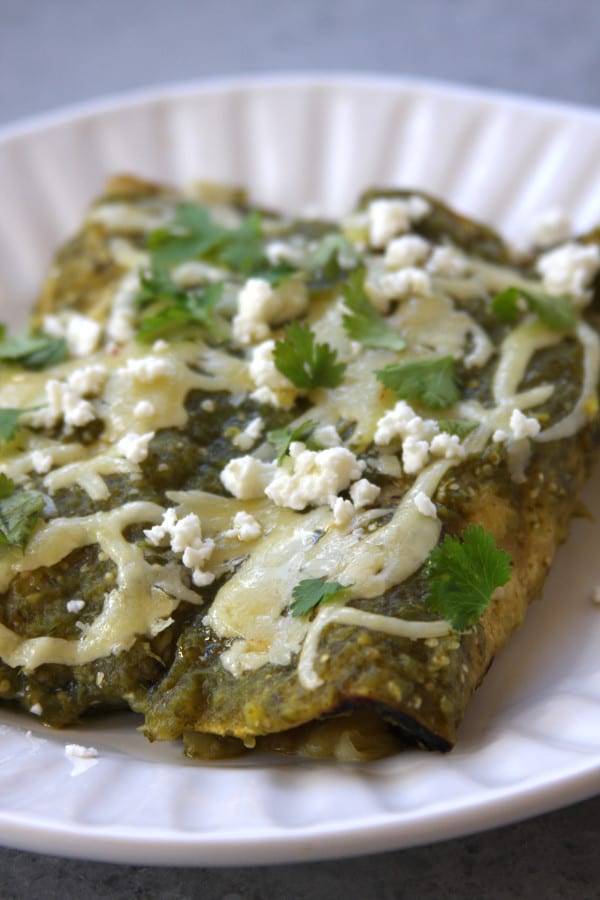 Lightened Up Salsa Verde Chicken Enchiladas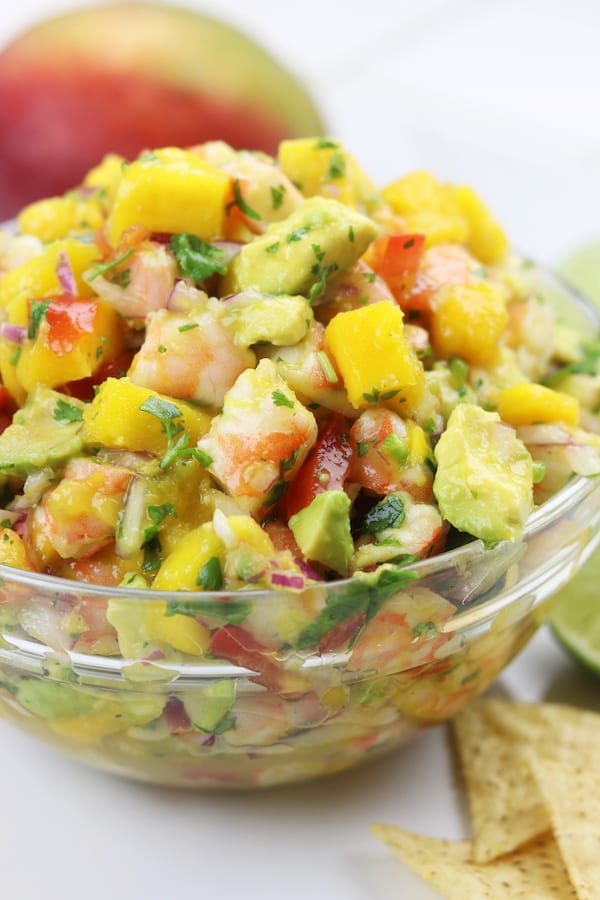 Mango Shrimp Salsa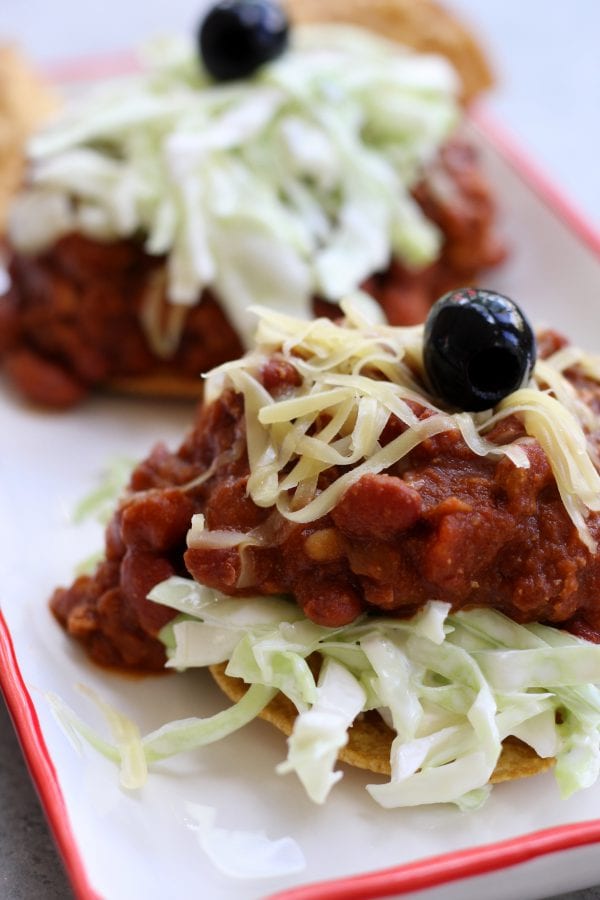 Family Favorite Tortilla and Beans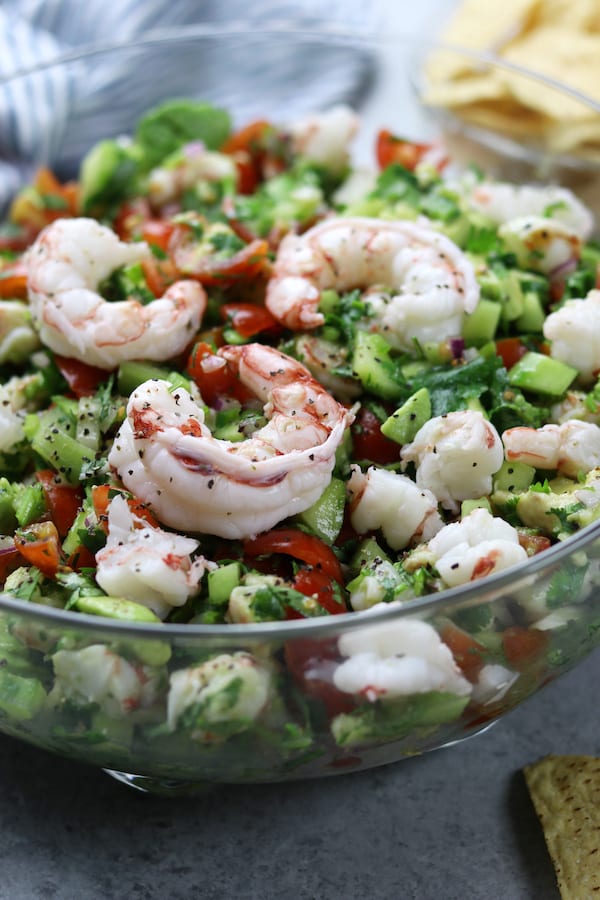 California Shrimp Ceviche