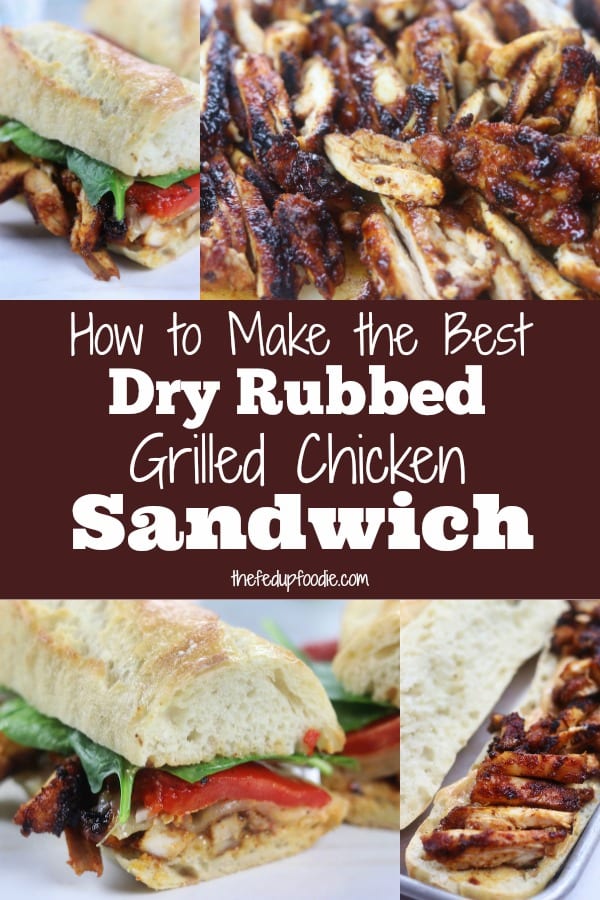 Easy and out of this world delicious, this Dry Rubbed Grilled Chicken Sandwich recipe creates one of the best sandwiches. This sandwich really is the perfect addition for your game day menu.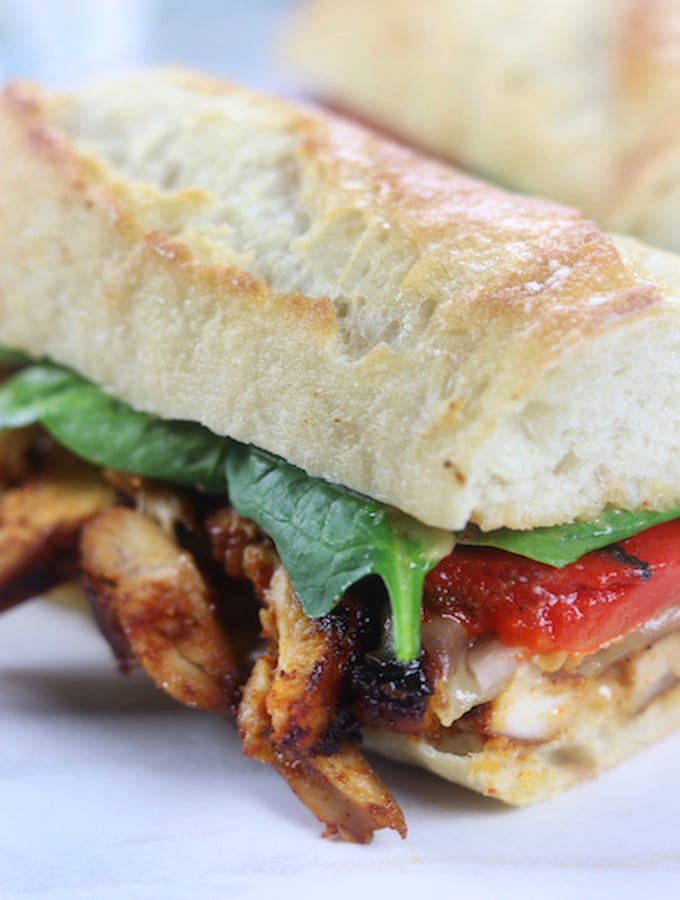 The Fed Up Foodie is a participant in the Amazon Services LLC Associates Program, an affiliate advertising program designed to provide a means for sites to earn advertising fees by advertising and linking to Amazon.com at no additional cost to you. This post may contain affiliate links.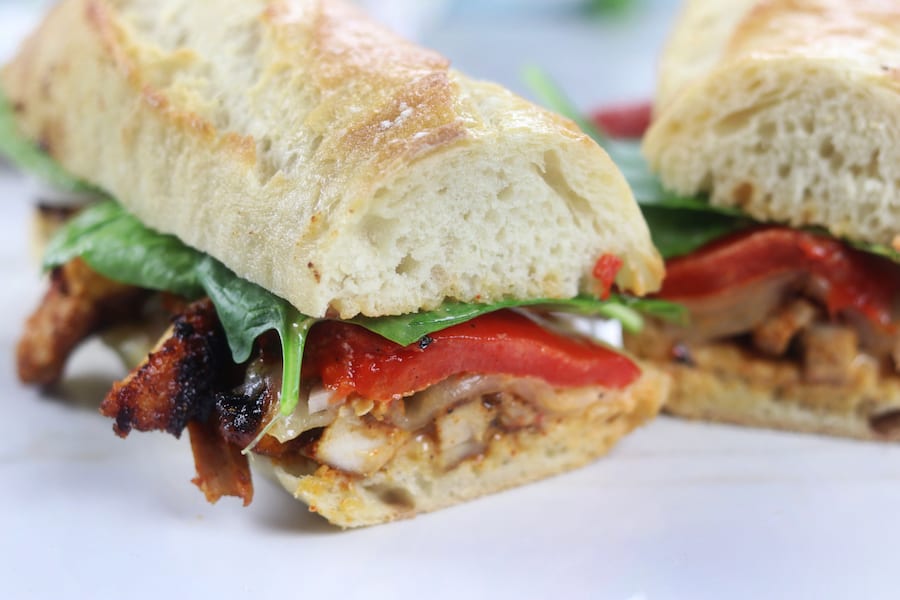 I do believe with my entire being, that husband's of food bloggers (and some wives too) are totally, 100% spoiled.
Not only do they get a home cooked meal almost every night, but they also get to eat some killer recipes too.
I remember the first time we sat down to dinner to eat my Best Dry Rubbed Ribs of Your Life recipe. My family (and myself included) looked like starved animals devouring these ribs.
In that moment, nothing else in the world mattered outside of savoring every bite of that tender, juicy, fall-off-the-bone meat.
It was then that I realized that not only was it the low-and-slow cooking method that made these ribs SO DARN INCREDIBLE but also the super flavorful dry rub recipe.
My husband though, was the most impacted by that rib filled evening.
Not only does he adore those ribs but he just goes absolutely GA GA for the dry rub every time we use it on anything.
Seeing his reaction is what inspired me to name the dry rub Husband Approved Dry Rub.
It was also seeing his reaction that led me to create this Dry Rubbed Grilled Chicken Sandwich and he was not disappointed.
Kid in a candy store, kid on Christmas morning or kid finding out their best friend can play are some of the best ways to describe him eating this "Best Grilled Chicken Sandwich".
As soon as the last bite was gone he was already asking when we could make them again.
So, when I shared with him I needed to film a video of making this hot chicken sandwich recipe, the childlike joy poured out of my bearded burly husband.
Like I said…100% spoiled, but I wouldn't have it any other way.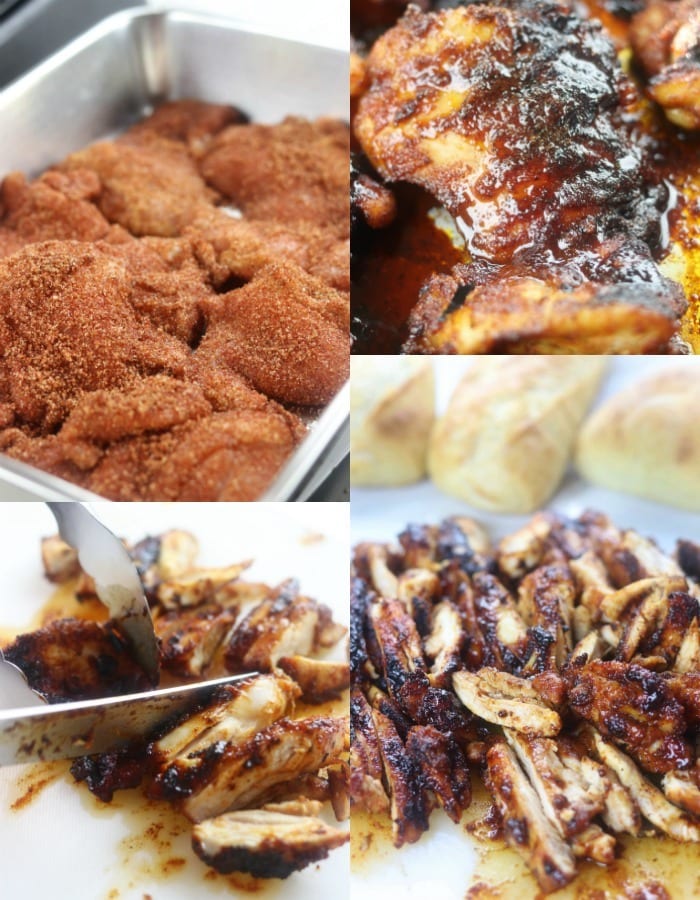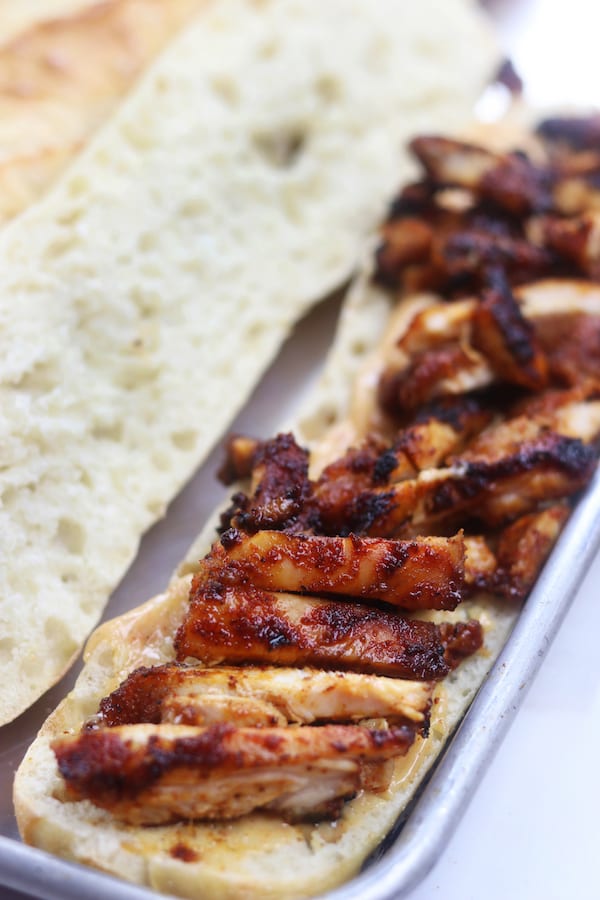 Commonly Asked Questions About Dry Rubbed Grilled Chicken Sandwiches Recipe
Where do I find the dry rub recipe for these sandwiches?
Husband Approved Dry Rub is the recipe we used for this Grilled Chicken Sandwich. Let me just share with you, it is amazing!!! It goes so good on all kinds of chicken dishes like this one.
Is this a healthy grilled chicken sandwich recipe?
Honestly, it depends on what your definition of healthy is. My approach is one of healthy decadence. In other words, meals that have a healthier edge to them but with that gooey gooey decadence element. I always try to use real food ingredients and organic whenever possible.
Does this recipe create a spicy chicken sandwich?
This chicken sandwich recipe creates a slightly spicy sandwich. However, most people will be absolutely fine with the heat level.
If you are preparing it for company that are more sensitive to spice, then my suggestion would be to lower the chipotle powder in the dry rub to 1/2 tsp (rather than 1 1/2 tsp) and increase the smoked paprika by 1 tsp. I wouldn't recommend eliminating the chipotle as it adds an extra layer of flavor.
I want these sandwiches as part of our game day menu but I don't want to be making them while the game is on. Can they be made in advance?
Yes, you can prepare this sandwich recipe in advance and eat them cold. The good news is, they taste amazing both hot or cold.
The secret to having them hot just in time for the game, have them in the oven about 30 mins before kick off with all the fixings ready to go. Once the meat is done cooking and is cut, pile it on the bread with the cheese and pop it back in the oven for about 3-5 minutes to melt the cheese. Add the spinach, roasted bell pepper and onions and dig in.
What goes well with these Grilled Chicken Sandwiches to help make an amazing party?
I would lean towards this chunky and flavorful Simple Healthy Guacamole with your favorite chips. Another favorite of mine is this Homemade Tzatziki with pita chips. During the holidays this Festive Cheese Ball with crackers is awesome too.
My family doesn't like spinach and roasted red bell pepper. What else could I use in their place?
I am so glad you asked because honestly you can get really creative using some fun alternative ingredients like:
Grilled Pineapple
Caramelized Onions
Arugula instead of Spinach
The dry rubbed chicken meat can also be used in a salad instead for anyone who wants to avoid the bread. I have used a lime and olive oil vinaigrette. Add your favorite salad fixings, the dry rubbed chicken and your favorite cheese for a very fun salad alternative.
How do I make the mayonnaise smooth and not lumpy?
The secret is to mix the dry rub into the mayo and then let it sit in the refrigerator for about an hour and then stir well. The brown sugar and spices need about an hour to dissolve and then the mayo will mix up beautifully.
Where can I find an indoor nontoxic grill?
I like how you think! There are a few choices that I love. If you are looking for a grilling pan to use on your burner, this one is awesome. For an electric version you can't beat this one.
More Fun Sandwich Recipes For Your Game Day Menu:
Grilled Hawaiian Chicken Sandwich– Saving Room for Dessert
Mexican Chicken Avocado Sandwich– The Fed Up Foodie
Smoked Salmon Reuben Sandwich– That Skinny Chick Can Bake
Grilled Veggie Sandwich– The Fed Up Foodie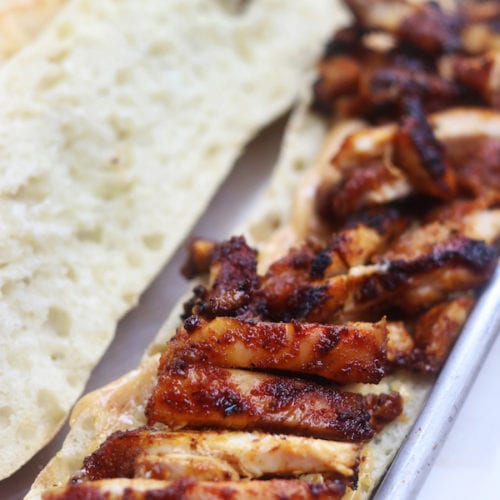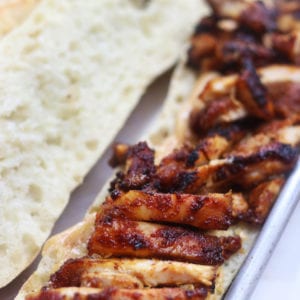 Dry Rubbed Grilled Chicken Sandwich
These are the BEST Grilled Chicken Sandwiches!!! The sweet and savory Husband Approved Dry Rub creates tender caramelized chicken thighs that are beyond delicious. Paired with quality bread, creamy Provolone and the spiced mayo, this sandwich is to die for.
Print
Pin
Rate
Ingredients
For the Sandwich
10

Ciabatta Rolls

*or 2 French Baguettes

10

slices

provolone cheese

5

oz

baby spinach leaves

12

oz jar

Roasted Red Bell Peppers

1

medium

white onion

*cut into sandwich slices
Instructions
Thoroughly mix together dry rub. (Mix again just before using to prevent clumping.)

Measure out mayonnaise and add 2 tsp of dry rub. Mix well. Cover and refrigerate for about 1 hour.

Cover dry rub and set aside.

To prepare chicken drain and remove from packaging. Place chicken thighs between layers of paper towels to absorb extra moisture and refrigerate for about an hour. (Refrigerating for an hour is an optional step but helps to remove extra moisture helping the dry rub adhere to the chicken better.)

Once chilled, dip chicken thighs into dry rub, turning multiple times to ensure chicken pieces are fully covered in dry rub.

Preheat oven to 350℉.

Preheat grill to medium high heat (approximately 400℉). Once heated, grill seasoned chicken on each side just until caramelized, about 3-5 mins per side.

Remove chicken from grill and add to baking pan. Bake for 15-20 mins or until chicken reaches an internal temperature of 165℉.

Once chicken is baked through remove from oven, let rest for about 5 mins and then cut into strips. Pour desired amount of excess juice from pan over pieces.

Cut bread. Stir mayo again to remove any lumps and slather on bread.

Divide chicken pieces among sandwiches. Add to each sandwich cheese, bell pepper slices, spinach and desired amount of onions.
Notes
*Please use as many organic ingredients as possible.*
For hot sandwiches with melted cheese add cut chicken, provolone and place back into hot oven until cheese melts, about 5 minutes.  
Nutrition
Calories:
453
kcal
|
Carbohydrates:
30
g
|
Protein:
35
g
|
Fat:
21
g
|
Saturated Fat:
8
g
|
Cholesterol:
132
mg
|
Sodium:
1169
mg
|
Potassium:
461
mg
|
Fiber:
2
g
|
Sugar:
1
g
|
Vitamin A:
1797
IU
|
Vitamin C:
21
mg
|
Calcium:
256
mg
|
Iron:
2
mg
If you love savory chicken meals then you will adore these: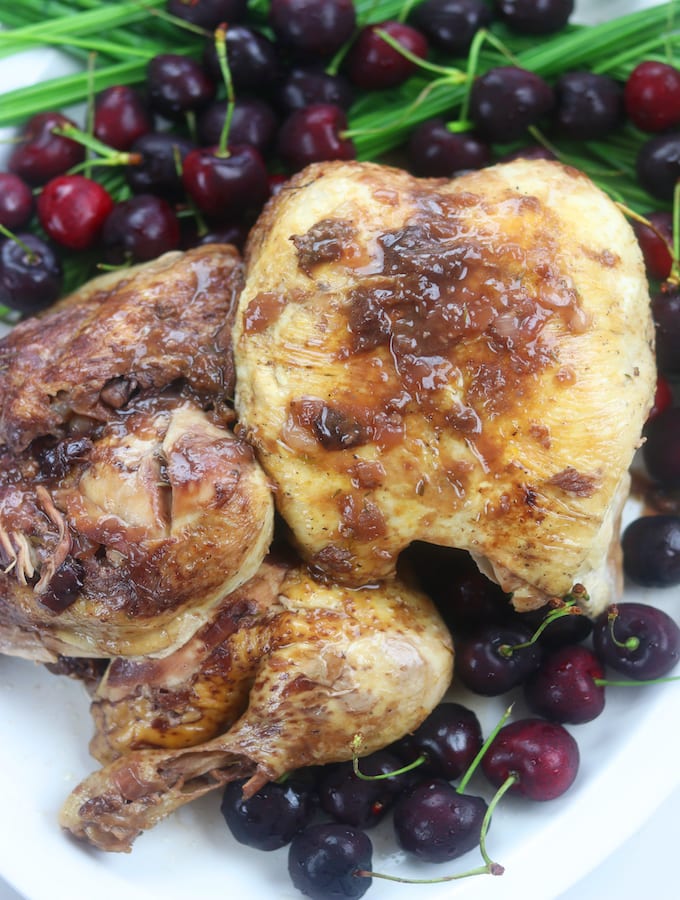 Instant Pot Cherry Chicken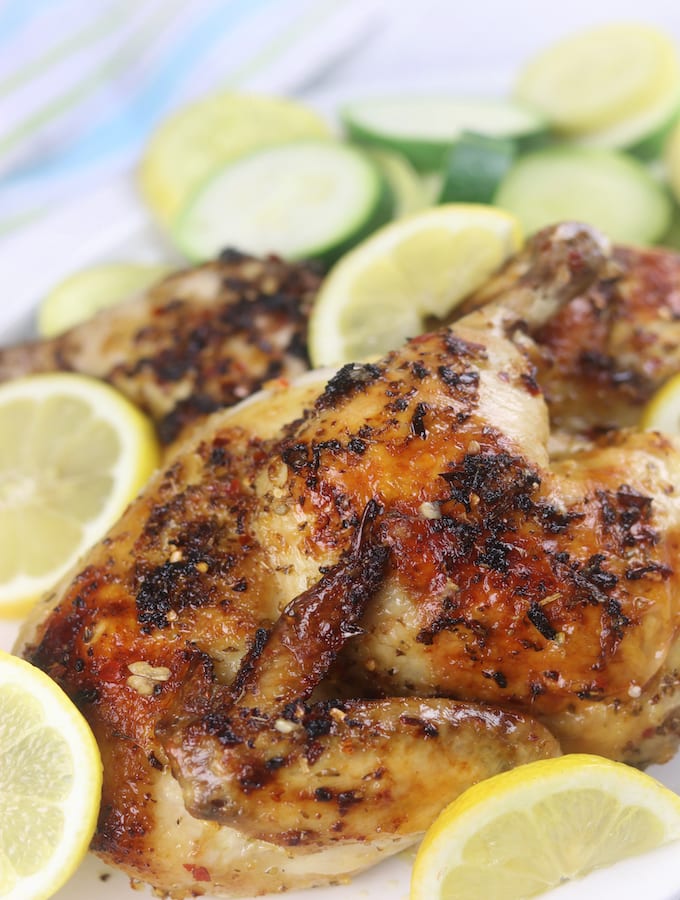 Easy Greek Chicken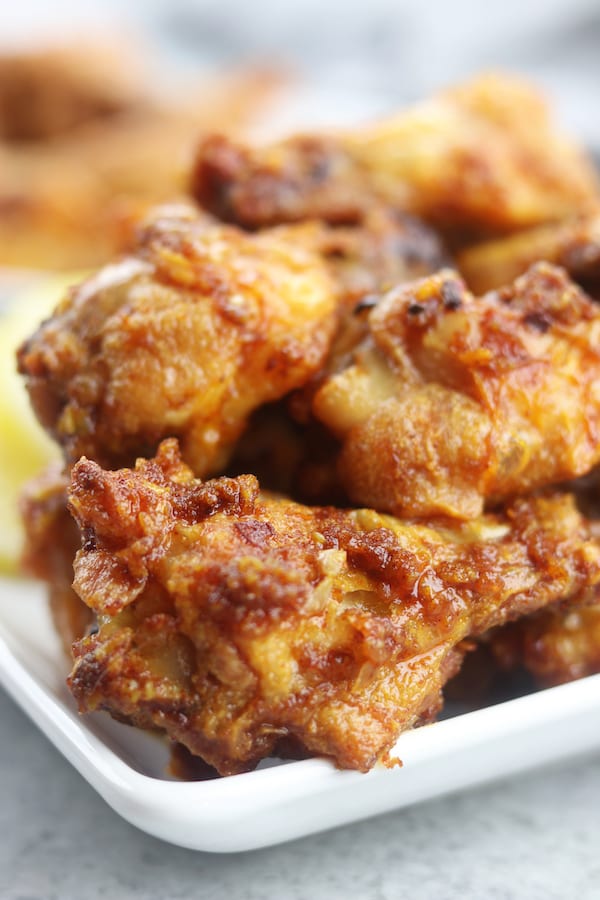 Smokey Lemon Garlic Wings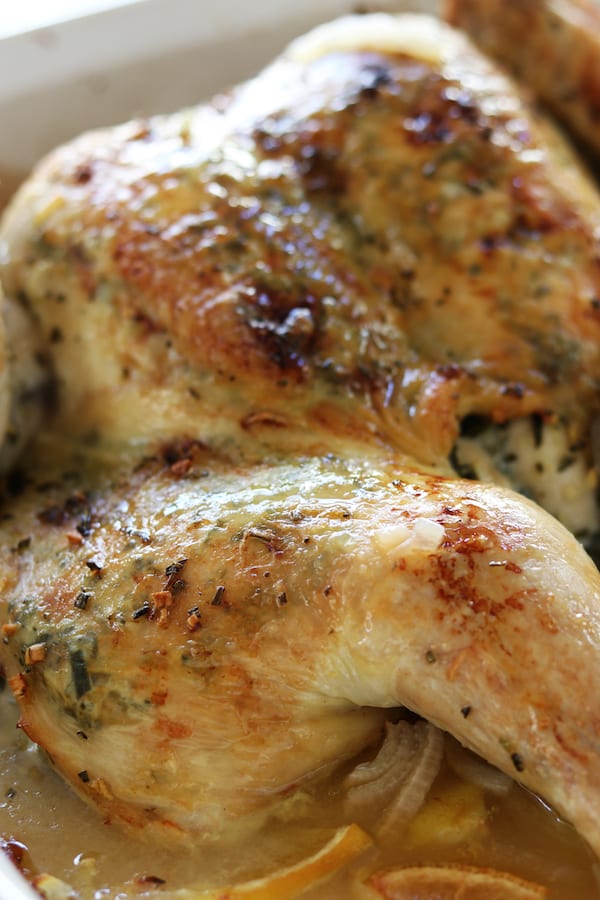 Rosemary Lemon Garlic Chicken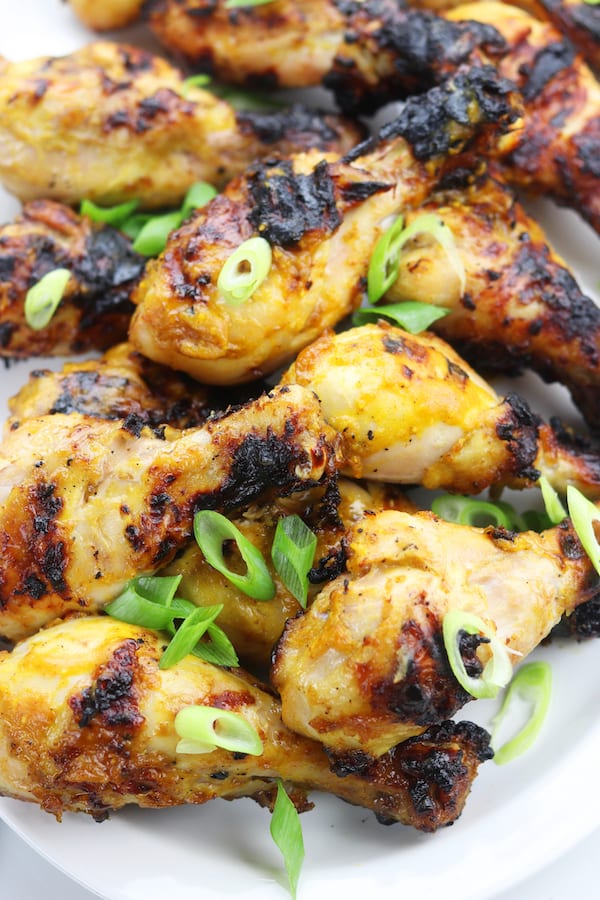 Mango Curry Grilled Chicken
SaveSave