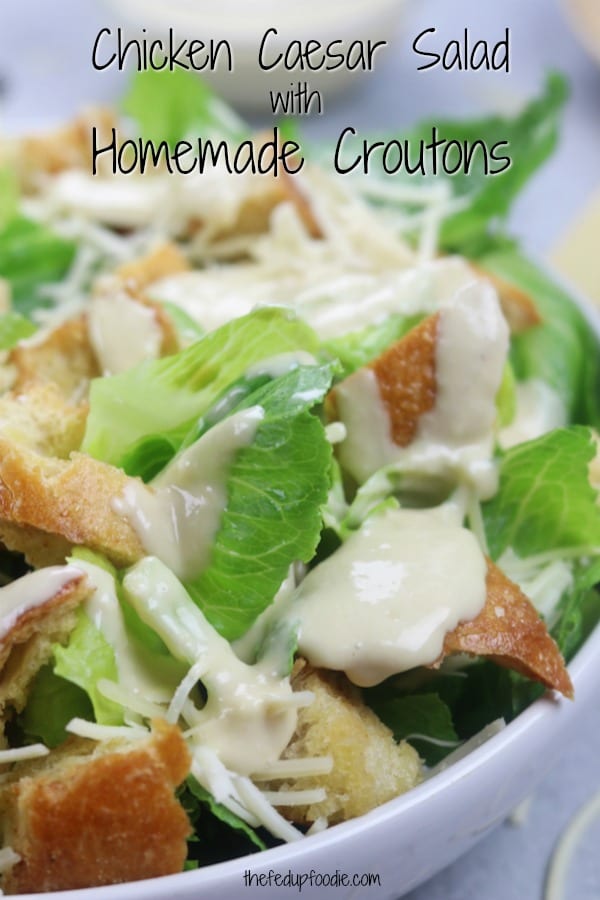 Crisp, refreshing and filling! This Chicken Caesar Salad with Homemade Croutons recipe has an easy dressing made with yogurt and no eggs. With shredded chicken this is one of my favorite summer meals.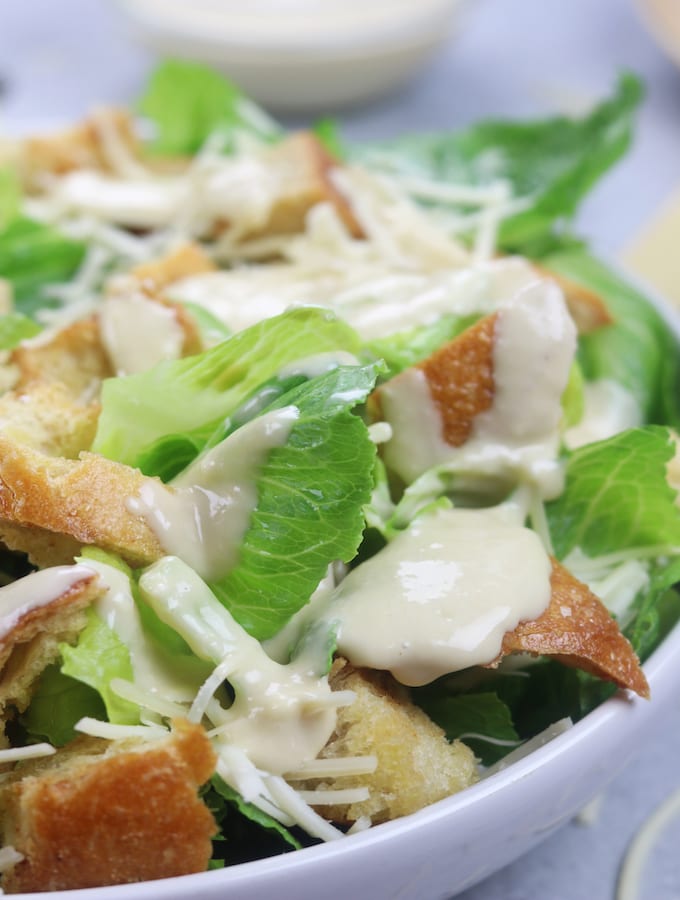 The Fed Up Foodie is a participant in the Amazon Services LLC Associates Program, an affiliate advertising program designed to provide a means for sites to earn advertising fees by advertising and linking to Amazon.com at no additional cost to you. This post may contain affiliate links.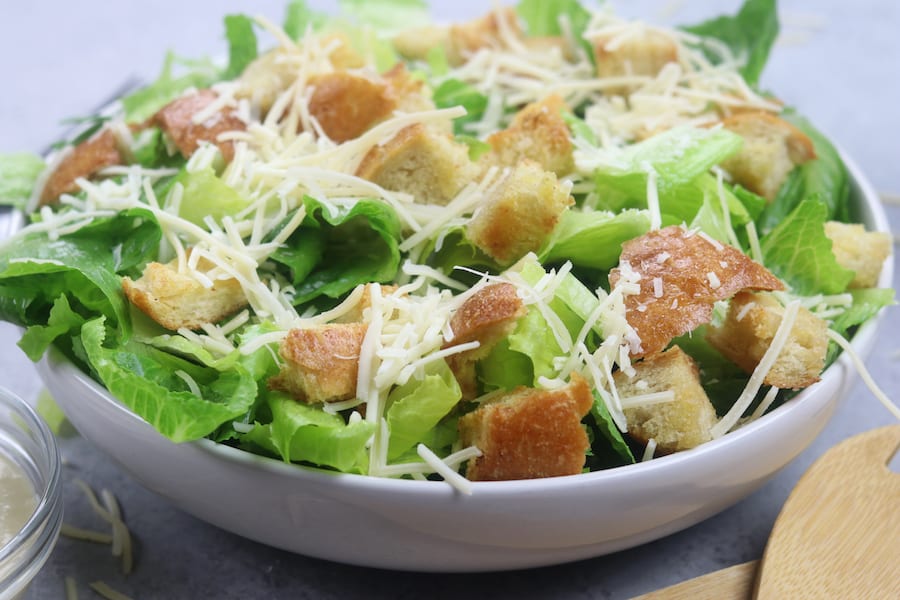 Can I just tell you how much I love salads like this Chicken Caesar Salad with Homemade Croutons?
There is something so wonderful about the crisp lettuce, crunchy homemade croutons, creamy parmesan and Caesar dressing when temperatures are soaring outside.
Honestly, I love this homemade salad so much I could live on it all summer long.
Well this salad and all my other favorites like Simple Strawberry Salmon Salad, Kale and Brussel Sprouts Salad with Chicken, Lazy Day Chinese Chicken Salad and my all time favorite Lemon Dill Shrimp Salad (by the way my very first post).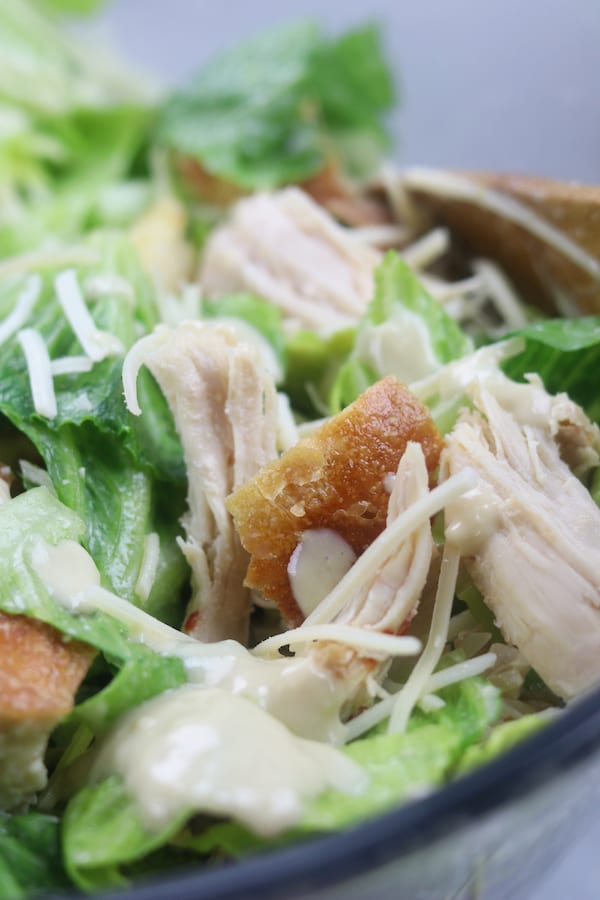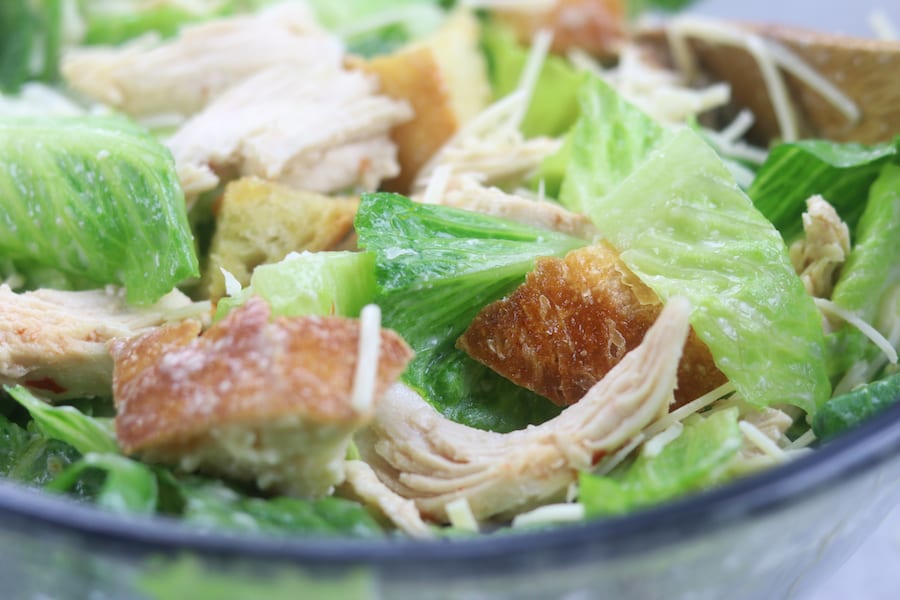 Instant Pot Shredded Chicken for Caesar Salad
My husband and I are completely addicted to how the Instant Pot can make deliciously tender, juicy and flavorful shredded chicken so quickly. I can not sing Instant Pot's praises loud enough when it comes to cooking chicken breasts and it was amazing in this homemade salad.
To easily make shredded chicken in the instant pot place the chicken breasts on the bottom of the liner. Sprinkle on the chili pepper flakes (optional) and garlic powder. Add the lemon juice and broth (or water) to the pot and sea your IP. Cook on high pressure (Poultry setting) for 6 mins and do a Natural Release for 5 mins and then a quick release.
If you like larger pieces of shredded chicken then immediately removed chicken breasts once the quick release is done and using 1 or 2 forks shred the chicken. (see video for easy hand motions using 1 fork)
Once shredded salt and pepper the chicken chunks to taste and add in about 1/4 to 1/3 cup of the cooking liquid from the pot. Stir well and place in covered container or wrap with aluminum foil. Refrigerate until chilled.
How to Prepare Chicken if You Don't Have an Instant Pot
If you don't have an Instant Pot have no worries. Simple preheat your oven to 350℉. Place the chicken breasts into a roasting pan. Drizzle with olive oil and sprinkle on salt, garlic powder and chili pepper flakes. Bake for approximately 35 minutes or until internal temperature reaches 165℉. Remove from oven and let rest for about 15 minutes and then chill covered. Cut into bite sized pieces when serving salad and add desired amount of cut chicken.
How to make Homemade Croutons
The secret to making the best homemade croutons really does start with good quality bread and olive oil (see steps in video for making croutons). I generally will buy Italian round loaves of bread from La Brea Bakery for my homemade croutons. It is crusty, hearty and yet the inside is still on the fluffier side. I choose La Brea bread for recipes like this salad because, even though they are not producing organic breads, they are part of the Non GMO Project which is a positive step in the right direction. In addition the quality of is so apparent with the first bite and it is highly accessible here in San Diego County. (If you are ever at Downtown Disney in Anaheim they have a cafe there.)
One important thing to take note of, many crouton recipes will call for stale bread. I have actually used both fresh and stale bread and both have worked out beautifully. As long as you use a heartier bread, like the type mentioned in the above paragraph, you will be fine. The only main difference I have noticed is that stale bread usually toasts up in about 10-15 minutes (depending on your oven) while fresh bread takes about 25-35 minutes to toast up. As long as you account for the correct time, either fresh air stale bread works great.
Homemade Caesar Dressing
Commonly Asked Questions about Chicken Caesar Salad
What kind of lettuce can be used for Caesar Salad?
Traditionally romaine lettuce is used but here is the beauty of making Homemade Caesar salads, you can really use any lettuce you love. I personally love the classic Caesar salad approach but other lettuces and even veggies like shredded brussels sprouts, finely chopped kale and arugula would taste amazing.
What kind of cheese is in Caesar Salad?
Aside from the homemade croutons and Instant Pot shredded chicken, my husband's favorite part of the Caesar Salad is the parmesan cheese. He is kind of a broken record telling me of his love for parmesan cheese. I did a complete switcharoo on him though. I purchased a blend of Parmesan and Romano and he actually loved it even more.
My recommendation though, purchase Parmigiano-Reggiano. Doing this is a way of circumventing purchasing fake parmesan cheese and buy the real stuff.
How do I make gluten free Caesar Dressing and salad?
To make a gluten free Caesar Salad Dressing use this (I personally use the organic version however it is not gluten free).
If you are making homemade gluten free croutons you will be happy to know that most of the gluten free breads on the market are on the heartier side and make for beautiful homemade croutons. Just follow the same directions.
How can I make the Caesar Dressing and salad vegetarian?
This Caesar Salad Dressing recipe is my favorite version. I love that it doesn't have raw egg but uses healthy yogurt instead. It is however not considered to be vegetarian because of both the Worcestershire sauce and anchovies. There are a few options to convert the salad dressing to vegetarian:
Use a vegetarian Worcestershire Sauce and eliminate the anchovies for 1/2 tsp of capers.
Replace the Worcestershire Sauce for 2-3 tbsp nutritional yeast and the anchovies with 1/2 tsp capers.
To make the Caesar salad vegetarian simply eliminate the chicken.
How do I keep the Homemade Croutons fresh?
Once your croutons are cooled to room temperature simply store them in an airtight container or ziplock bag that has the air removed. They will stay fresh for about 3-4 days however, they never make it past day two in my house because I constantly catch my family grazing on them and they disappear quickly.
How do I make Homemade Low Calorie Caesar Dressing?
To lower the calories of the Caesar Salad Dressing use nonfat Greek yogurt in place of the whole milk yogurt. Cut the olive oil down to 1/3 cup and increase the lemon juice with 1-2 more lemons. Also use 1/4 cup + 2 tbsp parmesan cheese.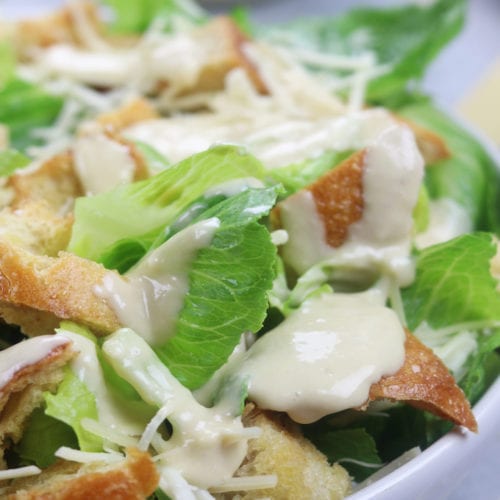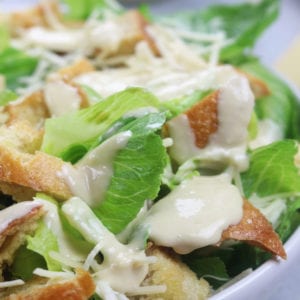 Chicken Caesar Salad with Homemade Croutons
This salad is a step above the rest because it's creamy and refreshing with the best homemade croutons that are quite frankly addicting. No raw egg in this caesar salad dressing. Just fresher cleaner ingredients with vegetarian alternatives.
Print
Pin
Rate
Ingredients
For the Caesar Dressing
1

cup

whole milk yogurt

6

anchovy fillets

1/2

cup

Parmigiano Reggiano (parmesan cheese)

*shredded

1/2

tbsp

dijon mustard

1/2

tbsp

Worcestershire sauce

2

lemons

*juiced (the juicer the better)

1

tbsp

red wine vinegar

1/2

cup

extra virgin olive oil

3

large

garlic cloves

*peeled
For the Instant Pot Shredded Chicken
3

chicken breasts

*about 1 1/2 lbs

1/2

cup

lemon juice

1/2

cup

chicken broth or water

1/2

tsp

garlic powder

1

tsp

red chilli pepper flakes

salt & pepper

*to taste
For the Homemade Croutons
1 1/2

lb

Italian bread loaf

1/2

cup

extra virgin olive oil

1/2

tsp

onion powder

1/2

tsp

garlic powder

1/2

tsp

sea salt
For the Salad
2

large heads

romaine lettuce

1

cup

Parmigiano Reggiano (parmesan cheese)

*shredded
Instructions
For the Caesar Dressing
Add all ingredients for dressing to a stand blender or use a hand blender to blend thoroughly. Refrigerate until chilled.
For the Instant Pot Shredded Chicken
Add chicken breasts to inner pot of the Instant Pot (no trivet necessary). Sprinkle with garlic powder and chili pepper flakes. Add lemon juice and broth.

Secure lid and turn valve to sealed. Cook on high pressure (poultry setting) for 6 mins and a natural release for 5 mins.

Once natural release is complete immediately remove and shred chicken using either 1 or 2 forks (see video for more details). Sprinkle with salt and pepper to taste. Add 1/4 to 1/3 cup of cooking liquid to shredded chicken. Stir well and refrigerate covered until chilled.
For the Homemade Croutons
Preheat oven to 350℉.

Cut bread into bite sized pieces and place on a large sided cookie sheet. In a small bowl mix oil and seasonings. Drizzle over bread pieces and mix well. If using fresh bread bake for 25-35 mins. Stale bread will take 10-15 mins to bake.

Once baked let croutons cool to room temperature. Store in an airtight container or bag.
For the Salad
Clean and cut lettuce leaves into bit size pieces. Add desired amount of chicken, croutons, cheese and dressing. Toss well.
Notes
*Please use as many organic ingredients as possible.*
This makes enough for dinner portions with leftover for 2-4 lunches.
Nutrition
Calories:
723
kcal
|
Carbohydrates:
51
g
|
Protein:
34
g
|
Fat:
45
g
|
Saturated Fat:
24
g
|
Cholesterol:
73
mg
|
Sodium:
954
mg
|
Potassium:
652
mg
|
Fiber:
4
g
|
Sugar:
29
g
|
Vitamin A:
224
IU
|
Vitamin C:
23
mg
|
Calcium:
277
mg
|
Iron:
3
mg
If you love light and refreshing summer meals then you will adore these recipes.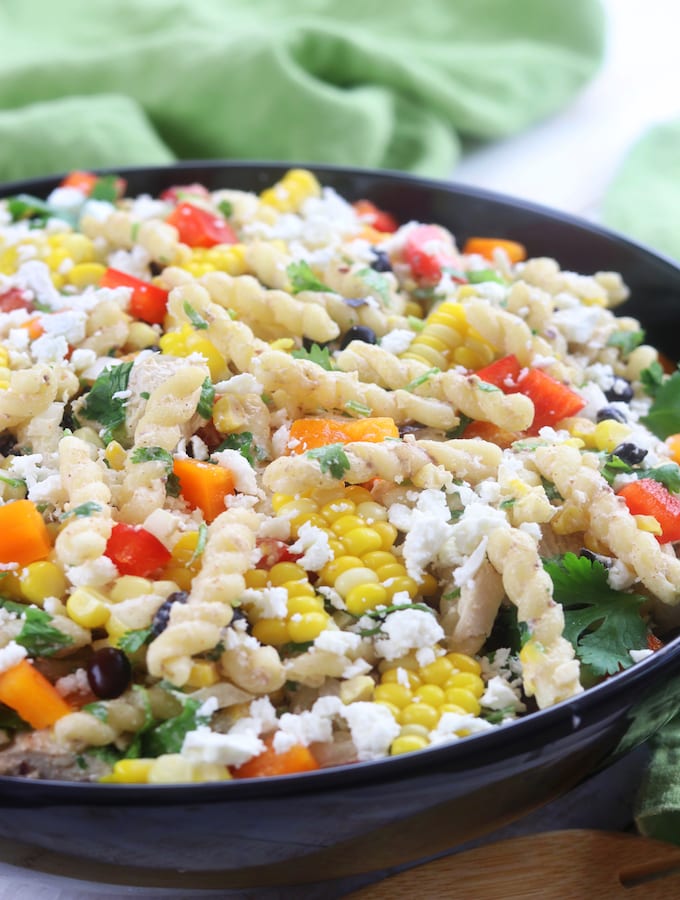 Southwest Pasta Salad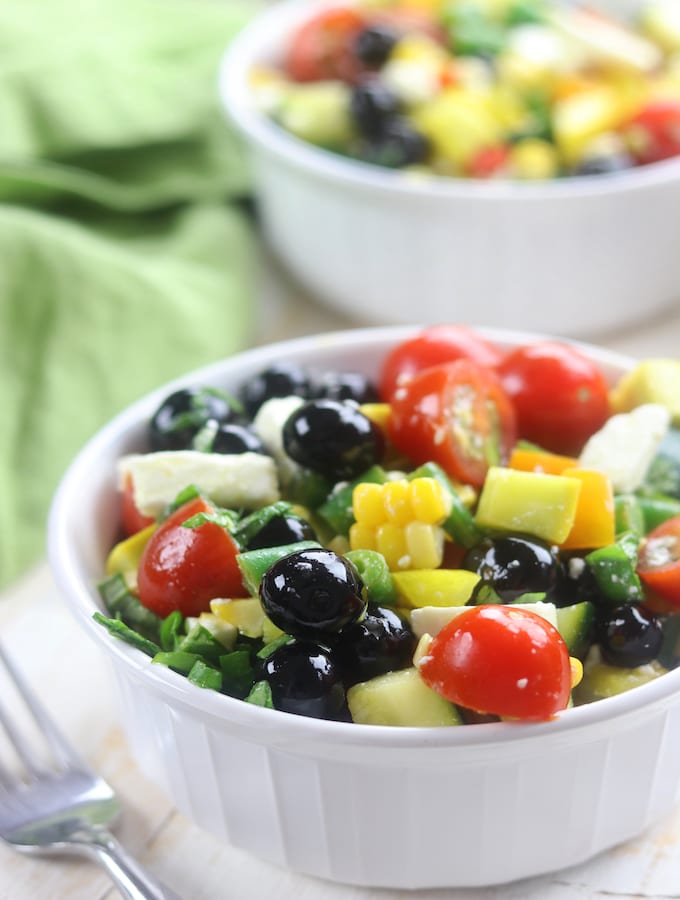 Blueberry Basil Chopped Veggie Salad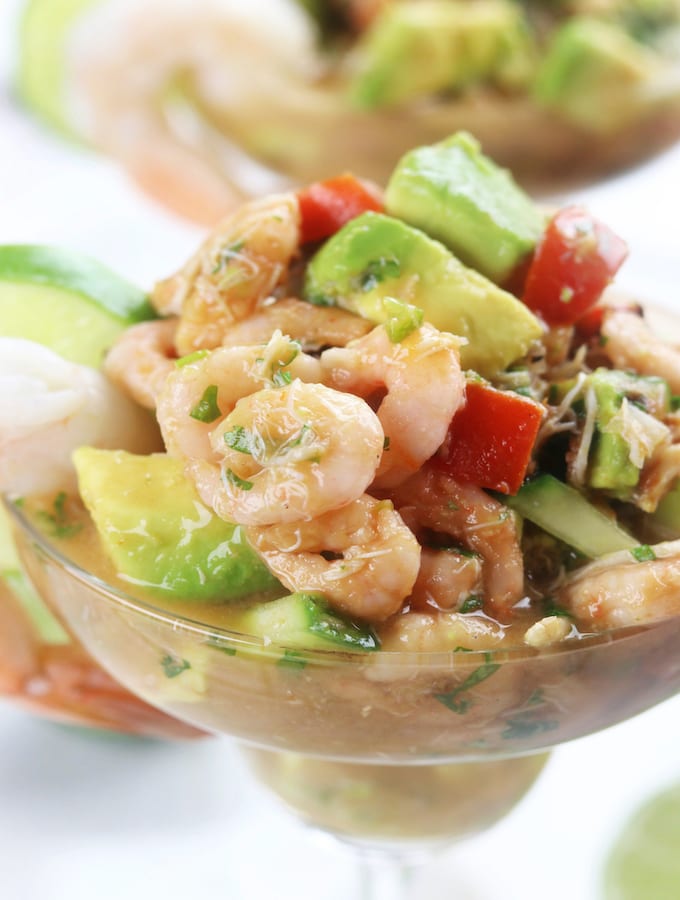 Mexican Shrimp & Crab Cocktail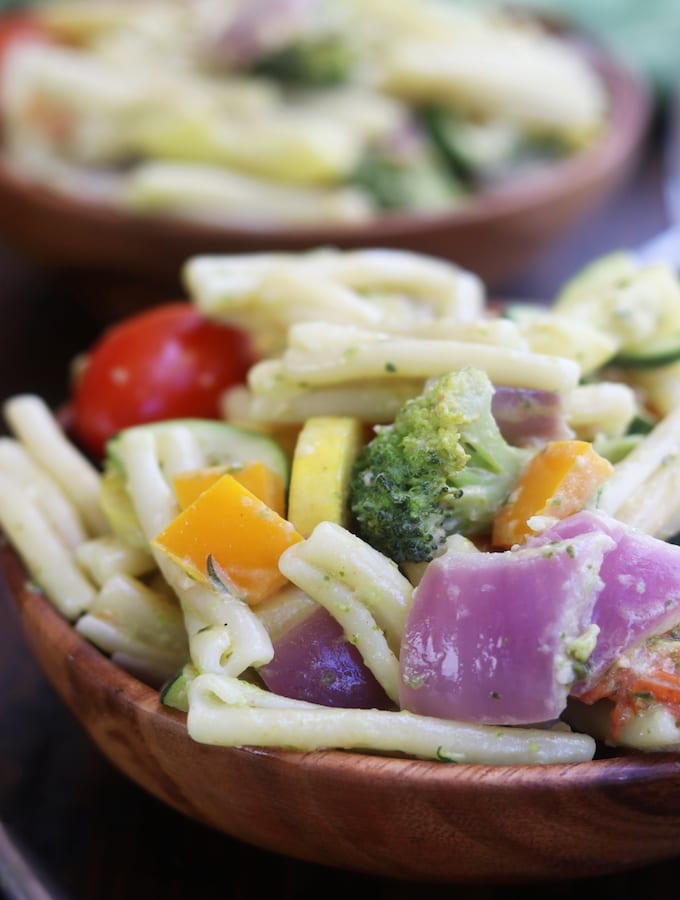 Creamy Pesto Vegetable Pasta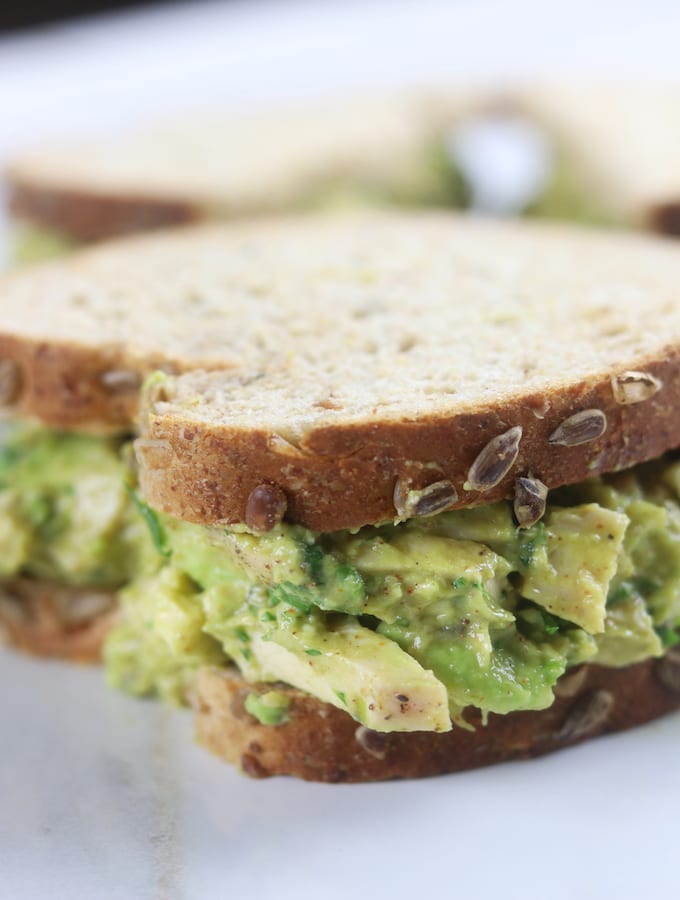 Mexican Chicken Avocado Sandwich
SaveSave