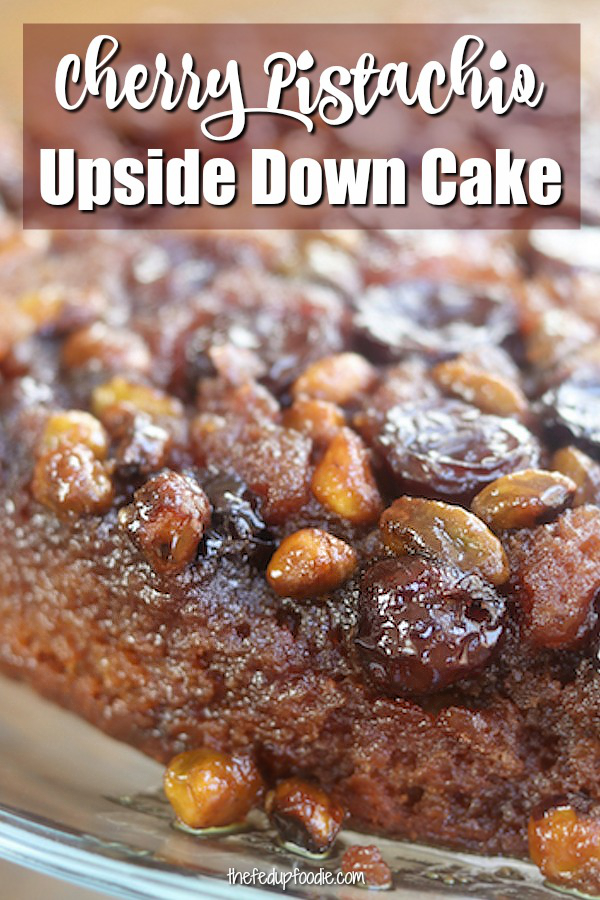 Cherry lovers rejoice! Cherry Pistachio Upside Down Cake recipe has caramelized cherries and pistachios with a moist, from scratch cake. This cake can be made anytime of year!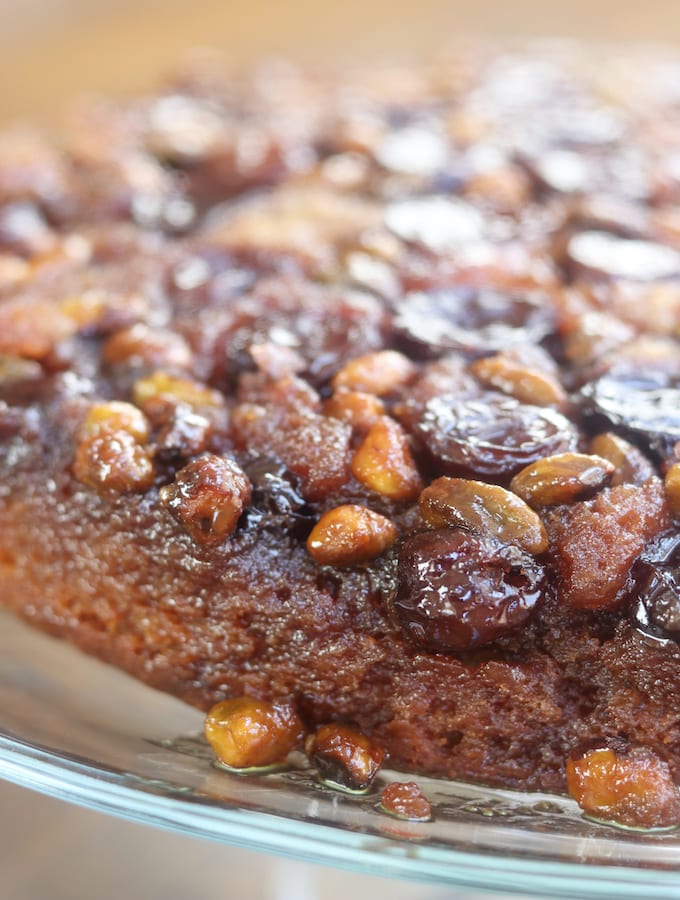 This post may contain affiliate links which I earn a small portion in sales if a purchase is made. Rest assured though, it is never at any additional cost to you.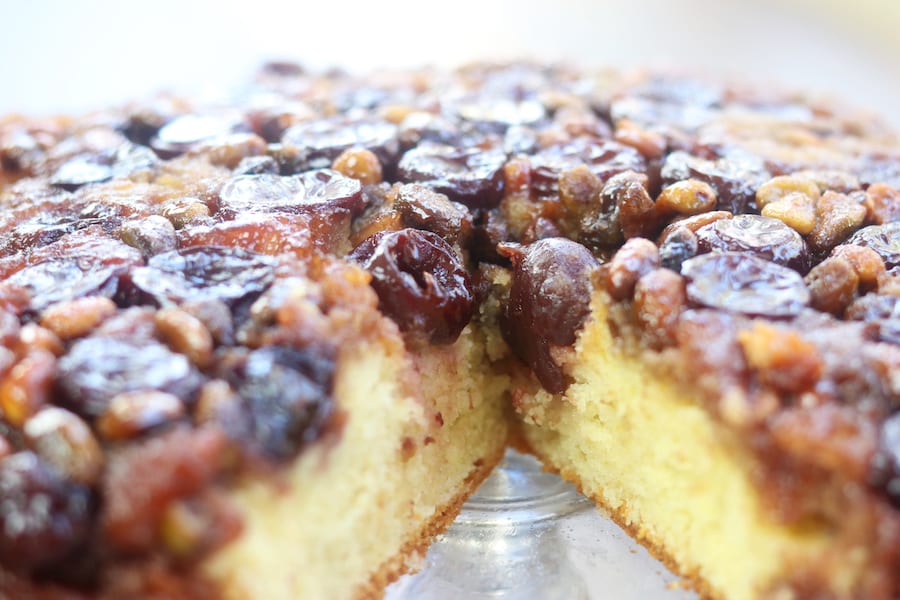 Is there anything better than when you find an easy, from scratch cake that is absolutely delicious?
Yes there is actually!
When that cake also stars your favorite fruit, has a sinfully decadent caramelized topping and pistachios.
It takes the YUM factor and raises it about 20 notches.
I created this Cherry Pistachio Upside Down Cake recipe using frozen cherries for one very specific reason.
I want to eat it all year round, not just in the summer when cherries are in season.
Here is what is even better, my husband who is not a cherry lover took one bite and told me, "YUM!"
That's a big deal because when he is not fond of something, it takes him about 5 minutes to tell me his thoughts and then I usually get an, "It's ok."
Based on my husband's response, I think it is safe to say that this is a cake that even disgruntled cherry eaters will fall in love with.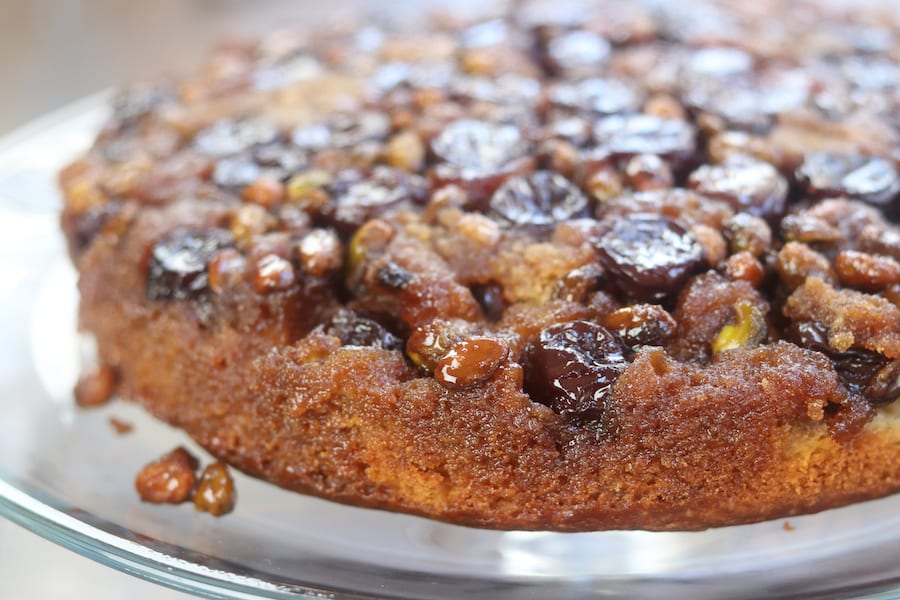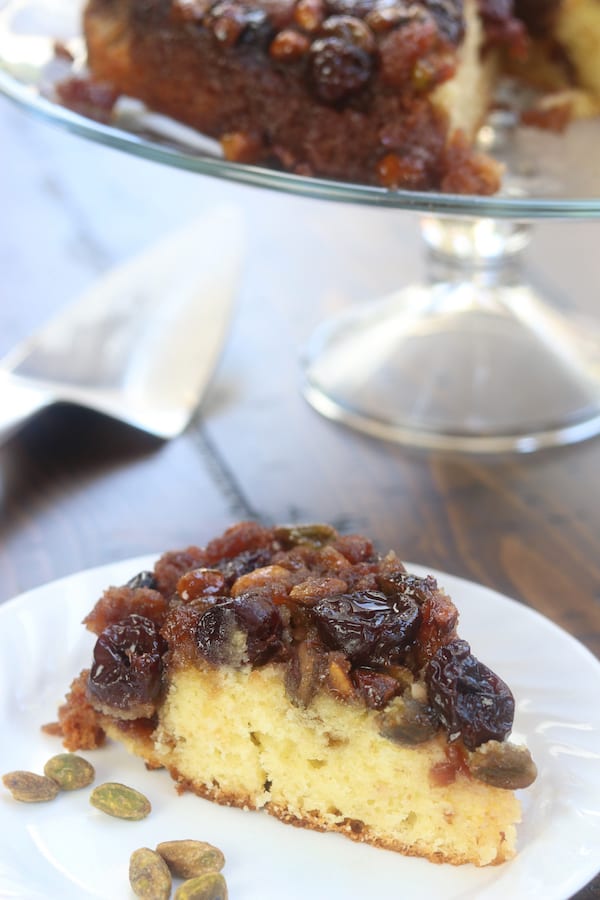 Commonly Asked Questions About This From-Scratch Cherry Pistachio Upside Down Cake.
What type of cherries did you use?
I used Costco's frozen Organic Dark Tart Cherries. The frozen Dark Sweet Cherries would work just as well.
Can I use fresh cherries?
Yes, but there are a few things to keep in mind.
You'll absolutely need one of these to prepare the cherries. (affiliate)
Keep a watchful eye on the cake at around 45 min marker since ovens all bake at different rates and the moisture content of fresh cherries can vary to that of frozen.
Pro Tip: If using a convection oven lower the temperature by 25 degrees to 350℉ and check for doneness using a toothpick inserted into the center of the cake at around the 35-40 min marker.
I don't like pistachios. Is there another nut I can use?
Such a great question! This is where personalizing your cherry cake recipe will come into play. Try experimenting with your favorite nuts but my suggestion is if you do like pistachios then you will love them in this cake.
Aside from pistachios I think pecans or cashews would be great also.
Can I use a cake mix instead of making the cake from-scratch?
I would recommend to stick with the recipe since baking can be fairly temperamental. I would hate to see those beautiful cherries go to waist.
Do the eggs and butter really need to be be at room temperature?
Yes, I highly recommend this step as it will help to create a fluffier cake. Read here more specific details.
I usually place the butter and eggs (in a small bowl) on the counter the night before in the winter or about 1-2 hours before baking in the summer.
I don't have a springform pan. What other types of pans can I use?
Before I answer let me just share with you a few reasons why I chose a springform pan.
Springform pans tend to be deeper so as to not risk overflow of cake batter while the cake is baking. (affiliate)
Removing the cake was much easier using a springform. (aff)
To answer the question, no you don't need to use a springform pan but it will make baking this cherry cake much easier. Just make sure the cake pan you choose is 10 inches round and 3 inches deep.
Can I use milk in place of the Greek Yogurt?
I highly recommend sticking with the Greek yogurt since it has less water content.
Tips to keep in mind for this Cherry Pistachio Upside Down Cake.
This recipe has a little more of the buttery brown sugar glaze than your average upside down cake. Because of this wrapping the bottom of the pan in aluminum foil, or placing the cake pan on this, while baking will help keep the brown sugar glaze from spilling into your oven. (affiliate)
Use the cherries while still frozen. The easiest way to do this is to prepare the brown sugar glaze first and then set aside. Once the cake batter is mixed add the cherries an nuts to the brown sugar glaze and then pour on the cake batter and bake. Using the cherries is frozen state will make assembling the cake much easier.
To test for doneness of the cake insert a butter knife or cake tester into the center of the cake while it is still in the oven. If the tester comes out clean (no doughy batter) the cake is done. (affiliate)
Once your upside down cake is done baking set on a cooling rack for about 10 mins or long enough for the fruit and glaze to stop bubbling. To invert turn the serving plate upside down and place over the top of the cake pan. Using baking gloves carefully and quickly flip the cake pan over. Unlock the side of the springform pan and remove. Carefully remove the bottom of the springform pan.
Looking for more fun upside down cakes? Check these out:
Peach Upside Down Cake from an Italian In My Kitchen
Rhubarb Upside Down Cake from Rachel Cooks
Caramelized Apricot Upside Down Cake from The View From Great Island
Cranberry Upside Down Quick Bread from Belly Full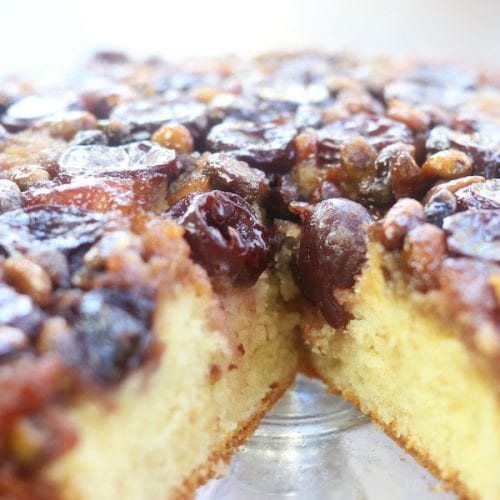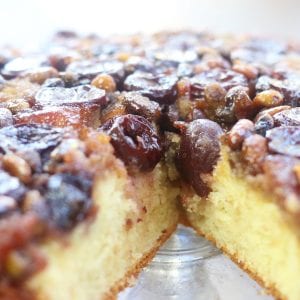 Cherry Pistachio Upside Down Cake
Cherry lovers rejoice! Cherry Pistachio Upside Down Cake recipe has caramelized cherries and pistachios with a moist, from scratch cake. This cake can be made anytime of year!
Print
Pin
Rate
Ingredients
For the Brown Sugar Glaze Topping
1/2

cup

butter (1 stick)

*room temperature

1

cup

brown sugar

2 1/2

cups

pitted cherries (fresh or frozen)

*I used frozen Organic Dark Tart Cherries from Costco

1/2

cup

shelled pistachios
For the Cake
1/2

cup

butter (1 stick)

*room temperature

1

cup

white sugar

2

large

eggs

*room temperature

1

tsp

vanilla

1 3/4

cup

all-purpose flour

2

tsp

baking powder

1/2

tsp

salt

1/2

cup

whole milk Greek yogurt

or 2% fat
Instructions
In a medium sized bowl or stand mixer mix together 1 stick butter and brown sugar until creamed. Spread evenly onto bottom of springform pan. Set aside.

In a separate medium sized bowl, or washed stand mixer cream, 1 stick of butter with white sugar until fluffy, about 5 mins. Make sure to scrape down sides off bowl at least once.

Meanwhile sift together dry ingredients in a separate medium sized bowl.

Mix in vanilla and 1 egg at a time to butter and white sugar mixture until light and fluffy.

Add half of yogurt and half of dry ingredients and stir until just mixed. Scrape down side of bowl and repeat with second half of yogurt and dry ingredients making sure to not over mix.

Place frozen cherries and nuts evenly over brown sugar topping. Spoon cake mixture over topping and spread evenly.

Bake in center of a 375℉ for 50-60 mins or until cake tester comes out clean.

Let rest for about 10 mins or until fruit and glaze stop bubbling. Invert onto serving platter (see notes above for directions how to invert). Cake can be eaten warm or at room temperature.
Notes
*Please use as many organic ingredients as possible.*
Nutrition
Calories:
484
kcal
|
Carbohydrates:
66
g
|
Protein:
7
g
|
Fat:
23
g
|
Saturated Fat:
12
g
|
Cholesterol:
92
mg
|
Sodium:
304
mg
|
Potassium:
226
mg
|
Fiber:
2
g
|
Sugar:
47
g
|
Vitamin A:
676
IU
|
Vitamin C:
3
mg
|
Calcium:
109
mg
|
Iron:
2
mg
Follow along on Facebook and Pinterest for more sweet inspirations.
If you love berry recipes you will love these: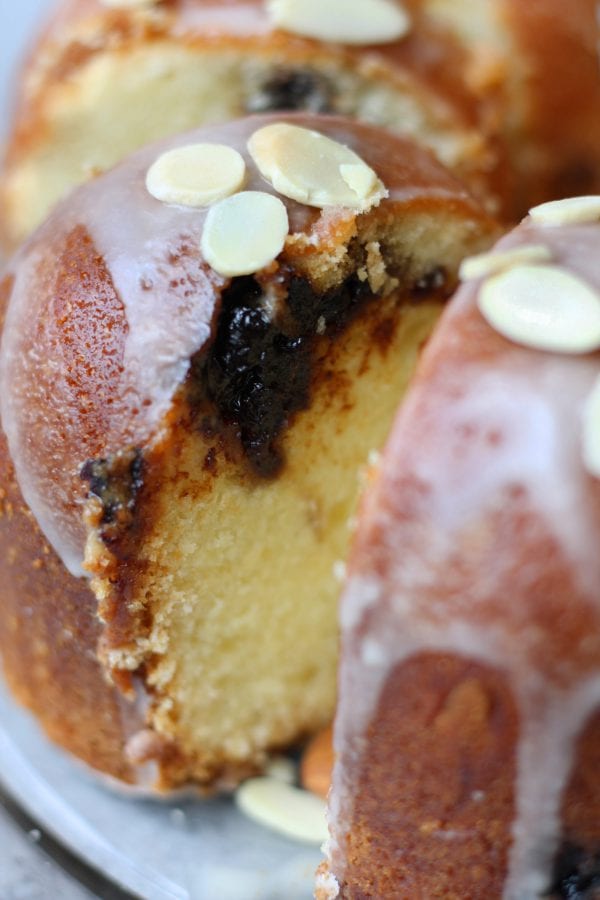 Cherry Amaretto Pound Cake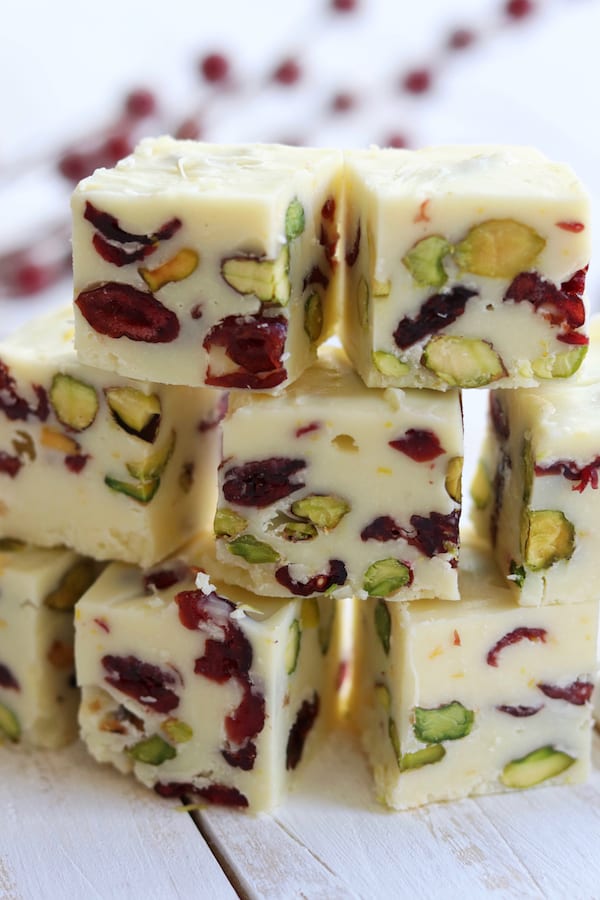 Simple Orange Cranberry Pistachio Fudge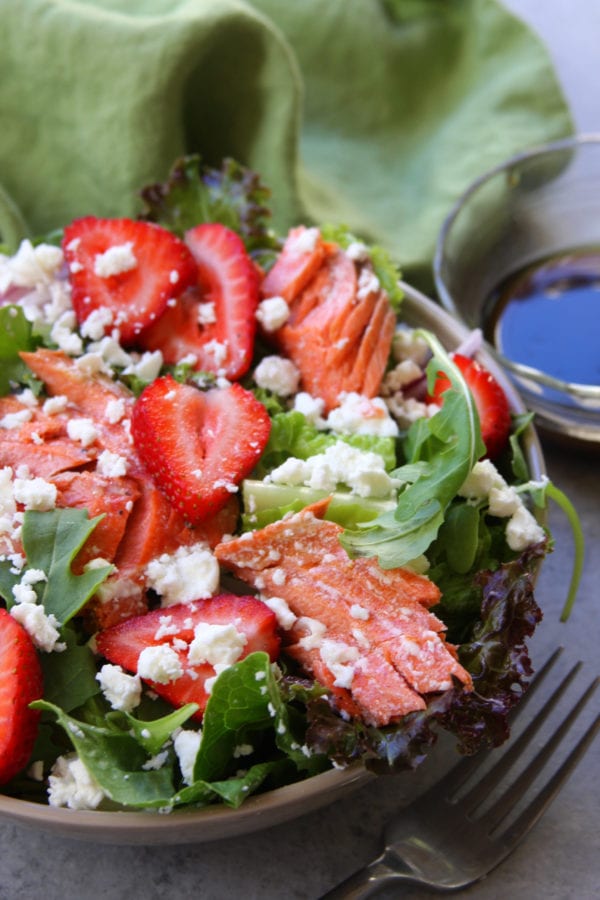 Simple Strawberry Salmon Salad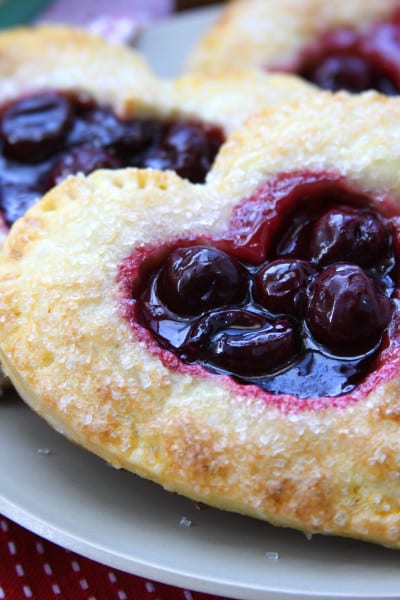 Cherry Heart Pies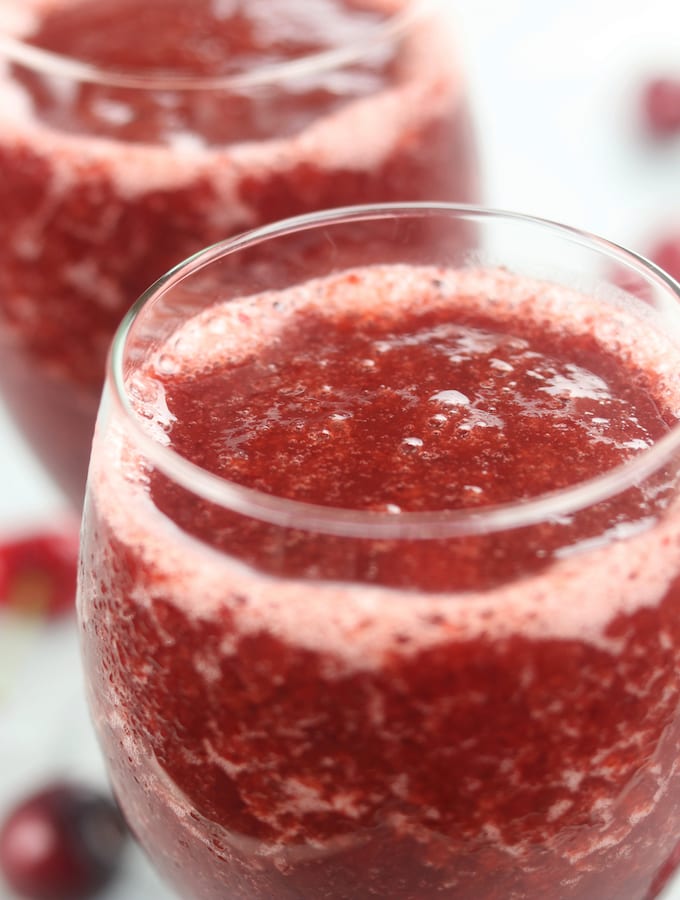 Cherry Wine Slushies