Starry Night Marzipan Cookies recipe is a chocolate almond sugar cookie with a delectable marzipan filling and then drizzled with white chocolate. This will be a show stopper!!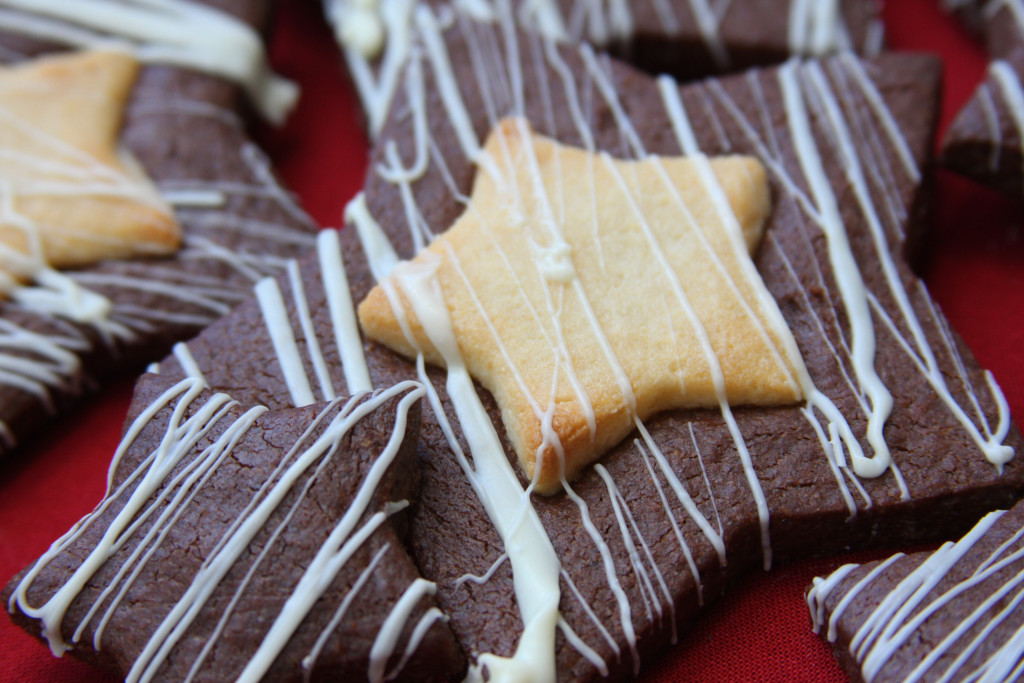 This post may contain affiliate links which I earn a small portion in sales if a purchase is made. Rest assured though, it is never at any additional cost to you.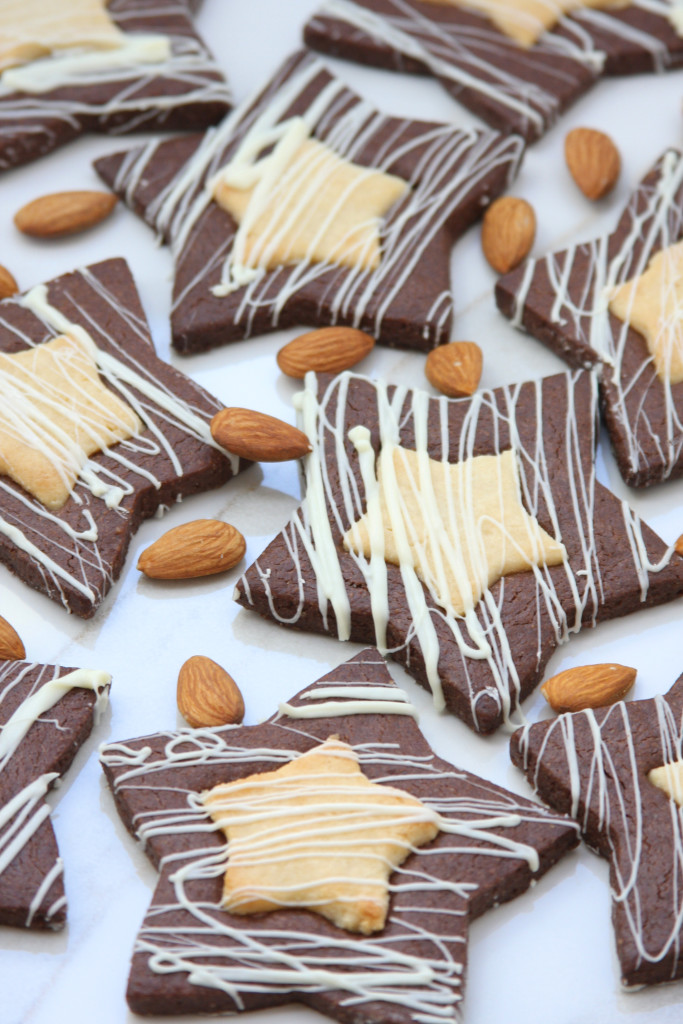 I almost talked myself out of doing this recipe. Seeds of doubt had started to germinate in my mind, "do I have what it takes to compete?". There are some amazing bloggers/recipe creators out in the blogging world creating phenomenal Christmas treats. It is enough to make a girl doubt herself. I also thought about this recipe for what felt like an eternity. There was this hazy picture in my mind of how I wanted it to look and taste. The first couple attempts also looked like a confusing pile of dough. I started to wonder if this recipe was ever going to come together. I am so glad I persevered because the end result is a recipe that I am sooooooo excited to share. Seriously, I have a huge smile on my face. I allowed my husband and brother to each try a cookie while I was photography these beautiful little stars. When I heard "Can I have another one?' more than 4 times in a matter of 15 minutes I knew I had a gem of a cookie.
The secret to these Starry Night Marzipan Cookies is to have VERY chilled sugar cookie dough and marzipan. It helps the stars to maintain their crisp lines. I had made both doughs the day before baking and chilled them over night in the refrigerator. About 45 minutes before needing the marzipan, I placed it in the freezer just to help it get really chilled. I also found rolling the chocolate sugar cookie dough out the night before, between two pieces of parchment paper to a thickness close to what I wanted for the cookies, was a huge help the day of baking. To do this, I folded the ends of the parchment around the dough and placed it in a gallon sized ziplock bag in the refrigerator. Just before baking, I pulled out the sugar cookie dough and rolled it just a little more.
Once I had the cookie dough cut out, I placed it back in the refrigerator while I cut out the marzipan. I was fortunate enough to find a phenomenal marzipan (aka Almond Paste) recipe from Nourishing Joy that uses honey instead of corn syrup. I loved that I could use my Raw Local Unfiltered Wildflower Honey from Primal Pastures for these Starry Night Marzipan Cookies. I believe strongly in the health benefits of raw honey and the taste is unbelievably good. Check out Dr Axe's article, The Many Health Benefits of Raw Honey.
When cutting the disks for the marzipan, I eyeballed the thickness and the end result was some stars being level with the bigger star and others were a little taller. The marzipan stars that were a little taller made for a 3D effect that was kind of cool. Don't worry if all the marzipan stars are not exactly the same width as the chocolate stars. It will add dimension and personality. Also this marzipan recipe makes enough for a double or triple batch of the chocolate sugar cookies. Marzipan should last for a couple weeks in your refrigerator when wrapped well.
Word of warning, these cookies are so yummy and beautiful they will disappear quickly. Making the doughs the night before will make the next day's assembly very easy. Requires the same amount of time as making traditional iced sugar cookies. These Starry Night Marzipan Cookies are rich, buttery, nutty, chewy and crispy all at the same time. They will be the star of your holiday and steal the show. ⭐??✨
Enjoy!!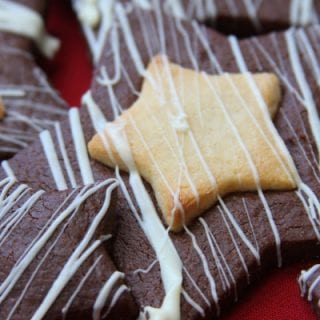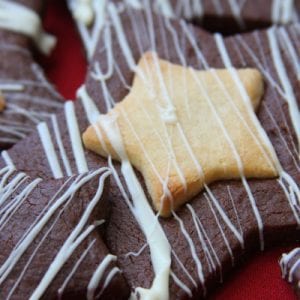 Starry Night Marzipan Cookies
A rich, buttery, nutty, chewy and crispy cookie. Perfect for holiday parties or as a gift.
Print
Pin
Rate
Ingredients
Tools
cookie sheets

parchment paper

gallon

size ziplock bag

set of star cookie cutters

rolling pin
Marzipan
1

lb

raw almonds

1 1/8

cup

granulated sugar

1/4

cup

honey

*preferably raw

7

tbsp

water

1

tbsp

pure almond extract
Chocolate Sugar Cookies
1 1/2

cups

all-purpose flour

3/4

cup

unsweetened cocoa powder

1 1/4

tsp

baking powder

1/8

tsp

salt

3/4

cup

butter

*softened

1 1/4

cups

granulated sugar

1

lg

whole egg

1

lg

egg yolk

1/2

tsp

pure vanilla extract

1/2

tsp

pure almond extract
Garnish
5

oz

white chocolate for drizzling

*optional
Instructions
For the Marzipan- Blanch almonds by bringing a lg pot of water to a boil. Add almonds to boiling water, boil for 1 minute. Skins of almonds should be very loose, boil for an additional 30 secs if skins are not loose. Strain almonds in colander and run cold water over them to stop the cooking process. Remove skins pinching gently as they can spring across the room. Place skinned almonds on a dry towel-pat dry. Once almonds are dry place in food processor and throughly grind- set aside. In a small saucepan mix sugar, water and honey together. Bring to rapid boil over medium/high heat stirring consistently. Once rapid boil starts, take off heat and pour over almonds. Begin processing and add almond extract in the beginning of the processing through feeding tube. Continue processing until marzipan is smooth, approximately 10 minutes. Spoon onto parchment paper in shape of thick snake and wrap around marzipan. Wrap thoroughly in plastic wrap to keep air out. Refrigerate over night. About 45 minutes before assembling cookies place in freezer to thoroughly chill.

For the Cookies- Sift together dry ingredients and set aside. In a standing mixer or medium bowl, cream butter and sugar together until smooth. Beat in egg, egg yolk and extracts. Gradually add in dry ingredients a few spoonfuls at a time while mixing. Mix well making sure to scrape down sides of the bowl a few times. Once mixed, put half of dough between two sheets of parchment paper, repeat with other half of dough. Roll dough out to almost the thickness you will want cookies- about 11 inch diameter. Fold sides of parchment over rolled dough. Place in ziplock bag and seal making sure to rid bag of excess air. (rolling dough out ahead of time will save time the next day). Refrigerate over night.

Assembly of Cookies- Preheat oven to 375 ℉. Roll sugar cookie dough out between the sheets of parchment to desired thickness of cookie, approximately 1/4 to 5/16 of an inch. Line 2 cookie sheets with parchment paper- set aside. Cut out larger star with cookie cutter. Line up smaller cookie cutter star within the large star. Gently place lg stars on 1 cookie sheet and small stars on other cookie sheet. Chill large stars while cutting out marzipan to help hold their shape. Cut marzipan into disks approximately the same thickness as cookies. Gently press with finger if diameter is not big enough to accommodate small cookie cutter. Cut out small star and gently removed marzipan star from cutter. Line small star within large star and gently press. Any small gaps will fill in while baking.

Bake large stars for 12 - 13 minutes and small stars for 8 minutes, both at 375 ℉. Let cool on pan for about 5 min. Transfer sheet of parchment onto cooling racks. Leave on parchment for drizzling white chocolate. In a double broiler melt white chocolate over simmering water on a low heat. Once melted, use a spoon to drizzle over cookies. Let chocolate harden and enjoy!
Notes
*Please use as many organic ingredients as possible.* Marzipan recipe adapted from Nourishing Joy and Chocolate Sugar Cookie Recipe adapted from allrecipes.
Recipe Notes
The colder the marzipan dough is the more the star shape remain intact. This recipe makes enough marzipan for 2-3 batches of cookies. Please see post for additional details.
The sugar cookie recipe will make a combination of 52 small and large cookies. 
Nutrition
Calories:
146
kcal
|
Carbohydrates:
18
g
|
Protein:
3
g
|
Fat:
8
g
|
Saturated Fat:
3
g
|
Cholesterol:
8
mg
|
Sodium:
39
mg
|
Potassium:
94
mg
|
Fiber:
2
g
|
Sugar:
12
g
|
Vitamin A:
82
IU
|
Calcium:
38
mg
|
Iron:
1
mg