No need for take-out with these homemade Healthy Baked Tostadas. So easy to make with tender shredded chicken, black beans and your choice of toppings. Comes together in 20 minutes and is an absolute family favorite.

This post may contain affiliate links which I earn a small portion in sales if a purchase is made. Rest assured though, it is never at any additional cost to you.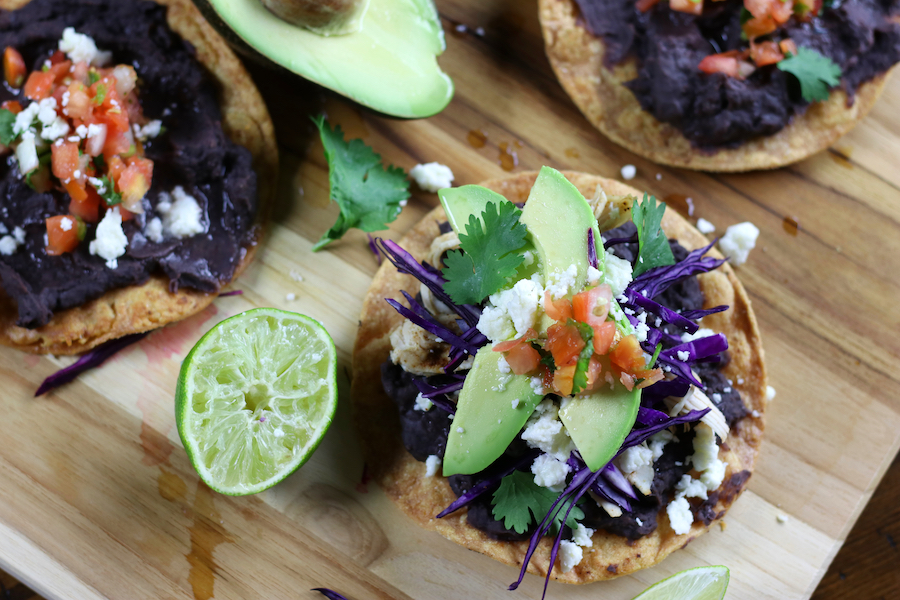 In my house, we are a huge Mexican food eating family.
In fact, one of our favorite food indulgences that I am kind of embarrassed to admit is getting take out from our hole in the wall taco shop.
Yes, I do cringe every time we have ever gotten take out from them on a Friday night. Thinking about the GMO corn and the extremely unhealthy oil they use makes my tree hugging hybrid heart feel an immense amount of guilt.
However, I am very happy to report that those times are becoming less and less with healthy and super easy alternatives like these Healthy Bakes Tostadas.
This recipe is quick, easy and a ton of fun to eat.
Best part though, eating these feels so indulgent but with a ton of good for you ingredients.
Plus, this dinner makes for one happy hubby.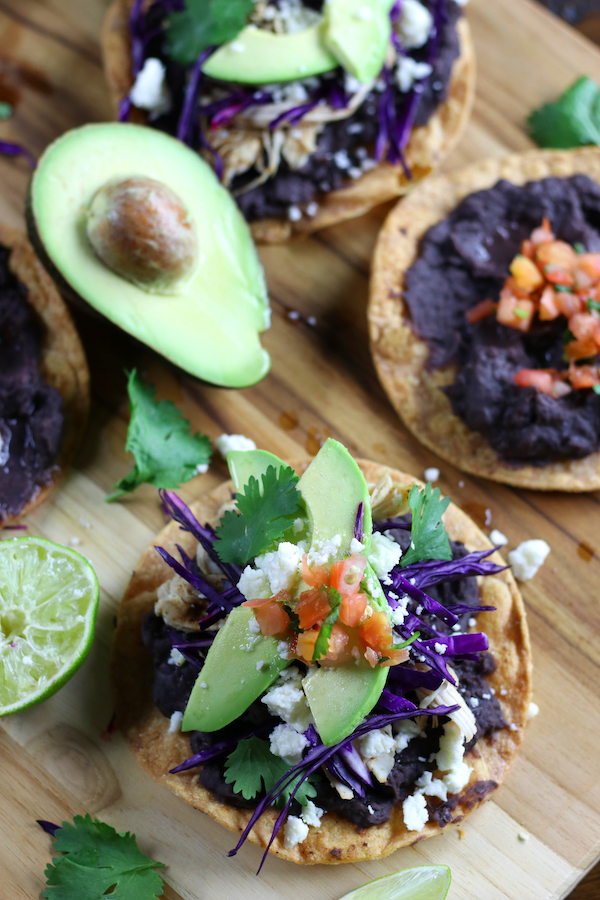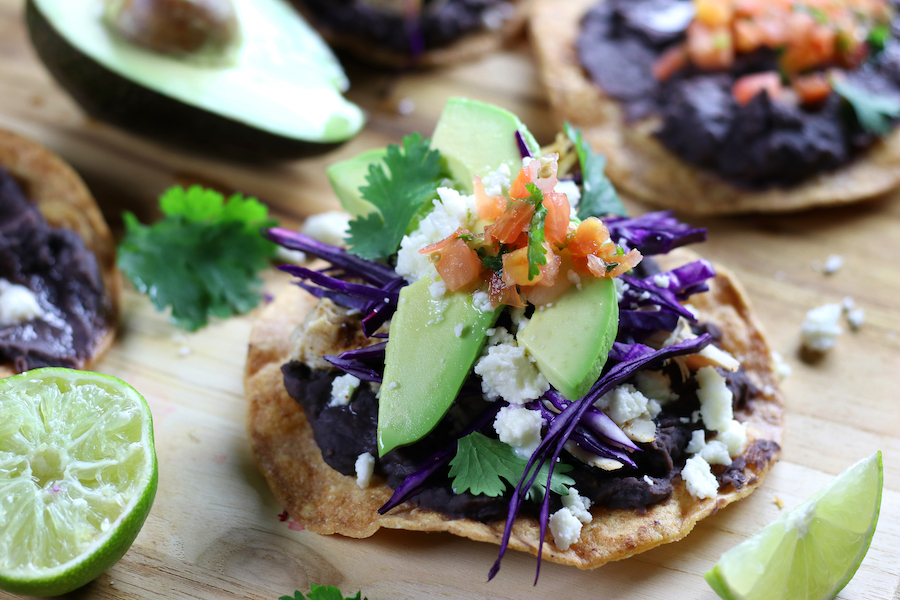 Taco vs. Tostada
Tacos, as we know them in the United States, are often deep fried corn tortillas (unless they are soft tacos) that are formed in the shape of a curve and hold various meats, cheeses, salsas, avocados and lettuce. Tostadas, on the other hand, are corn tortillas that are fried or baked flat and are often topped with beans, cheese, meats and veggies.
As much as I love the treat of crispy tacos, it can be quite a huge push frying all the shells to feed just a few people. That is why when making Mexican food at home, the simpler the recipe the better. The beauty of these Healthy Baked Tostadas, you get the satisfying crunch that a taco can provide but with much less calories. Also, you can load up tostadas with all kinds of good for you ingredients. No guilt, no fuss and all kinds of enjoyment.
Healthy Tostada Shells
The Fed Up Foodie philosophy is to buy the best ingredients that you can afford. Is it always feasible to buy organic, grass-fed, pasture raised products? No, it really isn't. However if you can afford it, there is a growing body of research showing that it really does make a difference.
With this knowledge in mind, these are my favorite organic tortillas. Cook with this oil and you have a healthy and delicious tostada shell (Pro Tip: this oil is 10 times cheaper at Costco).
How To Cook Tostada Shells In The Oven
For the longest time my family would individually fry tortilla shells in a small cast iron frying pan. When cooked like that the tortillas turn out beautiful, however, it can be a very time consuming process. In order to get dinner on the table faster, I changed my approach. I now bake my corn tortillas and my whole family has fallen in love with it. Here are the steps to making baked tostada shells in the oven.
Preheat oven to 400℉.
Place tortillas in a single layer on a large cookie sheet making sure to not let them overlap.
Using a pastry brush, brush both sides of the tortillas with a thin layer of oil and and lightly salt.
Bake 4-5 mins per side or until browned and crisp. Pro Tip: extremely fresh or larger tortillas may take up to 20 mins to become brown.
Tostada Topping Options
Here are some additional toppings that are fun and flavorful.
Sour Cream
Roasted Corn
Jack Cheese
Roasted Cauliflower
Shredded Jicama
How To Eat Baked Tostadas
There are 2 main ways to eat a tostada.
Place assembled tostada on a plate and cut individual pieces by pressing down with the side of your fork.
Use 2 hands to eat it but just make sure to have a plate below the tostada as bits of the topping can fall off.
More Quick Family Friendly Meals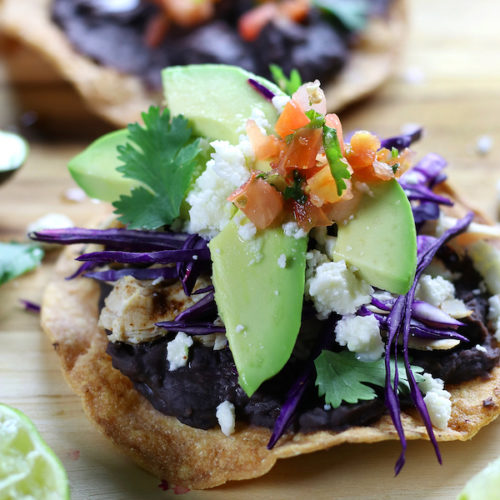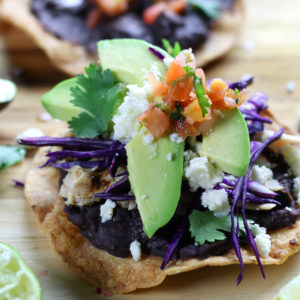 Healthy Baked Tostadas
Healthy Baked Tostadas are so easy to make and a family favorite. Add your favorite toppings and double the recipe for a fun and healthy family weeknight dinner.
Print
Pin
Rate
Ingredients
Tostadas
4

lg

corn tortillas

1/4

cup

avocado oil

15 oz

can

refried black beans

1

cup

shredded cabbage

*either white or red

1

Hass avocado

*peeled and sliced

1/2

cup

crumbled Cotija cheese

*or feta
Chicken
1

lg

boneless skinless chicken breast

1/4

tsp

chili powder

1/4

tsp

cumin

1/4

tsp

coriander

1/4

tsp

garlic powder

1/4

tsp

sea salt
Garnish
lime wedges

cilantro

salt & pepper to taste
Instructions
Tostadas
Preheat oven to 400℉.

Place tortillas in a single layer on a large cookie sheet making sure to not let them overlap. Brush both sides of tortillas with oil and sprinkle lightly with salt. Bake 4-5 mins, flip tortillas and continue baking for an additional 4-5 mins or until browned and crisp.
Chicken
Place chicken in a large pot and cover with cold water 1 inch above breasts. Bring to a boil over high heat and then lower temperature to a simmer. Simmer covered for 10-12 mins or until internal temperature reaches 165°F.

Meanwhile mix together spices and salt in a small bowl. Set aside.

Remove chicken from water and place onto a platter. Using two forks immediately shred chicken into large chunks. Sprinkle chicken with spice mixture and mix well.
Beans
Empty black beans into a microwave safe container with a lid. Cover the beans and warm on power level 8 for 5 mins. Stir and add 1-2 additional minutes if not fully heated.

Spread refried beans evenly among tortillas and top with shredded chicken, cabbage, cheese, avocado slices and salsa.
Notes
*Please use as many organic ingredients as possible.
Recipe Notes 
Extra soft tortillas may take 15 -20 mins to become brown and crispy.
If doubling the recipe use 2 cookie sheets and change positions in the oven halfway through baking.
Nutrition
Calories:
635
kcal
|
Carbohydrates:
52
g
|
Protein:
46
g
|
Fat:
53
g
|
Saturated Fat:
11
g
|
Cholesterol:
33
mg
|
Sodium:
1170
mg
|
Potassium:
570
mg
|
Fiber:
22
g
|
Sugar:
5
g
|
Vitamin A:
439
IU
|
Vitamin C:
23
mg
|
Calcium:
211
mg
|
Iron:
1
mg