Mango Shrimp Kabobs are an out of this world delicious grilling recipe perfect for a healthy dinner. Mango marinade has lime, orange, garlic and cilantro. Be careful, this recipe is seriously addictive.

This post may contain affiliate links which I earn a small portion in sales if a purchase is made. Rest assured though, it is never at any additional cost to you.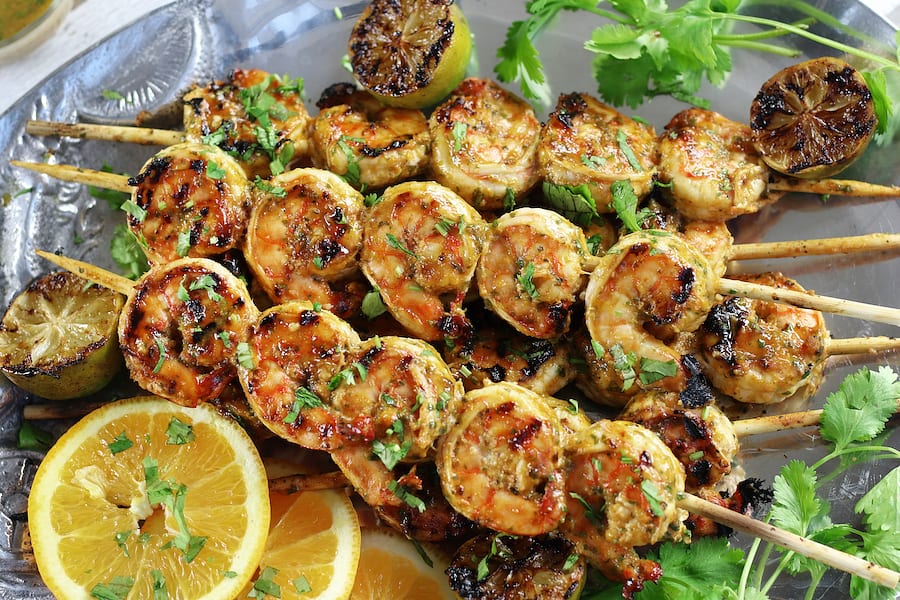 Do you know what really helps keep you going strong on a health journey?
Incredibly delicious food like these Mango Shrimp Kabobs that make you feel like your cheating but your not.
As of today it's been one month of eating low carb for me.
Despite not always adhering perfectly to my self inflicted rule of no more than 12 net carbs at one sitting, I have done extremely well.
What has truly made the difference for me is focusing on satisfying recipes with both taste and hunger.
Rosemary Parmesan Low Carb Crackers saved me from tearing into chips like a rabid wolf when I had the munchies and Panko Crusted Salmon with Dill and Lemon felt luxuriously indulgent.
In addition, Egg Roll In a Bowl and Chinese Chicken Spring Rolls just made life happier.
If you're currently struggling with a low carb diet plan, please know that it does become so much easier if you can incorporate healthy, but decadent tasting low carb meals and recipes.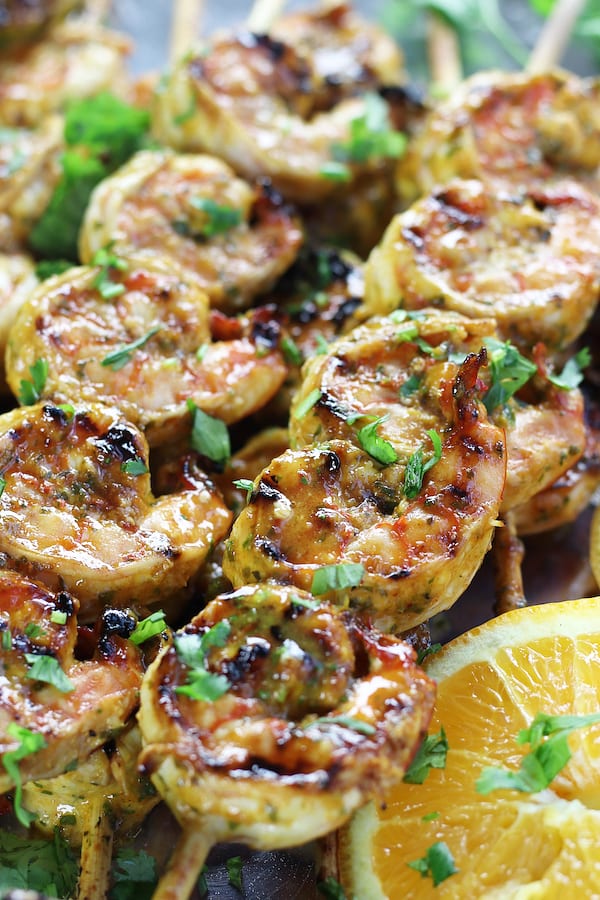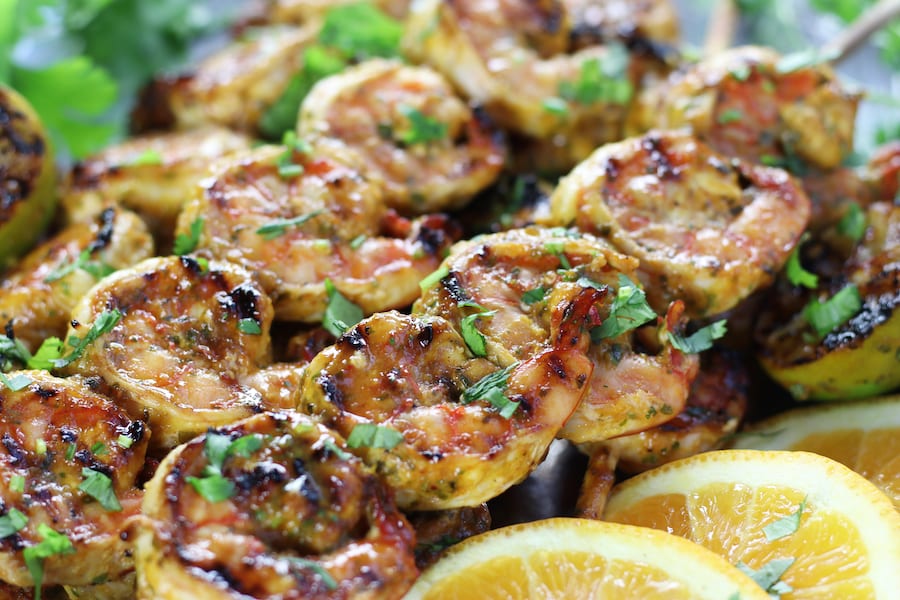 Mango Shrimp
Outside of good quality shrimp, what makes these Mango Shrimp Kabobs out of this world delicious is the Mango Sauce that the shrimp are marinated in (see below). If mango can not be used because of availability or allergies, peach or pineapple is a fun substitution.
How To Make Mango Sauce
Full of tropical savory and slightly sweet flavors. this Mango Sauce not only tastes amazing but smells divine too. Use the following ingredients for a heavenly marinade and sauce.
Mango Sauce Ingredients
1 1/2 cups diced mango either fresh or frozen. 2 cups of frozen mango will reduce down to 1 1/2 cups once defrosted. Pro Tip: Make sure to defrost mango before making sauce.
6 large garlic cloves
1 1/2 piece fresh ginger peeled and roughly chopped or 1 tsp Dried Ginger.
2 tsp Chili Powder
1/2 tsp Cayenne for a mild heat, 1 tsp for a medium heat and up to 1/2 tbsp for hotter heat. Pro Tip: Stick to 1/4 tsp if anyone eating this dish is sensitive to spice.
2 tsp Smoked Paprika
1/8 black pepper
1/2 cup olive oil
1/4 cup soy sauce or Tamari
4 med sized limes
2 tbsp honey
1 large bunch fresh cilantro
Zest from 1 large orange.
Ingredients for the Reserved Marinade
1/4 cup olive oil
1/2 cup orange juice
Directions for Mango Sauce
Place mango, garlic, ginger, spices and pepper into a food processor with blade attachment or blender and process until a purée is achieved.
Stream in olive oil to purée while processing on medium speed.
Turn off processor/blender and add in soy sauce, lime juice, lime zest, honey, cilantro and orange zest. Continue processing until mango sauce is fully incorporated and smooth.
2/3 of sauce will go on shrimp as a marinade. Reserve 1/3 for dipping sauce.
Whisk into reserved sauce olive oil and orange juice. Additional salt and pepper may be added to taste.
Fresh Ginger vs Powdered
Fresh ginger has a stronger bite than powdered ginger and many chef's will argue that fresh is far superior. For this Mango Marinade I would have to agree that fresh ginger does play well with the other tropical flavors. However, if you do not have fresh ginger available the sauce will still taste amazing with the use of powdered ginger.
How To Marinate Shrimp For Kabobs
Once the Mango Sauce is made and the shrimp are peeled and deveined, place shrimp into a large glass bowl or a ziplock bag. Pour 2/3 of marinade over the top of the shrimp. Mix the shrimp well with the marinade making sure they are well coated. Marinate covered in the refrigerator for 3-4 hours.
What Skewers To Use For Kabobs
The best skewers to use for these Grilled Shrimp Kabobs would be either Bamboo Skewers that have been soaked in water or Stainless Steel BBQ Skewers.
What To Serve with Mango Shrimp Kabobs
More Popular Shrimp Recipes
Italian Marinated Grilled Shrimp Kabobs
Mexican Shrimp & Crab Cocktail
Avocado Pesto Pasta with Garlic Shrimp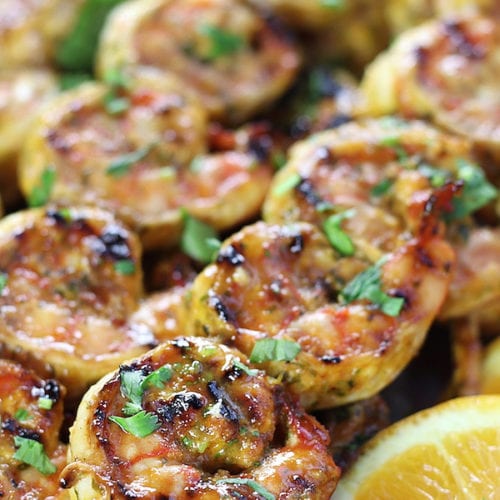 Mango Shrimp Kabobs
Absolutley divine, Mango Shrimp Kabobs recipe creates a healthy and tropical tasting main or appetizer. With flavors of lime, orange, garlic and ginger these shrimp are perfect for grilling season.
Print
Pin
Rate
Ingredients
Mango Sauce Marinade
1 1/2

cups

diced mango

*2 cups if frozen, see recipe notes below

6

lg

garlic cloves

1 1/2

inch piece

ginger

*peeled and roughly chopped

2

tsp

chili powder

1/2

tsp

cayenne

*see recipe notes below for heat ranges

2

tsp

smoked paprika

1/8

tsp

black pepper

1/2

cup

olive oil

1/4

cup

soy sauce

4

med sized

limes

*zested and juiced

2

tbsp

honey

1

lg bunch

cilantro

1

large

orange

*zested, juice later for reserved marinade
Shrimp
3

lbs

extra large, jumbo or extra jumbo raw shrimp

*26/30, 21/25 or 16/20 size
For the Reserved Marinade
1/4

cup

olive oil

1/2

cup

orange juice

*from zested orange
Instructions
Mango Sauce Marinade
Place the first 7 ingredients in a food proccesor or blender and process on high speed until a purée is formed, about 4 mins.

Slowly stream in olive oil to the mango purée while processing on med speed.

Turn off processor and add in soy sauce, lime juice, lime zest, honey, cilantro and orange zest to the mango purée. Process on high until fully incorporated, about 3-4 mins more.

Reserve 1/3 of marinade in refrigerator for later use and set aside 2/3 for the shrimp.
Shrimp
Defrost, peel and devein shrimp.

Place into a large glass bowl or ziplock bag and add mango sauce marinade. Stir well making sure all shrimp are covered in sauce. Cover and refrigerate for 3-4 hours.

Meanwhile, soak bamboo skewers in water.

Once marinated, thread shrimp onto skewers and preheat grill to medum/high heat (discard marinade from shrimp).

Brush grill with oil and grill skewers for 3-4 minutes per side, depending on size of shrimp. Shrimp are done when outside turns pink and inner meat turns white.
Reserved Marinade
Place the reserved marinade into a medium sized mixing bowl. Whisk in orange juice (from large orange), olive oil and salt.

Brush grilled shrimp with reserved marinade or use as a dipping sauce.
Notes
*Please use as many organic ingredients as possible.
Recipe Tips
If using frozen mango chunks, defrost before making Mango Sauce. 
1/2 tsp of cayenne pepper will produce a mild heat, 1 tsp a medium heat and 2tsp-1/2 tbsp a hot heat. 
If using wooden skewers, make sure to soak in water for at least 30 minutes but preferably the duration of marinating time. 
Nutrition
Calories:
367
kcal
|
Carbohydrates:
14
g
|
Protein:
32
g
|
Fat:
20
g
|
Saturated Fat:
3
g
|
Cholesterol:
381
mg
|
Sodium:
1546
mg
|
Potassium:
221
mg
|
Fiber:
1
g
|
Sugar:
11
g
|
Vitamin A:
734
IU
|
Vitamin C:
32
mg
|
Calcium:
236
mg
|
Iron:
4
mg