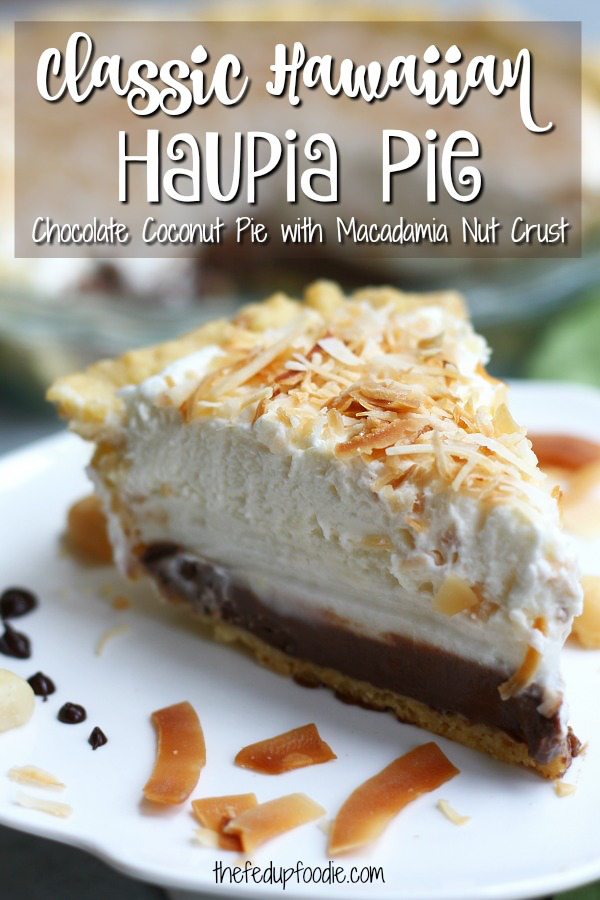 Haupia Pie with Macadamia Crust is a cherished Hawaiian dessert. It is rich, chocolaty, coconutty and all with a nutty crust. Eating this is as exciting as going to your first luau.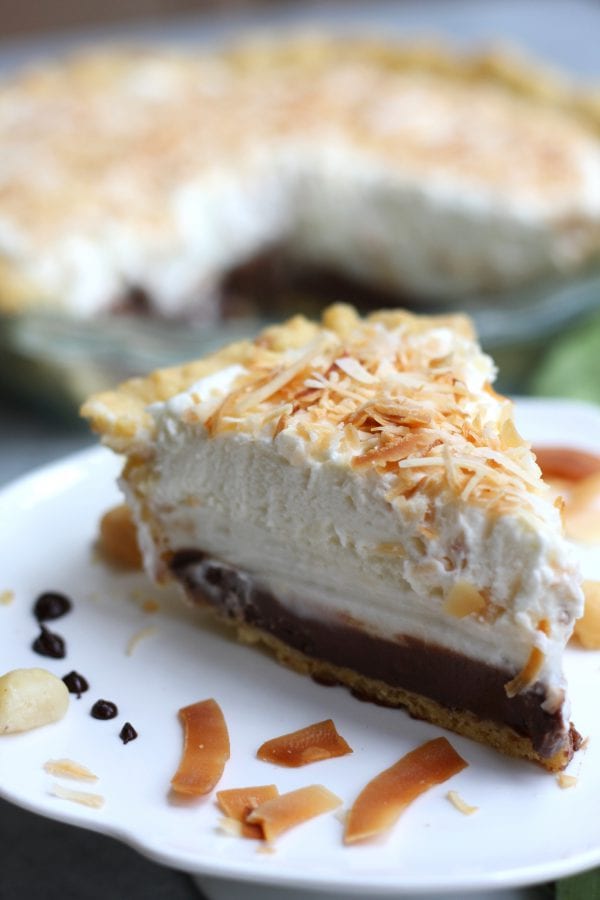 This post may contain affiliate links which I earn a small portion in sales if a purchase is made. Rest assured though, it is never at any additional cost to you.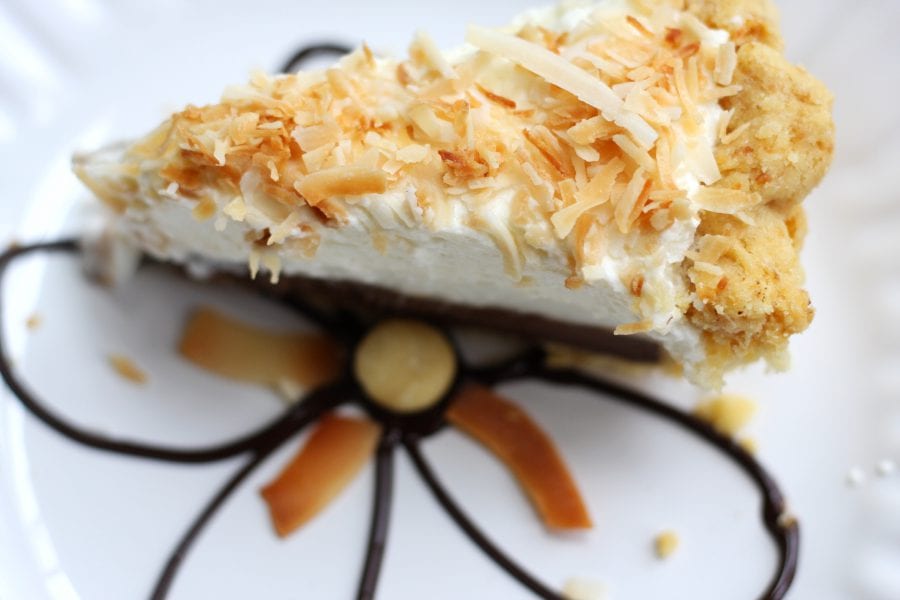 I had my first Haupia Pie on the North Shore of Oahu as a reward after being traumatized.
A few days before my North Shore experience there had been a large earthquake in Alaska that put the state of Hawaii on a tsunami alert.
Being from California I was used to the earthquakes, not being eaten alive by a giant wave.
Visions of the 2011 Japanese tsunami played in my head like a bad horror movie.
A few hours later all was fine and life went back to the normal Hawaiian style happiness.
Fast forward a few days to the afternoon on the beach of North Shore.
My cousins and I are happily soaking up the sun and beauty of Hawaii while having a cold drink when it hits. The dreaded "you are going to dye a drowning death today" siren.
Yes the tsunami siren went off and sent us into a state of panic.
My cousin, being the diligent wonderful mother that she is said, "My kids, I HAVE TO GET BACK TO MY KIDS."
Her first thought was her precious babies in school.
My first thought was gathering every precious item we had brought to the beach and RUNNING FOR MY LIFE.
So what do I do?
I grab my beer and I RUN.
Yep, that is right.
Forget my purse and my camera, I had my beer and I was going to save my life.
That is until we realized that those around us were enjoying the show we were putting on for free.
They were testing the tsunami sirens…Yep, it is amazing what fear and panic can do to a person.
After our horrific experience we decided to drown our sorrows in a piece of Haupia Pie and let me tell you, it made everything better.
Everything stood still for me that afternoon with the first bite of the heavenly coconutty dreaminess.
So you can imagine my delight when my Cousin Niki (who was a chef in the Coast Guard) said she would make this Haupia Pie with Macadamia Crust for the blog.
If you make no other dessert this Holiday season, your Holidays will be complete because of this pie.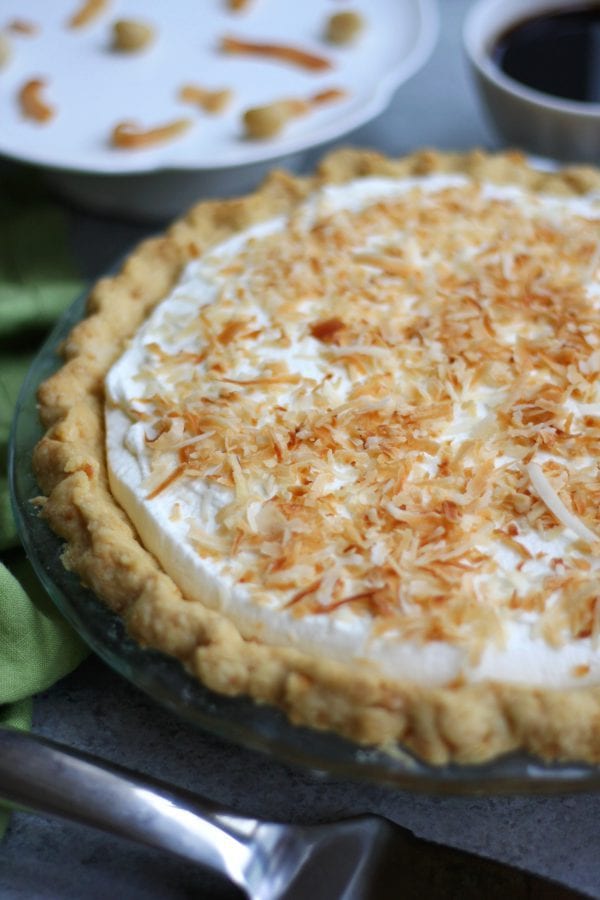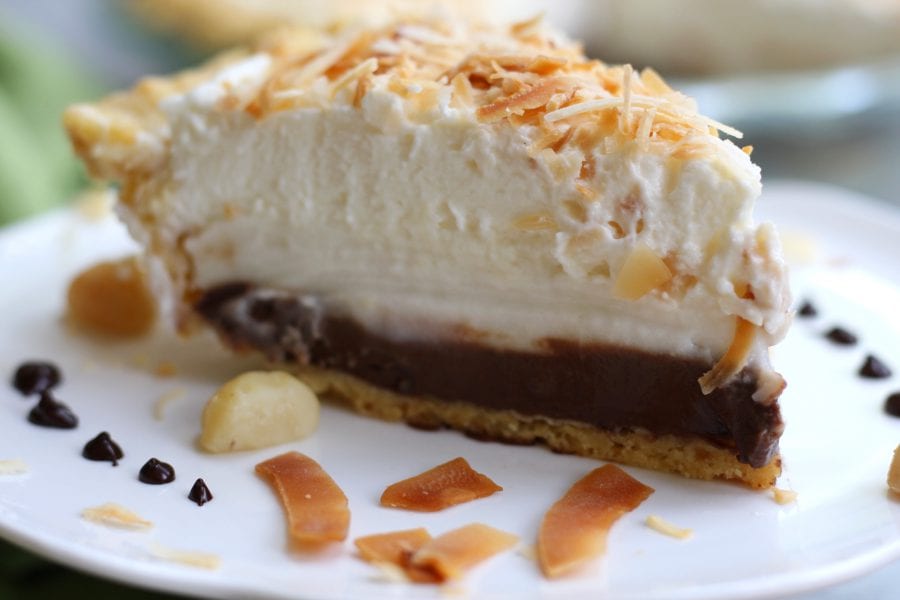 Tips about Haupia Pie with Macadamia Crust:
The Haupia Pie with Macadamia Crustis is with out a doubt one of the best pie's I have ever had in my life.

Warning: it is a rich pie

but to me that is just part of what makes it so wonderful. The flaky, buttery and nutty crust is a big part of why I love it. Oh and the chocolate coconut makes my heart sing. I can't forget about creamy coconutty layer that is truly divine. All of this topped with fluffy whipped cream and toasted coconut….HEAVEN!
Arrowroot can be substituted for the cornstarch. but make sure to use 1/3 cup instead of the 1/2 cup that the recipe calls for. Interestingly, arrowroot has been a thickener of the past for awhile now. It was something that our grandparents cooked with, not us. I am very excited to say it is starting to make a come back with all the concerns of genetically engineered corn. In my kitchen there are both. I use organic cornstarch and arrowroot powder and there are times I prefer arrowroot. Generally you use it just like you would cornstarch.
When making the crust you will want butter that is cold, straight from the refrigerator. One trick is to cube the butter and place it back in the refrigerator until needed. If the butter is becoming too warm, cube it and place it in the freezer for about 10- 15 mins.
Also while making the crust the ice water should consist of mostly ice and a little water. Cold, cold water is the name of the game.
Another important trick while rolling out the crust is to touch is minimally. The warmth of your hands will cause the dough to warm up and you will want the dough to still be cold when it goes into the oven.
If you have ever made pie dough with out a pie weight you already know what a disaster the crust can turn into. It basically buckles and turns into a foreign looking object. I highly recommend to use a pie weight. It will just save you so much pain and agony making the crust from scratch.
While toasting the coconut stay close and keep a watchful eye on it. It will turn brown fast. Just lay the coconut pieces out flat on a cookie sheet and place in a pre-heated 350℉ oven. It can be as quick as 5-7 mins. (affiliate)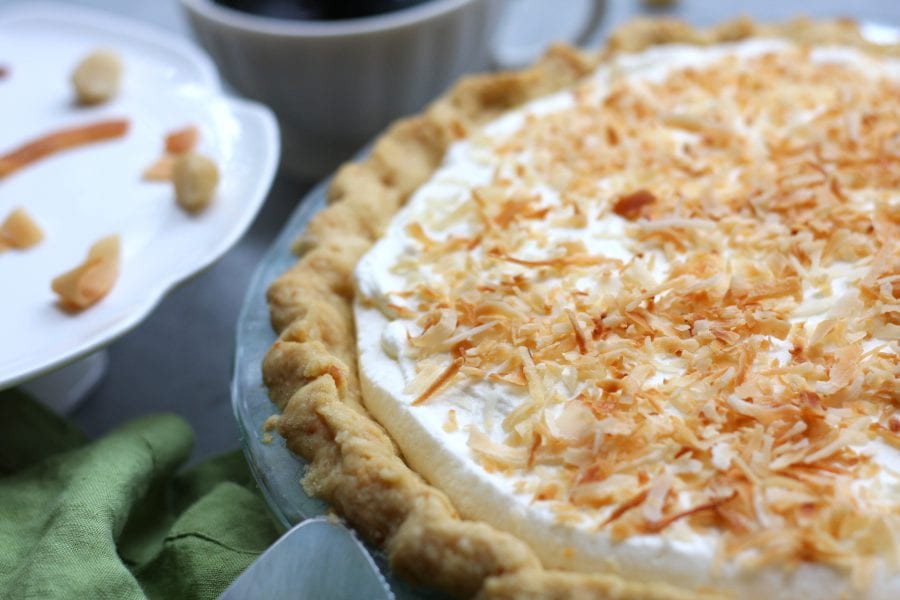 A great food processor makes pie crust so much easier to create! Click Photo for Product.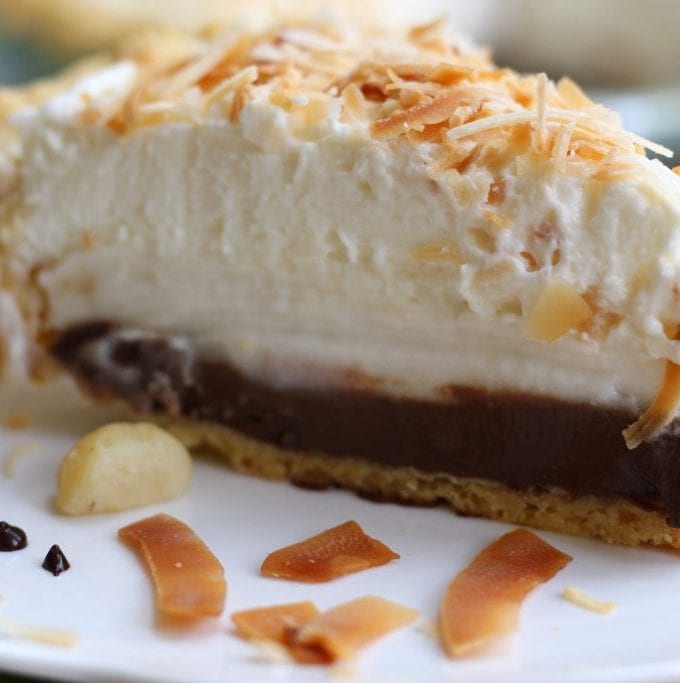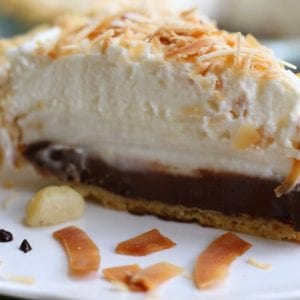 Haupia Pie with Macadamia Crust
A rich and creamy classic dessert of Hawaii.
Print
Pin
Rate
Ingredients
For the Crust
1 ¼ - 1 ½

cups

flour

½

cup

butter

*cold & cubed

½

cup

macadamia pieces

½

tsp

salt

3-5

tbsp

ice water
For the Filling
1

can coconut cream

*13.5- 15 ounces can, See Note #1 below

1

cup

whole milk

2

tsp.

coconut extract

1

cup

sugar

1

cup

chocolate chips or chucks of choice
For the Slurry
½

cup

cornstarch

1

cup

water
For the Topping
2

cups

heavy cream

¼

cup

sugar

1/4-1/2

cup

coconut shavings

*toasted
Instructions
In food processor, pulse macadamia nuts until fine bits. Be careful not to over process nuts or you will have macadamia nut butter. Yummy, but not what we want. Remove from food processor. Set aside.

In food processor, pulse cold cubed butter and flour. Add water one tablespoon at a time to dough. Add macadamias. Dough should be crumbly but able to pinch together. Pour onto plastic wrap. Form a disk. Cover with plastic wrap and refrigerate for 20 minutes to 1 hour. Remove. Preheat oven to 350 ℉. Roll dough out on a floured surface. Avoid dough becoming too warm by overworking with hands. Carefully press dough into 8" pie dish. Place crust into oven and bake until golden brown-approximately 15 mins at 350℉.

Set aside to cool completely.

While the crust is cooling, create a slurry by dissolving cornstarch into water. Set aside.

In a saucepan whisk together the coconut cream, milk, and sugar. Warm over medium heat until mixture begins to simmer and sugar is dissolved.

Lower the heat and add extract. Add slurry to coconut mixture. Continue cooking on low just long enough for filling to thicken. Pour half the coconut mixture into a bowl and immediately add chocolate to remaining mixture in saucepan. Mix to melt chocolate into filling.

Evenly pour chocolate filling into the cooled macadamia crust. Pour coconut mixture on top of chocolate and with an offset spatula smooth evenly over the chocolate layer.

Cool the pie on counter top until room temperature. Place into the refrigerator.

Whip heavy cream with sugar until stiff peaks form.

lay coconut flat on a cookie sheet & toast in a 350℉ oven for 5-7 mins making sure to not burn. Let cool.

When pie is cooled completely, top with whipped cream, toasted coconut, chopped macadamias, chopped chocolate, etc.
Notes
See Tips section above for detailed tips.
Recipe Notes
Note #1- Use the standardized size can of coconut cream. Most brands will range from 13.5-15 ounces. As long as it falls within this range it will work for this recipe. 
Nutrition
Calories:
522
kcal
|
Carbohydrates:
57
g
|
Protein:
5
g
|
Fat:
31
g
|
Saturated Fat:
17
g
|
Cholesterol:
79
mg
|
Sodium:
119
mg
|
Potassium:
105
mg
|
Fiber:
2
g
|
Sugar:
32
g
|
Vitamin A:
886
IU
|
Vitamin C:
1
mg
|
Calcium:
77
mg
|
Iron:
2
mg
Follow along on Facebook and Pinterest for more sweet inspirations.
If you love this recipe then you will love these: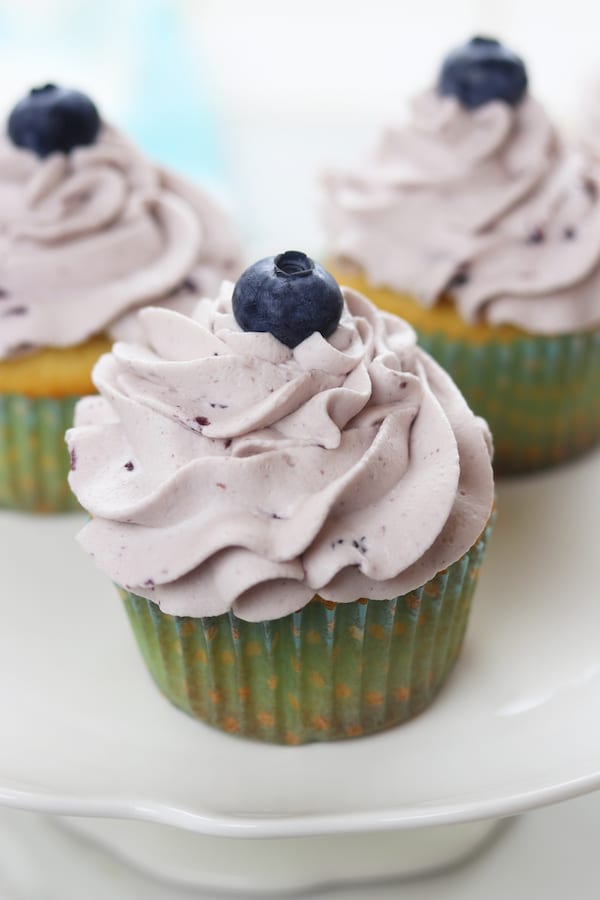 Vanilla Bean Blueberry Cream Cupcakes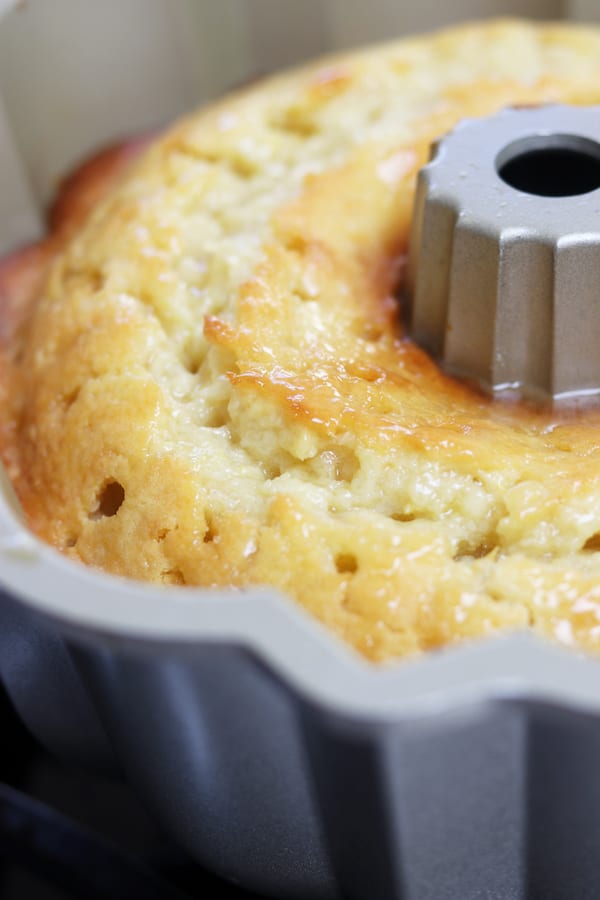 Mom's Lemon Butter Bundt Cake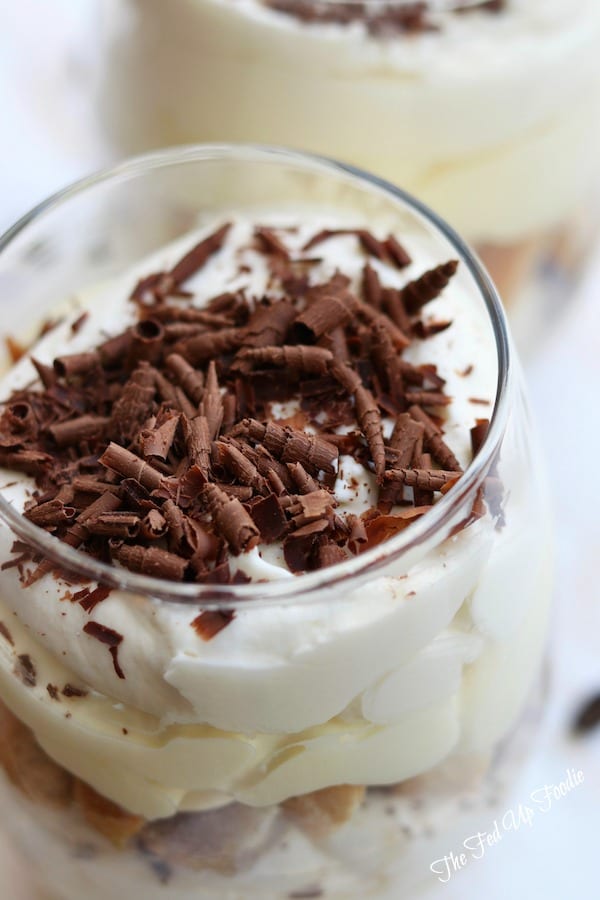 Tiramisu Wine Glass Trifles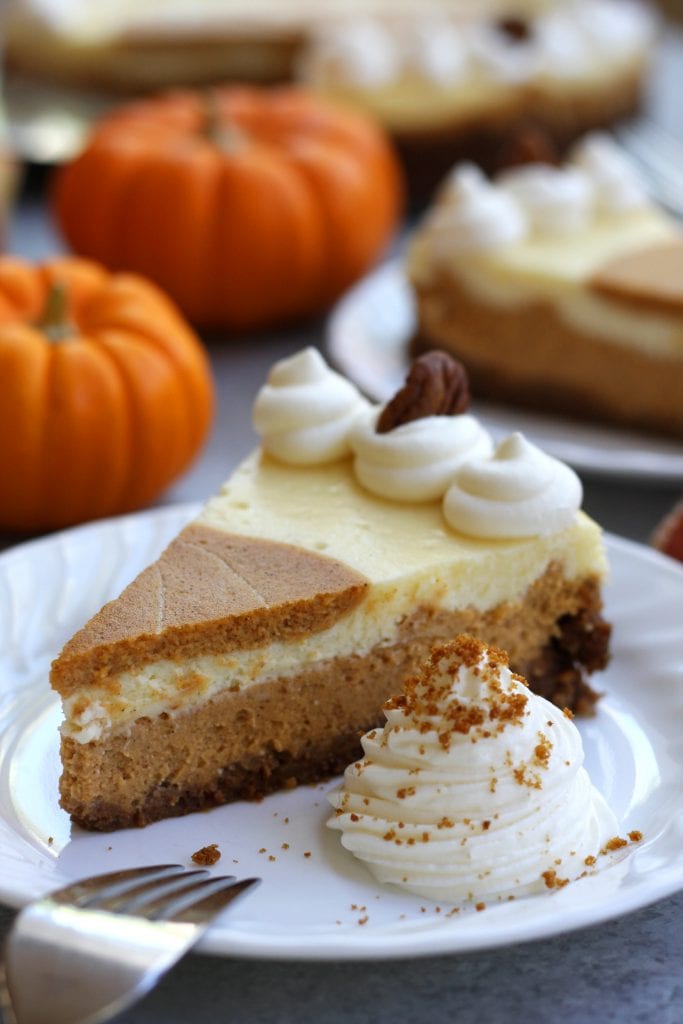 Layered Pumpkin Cheesecake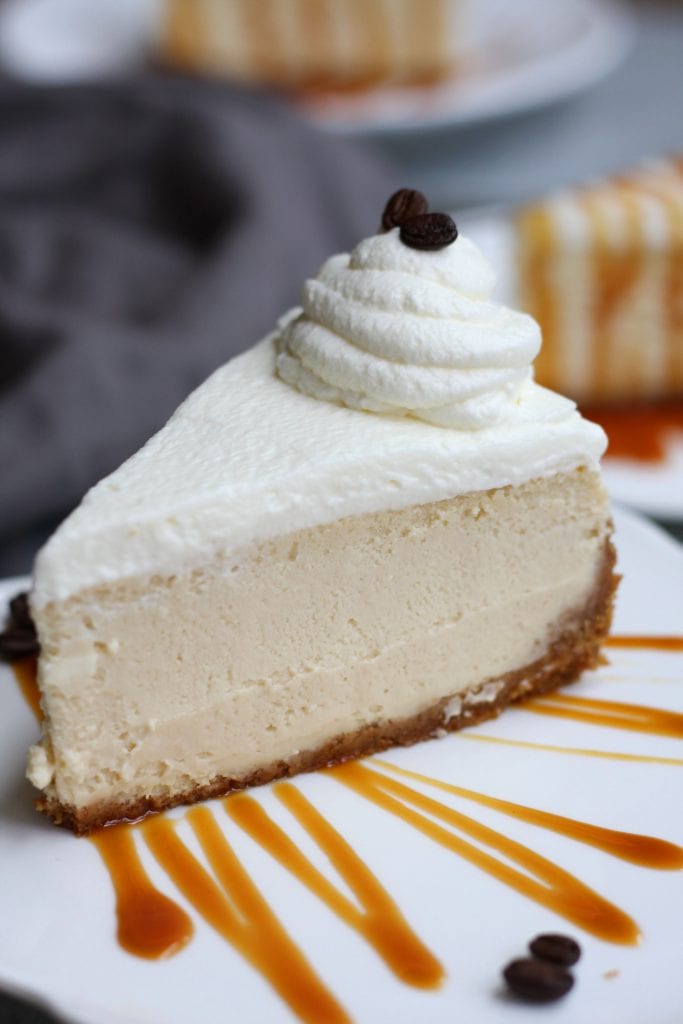 Caramel Macchiato Cheesecake