Creamy and decadent, this Layered Pumpkin Cheesecake stands above the rest with a gingersnap, graham and pecan crust. Layers of pumpkin and vanilla cheesecake make this a beautiful and delicious dessert for your Holidays.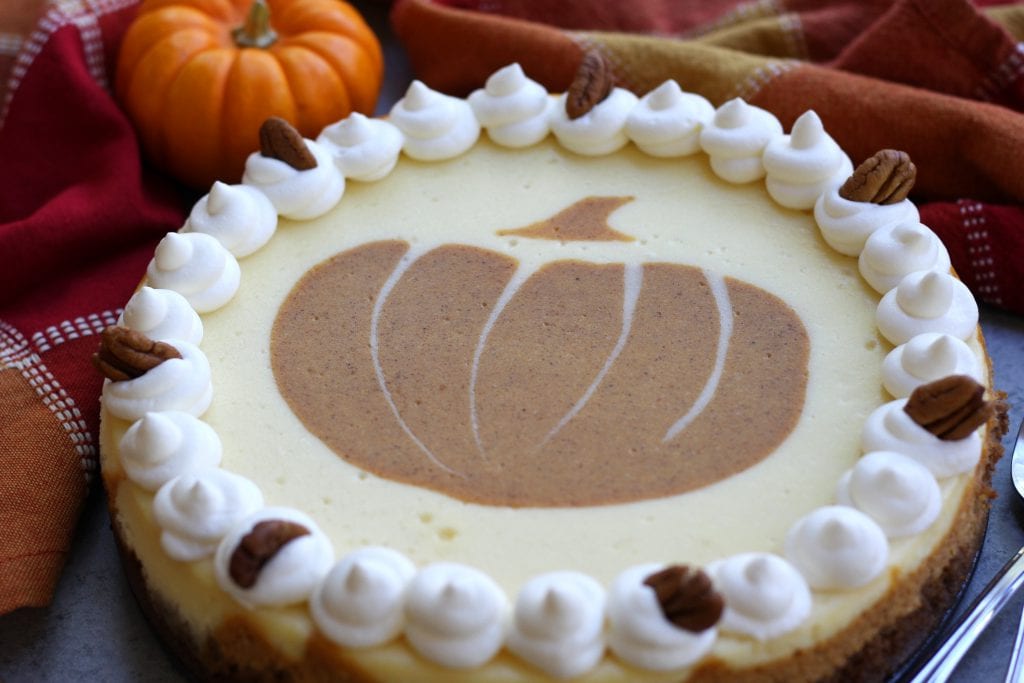 Layered Pumpkin Cheesecake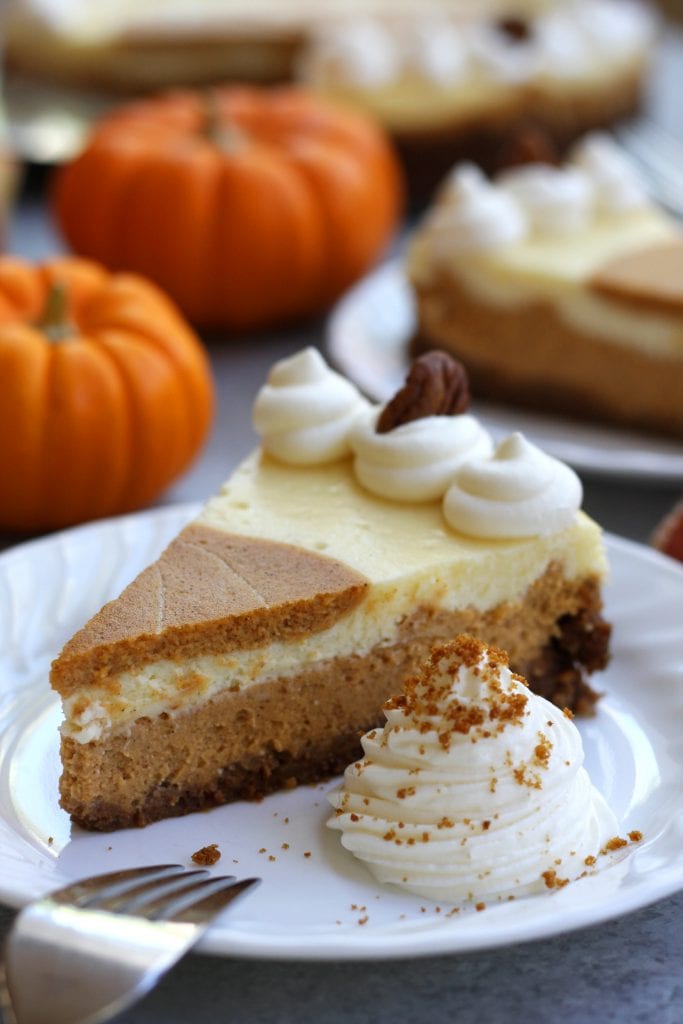 Growing up we used to make Philadelphia Cream Cheese Pie for our Holiday celebrations and to this day I still adore that pie.
I always loved how the recipe created a wonderful creamy and silky texture. Because of that pie I was never a huge fan of cheesecake.
In comparison, cheesecake seemed so dense and dry to me. That is until I had my cousin's Niki's cheesecake.
To catch you up to speed, Niki was a chef in the Coast Guard and prior to that has always adored baking. She is an absolute phenomenal baker and amazes me with her creations as you can see from this gorgeous Pumpkin Cheesecake.
This is her original idea and I feel so honored that she has shared this with me to share with you. I am absolutely positive this will steal the show at your Holiday get together.
Not only is this Layered Pumpkin Cheesecake gorgeous but it unbelievably delicious. By far the best Pumpkin Cheesecake I have ever had!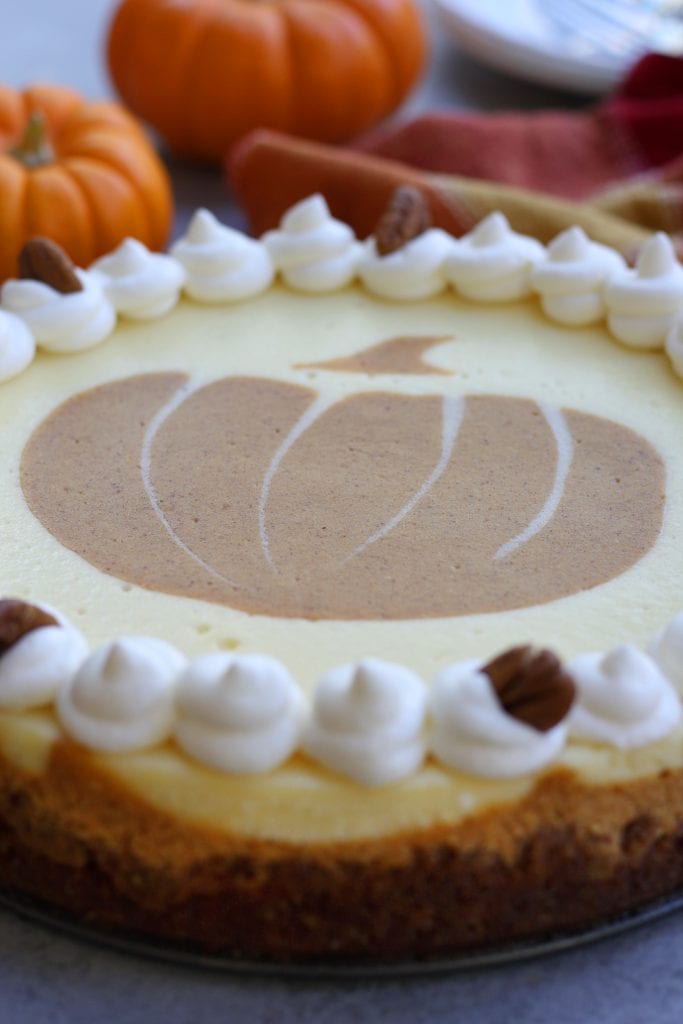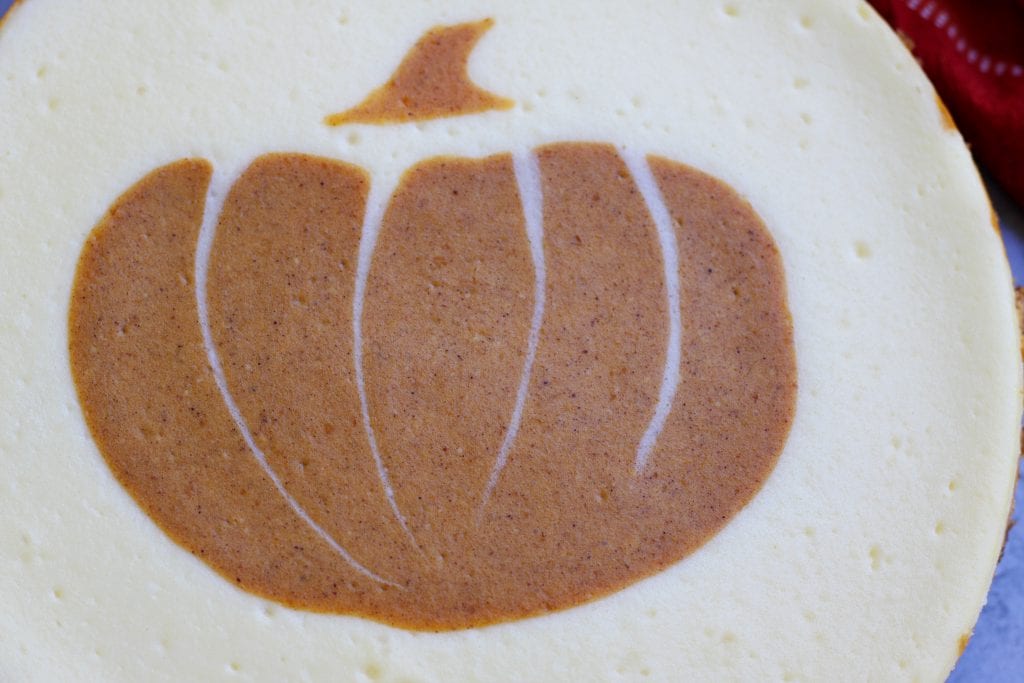 Tips about Making Layered Pumpkin Cheesecake:
Make sure to bring the cream cheese and eggs up to room temperature before beginning to make the Layered Pumpkin Cheesecake. This helps the mixture to become silky smooth, hence an absolutely divine end product.
The combination of ginger snaps, graham crackers and pecan makes for an incredibly delicious crust.
An extremely important step is to cream the cream cheese and sugar together until completely smooth before adding eggs. Also, add 1 egg at a time and beat well before adding another egg. I honestly don't know what I would do without my KitchenAid mixer for doing this. It does such a phenomenal job of making perfectly smooth cheesecake filling. (affiliate)
Another secret to creating silky smooth cheesecake is to scrape down the sides of the bowl often, before and with each and every time another ingredient is added.
See video for visual instructions on how to create layers and pumpkin shape.

The most important step of all:

To prevent this Layered Pumpkin Cheesecake from cracking bake it in a water bath. To do this wrap aluminum foil around bottom half of the spring form pan to prevent any water from seeping in. Place about 1/2- 3/4 inch of water in the bottom of large roasting pan and place ready to bake prepared cheesecake in the center. (Note: crust bakes by itself in first step) (affiliate)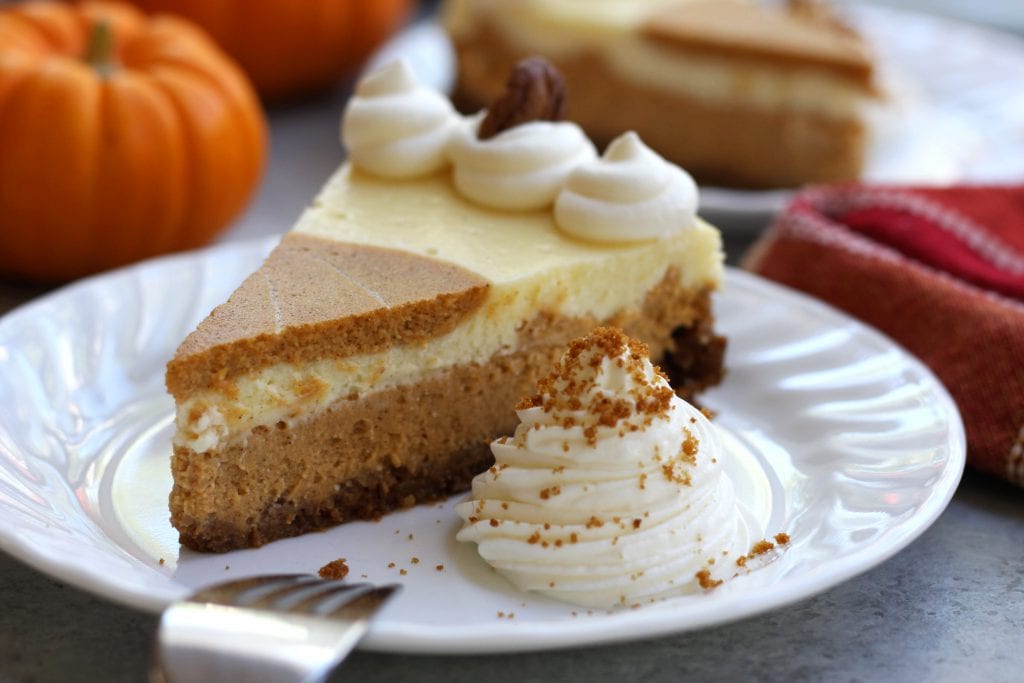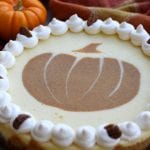 Layered Pumpkin Cheesecake
Layers of vanilla and pumpkin cheesecake with a gingersnap, graham and pecan crust. Incredibly beautiful and delicious for your Holiday festivities.
Cook Time
1
hour
15
minutes
Total Time
1
hour
45
minutes
Ingredients
For the Crust

2

cups

ground Ginger snaps

1

cup

ground Graham crackers

½

cup

minced Pecan pieces

½

cup

butter *melted

½

tsp

salt

For the Cheesecake Layers

3

eight ounce packages of cream cheese *room temp

1 ¼

cups

sugar

3

large eggs *room temp

2

tsp.

vanilla extract

¼

cup

heavy cream

1 ¼

cup

pumpkin

1 ½

tsp

cinnamon

1

tsp

nutmeg

whipping cream for garnish
Instructions
Preheat oven to 350℉

In a food processor pulse separately cookies and then graham crackers until fine crumbs. Remove. Add pecans to food processor. Pulse until minced and almost crumb like consistency. Measure and add all 3 to mixing bowl.

Add melted butter to crumbs and pecan bits. Stir to combine. Press into greased 9 "or 10" springform pan. Bake crust at 350℉ until golden brown on edges- about 12-14 mins. Set aside to cool.

Lower oven temp to 300℉.

In a stand mixer, thoroughly mix cream cheese with sugar. The mixture should be completely smooth before adding any other ingredients. Make sure to routinely stop mixer and scrape down the sides to ensure there are no lumps in the batter. Add eggs one at a time, scraping down the sides of the mixing bowl between additions.

Add vanilla and heavy cream. Mix thoroughly.

Remove half of the batter from the mixing bowl and set aside. To the remaining batter in the mixing bowl, add pumpkin, cinnamon and nutmeg. Mix thoroughly.

Pour half of the pumpkin batter onto the crust. Pour the plain cheesecake batter on top. In whatever pattern you would like, add the remaining pumpkin batter. Use a knife to create a more marbled look.

Place spring form into a 1/2" 3/4" water bath and bake at 300℉ for one hour. The top of the cheesecake should no longer be shiny and the center will be slightly jiggly when nudged.
Recipe Notes
*Please use as many organic ingredients as possible.*
**See Tips above**
Follow along on Facebook and Pinterest for more sweet inspirations.
If you love beautiful Holiday treats, check these out: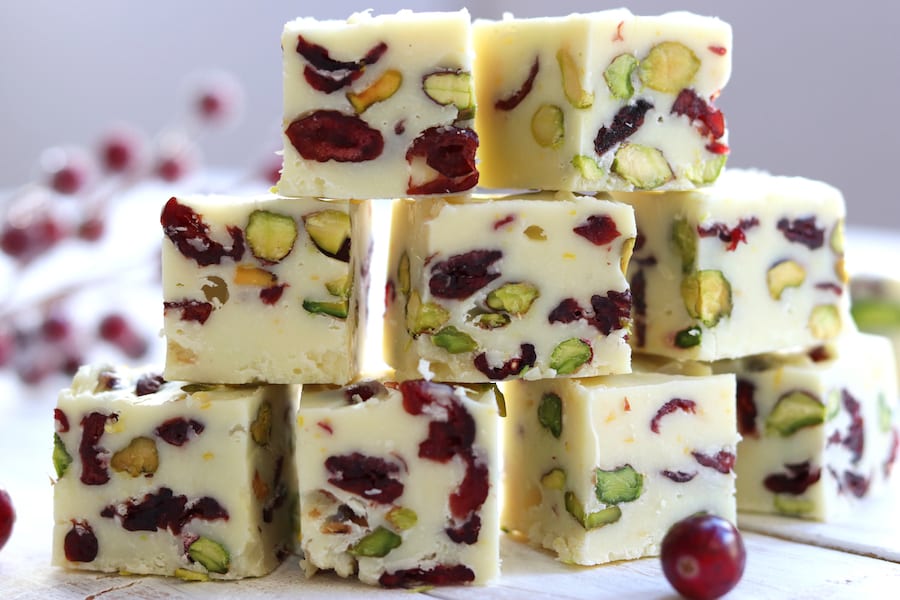 Simple Orange Cranberry Fudge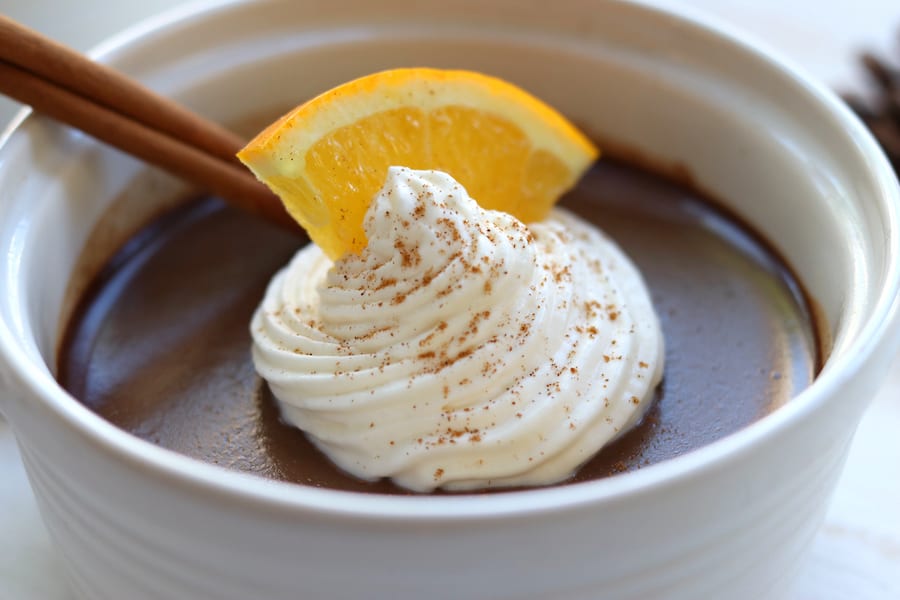 Chocolate Orange Cinnamon Pots de Creme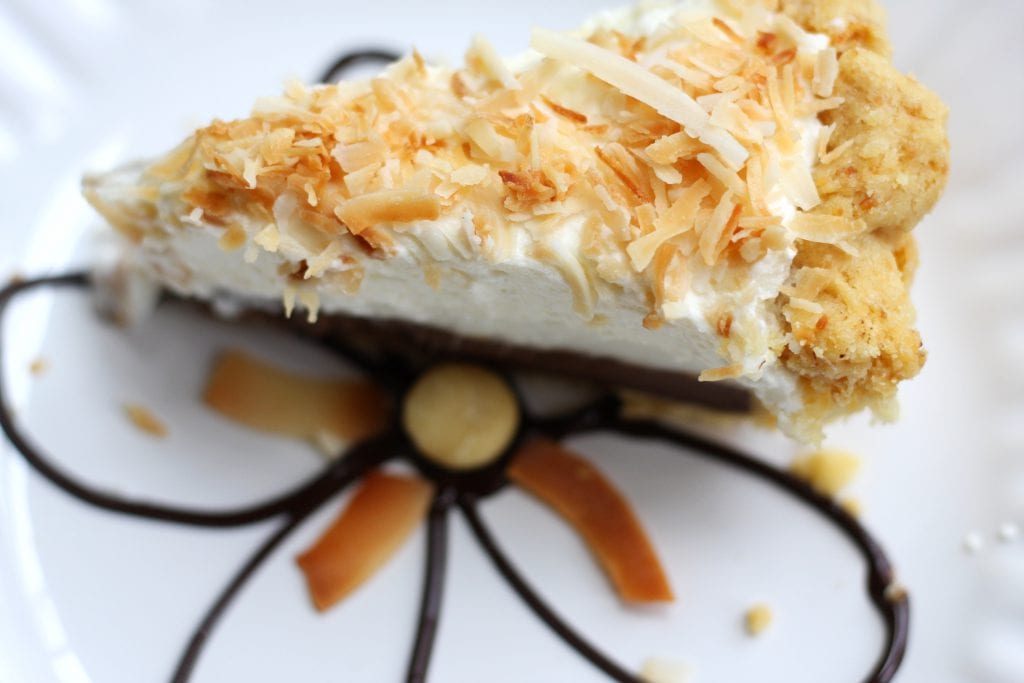 Haupia Pie with Macadamia Crust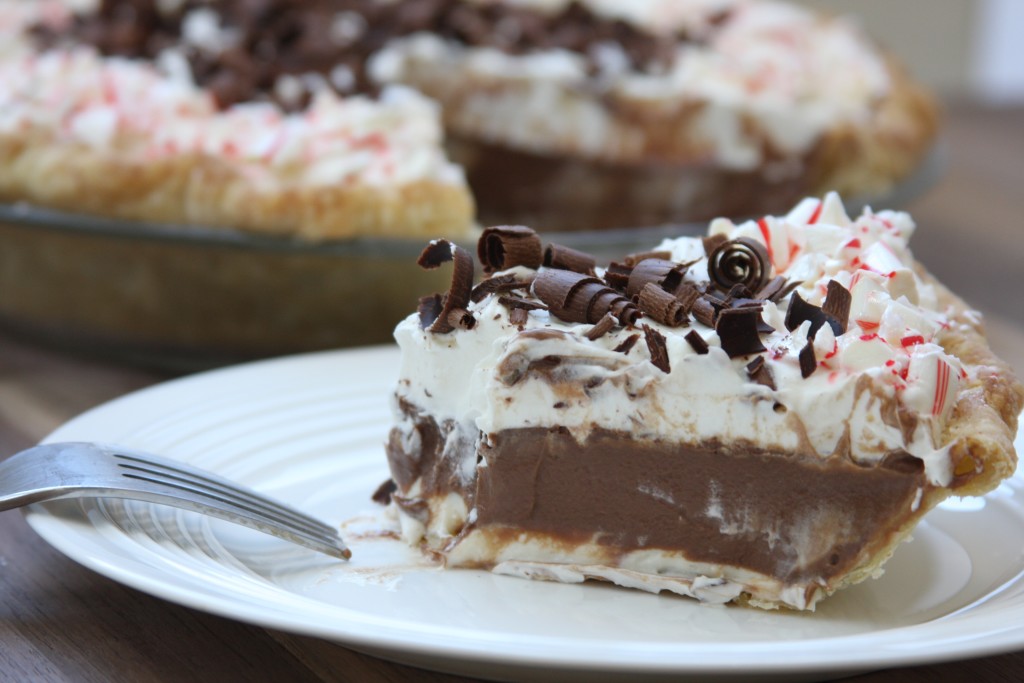 Scrumptious Chocolate Peppermint Pie